This young XR protester faces jail for protesting peacefully
His sentencing on Friday could stifle legitimate protest against the Government and corporations, campaigners say.
|
15 October 2020, 11:27am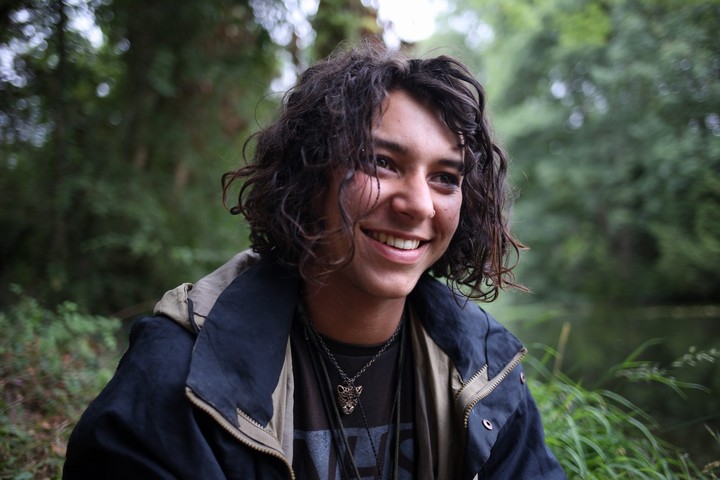 Photography Talia Woodin
Elliott Cuciurean got his nickname when the police took his actual name down incorrectly as 'Elli-tot'. Morphing into Jellytot, the pseudonym stuck, and it will be seen flying on hand-painted banners of support outside Birmingham High Court on Friday morning, when the 22-year-old environmental activist will find out whether he's being sent to prison.
A self-described 'Earth Protector', Jellytot has been on trial since July in a case brought against him by the Government, represented by Transport Secretary Grant Shapps, and HS2 Limited, the Government-funded company behind the controversial 'HS2' high speed railway development. He is accused of breaching an anti-trespass order while attempting to protect trees and wildlife in Crackley Woods, an ancient woodland in Warwickshire that campaigners say is home to nesting birds and rare bats that are protected by law.
"Being in a woods that you know is going to be destroyed, seeing individual animals going about their business, and knowing that it's all going to be concreted over, all cut down, it's a lot different than just seeing the statistics."
In a statement earlier this week, Jellytot's solicitors make clear that the Government and HS2 Ltd's application to have him jailed – rather than face a more usual monetary fine – is extraordinary: "The case marks the first time that HS2 have applied for a peaceful protester to be committed to prison for contempt of court," they write, noting that this "test case" could lead to more such applications. HS2 Rebellion – a campaigning group that includes local protesters, protection camps, and XR activists – go further, warning that the "landmark" case could have "huge implications" for the future of protest, "potentially stifling legitimate protest against the Government and companies for their roles in ecocide".
In an interview shared with i-D by a fellow anti-HS2 protester Talia Woodin, Jellytot explains that he first became an Earth Protector in the autumn of 2019, joining a woodland protection camp at Harvil Road near Uxbridge. "I met somebody at an Earth First gathering who was basically putting the word out, asking for help at a Stop HS2 camp," he says. "I figured I'd probably learn a lot more from people with experience and knowledge, and living outside, than I would sitting in a classroom getting stressed out about it all," he adds, referring to his earlier plans (put on hold) to study ecology at college.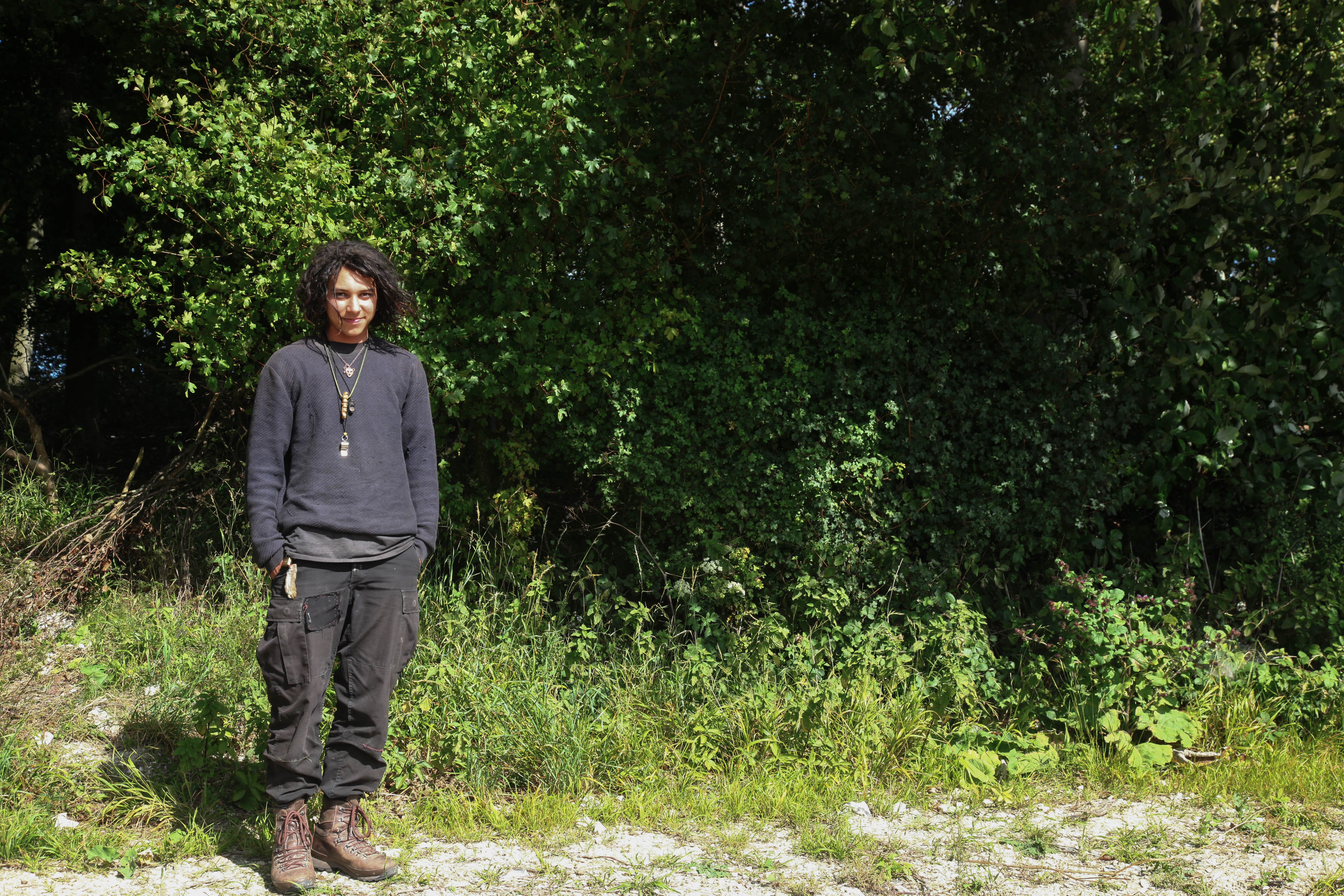 "I didn't really know that much about it until I turned up and spoke to people and actually saw... what they were intending on destroying," Jellytot says, speaking from the leafy green of Denham Country Park, near the Harvil Road camp, before his trial began. "I think actually being in the environment, being in a woods that you know is going to be destroyed, seeing individual animals going about their business, and knowing that it's all going to be concreted over, all cut down, it's a lot different than just seeing the statistics – 'Oh, 108 ancient woodlands, that's terrible'," he explains.
Conservationists have long warned of the planned HS2 route's potential for environmental destruction. Alongside reports of the of project's decade-long delay and spiralling costs (the Government's own estimates put it at £106bn, while campaigners claim it could be far, far higher), in January it was reported that a Wildlife Trusts survey had concluded that "HS2 will destroy or irreparably damage five internationally protected wildlife sites, 693 local wildlife sites, 108 ancient woodlands and 33 legally protected sites of special scientific interest". HS2 Rebellion states, therefore, that HS2 is "completely incompatible with the Government's international obligations under the Paris Agreement as well as its legally binding commitment to achieve Net Zero emissions by 2050".
Earlier this week, the judge in Jellytot's trial, Justice Marcus Smith, found against four anti-trespass order related allegations made by the Government and HS2 Ltd, due to lack of evidence. However, Justice Smith did accept three other allegations, which Jellytot's solicitors describe as him "acting in a peaceful manner within a few feet of HS2's fencing, in the context of a site which was miles wide."
At an earlier hearing, reported by local newspaper the Shropshire Star, Justice Smith asked Jellytot about an incident during which he was photographed high up on a mechanical tree-cutter that he had climbed: "This looks really quite dangerous – you really feel that strongly about preventing HS2, that you put yourself in physical danger?" he asked. Jellytot replied: "Yes. I didn't actually consider the dangers of it. It is more a reaction to 'this machine is going to continue cutting down trees so I will do what I can to stop it'."
In the Denham Country Park interview, Jellytot speaks of the emotional pain experienced by Earth Protectors watching the destruction of woodland. "At Crackley, seeing oak trees that are a few hundred years old just come down in a matter of minutes was actually quite traumatic," he explains. "I had really horrible dreams for about a week after going there… just watching trees being cut down, [the] lack of respect that they're shown, with the amount of years that they've been alive – longer than any of us will be alive – [and] the amount of life that they contain, in, you know, the branch of an oak tree."
On the eve of Jellytot's sentencing, fellow HS2 Rebellion protester Hayley told i-D, "Elliott is one of the most loving, resilient, kind-hearted men I have met. We often danced together and picked up litter on the verges. He is funny and an incredible singer, but so shy. He loves animals and nature. He is utterly selfless and I love him."
Speaking to the possibility of a harsh sentence on Friday, Jellytot said, "Obviously I'd rather not be in a jail cell, because I can do a lot more useful things, but I honestly think whatever the outcome is for me, [HS2] have lost this, whatever they're trying to do. They're trying to scare people away, they're trying to intimidate people... It's just obviously not going to work."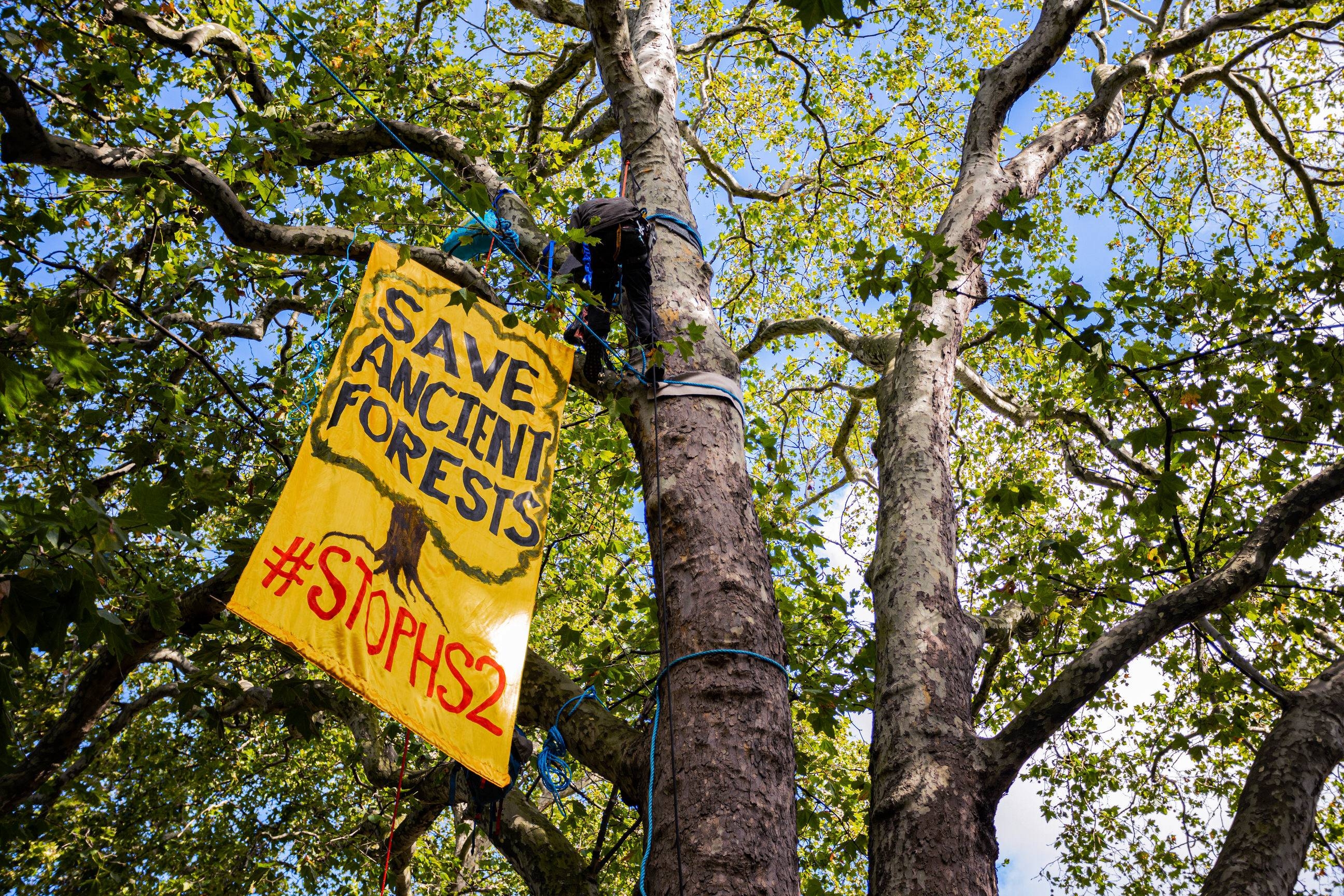 Update: An earlier version of this article stated that Jellytot would be sentenced for climbing a tree-cutter. This was actually among the rejected allegations. The article has been amended to reflect this, giving Jellytot's lawyer's description of the three charges he will be sentenced for.