How the cult of Brandy Melville took over the internet
Teenagers are shelling out thousands of pounds for wardrobes full of Brandy Melville clothes. But for what reason? And is there a darker side to the obsession surrounding it?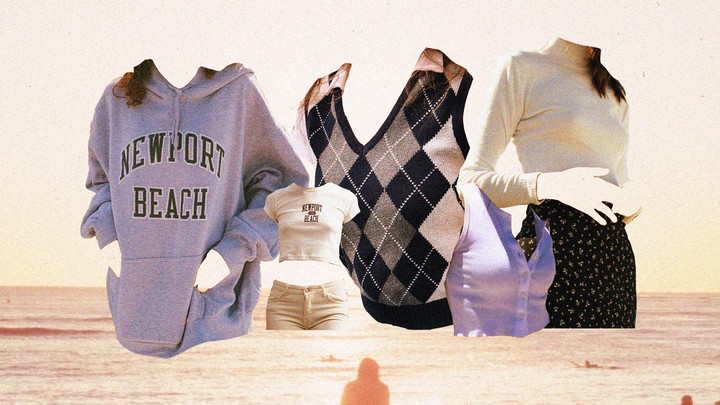 If you are one of Depop's 15 million users, there are phrases you'll stumble across on the app that may seem incomprehensible to the untrained eye. There's "deadstock", the term used to describe coveted garments and sneakers that remain unworn and in perfect condition. Y2K, another go-to tag for Depoppers, symbolises a retro-futuristic aesthetic last popular around the turn of the century. And there's one that's prevalent, but that's only really gained proper traction recently, and that's Rare Brandy.
What is "Rare Brandy"? As 19-year-old Hailey says: "it's like the female Supreme".
The term refers to coveted items of Brandy Melville clothing, an Italian fast-fashion brand that has remained wildly popular among its key demographic of teenage girls ever since its entrance into the global market in 2009, turning over $66.9 million in sales in 2019. It's known for its rotating collection of staple pieces, like the Skylar tank (worn here by popstar Madison Beer) or the Amara dress. The garments' names tend to tie into the brand's Italian heritage or all-American aesthetic.
The going rate for the "Rare Brandy" Amara dress is around £70 on Depop, quadruple its £17 retail price. This 312% markup makes the Amara dress -- in second-hand condition -- more profitable by percentage than classic resale buys like a new pair of Air Jordan 1s, averaging a price of 150% above retail on StockX.
It is for this reason that viral tweets and TikToks have dubbed the Depop community who are obsessively purchasing these pieces at exorbitant prices, the "Brandy Cult". When I ask Amelie, 15, whether she thinks this name, suggesting hysteria and indoctrination, is accurate, she agrees. "It's absolutely savage out there," she says.
Amelie is one of many Depop sellers specialising in "Rare Brandy" -- a world run almost entirely by, and for, teenage girls. On an average day, over 2.5k new Brandy Melville listings are made on Depop, with 300 specifically tagged "Rare Brandy".
Most of Amelie's stock is clothing she has bought for herself from Depop. Although Amelie doesn't inflate her prices massively above the recommended retail price as others do, she receives high offers regardless. "I sold a green Paige top that I got in store for £20 for around £50." This was over a year ago, she says, "before the savage Brandy cult [took hold]".
Since then, demand for Rare Brandy has only increased. "As soon as you post a Brandy item, immediately people are sending offers," Amelie adds. This is especially true following international lockdowns in the wake of Coronavirus -- since 1 April, Depop has reported a 163% increase in year-on-year sign-ups, with in-app sales increasing 300% in the US. "It's quite overwhelming," Amelie admits.
The gold standard dictating the market value of a Rare Brandy item is whether it is in stock on the website. The longer it's sold out, the higher the resale price goes. Unlike streetwear reselling brands, these items will be restocked eventually, but Brandy Melville is ambiguous about when this will happen: "Unfortunately, we don't know ahead of time if/when items will be in stock online or in store, but we do add new items almost daily!" a disclaimer on their website reads.
Listings on Depop are quick to label items "EXTREMELY RARE!!!" just hours after they are made unavailable on the website. As much as it is a genuine driver in the Rare Brandy market, "rareness" is also somewhat of a construct -- an ambiguous label to justify someone's often unjustified high listing price. This is proven by examples like the £70 Amara dress that's doing the rounds on Depop right now. At the time of writing, said dress is still in stock on brandymelville.com for its original £17 price tag.
What exactly is it that makes teen girls want to pay a premium for Brandy Melville? The answer is far more simple than you might think: they like it, and aspire to look like the influencers who wear it. This appeal is thanks to Brandy's teen girl focussed marketing strategy -- famously, employees take pictures of customers who they think are well-dressed for product research. Brandy Melville has also remained a staple in the wardrobes -- and more importantly, the online posts -- of internet "It" girls, spanning from 2014 Tumblr girls like Joanna Kuchta to YouTuber Emma Chamberlain.
Tiffanny, 16, estimates that she spent around $2k (£1,547) on her Brandy Melville collection -- purchased directly from Brandy Melville rather than through Depop. On a whim, she made a TikTok showing off her collection.
"When I posted it, not shortly after did I get a comment from someone saying that 'this video is going to blow up'." The commenter was right -- "I reached one million views on my TikTok within about five days," Tiffanny says. Said TikTok now has 2.5 million views. "I guess people were impressed by it."
Tiffany is right: her TikTok wouldn't have gone viral without people liking her collection, but being able to shop at Brandy Melville is a double-edged sword, as revealed by the top comment on Tiffany's TikTok. It simply reads: "I wish I was skinny", and has almost 37k likes.
All but a handful of Brandy Melville's clothing is "One-size" -- originally sold as "One-Size-Fits-All", and later, "One-Size-Fits-_Most_". On average, these garments have a 25-inch waist and a 32-inch bust, equating to a UK size 4-6. As executive Jessy Longo admitted in a 2014 US Today interview, Brandy Melville is consciously not "for everyone".
By retaining their One-size policy, Brandy Melville has become an inspiration to pro-Ana and Thinspo communities. One anonymous Tumblr poster writes: "If you want harsh Thinspo, just go to the Brandy Melville website." Amelie tells me many of her friends have struggled with eating disorders, and according to the Priory Group, the female teen demographic -- similar to the core audience of Brandy Melville's clothes -- are at greatest risk of developing one. Amelie links this statistic to cultural factors like Brandy Melville's cultish reputation in fashion circles. "Subconsciously, they want to live that life of the 'Brandy girl'," Amelie says. In order to do that, Brandy Melville tells them they must be thin.
Scrolling through Brandy Melville's Instagram or website reveals more about who the "Brandy girl" is -- not only is she thin, but mostly white. "This shouldn't be an issue, given there's thousands of beautiful POC models who they could easily hire," Hailey says. Recent TikTok allegations by former employee @calliejeanxo also claim the company has a racist hiring policy -- Callie remembers a manager asking what race a candidate was and immediately discarding her as she was Asian. Instead of financially supporting the company and its ethics directly, Hailey buys Brandy Melville from Depop or thrift stores.
Validation is key to the brand's appeal. As Hailey explains: "Brandy Melville sells the idea of being special for wearing their clothing." In many ways, "Rare Brandy" reselling is a manifestation of Brandy Melville's ethos of exclusivity, artificially creating extra-rare, extra-special, and extra-expensive pieces, extra-worthy of validation by peers. The ultimate "Brandy girl" is now not only white and thin, but she has to be rich too.