Watch ODOR's horny, Chatroulette-inspired fashion film
The Russian brand present their AW20 collection using the infamous online platform and models in varying states of dress (and undress).
Photo courtesy of ODOR.
With the ongoing coronavirus crisis, the fashion industry has entered a state of flux. Established brands who've previously adhered to strict seasonal calendars now have no rules. And given that we all need to be keeping our physical distance from each other and staying home, shooting remote fashion editorials via FaceTime has emerged as a new advertising norm. Yet a challenge has emerged as to how to show clothing and art to the world in an innovative and intimate way -- and the Russian gender-fluid brand ODOR is taking on that challenge head-on.
In collaboration with St. Petersburg-based filmmaker Sasha Chaika, the brand has created an experimental fashion film to showcase their autumn/winter 20 collection. It takes place between various actors in Chatroulette-stylized video chats, inspired by the infamous 2009-launched web platform, that allows you to anonymously communicate via video chat -- in varying states of dress, or undress -- with randomly selected strangers.
In the video directed by Sasha, characters flirt with each other as if covertly messaging on the World Wide Web, in front of their webcams. Each page is digitally created in order to most accurately portray this experience, with the result being a thoroughly bizarre and kaleidoscopic film -- a censored version which can be viewed below.
This past week I spoke with Sasha, and ODOR's designer Nikita Kalmykov, to find out what led them to implement this unique format to show off their new collection.
"When I came up with the idea of this video project, my friends advised me to make it with Sasha," Nikita explains, from his apartment in Moscow. He'd already been familiar with Sasha's photography and films, which have been exhibited in Moscow, Berlin and London. "It seemed to me that the aesthetics of a Chatroulette site could lend a new reading to this collection."
In one sentence, Nikita articulates that the AW20 collection centers on "fragile, shy, and youthful tenderness, in the midst of Soviet brutalism and massive indifference." And while this description might seem at odds with the Chatroulette's presentation, the concept clicks together perfectly. In his work, Nikita tries to preserve old sewing techniques for his clothes; the embroidery and fabric is usually hand-made. The past and future collide within the video, too, and through the anonymity of the popping-up videos, we become voyeurs just like the characters do.
"The ideal person to wear ODOR," he continues, "is anyone who feels limitless inner freedom."
Looking at ODOR's collections, hedonism and human connection emerge as driving forces in Nikita's designs. These same themes overlap with Sasha's video work, which strives to dissolve clichés and taboos surrounding modern sexuality. "The topic of sex in Russia still turns out to be a trigger for some," he explains. "Sexual liberation, as well as any kind of sex work, is condemned and considered shameful. A lot of people are afraid of their own feelings of sexual attraction, and their own desires."
"Everything personal is political," Sasha continues, echoing the French philosopher Michel Foucault. "We can't increasingly wrap ourselves in shame, and allow power structures to control us -- our sexualities, our bodies." These are especially timely ideas in contemporary Russia, with Sasha citing the upcoming trial of Yulia Tsvetkova as an example -- an artist soon to be charged for creating body-positive drawings as a violation of Russia's LGBT propaganda law.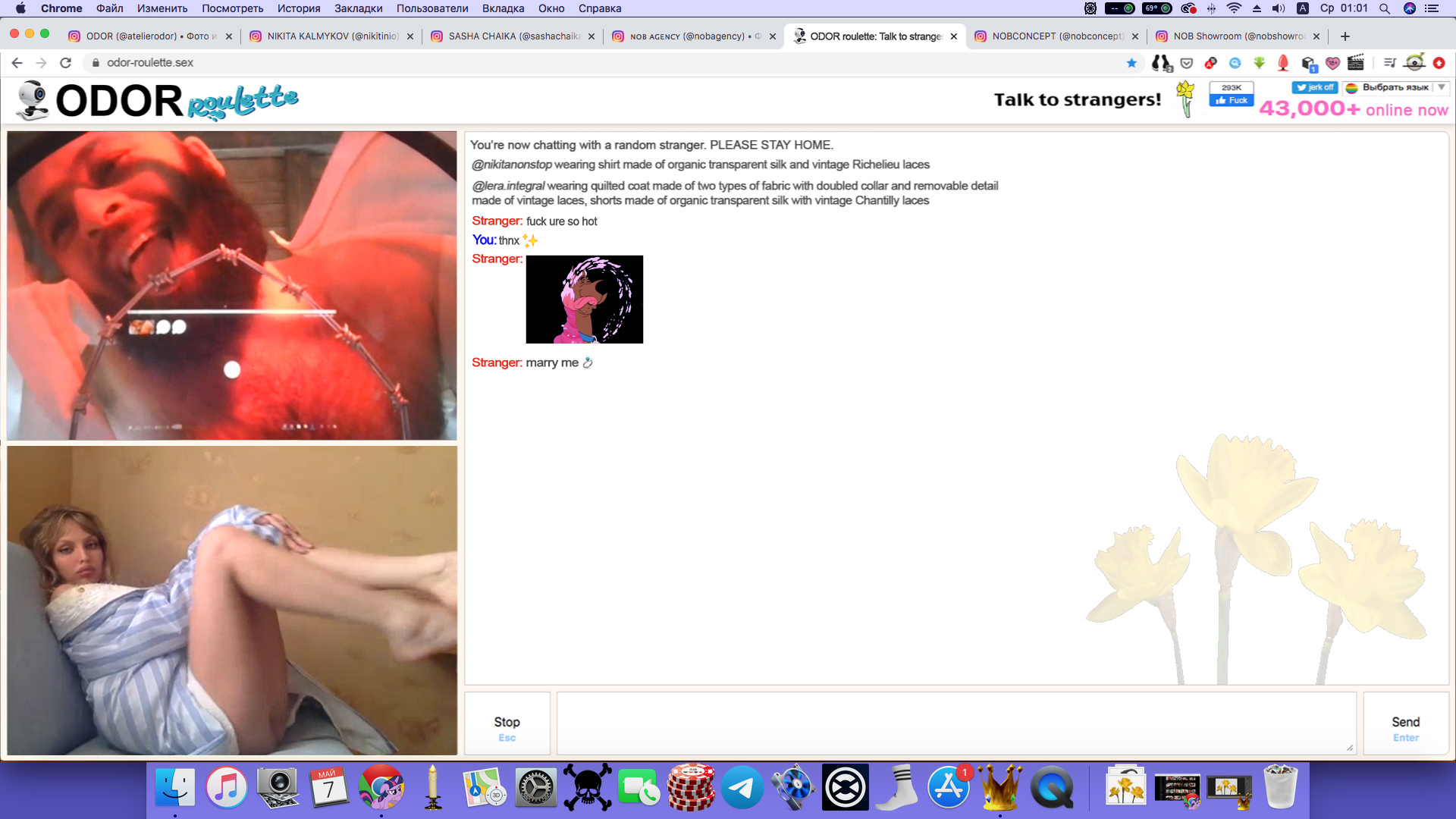 To Sasha and Nikita, our new generation is leading their lives with a new kind of honesty. "Why for so long has sexuality and the body been considered shameful?" Sasha asks.
This thought process lead to their method of casting the short film -- via Instagram DMs. Together they came up with an eclectic group of models and artists, from Moscow to St. Petersburg to Paris. And to really complete the film's gritty Chatroulette aesthetic, they found nude performers to edit in and out of the ODOR-costumed models (Chaika himself even makes a NSFW cameo).
Throughout the video, detailed descriptions of what the characters are wearing (or barely wearing) appear alongside their video entrances. ODOR's out-of-time clothes don't feel gender-fluid in a lukewarm sense here either -- rather they personally, and actively, speak to both masculinity and femininity. For these artists, it's all about having both, and coalescing them together in a sexually-liberated way.
The Russian word for the featured characters in this film is 'герой' (pronounced ge-roy), but this word also happens to translate to the English 'hero'. And to the ODOR brand, to Sasha and Nikita, these people are real heroes too.
This interview has been translated from Russian.