Would you wear IKEA's new streetwear collection?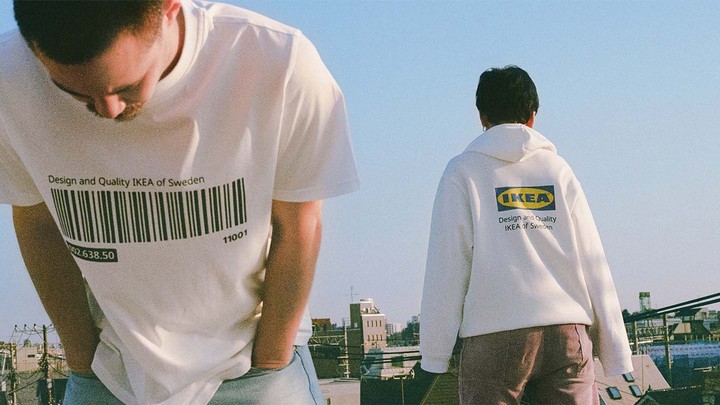 It's strange to think that the streetwear cognoscenti have been taking the iconic blue and yellow colour scheme of Scandi home furnishing company IKEA, and transforming it into fashion for about half a decade now. Remember when those bucket hats and bumbags, made from old IKEA hold-alls, were all the rage? When you couldn't walk past 180 Strand during fashion week without seeing at least half a dozen influencers donning IKEA chic?
The Swedish home furnishing store has long been an icon of great design in its own right too. So much so that Kanye West once tweeted them asking if they'd be down for a collaboration. (As far as we know, they declined.) Then, last year, Louis Vuitton menswear and Off-White artistic director Virgil Abloh beat him to it, unveiling a line of rugs, artwork and bags that channelled everything from the Mona Lisa to a cheap receipt for the brand. The collection's drop caused queues around stores and swiftly sold out.
We've been waiting for IKEA to replicate that hype on their own terms. And it seems that we finally have it.
In celebration of the opening of IKEA's new store in Harajuku, Tokyo, the brand has launched a transatlantic apparel collaboration: the first in IKEA's history. The collection is called Efterträda -- "successor" in Swedish -- and was created to replicate those iconic design codes, shifting them from furnishings into fashion.
The 10-piece collection includes not only apparel, but umbrellas, bath towels and water bottles. A hoodie and t-shirt is printed with the barcode of the iconic Billy bookcase. Another simply bears the IKEA logo, the phrase "Design and Quality, IKEA of Sweden" underneath.
The whole collection carries a real air of 'I work at IKEA', which for some people may be off putting but to others — the ones who pay through the nose for a Deliveroo jacket on Grailed — might just be right up their street.
There is a catch though! The collection is currently only going to be available from the Harajuku store between 31 July and 6 August, with no international release date confirmed. Watch the price of that Billy Bookcase hoodie go through the roof on a streetwear subreddit any day now.
Tagged: