10 things you need to know about Atlanta hardcore duo Deaddogs
Watch their wild lo-fi video for new single 'Regina' -- featuring shared popsicles, chains and a semi-naked roof race -- exclusively here. 
Deaddogs describe their music as pop, which is a truly glorious way to label their raucous punk/rap/industrial mashup -- if only more pop sounded like this! Bro and Izzy — both in their mid-twenties — hail from Rhode Island and Atlanta, and decided to make music together after a successful acid trip. The basis for many brilliant ideas.
The couple model too (I mean, look at them!) and are part of Madde Østile's Strong agency. Between them they have a whole lot of face tattoos and a penchant for upcyling looks; often seen sporting hand-painted leather jackets or denim with the crotch ripped right out.
Today the Afropunk staple are premiering the video for new single "Regina" with us -- a "Regina" is someone who personifies all your worst influences, and, as they put it, "Everybody has a Regina." In fact, if the Regina in your life didn't leap to the forefront of your mind just now then you're probably lying.
The 'Dogs first came to our attention via i-D Fashion Director, Carlos Nazario, who immediately loved both their sound and their wild getups -- "Regina" features some denim chaps that defy explanation.
Watch this and learn more about the very exciting Dead Dogs via the 10 facts below…
1. The band has psychedelic beginnings
Izzy: "Bro was on a road trip from Rhode Island to Tampa and made a stop in Atlanta where I'm from. I saw his instagram coincidentally the same night he arrived in Atlanta. The next day we did LSD together and he never left. We knew when we met that we should do something together. Music felt like the best vehicle to drive everything."
2. And don't worry, the name isn't actually about annihilated canines
Bro: "The name came from the phrase 'On dead dogs', almost meaning 'deadass'."
3. Their musical education started early
Izzy: "When I was a kid my uncle had a studio in my basement. People were always recording, got a lot of singers in my family. I wrote a verse over 'Georgia' by Ludacris and Field Mob when I was like 10 or something. I was tryna get into my older brother's rap group."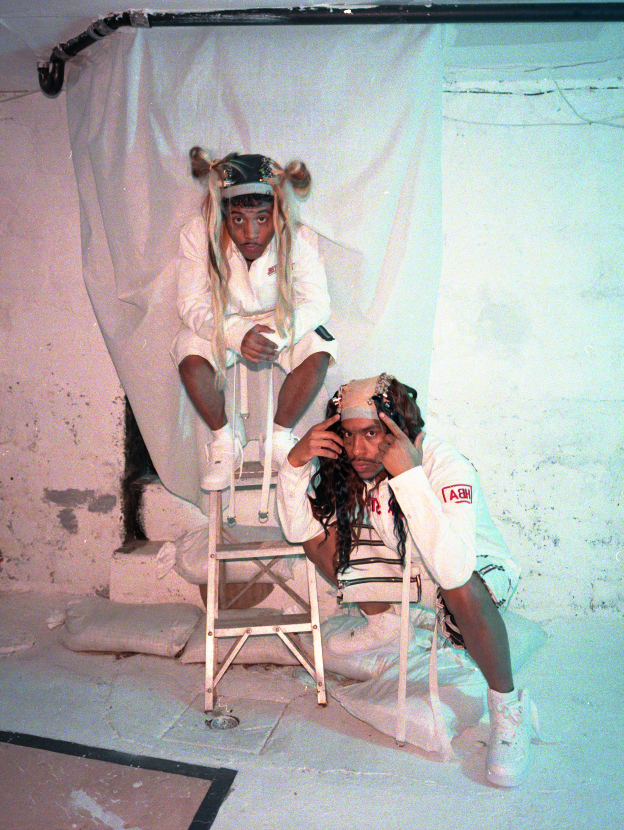 4. You don't want to be a Regina
Bro: "Regina personifies your worst influences. Whether it's a person or a substance the idea is 'Regina got me geeked up'."
Izzy: "Everyone has a Regina."
5. Which is obviously a Mean Girls reference
Bro: "Only you know who or what your Regina is, but in the song we're talking about Regina George from Mean Girls."
6. They make music inspired by their favourite movies, which just so happen to be some of our favourite movies too
Izzy: "Scott Pilgrim and Party Monster."
7. And they relate to some of the (best) worst fictional characters out there
Bro: "Sid from Toy Story. I've just always understood those movements."
Izzy: "Roger from American Dad. I got a real dark sense of humour."
8. The aforementioned jeans are a dearly-departed DIY project
Bro: "They're a pair of crotchless jeans I patched together from a few pairs I had. I lost them that same day."
9. Bro's fashion inspirations are far from mundane
Bro: "Right now I'm into making my body look less human and more like an animal."
10. And the duo leave us with some bonus Dead Dogs fun facts
Bro: "I wear the same shit everyday."
Izzy: "I cry every single time I watch Lilo & Stitch."