Nensi Dojaka's lingerie-inspired womenswear redefines sexiness
The Fashion East designer talks Bella Hadid's VMA's look, ballet and making "weird" garments sexy.
Photography Harley Weir
Maybe you caught a glimpse of Bella Hadid wearing that sheer top at this year's VMAs. Or you double-tapped that photo of a pair of lace-up tights — the one floating around your Instagram explore page last week. Or maybe you've been following along since Fashion East's autumn/winter 20 show. No matter where or when, you've definitely seen the instantly-recognizable designs of London-based designer Nensi Dojaka.
"When I was young, I never had the dream to be a fashion designer," Nensi says. "It was just something that developed very naturally." The designer was born and raised in Albania, where, she admits, fashion was — and still is — "not really a thing." Instead, she took up painting at age five, a hobby she continued into her adolescence and one that Nensi explains had a subconscious influence on her nascent design sensibilities. "When I look back now, at what I was painting when I was young, I was very much concentrated on dresses, what the girls I was painting were wearing."
When Nensi moved to the UK for her A levels, she took fine arts, followed by foundation at Central Saint Martins, where she finally dipped her toes into the world of fashion. "For foundation, I tried a bit of everything," she says. "During my time there, I liked doing little, small-scale designs on the mannequins. I was never one of the people who was doing big, experimental silhouettes; I liked to work with small details. I think that's why I started lingerie."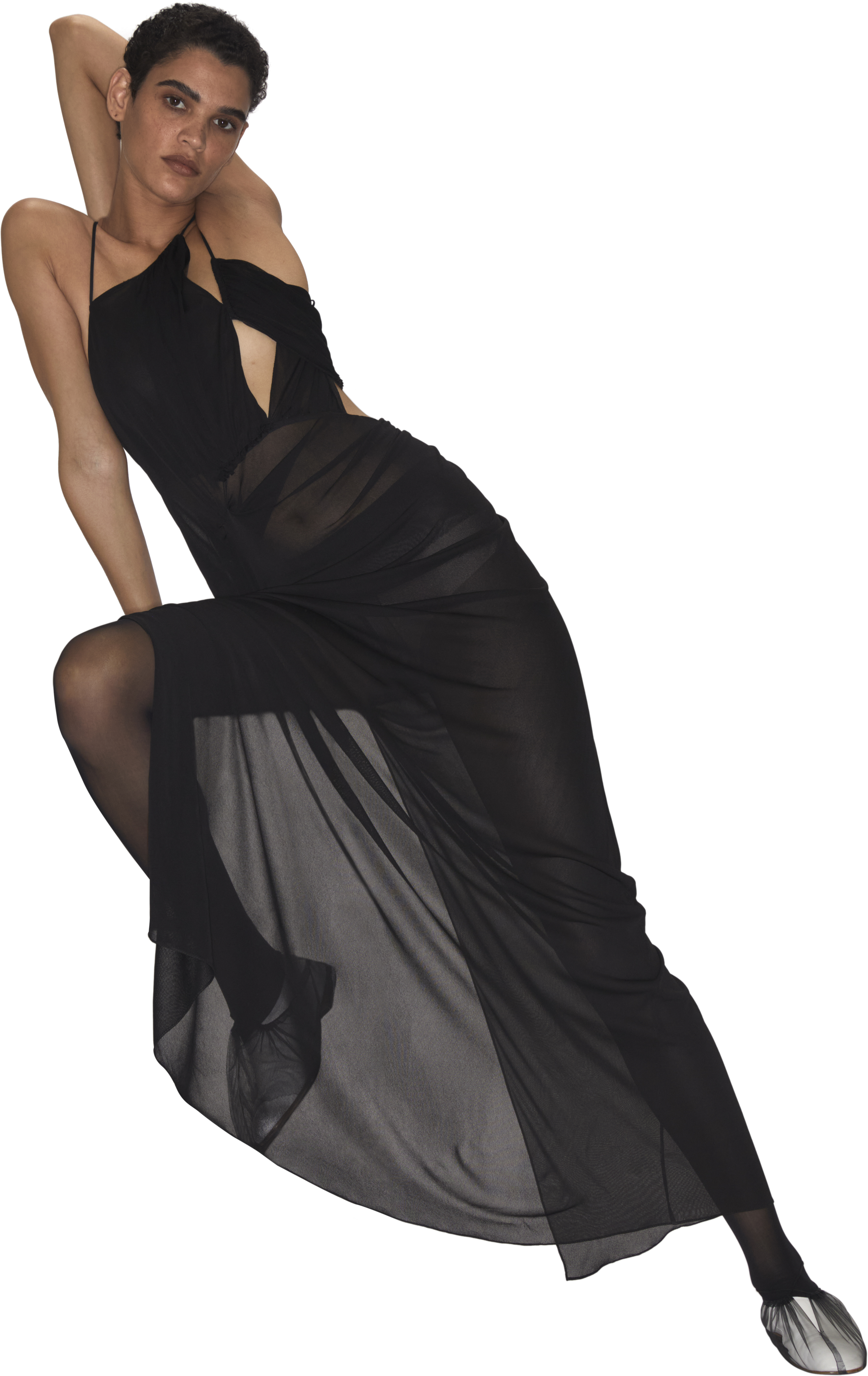 For her BA, Nensi enrolled in London College of Fashion's lingerie-focused fashion contour program, during which she changed her interest from underpinnings to more fleshed out womenswear garments. The result was a collection of eight dresses — patchworked together from tulles, georgettes, the standard lingerie fabrics — which earned her a placement at CSM's prestigious MA womenswear program. "During my masters was when I started getting serious about doing my brand. I felt like I had something unique to bring to the table because my lingerie background was so different from everyone else. I wanted to use what I learned at LCF in a womenswear context."
Nensi's experience, she explains, in the art of undergarments — the attention to detail, the textiles, the fabrications — is what still informs her namesake label's design codes, and what makes her pieces so instantly-recognizable. Like her CSM MA outing, Nensi's debut spring/summer 20 collection, which was snapped up exclusively by avant-garde e-tailer SSENSE, featured micro bra tops, diaphanous miniskirts with girdle-like gathering, ruched mini slip dresses. But, even more so, each Nensi Dojaka piece is somewhat of a contradiction. "My designs are about juxtaposing adjectives," she says, before elaborating. "Strong and poetic." Her designs chart the intersections of dualities: soft mesh peaks into the knife-sharp edges of a triangle bra; unexpected cut-outs carve out negative spaces in positive expanses of fabric; layers and layers of tulle form opaque borders across an otherwise sheer top; the patchwork topography of a single dress takes in solid crepe wool, shiny silk satin and diaphanous georgette.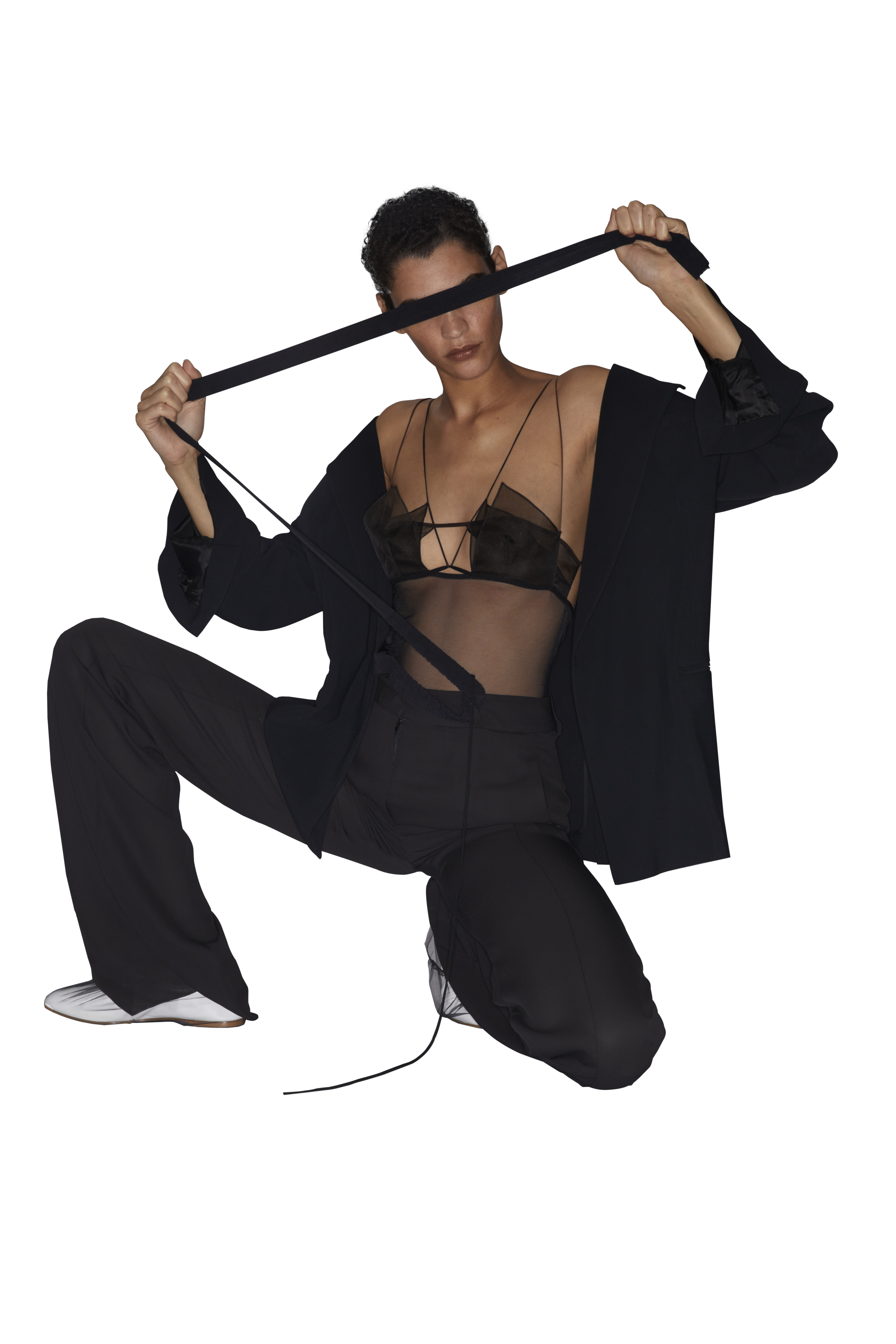 While Nensi describes her garments as "poetic", the same can be said of her creative process, which merges pure intuition with intricate hand-work. "I always start everything from scratch. I don't like to use vintages or work backwards. I make everything, from the beginning, on the mannequin. This always makes for something new," she says. "When I was younger, I used to read a lot of poetry, which was something I got into from my English professor in Albania. I think that definitely has shaped the way I think a bit now, because I always have a feeling in my mind when I'm draping."
Designing directly onto the mannequin — and, by proxy, a woman's body — is essential to Nensi's work and has heavily shaped her design ethos. "The body is very important for me; I use it as an anchor to create all these different drapes," she says. "I want to enhance the body, but it's not so much about showing the body. I don't want it to be sexualized." Lingerie, in the traditional sense, has long been a category that has pandered to male desire, has maintained an ever-narrow definition of "sexy". And this extends to ready-to-wear as well: think the "little black dress" and all its implications. Nensi flips the script on these conventions of sexiness, finding new and unusual erogenous zones, highlighting the oft-ignored parts of the female figure. "I try to take that sexual element away from my clothing through the element of deconstruction. The clothes are a little weird," she laughs. "They're not placed how normal lingerie would be placed. It's all about distortion rather than sexualization". A strappy micro bra from the designer's CSM MA collection features a layered construction in tulle and satin. The piece is teensy and leaves little to the imagination, as they say. Yet the silhouette is so unusual; it jars the mind a bit. It's sexy, but not in the conventional sense. It's sexy in a way that pricks. But that's just another shard of Nensi's vision: "I want my clothing to make the woman wearing them to feel powerful and strong."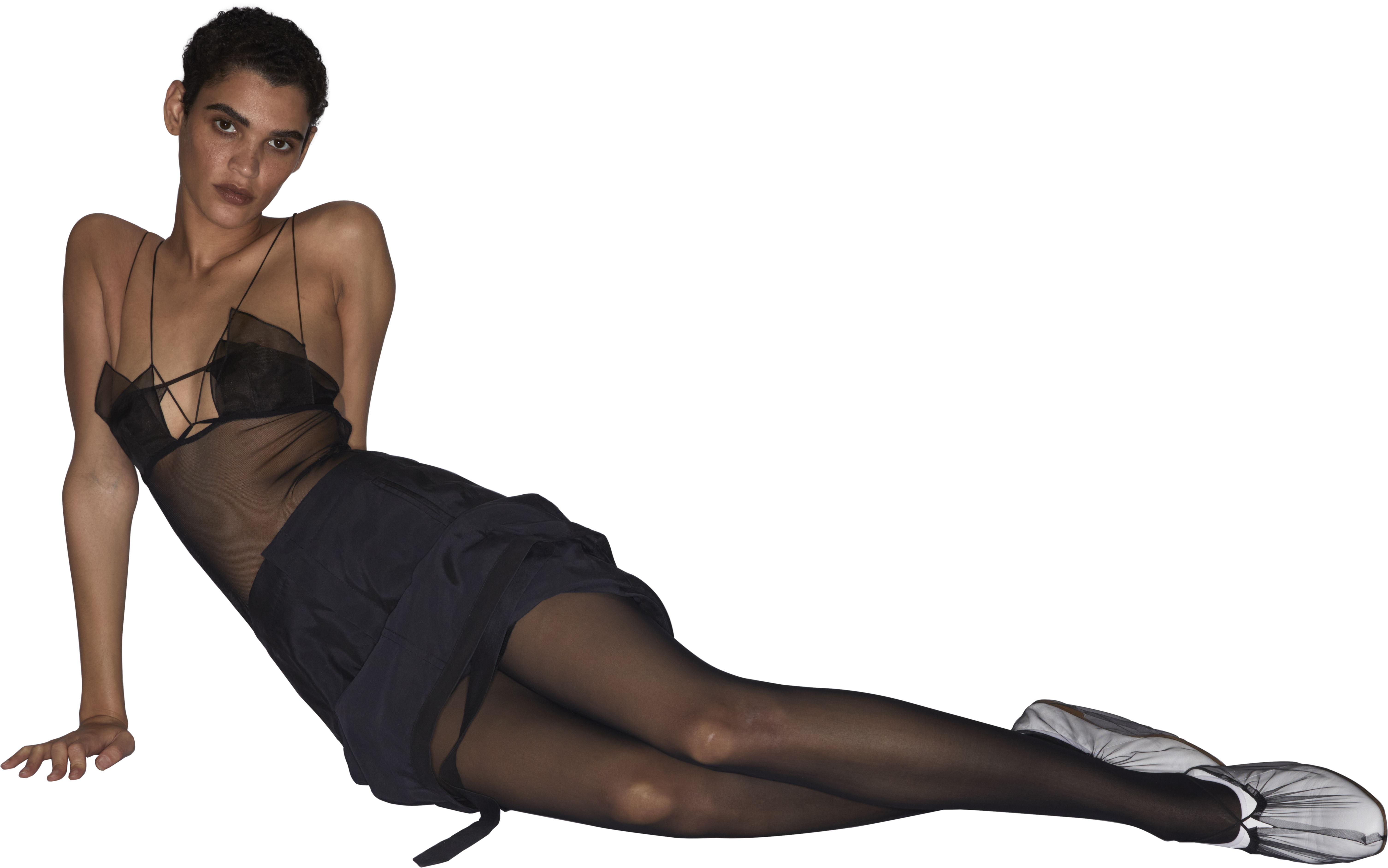 Among wearers of Nensi's avant-garde garments is none other than trend arbiter Bella Hadid herself. "When she wore it, Instagram went crazy," she says of the look, styled by i-D's Fashion Director Carlos Nazario. "I think I got over 15k followers from that alone." The few days between being contacted by Bella's team, sending her dress overseas and seeing the supermodel walking the VMAs red carpet in a near-sheer body-and-trousers look from her freshly-dropped autumn/winter 20 collection was a whirlwind. Bella even shouted out "the incredibly talented young designer" on her grid. "It was very sweet," she says. "It felt validating."
As with AW20, Nensi created and showed her newly-launched SS21 collection through Fashion East, the London-based fashion incubator founded by Lulu Kennedy. "I'm very grateful for Fashion East," says the designer. "And for Lulu. Especially during lockdown, when it was sometimes hard to imagine if we were even doing a new collection, she was always in conversation about doing a show, whether it was digital or physical. This kind of pushed us all to do something new for SS21."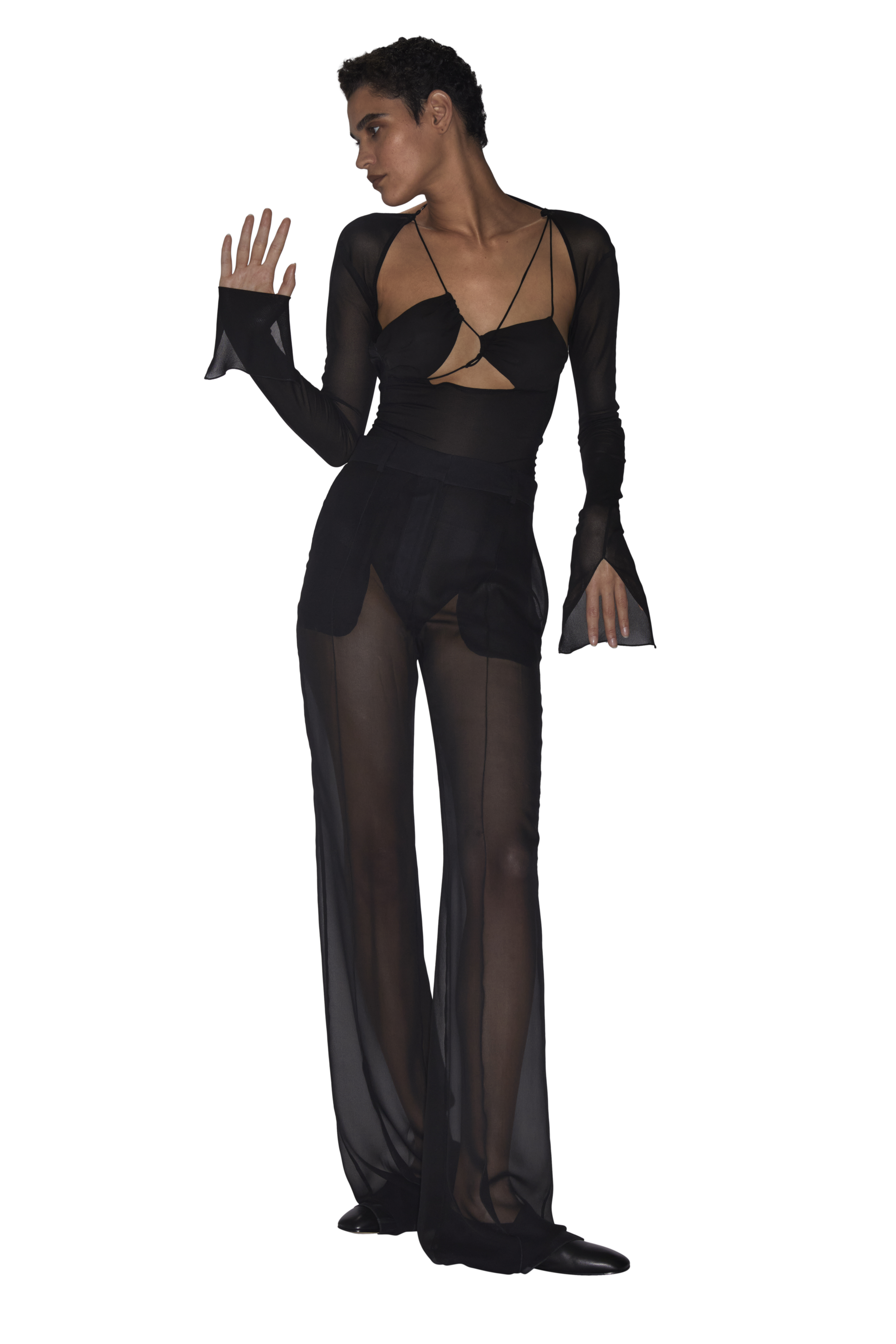 Turns out, however, that the time spent alone at home wasn't much of a hindrance — creatively or physically — for Nensi. "In a sense, I kind of preferred it because I had time to myself to think," she says. This time to think — to flip through old memories — uncovered the inspiration behind the designer's latest collection. "During lockdown, I wasn't seeing anything new. I remembered this ballet I saw two or three years ago at Sadler's Wells in London, and I searched it on YouTube. I liked that the ballet was kind of weird, both the music and the dance itself, but the dancers were all so beautiful and feminine in these bodysuits. I liked that juxtaposition." The ballet in question is William Forsythe's "In the Middle, Somewhat Elevated". It's easy to see why the piece, the first postmodern ballet, characterized by an off-kilter-ness, resonates so deeply with Nensi. It's a choreography of contrasts (the softness of a pointed toe and the sharpness of a palmed hand) and minute movements. In the video Nensi watched (and rewatched) during quarantine, dancers move gracefully, then erratically, to a cacophonous, electronic score. They're all wearing jewel-green bodysuits, sheer footless tights, overlaid. These particular dancewear pieces served as the foundation for spring/summer 21, which showcased sheer, spliced "bodies," as Nensi calls them, with intricate strap detailing. Another stand-out piece was a pair of lace-front tights, a gorgeously technical feat that set the internet abuzz when Nensi teased them on Instagram, days before the season's digital show.
This season, for Nensi and the designers at Fashion East, "digital" meant a lookbook and accompanying video. In Nensi's case, shot by photographer Harley Weir and styled by frequent collaborator Francesca Burns. "For the lookbook, we wanted to focus on the girl and the clothes," says Nensi, of the photo series. "I love the way Harley photographs women. She captures the model's essence and encourages her to be herself. She brought something very honest to it. And an air of lightness, in terms of mood, which is great, especially in a time like this." The collection's video presentation was also about levity: the lookbook images were cut-out and pasted on moving backgrounds of cities around the globe. "The idea was to bring this girl, during a pandemic, all over the world in a safe way."