All photography courtesy of the artist
Little Simz on the power of introverts and Emma Corrin's album feature
The music video for 'Introvert', shot in the Natural History Museum, foreshadows a record of epic proportions. The London rapper tells us more.
All photography courtesy of the artist
It's been two years since Little Simz released her last record, GREY Area. Since then, the Ivor Novello award-winning musician and actor has released the eclectic Drop 6 EP and become a Netflix regular with her role in Top Boy. Emerging, like the rest of us, from a period of nothingness (just kidding — turns out she made a whole album) Simz just announced that Sometimes I Might Be Introvert will be released on 3 September via Age 101. The news comes with a truly cinematic music video for Inflo-produced lead single "Introvert", a visceral essay where lives lived in fear and exhaustion meet inner conflict. It's beautiful and violent and a sign of brilliant things to come. The track closes with narration from a very familiar voice… yes, that is Emma Corrin aka Diana in The Crown. More on that later.
"Introvert" is essentially me finding power within my introversion," Simz tells us. "Turning inwards and finding peace within myself amongst all the chaos that's happening in the world; just trying to centre myself, ground myself, and ask myself real and honest questions in order to grow." The music video is a reflection of that, flitting between expressive shots of dancers, archive footage of police violence, protests, kids on estates, museum paintings and the Natural History Museum's iconic hall — blue whale skeleton and all.
"The Kingdom's on fire, the blood of a young messiah / I see sinners in a church, I see sinners in a church," opens Simz, urgent and powerful. "I wanted it to feel cinematic because the music offers such a cinematic experience," she says, of it's orchestral majesty. "Salomon Ligthelm is one of the greatest directors to do it, in my opinion. It was cool to be able to work with him and find a way to bring that to life."
We caught up with Little Simz to go BTS on the "Introvert" set, discover more about her forthcoming record (with features from the likes of Cleo Sol and Obongjayar) and get the gossip on the surprise Emma Corrin collaboration.
Simbi, what did it mean to you to have the iconic Natural History Museum as a location? Do you have a personal connection to this space?
Being able to shoot in the Natural History Museum is crazy, it's a dream. I remember going there in my teenage years and being so immersed in it all. To then come back years later and speak my truth in a space like that is very surreal — a moment in time I hope. I like to think history was made again, you know?
And how was it exploring choreography for the video?
Amazing. I got to work with a choreographer called Kloe Dean who I've actually known since I was 10 or something — we used to go to the same youth centre, St. Mary's. She used to teach dance there. Again, to come back years later, link up with her and create this beautiful piece to go alongside the music, I just think it elevated it even more. Dance is a very expressive language and art form — there are stories that can be told beautifully through dance. I'm super excited I got to do that for "Introvert".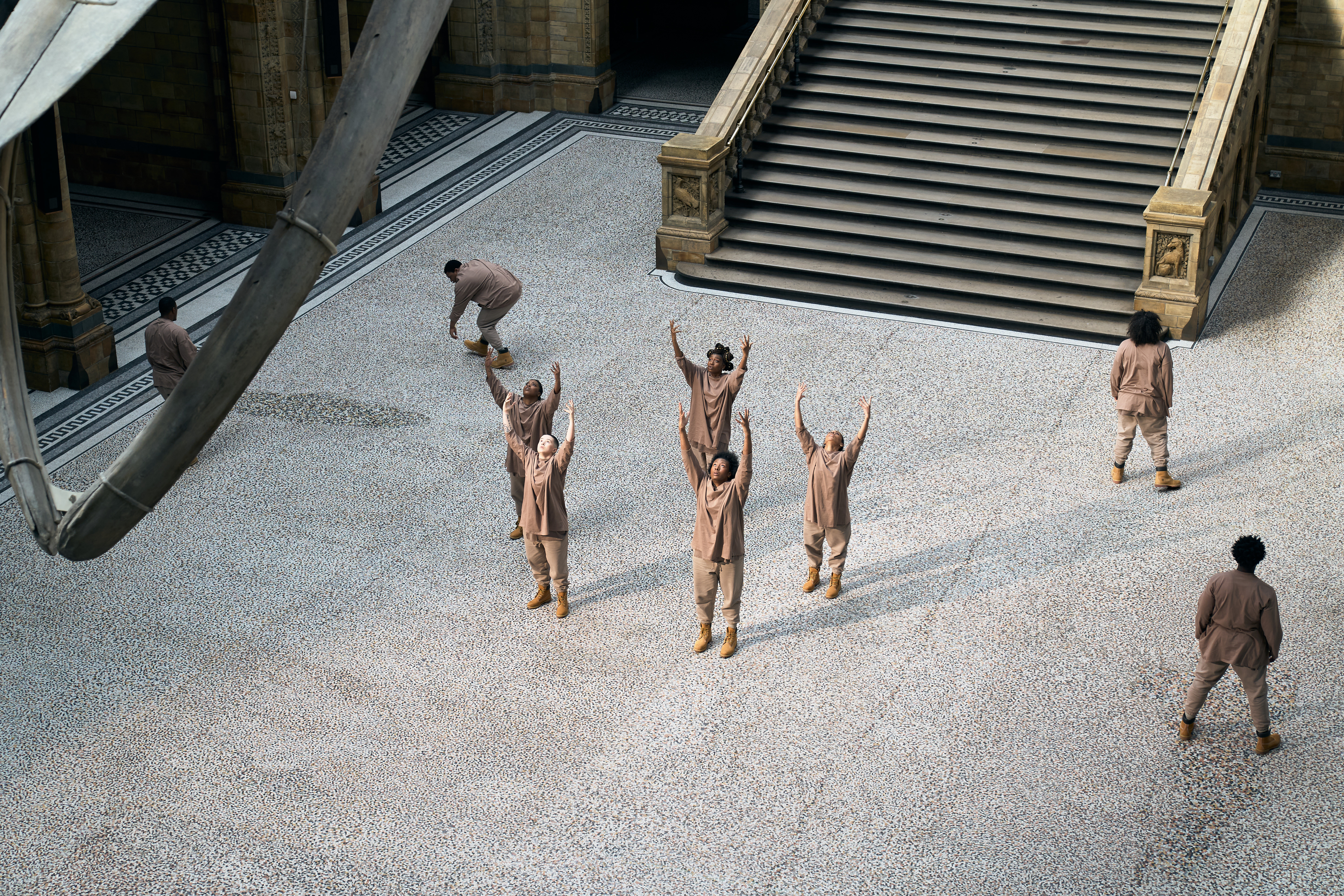 "Introvert" ends with narration from The Crown's Emma Corrin. What can you tell us about the role or character she plays on the record?
I think Emma Corrin is amazing man, she's really really talented and just a beautiful, genuine, nice soul. Getting her on the record, I just knew that her adding her magic would take it somewhere else, she just has a great voice. Everything she is saying on the interludes and at the end of "Introvert" are things that everyone should hear; you interpret it and digest it how you want but she was able to narrate it beautifully and in a way that doesn't feel preachy or like someone's talking down at you, or you know… something you might even just say to yourself.
The track ends with Emma talking about embarking on a "journey of what it takes to be a woman". Can you tell us about what that means to you?
Just feeling empowered, feeling sure in myself, feeling good in myself, not being afraid of myself and my abilities and where I can grow to and what I can be. I'm just trying to push that narrative out there and it's things that I need to hear from other women. And I wanna be picked up and uplifted so I'm just trying to give that same energy back in hopes that it can uplift others.
"Introvert" urgently touches on societal injustices, what do you hope people take away from it in that regard?
People can take away whatever they feel, I think that's the beautiful thing about art. It's open for interpretation and whatever resonates with you the most will stick. So I kinda just like to leave it open, I've spoken my truth.
What can we expect from the rest of Sometimes I Might Be Introvert?
I think don't have any expectations. Just go into it with an open mind, let it take you wherever it takes you and enjoy the music, man. Don't think too hard and don't expect too much or too little — just be open.
Tagged: