7 neo-western movies redefining the classic American genre
As 'My Own Private Idaho' turns 30, we examine the modern films that've given new life to the wild west.
|
11 October 2021, 10:24am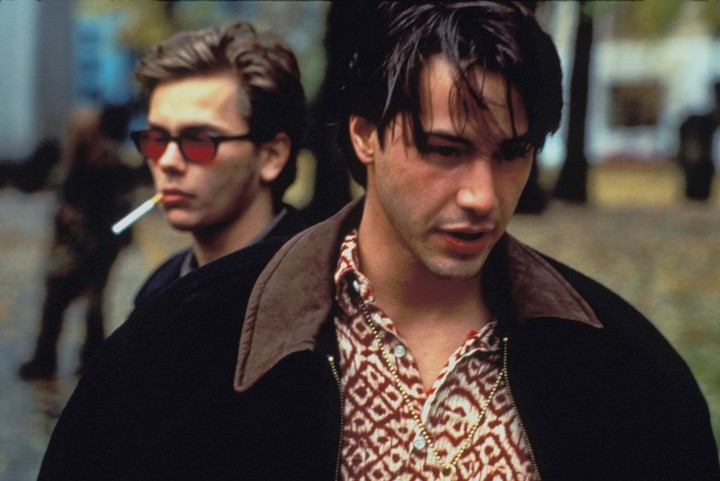 still from My Own Private Idaho
The western is a staple of American cinema. A genre as old as time, the motifs of gun-wielding cowboys and bounty hunters galloping through the lawless desert plains of America are the defining images of the classic western movie. But the genre has aged terribly; these same films that have been entertaining audiences for centuries harbour harmful Native American stereotypes and rarely spotlight any other perspective than glorifying the white coloniser.
Nowadays, cowboy symbolism has become embedded in pop culture, from Kacey Musgraves' crooning "Space Cowboy" to the "romantic cowboy" becoming fashion inspiration. And with more LGBTQ+, POC and women behind the camera, the Old West mentality has been widely exonerated. This revised space allows for a more diverse array of stories and characters, resulting in a new sub-genre: the neo-western. Whether redefining the American Dream or reevaluating the image and aesthetic of cowboys, the neo-western film ​is a cinematic entity reclaiming identities and updating what is considered 'classically American'.
A defining title in the neo-western canon is Gus Van Sant's My Own Private Idaho, which celebrates its 30th anniversary today. The trailblazing Shakespearean adaptation brims with tenderness and homoeroticism as a queer neo-western challenging the notions of rigid American masculinity. Cowboy companions or "roommates"? The line is thin…
To celebrate the contemporary and inexorable allure of the neo-western, here are seven recommendations that demonstrate the scope of movies redefining the wild west.

1. My Own Private Idaho (1991)
Preceding the queer cult classic Brokeback Mountain, My Own Private Idaho holds its own as a landmark title of New Queer Cinema. Gus Van Sant's bold and visionary world of a narcoleptic hustler stars River Phoenix and Keanu Reeves as antiheroes on the fringes of society. The two men embark on a journey of self-discovery underscored by Mike's (Phoenix) unrequited feelings for his best friend. 30 years on, Phoenix's ​​stylish looks, the film's grungy edge and that scene still resonate beautifully.

2. Lean On Pete (2017)
This gem from A24 is Andrew Haigh's heartbreaking showstopper: an aching portrait of two lost souls, a 15-year-old boy and an ailing racehorse, wandering the American landscape. Soft boy Charlie Plummer is remarkable as the headstrong but sensitive Charley, who steals the eponymous horse from slaughter and embarks on an odyssey across America. However, it's not as easy as riding off into the sunset. This stunningly crafted coming-of-age journey takes the classic western mythology of a solitary cowboy and his horse and incorporates modern issues of homeless youth and urban poverty. The image of these directionless beings and kindred spirits, two- and four-legged silhouettes standing silently against the sunset, is one of the most moving entries in the neo-western canon.


3. The Rider (2017)
Arguably, the best double bill accompaniment for Lean on Pete is Chloé Zhao's mesmerising The Rider, another contemporary western challenging the expectations of masculine cowboy mythicism in the heartland of America. Once a rising star on the rodeo circuit, Native American Brady Blackburn (Brady Jandreau, who plays a version of himself, like all the film's untrained actors) is left physically and psychologically wounded by a near-fatal bronco riding accident. Zhao's gorgeous, documentary-like gaze captures his soothing touch with spooked horses, and a quiet but sincere connection with his rodeo peers. It's all done in a manner more admirable than the traditional bravado found in western classics.

4. Bull (2019)
Rural ​Texas is the setting for this unassuming story of a weary mentor and his student in the bullfighting ring. Annie Silverstein's debut feature centres on the intersecting lives of Kris (Amber Havard), a 14-year-old wayward white girl growing up in the South (reminiscent of Cusp's hedonism), and Abe (Rob Morgan), an older Black man whose life in the bullfighting ring has left him with gruelling physical damage. Combined, these two perspectives — not usually portrayed with the world of bull-riding — form the heart of Bull's gritty stoicism. A film designed to have you wince with apprehension then beam with second-hand pride.

5. First Cow (2019)
There are three equally important central characters in Kelly Reichardt's earnest parable: talented travelling chef Cookie (John Magaro), business-minded Chinese immigrant King-Lu (Orion Lee), and the famed first dairy cow to arrive in Oregon Territory (that's Eve). Reichardt's take on the western buddy movie set in 1820s Old Northwest — a period often whitewashed on screen — offers an authentic portrait of two early American entrepreneurs dreaming of making a fortune at trading posts where non-white settlers and Native American people gather. Come for a patient reinvigoration of male companionship on the American frontier; stay for the sacred Oily Cakes recipe.


6. Nomadland (2020)
More commercially successful but equally as nuanced as her previous work, Nomadland is Chloé Zhao's most recent conquest. The film is a sombre study of the American Dream or, more accurately, the contemporary nightmare of corporate America. Frances McDormand is Fern, a woman in her sixties resorting to a less-polished #VanLife after economic hardship destroys her way of life. This modern-day western on nomadic life in the States frames the fading light on the horizon as a bittersweet glow; freedom and helplessness exist simultaneously. With Eternals arriving next month, it is well worth diving into the brilliant works of Zhao's fantastic filmography. This is a good place to start.

7. The Power of the Dog (2021)
Jane Campion's intense study of masculinity sees two cowboy brothers' (Benedict Cumberbatch and Jesse Plemons) relationship grow dysfunctional beneath the burning Montana sun. It is Phil (Cumberbatch), the soon to be brother-in-law, whose nefarious toxicity infiltrates this brooding melodrama with resentment, repression and an undeniable queer subtext. The Netflix film has all the attributes of an epic western but capturing life on the cattle ranch becomes a task of introspection. Cumberbatch imbues Phil's performance of masculinity with an unforgiving tautness. The ostentatious character embarked to tame the wild frontier, yet it is him who has been shaped by its unforgiving nature.