Images courtesy of Saint Laurent
Romantic sportswear and Romeo Beckham for Saint Laurent: What's in fashion?
Your one-stop-shop for this week's fashion news to know.
Images courtesy of Saint Laurent
Hello my stylish lovelies! How time has flown since we saw you last! This week, we're bringing you collabs, darling — from blockbuster partnerships like Burberry x SSENSE and Dior x sacai to Romeo Beckham's appearance in the new Saint Laurent campaign. Not forgetting, of course, the the latest from Asics and Kiko Kostadinov's ongoing pair-up. We've also got Gucci furniture, fashion fundraisers, and an interview with the editor of the world's first 'bagazine'! What does that mean, you ask? Read on and find out! Here's what's in fashion.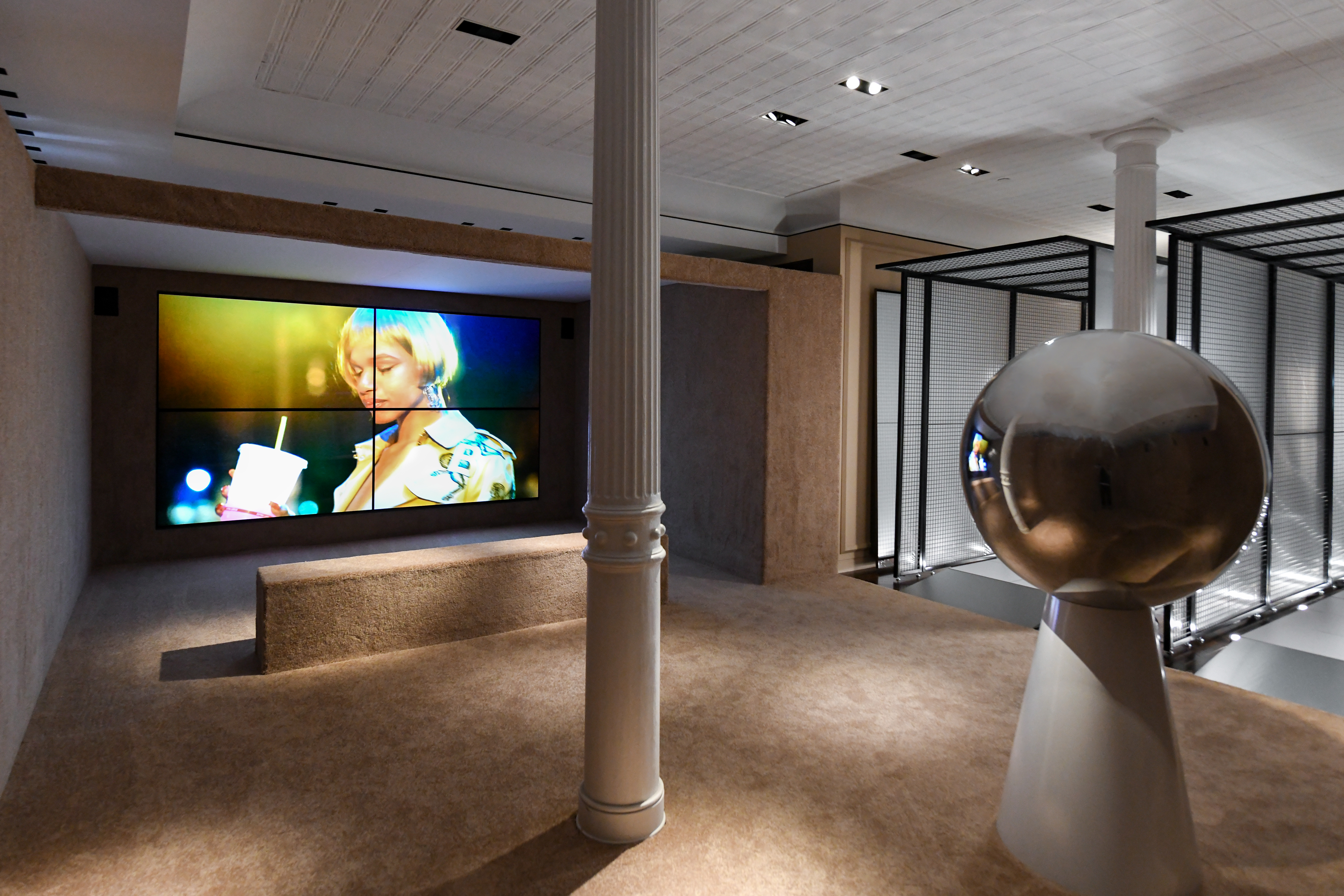 Burberry and SSENSE take a bite out of the Big Apple
This week in titanic collaborations, London mainstay Burberry has paired up with Montreal fashion monolith SSENSE on an offline/online multidisciplinary experience. What exactly does that mean, you ask? Well, those based in New York can head down to the British house's SoHo flagship (not to be confused with Soho flagships; more on that later) to find out. There, you'll be greeted with Imaginary Cities, an immersive, site-specific project comprising the new Mythical Alphabet capsule -- a collection of trenches, tees, silk shirts and more designed in collaboration with Peter Saville and Jo Ratcliffe celebrating the Burberry animal kingdom -- and A-B-City, a short film by Torso Solutions. Starring a diverse cast that includes Lourdes Leon and Selyna Brillare, it offers an abstract meditation on coping with extreme change and life in New York City, with vignettes written by Natasha Stagg, Brontez Pearl and Juliana Huxtable. Not in the Big Apple right now? Well, you can experience it all here, too! What a time to be alive. MS
Dior just made mopeds chic
If you're not heading anywhere sunny this summer, then you're just gonna have to bring the vaycay vibes to wherever you are! Few things transport us straight to a holiday state of mind than seeing a Vespa, the Italian motorscooters synonymous with sun-drenched stays in Naples, Sorrento or Rome. If you thought that Vespa couldn't get any more chic, though, then you were wrong! Enter Maria Grazia Chiuri — a native Roman, who undoubtedly spent much time on the back of a Vespa — and her redesign of the zippy two-wheeler for Dior, complete with a luxurious top case in the House's iconic Oblique canvas. With calf leather and gold-effect finishings, it'll give even the most tedious of journeys a much-needed dash of luxe va-va-voom! MS
Dior x sacai brings our fashion collab dreams to life
Wait! There's more Dior! If there's any designer out there that knows that collaboration is the name of the game today, it is, of course, Kim Jones. Time after time, he's delivered some of the most innovative co-branded moments in contemporary menswear history, from his seismic Supreme partnership at Louis Vuitton through to the instantly viral Air Dior sneakers. With his latest, he once again goes above and beyond, this time tapping the inimitable Chitose Abe of sacai. Riffing on the Japanese label's central doctrine of hybridity, the capsule takes the core codes of both houses -- Kim's Dior's tailoring savoir-faire and sacai's future-leaning, tech-y sensibility, for example -- to create garments and accessories that ooze a sense of heightened functionality. Think Saddle flap tool bags, top-handle totes and Japanese denim workwear pieces with couture finishings -- think utilitarian, but damn fucking chic! MS
Independent designers rally together for the greater good
Heroes come in many forms, but you know one when you see one. Case in point: APOC. The online marketplace celebrating a new generation of fashion and design creatives has teamed up with Creatives 4 Systemic Change (C4SC) to raise funds to tackle racism and discrimination. The fundraiser is set to run from 20 to 27 June, and this year's raffle will consist of designers and artists from APOC store such as Sinéad O'Dwyer, WED Studio and Khanh Brice Nguyen will be donating their very own, lovingly hand-made pieces into an online raffle that you have the chance of winning for just £10. Yes, you read that right: a tenner could bag you a priceless work of art! More importantly, the sale is in service of a great cause. This year, all funds raised will be donated to organisations supporting Asian communities in light of rising hate crimes, and will support Asian garment workers that have suffered as a result of the pandemic. So go on, reach into your pockets, find that tenner and put it to a good cause. Not all heroes wear capes, after all. KK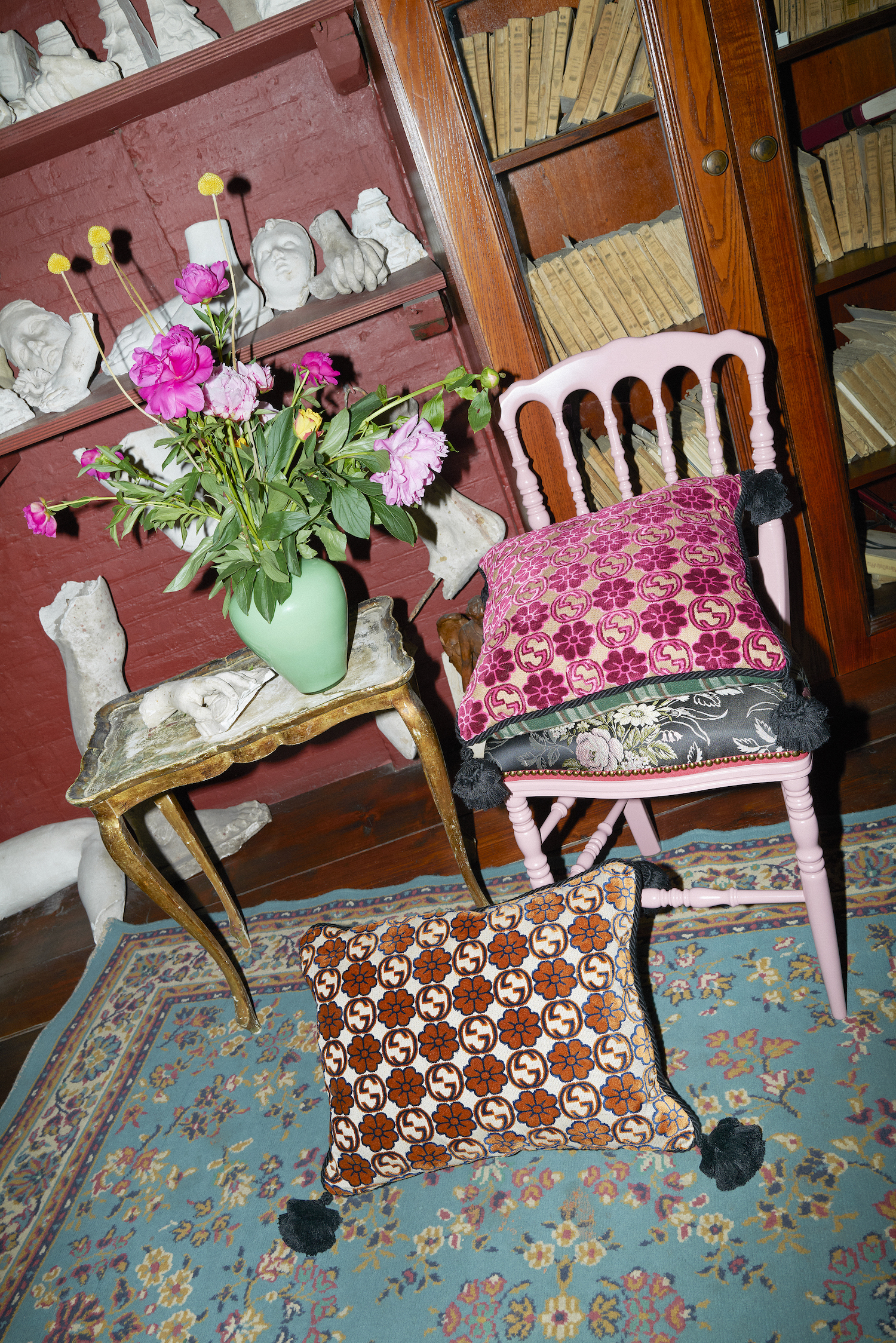 Your favourite Italian house wants to upgrade your home
Take a look at your surroundings. Is there something missing? A fabulous cushion perhaps? An antiqued silver-plated fork and spoon with a lion's head? An exquisitely botanical-print set of porcelain tableware? Not to worry. Gucci is here to upgrade your interiors game. The Italian house's new homeware collection, titled New Romantics and designed by Alessandro Michele himself, is the kind of wildly decadent objet de maison that will instantly turn a house into a… home? Please. More like a palace! Entirely made in Italy, the level of craftsmanship is equally ornate. The personalisable cutlery, for instance (because if you aren't eating off initial-monogrammed forks, can you even taste food?) undergo more than 20 stages of manufacturing — the delicate shapes achieved by hand-moulding, and the leoline motifs hand-finished by expert chiselling. They even come in a quilted satin case that could easily double as a decorative ornament. If you're going to be staying at home this summer, you may as well do it in style, right? OA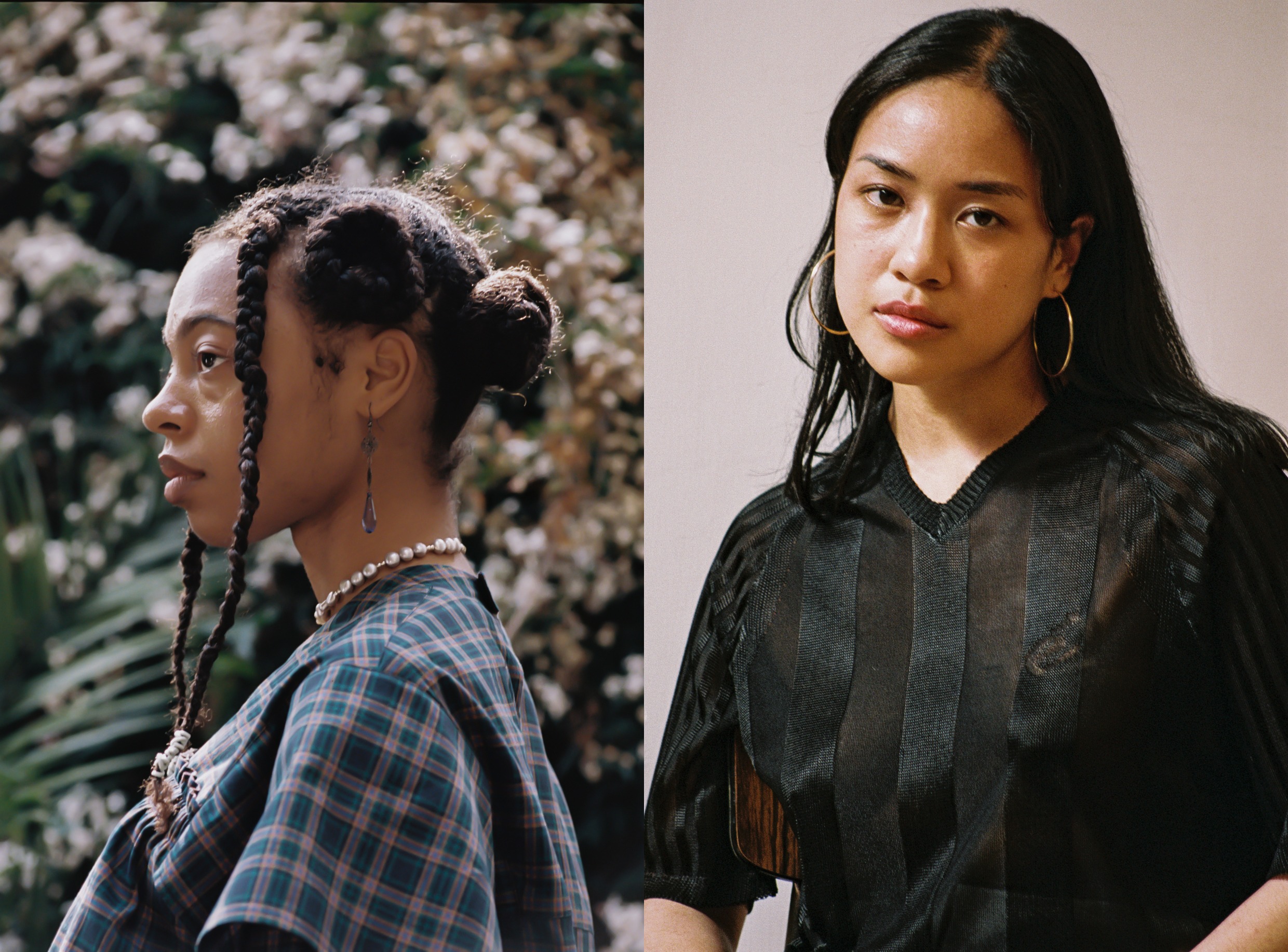 Chloé Nardin's softer take on sportswear
It's no secret that the climate for fresh fashion talent has hardly been welcoming over the past 15 months, and yet so many graduate designers have gone on to thrive at a time when the odds were stacked against them. A testament to their tenacity is Chloé Nardin, the London-based French designer who graduated from Central Saint Martins' MA Fashion programme in March of this year. Since leaving the King's Cross institution, she's committed her time developing pieces from her graduate collection -- a celebration of "French suburbs, the South, football and romanticism", as she told us back then -- into a capsule that she's just launched for sale on her own e-store! Here, she tells us all about it.
First off, how's life been since graduating?
I haven't stopped really… I am somebody that works off stress -- if I feel anxious, there is just no way I will take a break. I've always dreamt of taking the entrepreneurial route, and I was like, "Girl, it's now or never!" It's a lot to take on but I am so happy to be doing it while it lasts! And I actually love the business side of things, doing design can sometimes be unpredictable, and almost mystical, so this more pragmatic part of my job really grounds me.
Tell us about the collection you're launching on your new e-store.
I really wanted to do something with my graduate collection. As students, you work so hard on the design, spending months and months thinking through every detail… And often, you know, no one ends up wearing it!
I took the pieces that had the most commercial potential and I worked on different colourways. Most of my fabric comes from Provence, in the South of France -- really cute cottons printed with the region's symbols: cicadas, olives. It made for a great sense of contrast with the really 90s-influenced sportswear silhouette of the pieces.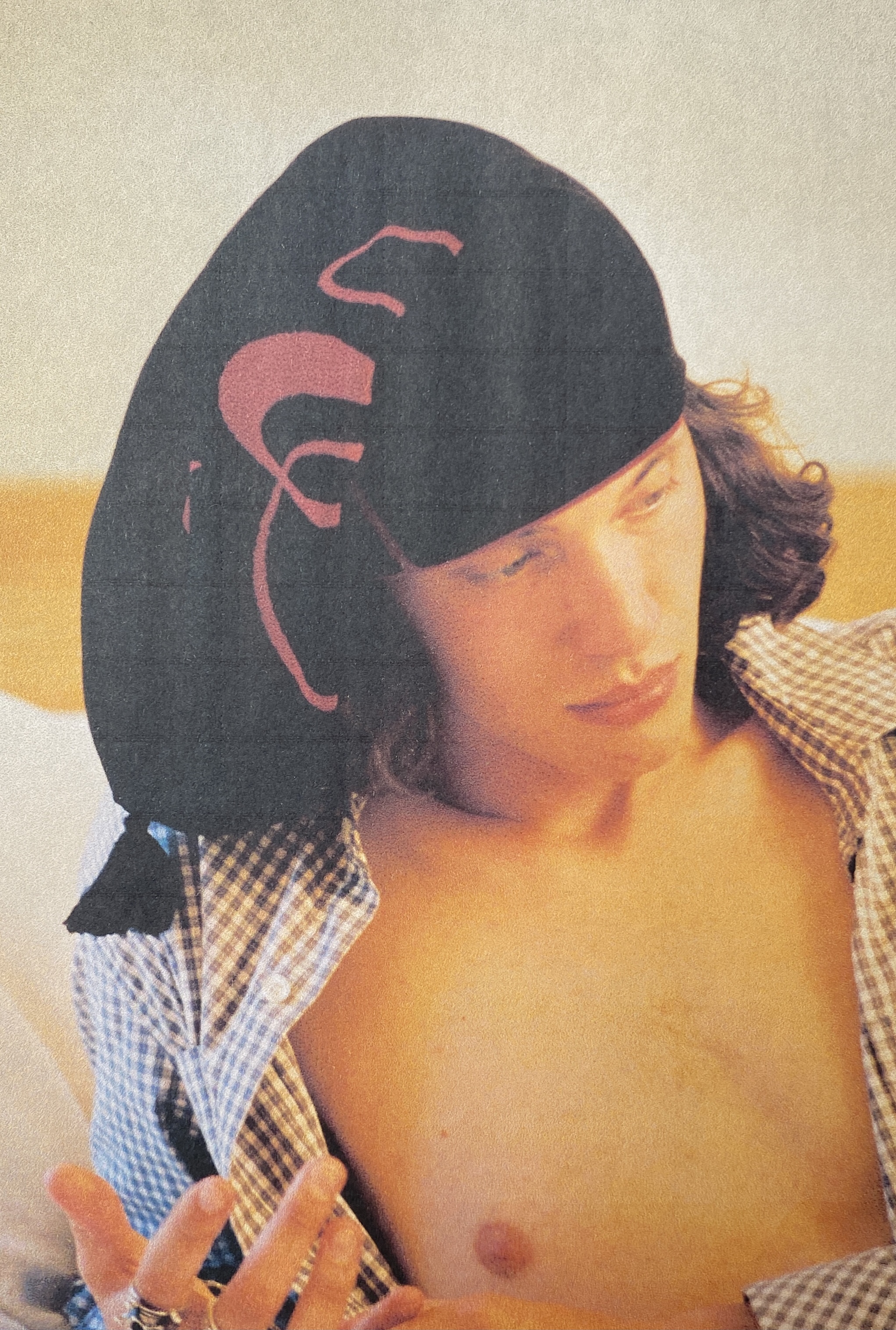 Tell us about the editorial you worked on with Alessandro and Sarah. You chose to shoot the talents in their own homes. Why is that?
I contacted my friend Ale who is a genius at portraiture. He does these precious shots where he would be posted in a corner of the room, zooming in on the subject, which allowed the talents to not have a lens in their face, and for him to capture something really natural. That's also why we chose to shoot them in a familiar environment, to keep it spontaneous and, ultimately, highlight the garment's comfort and wearability. Also, a lot of my inspiration comes from night/home wear -- I love the allure and nonchalance it gives. There's this beanie, for example, that's inspired by vintage nightcaps, and it really gives off such a cool, 'jaded' vibe but is also freakin' chic!
What impression of the Chloé Nardin world do you hope people get from these images?
We really wanted to photograph the clothes on a mixed cast -- until now, I had only shown my work on men and the clothes really are for anyone to wear. My work qualifies as menswear but the term really doesn't mean anything anymore, does it? That's really what I love about sportswear: it's beyond gender, but in a way that isn't 'fashion'. A hoodie is a hoodie! The sportswear industry, though, can be quite masc -- that's why I love to bring in elements that are super 'sweet' and that nicely clash with that vibe. There is something quite romantic in my designs, but in a way that I aim to be cool and playful. And I always imagine that whoever's wearing it as a bit of a flirt… ;)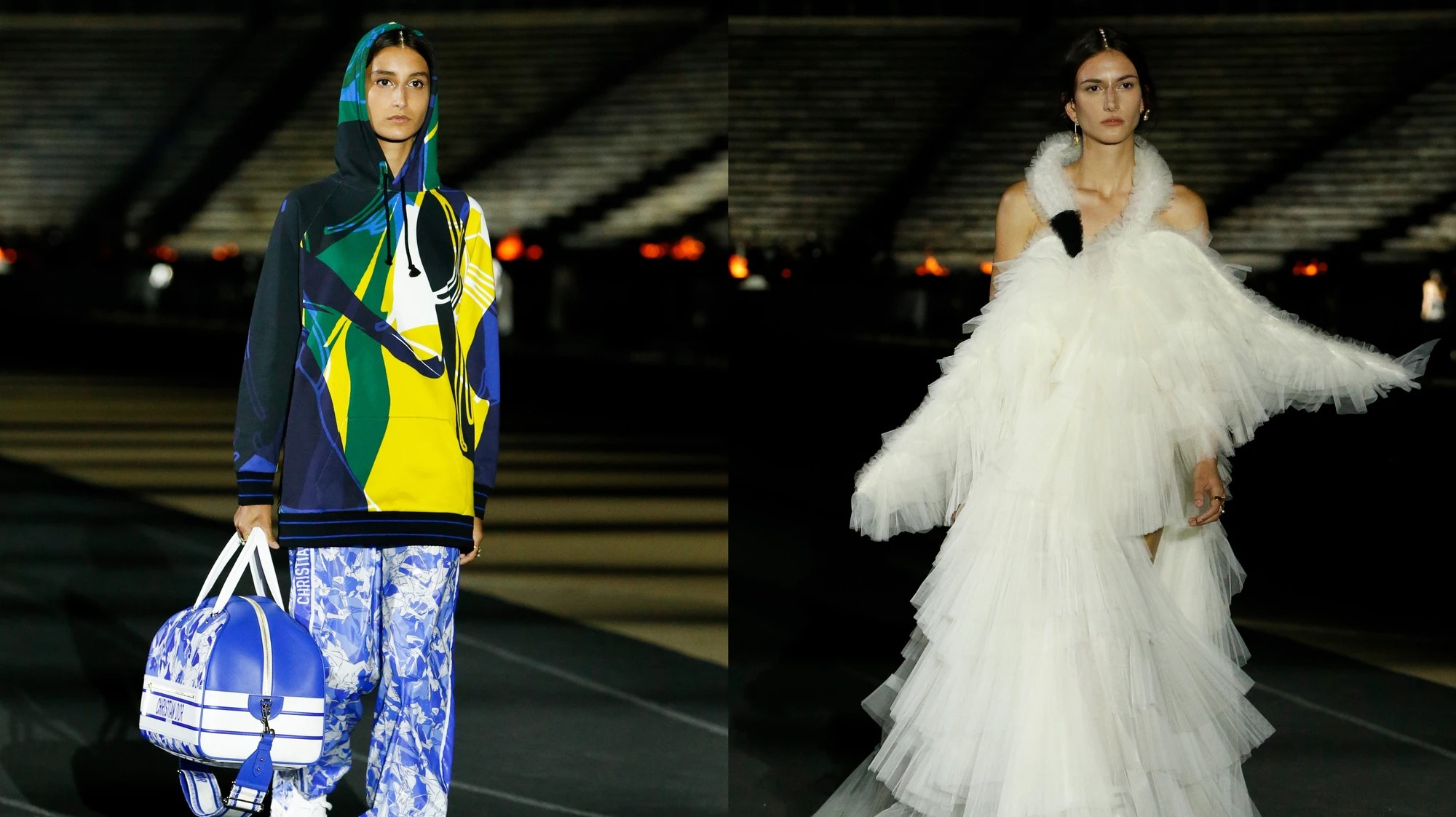 It's time to go Cruisin'
It's that time of year again! The sun is out, the weather is warm — it's time to go cruising! Take your mind out of the gutter. We're talking about the Cruise 2022 shows, of course, which kicked off this week (well, technically last month with Chanel) in fabulous destinations around the world. Louis Vuitton made a case for marching band jackets at Axe Majeur and Dior took its travelling show to Athens, to an ancient sports stadium where Maria Grazia Chiuri showed — you guessed it — sportswear! Need catching up? We've got you covered. Head here for everything you need to know. OA
Saint Laurent is bringing it home for the boys
Romeo, Romeo, where art thou, Romeo? Oh, there you are — in the new Saint Laurent menswear campaign! Yes, your favourite mini Beckham has set teen hearts aflutter in Anthony Vaccarello's new collection (teeeeeny short-shorts, chequerboard polo top, silk cravat). But the celebutante is just a teaser for the main event… Saint Laurent's AW21 menswear collection. Full of all the classic hallmarks of the French house, it's a continuation of the wardrobe classics that Anthony has made his calling card… biker bombers, silk shirts, lean tailoring, lots and lots of leopard. As one sweatshirt puts it: "The secret is to stay cool!" Mission accomplished. OA
Welcome to London, Daily Paper!
Daily Paper, the Dutch label that is perennially inspired by the rich heritage of African culture and streetwear, has just arrived in London. This weekend, a vast two-floor flagship will open its doors on Great Pulteney Street in the heart of Soho, housing the Amsterdam-based label's colourful creations, as well as acting as a space for community events and performances by talent from London's wider boroughs. The first? UNITE, a performance by grime artists Ghetts, Elheist, BDE x FLEX, and ENNY. We caught up with Hussein Suleiman, one the brand's original founders (it was set up by three childhood friends) to find out more…
Hi Hussein! You've just opened a store in London. What makes it different to other boutiques in the city?
The first thing is that it's a flagship store where we only carry Daily Paper clothing. Next to our collections, we use our physical spaces to provide authentic experiences for our community. We'd like our flagship stores to be a hub for like-minded people to meet and inspire each other. There is a story and a thought behind everything you see in the store and through in-store community activations.
Is there a particular reason you chose to open in Soho?
With Jefferson [Osei] and Abderrahmane [Trabsini], we have been visiting London for many, many years and our favourite shopping area has always been Soho. That's where we go to buy new clothes. In my opinion, it's one of the best shopping areas in the world and I think it fits our brand very well.
How would you describe Amsterdam style vs London style?
There are both similarities and differences between the two. I can see that people in London are much more individualistic and expressive in their style, which I like a lot. I think there is more diversity in the UK compared to Amsterdam in terms of style, and I can't wait to see which of our items will be favoured by our London community.
Can you tell us a bit more about your CYPHER project?
With the Daily Paper: Unite Sessions, we are championing a series of in-house produced live performances featuring Ghetts, ENNY, BDE X FLEX and Elheist. The performances spotlight London's iconic and grassroots talent by celebrating all four corners of the city. With these exclusive freestyles, we aim to bring attention to the importance and impact of creativity, community and heritage.
What's the one thing you can find in the London store that you won't find anywhere else?
Our London flagship store tee and hoodie are exclusives that you can only find there.
And who's your dream customer?
Michael Jackson when he went on a shopping spree in Las Vegas.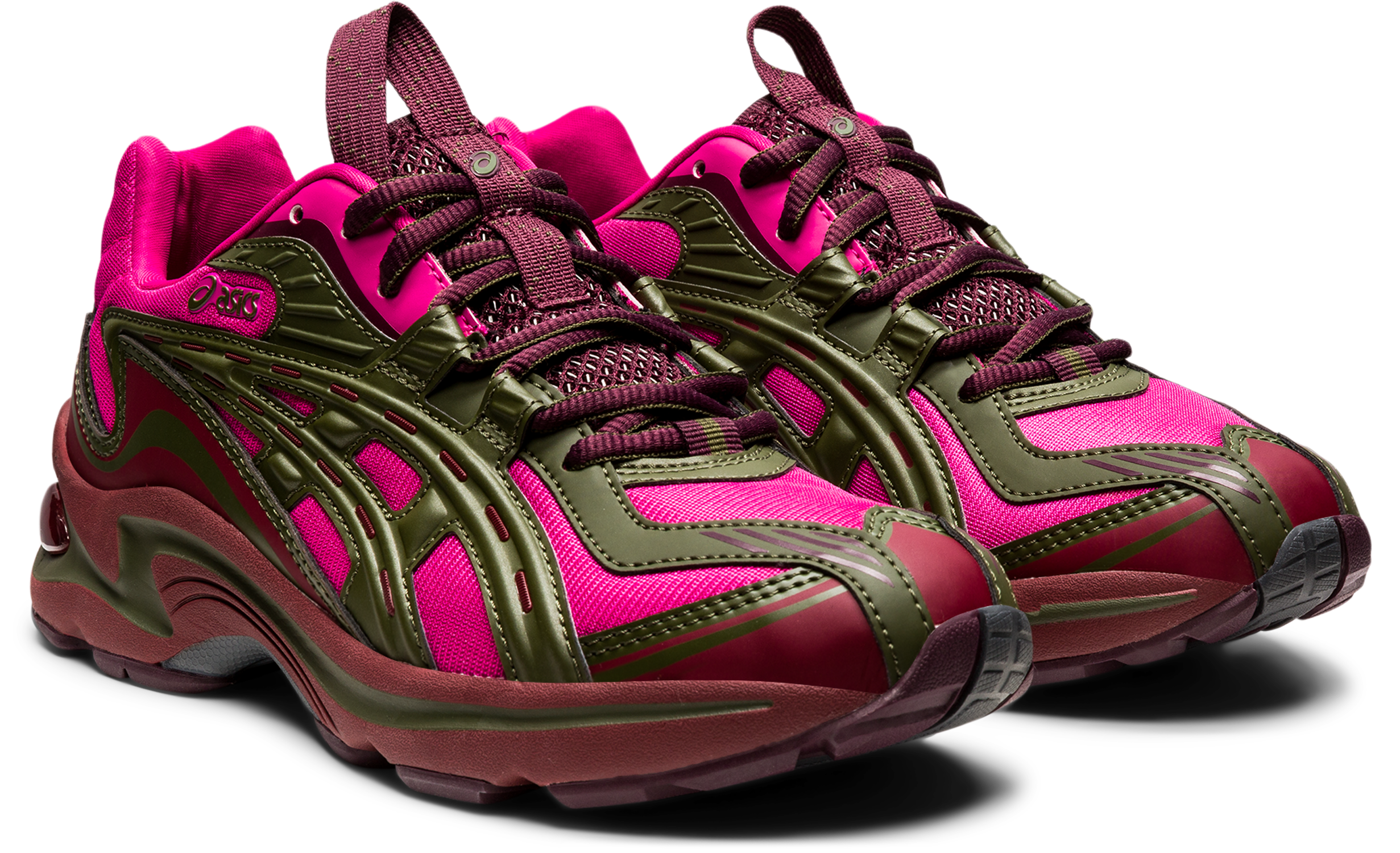 Asics just created the summer's must-have sneaker with the help of Kiko Kostadinov
Asics SportStyle's new silhouette is the sign that you've been waiting for -- girl, get yourself some more shoes! Developed alongside the Kiko Kostadinov womenswear studio, led by Laura and Deanna Fanning, the new footwear brings comfortability and authenticity together to create the perfect modern day sneaker design. It's the latest in a long line of trainers from ASICS and Kiko Kostadinov, who have built one of fashion's favourite collaborative relationships since they dropped their first pair, the GEL-Burz 1, in spring 2018. Since then, they've continued to push boundaries together by combining eccentric, graphic chic and robust sporty forms. Did someone say you can't be sporty and cute? Buy these shoes and 👏 prove 👏 them 👏 wrong!! KK
Behold, the world's first 'bagazine'!
Fashion geek squad, unite! A new magazine made with you in mind -- yes, you! -- has just landed. We're talking about Viscose, the bag-shaped bible for anyone with a beyond-the-surface interest in all things mode. For its inaugural issue, the team, headed up by Jeppe Ugelvig, broached one of fashion's most fundamental, yet mercurial, aspects: style. Compiling contributions from some of the sharpest writers, artists and thinkers around, it's a rigorous, punchy treatise on fashion's fixation with image, brimming with brains and wit. Ahead of the publication's London launch event tonight at Tenderbooks in Leicester Square, the Danish critic, curator and fashion theorist fills us in on the choice of name, Viscose's mission objective, and the reasons behind its 'bagazine' form. MS
Hi Jeppe! So, Viscose. First off, what's behind the title?
We wanted a title that felt resonant both to our object of study and our methodology. Viscose has been a ubiquitous material in the modern fashion industry since it was first introduced as 'artificial silk' in the late 19th century. However, it's not actually artificial in the sense of a synthetic textile like polyester: it's made of wood pulp! This neither/nor state felt resonant for our approach to fashion criticism and publishing. We exist as a rare space between art and fashion, academia and publishing, research and entertainment. And finally, like any good name, it's a global word, even if most people get confused about how to pronounce it.
What niche are you trying to fill? What worlds are you trying to bridge?
Viscose wants to be a journal for the intellectual fashion community. We cut across industries, systems and geographies, and pursue the most original, ingenious research on fashion in a broad variety of forms, but with a particular focus on writing. Fashion is the most emblematic activity of global capitalist society, and we want to use it as a prism to study disparate topics such as identity, the body, aesthetics, politics, ecology, and philosophy. We detest dogmatic approaches to knowledge, and try to re-invent the very idea of fashion criticism with every issue. By bridging the worlds of art, academia, and fashion, we want to cultivate a unique community of readers and thinkers and to prove that fashion can not only be smart, but that it's the smartest thing you could possibly be thinking about!
The issue's theme is 'style'. What does the term mean to you? And why did it feel it was such a fitting jumping-off point for your inaugural issue?
Style is one of those basic units of fashion – it's about having it, making it, capturing it. Entire industries and professions are built around it -- the stylist, a kind of professional style-worker, being a case in point. And yet, very little is written about style. It's such an ephemeral notion that it almost feels embarrassing to discuss. Secondly, we're interested in today's increasingly stylist-driven fashion world, in which the creative director has overtaken the designer as the most important fashion author. In the age of Instagram, immaterial fashion production like image-making seems to have taken centre stage, so we asked ourselves: What would criticism that begins by addressing fashion as an image look like?
Could you briefly give us an insight into how the theme is explored across the issue?
You'll find an exhilarating variety of approaches in the issue, from Taylore Scarabelli's analysis of today's most important stylists to insights into Avena Gallagher's cult styling archive. Dena Yago has been collecting images of human dogpiles in fashion photography for years, and Hito Steyerl uses Balenciaga's branding as a case study for state politics in the former Eastern bloc. We've reprinted a fantastic art-world street-style lexicon by Ada O'Higgins and Burke Batelle (aka Chicken), and invited artist Davide Stucchi to reflect on the style of music used in fashion shows. The issue will definitely teach you a million new things about style, but may ultimately leave you more confused.
Oh, and why a 'bagazine'?
It was important for us to celebrate print publishing while pushing its limits – in a hyperdigital age, the physical magazine has and must change character. Designers Filip Samuel Berg and Laura Silke responded to the theme of the issue, looking at how objects of style are eternal and do particularly well on the internet. Telfar's "Bushwick Birkin" bag, which is extensively discussed in the issue, is one recent example of a style object that cultivates its own viral energy. Could a magazine do the same, we asked ourselves? What can a magazine do as an object?
What's next for Viscose?
In the coming years, we will be releasing a steady flow of issues on highly specific topics, and hopefully continuously re-define our format, style, and community of readers. At the same time, we will be building an open-access digital archive for readers to dive into all our content; we believe in total accessibility! Stay tuned for more.