A controversial lesbian nun horror movie is coming
The new movie from the director of Showgirls is premiering at Cannes 2021 and it's sexing up all that's sacred about Catholicism. Watch the trailer here.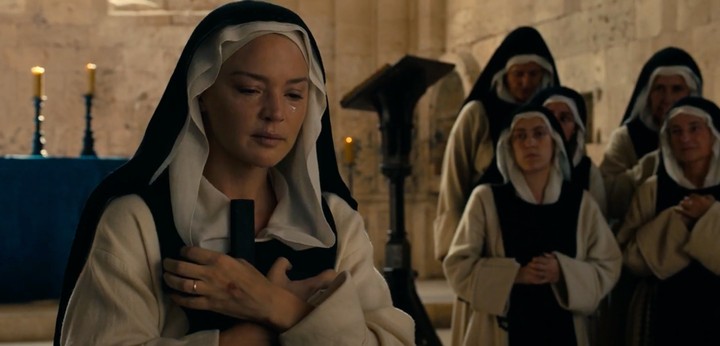 Still from Benedetta (2021) trailer
Ahead of its premiere at this year's Cannes Film Festival, the trailer for Paul Verhoeven's Benedetta — a queer movie about a nun in a 17th century Italian monastery haunted by both erotic and divine visions — is here.
Based on the 1986 non-fiction novel Immodest Acts: The Life of a Lesbian Nun in Renaissance Italy by pioneer historian Judith C. Brown, the story will be brought to life in the first movie outing for Paul Verhoeven, director of Showgirls and Basic Instinct, since his controversial rape revenge drama Elle in 2016.
The trailer for the movie gives us a glimpse at the story about Benedetta Carlini: a Catholic mystic nun at the convent of the Mother of God in Pescia, Tuscany, who had a relationship with one of her fellow monastery sisters. From what we've seen, we're promised queer sexual awakening in the midst of divine revelations and accusations of blasphemy, insanity and demon possession as the church leaders try to figure out what to do with their ambitious and yet sexually charged new abbess.
The cast is headed up by Viriginie Efira, who plays the sexually-confused nun. It will also star Lambert Wilson, Charlotte Rampling, Oliver Rabourdin and Daphne Patakia. Super producer Saïd Ben Saïd (who's collaborated in the past with David Cronenberg and Brian De Palma) is on board, and the script has been co-written by Elle screenwriter David Birke. The iconic line up is finished up with music scored by Les Miserables film composer Anne Dudley.
Described by the Cannes Film Festival director Thierry Fremaux as: "an erotic and mischievous, also political, vision of the Middle Ages in a grandiose production", the movie is set to premiere in competition at this year's festival, having been postponed from the 2019 and cancelled 2020 events.
So far, it is one of only three films confirmed for this year's festival, the others being the highly-anticipated Timothée Chalamet-starring The French Dispatch and the Adam Driver-led musical Annette. All three films will be up for the Palme d'Or, the event's most prestigious award that was most recently given to Parasite in 2019.
Watch the trailer for the dark, suspenseful queer sacrilege movie Benedetta below.