A creepy new teaser for Stranger Things season four just dropped
Here's what it might mean for our heroes in Hawkins.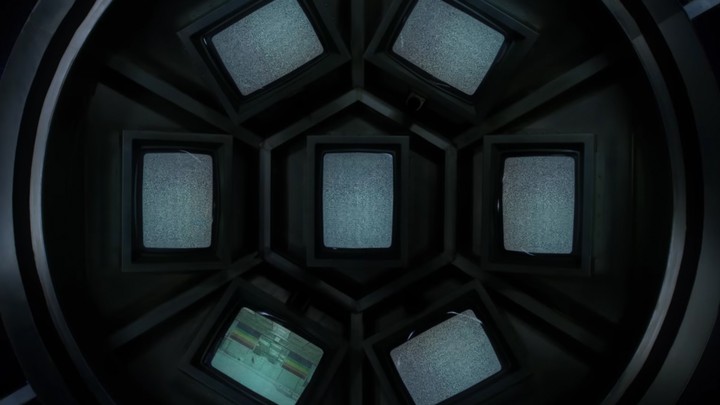 Remember the summer of 2016? The sun was shining, no one knew what the words "social distancing" meant, and the first season of retro Netflix gem Stranger Things had just graced our screens. Time is a cruel mistress indeed. Now, as the date for our fourth season spent in the supernaturally-plagued town of Hawkins, Indiana approaches, we're hyperfocused on every breadcrumb of detail to figure out what's in store for Will, Mike, Dustin, Lucas, Max, Eleven, and the rest of the gang. A new teaser gives us our most robust clues yet.
An almost 2-minute teaser video was posted to the show's official YouTube channel yesterday, featuring several 80s-style TV sets, facing upwards and buzzing with interference. A number of images flash up on the screens intermittently, including an eerie room with a rainbow stripe painted across it, a blood-spattered chess board, a metal door handle, and a billiards eight ball, which fans are taking to mean the return of Linnea Berthelsen's Kali Prasad (AKA Eight), another Hawkins Lab test subject.
The teaser comes paired with a cryptic video description underneath. "Due to technical difficulties, the Hawkins National Laboratory will be closed until further notice," it said. However, this is followed up by an almost contradictory statement reading: "We will be back in service tomorrow at 9:00AM ET." Some fans have theorised that a full-length trailer for the show's fourth season may be released then, which will be today at 2PM GMT. So let's wait and see!
Despite the pandemic-related complications for the film industry, 19-year-old Netflix star Caleb McLaughlin (who plays Lucas) told Flaunt Magazine back in March that Stranger Things was nonetheless forging ahead, and had restarted filming in January.
"Everything is backwards because of Covid," he explained. "If there is a scene with extras, we can't film with everyone right now. We have to only film scenes where there are fewer people, so we have to start from a later episode. We won't start at episode one, we will start at episode five. It's very weird — there is so much going on in the world right now."
But surely there's enough material for a new trailer by now, right guys? Please?