9 new musicians to soundtrack summer 2021
From Irish popstar Lucy Blue to London rap enigma John Glacier and Seoul artist YonYon, this is your intro to the best new artists for summer 2021.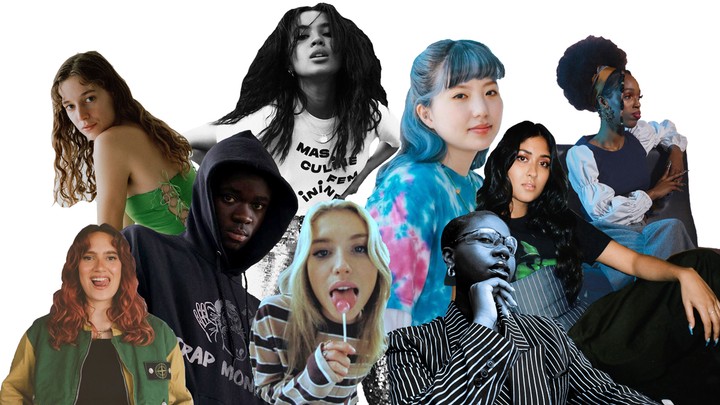 LR: Delilah Montagu by Heather Glazzard; Ydegirl by Josefine Seifert; Yaw Tog by Kwame Afrika; Aziya by Sequoia Ziff; Lucy Blue via SoundCloud; YonYon via Instagram; Joviale by Dhamirah Coombes; Ashwarya by Gadir Rajab; John Glacier by Udoma Janssen.
It's July. Somehow it's happened again, a full year has passed us by and it's now officially summer. You know what that means? It's about time you refreshed your listening habits. A new season warrants a fresh batch of music, and we've got just the thing. Whether you're into scene-leading Ghanaian drill or sexy, queer pop from London; nature-inspired Nordic baroque or TikTok-famous guitarists with killer voices, we're about to match you with something new and exciting.
So if you're hoping for a long, hot summer of horny chaos like these celebs or indeed meticulously planning a tour of the local Airbnbs that didn't get booked up, you'd better also prep things sonically. Delete your recycled Summer Playlist now, familiarise yourself with the nine artists below and start building a go-to soundtrack from scratch.
Joviale
When North London artist Joviale released their debut EP Hurricane Belle back in May, they did so with the intention of messing with your emotions. Named after and inspired by Peter Shenai's Hurricane Bells project -- for which the RCA grad cast brass bells modelled on the different stages of Hurricane Katrina -- Joviale collaborated with producer Bullion in replicating sound frequencies to evoke the feelings explored in each song. It works: vulnerability seeps out of "Glass Peach" while the harmonies of "ZEROCOOL" call for some serious self-reflection. Catch them live at Pitchfork's London festival in November and be sure to check out their talented brother Brian as well -- they've modelled for Gucci together don't you know! Follow Joviale here.
Lucy Blue
If you, too, have been thinking that what the musical landscape is missing right now is some Irish pop then don't worry: the wait is very much over. 19-year-old Dublin singer, songwriter and producer Lucy Blue has landed and she brought her angsty coming-of-age debut EP FISHBOWL with her. Inspired by the world of Harmony Korine and produced by Congee, the project came out earlier this month and instantly impressed. Fans of Lost In Translation might want to linger on the opener, "Snow In Tokyo", which Lucy wrote with the intention of crafting something that made her feel exactly how the Sofia Coppola film (her go-to comfort-watch) does. Mission accomplished. Follow Lucy here.
Yaw Tog
Three months ago, 19-year-old Ghanaian rapper Yaw Tog bagged Stormzy for a bonus feature on the remix of his 2020 hit "Sore" with Kwesi Arthur. The British artist was won over by the original while in Ghana for UPP Fest back in January (wow, remember festivals?) and signed himself up for a collab. Currently dominating the national asakaa scene -- a popular take on drill that's big in his Kumasi hometown -- he has since followed up with strong singles "Africa" and "Y33gye". With an EP on the way, he's one to keep an eye on for your summer playlists. Follow Yaw Tog here.
Aziya
If you spend more time with your FYP than your friends right now, you're probably already familiar with 21-year-old Aziya. You see, she's built up quite a following with her covers of everything from System of a Down's "Chop Suey" to "Kyoto" by Phoebe Bridgers. Just her and her electric guitar, the Londoner has been putting her own spin on all manner of much-loved tracks for a full year now. For 2021, the multi-instrumentalist thought she'd try something a little different and began releasing her own music too, including new single "Blood" which boasts killer vocals, strong basslines and riffs that'll spark twangs of nostalgia for your favourite 00s indie rock anthems. Aziya's debut EP, We Speak of Tides, is due 2 July via Platoon -- one to obsess over until you can witness it live. Follow Aziya here.
John Glacier
Hackney rapper John Glacier is one of those elusive talents that has somehow managed to rack up a cult following despite not appearing to have released much music at all. Those in the know, though, will have been eagerly watching her drop an eclectic array of tracks on Soundcloud for the past three years. It was her recent collaboration with fellow Londoner LYAM on "Origami" featuring Shygirl that really put her on people's radar though, a position further cemented with the verses she then lent to Dean Blunt and Ragz Originale. But the best is yet to come, heralded by John's first official single "If Anything" -- a lo-fi stream of consciousness with affected vocals set to minimal production courtesy of Vegyn. Excitingly, the duo have worked together on John's debut album, SHILOH: Lost For Words, which makes for a seriously impressive introduction and is due 30 July on the LA-based producer's all-killer-no-filler PLZ Make It Ruins label. Follow John Glacier here.
YonYon
We discovered Japan-based Seoul-born DJ, producer and artist YonYon via the Japanese rap verse she contributed to Yaeji's 2020 mixtape, WHAT WE DREW 우리가 그려왔. Since then, she's released her The Light, The Water EP with our personal highlight "Bridge" which is pretty much like if "lofi hip hop radio - beats to relax/study to" was distilled into a single, perfect song and force-fed candy. Follow YonYon here.
Delilah Montagu
Last month, 23-year-old London musician and cat fan Delilah cast aside her melancholy for something more playful. Coming through with big St. Vincent energy, her ASMR-grade single "Coming For Ya" sees Delilah embrace a new found confidence in her fluid sexuality. "I now know that this fluidity can be freeing," she said on release. "It doesn't mean I'm confused, and I don't need a label." With guitar God Towa Bird on riff duty and a video that captures IRL couples who got together during the pandemic, the result is strong and sexy as hell. Expect more of the same on her BABY EP, due to punctuate your summer beautifully on July 23. Follow Delilah Montagu here.
Ydegirl
On 12 May 1897, the freakishly well-preserved body of a young woman estimated to have died between 53 BC and 128 AD was found in a peat bog near the village of Yde in the Netherlands, henceforth known as "Yde Girl". Into the name, Danish singer-songwriter Andrea Novel -- who makes "haunting chamber pop inspired by women from the past and present" -- adopted it. This summer she's releasing her debut album, which is like nothing you've ever heard before, on Copenhagen label, Escho. Blending Nordic baroque and R&B, the self-titled project is a totally unselfconscious offering that nods to Zero 7 one minute and Tirzah the next, with a spot of Bardcore thrown in for good measure -- all the while drawing listeners deep into nature. "Actually dead but here to finish something," reads the artist's IG bio. Keep an eye on her while she does it. Follow Ydegirl here.
Ashwarya
While with some songs you know exactly what you're getting, others catch you off guard by repeatedly switching things up in the space of just a few minutes. "To The Night" by India-born, Australia-based popstar Ashwarya falls into the latter category. With a guest verse from Vic Mensa, the single is a chaotic earworm about "triumphing over persona or external obstacles that may hold you back" and is taken from her forthcoming debut EP, Nocturnal Hours. With a clear sense of self, her previous releases have seen her seamlessly dip in and out of Hindi with production to match. Plan to see her live across Australia this summer and follow Ashwarya here.