Photography Melvyn Vincent. Image courtesy of Dior
A Dior restaurant and fashion's cash-prize Game Shows: What's in fashion?
Your one-stop-shop for this week's fashion news to know.
Photography Melvyn Vincent. Image courtesy of Dior
In a week where our timelines filled with rainbows, sales of aloe vera gel skyrocketed (use SPF, sweeties) and designers put the finishing touches on their menswear collections (yes, fashion week is next week) we've been painstakingly gathering the most important tidbits of fashion news for you to know. What would you do without us, eh? In fact, we've basically got you covered on all fronts, from a Dior-ified menu of food, to the new Balmain bag to have and to hold, and even some art and academia for all you booksmart girlies. Oh, and it's awards season. As in, fashion awards. Yep, ostensibly overnight, every fashion prize worth its weight in gold has announced its finalists. So, let the games begin. Here's what's in fashion.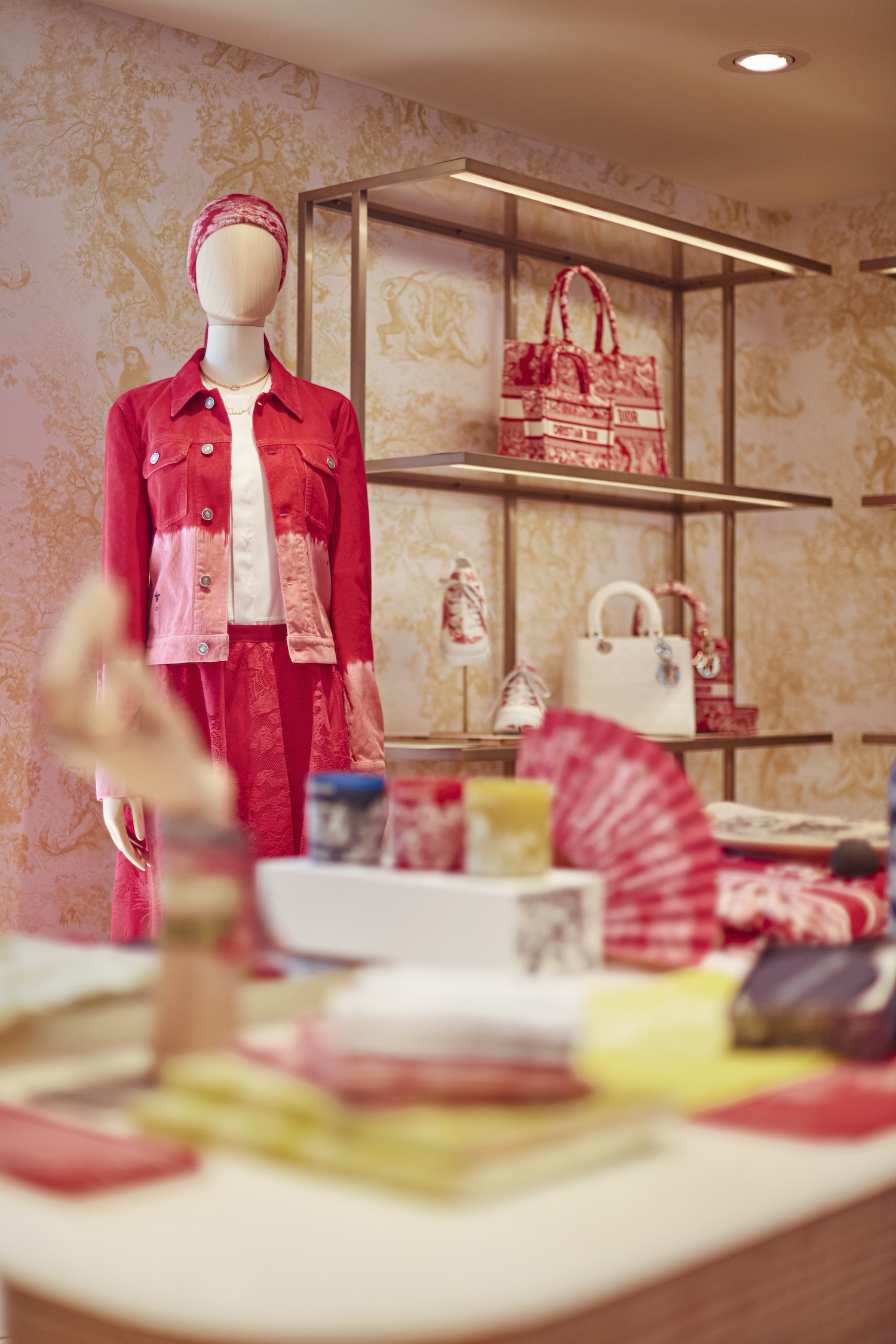 La dolce vita à la Dior
What signals the arrival of summer in London? Overfilled pub gardens? Parks packed with people as pink as prawns? Wrong! This year, it is, of course, the arrival of a truly stunning pop-up to the rooftop of the city's favourite department store. That's right, the venerable House of Dior has taken over the sky terrace of Selfridges, installing a summer-y pop up to showcase and celebrate Maria Grazia Chiuri's Dioriviera capsule. Channeling breezy beach vibes for those of us who won't be heading away for a seaside vaycay this year, the toile de Jouy draped pop-up hosts a series of the house's most iconic shoes and accessories — we're talking the Book Tote, the Caro, the Saddle bag — reimagined in a span of holiday-friendly hues. If you're keen to turbo boost the staycation vibes while you're up there, then be sure to stop by for a bite at Dior at Alto, the House's residency at Selfridges rooftop restaurant. Featuring a menu of dishes and drinks specially selected by the House, including a couple inspired by Monsieur Dior himself, it's hands down the chicest place you'll dine all summer. Bon appetit. MS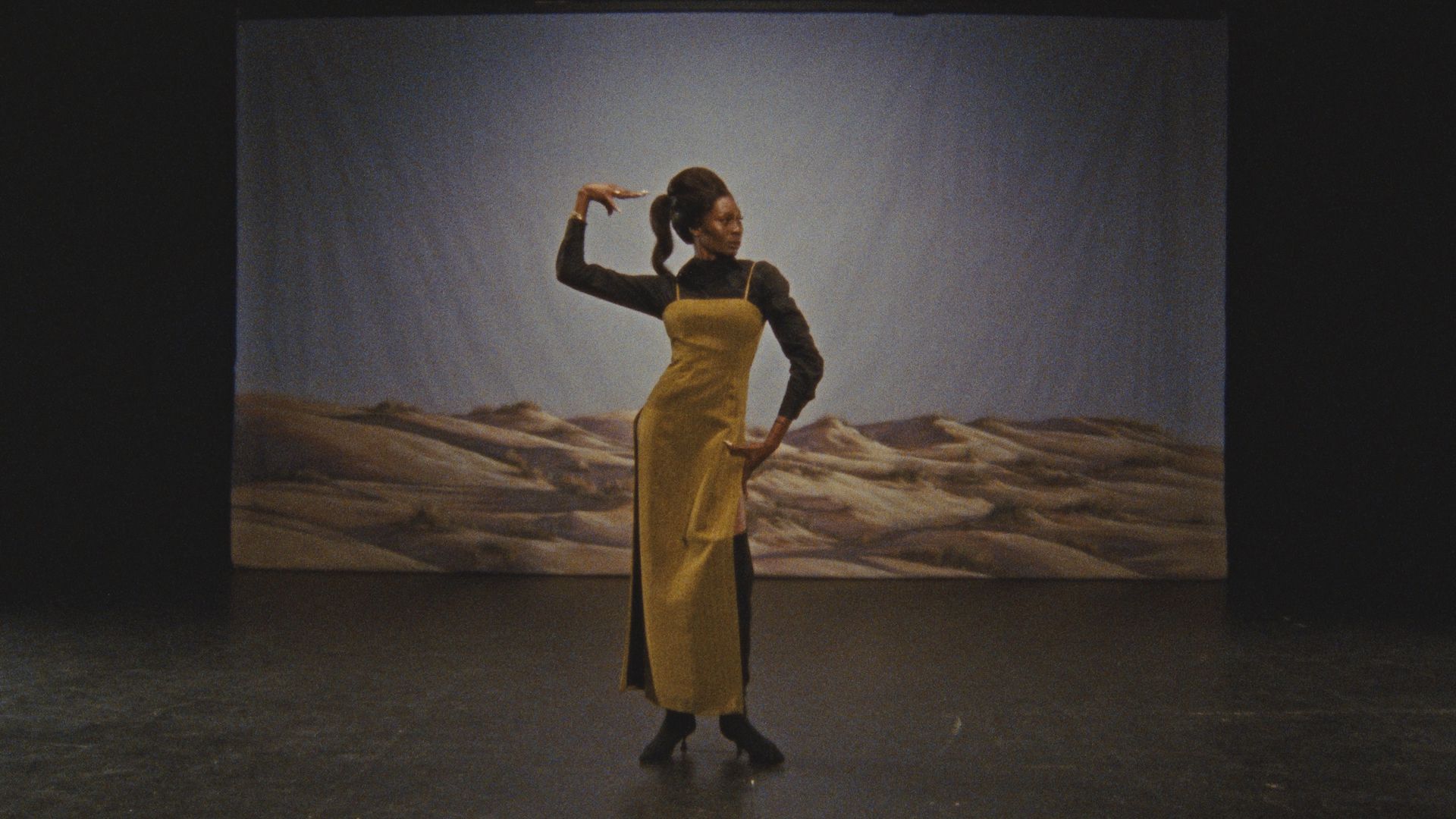 (Fashion) Awards Season is upon us
Awards season is upon us! No, not that kind. FASHION PRIZES! This week has seen the finalists announced for a range of prizes, from the Woolmark Prize to the LVMH Prize to ANDAM (more on that below). But beyond the cold-hard cash, a fashion prize can be a vital learning curve for the young designers who enter them. This week, we dug deeper into the true value of a fashion prize, speaking to the finalists of the International Woolmark Prize (Karl Lagerfeld and Yves Saint Laurent began their careers by winning it). Plus, the imagery is art-directed by none other than Solange Knowles, who enlisted Pose's Dominique Jackson and the legendary Dionne Warwick to model the collections of the finalists — which basically means that they've all won already, right? OA
ANDAM, girl! The French fashion prize is back
The ANDAM Prize. What is it? It all began in 1989, long before fashion prizes were a "thing", as a way to encourage French designers to start their own businesses, and give them a leg up to go against those decades-old luxury titans. For some context, the first four winners were Martin Margiela, Viktor & Rolf, Christophe Lemaire and Jeremy Scott. Today, the prize is open to international applicants and it offers some BIG cash prizes. But, like all things French, it's a bit complicated, so here's the tea. The ANDAM Grand Prize is the main event (300K€), for which this year's finalists are Area, Bianca Saunders, Casablanca, GmbH, Ludovic de Saint Sernin (hi again!), Rokh and Wales Bonner. Then, there's the 100K€ Pierre Berge Prize (he was the founding president of it), which will be awarded to either Charles de Vilmorin, EgonLab, Ester Manas or Uniforme. And finally, a casual 50K€ Accessories Prize will be bagged (haha) by either Aswad, Published By or Samuel François. 14 designers stand before us. Designers, this is your last chance to impress ANDAM and save yourself from elimination! Bonne chance and don't fuck it up. OA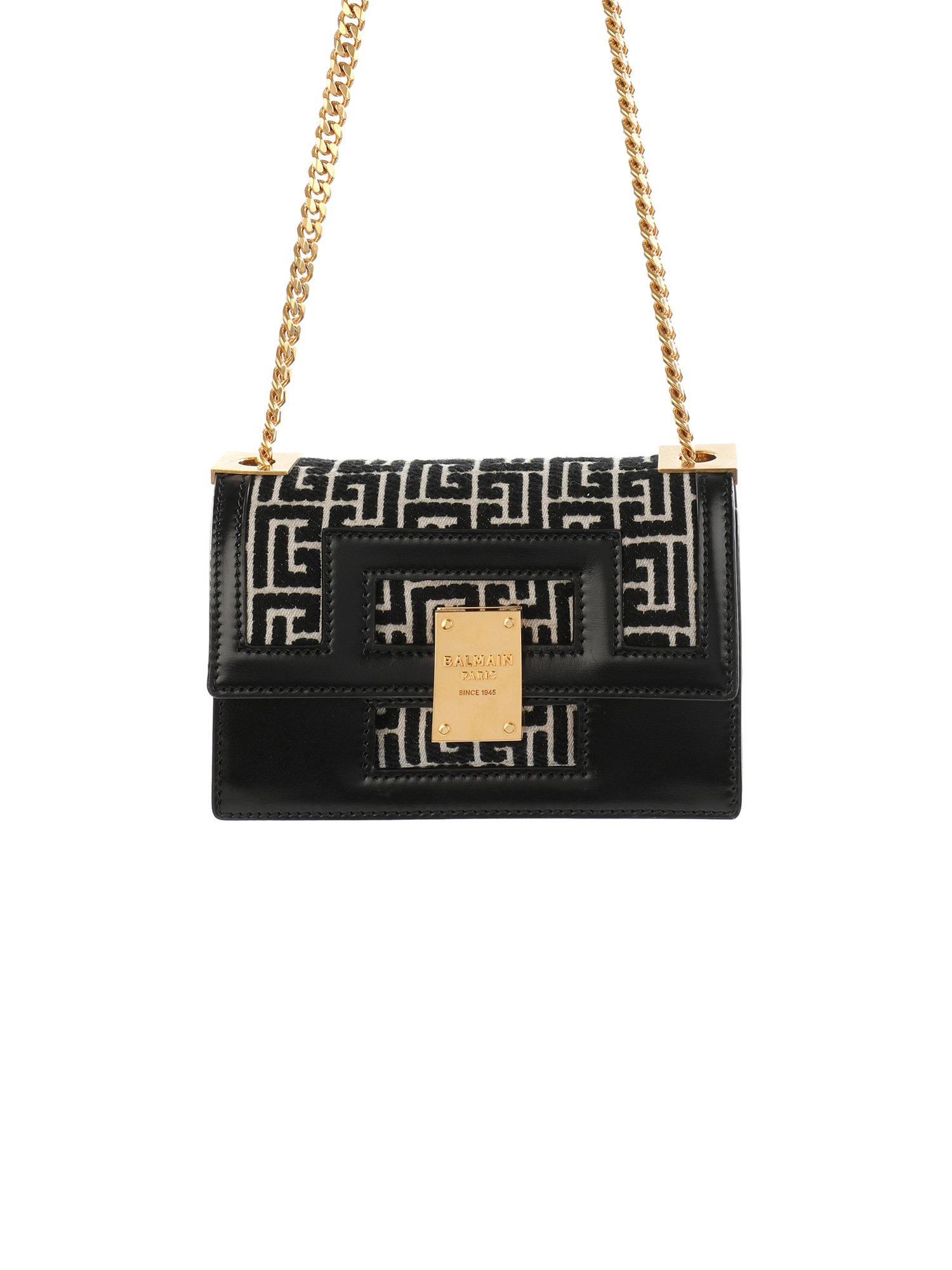 Balmain comes through with The Bag
Look, sometimes a girl's gotta do what a girl's gotta do to secure her bag, and this week, the bag in question is from Kardashian Klan fave Balmain. Named after the year of the Maison's birth, the 1945 collection, which debuted as part of Olivier Rousteing's SS21 collection, gives a reverential nod to the fearless spirit of the house's founding father, Pierre Balmain. An instant French girl classic, the chainstrap shoulder bag comes in a variety of shapes and sizes, not to mention in both 'B' monogram jacquard and buttery leather finishes. Put simply, I need this bag and will do whatever it takes to get my hands on one. Now, ladies, follow suit and go get that bag. MS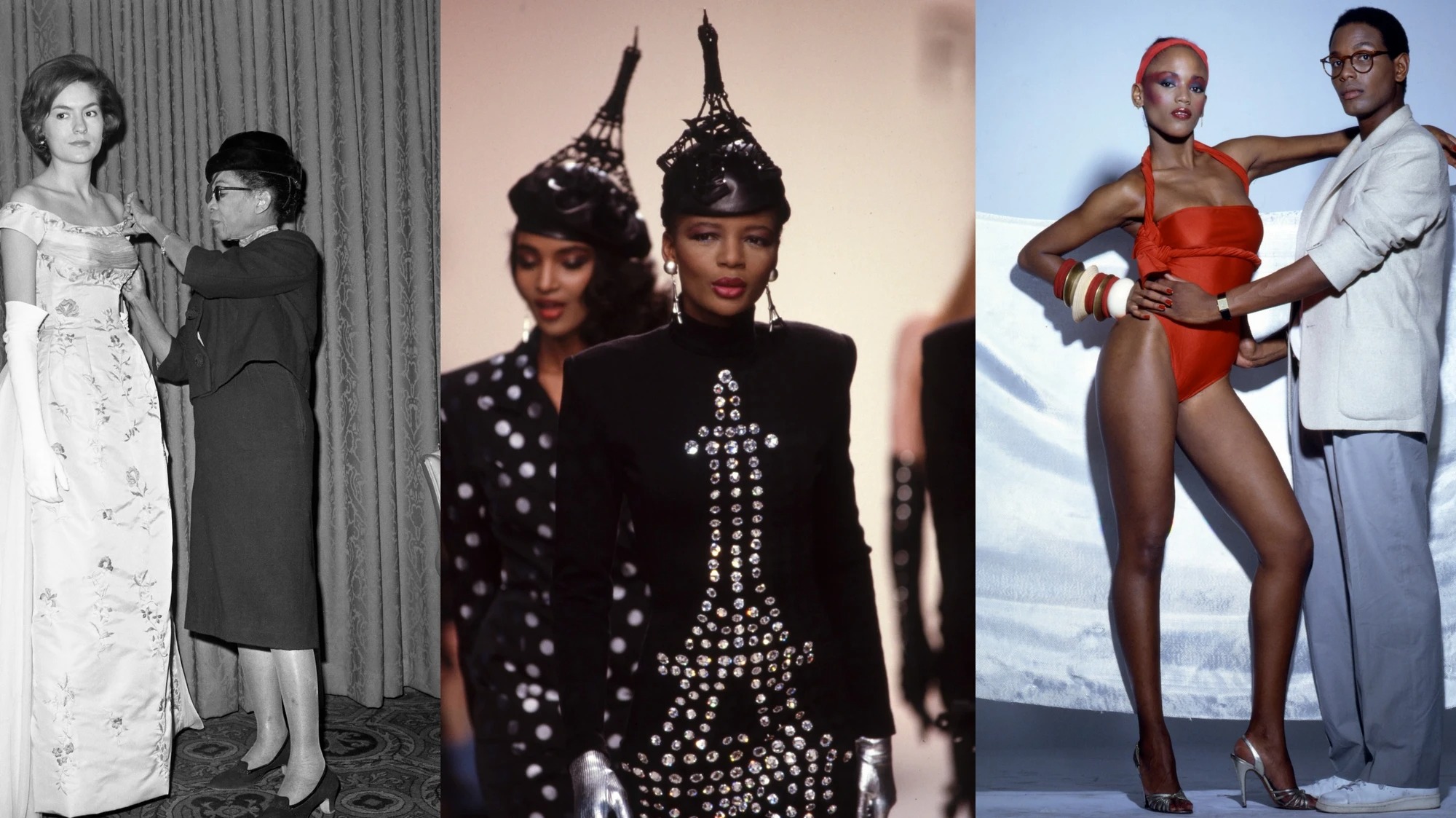 You must read this piece about America's unsung fashion heroes
By now, you will have watched Netflix's Halston (and if you haven't, what are you doing here?) and relished the decadent excess of New York's sky-high fashion industry in the late 20th century. And of course, we can expect to see those languid jersey dresses in The Met's upcoming two-part exhibition at the Costume Institute. In September, In America: A Lexicon of Fashion will open, and In America: An Anthology of Fashion, will follow in May next year. However, beyond the usual names — Halston, Calvin Klein, Tom Ford, Donna Karan, etc — there are many unsung fashion heroes who have shaped the country's sartorial legacy — and many of them are people of colour. Writer and curator Darnell-Jamal Lisby chronicles the forgotten names from American fashion history, exploring how these two shows could serve to rectify oversights and highlighting the deep racial disparities in museum collections around the world. It's a must-read — as is everything else we publish, of course ;) OA
Ludovic de Saint Sernin gives us something to be proud of
Ever since the calendar page flipped over to June, fashion has been awash with more Pride collections and collabs than you can wave a rainbow flag at. One that we've been waiting for with bated breath, though, is whatever was coming from Paris' veritable kind of queer-friendly fashions, Ludovic de Saint Sernin. Never one to disappoint when it comes to salacity, he's joined forces with British artist and former collaborator Jack Taylor Lovatt on a capsule of endearingly smutty t-shirts that are a proud "celebration of love, sex and freedom", Ludovic says. What's more, it's all for a good cause, with "a portion of the sales of these t-shirts will be donated to a charity handpicked by Jack himself", he continues. Now that's something to be proud of! MS
A Divine art installation at Browns East
Ok, we know that you usually come here for your weekly dose of fashion news, but today you're getting some art! After all, is fashion not, at heart, an art? Ok, rather than mull over that old chestnut, please allow us to draw your attention to the work of transdisciplinary artist Divine Southgate-Smith. Currently enrolled at the prestigious Royal Academy of Arts in London, her practice spans film, text, spoken word, performance, sound installation and sculpture. Her latest piece, an immersive video installation presented on the top floor of East London fashion emporium Browns East, is a testament to the fact that she's jack of all those trades, and a master of all of them.
Produced in collaboration with Fashion East's Jawara Alleyne, Bad With Phones and Brandon Saunders, TAKE A SECOND TO BREATHE marks Divine's first experiment in merging the architectural, conceptual, conceptual and text strands of her artistic practice in a single work. She describes it "as a simple gesture, a momentary pause for reflection and celebration", though call it "a simple gesture" and leave it at that would be to sell it hideously short. Rather, it's a textured meditation on the notion of "Black Joy as a political ideology", as she puts it herself -- a retreat from the framing of Blackness through narratives of suffering, violence and death, and an impassioned presentation of social justice as an act of love.
Through a nuanced interweaving of image, sound, archival video material, 3D-rendered landscapes, she presents ideologies as objects of infatuations. Freedom of speech, freedom to love, equality and change become ideas that exert a seductive power. "I wanted to express ideas that personally seduced me, as well as explore seduction through ideology and architecture," Divine explains. "Historically, these notions have seduced generations and movements alike. As we increasingly move towards a digital age how can we ensure that these notions are not left in the shadows of history? How can these ideas become visceral and physical for not only those affected by it, but also those that can affect these changes?
"We have a long way to go but we must all be infatuated with the idea of social justice, live it and breathe it," she continues. "I find that we are moving towards a future where the representation of diversity and social change is as valuable - if not more - than the actual actions that are necessary to enact such changes. TAKE A SECOND TO BREATHE invites us all to question the status quo and imagine our intersectional futures." MS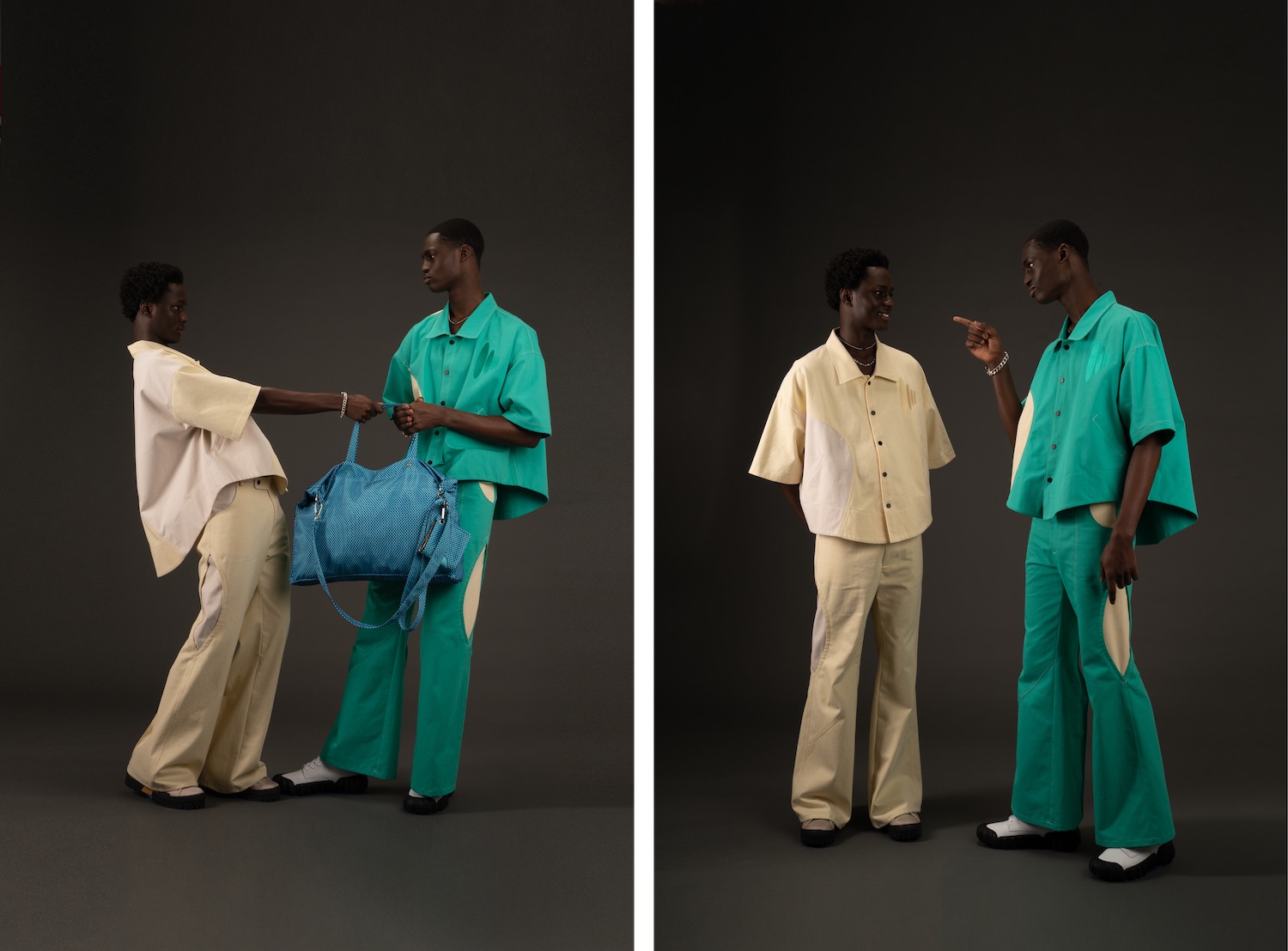 The New York label paying it back to the community
Themes of social justice, community-mindedness and marginal identity have become fixtures of the fashion discourse over the past five or so years, but, for all the increased conversations, there are remarkably few designers out there who have make these notions fixtures of their work. An exception in that respect, though, is Taofeek Abijako, the 22-year old designer behind Head of State. Originally from Lagos, but now based in New York, he set out with the intention of creating work that accurately chronicles the contemporary post-colonial youth experience. Speaking as much to Taofeek's memories of his West African childhood as to his experience to the American youth culture he assimilated into on his arrival to the US, the bright sportswear-inflected garments he creates move beyond trite stereotypes of how personal migration histories should be articulated through fashion. They also contribute to the betterment of the communities he's part of, with the profits generated from the Head of State's sales invested into social initiatives in both Nigeria and the US. Here's Saint Taofeek himself to tell you more. MS
**Hi Taofeek! What would you say are the key themes and ideas at the heart of the brand?
**We try to create new dialogues which explore the nuance in stories, relationships and everyday activities between people in the community I'm from. Once a collection is fully developed, we take proceeds from sales to fund a variety of initiatives that are dedicated to helping our community build a sustainable future through innovation in the education, infrastructure, and sanitation sectors. It's important we create an ecosystem that not only tells stories about marginalised spaces, but also provides tangible opportunities in return.
**You recently released your second collection, Johnny Just Come. Could you tell us about the meaning behind the title?
**"Johnny Just Come" is a play on a Nigerian slang term used to describe a person who's new to a place, or, more specifically, an African migrant who's new to the West. The collection explores this satirical depiction of being an 'other' by bridging the gap between my nostalgic memories of West African youth culture and my assimilation to Western culture upon moving to the States.
**How do you translate such a rich, personal narrative into clothing that feels accessible to a wider audience?
**I try to explore the marriage of my upbringing and assimilation by combining the traditional and the non-traditional. This manifests as a tangible composite of traditional West African silhouettes with refined sportswear and subtle utilitarian pieces. It's also a narrative a lot of people can somewhat relate to, whether you're a part of the diaspora or not. There's still a sense of familiarity when you first interact with our clothes.
**What would you say are the main pillars of your design process and vocabulary?
**I have an unspoken code called "CCS" (Community, Conversations, Stories), that helps guide the development of each narrative we're looking to explore. I've been very fascinated with the intersection between art and everyday social relationships in marginalised spaces, since I was first exposed to it at my dad's studio back in Lagos. Material study, evolving conversations, and research into the historical contexts that shaped these spaces are the foundations upon which I'm building this story. Dialogue helps humanise our experience, it works against the stereotypical narrative that Blackness and struggle are synonymous.
**What's in the pipeline for Head of State?
**My main focus is to continue expanding on the stories already told. I'm still on the first of many chapters of an infinite-paged book, with more to learn and explore. Womenswear is also on the horizon. Funding for our current initiatives go towards partnering with members of our community in Albany, New York to help build the South End Studios, a centre for creatives to collaborate, generate ideas and thrive while simultaneously nurturing a budding ecosystem between artists and entrepreneurs to create jobs for the community. There's also Schools for a Sustainable Future, an initiative in Sepeteri, Nigeria that will improve education through design. We've conceived of a school building adapted to local climate conditions to improve learning conditions and revitalise the local economy.