Nicki Minaj is not a Tory
Yeah she's watched every episode of 'The Crown' five times through but what the fuck else is there to do these days?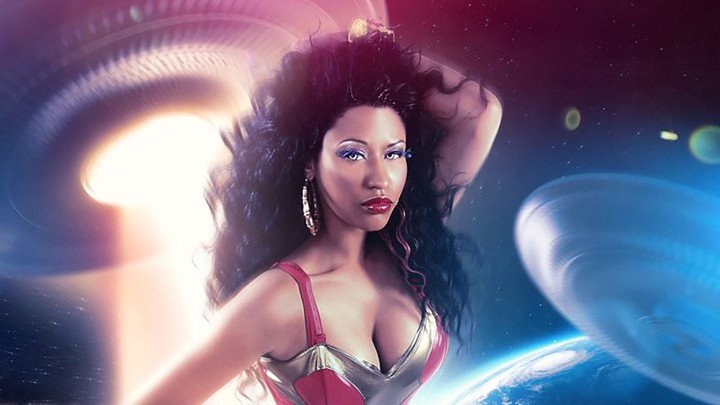 Beam Me Up Scotty cover – courtesy of Republic Records
How many times can you watch The Crown on Netflix in its entirety before you start to think Prince Philip is… sorta cute? How many episodes does it take before you go from watching it for the mind-boggling drama of the crushingly useless monarchy to feeling like you want to rock up at the gates of Balmoral texting Princess Anne like 'miss you bestie! wya? X'. This is a question only Nicki Minaj knows the answer to.
The rapper, actor, and writer of the best verse on "Monster" revealed, seemingly out of nowhere, that she has watched every episode of The Crown five times. Five. Times. Of course, that includes the Diana ones (forgiven) but also the ones before then, when there was literally no one even slightly redeemable or worth rooting for? "Lol. Yikes. I know," she wrote in a letter posted to her website. Tea.
Of course The Crown, which features the most aggressively posh and white characters of any show ever put to television, makes perfect sense as a Nicki Minaj binge watch. After all, her alter ego, the gay British boy Roman Zolanski (who could forget this performance?), has proven her love for the British bourgeoisie lifestyle and being brattish enough to expect royal treatment. She is simply cosplaying the royal family when she does this, but it's such a gigantic caricature that it could, in fact, be construed as a satirical takedown of despotism and wealth-hoarding. Really makes you think.
In the letter, Nicki wrote about the face of Claire Foy, who plays Queen Elizabeth in the first two seasons ("I want to eat it"), being surprised at how much she enjoys Gillian Anderson's Margaret Thatcher (though admitting she is "a Meryl StreepISTA" when it comes to her preferred portrayals of the dead and callous former PM), and calls Josh O'Connor's Prince Charles "hunkier" than the real guy. Now try and imagine an American saying "hunkier" -- it doesn't roll off the tongue right. We can only assume that when Nicki Minaj is watching The Crown, and writing about it in messages to her fans, she's assuming the soul of Roman Zolanski. Roman Zolanski: a gay Tory. Nicki Minaj? Not a Tory.
It says a lot that when we hear 'the Queen', we think 'Nicki, Donatella, then Elizabeth' in that order. When she watches The Crown, Roman-slash-Nicki is simply watching her own exuberant lifestyle unfold, albeit through a subverted lens. Barbz are her people of the Commonwealth, but they're more zealous, loyal and appreciative of everything Nicki preaches. In The Crown, everyone's just sick of Lizzie's bullshit. Of course she can stomach every episode five times in a row, because it reminds her of how not to do her job as the leader of the only monarchy we formally recognise.

As queen, today she gave us the greatest gift of all: Beam Me Up Scotty on streaming services. The classic mixtape has finally had a formal release 12 years after it first dropped, and Nicki's people are elated. Not only does it have some of her best tracks in the highest quality we've heard them in so far, but she's thrown in some new tracks too. Again, proof that Nicki Minaj is not a Tory: she gives. Royalist right-wingers only take.
RIP Prince Philip. You would have loved listening to "Itty Bitty Piggy" on Spotify.
Follow i-D on Instagram and TikTok for more music and pop culture news.