Main image courtesy of Louis Vuitton (left) and Alexander McQueen (right)
Virgil's new LV drop and Alexander McQueen AW21: What's in fashion?
Your one-stop-shop for this week's fashion news to know.
Main image courtesy of Louis Vuitton (left) and Alexander McQueen (right)
Summer is upon us and we have things to do, people! Who would have thought this time last year that we could be getting dressed to hit the town, hugging our pals (and complimenting their fashion) or even raising a glass to a happy couple as they walk down the aisle? Not us! Not Demna Gvasalia, either (more on that later).
In a week where the first trickles of the SS22 collections have arrived, fashion saw a wave of URL-vs-IRL moments. There was Balenciaga's deep-fake fashion show, McQueen's touch-me-texture AW21 collection, and — it goes without saying — a medley of collaborations that give you twice as much fashion for your buck. Here's what's in fashion.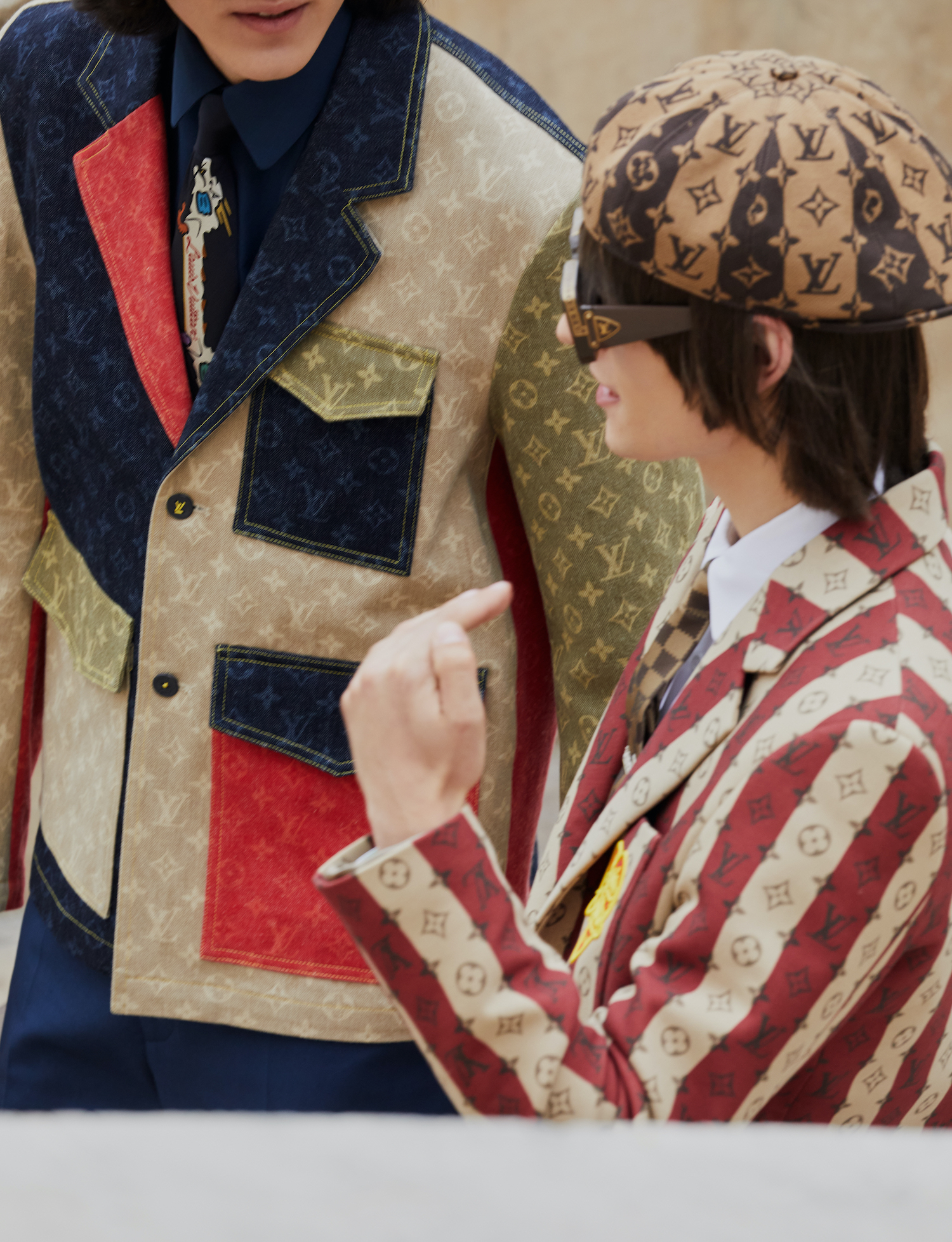 LV² makes its return
Last summer, we brought you the lowdown on the game-changing collaboration between two of streetwear culture's biggest heroes: Louis Vuitton's Virgil Abloh and Nigo, founder of A Bathing Ape. They'd just launched LV², a fusion of the slick design language Virgil has established during his time at the menswear helm of the Parisian and Nigo's graphic-heavy drip -- quite literally, in the case of the melting-ice-cream-effect canvas bags and denim pieces!
Couldn't get your hands on a piece the first time around? Well, it turned out to be such a hit that the pair are now back with a second collection. Delving deeper into Nigo's Japanese provenance and his geo-specific perspective on Western menswear, it runs the full gamut of ready-to-wear, shoes and accessories, all subtly nodding to Japanese designer's extensive personal collection of British subcultural garb from the 50s and 60s. Want to look dapper as a dandy? Here's where you should head! MS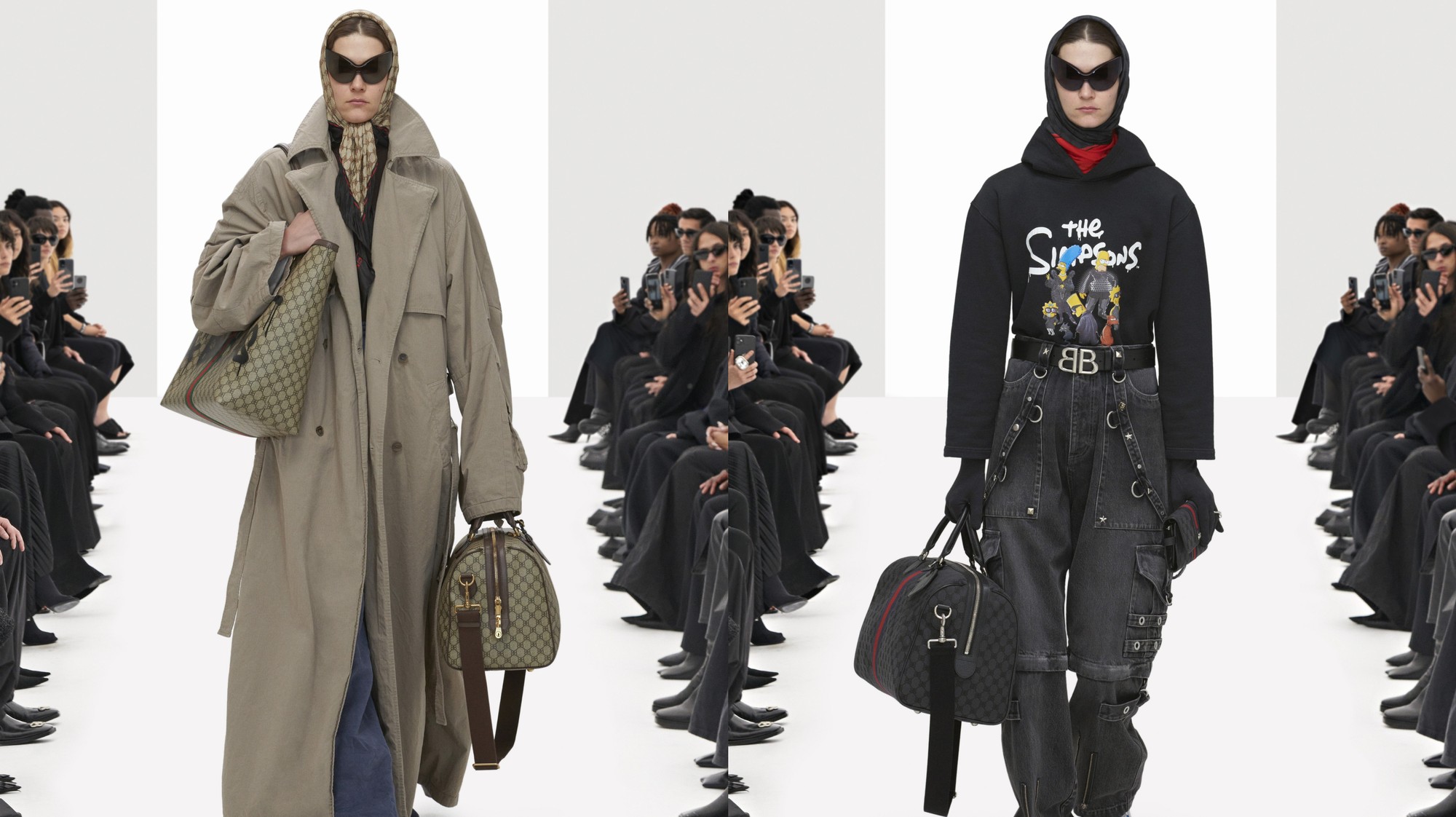 Deep-fake fashion! Balenciaga just staged a very URL show…
How do we truly know something is real nowadays? That was the question at the heart of Demna Gvasalia's latest show for Balenciaga, an entirely digital deep-fake catwalk presentation made using planar tracking, rotoscoping, machine learning, 3D modelling, photogrammetry and CG grafting. And here we were obsessing over the details of the garments and the latest iterations of the Balenciaga x Gucci "hacking"!
Yes, this is probably the first truly trippy CGI show, and it kicks off the SS22 season. The art world has NFTs, the music industry has its streaming services, TV has Netflix algorithms. Fashion has Demna. Read all about it here.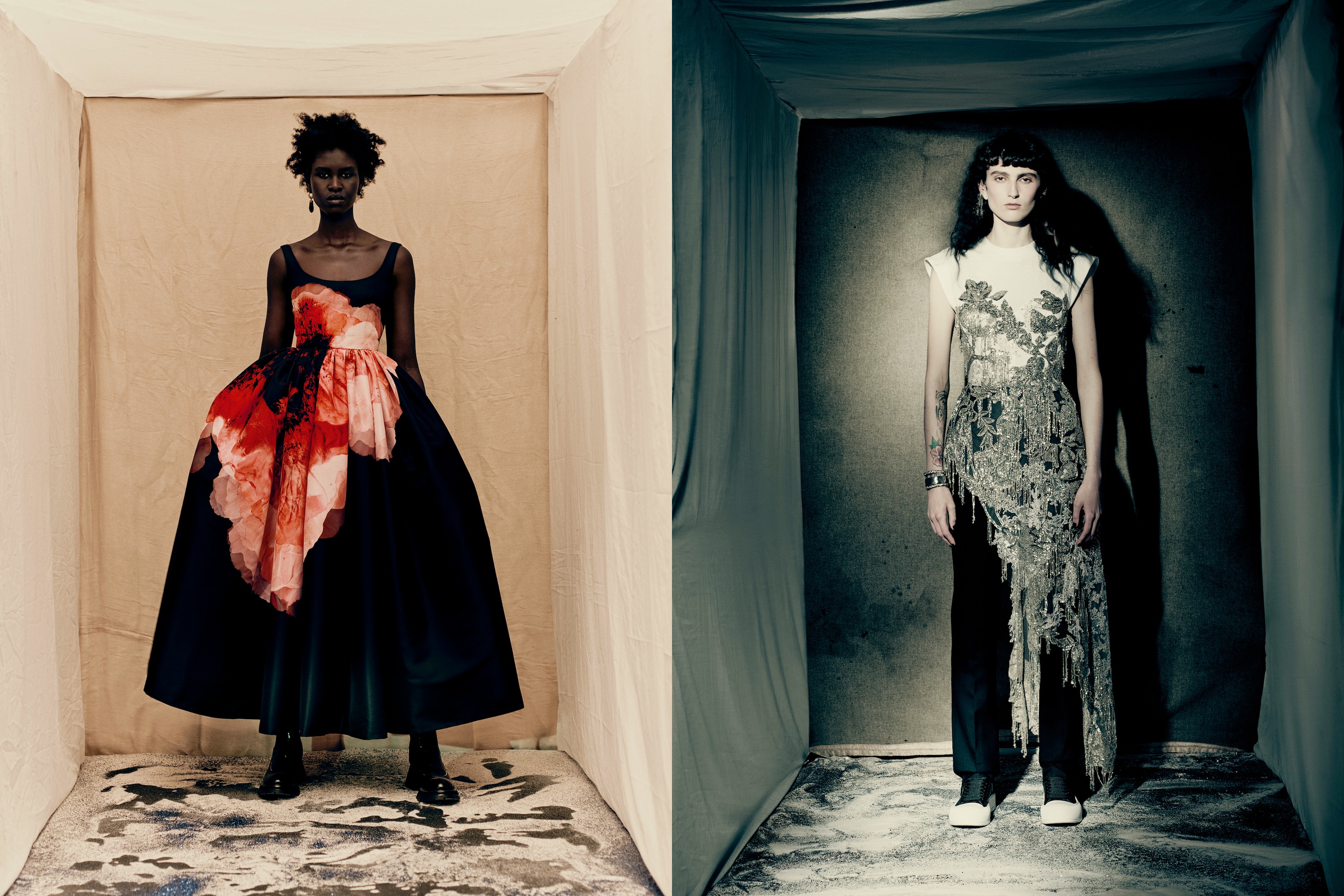 … and Alexander McQueen AW21 is all about IRL beauty
Some designers opt for jugular branding and glitzy spectacles, others are all about the beauty of craft. Sarah Burton is firmly in the latter camp. "More than ever, a sense of humanity, of the team working together with a single aim — to make something beautiful, something meaningful — feels both precious and important," she said in the accompanying notes to her new AW21 collection for Alexander McQueen. An ode to anemones, the ephemeral cousins of buttercups, the collection is brimming with stand-out silhouettes, hand-painted satins and delicate embroidery.
Photographed by Paolo Roversi, the pictures, though beautiful, can't do it justice. These clothes deserve to be seen IRL. Every item is imbued with the human touch, whether it's a denim dress over-washed with the silhouette of a sweetheart neckline, a leather jacket sculpted into peplum proportions, or a simple white T-shirt turned into a ballgown, courtesy of corsetry and trailing silver lily-pad embellishments. Sometimes the simplest things in life can be the most awe-inspiring. OA
What does Modest Fashion actually mean for young Muslims?
Every year, Muslims across the globe spend $2.2 trillion on 'faith-inspired ethical consumption needs', but for a young generation of sustainably-minded, liberal Muslims, the term 'Modest Fashion' is open up for reexamination. This week, writer Maz Halima explored what it means to her and many other young Muslims, and it turns out it's much more than just the hijab.
"Modesty can't be a one-size-fits-all," Fariha Róisín told her. "We have to accept that certain people want to live differently and that the beauty of Islam and Muslims is that we are not a monolith in any sense of the word." Read the full story here.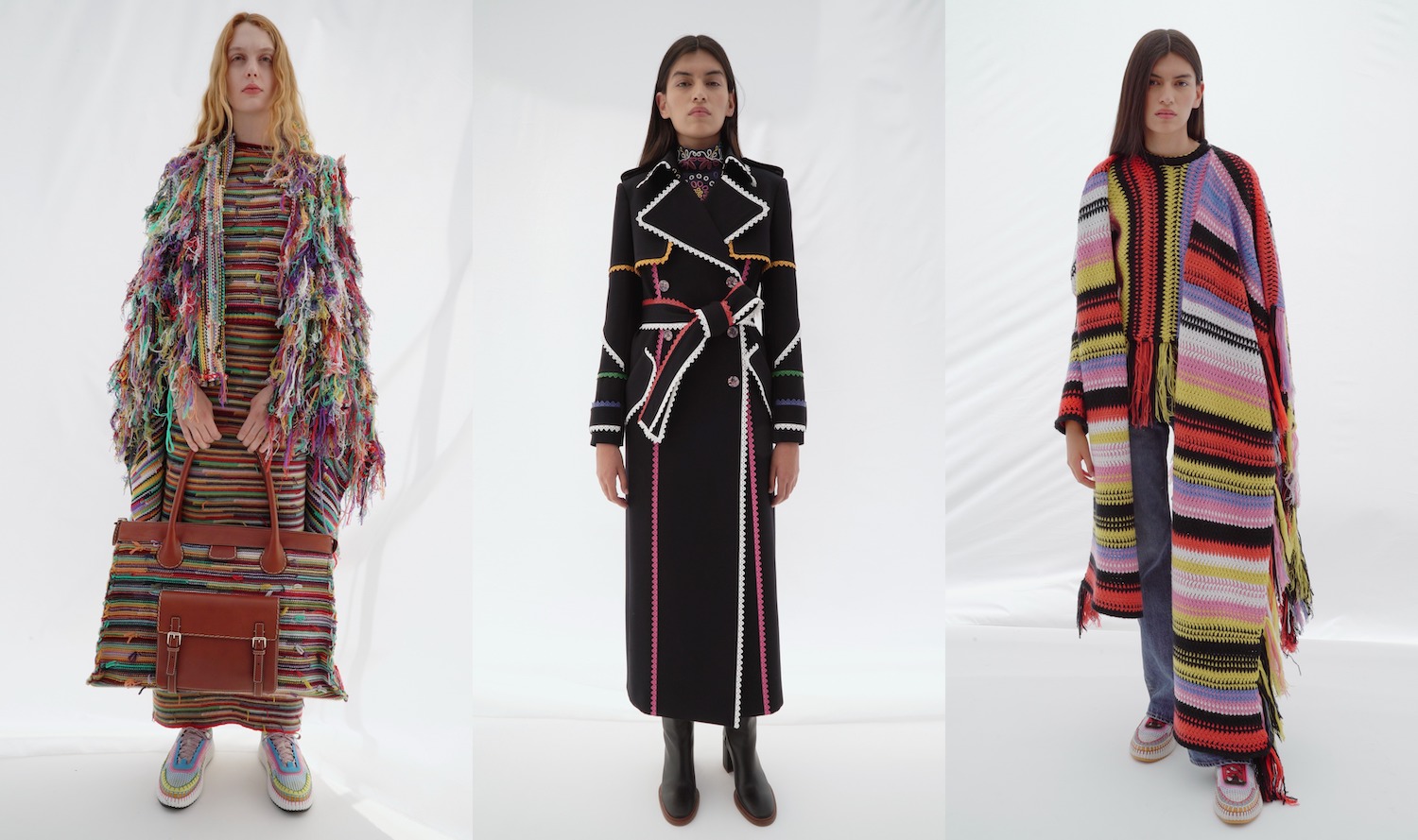 Chloé falls head over heels for Spring 2022
After launching its au natural digital campaign a couple weeks back, Chloé is back with a whole new collection, the second under the creative direction of Gabriela Hearst. For Spring 2022, the Uruguayan designer has built on the chic-meets-earthy tone she set with her AW21 collection, channeling "the fictitious but utterly delicious state of being in love," she says.
Love is, of course, an emotion that has driven people over the years to create, but through Gabriela's eyes, it looks like bright, chunky knit shawl tops, trapezoid linen coats, and belted shift dresses with laser cut details in leather, denim and crisp cotton poplin. For the Chloé creative director, love also extends to the planet, with lower impact materials like organic silk, recycled cashmere and deadstock comprising 55% of the collection. If that ain't worth falling for, what is? MS
JW Anderson just got a whole lot sexier
Not every Pride-themed collection needs to be covered in rainbows. Always one to be drawn to the subversive, Jonathan Anderson's new capsule marks his second collaboration with Tom of Finland, the gay icon who was arguably the architect of the macho-leather-daddy archetype, immortalised in his erotic artworks. Working with the Tom of Finland Foundation, established in 1984 after the artist's death, the collection marks a continuation of JW Anderson's engagement with post-war queer artists whose lives were cut short by the AIDS crisis.
"As a gay man and a designer, Tom of Finland has always fascinated me," says Jonathan. I collect all types of art including his drawings. To be able to use them in a JW Anderson collection is so exciting." Red leather bags, phallic keychains, and shirts and hoodies all come emblazoned with a drawing of an unmistakably Tom of Finland guy, legs akimbo in leather boots, gloves, cap and not much else. Even better, it's available to buy now, just in time for your sunny Pride celebrations. OA
16Arlington says yes to the dress!
Whether it's couples who've had to push back their big day since the start of the pandemic or lovers who put a ring on it over lockdown, the opening up of the world has come with a slew of much-anticipated weddings. Launching their bridal line just in time is none other than glam London label 16Arlington. Having already won over stars like Shygirl, Billie Eilish and Jorja Smith with their ready-to-wear, IRL couple Marco Capaldo and Kikka Cavenati have reimagined their plumed, red-carpet-ready fantasia in bridal tones of ivory and white, resulting in gowns and suits perfect for any blushing bride to wear on her big day -- and forever after! Say yes to this dress, girlies xo MS
Alber's last collection hits home a powerful message
Alber Elbaz would have turned 60 tomorrow. The tragic passing of the legendary designer earlier this year resonated across the industry that he called home, least so because he was only just embarking on the birth of his own label, AZFactory. Now, the future of the Richemont-owned label remains unclear — but, in the meantime, they will release one of the last projects that Alber worked on in celebration of his birthday. 'SuperTech-SuperChic' comprises the eco-dyed nylon microfibre traditionally used in sportswear, which Alber developed with 3D knitting technology to create woven "athletic couture" as a mood-boosting salve to the modern woman's wardrobe. Completed in his final weeks, it will be launched in the form of bags, hoodies and sporty pieces made of eco-friendly fabrics. And to continue Alber's wishes, a portion of proceeds will be donated to It Gets Better, a charity whose mission is to uplift, empower, and connect LGBTQ+ youth around the globe. Long live Alber Elbaz! OA