L: Christiane F. – Wir Kinder vom Bahnhof Zoo film poster; R: Raf Simons AW18. Photography Mitchell Sams
These are the movies that inspired Raf Simons
Off the back of an 80s horror-inspired SS21 collection, we unpack how references from cult German classics to David Lynch have contributed to Raf's cinematic world.
L: Christiane F. – Wir Kinder vom Bahnhof Zoo film poster; R: Raf Simons AW18. Photography Mitchell Sams
More than two decades into his career, Raf Simons's weird and wonderful creative universe has come to encompass far more than just clothes. With references spanning the worlds of art, film and music, he's fashion's very own pop-cultural encyclopaedia. Looking back across Raf's collections — from his eponymous label to Jil Sander, to Dior, to Calvin Klein, to his SS21 Prada debut — it seems there isn't a corner of countercultural history he hasn't, at some point, funnelled into a fashion show. But where did it all begin? In this three-part series, we take a deep dive into the self-contained world of references Raf has developed and returned to again and again.
Kicking off this three-part series, we're looking at a source of inspiration that finds Raf at his most eclectic, and a focal reference point for his SS21 show on Friday: film. Whether it's the dramatic orchestral scores he's used to accompany his runway shows, his forays into costume design, or his taste for throwing in references to his favourite horror movies, film has consistently provided a rich backdrop to Raf's aesthetic world — and allowed him to build a cinematic vision all of his own.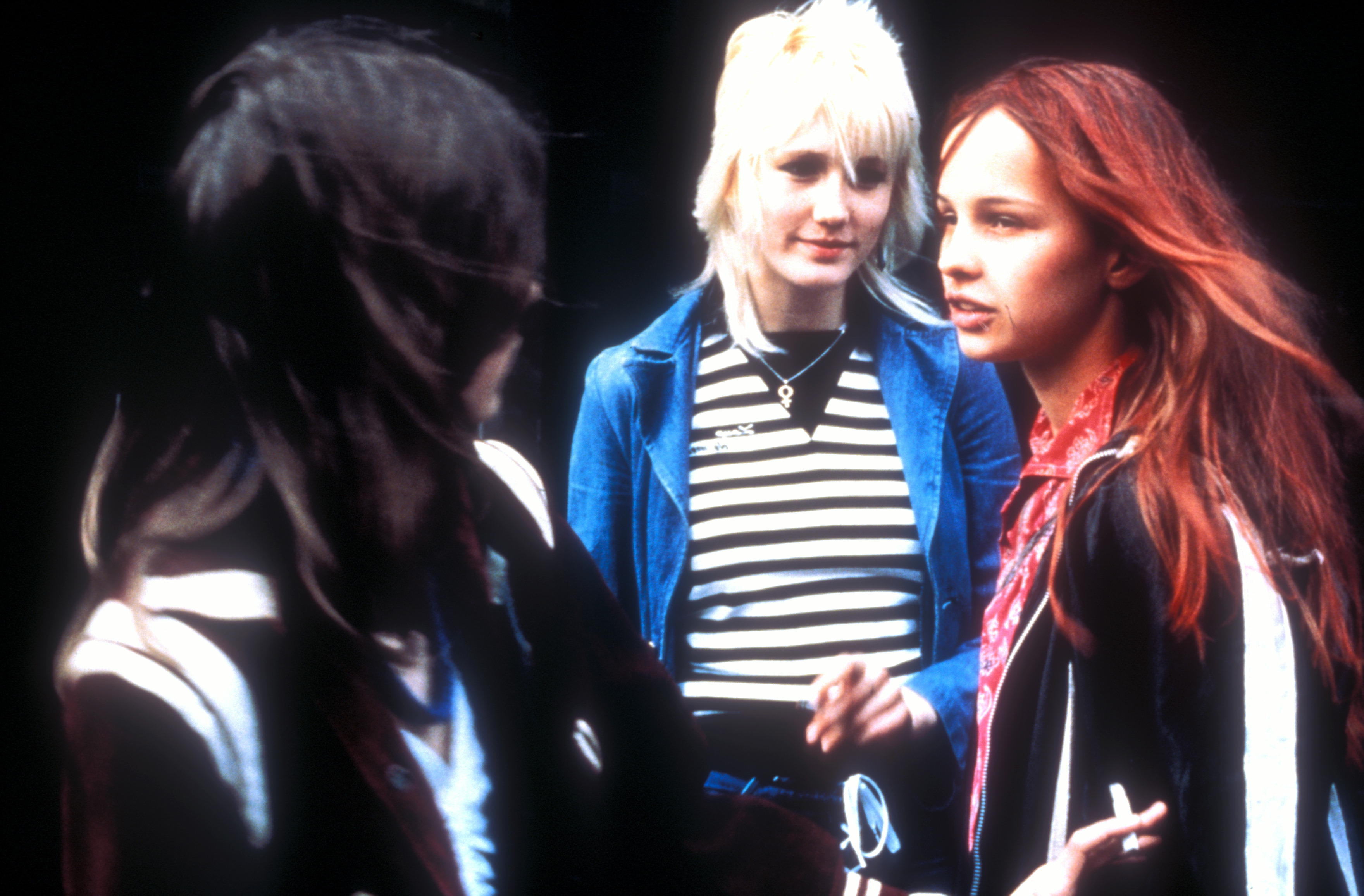 Christiane F. — We Children from Bahnhof Zoo
In the words of Virgil Abloh — one of Raf's greatest acolytes: — "The youth will always win." It's a maxim that could just as easily apply to the Belgian designer himself, who, across three decades of observing the increasingly rapid trend cycle of youth culture, has always managed to keep his finger firmly on the pulse. It's little surprise, then, that the cult 1981 film Christiane F. — We Children from Bahnhof Zoo has proved to be such an enduring reference point for the designer. Set in and around the seedy environs of Zoologischer Garten -- a train station in former West Berlin which served as a refuge for teen runaways, prostitutes and drug dealers throughout the late 70s -- it chronicles the true story of a 13-year-old girl's descent into heroin addiction, shocking viewers across Europe upon release with its graphic insight into a very genuine crisis.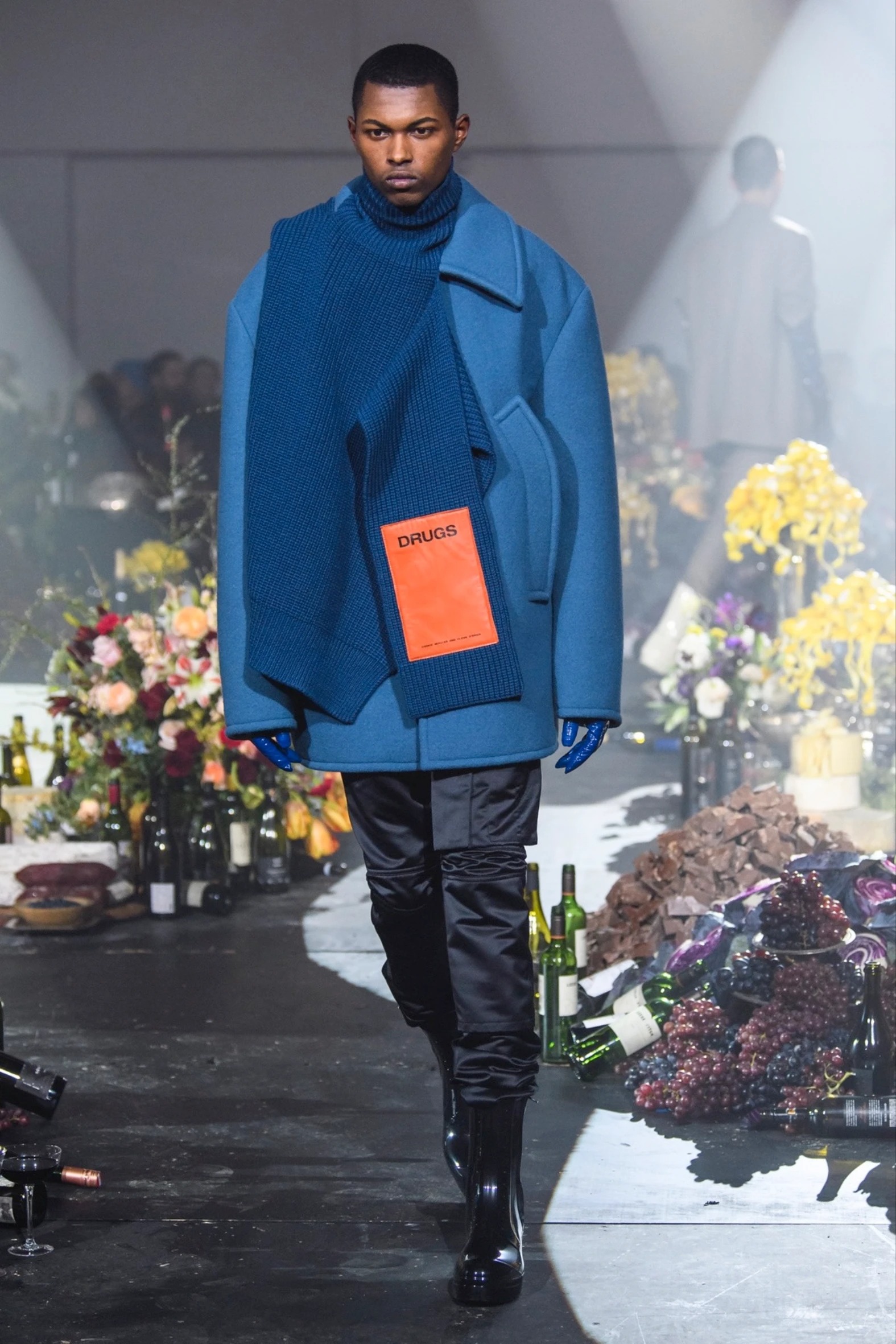 With a soundtrack by David Bowie (who as we already know sits in prime position within Raf's pantheon of heroes) it became a cult classic for its gritty, cinema verité style. But it isn't just its portrayal of wayward youth that made it such an important influence. One of the trademarks Raf established early in his career was a refusal to gloss over the darker corners of the human psyche. The stark realities of addiction presented in a film like Christiane F., along with a nod to Cookie Mueller and Glenn O'Brien's tragicomic 1980 play Drugs, shouldn't make for a particularly seductive fashion collection; and yet, for his AW18 men's show, both were central references.
Instead of glamourising drug use, what it really underscores is a more sobering message -- the possibilities of finding a sense of belonging and community in music, art, film or even fashion. Donating proceeds from the collection to addiction recovery centres, as well as sending the bacchanalian feast laid out as the show set to City Harvest -- a charity that provides food for New York's homeless population -- Raf made a forceful rebuttal to critics who might have seen the invocation of drugs as something irresponsible. Much like the film itself, what first appeared as something chilling turned out to have a conscience.
Film scores
The dialogue Raf has with the world of film extends far beyond the visual. There are the film characters he's interpreted in the abstract to form a backbone to the collection, as with Christiane F., or the costumes he designed for Tilda Swinton in Luca Guadagnino's I Am Love and A Bigger Splash; the first while at Jil Sander, the second at Dior. "There was something really interesting about having someone with his precision working on a character," Tilda said in an interview with The Cut. It's this willingness to craft a character rather than simply dress a model that has always given his vision depth, from his early days street casting new faces in the Paris suburbs.
Raf's interest in the world-building possibilities of film has also extended to his shows. Look back at his AW02 Virginia Creeper collection, with models in hoodies wandering through an eerie, up-lit forest reminiscent of 90s teen horror films, or his AW01 Riot Riot Riot collection, its set of rickety scaffolding echoing the dystopian sci-fi of Metropolis. While he largely forwent these cinematic backdrops during his tenure at Jil Sander, opting instead for the classic, stark white runway to emphasise the shapes and silhouettes of his minimalist designs, film continued to have a presence on the show soundtracks.
In true Raf fashion, the evocative power of the film score allowed him to traverse the worlds of cinema, music and style with ease. Take his AW08 collection for Jil Sander menswear, accompanied by the haunting synths of Angelo Badalamenti's score for the David Lynch noir thriller, Mulholland Drive -- the prints of chipped, cracked marble intarsia across coats and shirting capturing a very Lynchian sense of warped glamour. For his SS11 collection for the house, the clothes came out in shocking pinks and oranges, to the spiky, syncopated strings of Bernard Herrmann's score for Alfred Hitchcock's Psycho. Finally, they were followed by a series of striped gowns that echoed the film's famous Saul Bass-designed graphic title sequence. It was proof once again -- if you needed it -- that for Raf, a reference operates on more levels than initially meets the eye.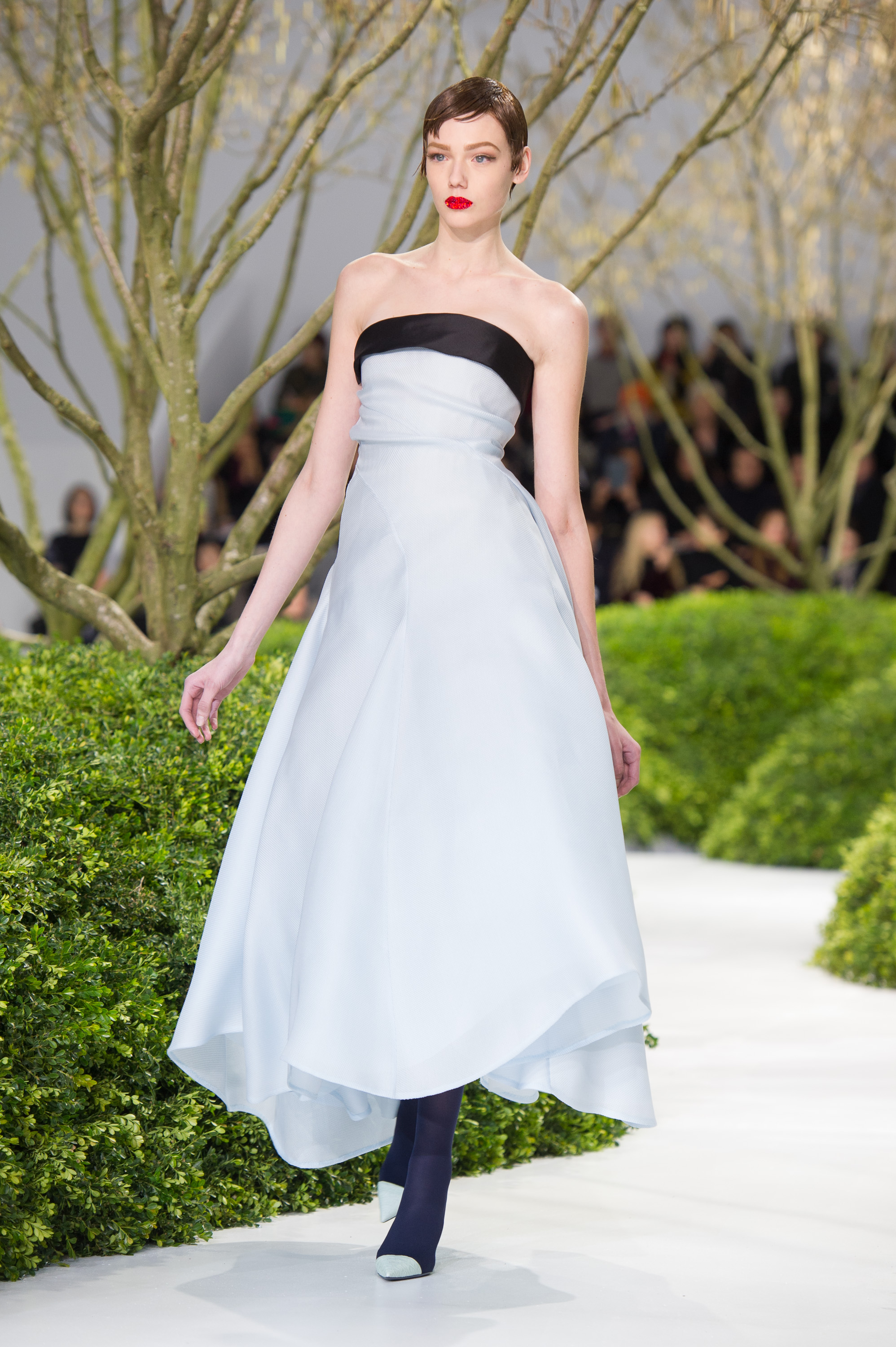 Hitchcock
This wasn't the only time he would tip his hat to the cinematic legacy of Alfred Hitchcock. For his second couture showing at Dior, he referenced the work of Hitchcock's legendary costume designer Edith Head, serving up a series of silk and taffeta confections that both tapped into Dior's initial 50s heyday, and embodied the ominous charisma of Hitchcock's female leads. With their voluminous proportions and fairytale embroidery, the dresses wouldn't have looked out of place on Grace Kelly in Rear Window -- Hitchcock's greatest muse until she left Hollywood to marry Prince Rainier III of Monaco in 1956 -- or Kim Novak, as the troubled doppelgänger of a wealthy San Franciscan's deceased wife in Vertigo.
At both Jil Sander and Dior, Raf took the icy and often troubled women of Hitchcock's films, and updated them for the 21st century to reflect his clients: strong, independently minded, and with exacting taste. The direct citation in the collections was Janet Leigh's character in Psycho -- she of the infamous shower-stabbing scene, that shocked contemporary viewers by killing off the widely advertised leading actress in the first 15 minutes. The models might have been wearing Leigh's signature cropped hairstyle and slick of red lipstick, but that's where the comparisons end. This wasn't a woman about to be murdered, but one who was dressed to kill.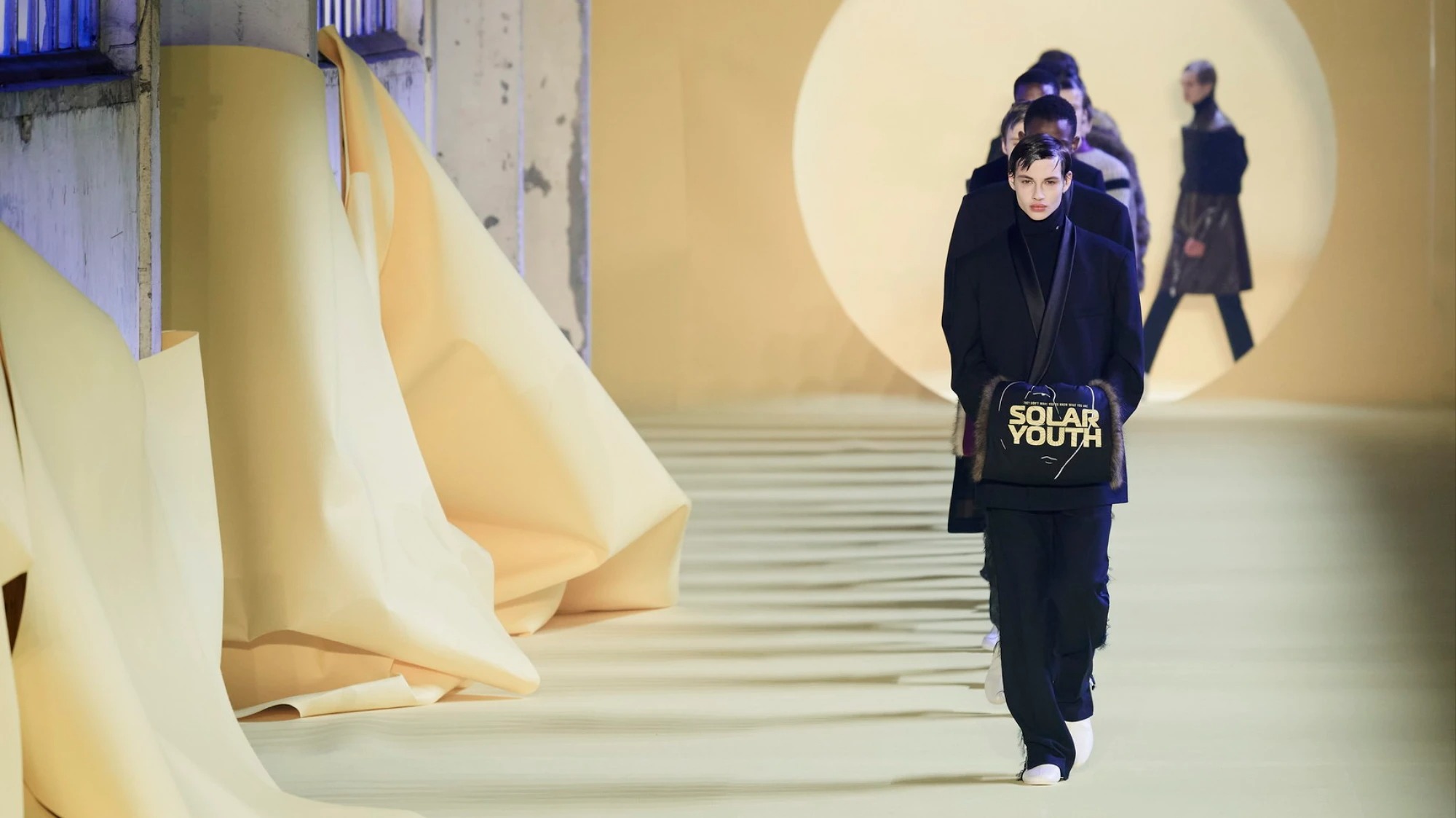 Cult sci-fi classics
For all this talk of Raf's bank of references, it's easy to miscast him as a designer solely obsessed with the past, when -- particularly during his stint at Dior -- his regular nods to the world of sci-fi saw him regularly embark on futuristic odysseys. His SS15 collection was a space opera all of its own, with Raf erecting a tent within a courtyard of the Louvre decked out entirely in white perspex to resemble either the interior of a spaceship, or possibly the eerie all-white room from the final sequence of Stanley Kubrick's 2001: A Space Odyssey.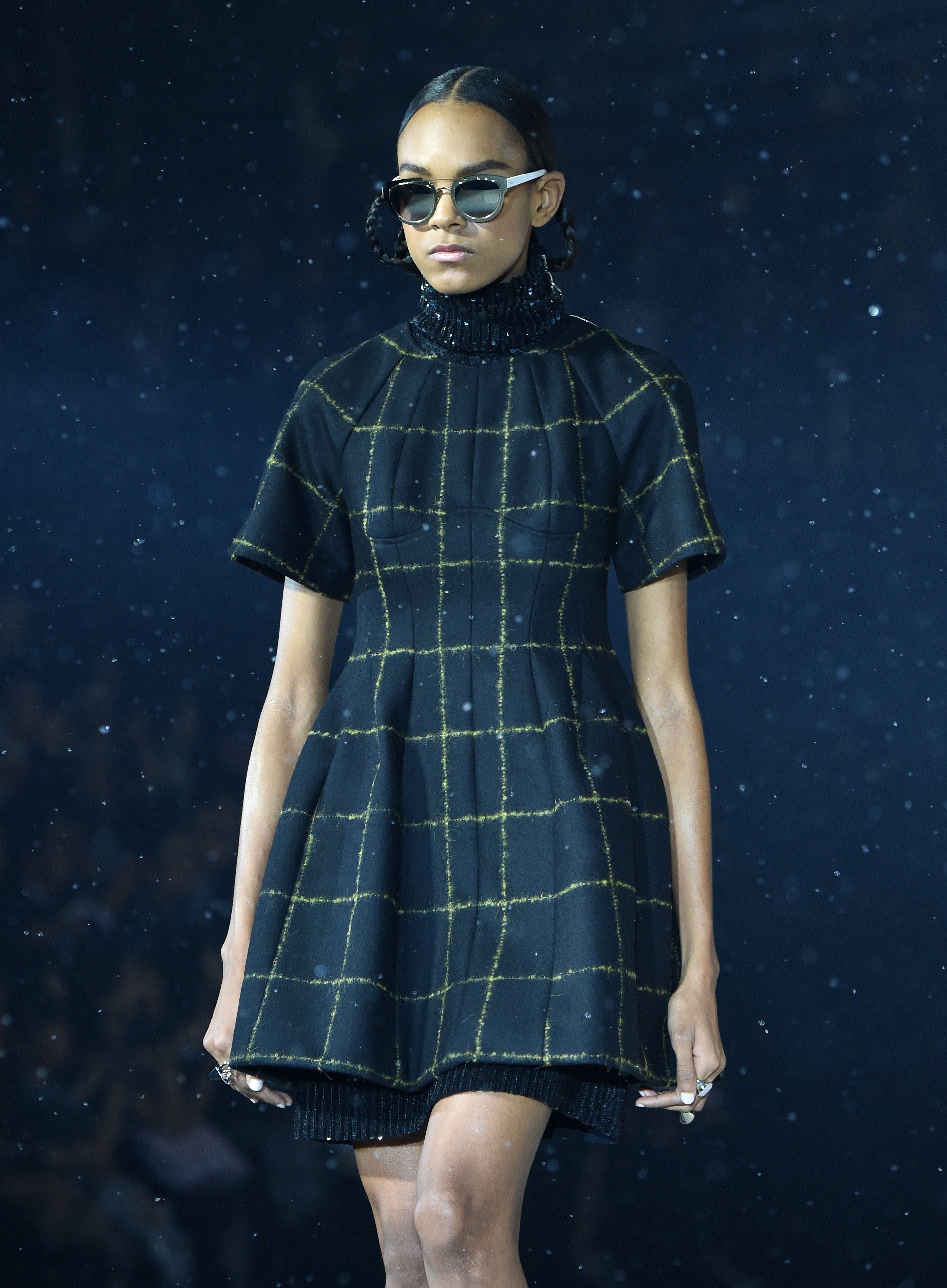 It's an appropriate touchstone for the designer, who has spent much of his career (a little like the eerie monolith that appears in the film at each pivotal stage of mankind's development) hopping with wild abandon across time and place, applying his magpie eye for references to mash up stories from past and present. It was also clearly something of a future-looking year for him more generally: the following pre-fall collection, staged in Tokyo, saw snippets of conversation from the replicants of Blade Runner playing over the soundtrack and models walking out with Princess Leia-style braids in sequinned skin-tight dresses that had a distinctly robotic flavour.
Cast your eye across Raf's career, and it becomes obvious that his interest in the past is never about taking a misty-eyed trip down memory lane, but rather to invoke the creative heroes of his that were all bold innovators. Looking back across his cast of characters -- from Bowie to Warhol, Kraftwerk to Kubrick -- they are all figures producing work so cutting-edge they could draw blood. Raf's goal is to do the same: to use these songs, stories and shows to create something bracingly new.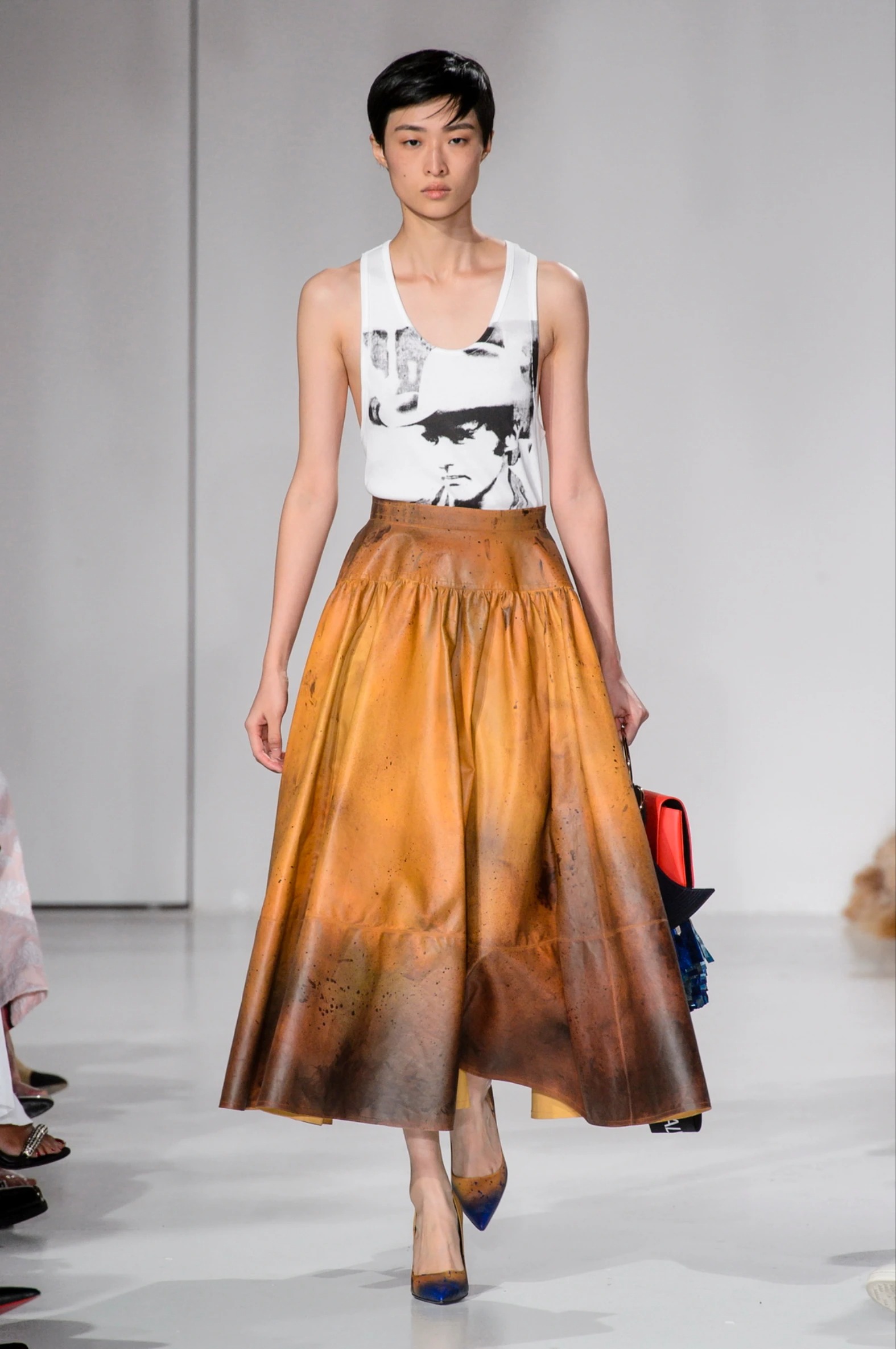 American horror stories
When taking over at Calvin Klein, pop art wasn't the only thread of American cultural history Raf felt compelled to pick apart: from his very first collection, he drew on the rich tradition of the horror movie to reflect and refract the broader anxieties of a politically divided nation. But while Raf's first collection for CALVIN KLEIN 205W39NYC (don't worry, we still have to spell-check it every time too) laid out the blueprint for his vision -- boxy tailoring, varsity sweaters, double denim -- it was the sophomore show where Raf really let loose.
There were the Warhol prints, of course, but also a carousel of nods to the grand tradition of American horror: a powder blue tea dress that bore an uncanny resemblance to Mia Farrow's wardrobe in Rosemary's Baby; treated leather that appeared to be stained like the apron of The Texas Chainsaw Massacre's Leatherface; plasticky patent black nylon that resembled the material of body bags; and perhaps most memorably, a coat that was spattered in blood à la the climactic scene of Carrie.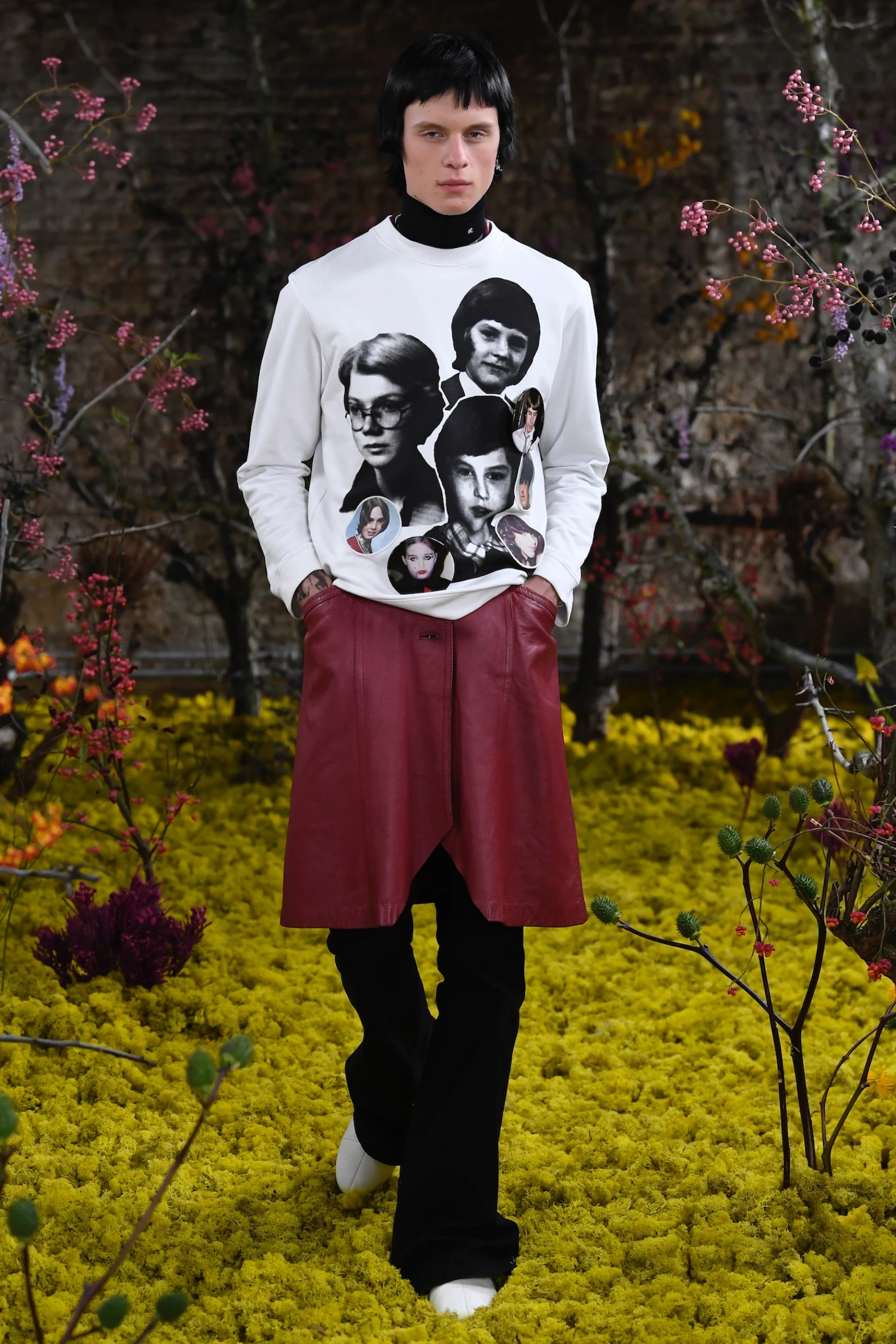 What's most extraordinary about these, often explicit, references to horror is Raf's ability to weave them into the narrative of a collection without it ever feeling heavy-handed. And no moment better summarised this wickedly dark double meaning than Melania Trump repeatedly stepping out in looks from his Calvin Klein collections. Perhaps the irony was lost on her, or, as some have suggested, her sartorial choices were even an attempt to troll her husband. Who knows?
But if there's a lesson to be learned from looking back across the entirety of Raf's career and his ever-evolving network of references, it's that horror doesn't always mean hopelessness. Indeed, it even cropped up once again last week in his SS21 collection in an entirely new context, with references to everything from Picnic at Hanging Rock to A Nightmare on Elm Street set against kaleidoscopic, acid-laced swirls and bold, joyful colour clashes.
Just as the spectres of violence, addiction, anger and fear have loomed over his collections, the emotional residue has always been a reminder to keep faith in the power of community: whether that's a nightclub, a fashion tribe, an artistic movement or simply the rag-tag gang of youths in a rural town. Within Raf's world, hip-hop stars, hypebeasts, and fashion geeks are just as warmly welcomed as millionaire clients buying Dior couture -- and as he embarks on a new chapter as a womenswear designer under his own name, you can be sure that the cross-section of people he appeals to will be expanding once again.
Tagged: