Vanilla-shaming on Tiktok and erotic photography: what i-D loved this week
Your favourite weekly content round-up.
|
05 February 2021, 4:12pm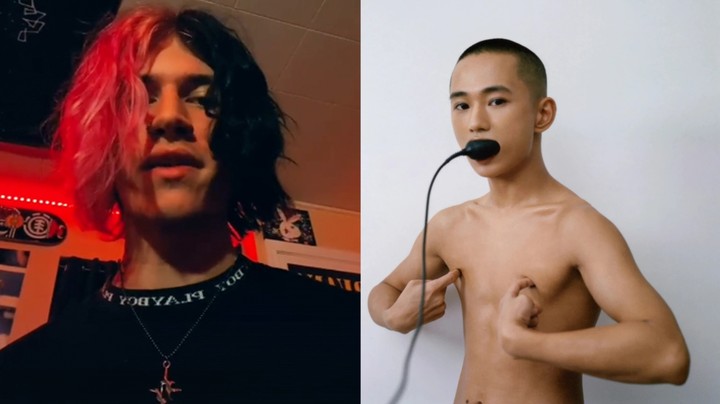 Left image: Tiktok. Right image: Huang Jiaqi.
Okay so New York's had the wildest snowfall in decades, the UK's about to have another cold snap, and nobody anywhere in the world should really be leaving the house unless they're allowed to (or live in New Zealand). Now's the perfect time to get some reading and watching done.
Like clockwork, we're back again. Another week of 2021 down and an abundance of fresh content. From photo essays tied to queer masculinity to watch-lists and movie recommendations, there's a lot to indulge in this time around.
Binged It's a Sin? Here are 7 more movies about the AIDS crisis
Russell T. Davies' miniseries It's a Sin broke records this week as it became the most watched show in its first month that Channel 4 have commissioned since their on demand platform launched in 2006. The show is about a group of friends coming-of-age against the backdrop of the AIDS crisis. But did you know that it's just one of the dozens of works about the crisis to hit our screens? And if you're looking for cold hard facts, there are plenty of documentaries too. Here, i-D's Tom George breaks down seven that you should add to your watchlist, before binging It's a Sin all over again.
The Sundance hit capturing lawless teen America
This year's Sundance Film Festival came to an end with a bang: the coming-of-age film CODA. But further down the awards list was a pioneering documentary that follows the lives of three teenage Texas girls over a long, sweltering summer, capturing the nuances of their mundane days. It's revealing and emotional; a paean to girlhood that delves into the prevalence of sexual assault geared towards young women everywhere. Douglas Greenwood looked into its finer details here.
Is Vanilla-shaming the new kink-shaming? TikTok thinks so
It seems that TikTok has become the place to flip the script on what's considered 'the norm' nowadays. With us now numb to astral projection and Panda Girl's endless reels of bargain-hunting, a new hashtag has taken off: #freaktok. Now, the boundaries of kinky sex are being pushed further, but how far is too far? Lucy Robinson examines a potentially worrying new normal here.
For this Black British queer photographer, pleasure is activism
Ajamu X's latest project met its Kickstarter target in less than a week. Such was the demand for a beautiful photo book that captures the particular experience of Black queerness in men. "My work is not for everybody anyway, not even all Black queers," he tells Jason Okundaye. "And I think there is a danger to thinking that if you're mainstream your work has more value. My work already has value, mainstream or not." Read their conversation in full here.
A letter to SOPHIE from a childhood friend
We are still collectively mourning the loss of the producer and artist SOPHIE, who over the course of the past decade-and-a-half successfully upended and questioned the manner in which pop music was made. Faris Badwan, frontman of The Horrors, knew the artist since they were both 12 years old. In this letter he recounts two decades of friendship, and the journey SOPHIE went on as a game-changing artist in the process. Read it full here.
The erotic, elevated fashion of Huang Jiaqi's work
Photographer Huang Jiaqi specialises in the surreal. His self-portraits, often something between stylised fashion shots and obscure documentary pictures, see him cradle a Rubix Cube with fingers adorned with gummy bears, and pinch his nipples with a blood pressure monitor in his mouth. With his work, it's best to say less and let yourself explore. Find them all, in their weird and wonderful form, over here.