The designer making retro-futuristic womenswear inspired by Eastern Europe
For her namesake label's debut collection, Fidan Novruzova explores her Azerbaijani and Moldovan roots.
|
25 February 2021, 7:00am
Photography Olya Ilasco
"Many people think that it's a shoe brand and they have all the reason to think that way," Fidan Novruzova laughs. The Azerbaijani designer's speaking, with excitement, about the launch of her debut womenswear collection, throwing a reference to her already wildly popular footwear. Since their first appearance in Fidan's BA collection at Central Saint Martins, the coveted shoes — chunky, creased-toe boots and mules in rich ombré-ed colourways — have been worn by the likes of Sevdaliza, Celeste and K-pop star CL. But Fidan's namesake label is much more than fancy footwear.
"Ever since I can remember, I've had an interest in fashion," says Fidan, who grew up in Moldova and came of age in the early 2010s, "during the era of Fashion TV and the last supermodels," she recounts. At age 17, bolstered only by her love for fashion — "I had no skills, I couldn't draw," she says — Fidan applied to CSM's foundation course, putting in long hours after school to learn about garment construction and draping, "improving my drawing skills from zero to… something," she laughs, to make it happen. It paid off: Fidan was accepted and moved to London a year later. After completing her first year, the designer enrolled in the BA fashion and marketing program, her final collection winning her the L'Oréal Professional Young Talent Awards third runner-up prize. Afterwards, she moved back to Moldova and launched her namesake label and its debut AW21 collection.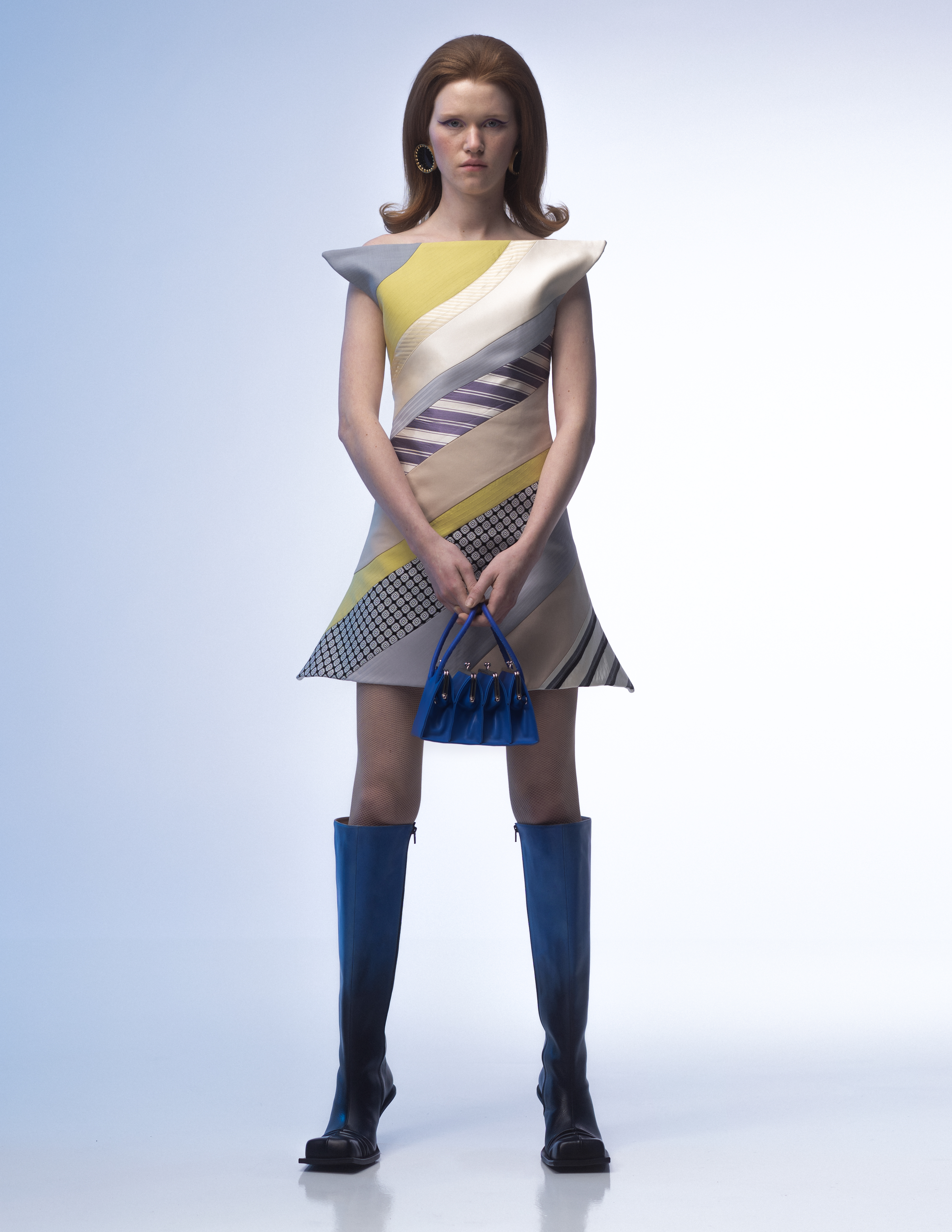 "The whole label is very much inspired by my heritage," Fidan says of being brought up by Azerbaijani parents in Moldova. "I've been raised very Azerbaijani, in a way. I speak the language, I visit Azerbaijan frequently, I'm very much surrounded by my culture. People might think Azerbaijan and Moldova are similar because they're two post-Soviet countries, but they're different in every single aspect. They've both really shaped me as the person and designer that I am today." Fidan's heritage has played a central role in her designs going all the way back to her BA collection, which told the story of her family's move from the South Caucasian countryside to large Soviet cities, like Chișinău, Moldova, during the First Nagorno-Karabakh War in the early 90s. Textiles — crafted from vintage tablecloths or patchworked from charity shop-sourced ties — are one way Fidan embodied this transition from rural domesticity to the pragmatism of big city life.
Fidan is big on this kind of subtle symbolism throughout her work and her AW21 offering is no different. "For this collection, I've been listening to a lot of Azerbaijani music from the 70s and 80s, and I've been fascinated by these glamorous singers, the beautiful music, the hair, the sets. I've been really fascinated by this whole concept of stardom in general." A quite literal interpretation of that notion, two blouses from the designer's latest offering are cut with a glam, star-shaped neckline. A top and skirt combo feature 3D crocheted gardens filled with grapes and pomegranates, the traditional symbols of Moldova and Azerbaijan, respectively. A pair of earrings draws from the shape of the ghaval, an Azerbaijani instrument similar to the tambourine; the jewels' black enamel interior is a nod to the city of Naftalan's crude oil baths, famous for their healing properties.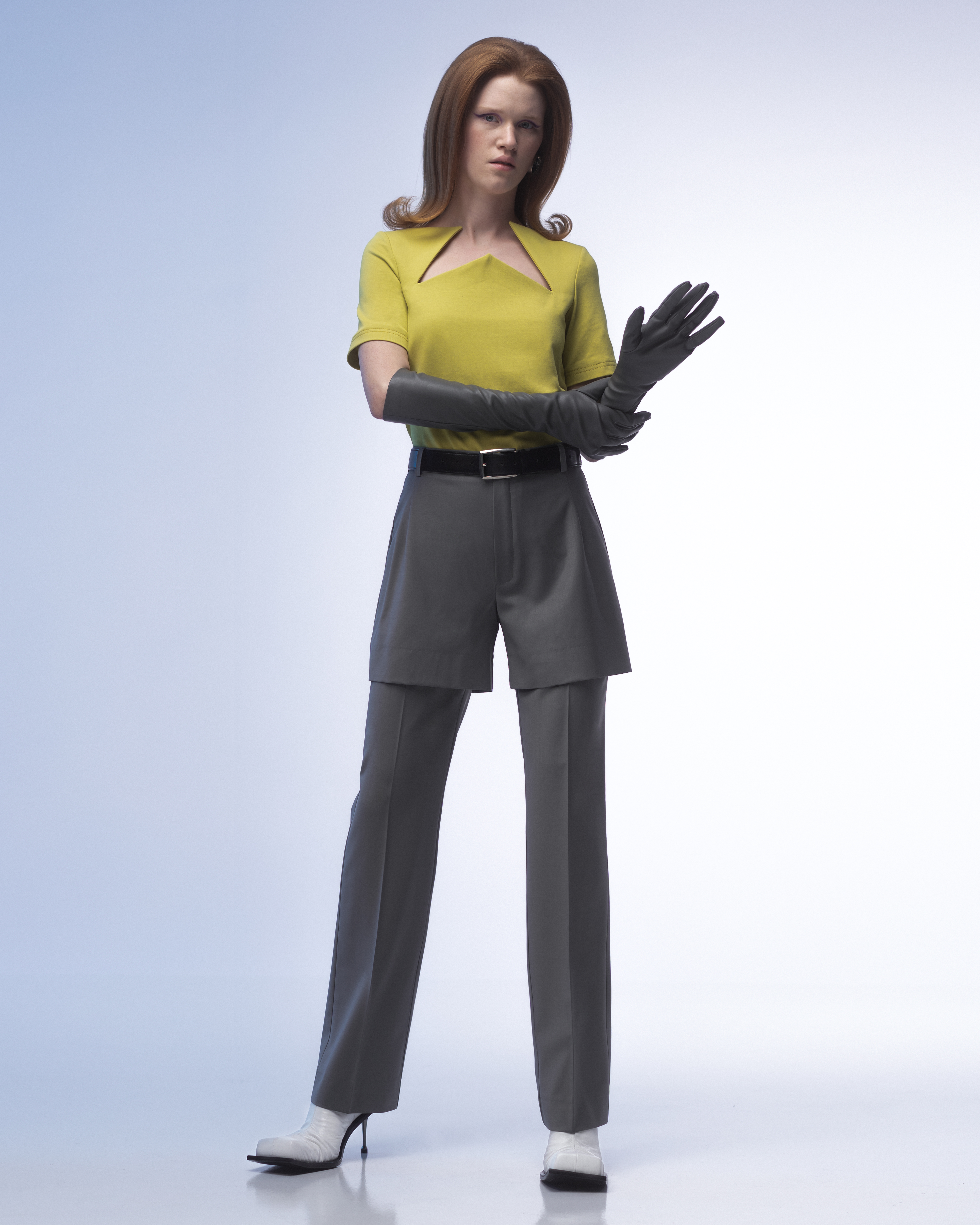 "For me, it's also very important to keep production in Moldova, as much as I can, to display the craftsmanship and work of local artisans, and the traditional techniques that have been mastered throughout the years. Because I feel, in the past, Eastern European production has been viewed as a tool for mass production. So, I want to keep [local craftsmanship] a part of the brand's DNA," she says. To create her famous footwear, Fidan works with a family-run factory in Moldova. The shoes' signature creasing and dégrade patina, down to the welt stitching and dyeing is all done by hand.
This merging of tradition with modernity, old with new, or, as Fidan calls it, "a retro-futuristic post-Soviet aesthetic" also weaves its way through her design concepts. The unique look of Fidan's footwear is inspired by "the old way of wearing shoes," she notes. How, back in the 60s or 70s, one would wear a single pair of shoes for years, maybe even passing them down to the next generation. "This is where the creasing came from, replicating the graceful aging and experience the shoes would go through because they were such good quality back in the day." For her first capsule, Fidan's patinaed boots were fitted with a futuristic metal kitten heel. This thread runs through AW21's other accessories, as well: the mid-century kisslock bag has been reimagined with an avant-garde four-clasp design — "which, by the way, fits any size iPhone," the designer notes.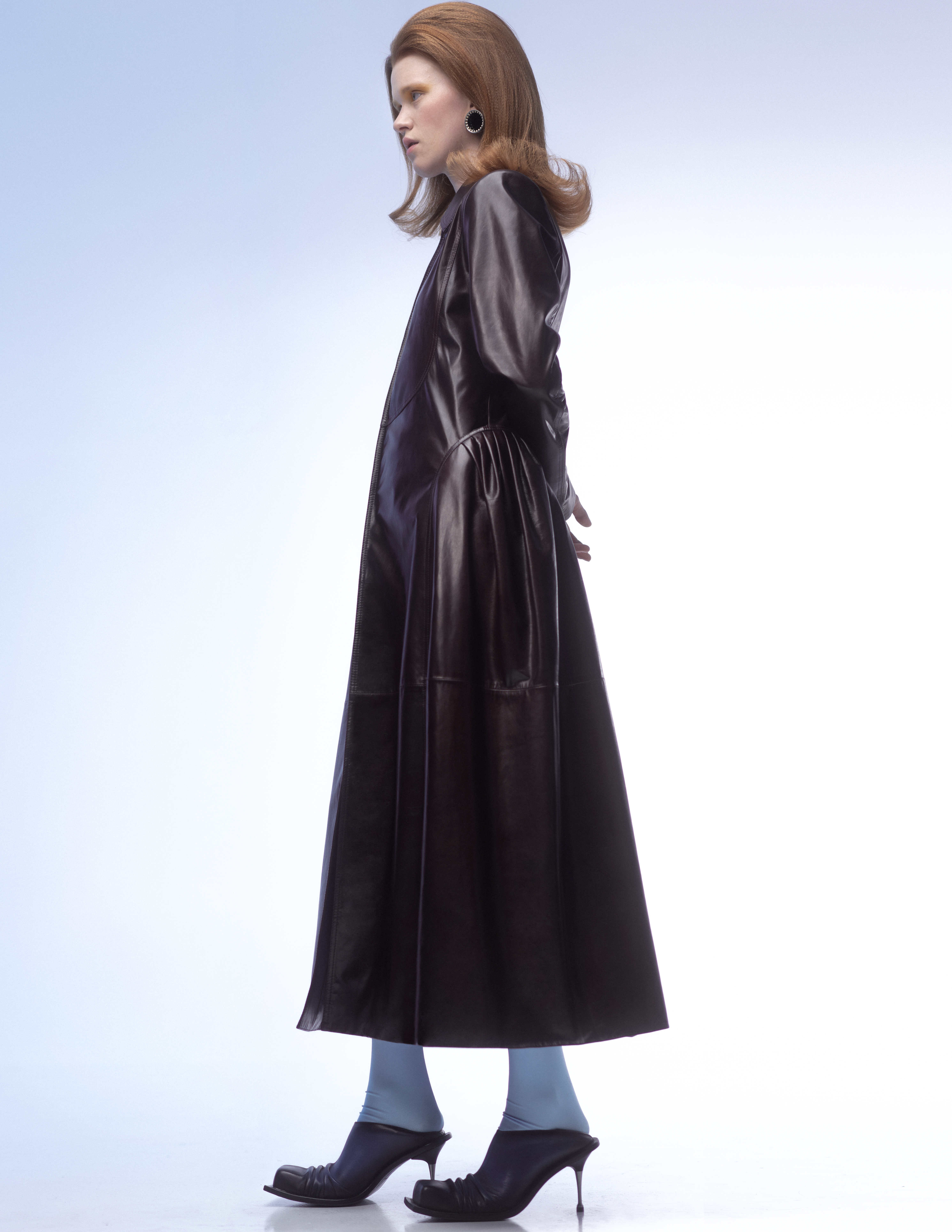 Sometimes this fusion of past and present — or classic and novel — takes a more conceptual form. "I like exaggerating existing staple garments, while being respectful to their DNA. It's about keeping the garment familiar to the eye, but giving it a very different dramatic context," Fidan says. The designer's signature suspended skirt, featuring a boned silhouette that seems to float alongside the body, best exemplifies this concept. "I had a really clear vision of the skirt existing on its own, independently. The skirt became an object as well as a piece of clothing."
And sometimes, this concept takes a quite literal approach: a skirt from Fidan's latest collection is constructed from an upcycled tablecloth sourced from a local charity shop. "Objects that have this feeling of domesticity have been a driving force in my creative process," she says. "Those objects are constantly surrounded by people and, in a way, possess the energy of the people who lived with them. Domestic objects can really tell a story that clothes can't even tell."
While Fidan references domesticity through her designs, the concept itself is also a well from which she draws inspiration. "My family archive was a really important starting point for me in my final year at CSM and it's something I keep going back to," she says. Fidan speaks to her family's penchant for documenting "absolutely everything"; and her father who, living in the Azerbaijani countryside as a teenager, took photos of his family, his neighbours and passersby, and would develop the film in his own bedroom. "It's all very interesting imagery that can't be found anywhere else. It's as personal as it gets and it really tells the story of my people." The same could be said of Fidan's clothing, itself.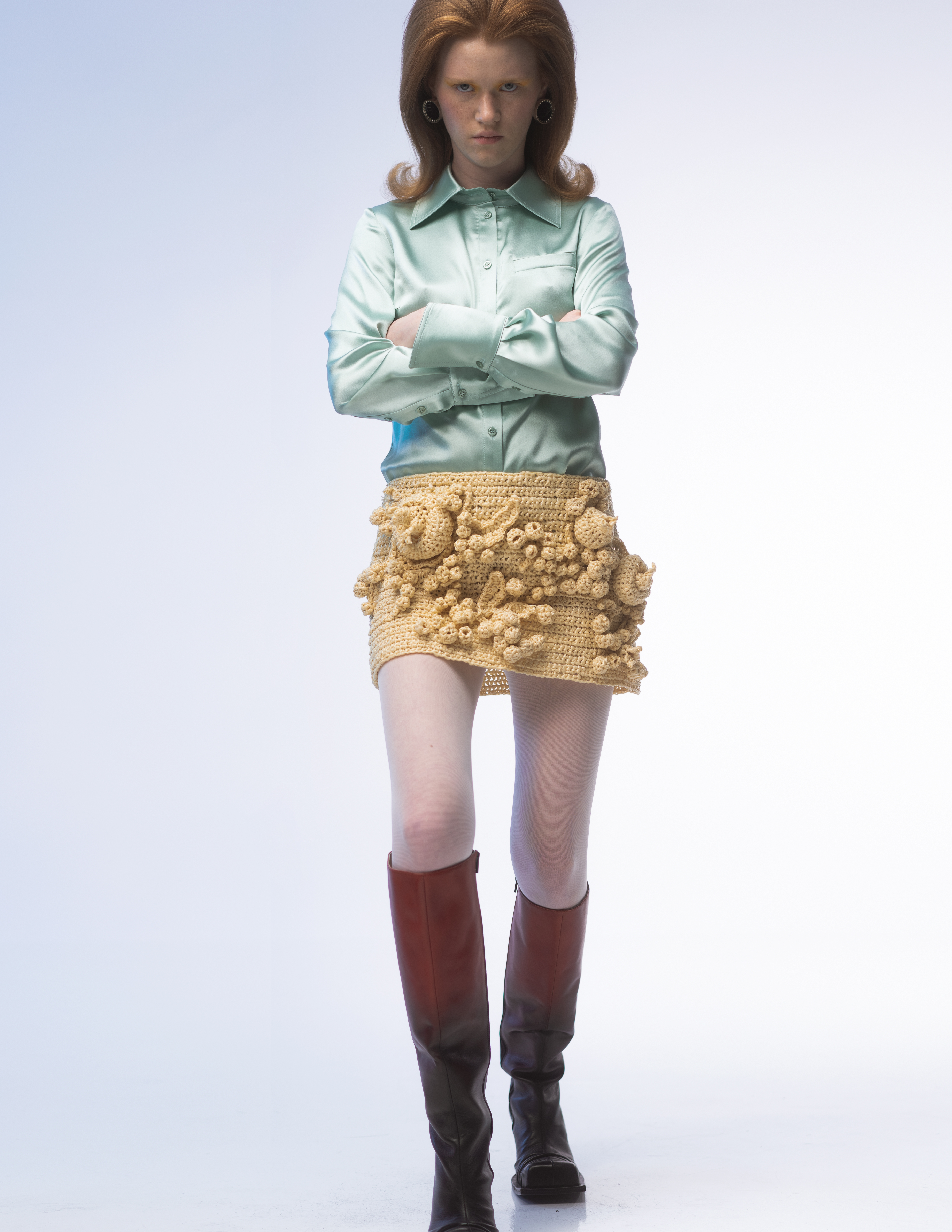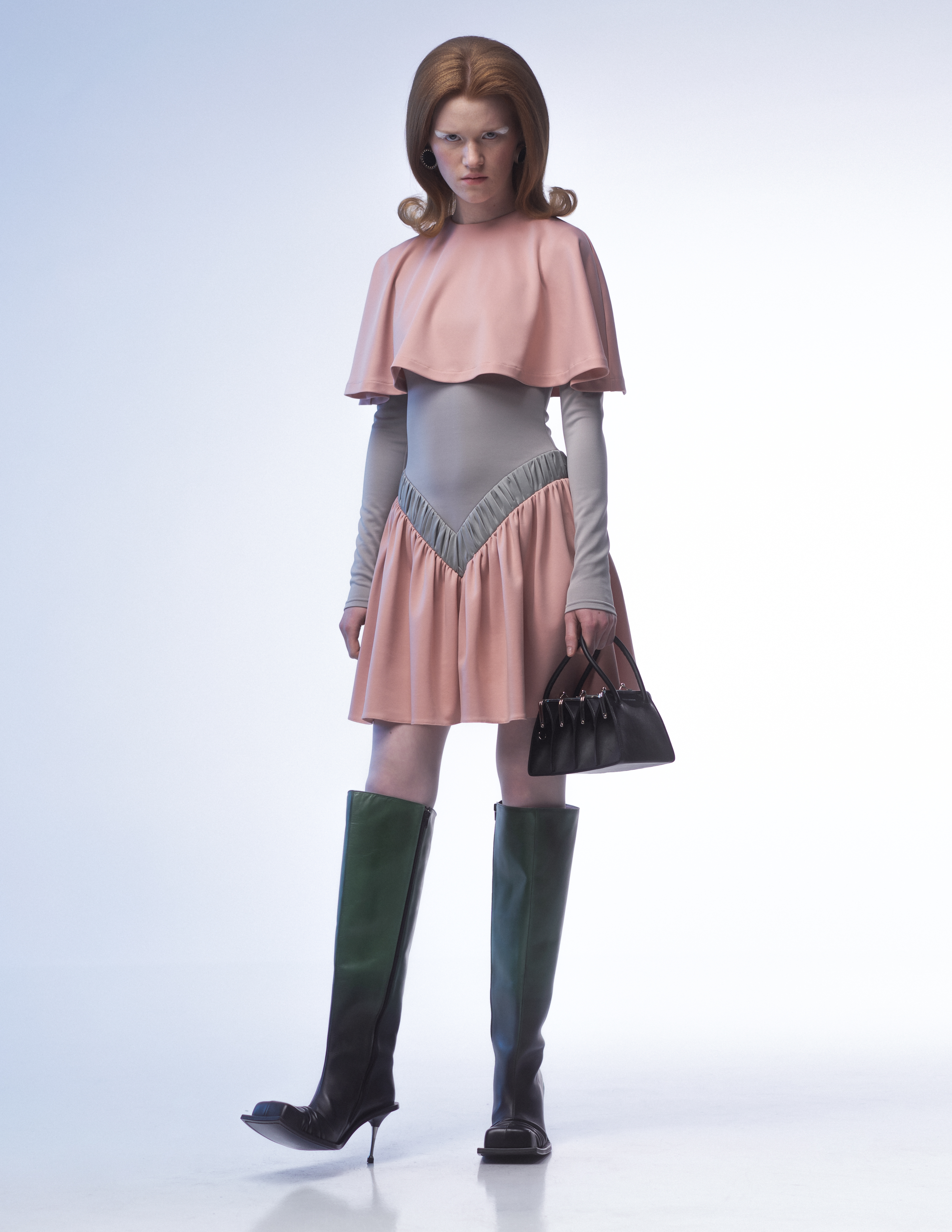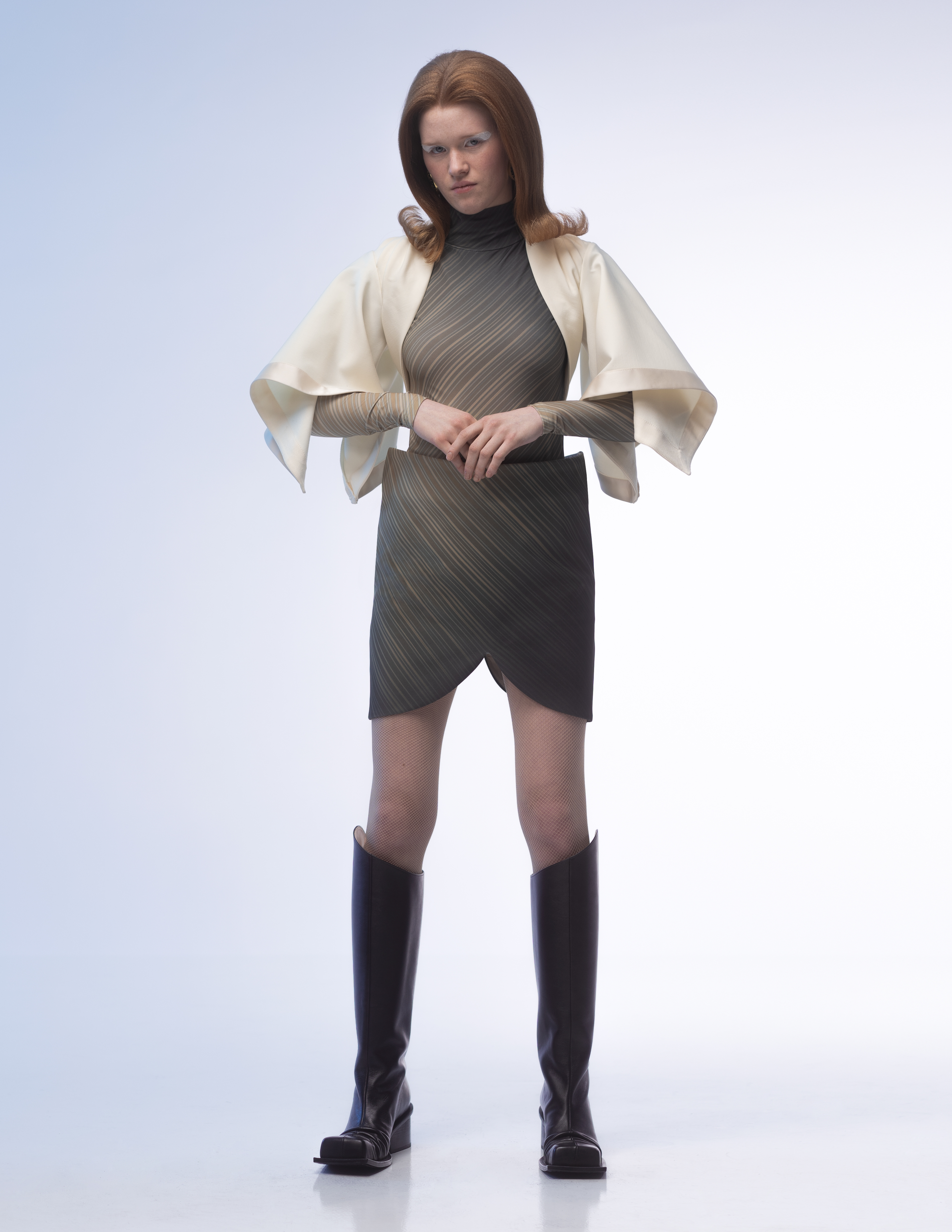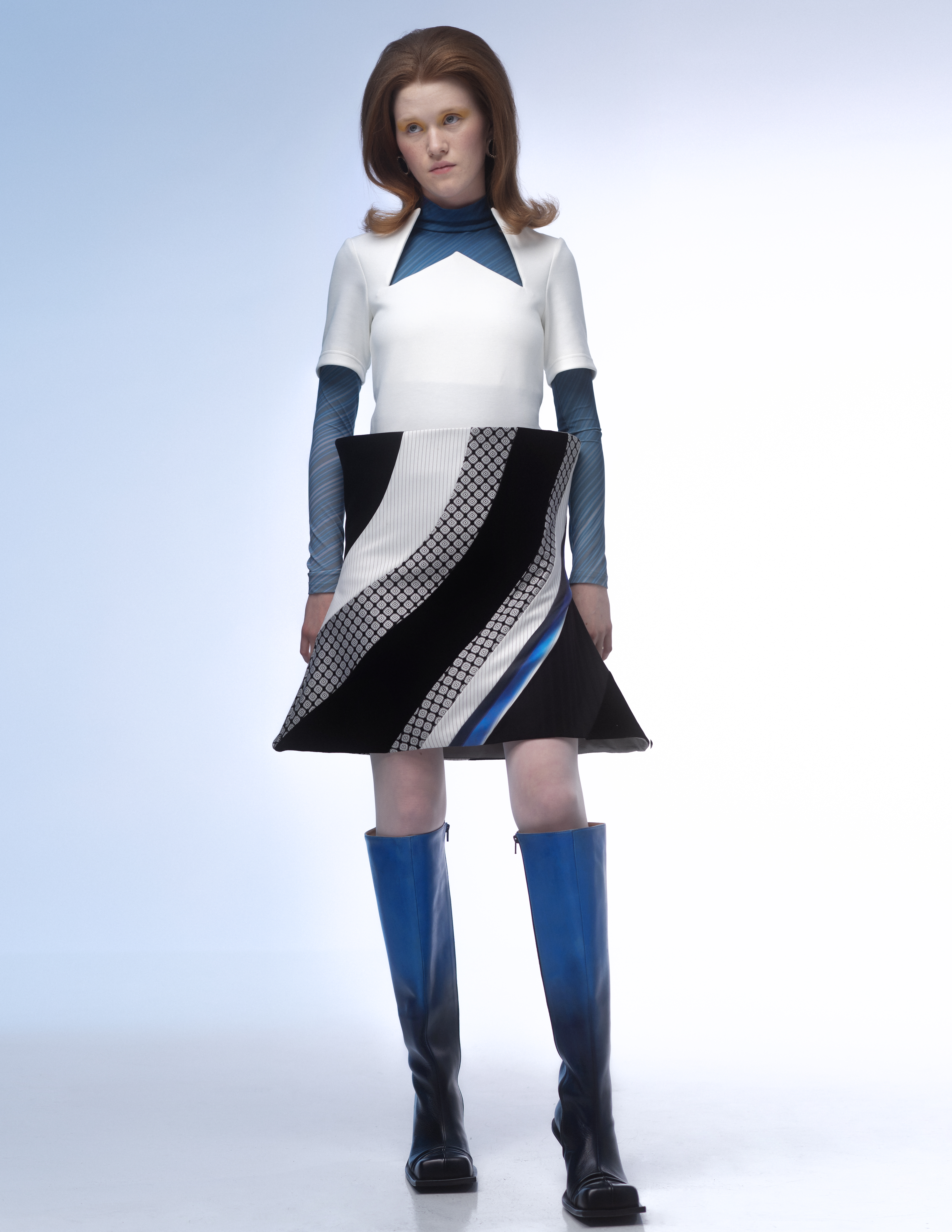 Follow i-D on Instagram and TikTok for more fashion.
Credits
---
Photography Olya Ilasco
Styling/ consulting François Gravel
Hair Alla Tkaciuk.
Make-up Dorina Rotari.
Assistant Irina Morosan
Model Mavilna at Avilion Models