Kacey Musgraves just dropped some anti-Ted Cruz merch
As she should.
|
19 February 2021, 11:53am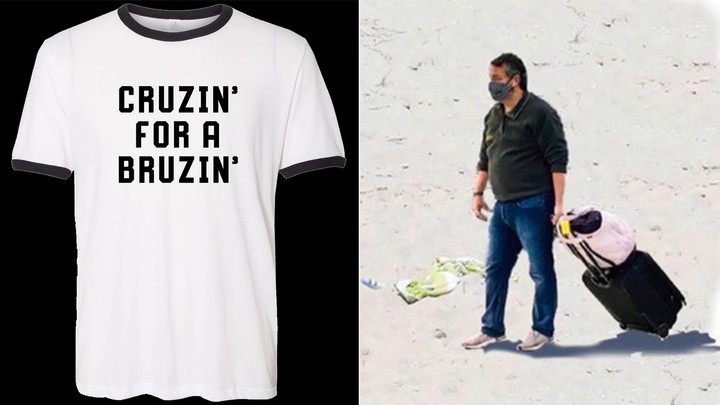 Texans — currently dealing with rolling blackouts, floods and sub-zero temperatures — are absolutely fuming with their state Senator Ted Cruz right now, and judging by the new T-shirt she's just dropped, native Texan musical sensation Kacey Musgraves is too.

Kacey's latest merch, which she revealed yesterday in the middle of Ted Cruz's biggest political mishap since his Presidential run was derailed by claims he was the Zodiac Killer, is a dig at the senator for skipping town in the middle of what is both a political and climate crisis. Rather than stick around to help Texans who are dealing with devastating snow storms, leading to freezing buildings, electrical faults, lack of heating and drinking water supplies, and temperatures so low sea-turtles have had to be rescued in their thousands by volunteers, Ted skipped off to Cancun. What's more, he left his pet poodle Snowflake behind too.
But hell hath no fury like Texan popstars scorned. Kacey's "Cruzin' for a Bruzin" merch takes aim at the Senator for abandoning his constituents in their time of need, but goes a step further in helping those directly impacted by the crises (and abandoned by their state representatives). Proceeds from the sale of the T-shirt will go directly to Texas charities including Casa Marianella, Feed the People Dallas and the American Red Cross of Central & South Texas.
"Texas is cold," the Golden Hour singer wrote on Twitter. "I can be cold." Ouch.
In the aftermath of this sheer baffling political decision, backlash was (understandably) swift and devastating. Cruz, sensing he had made a fundamental mistake, has now cut short his ill-advised winter vacay, but it's too late, Ted! The damage is done! The only upside to the whole thing is that it at least gave the world a slew of darkly funny Ted Cruz airport memes, as well as some new merch from Kacey. A small silver lining.
Tagged: