I can't stop thinking about this chaotic charity pop single from 2008
The Rihanna-Miley Cyrus duet we never knew existed.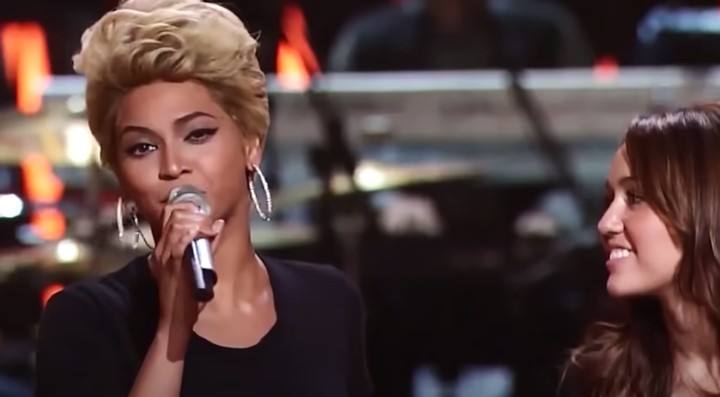 Photo via YouTube.
The term 'cultural reset' gets thrown around a lot. But in some cases, it simply is true.
On the evening of 5 September 2008, the world changed. A collection of the most powerful women in music grouped together to perform "Just Stand Up!", a charity single in aid of Stand Up 2 Cancer. How this jamboree of mid-noughties faves in some of the most chaotic outfits and hairdos isn't imprinted upon the brains of every millennial is beyond me. But thanks to Twitter user @anglscry, it's back doing the rounds once again – and I'm here to demand #JusticeForJustStandUp.
We begin with a performance by Beyoncé. This is surprising for a number of reasons, but none more so than the fact she's wearing — as Beyoncé fan page @okyonce labels it — an "ugly ass wig". "I will never understand why she put that raggedy wig on right before this performance cause she didn't even wear it to the event," another user writes with a picture to prove it. Perhaps the only explanation is that Beyoncé was in between takes as Etta James filming Cadillac Records and, like the consummate professional she is, dashed from set to set and said the show must go on! Rumour has it that she wrote "Pretty Hurts" about the whole experience. Her mind.
After Mrs. Carter's gorgeous evergreen vocals, we move to Carrie Underwood in her denim culottes. The tiny country icon delivers a perfectly lovely couple of Oklahoma-infused lines, before the vortex into hell begins to open as Hannah Montana and everyone's fave Avon lady, Miss Fenty duet. Forget Dolly Parton and Kenny Rogers, or even Nelly and Kelly, this is the duet I'd risk it all for. The call and response between Miss "Good Girl Gone Bad" and the undiscovered Ashley O is nothing short of madness. You don't even have to look closely to see in Rihanna's beautiful smokey eyes that she's praying more than anything for Miley's mic to be turned down, or better yet, for her to disappear from the stage completely. Nonetheless, we move. Next up is Miss Jai Ho herself, patron saint of Müller yoghurt Nicole Scherzinger, who's standing in for Sheryl Crow wearing a tin foil-cling film creation draped around her legs. Lest we forget this performance was delivered at an event called Fashion Rocks…
All this and we still haven't peaked. By now the vortex is fully open and Fergie's entrance sends the crowd wild. Yep, this reception was reserved not for Beyoncé or Mariah Carey or Mary J. Blige, but for Fergie. After this aquatic interruption, British legend and ad-lib consultant for the duration of the song, Leona Lewis, gives a pitch perfect vocal, before Keyshia Cole waves her finger in search of the key she can never quite find. When she does just about discover the note, we're back to the Chuckle Brothers – aka Rihanna and Miley – and their to-me-to-you vocals, before Natasha Bedingfield and her standout white jeans take it up a notch, much to Miss Scherzinger's surprise. To our good fortune, we've been blessed with this reaction pic.
A key change then arrives and Mary J. Blige comes through to steal the show. Mariah, the stationary Queen of Christmas, then swiftly reads her lyrics off the teleprompter before the princess of being "Always on Time", Ashanti, leads us into… another key change and a Fergie 'rap'. I don't know what Miss Fergalicious and official director of the London Bridge had on the executive producers, but the fact she has 95% of the lyrics in this opera is… a choice. By the time the song finishes you'd be forgiven for not realising Ciara was there, largely because for the three words she sang, the camera remained firmly concentrating on the First Lady of Hateration and Holleration in the Dancery. Good luck standing up for that charity you speak of.
I don't think we – society – will ever quite understand how this song came about. Perhaps it is simply a figment of our collective imagination, but take it from experience that you can watch this video at least a thousand times and find something new to marvel at each time. Will the world ever be the same? Who would feature in a 2020 remake? Did Rihanna have stern words with Miley backstage? I don't know the answers to any of these questions, but I do know I'm booking Fergie for my funeral.
Tagged: