Meet the New York designer inspired by The Nanny
Colin LoCascio's colourful, patterned designs are an ode to 90s and Y2K youth culture.
|
26 February 2021, 9:45am
"I love that quote from The Nanny: 'She's the lady in red when everybody else is wearing tan.'" says Colin LoCascio. "You know, 'The flashy girl from Flushing.'" The Queens-raised designer is, of course, referring to Fran Fine, the singularly stylish heroine of the aforementioned 90s sitcom. And, by proxy, he's referring to the Colin LoCascio woman, the protagonist of his namesake label, too. The downtown woman who's unapologetic in her wardrobe choices, who isn't afraid of colour (with a capital C) and a pattern (or three) and who dresses with "flair, pizzazz and chutzpah", the designer adds.
Although he's now showing at New York Fashion Week, Colin didn't initially set out to pursue a career in fashion. Before enrolling at the Rhode Island School of Design, his interests lay primarily in toy design, a hobby cultivated in his youth. "I was the biggest stuffed animal geek as a kid. I had a million of them and I'd bring them everywhere," Colin says, recalling his favourite childhood plushie, a hairy eyelash-fabric amphibian named Freddy the Frog. His focus swiftly shifted to fashion, however, after he was tasked to create a wearable garment from paper during his freshman year at RISD. "I never really thought about clothes before that because I went to a school where I had to wear a uniform from kindergarten to 12th grade," the 27-year old designer said. "I never realized that clothes have a lot to do with how others perceive you and how you want to represent yourself."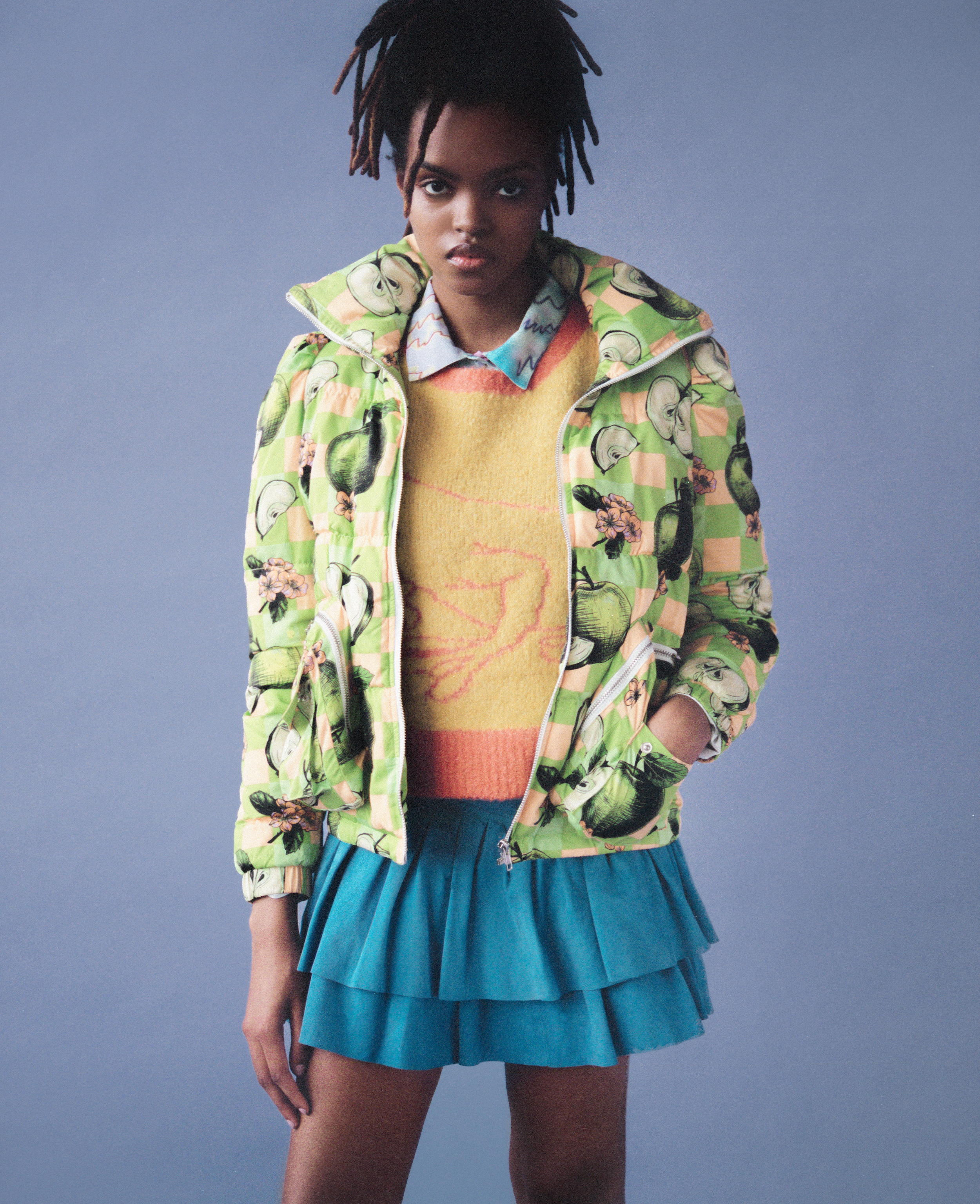 Guided by this notion of self-expression, Colin enrolled in the school's fashion program and quickly developed his singular — and highly personal — aesthetic. "I grew up in Queens, New York, and my family's — my mom and my Italian aunts' — look is very similar to Fran Fine from The Nanny. That kind of absurd, outer-borough, unapologetic and borderline not-tacky-but-questionable taste, but living it and owning it and loving it," he laughs, describing one of his most seminal design touchstones. Colin translated this energy into garments through the use of novelty fabrics — similar to those used in the creation of stuffed toys — bold colours and vibrant prints. All hallmarks of what would become his namesake label.
After graduating in 2015, Colin interned for contemporary New York labels Elizabeth & James and Adam Selman before taking a freelance position designing for Marc Jacobs. "Marc has always been a hero and an icon to me," Colin says. "Their fabrications are insane. How much time they spend on developing embroideries and laces, getting things made in Paris and overnighting them for the runway show. It was amazing to see that happening in New York because I don't think that happens a lot here. That was a huge catalyst for me in terms of learning how to do things."
It was around this time that interest began to build around Colin's RISD thesis collection. "A lot of celebrity stylists were asking for things, pulling from my thesis work. So eventually I built that into a business where I was making custom pieces," Colin explains. Among his client base for these one-of-a-kind designs — primarily fur outerwear — was Bella Hadid, Cardi B and Miley Cyrus.
Despite the high demand and success of his one-offs, Colin wasn't yet ready to strike out on his own. "I had this side-hustle where I was making clothes for the coolest people, but I felt like I didn't really know the business side of things. I wanted to understand production, fit on a mass level, the other aspects of running a company," he says. So in 2018, he joined Kendall + Kylie as design director, where he learned just that.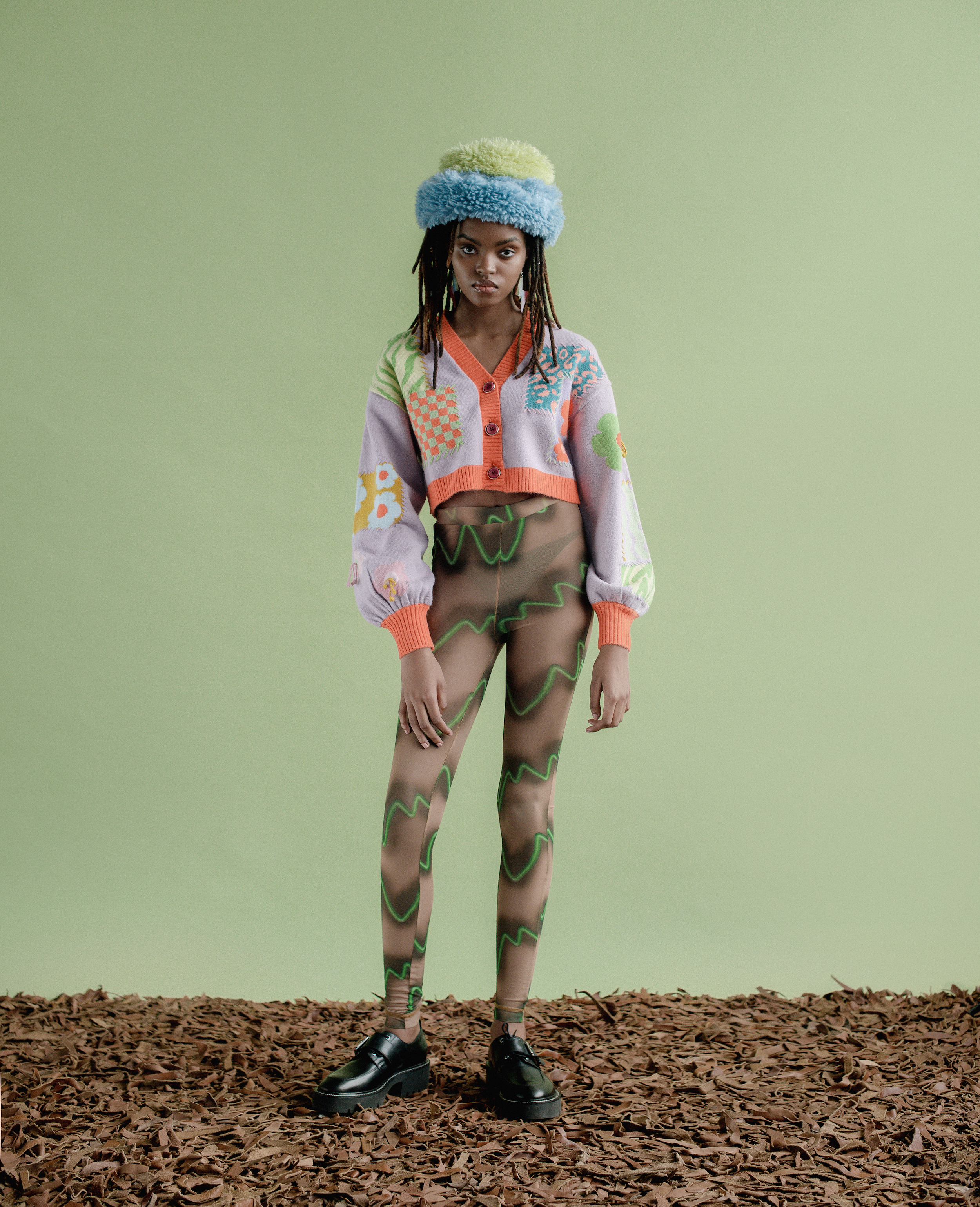 Two years later, Colin launched his namesake label for AW20, touching down in Paris for his first showroom just as Covid-19 hit Europe. Despite the setbacks, however, the designer's business is flourishing, thanks, in part, to his infectiously fun designs. "The label's rooted in that New York edge, but with a little bit of whimsy. It's an optimism that I think is needed and something that people seem to be really relating to as we've gone through quarantine. People are looking for colour, they're looking for a little bit of brightness," he says. "Our customer is not buying lounge, she's buying prints, hopeful garments."
Another draw to the label — especially during these pandemic days, when comfort, of the intangible variety, is much needed — is the sense of fuzzy, warm nostalgia that permeates its garments, from Y2K mesh tees to sidewalk chalk prints to animal intarsia sweaters. "I'm inspired by a lot of things I was into back in the day. And I was such a TV kid that a lot of my references come from that," Colin says, naming off references including That's So Raven and Moesha. "The printed mesh is definitely inspired by a Hillary Duff-esque, angsty middle-schooler top. A fur bucket hat [that] I'm launching is definitely something Miranda, from Lizzie McGuire, would wear. It's rooted in those nuggets that I think also connect me to the customer."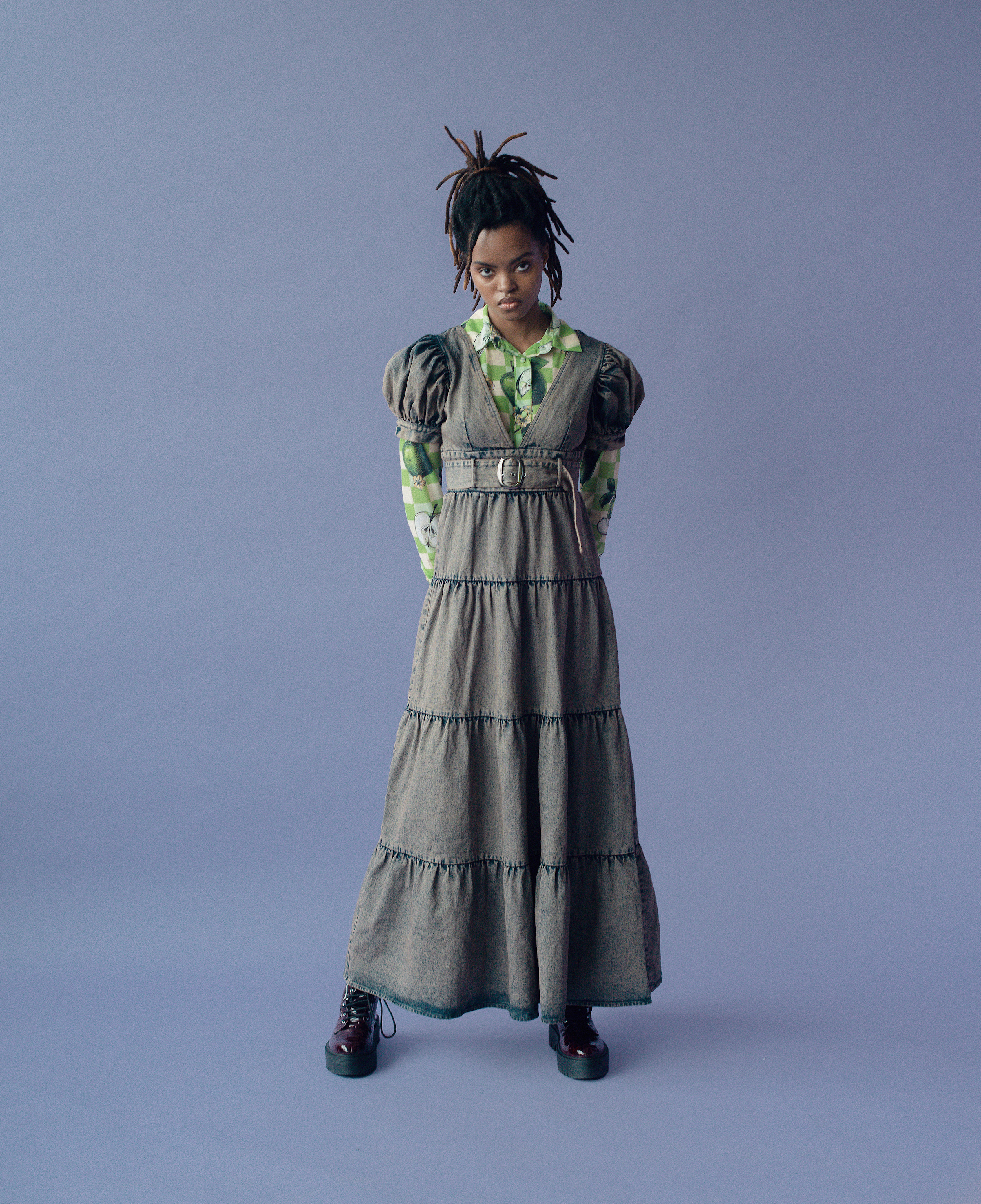 Harkening back, once again, to his childhood, Colin's AW21 collection drew upon his early interests. "This season I was wondering what I would have done if I went into toy design. I was looking at packaging of toys I loved when I was a kid, and those toy commercials on Nickelodeon back in the day. There's something about the branding of those that makes you think, 'Oh my god, this is the coolest thing ever.' I wanted to inject all the excitement I felt from that back into the clothes," Colin says, mentioning old school names like Hasbro, Hot Wheels and Hungry Hungry Hippos. His research also involved looking into developmental colour theory: how and why certain colours are used in the branding of children's toys. As such — and as with any Colin LoCascio collection — colour plays a massive role. A faux-fur coat — a label staple which Colin has lovingly named the Fran coat — is patchworked in the colours of a Fisher Price toy box. Slimy greens, punchy purples and Cheeto orange make their way across outerwear and trousers.
And, of course, there are the prints and patterns, which Colin draws by hand. In addition to last season's chalky florals and dinosaurs, AW21 sees Granny Smith apples and lush strawberries hanging from puffer jackets, grungey zebra stripes decorate a pair of leather shorts and an electric lizard adorns the label's signature mesh. Freddy the Frog — the label's stalwart and Colin's "childhood best friend" — returns across a series of intarsia knit sweaters. And, naturally, among the metallic blue pant sets and faux-fur-trimmed duster coats, Fran Fine, the fancy girl from Flushing, is there, too.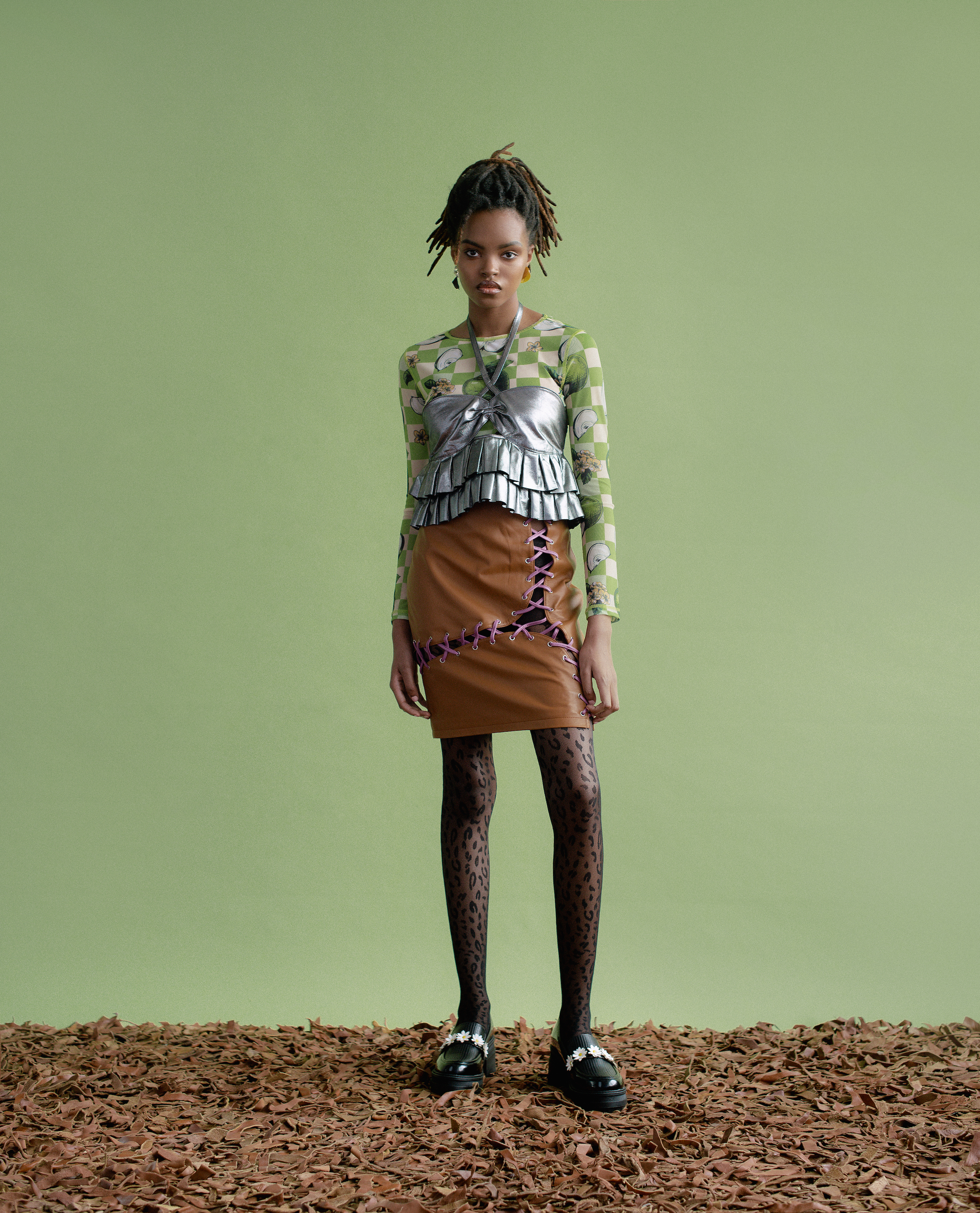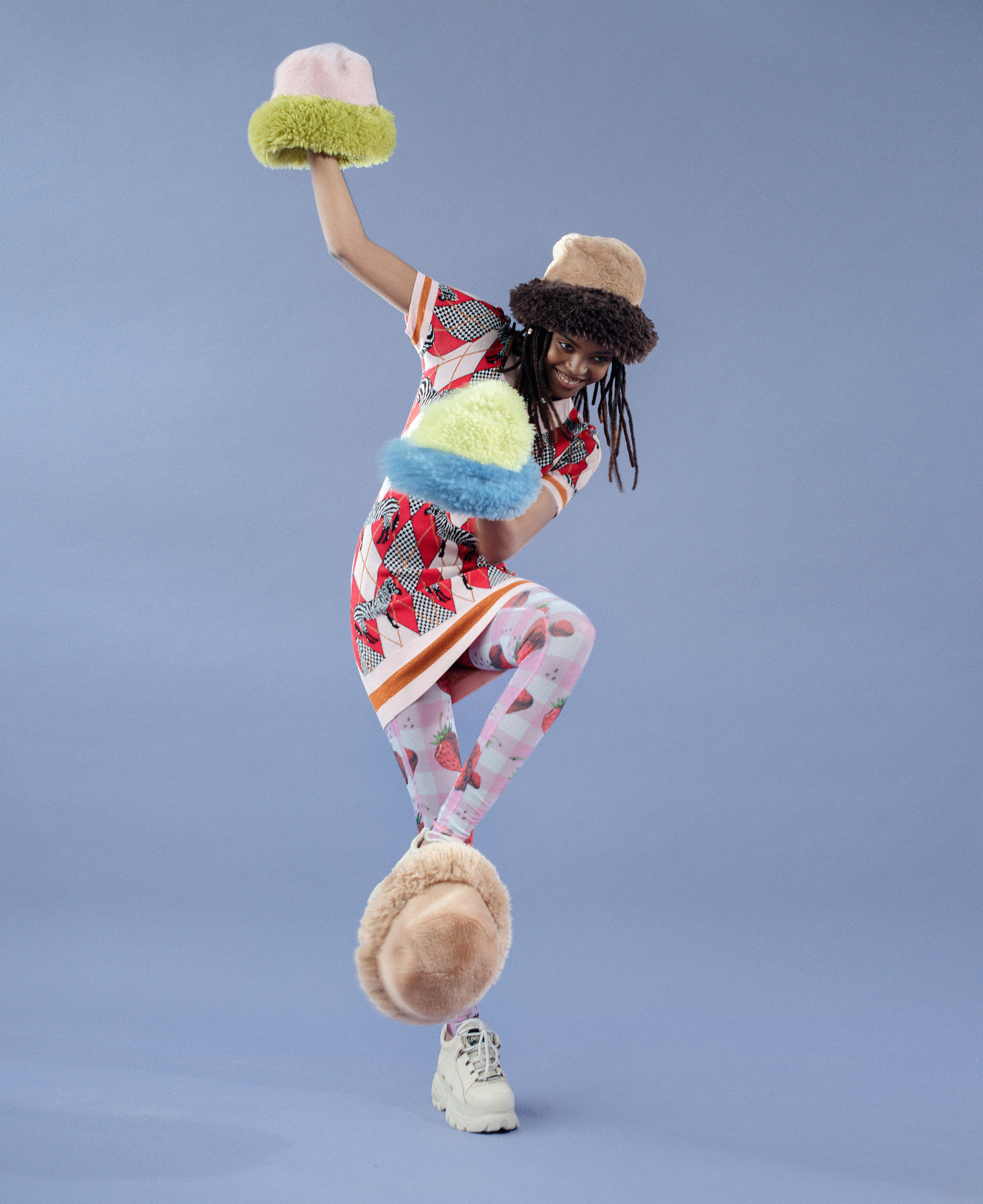 Tagged: