Amiri SS21 brings LA to wherever you are
Designer Mike Amiri discusses his cinematic presentation and his ode to Californian culture without the clichés.
|
27 November 2020, 3:44pm
Courtesy of
While certainly a boon for the environment, the global travel restrictions brought on by the pandemic suck — no one's arguing against that. Still, in the spirit of making lemonade out of this year's windfall of lemons, it's important to reflect on the positives that being forced to live our lives more locally has brought. For many, for example, it's made us more attuned to the wealth and beauty of our immediate environments.
Looking at Amiri's SS21 presentation, it certainly seems like that was the case for the brand's namesake designer, Mike Amiri. Though he's an LA native, he's spent the six years since he founded the brand shuttling back and forth between his hometown base and Paris, where its previous slick, rock and roll-inspired collections have been shown on the city's menswear schedule. This season, obviously, things were a little different. Forced to place his frequent commuting between LA and Europe on hold, Mike shifted his entire focus to his hometown, producing a collection and presentation that reads like a love letter to Angeleno identity in all its shades and nuances.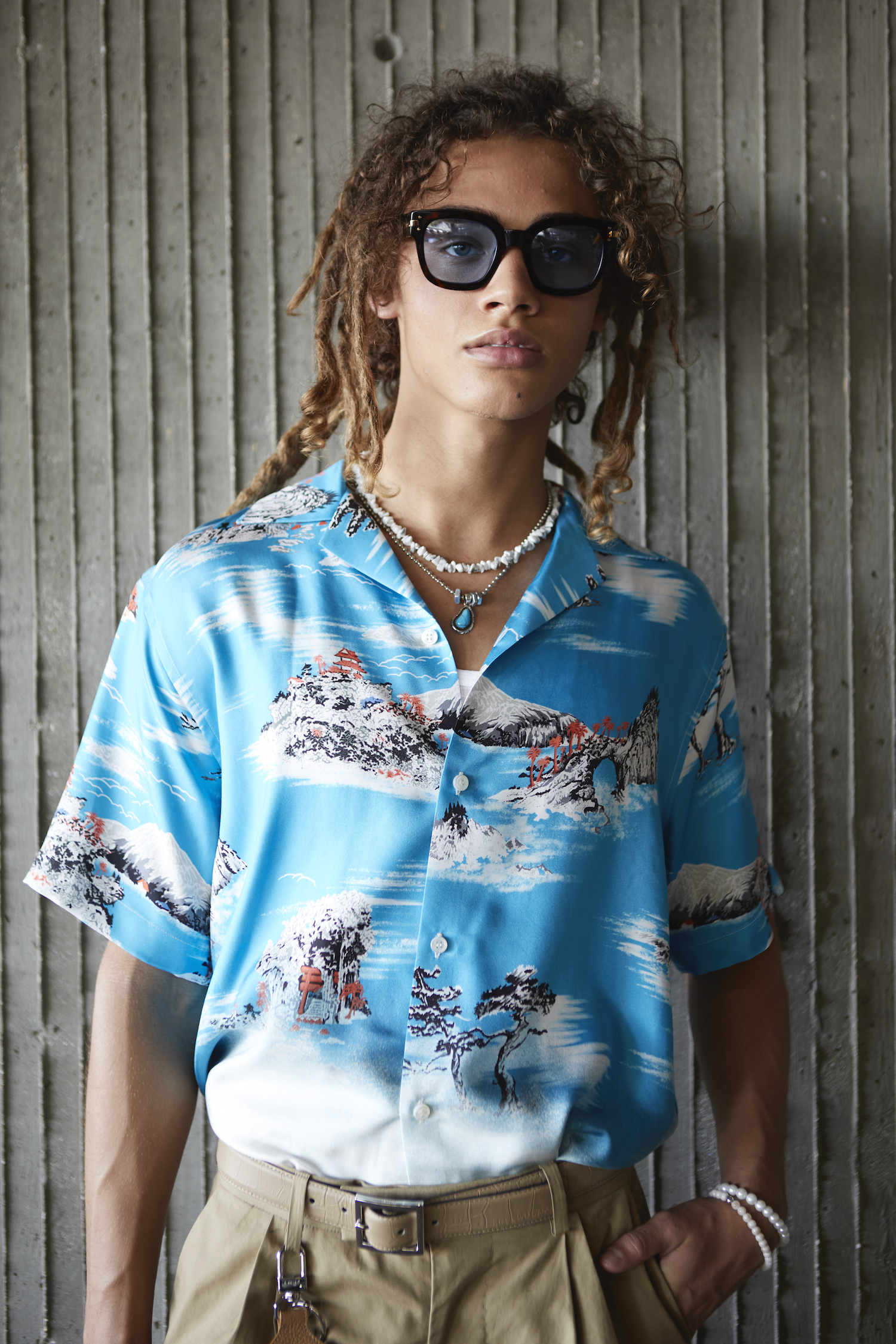 Bringing an inimitable Californian sense of ease to the clothes was, of course, key. "It was really about creating a silhouette that can look relaxed, but isn't sloppy," Mike says, stressing the importance of maintaining the highest quality standards when it came to finishings and fabrications. Just as key was infusing pieces with "enough intrigue and novelty, but not taking it too far," resulting in cashmere basketball shorts in bandana-print paisleys, and artists overalls reinterpreted in buttery napa leather.
Though the mood suggested by the clothes is certainly self-evident, it's the setting in which they're shown that drives the point home. For the collection's presentation, Mike took over the iconic Goldstein residence, an architectural marvel nestled in the hills on the city's west side. Paired with a soundtrack by DJ & producer The Alchemist, the result was a heavenly cinematic ode to the City of Angels. On a Zoom call from a blissfully sunny LA, Mike talked us through how he's gone back to basics to navigate this most surreal of seasons, how music informs his work and his thoughts on where Amiri will show next.
How did you find working on this collection against the backdrop of 2020?
It was definitely interesting, getting up to this collection has been like riding a rocket ship for us — constant growth, constantly going back and forth between LA and Europe. And then we just had to press pause. Once it settled in that we're not really going to be getting back to 'normal' anytime soon, it really made us open up about what the future could look like, and also reflect on how good we had it.
Did that realisation shape your approach to this collection?
Definitely. Having the time to kind of pause and re-examine everything is really helpful. As fashion designers, you don't really get that -- there's just one season after another. I think stopping for a second and reflecting on where we started, and where we are, was a real gift. Six years ago, it was just me and a pattern maker in a basement alone, working with nothing and coming up with the things that have become the tenets of the house. I think it kind of brought me back to that place again.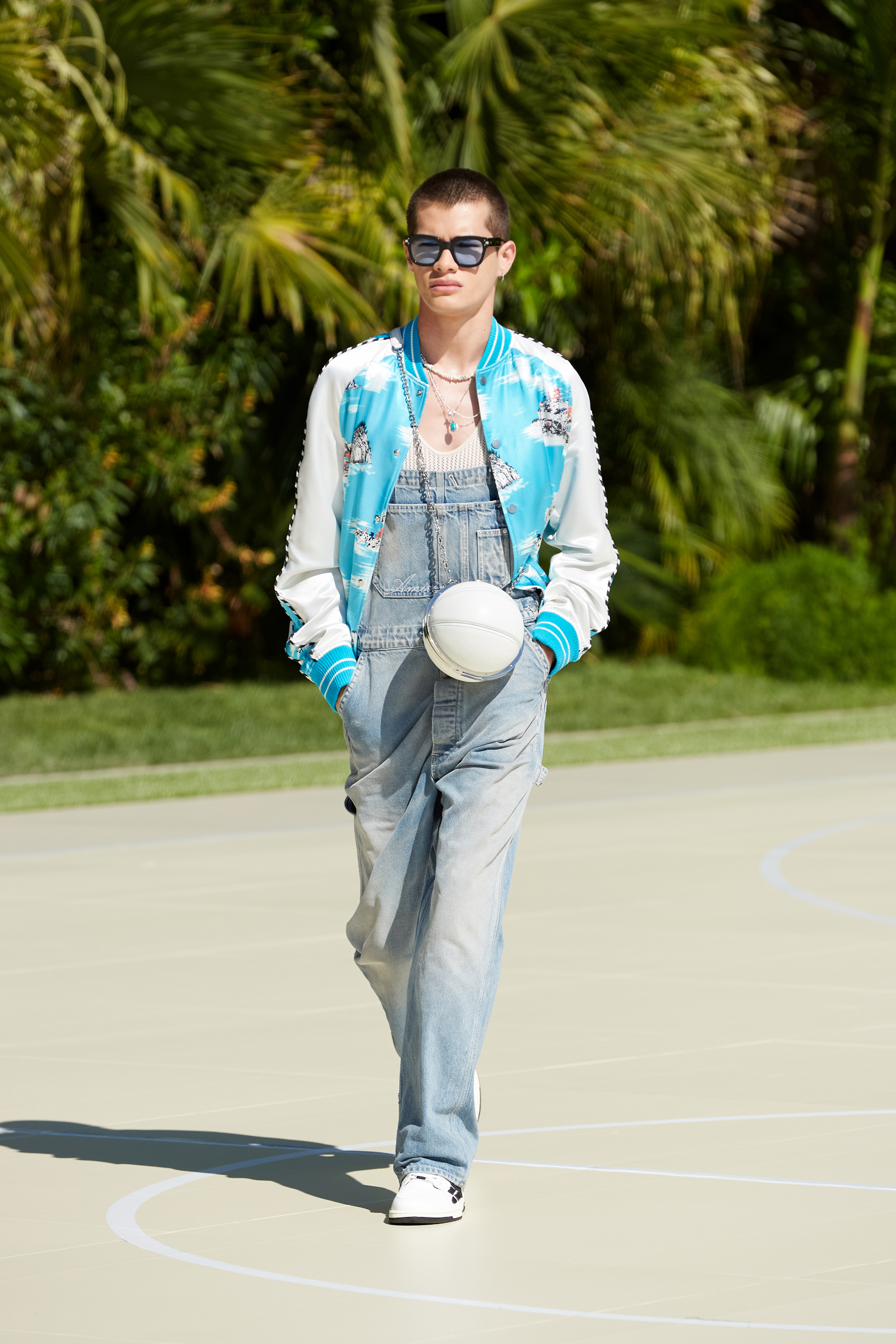 Did returning to a more rudimentary way of working pose any particular challenges?
It did, but within every challenge there's an opportunity. We didn't have the luxury of looking through tons of fabrications, and going to Première Vision [a seasonal textiles trade show in Paris] and all these amazing places for textiles. We were really thinking, "Okay, what can we make with what we have within reach? If we narrow our perspective, will we still be able to tell the whole story the way we want to?" What I found was that you can, it'll just be much much more concentrated, more focused. You kind of lose a lot of things that, I guess, aren't completely necessary, or that were just luxuries before.
This season definitely feels quite distilled. There are certainly continuities and signatures carried over from previous collections, but you've honed in on an extremely LA vibe. What inspired the direction you took?
Well, for our previous shows, we were in Paris and they were getting bigger and bigger. For AW20, you had this amazing view of the Eiffel Tower, it was very grand. In some ways, it was a way to show how far we've come from home. With this collection, I wanted to think about Los Angeles in a way that I felt a native would, thinking about things that are iconic to you if you live here, things that are so LA, but not stereotypical. As a city, we're really known for movies and cinema, creating emotion and feeling. When people watched the show, I wanted them to not only get a sense of the clothing and aesthetic, but for them to also get the feeling of Los Angeles -- to feel the open air and see these outfits that are a bit irreverent and really comfortable, but still luxurious. I wanted people to feel like they weren't in their living rooms anymore.
A large contributing factor to that atmosphere is the presentation's set, the Goldstein residence. Could you tell us more about the house? What's your relationship to it?
I think the Goldstein residence is just a true architectural landmark of LA. A lot of people come here specifically to see certain houses, and that really is one of the more iconic ones. If you're from LA, you know that house — maybe you've gone to a party there when you're younger, which I had. The owner himself is a bit of an LA fixture — if you were a Lakers fan, you would always see Mr. Goldstein sitting in the front row at all their games. He has this famous tennis court overlooking the city at his house, but when I envisaged this show, it was always on a basketball court. So I asked for permission to build one up there, and he actually told me that it had been done before -- for Space Jam 3 with LeBron James. It was also great to incorporate three levels of the house -- we were able to get not only the basketball court, but also the architecture, and then, at times, the cityscape.
What other key LA references did you want to bring to the collection?
For me, it was about getting in touch with the certain comfort of being an Angeleno, and the way you dress when you live here. Again, not in the stereotypical 'ripped jeans and boots' sense, but more how people actually dress out here. It's often really comfort based, so it was a matter of asking how you could interpret those comfortable silhouettes in a way that still maintains a sense of luxury. It's not only about what you make, but also how you make it. For example, we have these beautiful jumpsuits that are leather trimmed and edge painted and constructed from cotton cashmere — they're really lovely, but they're also a reinterpretation of something you'd see artists in the Arts District wearing while they paint in their lofts.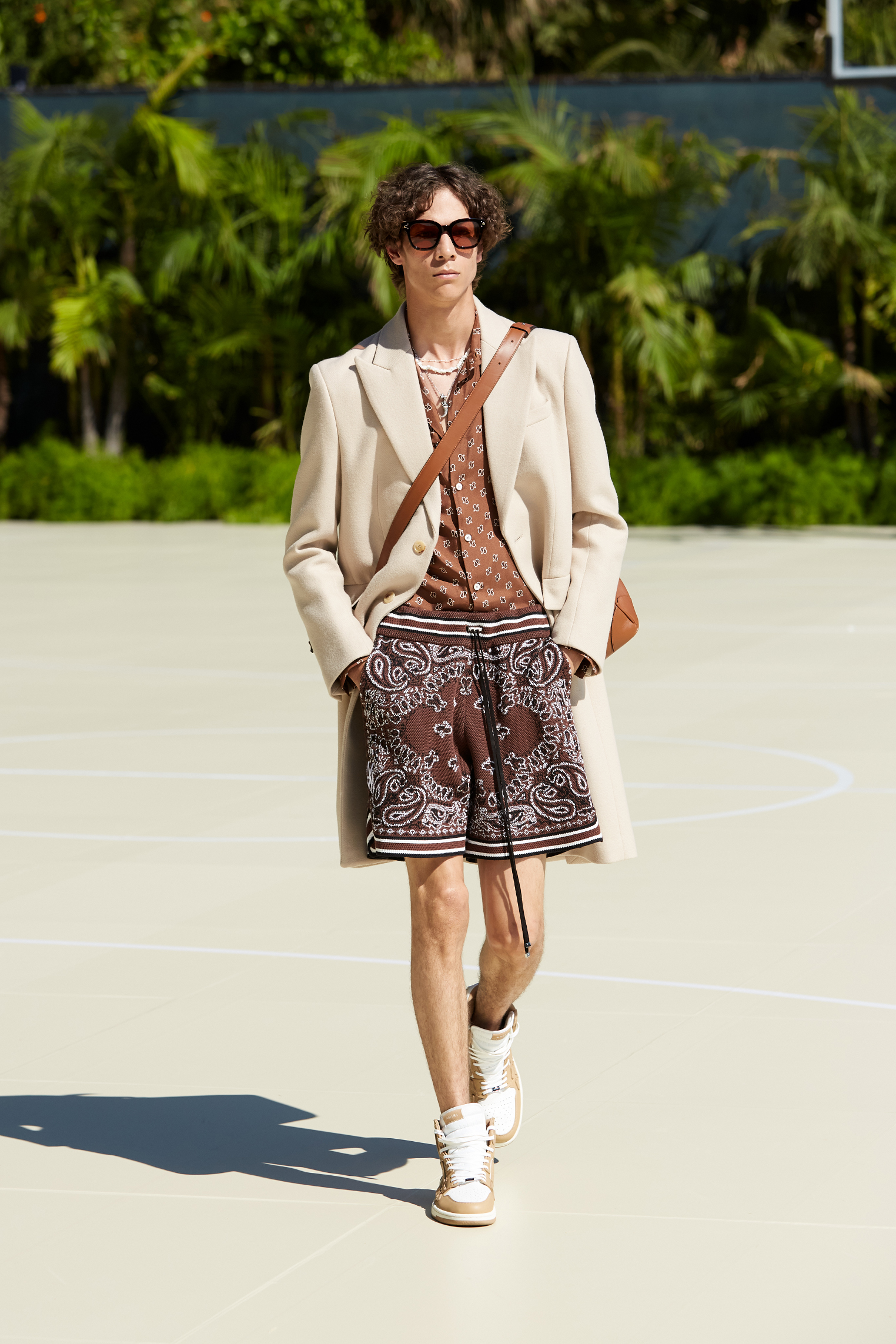 For the presentation, you managed to occupy a middle ground between a traditional fashion film and a show. Why did you want to strike that balance?
I just saw a lot of opportunity in having the box removed. There's no real right or wrong way to do things now, it's kind of up to you to create the language of how you want to display your collection. I thought there was a really great opportunity there to do things that aren't very typical, and find different ways to create expression, evoke emotion and translate inspiration. And I really enjoyed having more tools at our disposal to tell a story.
That resonates with what a lot of designers have said this season about the full creative control that film allows. Has the experience influenced your thoughts on how you'll go present work in the future?
For sure. I think there are going to be changes that remain throughout the lifetime of the brand. Do I think that I'll always be showing in Los Angeles, always showing in this cinematic way? I don't know, I think it's a moving target that depends on what the state of the world is. I think there'll be a time where it's going to be necessary to be on the runway in Paris. There are collections you imagine in that context, stories that you want to tell in that way. But right now, I am enjoying finding our own specific lane and doing it our way.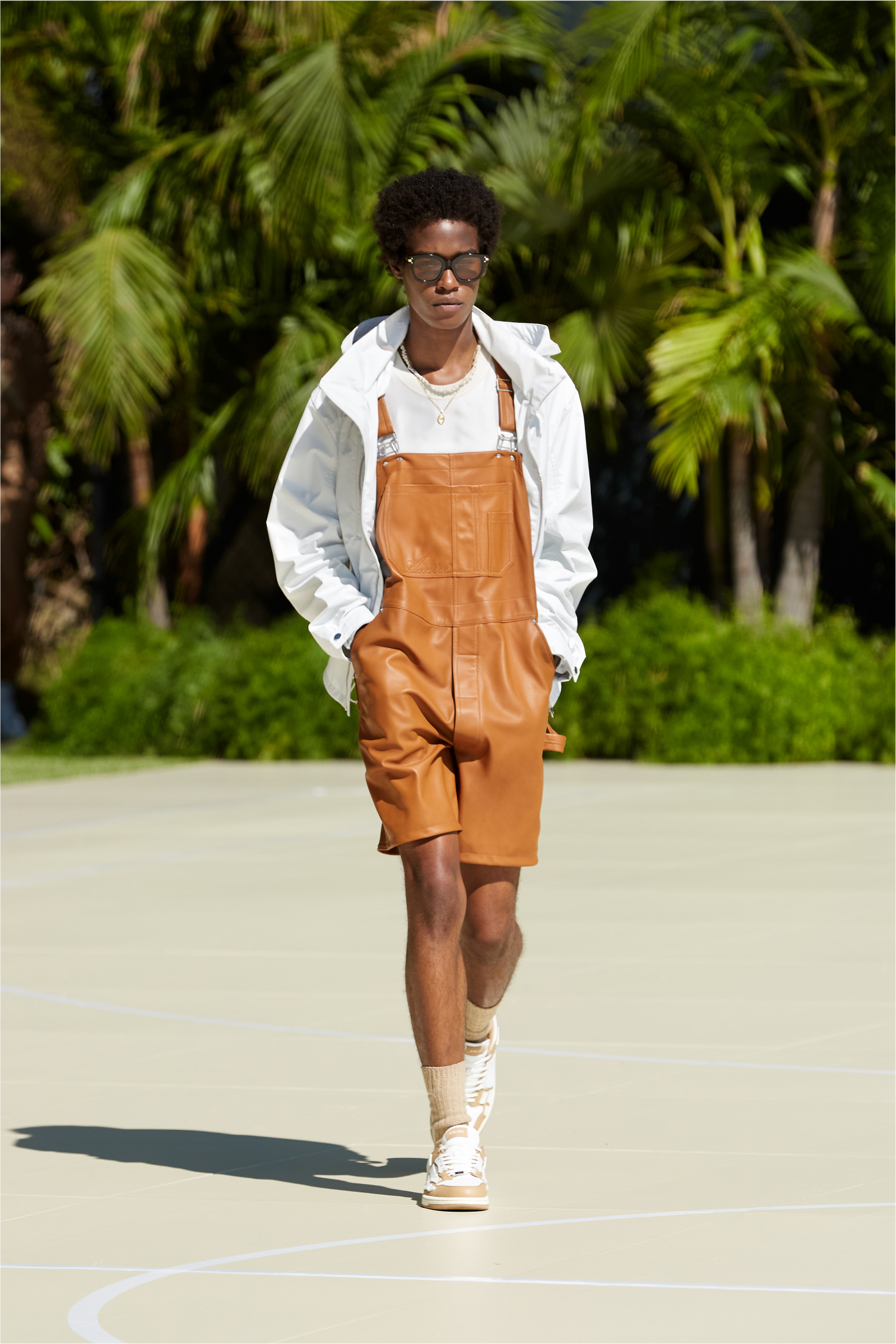 A key part of the presentation was the soundtrack, which was created by LA producer and DJ, The Alchemist. Why were you so keen to work with him this season?
To touch upon things that you know if you're from LA, I think The Alchemist is one of the producers here that was really connected to the city. And I knew him as a teenager, too. We would always cross paths at parties and we have mutual friends. During lockdown, this cool thing happened where a lot of producers and DJs would just play live on their Instagram Stories, just there spinning their classic records and people would just start tuning in. There was no concert here, no special event, it was just this person being creative within their own environment, and thinking outside the box. Off the back of that, we had a chat which became a two-hour conversation about all the places in LA that we both would go to, so it was a great match.
Music has always been at the heart of Amiri's identity. What new aspects of your relationship to music were revealed this season?
What I like is that, as we do more collections and the brand grows, our perspective really narrows down to our own kind of language and our own lane. A lot of people love Keith Richards and a lot of people love the Rolling Stones, but having these nostalgic 90s LA hip hop groups that bring you back to certain feelings was really personal. I like adding things that are directly reflective of my youth into the collection. It's not necessarily always rock and roll. When I was 13, it was all about Guns N' Roses. And when I was 15, it was all about Cypress Hill. And I think that that's what separates Amiri from many other collections that have that rock and roll feel. We define it differently.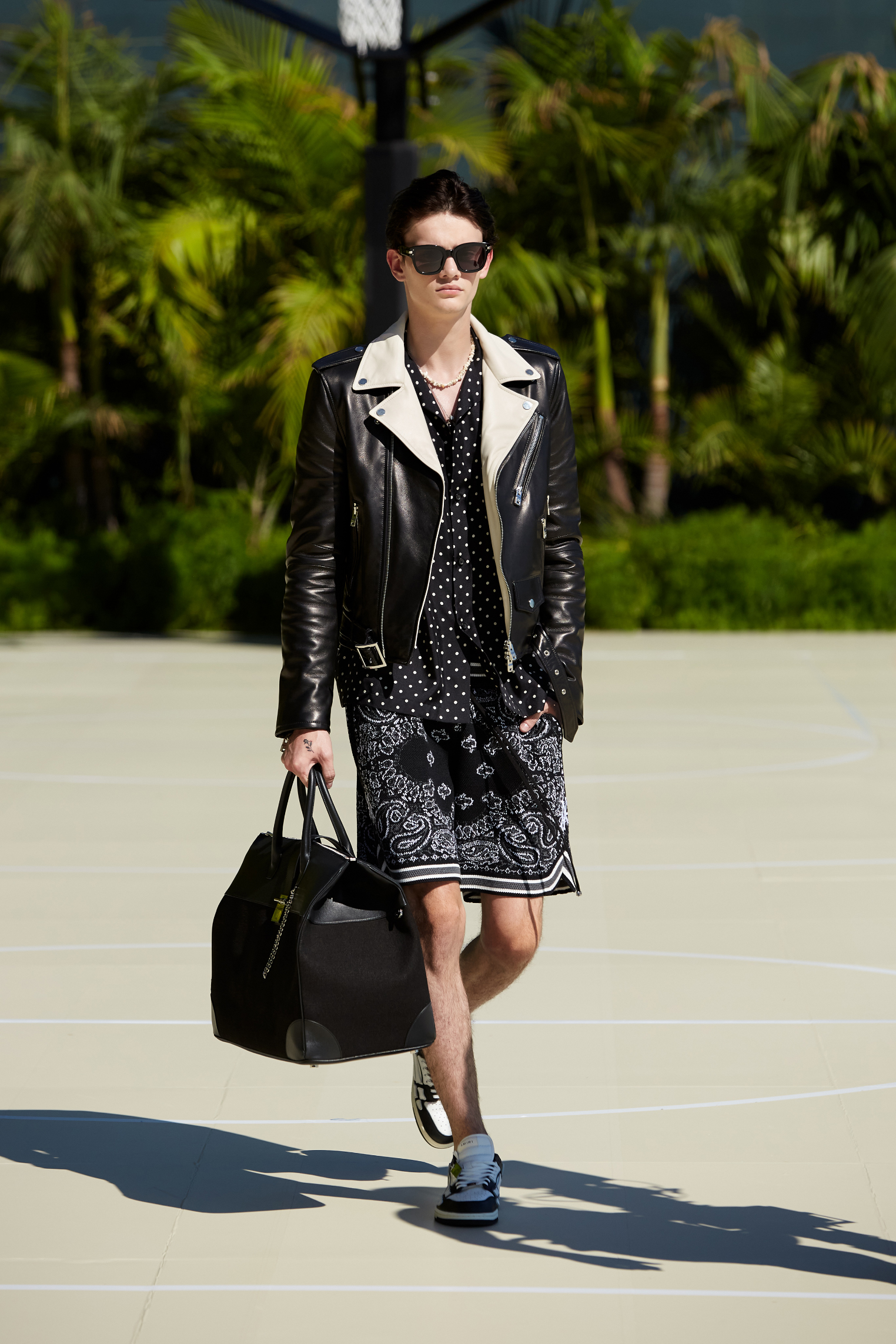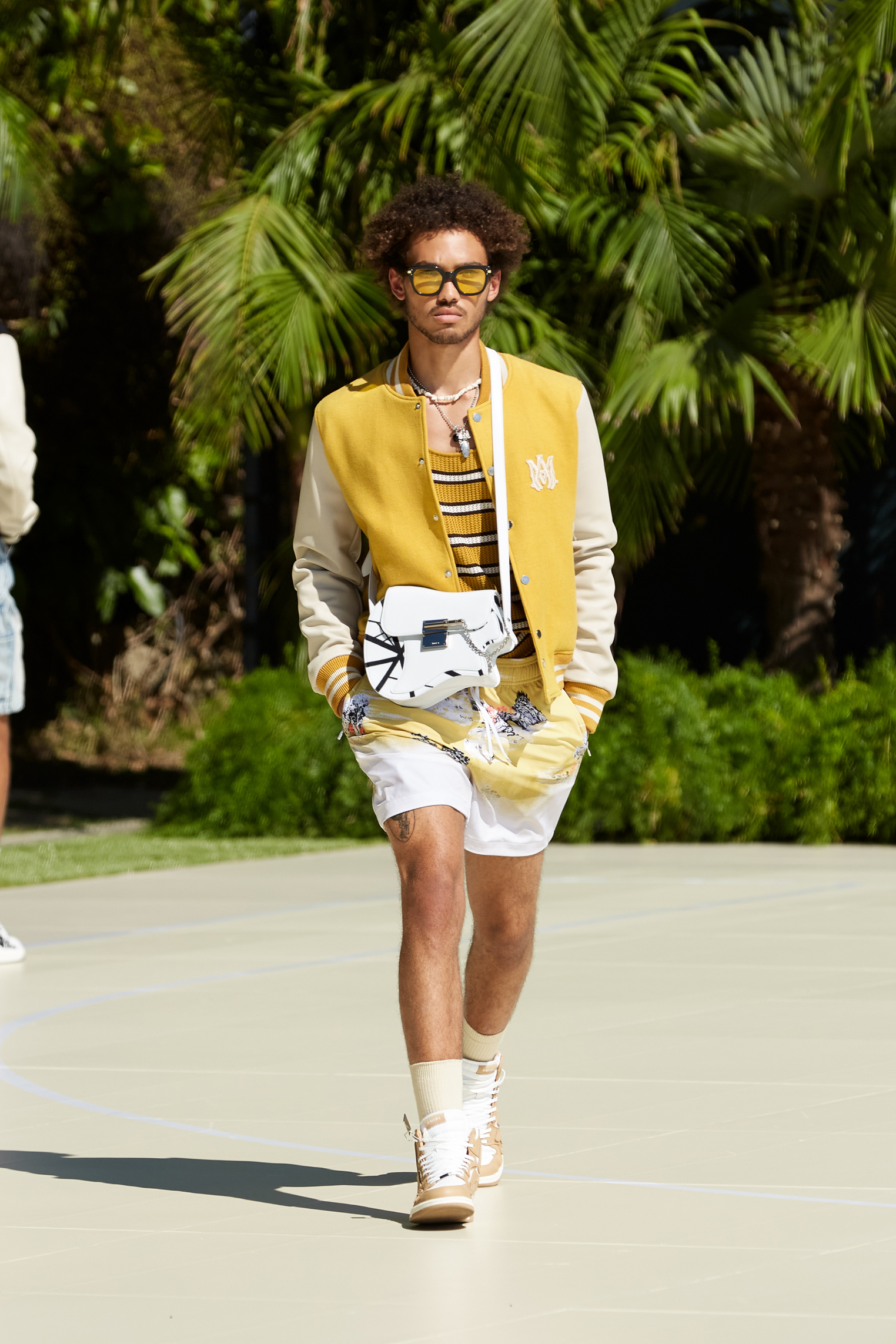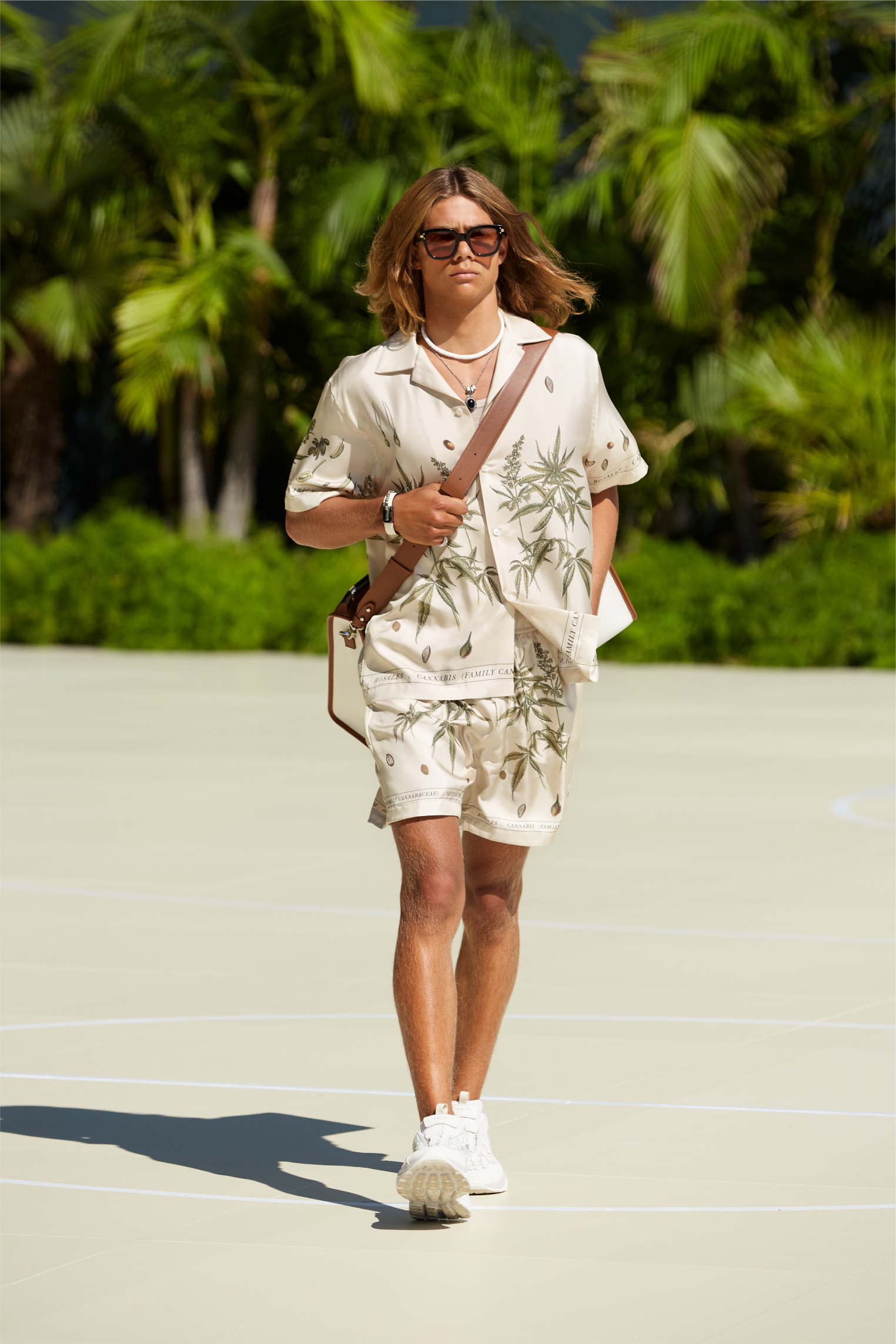 Follow i-D on Instagram and TikTok
Credits
---
All imagery courtesy of Amiri
Tagged: