Photography Amber Grace Dixon.

Image courtesy of Dior.
Exclusive: Paapa Essiedu shares what makes Dior Fall 2021 so special
The 'I May Destroy You' star discusses his collaborative relationship with Kim Jones, the confidence he feels when wearing Dior, and his favourite features of the house's collaboration with artist Kenny Scharf.
|
08 December 2020, 1:49pm
Photography Amber Grace Dixon.
Image courtesy of Dior.
Though 2020 has felt like the doldrums for some of us, others have managed to make it their own. One such person is Paapa Essiedu, who burst onto our screens and into hearts worldwide for his inimitably nuanced portrayal of Kwame in Michaela Coel's show-of-the-year, I May Destroy You. It was a natural graduation to new heights of acclaim for the actor, who first earned rave reviews for his commanding performance in the titular role of the Royal Shakespeare Company's Hamlet, aged just 25.
The momentum gained since I May Destroy You's release has all but slowed, with Paapa gracing the pages of seemingly every major magazine out there — not least i-D's 40th anniversary up + rising zine. He's also taken on a new role as a Dior ambassador; today, he's one of a select group of Kim Jones' closest who have been selected to sport looks from the house's artistic director of menswear's Fall 2021 collection. A collaboration with legendary painter Kenny Scharf, who was a pillar of the 1980s East Village scene alongside Jean-Michel Basquiat and Keith Haring, the artist's maximalist, psychedelic graphics are translated into the language of tailored precision and effortless contemporaneity that Kim has made his own during his time at Dior. Before you go and get the full lowdown on the collection in our review, Paapa shares the story of his new relationship with the house, why this is such a special season, and what he loves most about his look, specially chosen for him by Kim.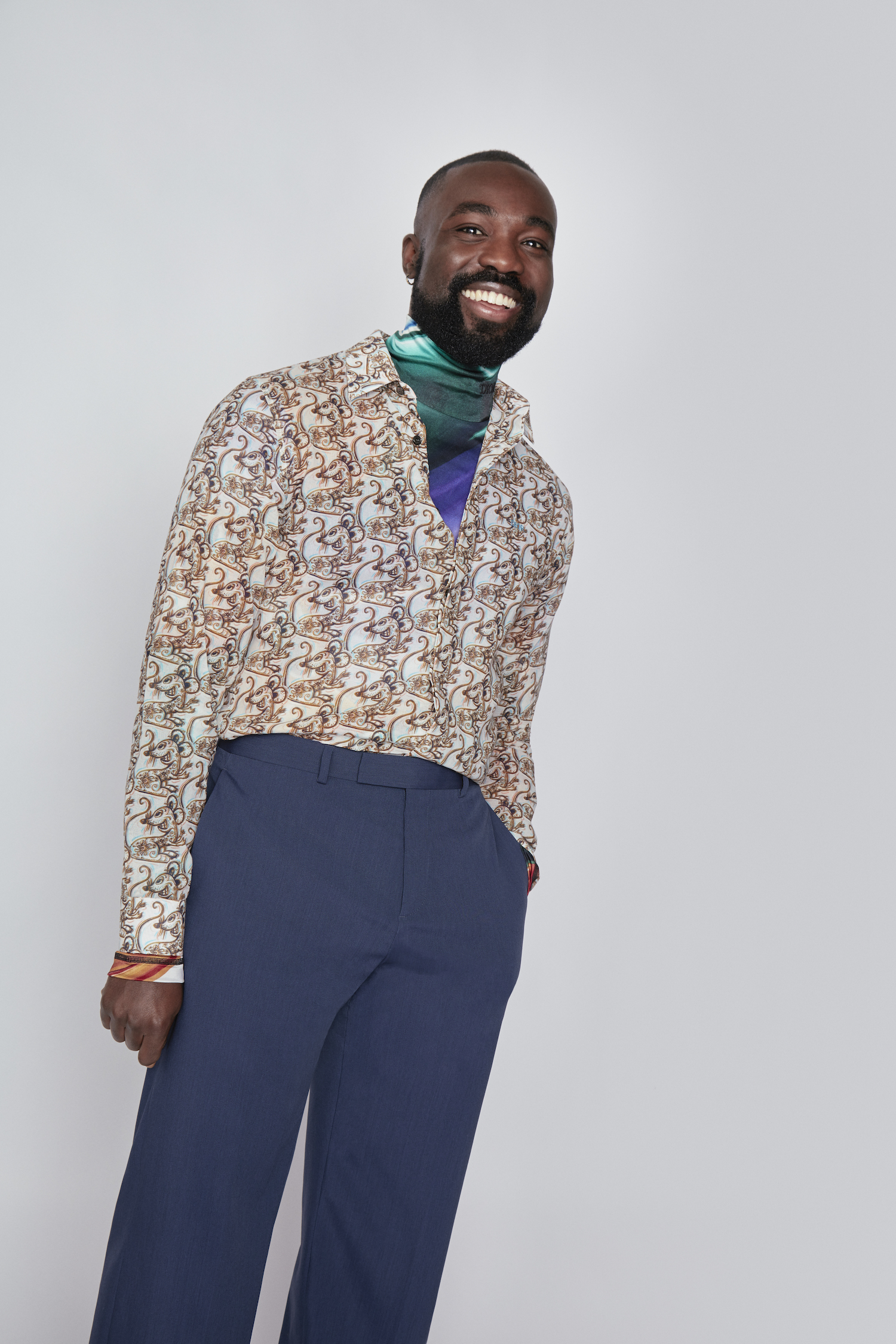 **Hi Paapa! Let's begin by discussing your relationship to the house. When did you first start working with Kim?
**I did a couple of shoots last year where I wore some Dior pieces, and I always just felt really confident in them. There's something about the way [Kim] designs, the boldness of the look and the elegance of the cut, that just makes you feel amazing. That was the first time that we got the opportunity to collaborate. This season, I was just really excited to see the new collection and play a part in it.
What else about Kim's Dior do you find attractive, both to look at as well as to wear? He's got a real talent for being super specific in his designs without excluding. I don't mean that it's not exclusive, but rather that there's something in his ability to fuse excellence and the individuality of his imagination. It's something that can make people from a variety of different backgrounds, cultures and fashion educational perspectives feel comfortable and confident in his looks, which is a really difficult thing to do, I believe.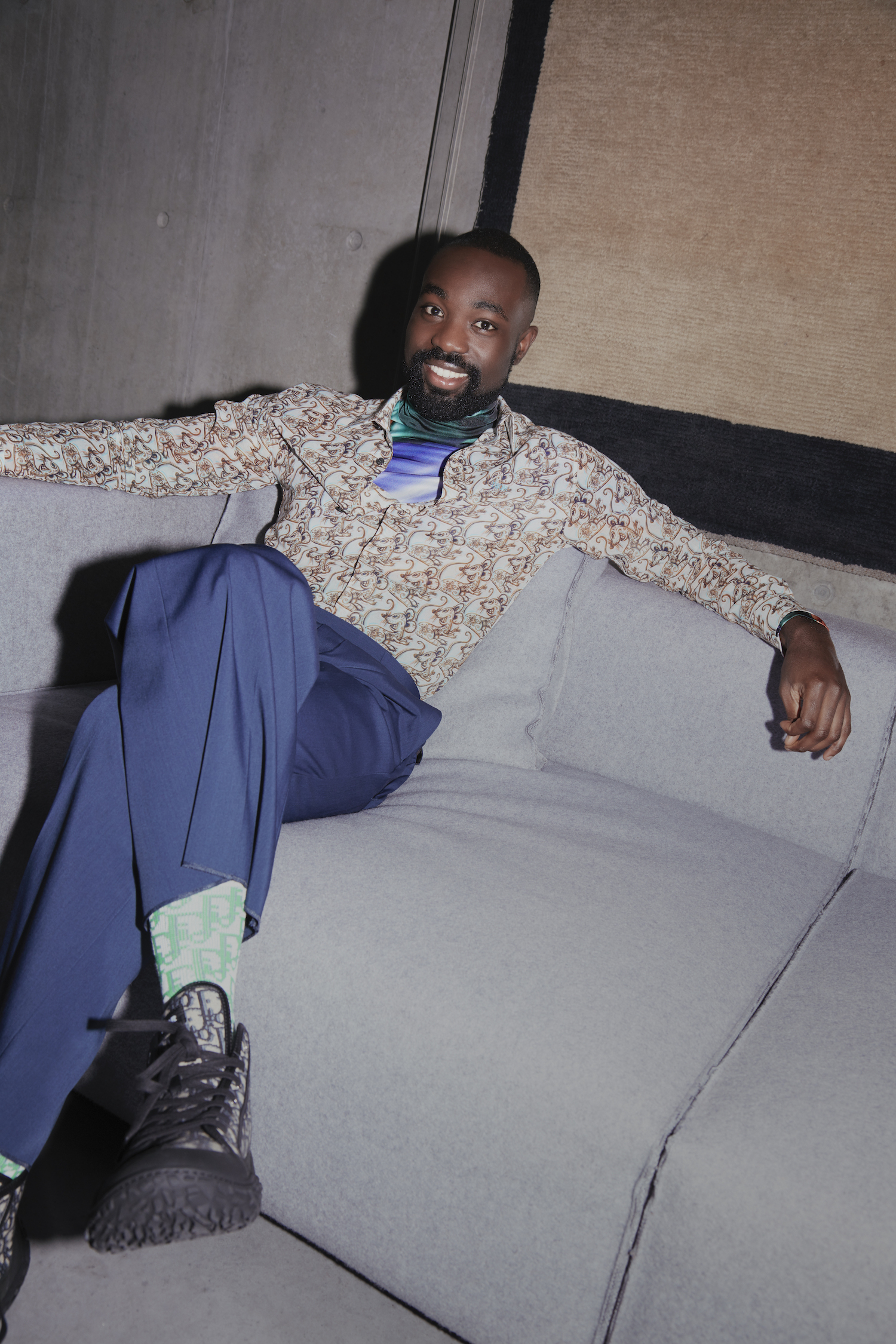 **How do you think that all translates to this collection? What makes it so special?
**I mean, it's otherworldly. It kind of immediately takes you to a higher plane. It's a collaboration with Kenny Scharf -- another thing Kim's got an amazing eye for is collaborations; he collaborates with such incredible artists. I've always been a huge fan of Kenny and that particular period of 1980s street art. I feel like it's such a golden age in terms of artistic expression, and using what's at your disposal to be expansive in your imagination. And it really applies to this collection as well; there's a real feeling of Kim stretching his imagination and pushing the boundaries of it in a way that just transports you. As you'll see, it's a real experience.
**What aspects of Kenny's work do you think Kim has been particularly successful in bringing to light?
**Historically, Kim's collaborations have always been amazing. Like his collaboration with a Ghanaian artist Amoako Boafo for SS21, which I thought was super cool. But I think that with Kenny, obviously he's got a way of accessing the psychedelic and non-literal ways of working that are really intense. It's a really intense imagination that he's working with, and the way that he puts it onto his tapestries and easels is a lot. But I feel like it's allowed Kim to kind of stretch his imagination a bit and go for something that's really intense without feeling like it's out of control or random. It just feels super specific and deliberate, while being quite freeform in its demonstration of imagination.
**Could you talk us through the look that you're wearing? It's one of the graphic illustrated shirts, right?
**Yeah, I just love that shirt! It's got these kind of psychedelic rabbits, which is very 'me circa summer 2018'. That feels like a time ago from where I'm sitting now, but it was definitely one that I was very fond of, and would like to come back to at some point in the future. I suppose that's what I mean when I say that this collection can really transport you, it can make you feel feelings that seem very far away now, but it inspires hope that we can get back to that.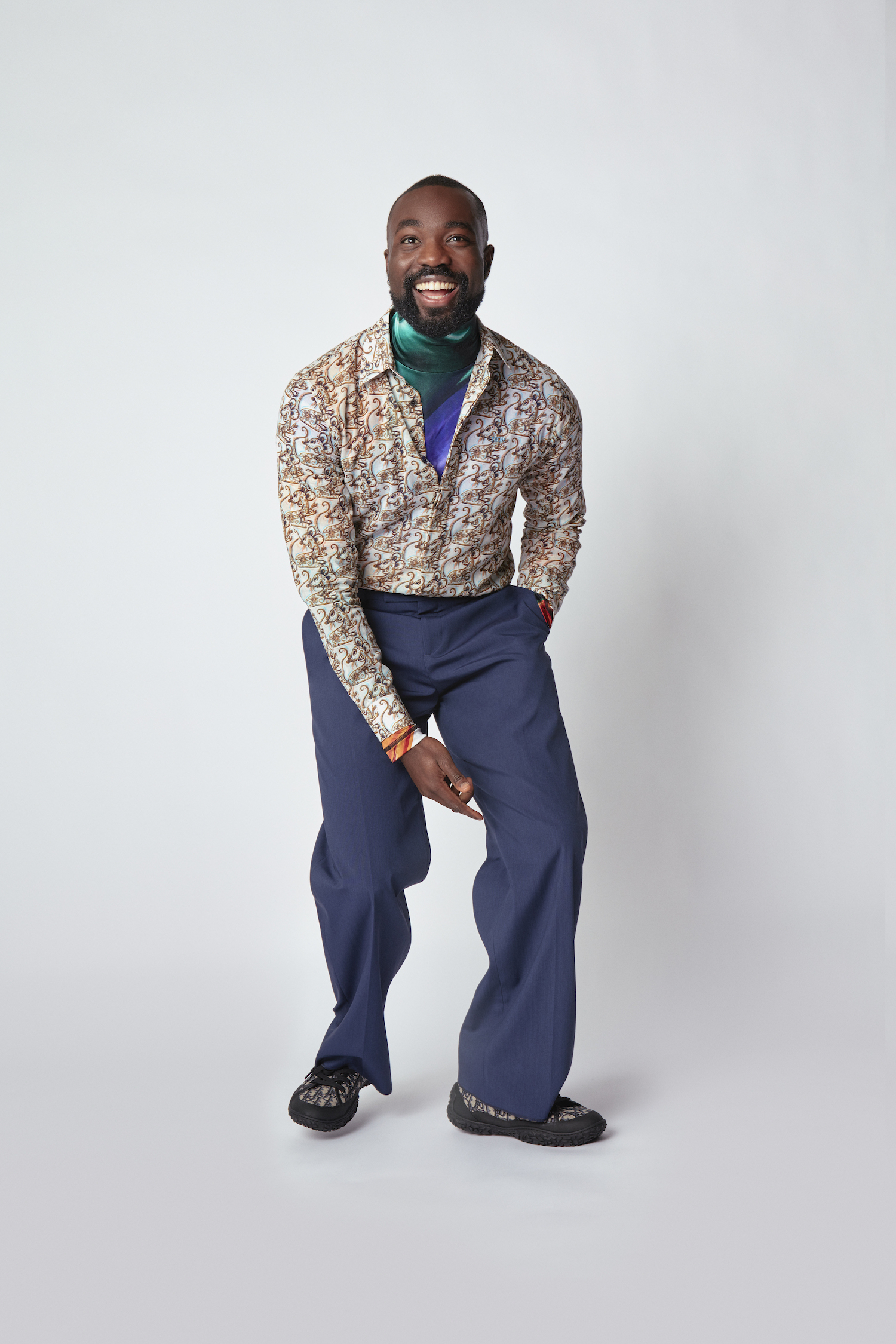 Credits
---
Photography Amber Grace Dixon
Image courtesy of Dior
Tagged: