The artist behind that Lil Icey Eyes filter on how her art broke the internet
We speak to Paige Piskin, the Spark AR legend behind the year's most popular filter, AND the Grimes and Elon Musk AI baby pic announcement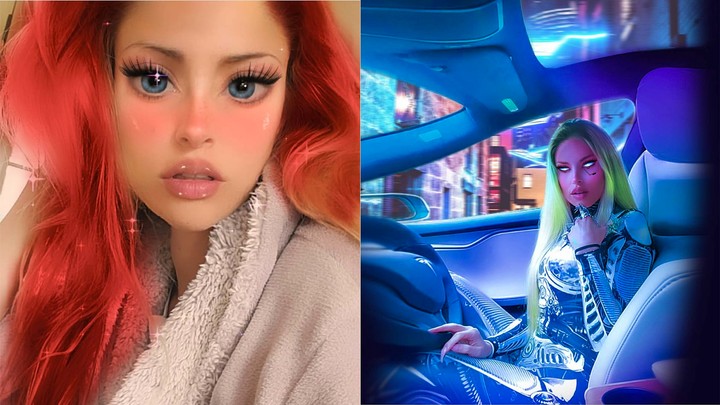 Lying somewhere in between the digital beauty world and the most out-there incarnations of surrealism lies the work of Paige Piskin, an augmented reality specialist whose filters you would've seen everywhere from your friend's stories, celebrity stories including those of Billie Eilish, Kendall Jenner, and Dua Lipa as well as across multiple viral TikTok memes. Discovering the medium at a talk in the Facebook booth at VidCon in southern California last year, Paige was taught the basics of how the software works by Chris Price from Facebook Reality Labs. A few months later, curiosity got the better of her and she uploaded her first effect; an artistic rendition of Harley Quinn featuring face tattoos and an iridescent sheen.
In 2019, Instagram opened up its Spark AR Studios software to the public, saving all us basic bitches from having to use the puppy filter another second longer. Augmented reality artists new and old began to infiltrate the selection of in-app masks on offer with their own gorgeous creations, starting with sci-fi inspired reflective skin effects and creepy clown facepaint before naturally evolving into avant-garde makeup looks, surreal transformations into the swimming baby from Nirvana's Nevermind album art, or interactive quizzes that test everything from your inner Selling Sunset character to finding out exactly which sort of wheelbarrow you are.
"I wanted to make Halloween filters of some of my favourite characters," Paige explains. "I first started by making creepy clowns, Harley Quinn, cyborgs, and stuff like that and once they got approved and uploaded, I couldn't believe the positive feedback and how fast they started getting around." Those early interactions with her effects inspired her to keep uploading, eventually catching the attention of one particular filter fan. "Before I knew it I saw Grimes had used a few of them in her music video for My Name Is Dark, and I was truly on cloud nine."
Since using the filter in her music video and becoming one of Paige's loyal one million strong Instagram following, Grimes has gone one further, using another of the artist's filters for a huge announcement. "I was totally shocked to see Elon Musk tweeting a picture of his baby wearing my filter," Paige says of birth announcement that featured her Megan Thee Stallion lyric-inspired tattoo filter, which became part of that instantly huge news story. "It was so cool to see it also being shared by tons of companies, and it was funny to see people be perplexed by the face tattoos and not know if it was makeup or a filter." It's strange to think how filters can bridge the gap between IRL and URL, between us and celebrities. "When my Cartoon Princess filter went viral. I saw Dua Lipa using it, David Spade, Hailey Beiber, even Kendall Jenner! It's always really cool to me to see celebrities wear them, I'm just shocked it made it to them."
The Cartoon Princess filter in question was an instant hit, allowing users to try out familiarly oversized eyes and a rosy blush that instantly transforms the wearer into a Disney character. Audience reaction to the effect was huge and went viral overnight, hitting a billion impressions in just over a week as Paige racked up a thousand followers per hour. With the current Instagram algorithm (unless you're David Attenborough) that's pretty much unheard of. "It kind of stressed me out, "Paige admits. "It was just weird to get so much attention because I'm pretty introverted. I felt like I needed a vacation after that happened but the kind words, support and love for my artwork were really uplifting."
But the effect Paige is mostly known for was the controversial Lil Icey Eyes, a particularly snatched filter that gives a more realistic doll-like effect with a smaller nose and luscious lashes, playing off the popularity of the 'fox-eye trend'. As the name suggests, the eye colour it gave was ice blue. The filter went viral under the TikTok "catfish" trend which saw teens posing in front of the camera, before turning it off to "prank" to the viewer into falling for a thirst trap. This trend circulated for a few days before the filter was taken down and amended to fit Instagram's anti-plastic surgery rules.
"Prior to me making that filter, Instagram had already established policies toward face-warping," Paige explains. "Most filters that warped the face had already been taken down, but some were still active that may have been missed or not reported — including mine. When this one went viral, it was probably noticed and was taken down like the others. But I didn't receive any backlash. Although when the filter was re-uploaded and amended to have brown eyes, I did get tons of messages from people asking for the original version."
When asked about how she feels about the censorship, Paige is neither for or against the ban, providing an alternate reason as to why people love these filters so much. "I think a lot of people seem to like face-warping filters because of the selfie lens distortion, I've read that many cellphone cameras make our noses appear 30 percent larger. I don't think a lot of people know that." With phone cameras usually being so close to the face when taking a selfie, it's inevitably that you'll appear differently on screen than you would in a mirror or IRL. Some of these viral filters merely set out to rectify this, while adding some fun features into the mix.
In terms of the components that go into putting together her creations, Paige says there are some that are reliably popular. "My best filters seem to be my character filters or my more wild environment effects like my rainbow filter," she says. "That one adds a rainbow outline and changes the colours of your background, so trees, the sky, things like that. The cartoon characters generally involve 2D makeup design as well as 3D face modelling and some kira sparkles." (For those out of the loop, kira sparkles are those light reflection effects you've been seeing all over Instagram for months).
Building off from the polished makeup looks that she's known for, Paige has some creepy new masks coming out just in time for Halloween. "I think filters are a fun way for people to try out different costumes, characters, makeup looks, or environments," she says. "I think right now we're in a moment where people are really intrigued by AR beauty filters, but I think that will fade and we'll see more natural filters and people may shift into world AR." In terms of the future of AR beauty, these less obviously noticeable effects seem to be the direction the medium is heading. "I think AR makeup will continue to improve technically and get more realistic and accessories will also start to get more realistic looking." Perhaps not too far in the future, we won't be able to discern between augmented reality and actual reality as the lines between true and false start to blur.
The move into this realism may bring along with it some useful features, especially in the time of COVID. "I'm really excited about body tracking in the future which could be really cool for AR fashion as well as character design," the artist says. "I imagine we'll gravitate eventually towards useful functionality like trying on clothes from home, and maybe more fun versions, using it to dress up fully as an Ewok or a cyborg. Either way, I'm excited about it!" In terms of her personal work, Paige is excited to start testing out designs for world effects and games. She's also planning on sharing her experience with newbies in lesson format. Her hope is that the more people start to get acquainted with the medium, the more we'll see more fun aspects of augmented reality becoming more integrated with our everyday lives. "I'm working on a course to teach others how to make filters too, I get so many messages from people looking to learn or with requests for filters, I hope by teaching I can bring some joy to other people."
Follow i-D on Instagram.