What you need to know about Netflix's 'lesbian Twilight' TV show
When it's coming out, who it's made by and the vampire book it's based on.
|
21 October 2020, 10:16am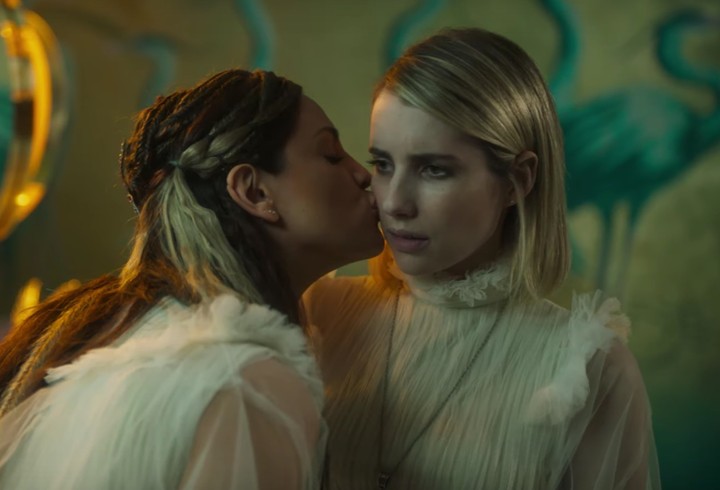 Still from Paradise Hills
Netflix, our kings of commissioning excellent TV shows and then fobbing them off two seasons later, have just announced another exciting next venture, and it's a Twilight-esque take on a lesbian love story! Titled First Kill, the show -- which was announced this month as one of Netflix's key projects for 2021 -- is based on a short story by the author V.E. Schwab, and was originally part of a wider vampire anthology called Vampires Never Get Old.
This story is set in a small American town, and focuses on a teenage vampire called Juliette who's expected to prove herself to her family and secure her first kill soon. Her main focus becomes the new girl in town, called Calliope, but when she comes to seduce her, all along with the intention of sinking her teeth into her neck, Juliette finds that Calliope is, in fact, a vampire hunter. And so, a complicated game of romantic cat and mouse comes to the fore.
The series is headed up by someone who has their own experience with campy, queer-adjacent horror: American Horror Story star Emma Roberts. The actor and producer, known best for her turn in Ryan Murphy's other over-the-top scary series Scream Queens, apparently beat out 18 other production companies to secure the rights to the book through her own venture, Belletrist Productions. As for the scripts? Well, V.E. Schwab will oversee those too, ensuring the adaptation stays faithful to her original source material.
It's thought First Kill will start filming in the next few months, and will eventually comprise of eight hour-long episodes that will hit Netflix next year. As for the casting decisions, it's unknown if Emma Roberts will appear in the series herself, or if she has other plans in place for new cast members. Whatever happens, expect whoever plays Juliette and Calliope on this show to be the next big talk of Hollywood. Bella Swan and… Bella Swan? Eat your heart out!