Photo by Dave Hogan/Getty Images.
7 of Victoria Beckham's most iconic outfits
From Posh Spice to "Queen of the WAGs" to acclaimed designer, Victoria Beckham's style has epitomized fashion's zeitgeist across four decades.
Photo by Dave Hogan/Getty Images.
She's been Posh Spice. She's been "Queen of the WAGs." She's been "Designer of the Year." Not to mention two-time i-D cover star. Over the past four decades, Victoria Beckham (née Adams) has worn many monikers. Throughout it all, however — as she's gone from pop singer to reality TV star to designer — none has stuck quite like "fashion icon." As one fifth of British pop sensation the Spice Girls, Victoria brought us sleek 90s minimalism. As wife to David Beckham, at the 2006 World Cup, she gave us the zenith of 00s WAG ("wives and girlfriends)" style. And even today, the acclaimed fashion designer turns looks that continue to turn heads, both on and off the catwalk. Here, we chart Victoria Beckam's always shape-shifting, always memorable style with a look back at some of her most iconic looks to date.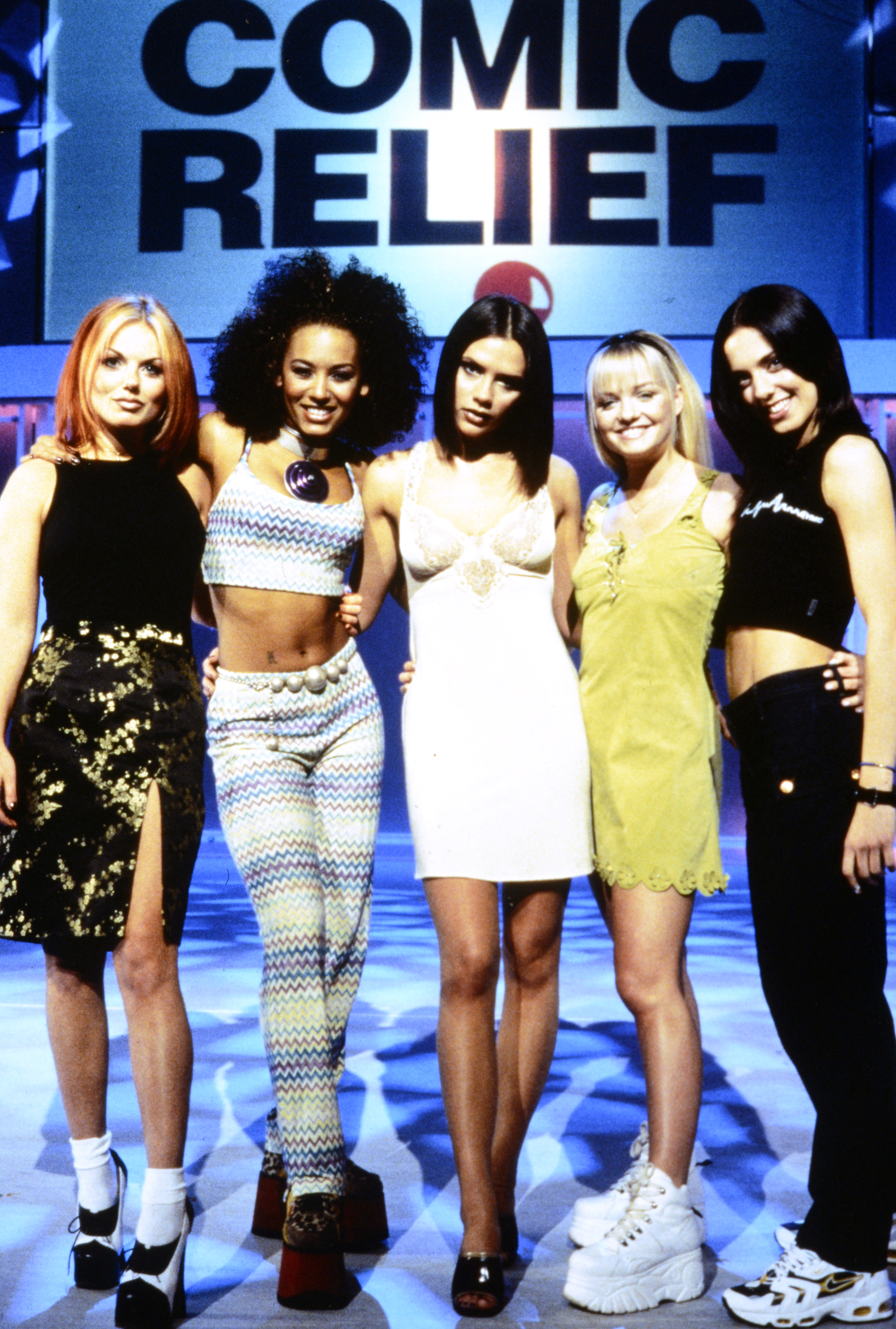 With The Spice Girls at Red Nose Day, 1997
In 1994, Victoria Adams auditioned for an ad in British newspaper The Stage calling for women who were "street smart, extrovert[ed], ambitious and able to sing and dance." Mere months later, the Spice Girls, as we now know them, were born. Alongside Emma Bunton, Melanie Brown, Melanie Chisholm and Geri Halliwell, Victoria was one fifth of the world's best-selling girl group of all time. From bangers ("Spice Up Your Life") to bops ("Say You'll Be There") to anthems ("Wannabe"), the group charted an incredible eight number one singles in three short years. Here, alongside her group members, Victoria wears her signature "posh" style: a lacy slip dress, patent mules, smokey eye and sleek bob.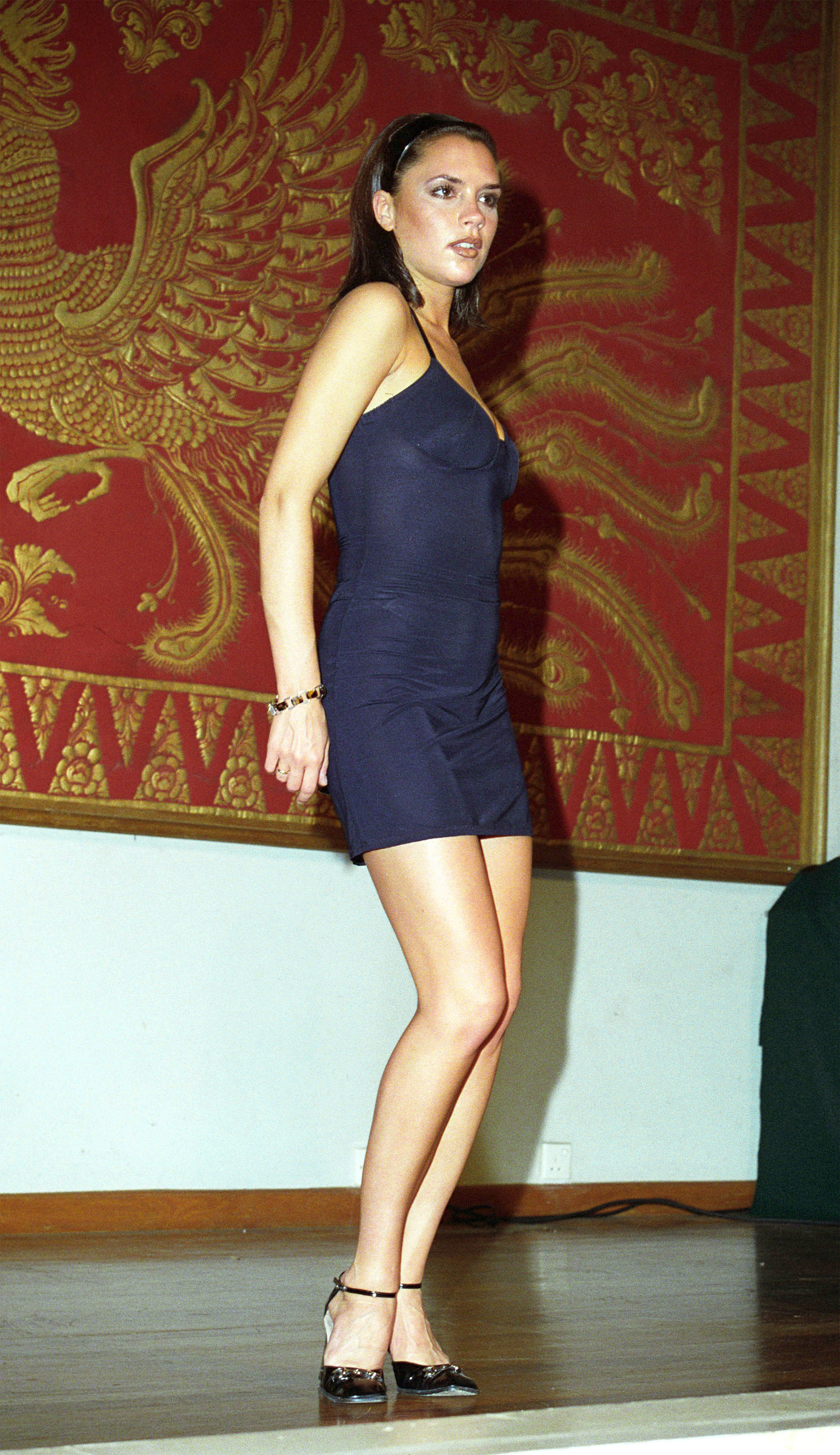 Performing with the Spice Girls in Bali, 1997
Did you know that the Spice Girls' iconic monikers weren't part of the group's official marketing strategy? The famous eponyms — which included "Baby Spice" and "Sporty Spice" — were actually given to each group member by the British tabloids. Of the five, Victoria was dubbed "Posh Spice" for her aloof disposition and chic style, a sexy iteration of the decade's ubiquitous minimalism. Think Tom Ford's Gucci or 90s Dolce & Gabbana. As Posh, Victoria's distinctive look took in leather blazers, mini skirts, sleek pantsuits (worn open, with a bra top, or else, with nothing underneath) and tiny mules. But no style is more "Posh" than the LBD. Here, performing with the Spice Girls in Bali, she wears a simple, bustier-ed mini dress that epitomizes the singer's signature style. It's just as Sporty Spice riffed in Spice World: "It must be really hard for you, Victoria — trying to decide whether to wear the little Gucci dress, the little Gucci dress or the little Gucci dress."
Announcing her engagement to David Beckham, 1998
Posh and Becks, a power couple for the history books. The duo began dating in early 1997 — just months after the Spice Girls released their debut album and David had scored his career-making 1996 half-way line goal. Not more than a year later, the couple was engaged. Here, in very "Posh" fashion, Victoria wears a black turtleneck and mini skirt — alongside dainty marquise rock — to announce the engagement.
Dog walking in Manchester, 1997
Just because her name's "Posh" doesn't mean she can't appreciate a little athleisure every once in a while. Walking dogs Snoop and Puffy with David, soon-to-be Victoria Beckham pairs an oversized puffer, tracky bottoms, Nike trainers and Yankees hat with a luxe wool turtleneck to complete her timeless off-duty look.
At Heathrow airport, 1997
If Posh and Becks didn't fly first class (yeah, right) at least they flew in style. The couple's ultra glamorous airport fits were well documented by the British tabloids in the late 90s and took in baguette purses, leather jackets, fitted mini dresses and more monogrammed luggage than you can (realistically) schlep through Heathrow. This image — photographic proof of the couple's extensive Louis Vuitton collection — dates back to 1997; over 20 years later, the duo remain happily married with four kids. The couple that flies together, stays together, evidently.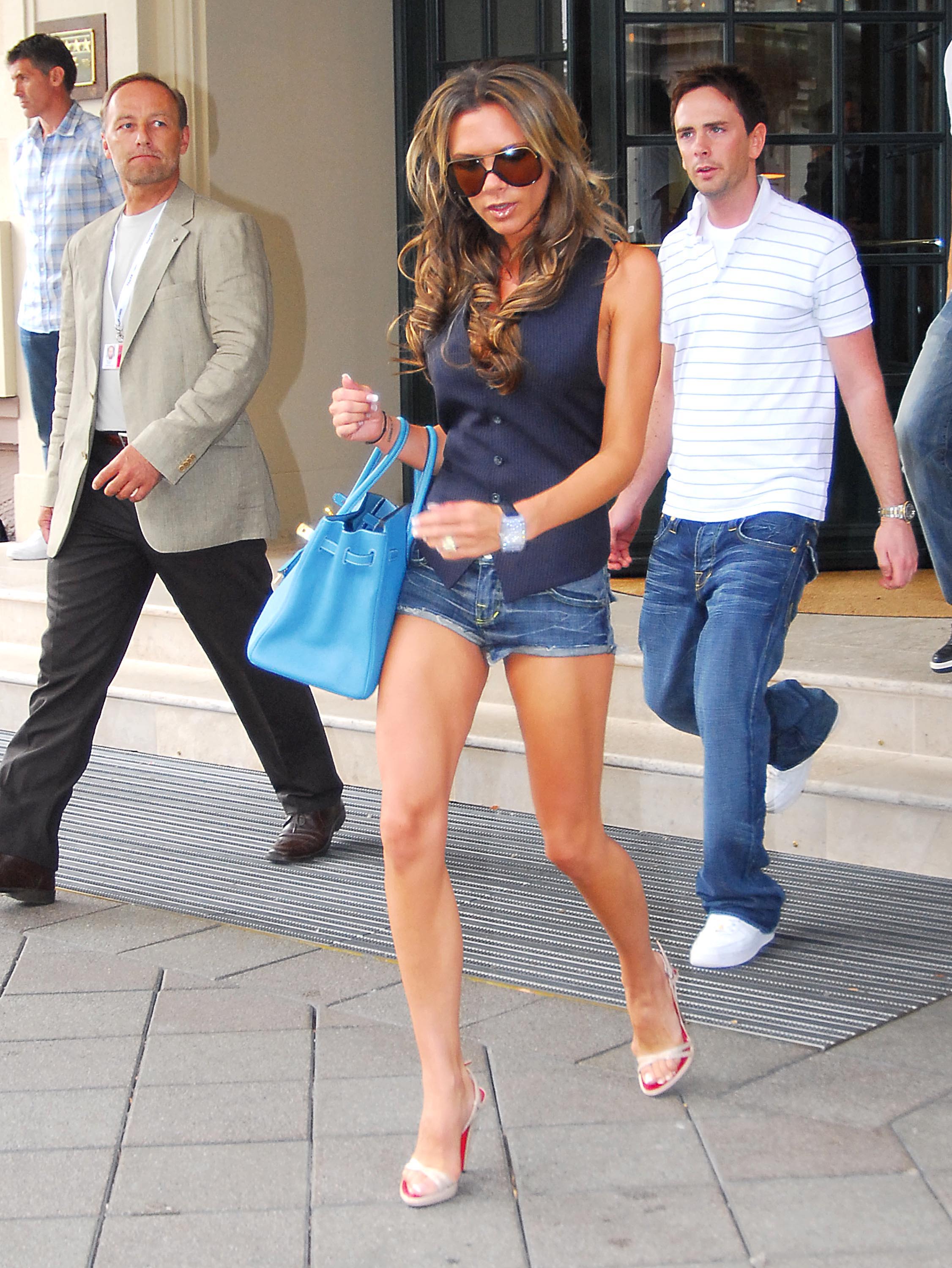 At the FIFA World Cup, 2006
In the early to mid 00s, the WAGs — that's the "wives and girlfriends" — of British footballers ruled the tabloids, and Victoria was their queen. In fact, she's the one who inspired the British tabloids to coin the term in 2002. The most famous of the "golden era" WAGs — which included Cheryl Tweedy, Abbey Clancy and Alex Curran — Victoria's style not only defined the sports archetype's signature look, but launched many of the aughts most iconic and widespread fashion trends. Think massive sunglasses, huge bags, graphic singlets, cascading extensions, micro hemlines, nude lipgloss and full-body spray tan. Here, papped at the 2006 FIFA World Cup (and at the zenith of the WAGs' tabloid fame), Victoria wears a look that ticks all the aforementioned boxes and more (vest-as-singlet and strappy stiletto sandals).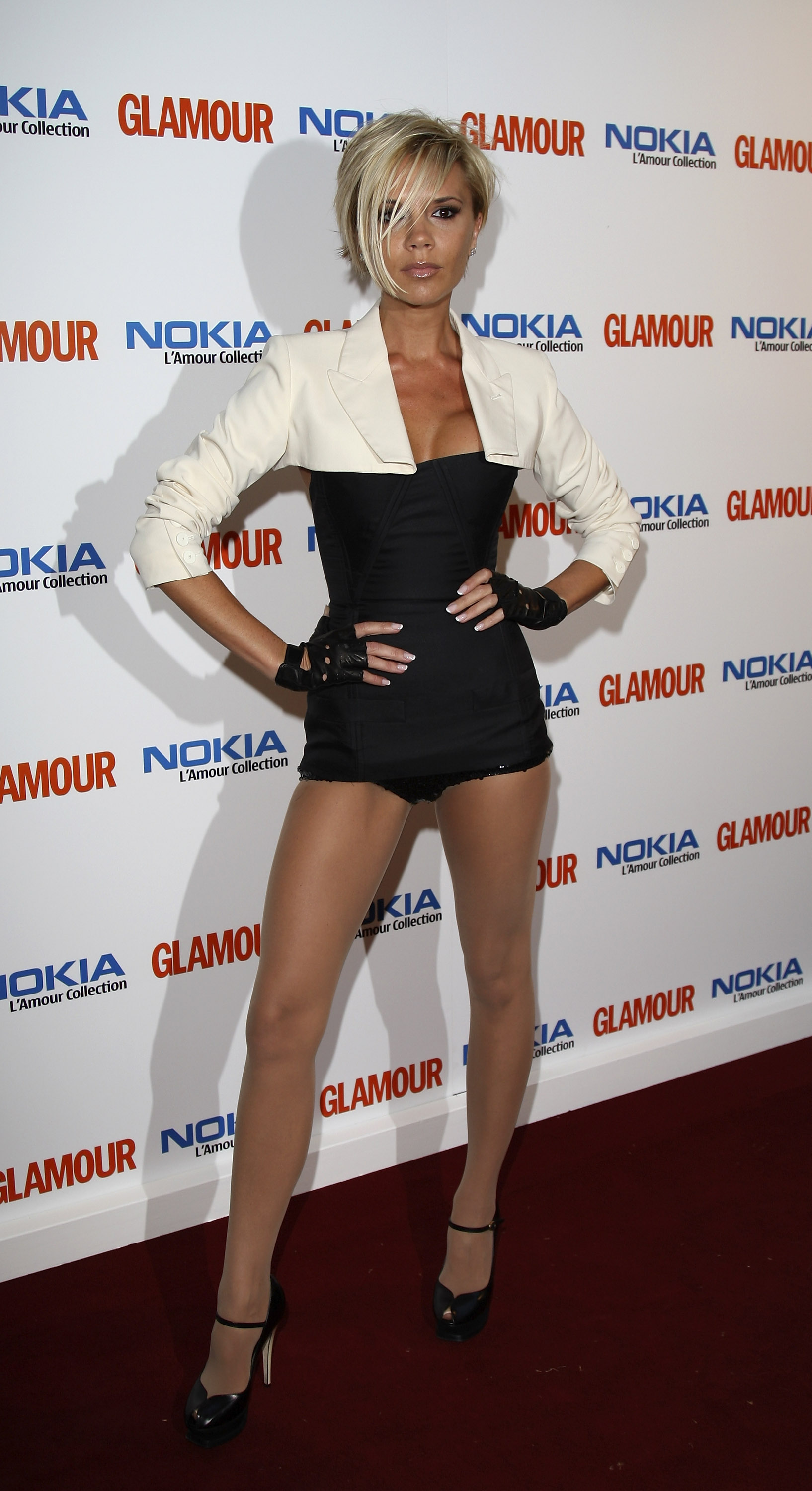 At the Glamour Woman of the Year Awards, 2007
Who could forget the "pob"? Undoubtedly one of Victoria Beckham's most iconic looks, the "pob" was the name given to the graduated, angular bob haircut the designer sported in the late aughts. The graphic, highly-stylized 'do marked the beginnings of Victoria's transition from WAG to full-time designer (and, later, against the odds, fashion industry darling). Here, attending the Glamour Awards, where she scooped the Woman of the Year Award, she takes the "pob" to its most extreme — peroxide blonde and choppily asymmetric. And alongside the scene-stealing cut, she wears another one of her favourite late-aughties looks: a simple black corset with towering heels.