Photographs by Pedro Alborno. Styled by Diana Hernandez.
Theresa Chromati explores the power of uncertainty
On the heels of a new group show, we spoke to the artist about diving fearlessly into the unknown and creating 9ft scrotum flower totems.
Photographs by Pedro Alborno. Styled by Diana Hernandez.
Theresa Chromati begins our conversation by recalling where her creative practice stood at the time of our last interview, a little over three years ago. "The language," she says, "was speaking about this woman moving forward, expanding and stretching… but the work for the last two years has been a process of ripping apart, and reassembling."
Bathed in the bright light of her Brooklyn studio, Theresa attempts to summarise — like so many of us lately — the turbulence, shifting sense of direction and self-revelation that has defined the very recent past. She's been back in New York for just a few months since her residency at Veta Galarie in Madrid, where she's currently exhibiting her first solo show in Spain, Interlude in Crusted Wounds.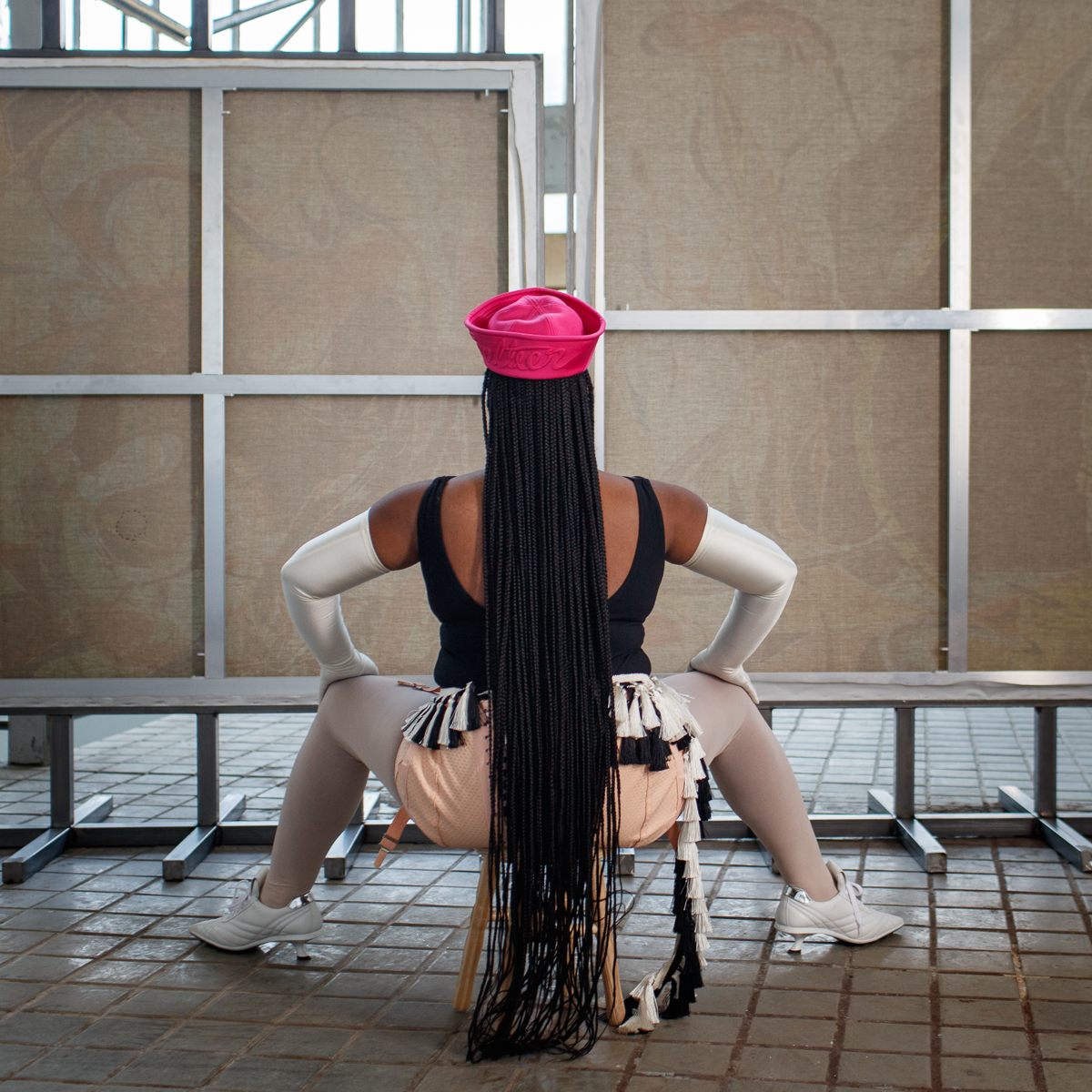 "I needed to step away," she says of her decision to pack up for a new vantage point. During that time, she meditated a great deal on the sensation of being pulled in opposite directions.
"What's pulling her? Is she pulling herself? Is the past pulling at her?" she recalls asking out loud, switching back and forth imperceptibly from her own life experiences, to those of the mysterious figure who has long inhabited the world of her paintings. "It's basically a lot of open statements that don't necessarily have clear answers — just living in that uncertainty. You don't have to have all of the answers to have movement."
That tension between uncertainty and movement is legible on the canvas, in both the exhibition at Veta and new works on view at Beyond Identity, a group show at Jessica Silverman in San Francisco, which opened on 23 July. Since her debut show, BBW, in 2016, Theresa's focus has shifted from a small community of bodacious, often-masked Black femmes realised boldly in graphic psychedelic shapes, to forms that grew increasingly more abstract, steadily taking form as swirling, sometimes disembodied arms, legs, noses, and eyes. Now, in her most recent works, Theresa is focused on a more singular, if fragmented, being, whose movement mirrors her own inner spirit.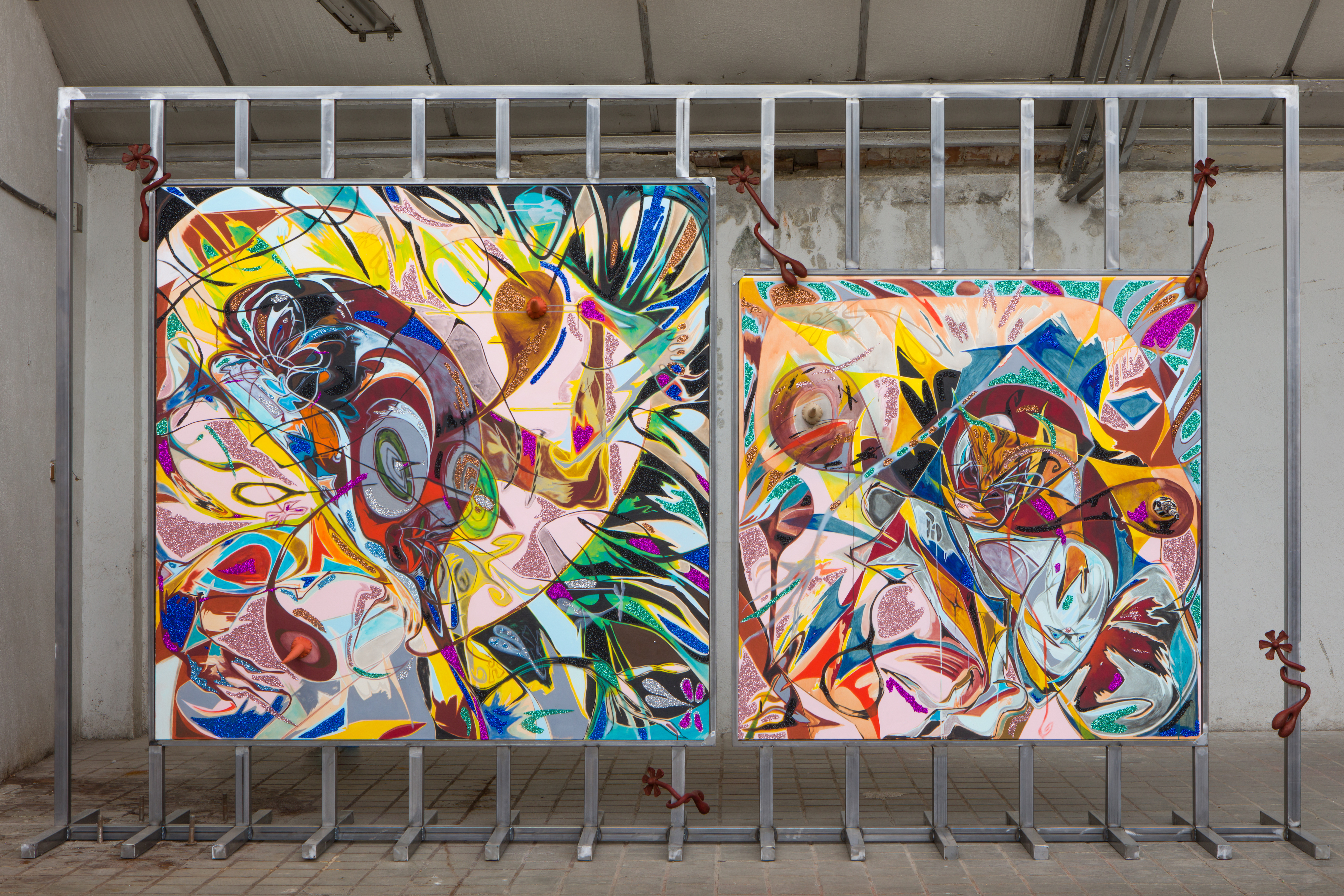 Growing up in Baltimore, Theresa was raised by the kind of creative, art-friendly parents who decorated the family car with hand-painted birds. From a young age, she was encouraged to embrace her heritage, her Blackness, and the truths of her identity as she wished to define them. "I feel like I've reached a point where I'm comfortable with how vast my thoughts are," she says of the present. "Maybe two or three years ago, I was like 'I don't want to be boxed in, I don't want to be boxed in,' and now I feel like I will not be boxed in. Now I can play and expand in so many different directions, and I'm starting to see those results — how open it can be."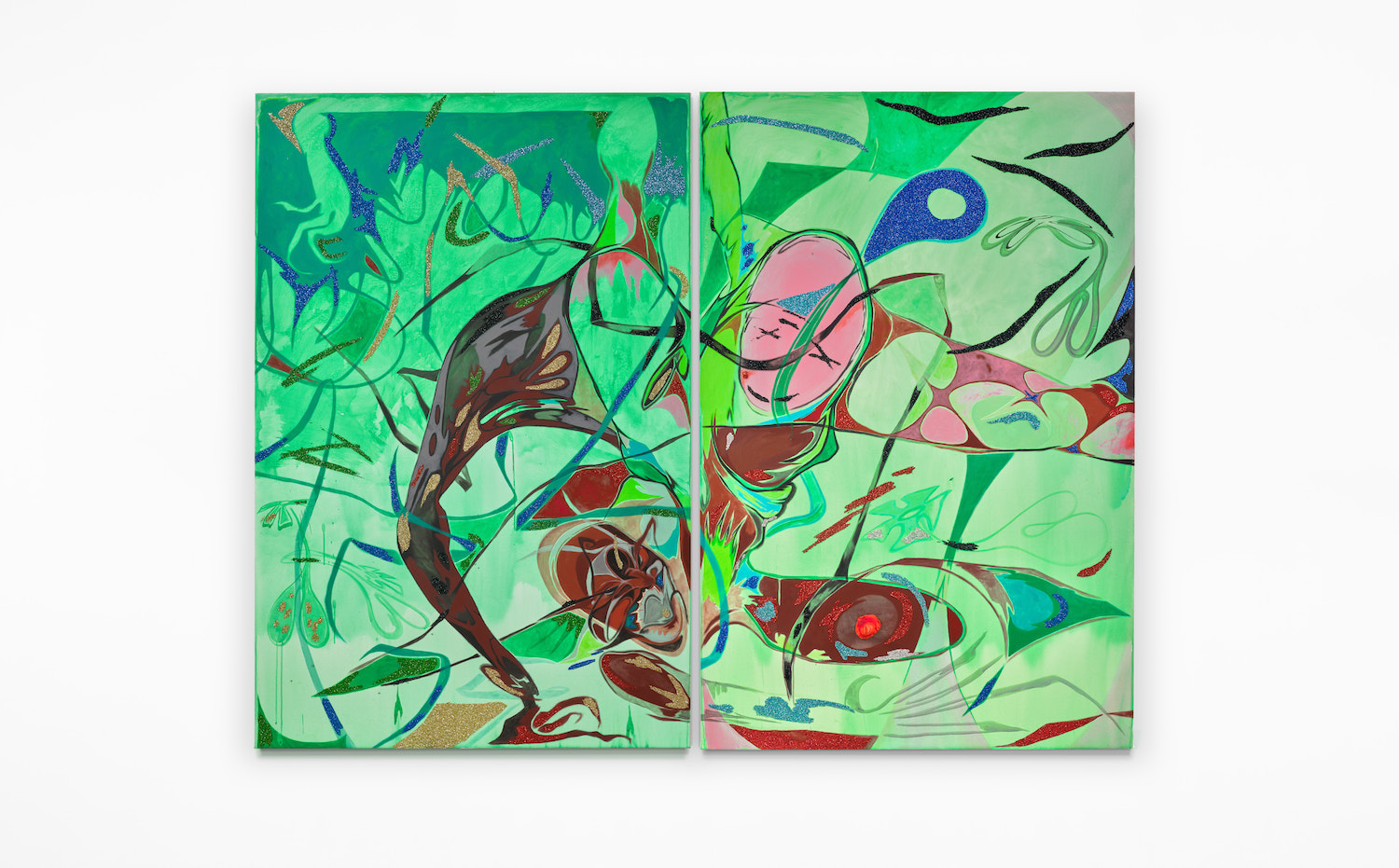 This self-permission is manifesting itself in sharper, harsher, paintings with webbed lines that feel almost prismatic. She describes "a lot of things wrapping, and trying to pen this woman down, including other versions of herself". In some of the pieces, she decided to add the loose figuration of a noose, "which also mimics lasso," she says.
"Sometimes there will be a head that's holding in it, and sometimes it'll just be negative space. This is what I mean by a lot of open-ended questions. Sometimes you may have a thought and feel like it's final. And then two years later, it comes back and you're able to see it in a different way. I'm interested in having the residue of that way of thinking in the compositions."
Theresa has also been working on extending the world she's created off of the wall, out into three-dimensional space. "There is an exchange in the painting, in the working process, where you've been feeding it," she explains. Eventually, the work begins to respond: "It's like, 'I'm full. Let me feed you.'"
The Veta show saw her realise the "scrotum flowers" that she has been experimenting with for years as a nine-foot, 800-pound bronze sculpture. Others live wrapped around metal structures mounting the paintings. "The scrotum flower, to me, is that embodied pure balance of energy. The head is a flower, and the bottom portion is a scrotum. It's not necessarily about sexuality. It's just about two different icons to represent the union of masculine and feminine energy."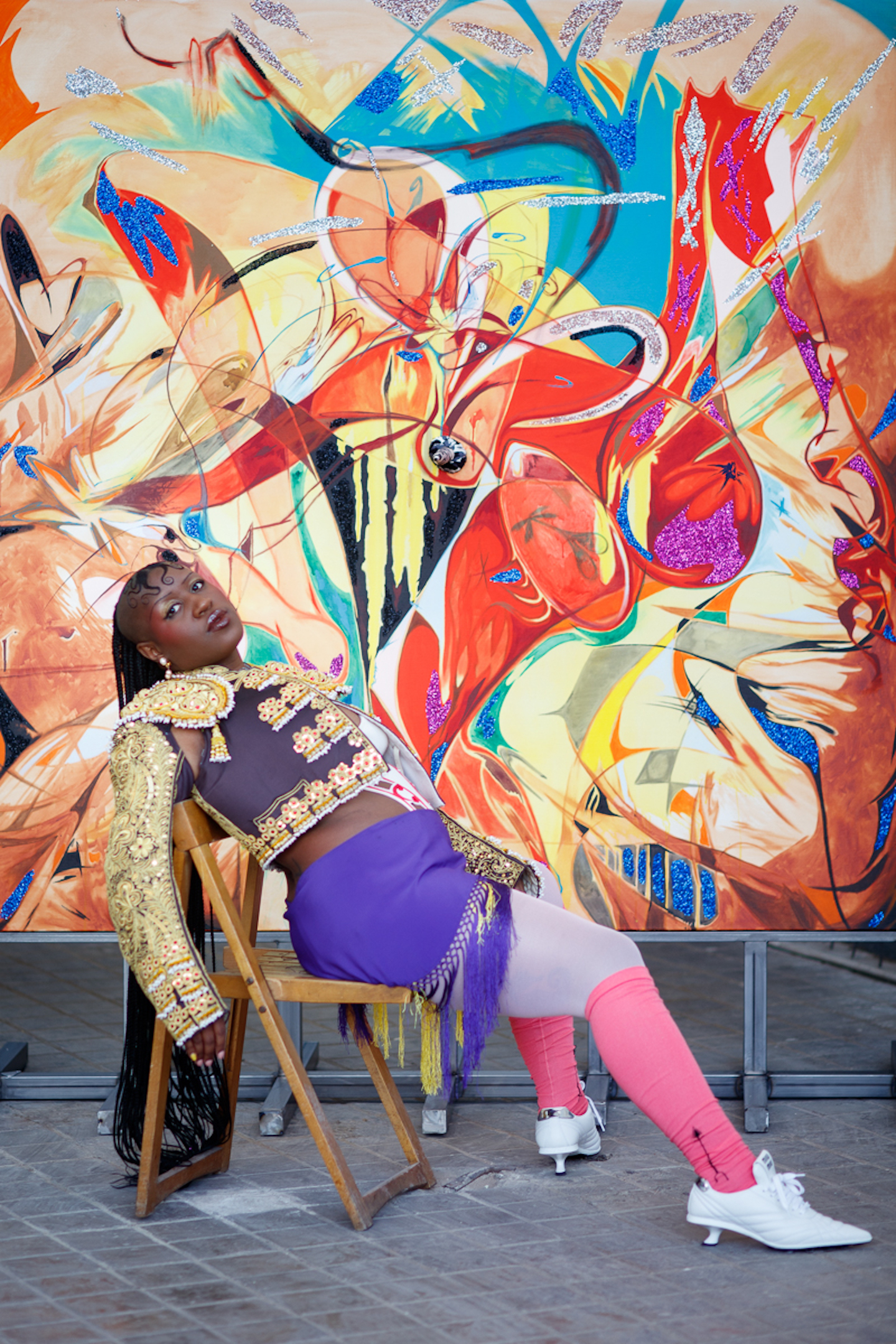 She sees them as totems, whimsical sources of support that her main character uses for strength and guidance. As symbols of balance and multiplicity, they provide a fruitful framework Theresa will continue to expand on in the future, through both sculpture and written inscriptions. The nine-foot sculpture, for example, plays upon her practice of giving her pieces lengthy titles that read like poems. "Allow silence to create the sound you desire most," it reads, on a thick bronze rim surrounding its clitoris-like bulb. The inscriptions offer, she notes, "moments of calm and understanding. They're very vulnerable; they're moving thoughts — I want for them to have enough room to grow and expand over time."
As Theresa and her work continue to evolve and shift gears, she hopes to see these vulnerable moments multiply. "And when they've accumulated and can speak to each other?" she says. "That's the moment I'm building towards."