An ode to the Lady Gaga press tour
As the star shares her tales of the making of 'House of Gucci', we're reminded of her skills as an unhinged storyteller.
|
05 November 2021, 2:55pm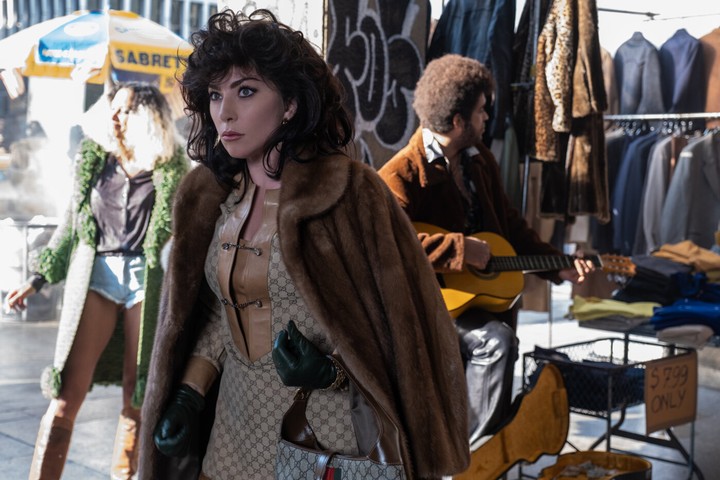 MGM/Universal Pictures
There's a reason you ask Lady Gaga to be in your movie, and it's not necessarily just her acting prowess. While the singer-turned-on-screen star has the chops to capture many a character -- from a lethal countess to a down-and-out waitress with big musical ambitions -- she also possesses the skill that comes in handy afterwards: selling the absolute shit out of a project. It's a talent she's crafted after a decade and a half in the music industry. Now, as she steps out to promote House of Gucci, we're reminded of just how deliciously deranged a Lady Gaga press tour is.
Rewind back to 2009: a year that started with the global explosion of "Just Dance", followed by the summer success of "Poker Face", and then tipped off with the arrival of one of the best pop songs ever written: "Bad Romance". Then just 23 years old, Lady Gaga had already mastered the publicity machine. She'd segue from sticking up for Alexandra Burke to standing on a man in heels in a New York fetish club, all while gazing in awe at Buckingham Palace from the back of a taxi cab. Even in the beginning, in her relentless campaign to secure the chart top spots, she ventured to places few pop stars would dare to.
Before long, the same performance art that shaped her videos and live work spilled out into interviews and paparazzi shots. Who could forget the time she sat across from Girls Aloud's Nicola Roberts in an MTV interview and, without hesitation, said she'd like to try death? Or when she left her London hotel during the ARTPOP era moving at 0.2x speed, as she looked pensively at the fans shrieking at her? Nobody embodies the spirit of their craft -- or takes it quite as seriously -- as she does.
Which brings us into the present day, as Gaga returns to the big screen Academy Award race following her 'hundred-people-in-a-room', Oscar-nominated performance in A Star is Born. We are gearing up for House of Gucci to hit cinemas in just a few weeks, and so that press hustle has begun once again.
And so of course, in her interview with British Vogue for their December cover, she reeled out some all-time greats. As the shoot began, writer Giles Hattersley points out that she stops the crowd of stylists, make-up artists and photographer Steven Meisel to say: "Whatever I wear, I will be serving painful Italian glamour from within." Exquisite.
Of course, in House of Gucci, Lady Gaga plays Patrizia Reggiani, the former wife of Gucci heir Maurizio Gucci. In the 80s, she was convicted of plotting the assassination of her ex-husband in what seemed to be a whirlwind tabloid news story. Of course, in order to become that woman, she has to channel the manic spirit of Patrizia herself. But Gaga doesn't just settle for channeling and imitation, she has to fully embody the lived spirit of her characters. For the entire shoot, she became Patrizia — talking in her accent off-screen and, in some ways, completely taking on her outlook on life.
Which has led, naturally, to some corker quotes in her interviews. Like when she told British Vogue that: "every minute of every day I thought of my ancestors in Italy," as she channeled the spirit of a murderous woman, hoping to make the Italian folks proud. Or when she did a junket interview yesterday, and described driving past the site of Maurizio's death in Italy and feeling "a pin drop in [her] stomach", asking herself "What have I done?" because she was so in character.

Then, there's the new fan favourite; a reference we hope supersedes 'hundred people in a room' out of sheer insanity. Speaking again in the British Vogue interview, Lady Gaga was discussing her performance at Biden's inauguration. "If I weren't who I am today," she said, "I would have been a combat journalist. That was one of my dreams." Cut to the gays on Twitter envisioning Gaga on the frontlines of a war-torn country wearing a Schiaparelli dress and those McQueen armadillo heels. Even more iconic: "When I was at the Capitol, the day before the inauguration, I remember walking around and looking for evidence of the insurrection." Sherlock Holmes found rotting.
There is nothing we would change about Lady Gaga's inspired -- some may say unhinged -- way of thinking. In the dredge that is awards season press, actors are wheeled out time and time again, repeating inane quotes about subjects most folks aren't interested in. But Lady Gaga's life is a show, and every moment of it bleeds theatre. If she wants to tell us that she inhabited the mindset of a murderer to the point where she thought for a second she might have done it — or indeed that she might pack it all in one day to become a war journalist — we fully support it. There might be a hundred actors in a room who have nothing interesting to say; all you need is one to restore faith in the Oscar-hopeful press tour. Lady Gaga, we salute you.