Alaïa kicks off couture week with Pieter Mulier's epic second collection 
Pieter Mulier — like, a totally important designer — presented his AW22 collection for Alaïa, the ultimate couture house, in Paris last night. 
Images courtesy of Alaïa
It really is the famine of beauty out there. In a season shrouded by darkness — in fact, an entire era shrouded by it — fashion has lost track of its vital pursuit of beauty. I'm not talking about plain pretty or nostalgic clothes. We have enough of them. I'm talking about the real edge-of-your-seat, once-in-a-lifetime kind of beauté. The kind that makes your heart skip a beat, or even confuses you at first. The kind that Mother Nature does so well, or makes trudging to a fashion show feel like going to the ballet. Beauty for the sake of beauty! Beauty for the sake of our starving eyes! Well, we've said it once and we'll say it again: Alaïa is one of the greatest houses in Paris today, and Pieter Mulier's second collection for it was all about beautiful, can't-quite-believe-it clothes — or as the poem-come-letter that he wrote to accompany put it: "Follow a quest / of beauty and fashion / nothing more … Only and simply — beauty, beauty, beauty!"
It did not disappoint. In the wrought-iron courtyard of Alaïa HQ in the Marais, "the cathedral" as Pieter calls it, the show took place in the evening on a lacquered-black catwalk, unofficially kicking off couture week here in Paris. What followed was a feast for the eyes. "There's no concept, only sculpture," Pieter told me during a preview of the collection, unbelievably only his second for the house. Looking at his impressive board of eclectic looks — everything from bell-bottomed denim and boots with white cotton flamenco flounces, to knitted-lace bodysuits and a sweeping zebra calfskin couture gown — it became clear there was no one clear thread other than the devoted pursuit of beauty. "It's about silhouette, sculpture and architecture," he continued. "Pure sculpture — how can you change the body with fabric?"
Well, you can do it with the help of an atelier of the best seamstresses in Paris. Chez Alaïa, which is a tiny house compared to the industrial scale of Dior and Chanel, everything is worked onto the body and constantly constructed and re-developed from the very start of the process, whereas most designers work with samples and image references, and copy-and-paste to create a final piece. Azzedine was different — he was a self-described bâtisseur; a builder of simple-looking clothes that were actually incredibly complex in construction. "We used to glue at Dior, and here they don't want to do that,' Pieter says with a devilish smile. "I once tried and they told me off because they go immediately into making it onto the body when we start to design — because the more you just construct without it, the less you feel the body."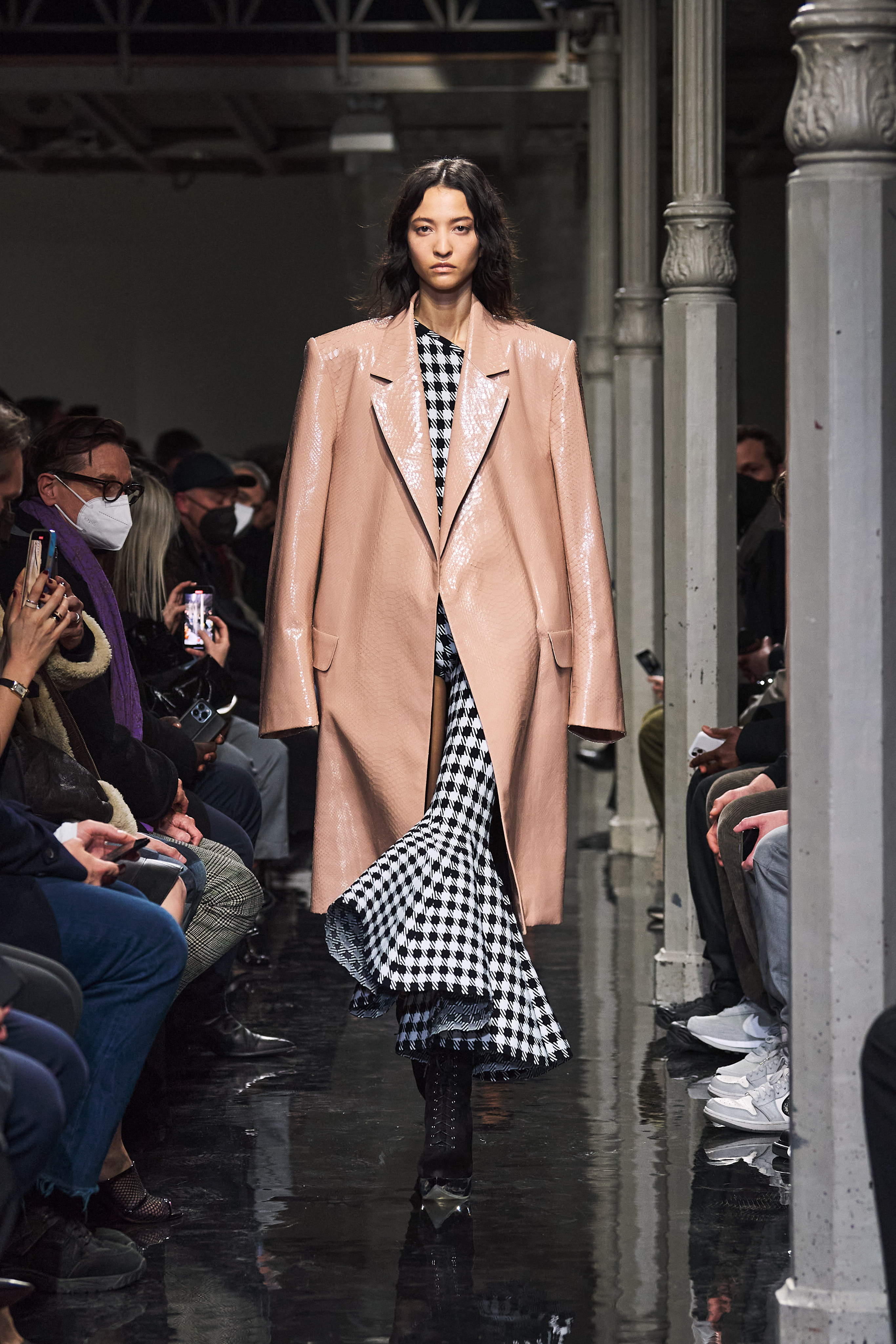 Yes, it's so much more work and takes a whole lot more time but the results are spellbinding. This was a collection that celebrated the bareness of the female body, as much as it protectively and glamorously enveloped it in beautiful shapes. For all the fleshiness of the see-through net dresses, plunging cut-outs and revealingly-knitted bodysuits — there was also plenty of modestly-draped trapeze coats with elegant shawl collars, dramatically flounced denim and leathers and satin-nylons with zips that subtly mapped the geography of the body's curves. But it was the backs that really sealed the deal — so deserving of a reverse catwalk shot, really. Coats had barrel-shaped backs that scooped way down, elongating the ligne from the high turned-up collars all the way down to bare ankles. Hands in pockets, it's the kind of coat that covers yet sculpts; that could be worn on the street or as a ballgown.
Back in the atelier, Pieter picked a flounced ra-ra skirt — a style that is very Alaïa, but this time made with more bounce and pizazz in python-embossed leather — with petal-shaped holes blossoming from the high waist, offering a glimpse into the construction. He flips it upside down, and it's as beautiful inside as it is out. Structured crinoline fabric is gathered, pinned and clasped, and given more structure by extra panels — and yet it's as clean as a whistle. You would never be able to tell that so much architecture and engineering went into it — "like a Mediaeval corset," Pieter pointed out. The same goes for a leather dress made entirely from leather belts — or, so it seems. In fact, it's sculpted onto the body so that it maintains an hourglass shape even when each of the 39 belts unbuckles, allowing for its slit to be adjusted as salaciously as a woman wants.
A knitted dress covered in hundreds of cascading glass rounds, he explained, was created by the ateliers knitting a dress with in-built pockets for each one to be inserted by hand. Laid out onto a table, it looks almost too precious to touch, let alone wear — yet in the show it caught the light as it swayed with the liquid translucence of a dress made from hundreds of water droplets. It felt like the kind of creation that Azzedine Alaïa would have loved, the perfect balance of irreverence and technicality, and the kind of garment that would be so difficult for someone without either of those two things to even conceive of making.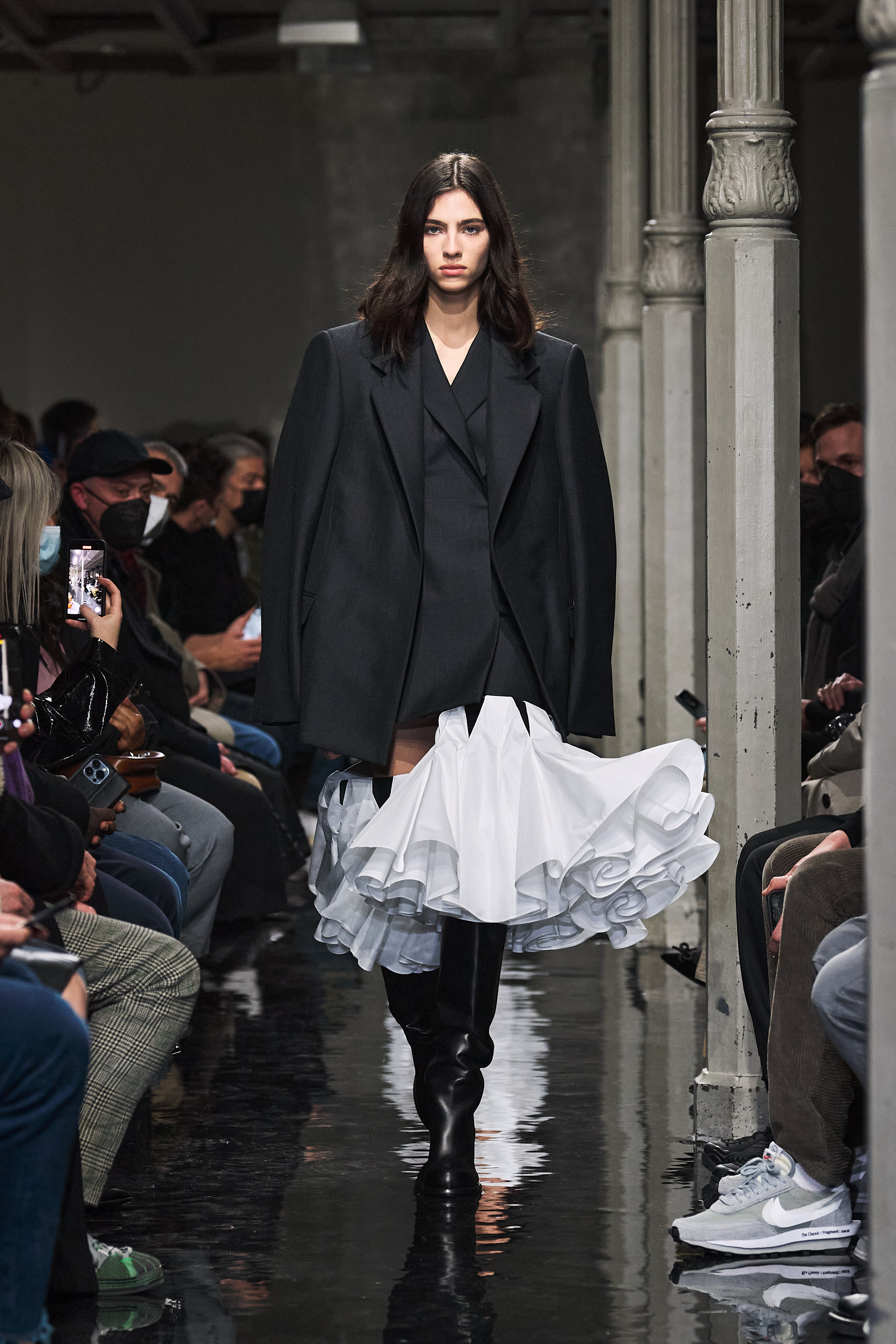 Then again, no one is more obsessed with Alaïa and its extensive archive, and of course the approach of its founder, than Pieter himself, who has a background in the technical side of making clothes. And while his debut collection was about being respectful and explaining the important legacy of Azzedine to a new generation, this second collection provided an opportunity for him to bring more of himself and his own obsessions into his work — like the series of long mohair dresses with cubist faces, illustrative stripes and ink-blot nipples. Worn pulled up all the way to the eyes (you got the sense that it was more about elongating the silhouette than commenting on Covid-times) were actually a collaboration with the Picasso Foundation, only the second of its kind in its history. The first was Raf Simons at Jil Sander, where Pieter was a part of the team and learned how to love art and bring it into his creations.
The slinky, illustrative dresses offered something unexpected — a bit more graphic and freewheeling than the tailoring or sculpted bodysuits that Pieter offered as a respectful tribute to Azzedine last season. As it happens, Picasso's grandson Claude was a friend of the late designer, and would often come to the studio to hang out in the ateliers while he worked — which is exactly what Gustave Rudman Rambali, the composer behind the score for Euphoria did. He came and observed Pieter and the atelier as they worked and crafted a 40-minute symphony inspired by the clothes in the collection, full of fluttering violin chords and brassy interludes and a crescendo as breathtaking as the couture gowns that closed the show.
It set the tone for a truly beautiful moment — one that confirmed what we already knew: Pieter is the perfect fit for this beloved house that couldn't be more important.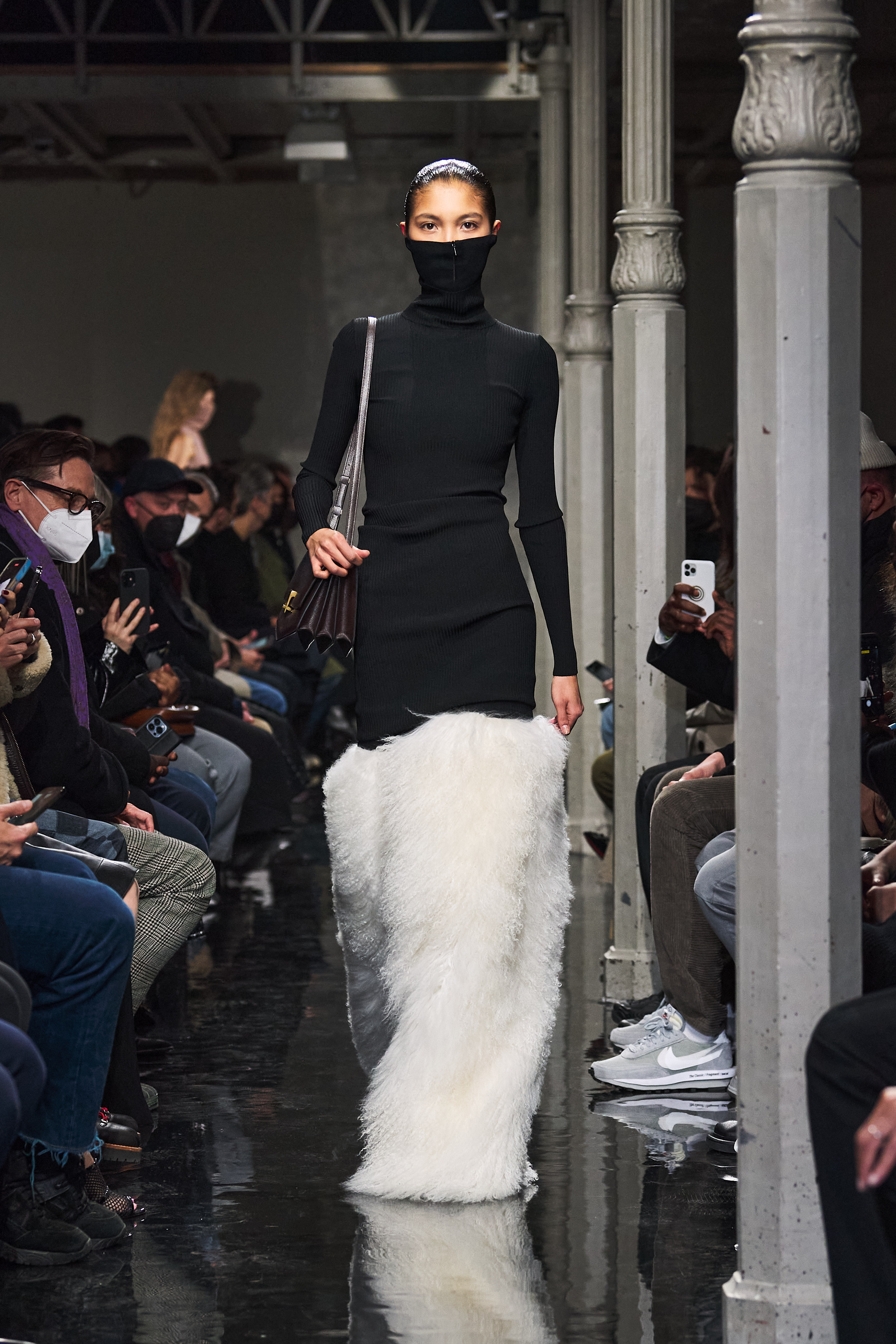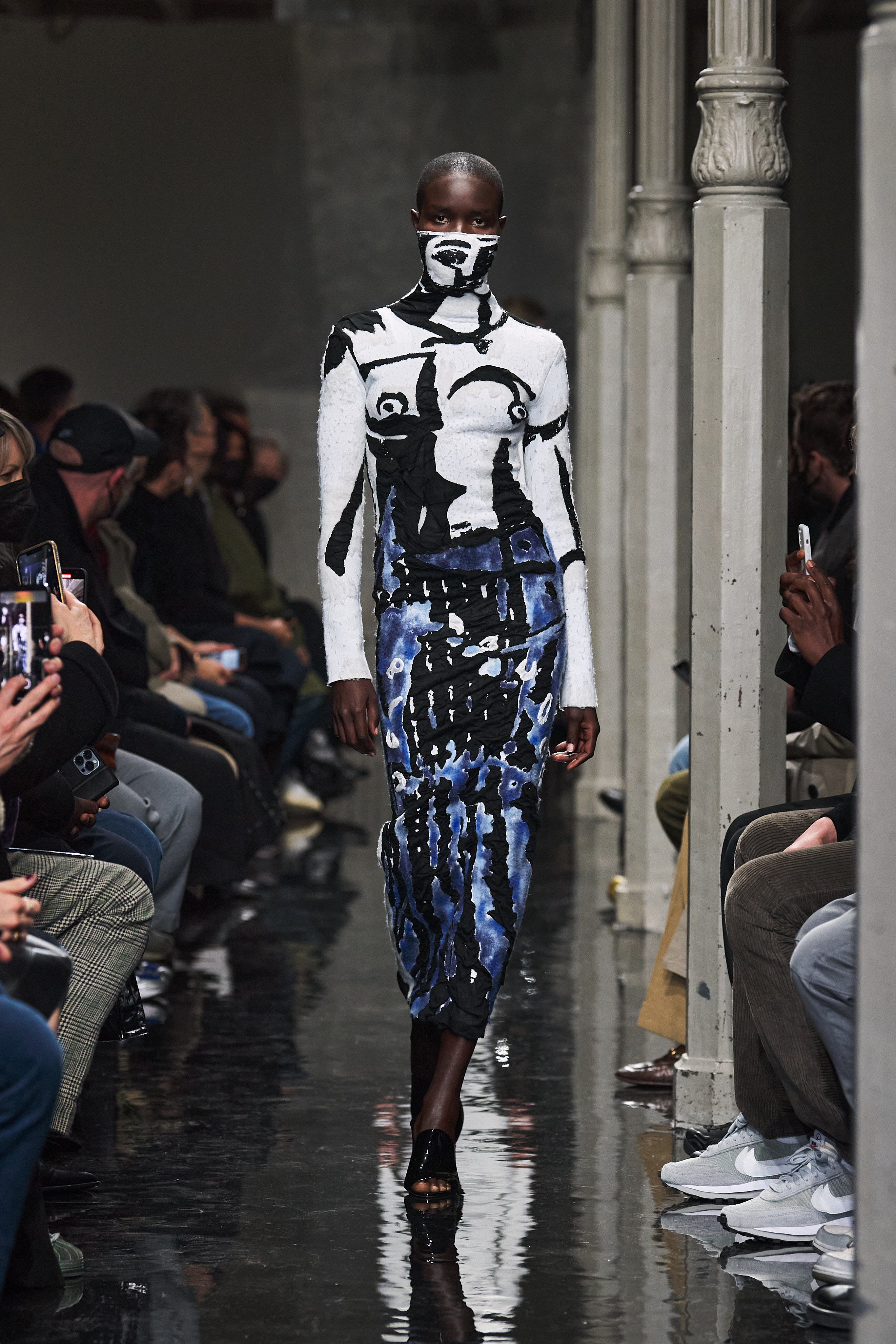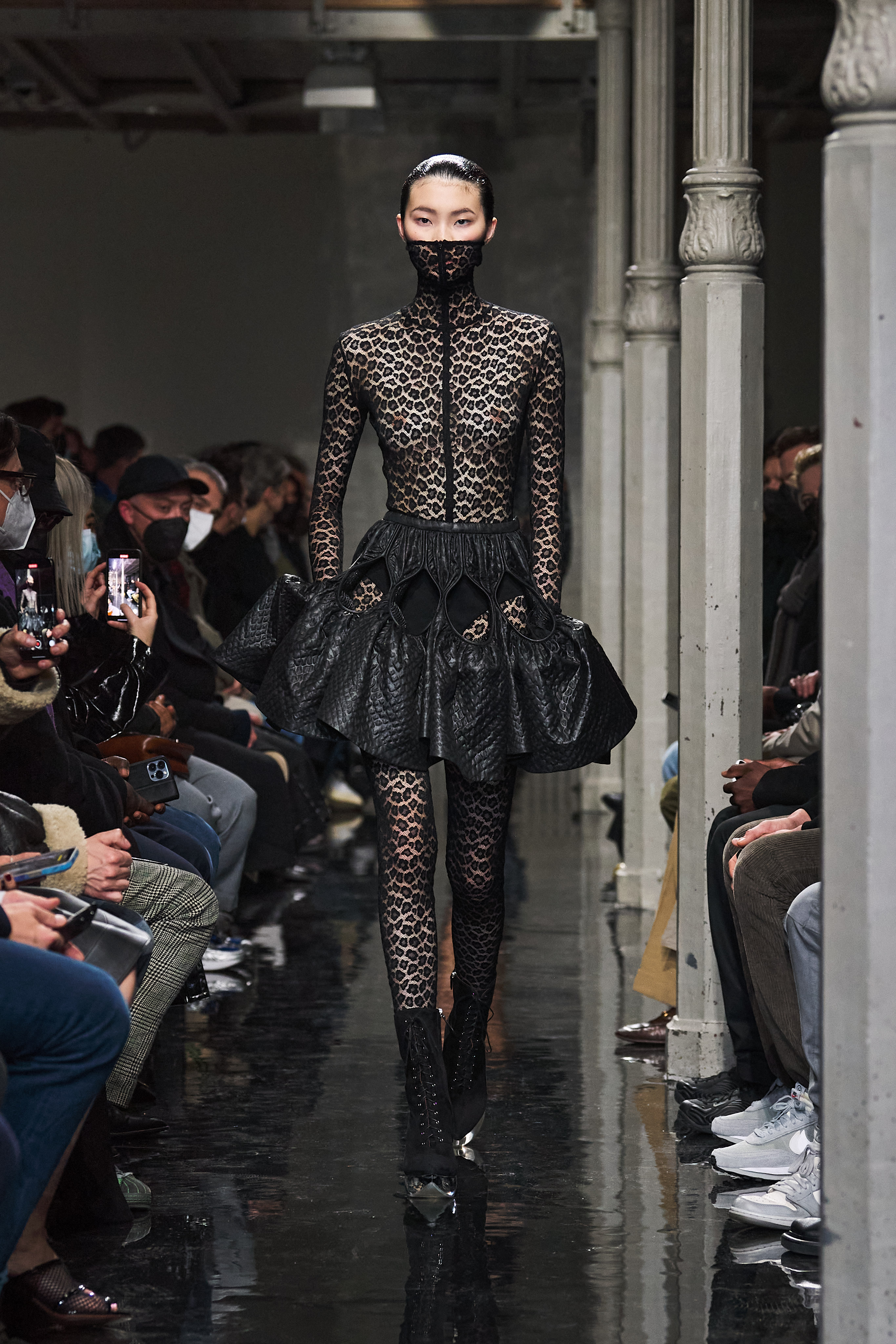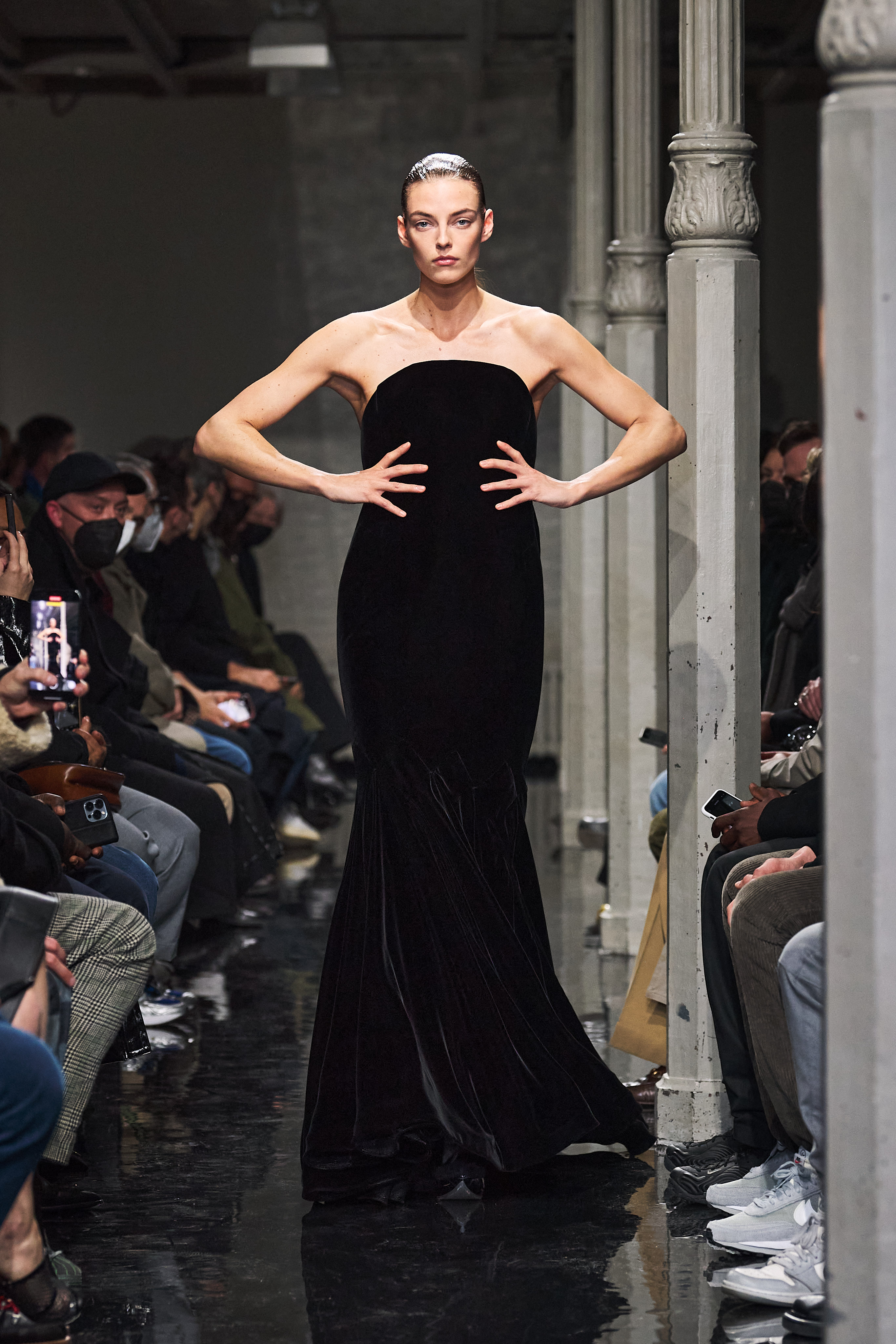 ---
Credits
Images courtesy of Alaïa