Images courtesy of Sacai, Wales Bonner and Hermès
The best of Paris Fashion Week Men's AW22: Wales Bonner, Hermès and sacai
From Wales Bonner's joyful eccentricity to Hermès' understated luxe, Paris Fashion Week men's drew to a close with a bang.
|
25 January 2022, 12:15pm
Images courtesy of Sacai, Wales Bonner and Hermès
Bonjour, mes anges de mode! After bringing you the best of the menswear shows in Milan, we've followed fashion's travelling circus all the way to Paris. While we're here, we'll be bringing you all the must-know news straight off the AW22 runways (well, and the screens in the case of this season's bevvy of digital shows, but the same logic applies!). Just as with the most recent batch of womenswear shows back in September, this will be the hub to read our musings on the best and boldest trends and collections we'll be seeing over the next week. We hope you're hungry, because, if Milan was anything to go by, these designers are about to SERVE! Bon appetit!
Wales Bonner
In the years since founding her eponymous label, Grace Wales Bonner has cultivated a reputation for the specificity of the references and research that inform her collections. That remains the case, to a degree, in her most recent collection – this season, she was particularly inspired by the music of avant-garde jazz trumpeter Don Cherry and his wife and collaborator Moki. The difference here, however, was that rather than a particular musical genre or moment in cultural history, her focus was on the spirit of collaboration that drew them, and others like them, together. "Where sometimes in the past, I've often had a specific point of inspiration, with this season, I was thinking more about how certain threads and ideas come together," she says. "I was thinking about specific times in the 70s when different artists were collaborating and creating quite hybrid music styles" — times she feels are echoed in the world today.
Fittingly, she's named this season "Togetherness, an ensemble", gesturing toward the idea of different features and ideas coming together to form a whole. It's an apt paradigm through which to view the collection itself, Wales Bonner's most eclectic to date, but also the brand's most liberated and most joyful, Light scatters from embroidered mirrors on a pleated wool skirt, a striped cotton tunic and a hand-crocheted slip dress, imbuing them with "a​​ sense of performance – a positivity and fullness," Grace says — echoed in a tailored jacket in a peacockish floral brocade. These more pizazz-y pieces are complemented by easy-wearing, quietly luxurious pieces like an anorak in turquoise nappa leather, worn with sporty brocade Mary Janes – a product of his season's Adidas collaboration; gentlemanly tailoring in Tattersall tweeds, and cosy recycled cashmere knits. Her overall intention this season, she says, was to create a body of work that was "more about feeling," she reflects, "more about something experiential" that felt open to anyone, no matter the perspective they approach it from. Here, she's managed to achieve just that. MS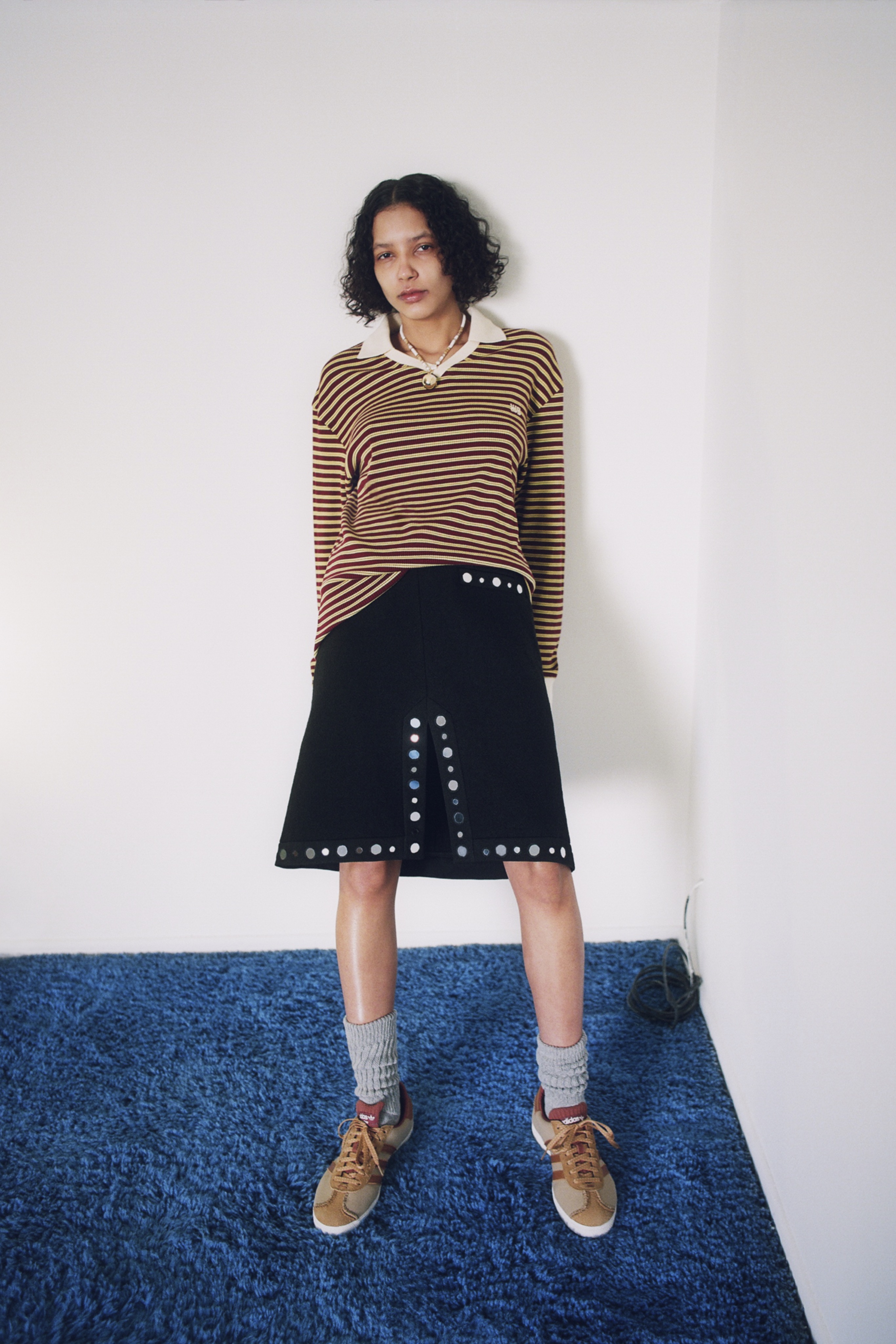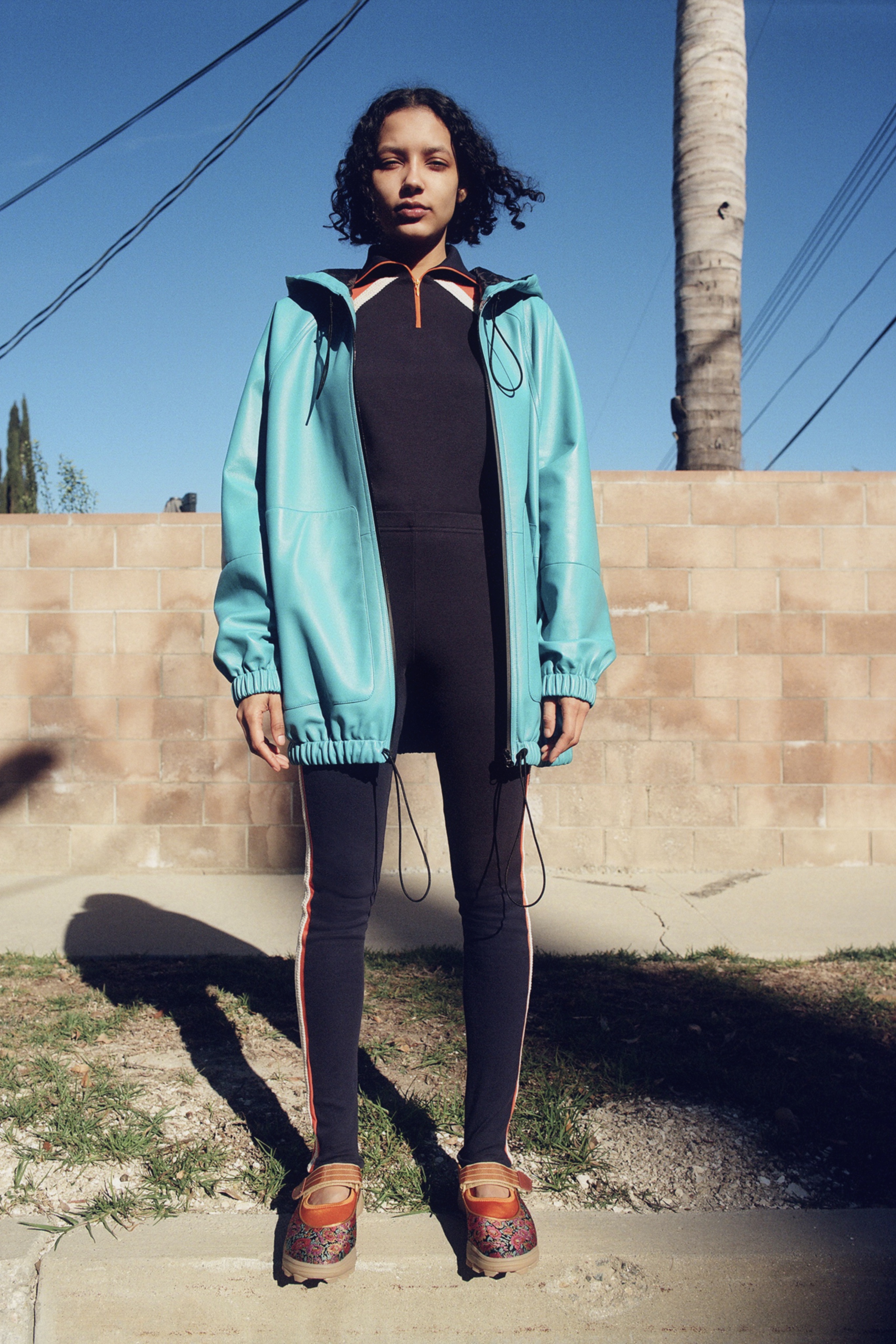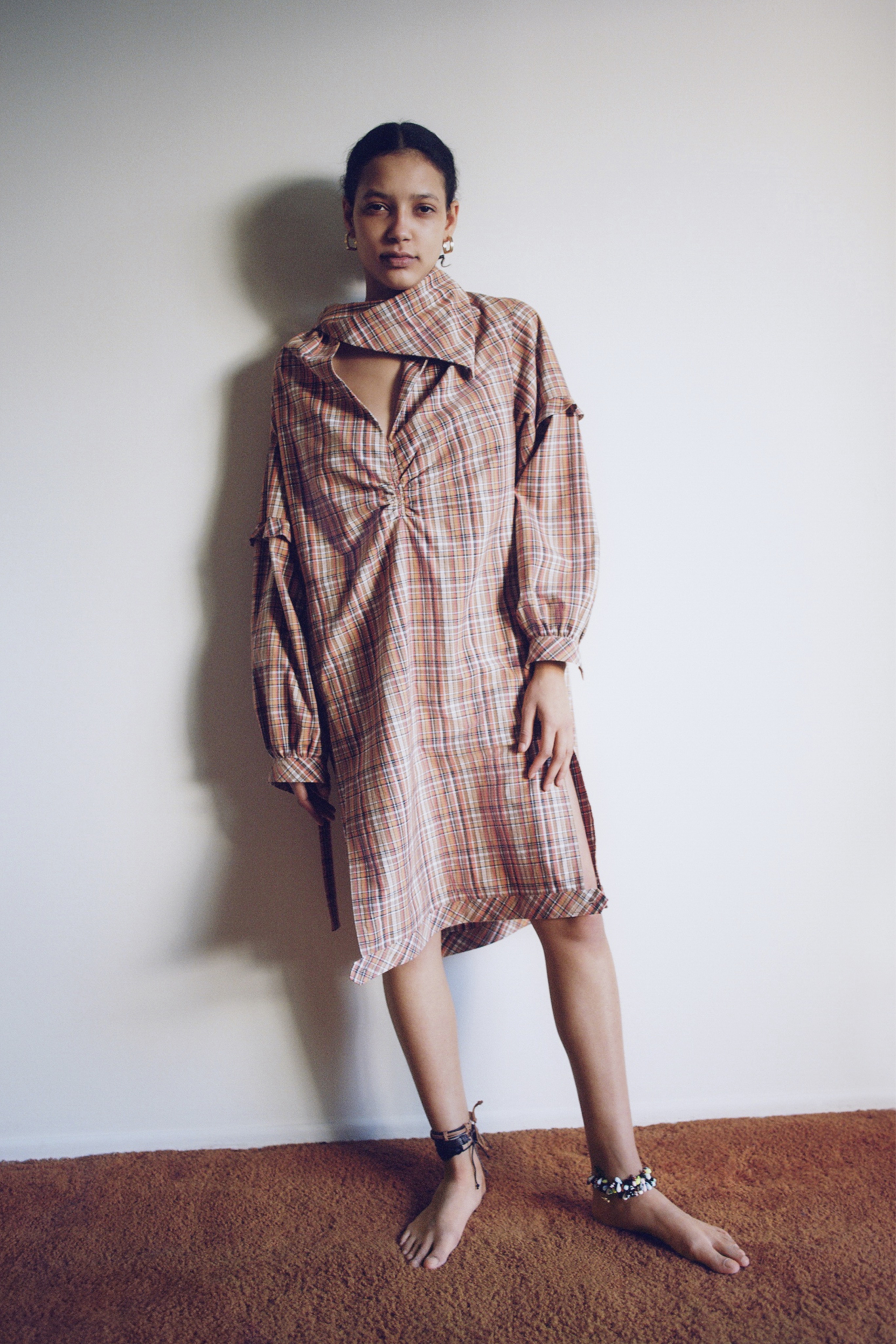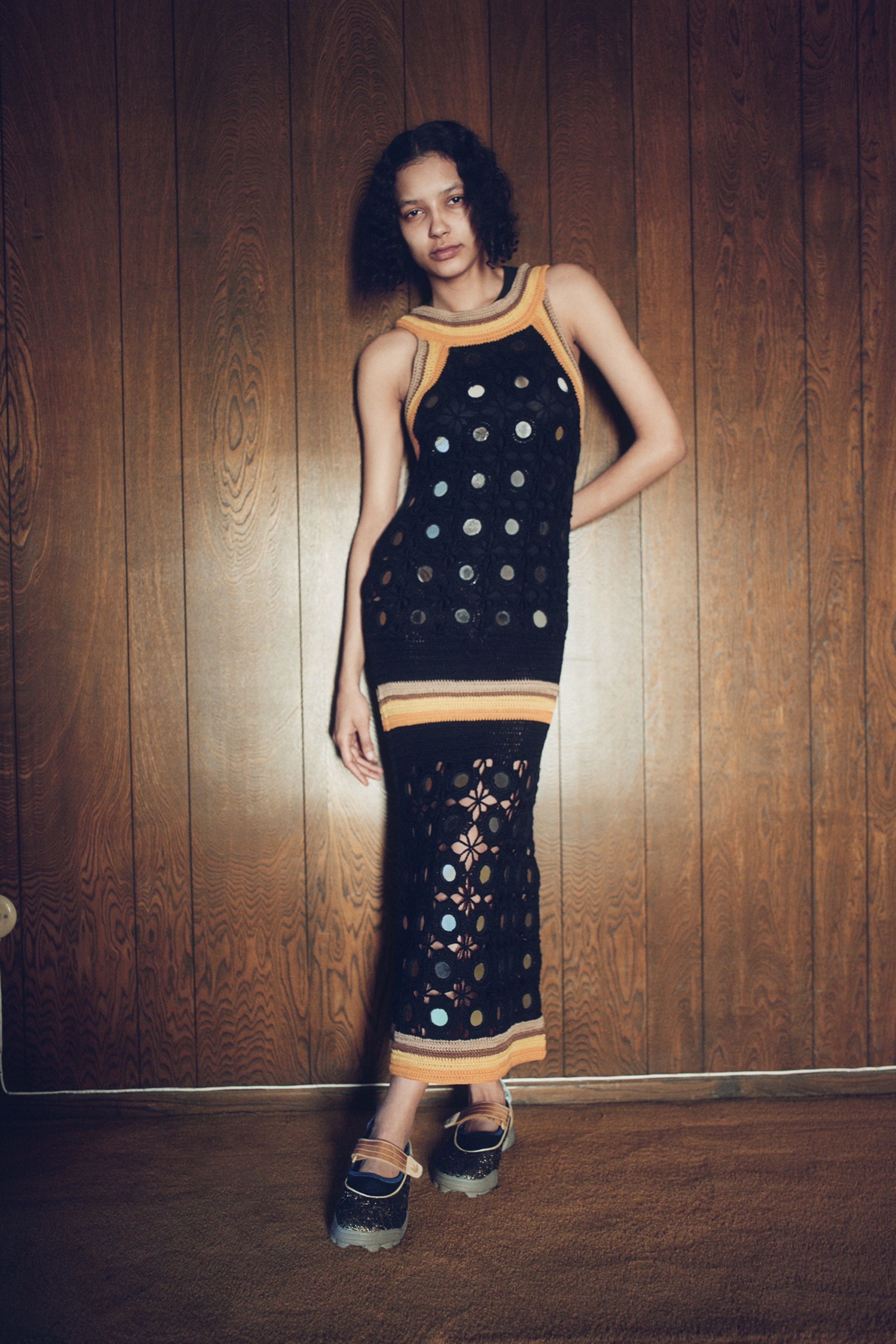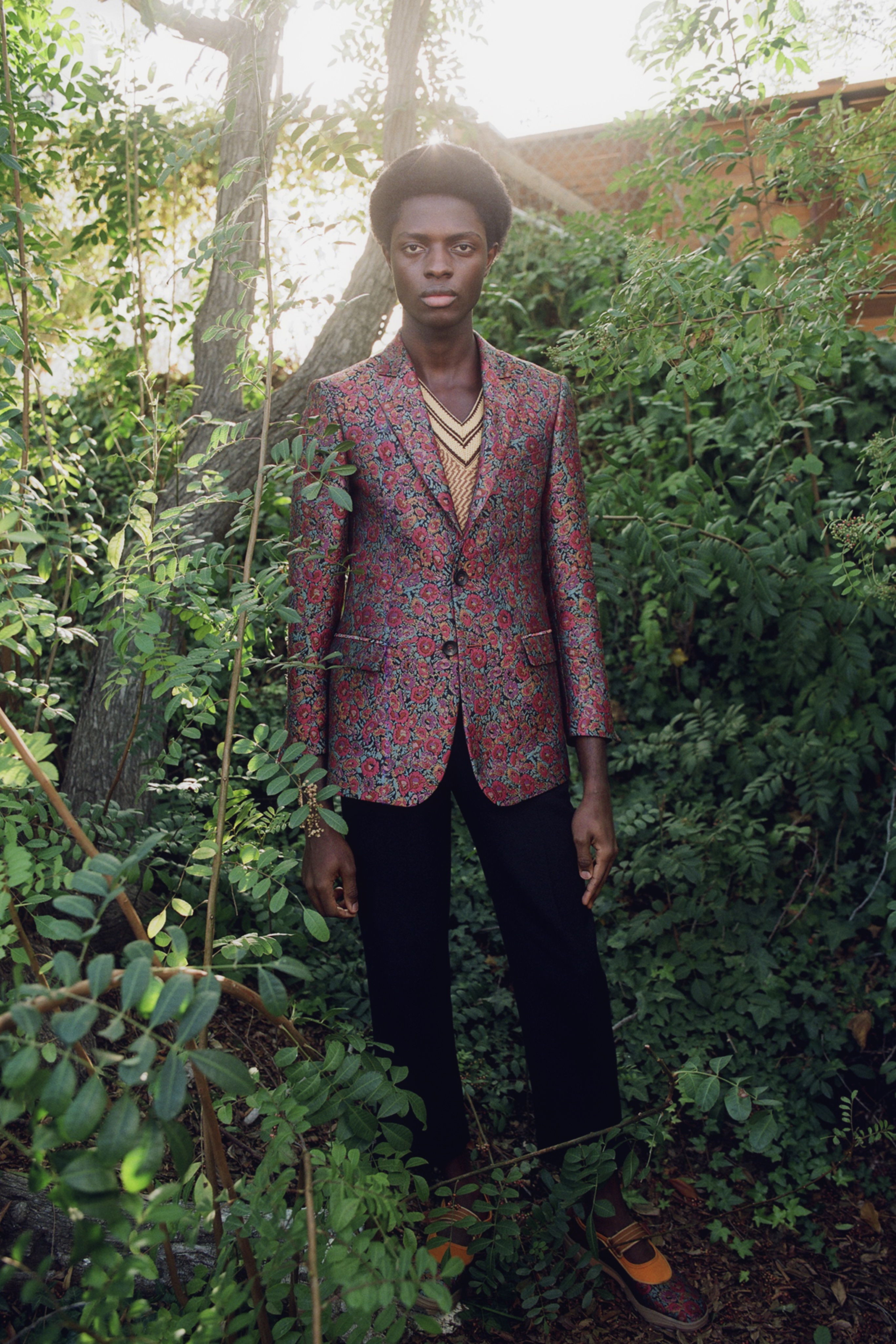 Sacai
For her latest showing for sacai, a combination of AW22 menswear and womenswear AW22 pre-collection, Chitose Abe sought to "tell a story about believing in yourself", following one's deepest held convictions. For the Japanese designer, the conviction that has compelled her to create since founding her brand in 1999 has been the pursuit of the "art of hybridisation", clashing archetypes to birth a design vision entirely in a world of its own.
As ever, the juxtaposition of sartorial codes serves as a point of departure, but here, they're fused with perhaps the greatest finesse we've seen from the label to date. Bra motifs, a nod to the house's lingerie roots, decorate dresses and jackets on the womenswear side for things, while this season's suiting is almost comically relaxed, taking its cues from the hulking silhouettes of snowboarding gear. Elsewhere weighty shearling jackets with elongated woolly cuffs are cropped at the rib, and knit tasselled ponchos are fitted with ripstop panels, worn with drainpipe leather trousers and puffed-up snow boots. All in all, one of sacai's most accomplished collections yet. MS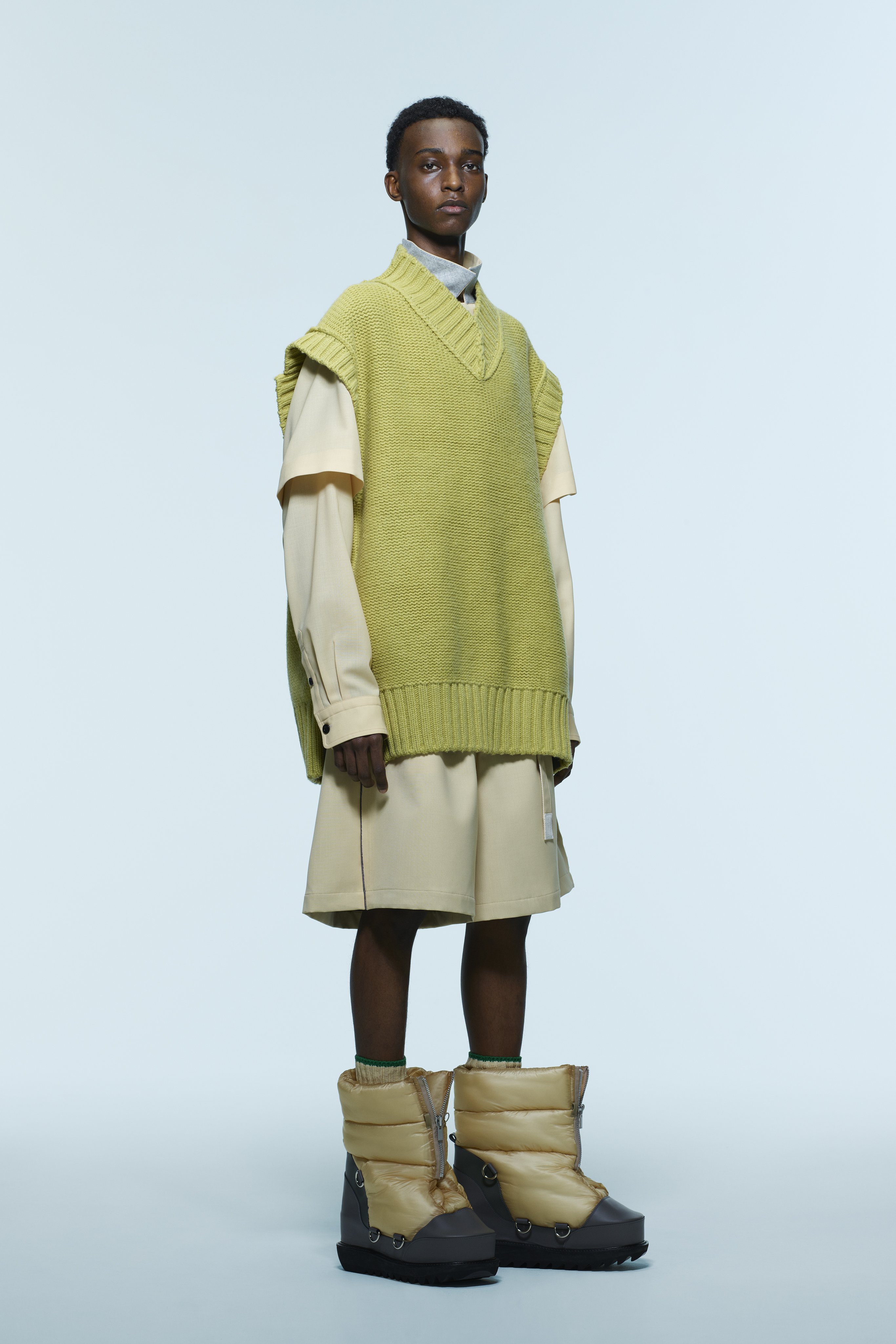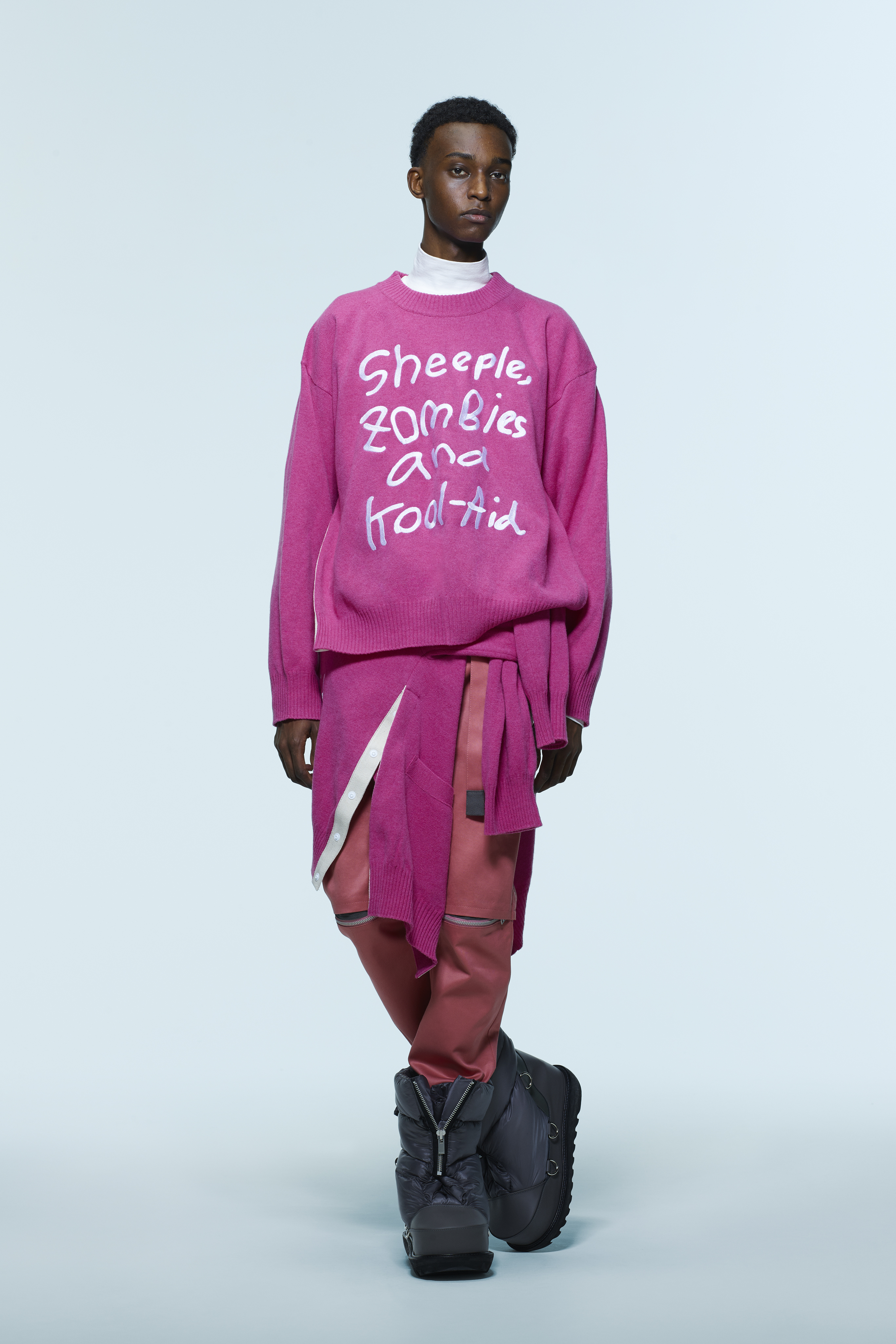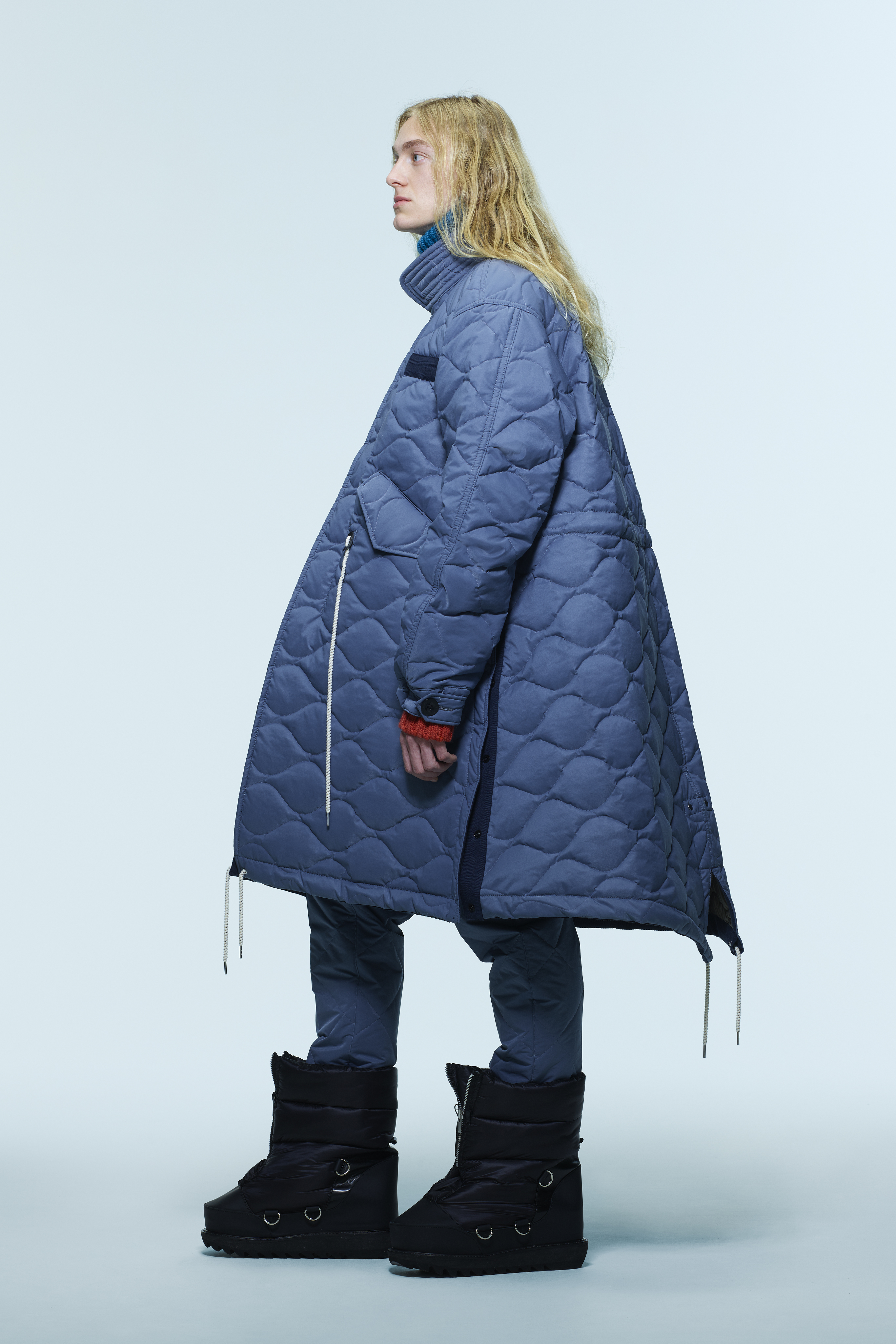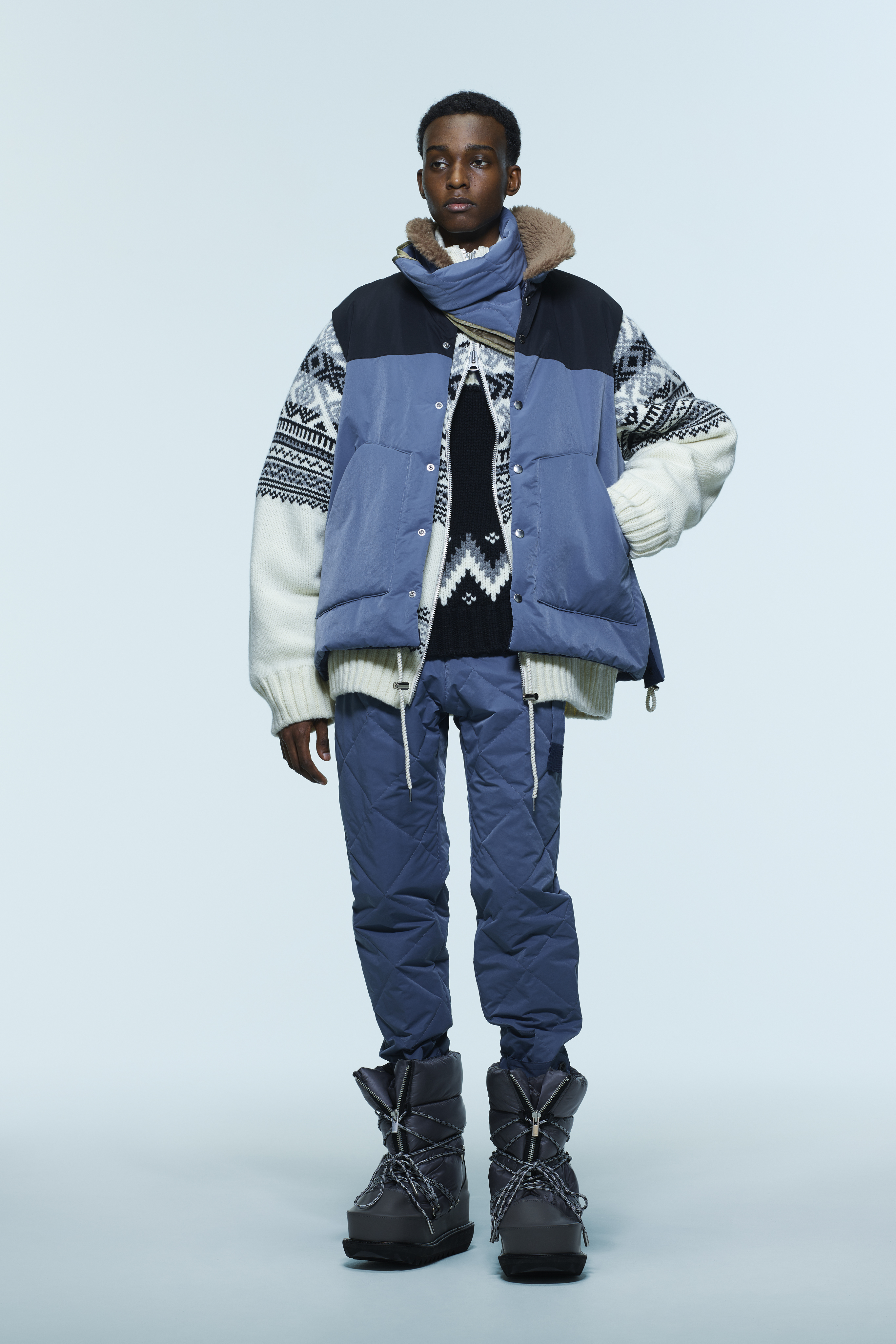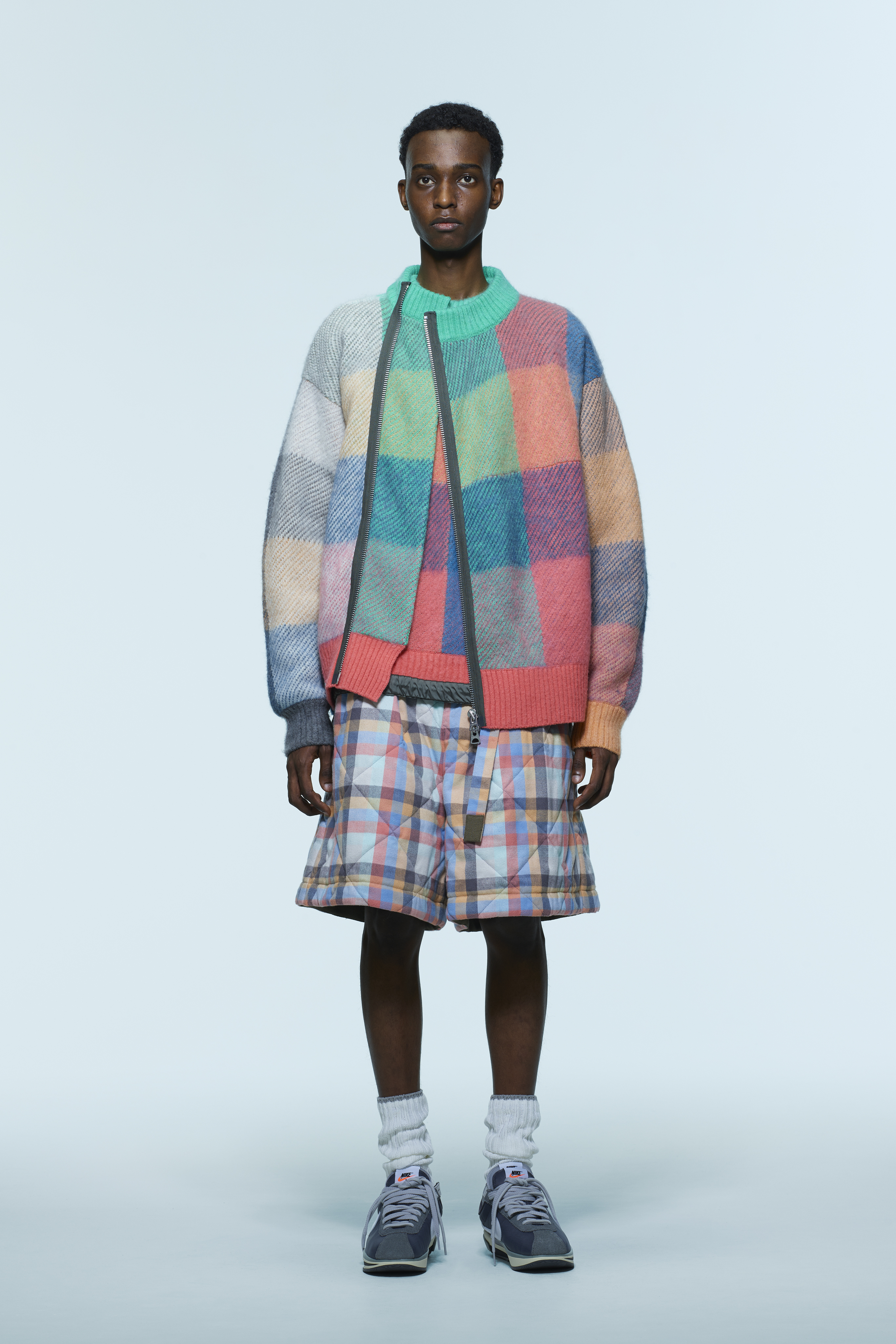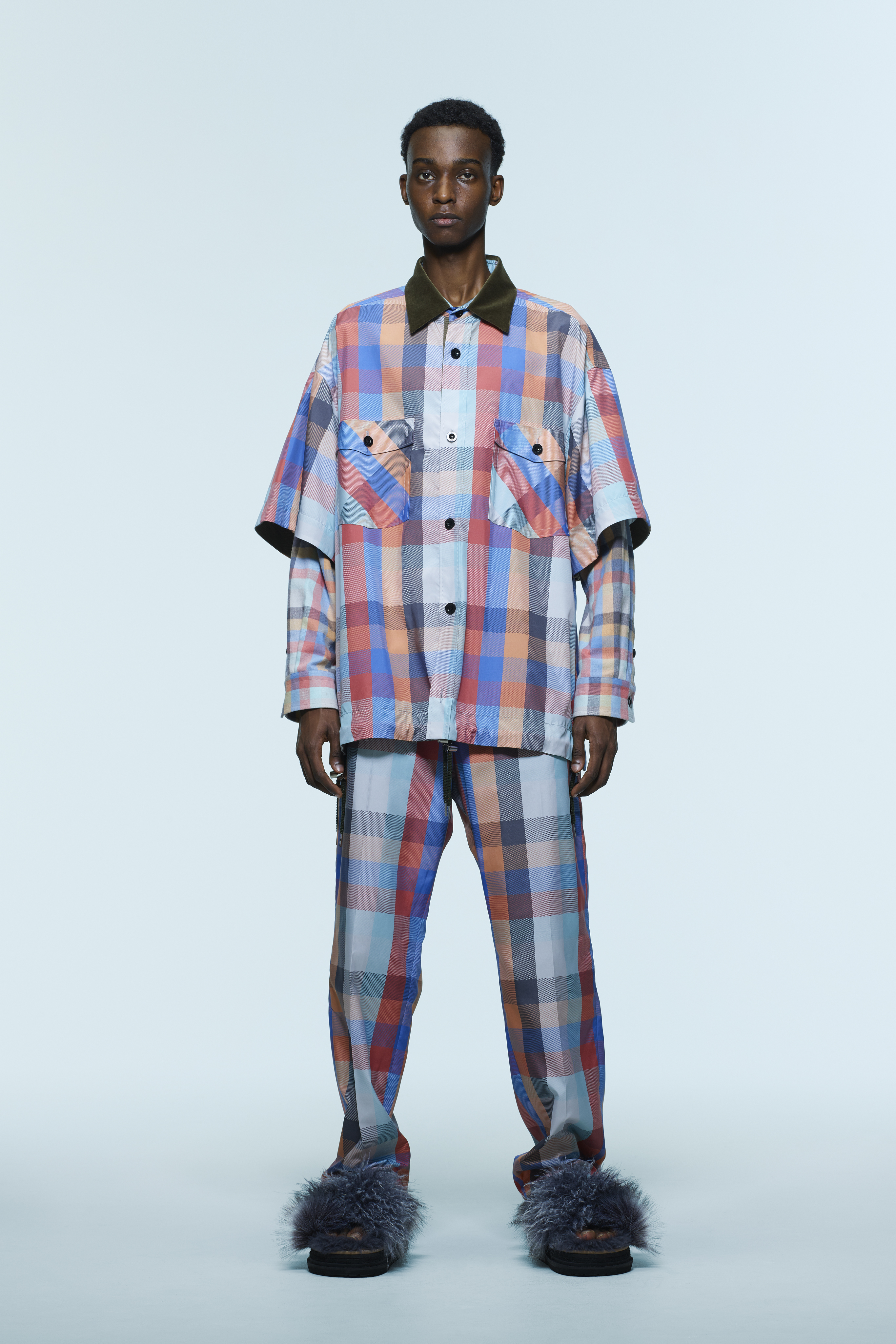 Ambush
Fashion's obsession with technology is of course well documented, but this season, it feels like designers are leaning full tilt into the digiverse. While have created collections that comment on, or even rally against, fashion's headlong tumble into the matrix, others have harnessed the power of tech – Ambush's Yoon Ahn among them. For the preface to her AW22 collection (the main course will be presented on the runway during Milan Fashion Week), the Tokyo-based designer has created a collection that explores the intersection of nature and technology. Featuring mercurial knits that change colour when hit by the sun's rays, coats that only reveal logos when caught in a downpour, and feather-light hulking down jackets created by injection (we're not quite sure what this means either, but the end result is enough to win us over!), this is a collection that proves the power of the results you get when tech and nature combine.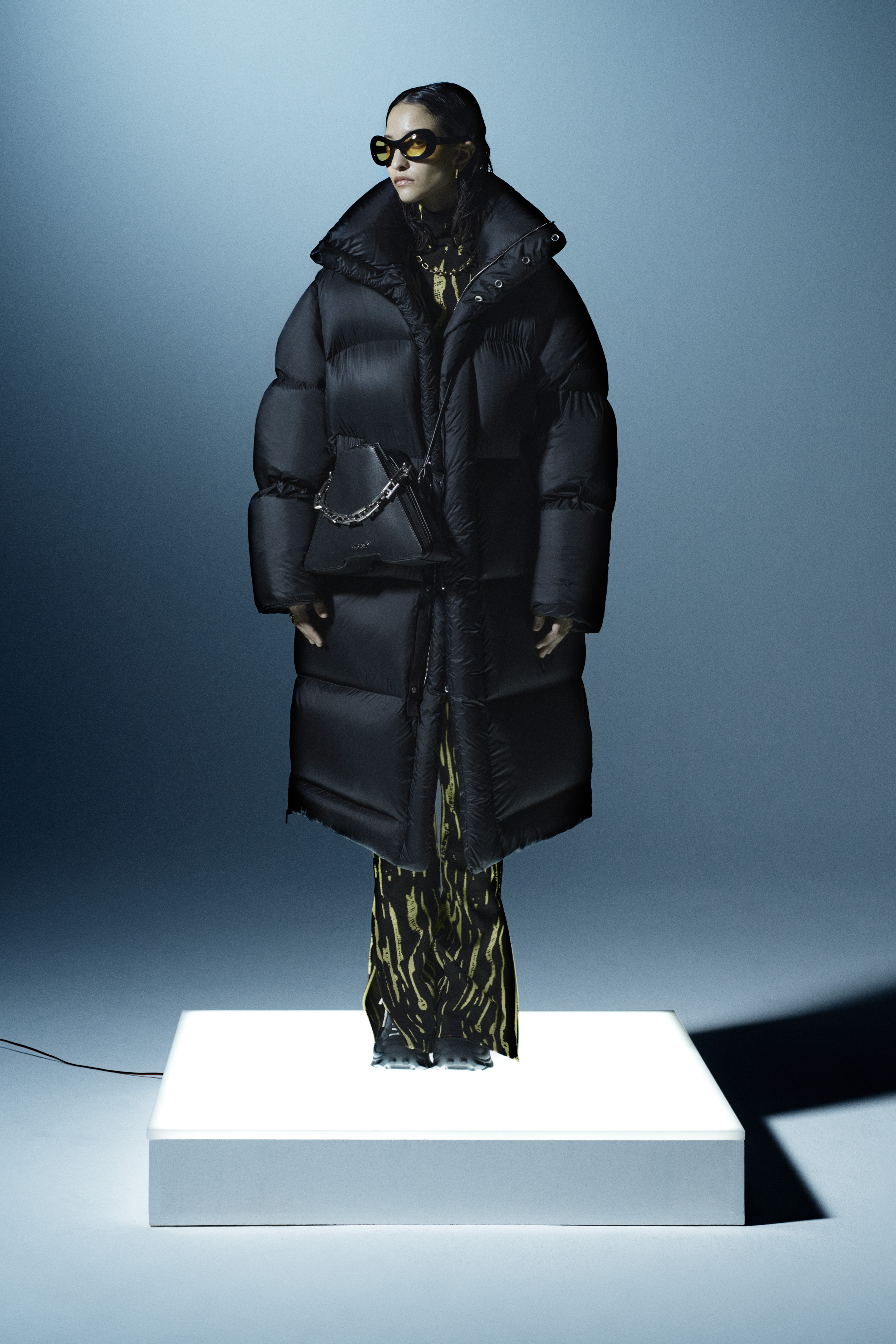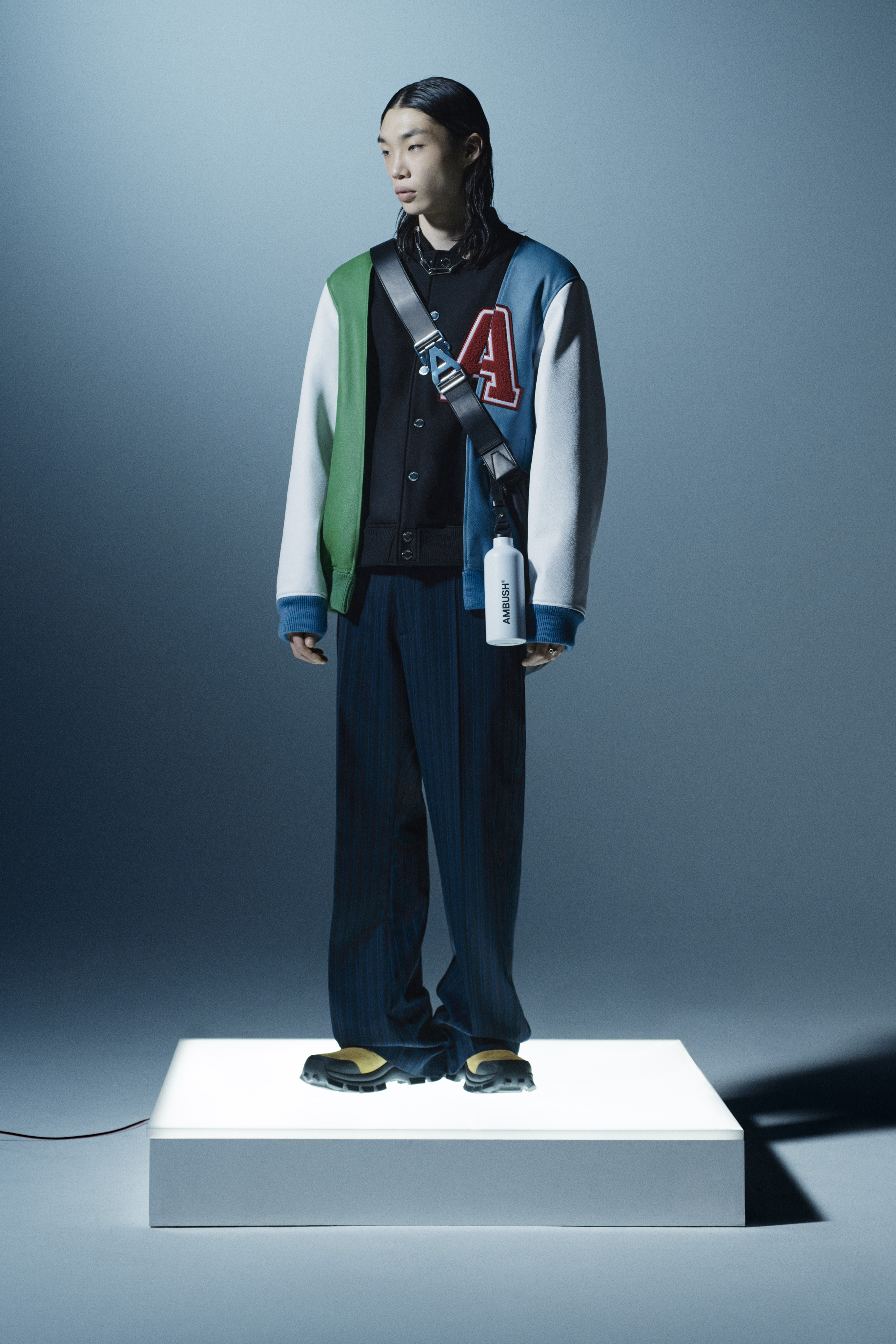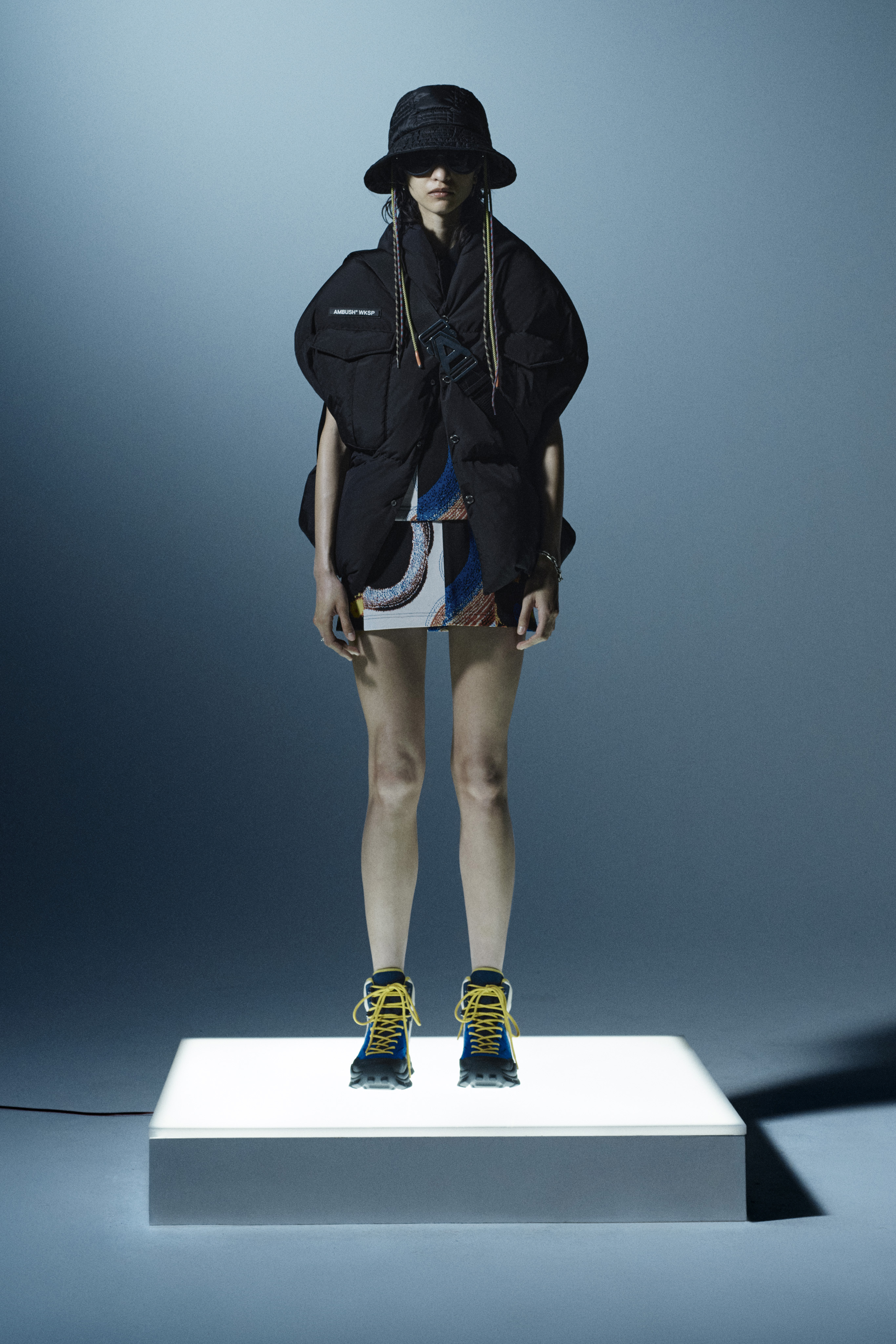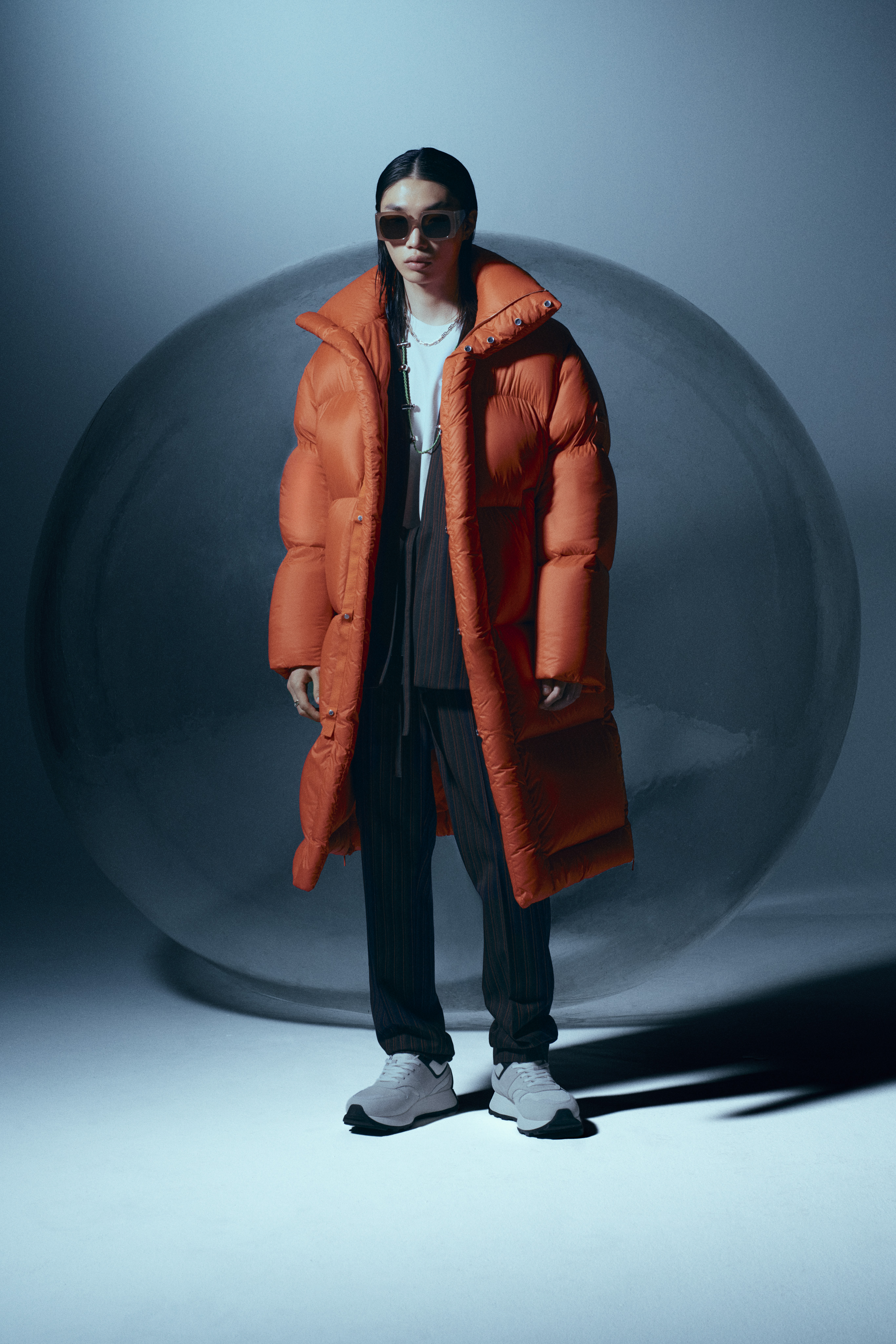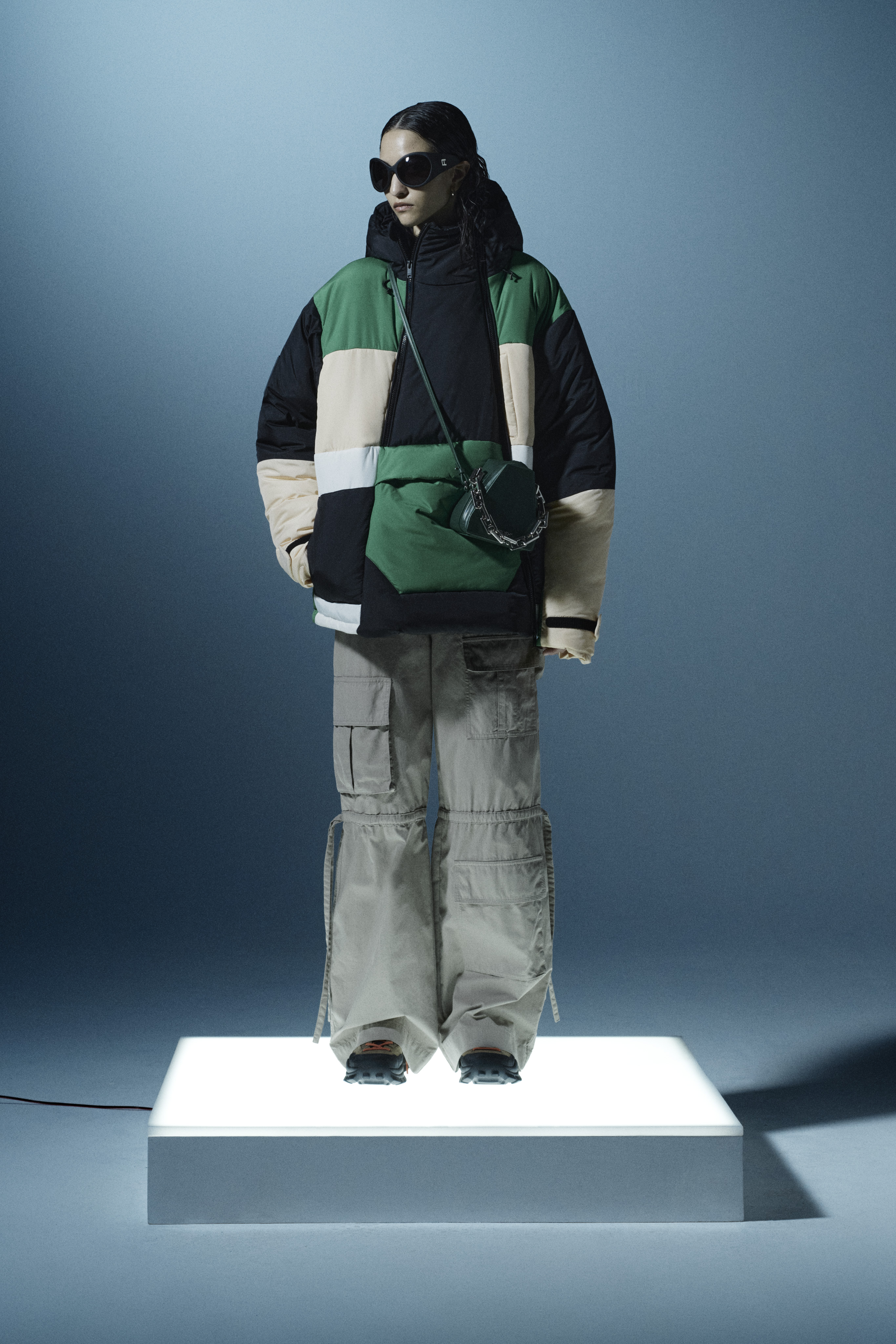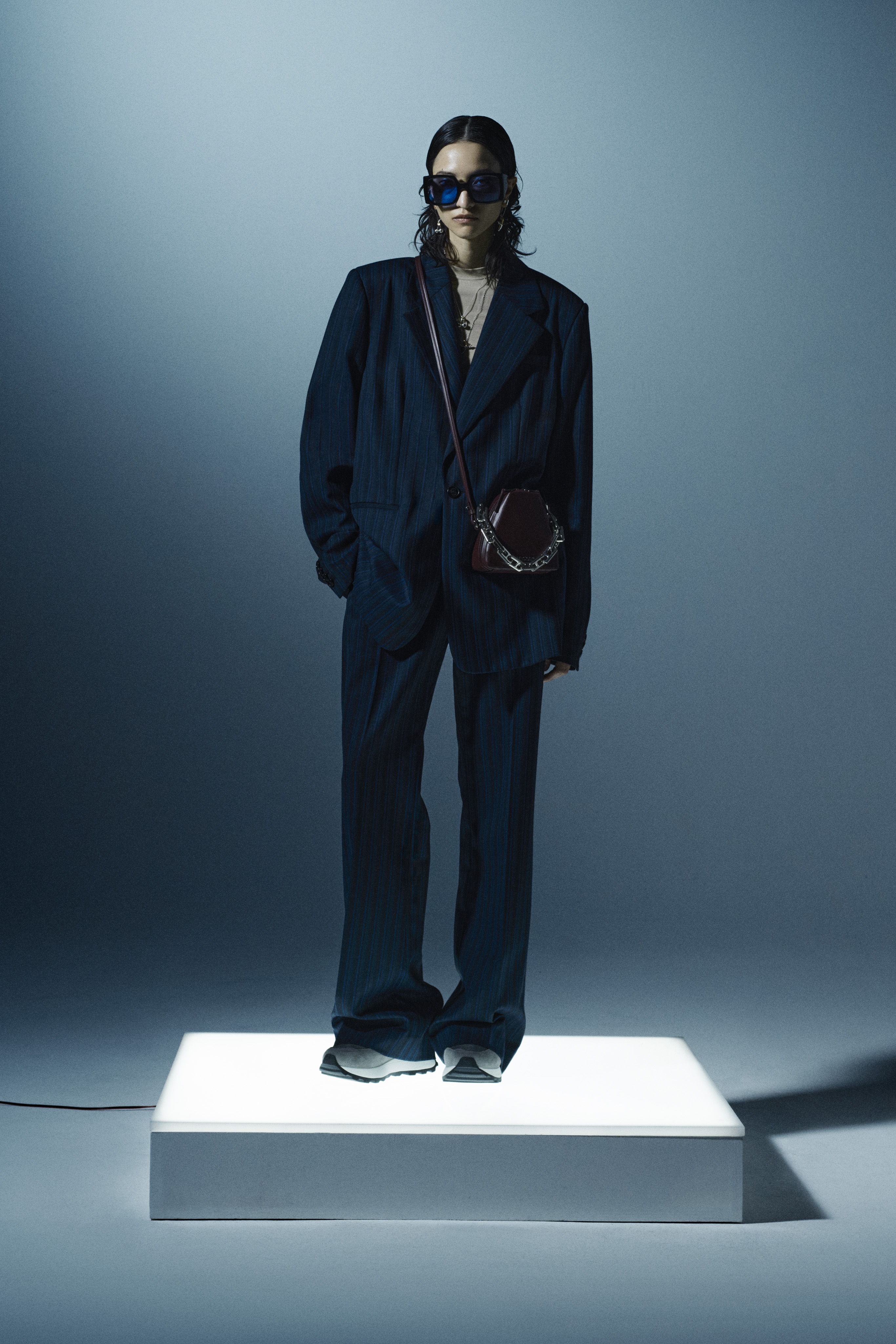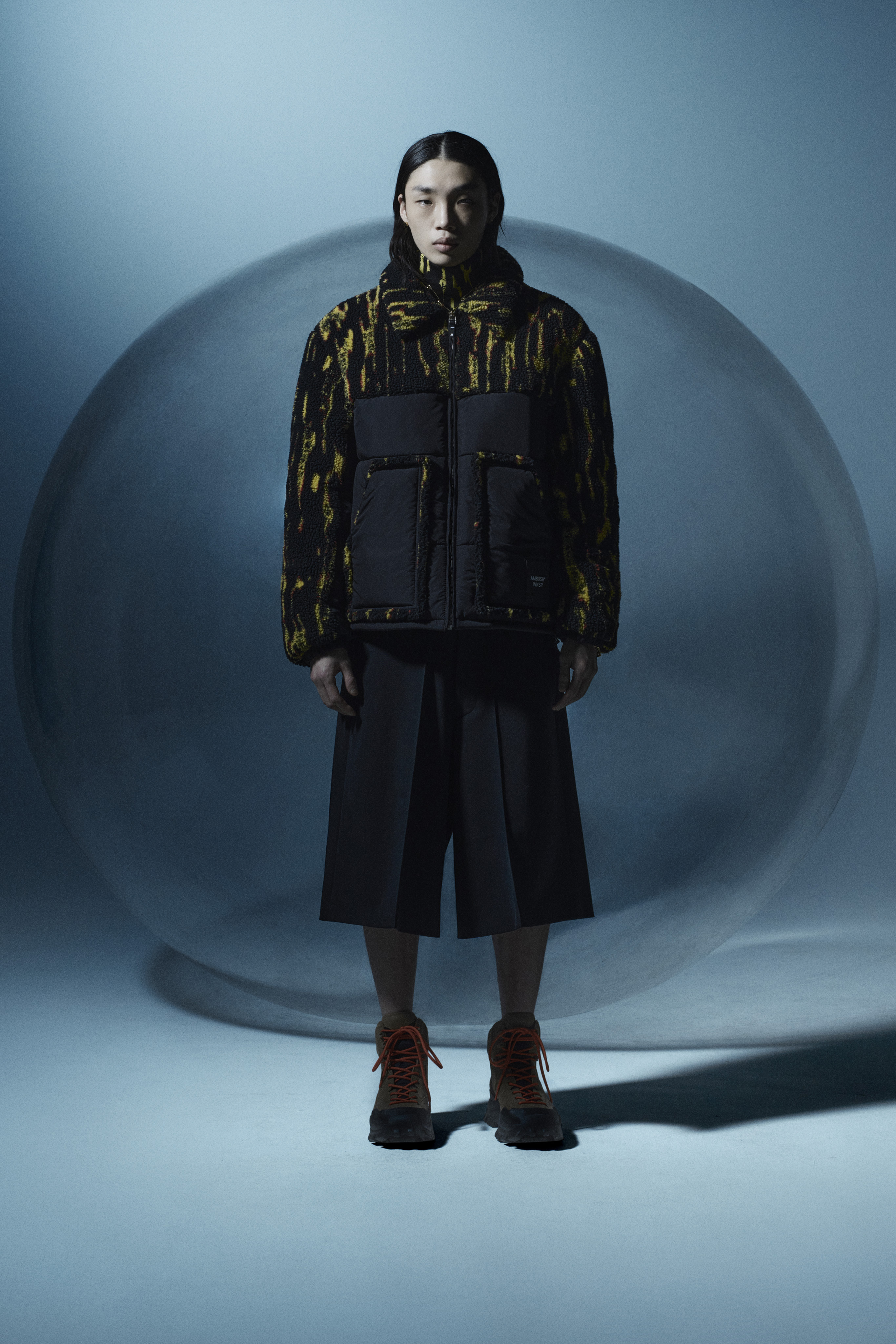 Kenzo
If there's one debut that the fashion world was especially pumped for this season was of course Nigo's debut at Kenzo, a show that saw the vision of one the most revered names in streetwear ascend to the heights of an LVMH-owned house. Staged in the Galerie Vivienne, where Kenzo Takada opened his first Paris store just over 50 years ago, it brought out one of the ritziest crowds we've seen at the shows this season, with everyone from Pharrell to Tyler, The Creator to Ye & Julia all turning up for the occasion. The hype was well warranted though, with Nigo presenting a collection that blended motifs as varied as all-American workwear, crisp English tailoring, grandad-y knits and a seen-on-the-streets freshness – "the 1950s seen through the lens of the 1980s – but shot in 2022," Pharrell told us ahead of the show. Want to know what that looks like? Head here to read our full review! MS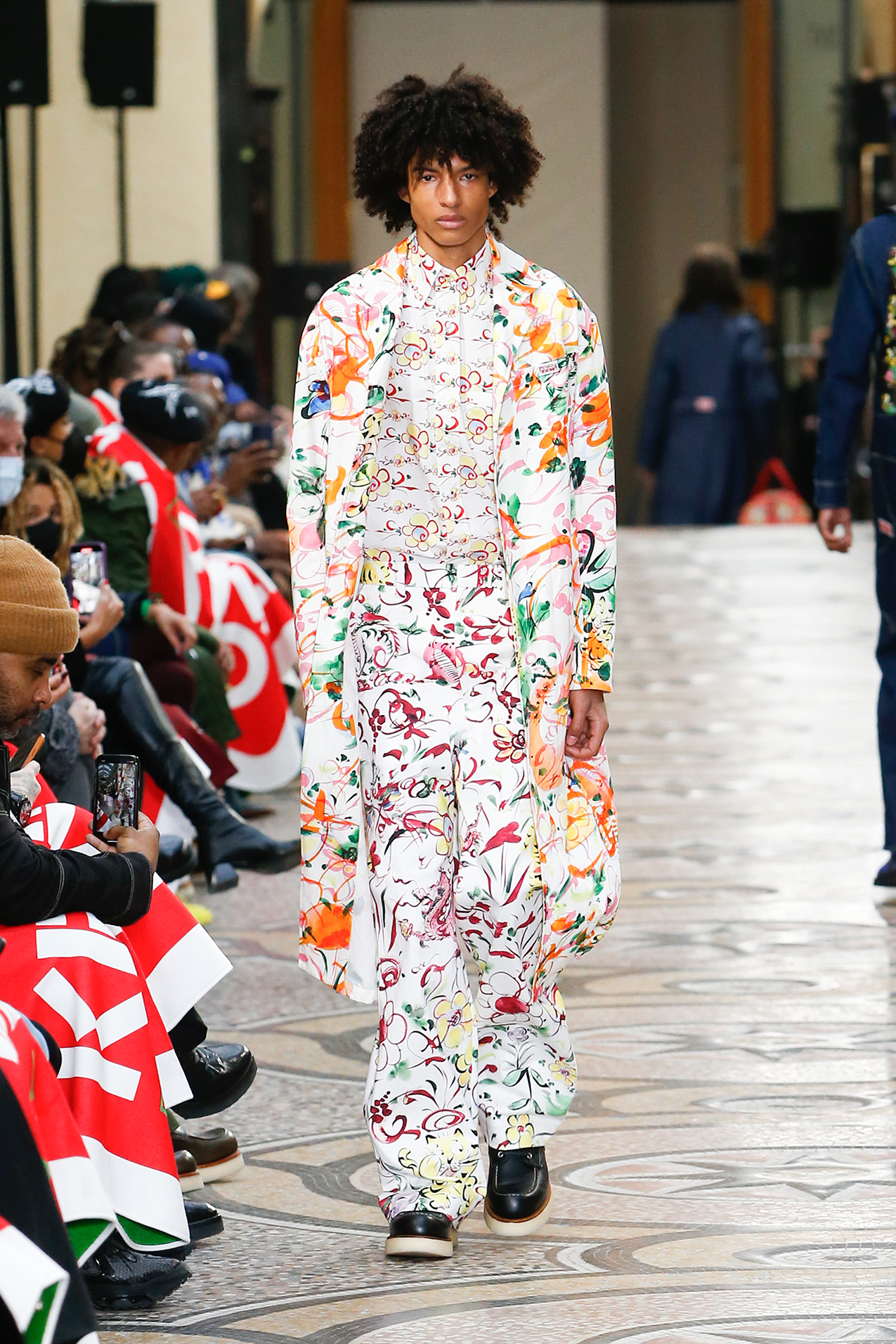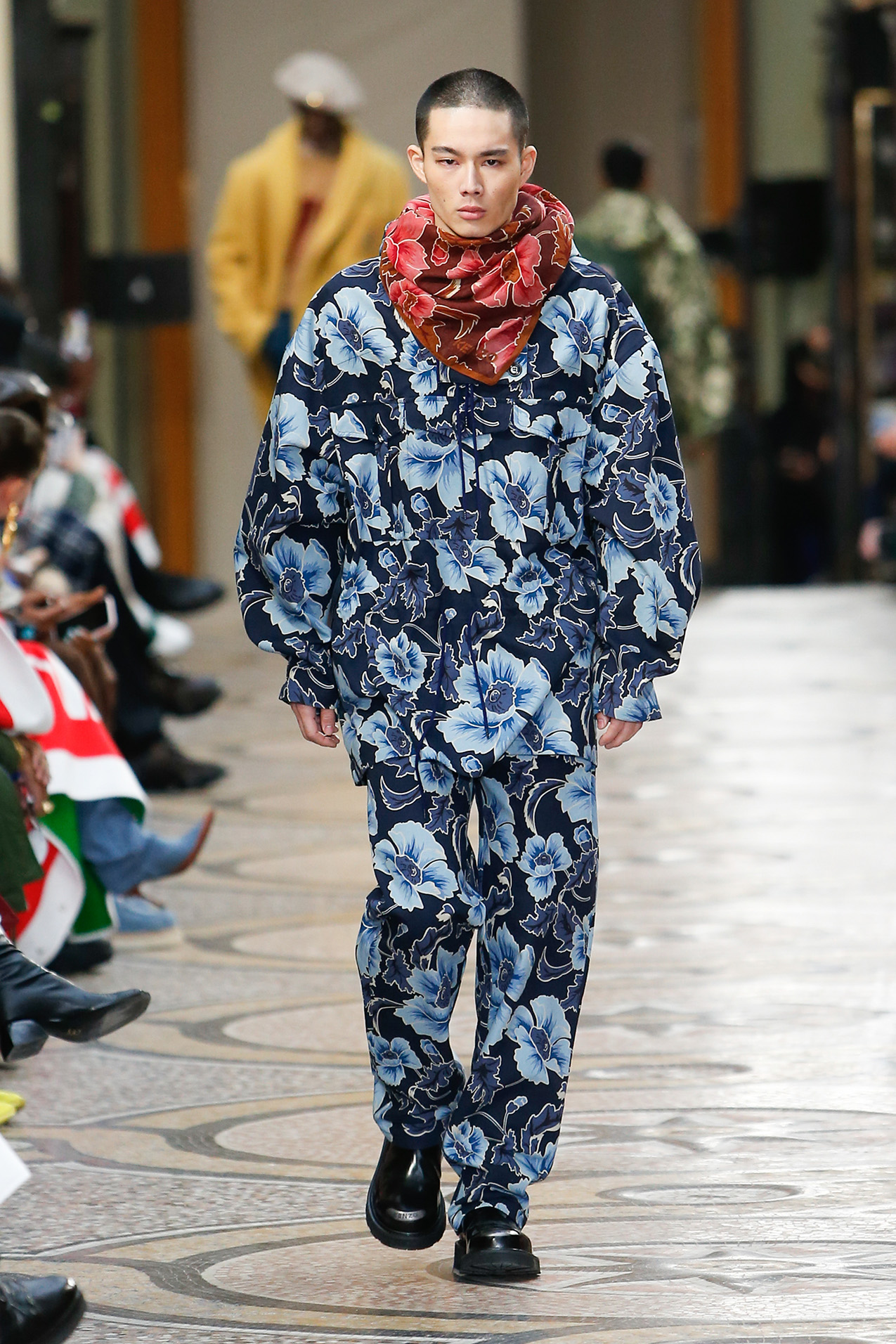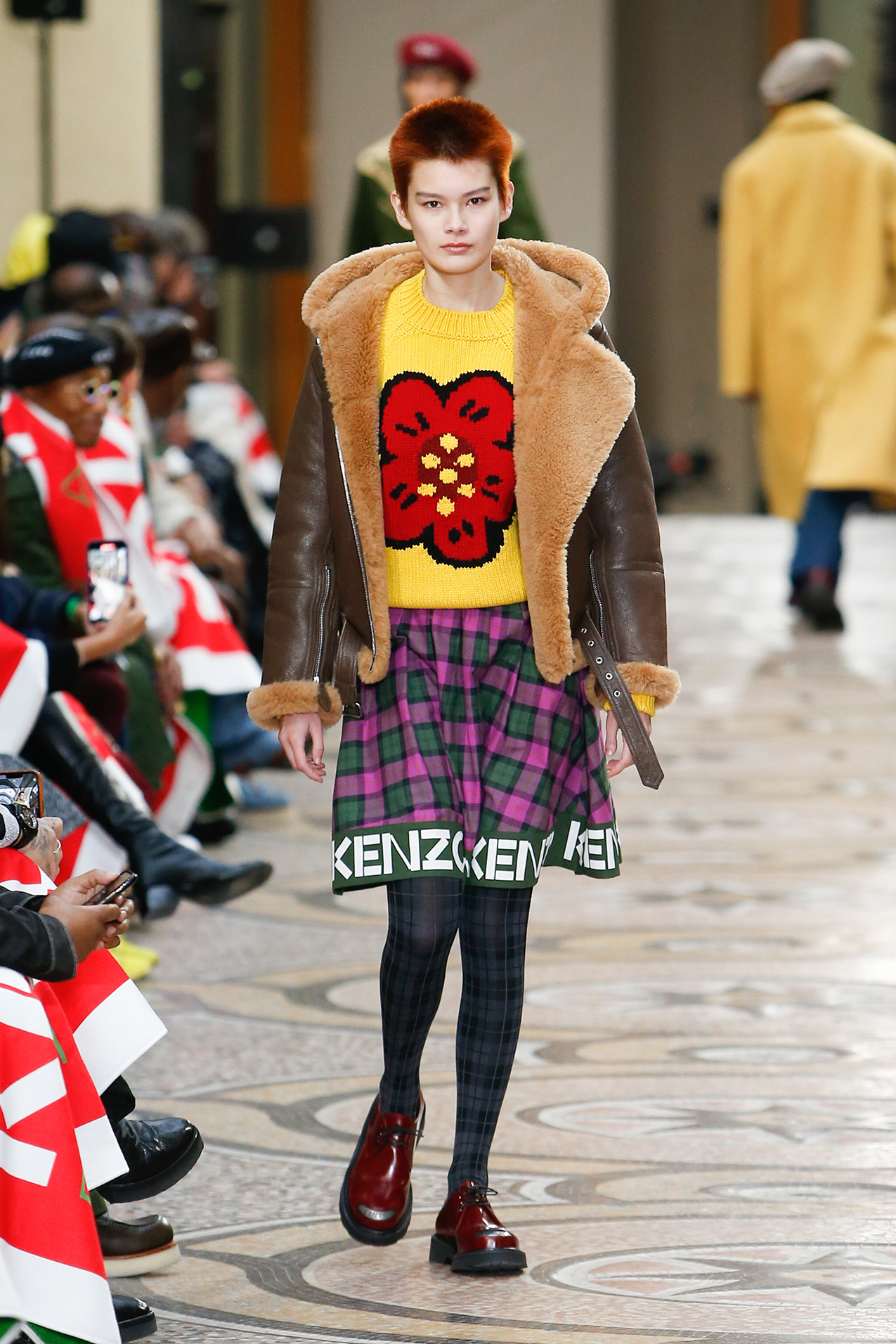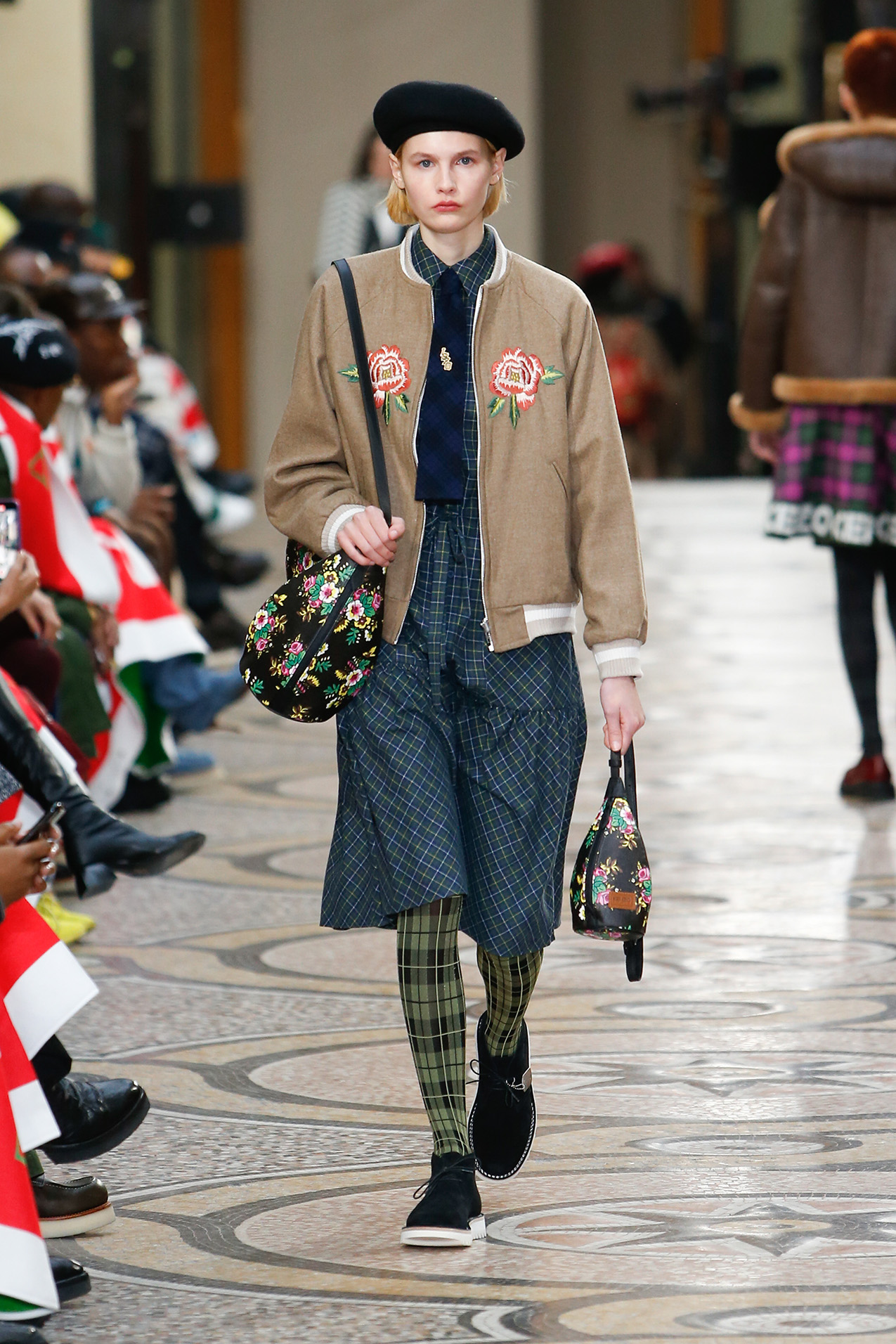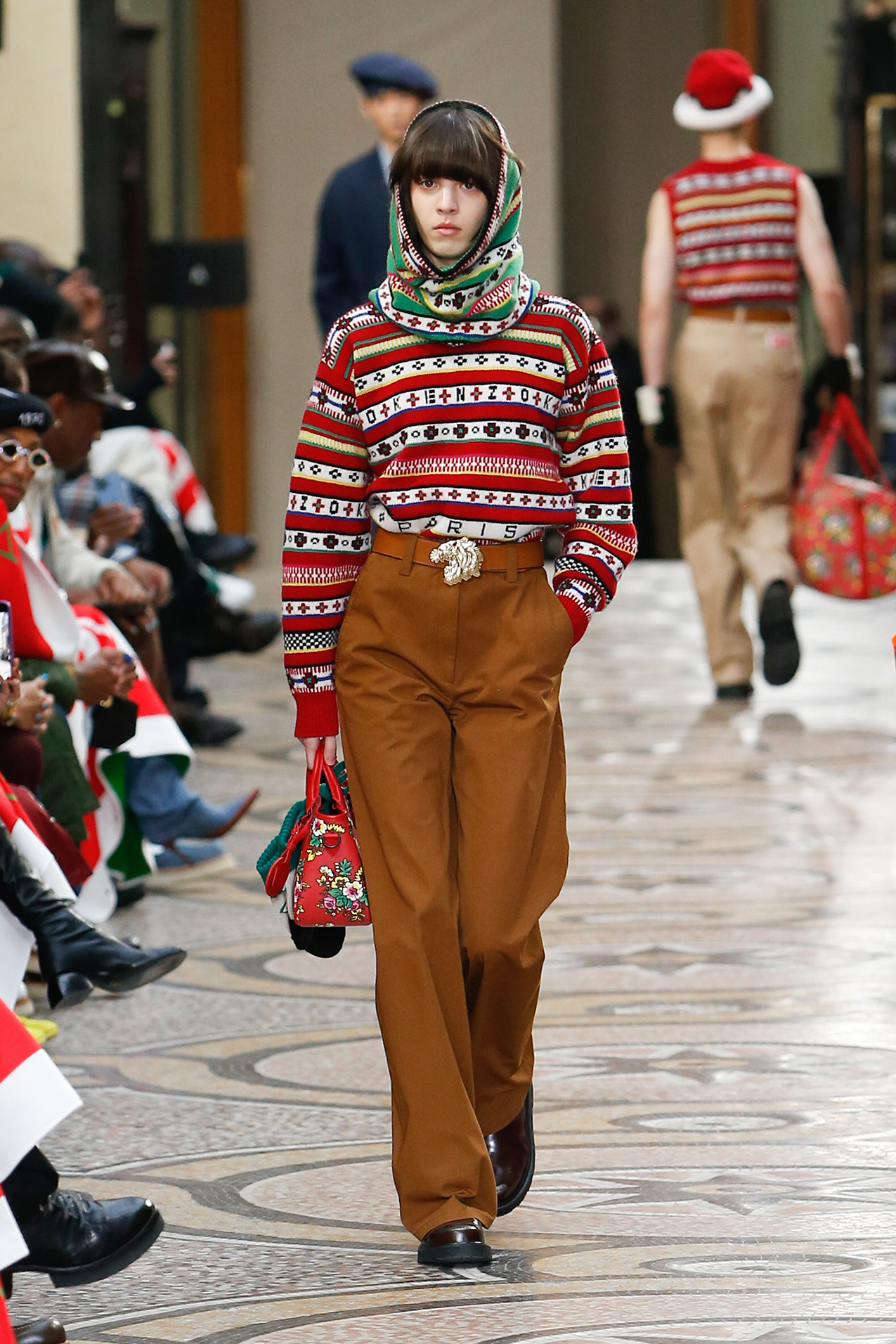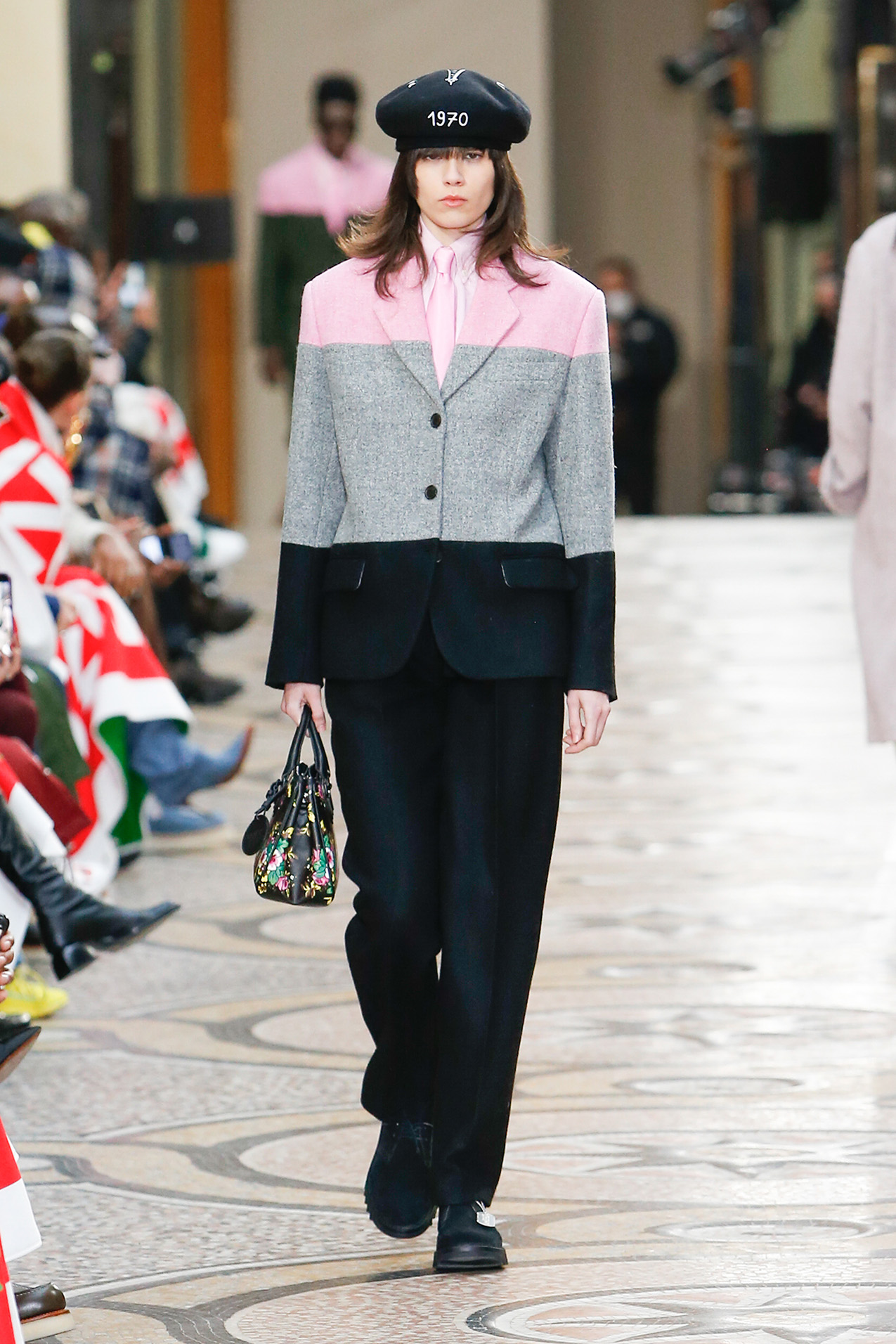 Loewe
"We're falling into the computer," Jonathan Andrson told us ahead of Loewe's AW22 menswear show. "We live in a world that is backlit, so we are heading to a world where clothing needs to compete with the non-reality." In an age in which it oftens feels as if fashion – and, well, life as we know it – is on a course for full integration with the metaverse, his latest collection for the Spanish luxury house offered a witty riposte to life lived online. Instead he brought the uncanniness of the digiverse to life – Sleeves were fitted with LEDs and shaggy coats sparkled with LED-lights, while models wore T-shirts printed with reverse images of their own faces, or even bodysuits printed with shrunken versions of their own likenesses. There were also plenty of pieces that exhibited the sort of craftsmanship you can only really appreciate IRL – translucent leather coats, fuzzy chenille wool vest, sumptuous shearling coats and the like. Eccentric as they may seem, when faced with the choice of wearing these clothes on the streets or on Web 3.0, we know which one we're choosing! Head here for our full review. MS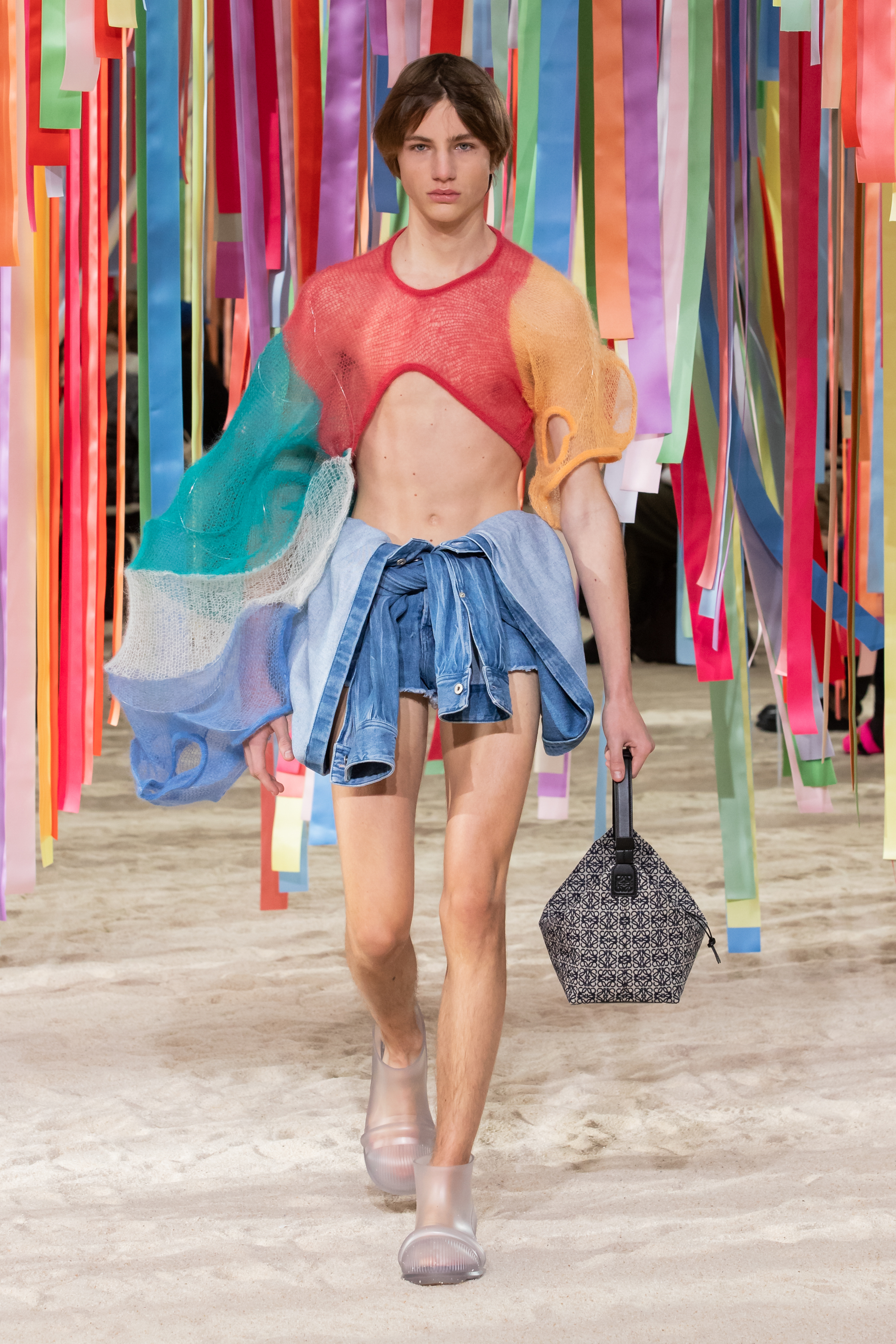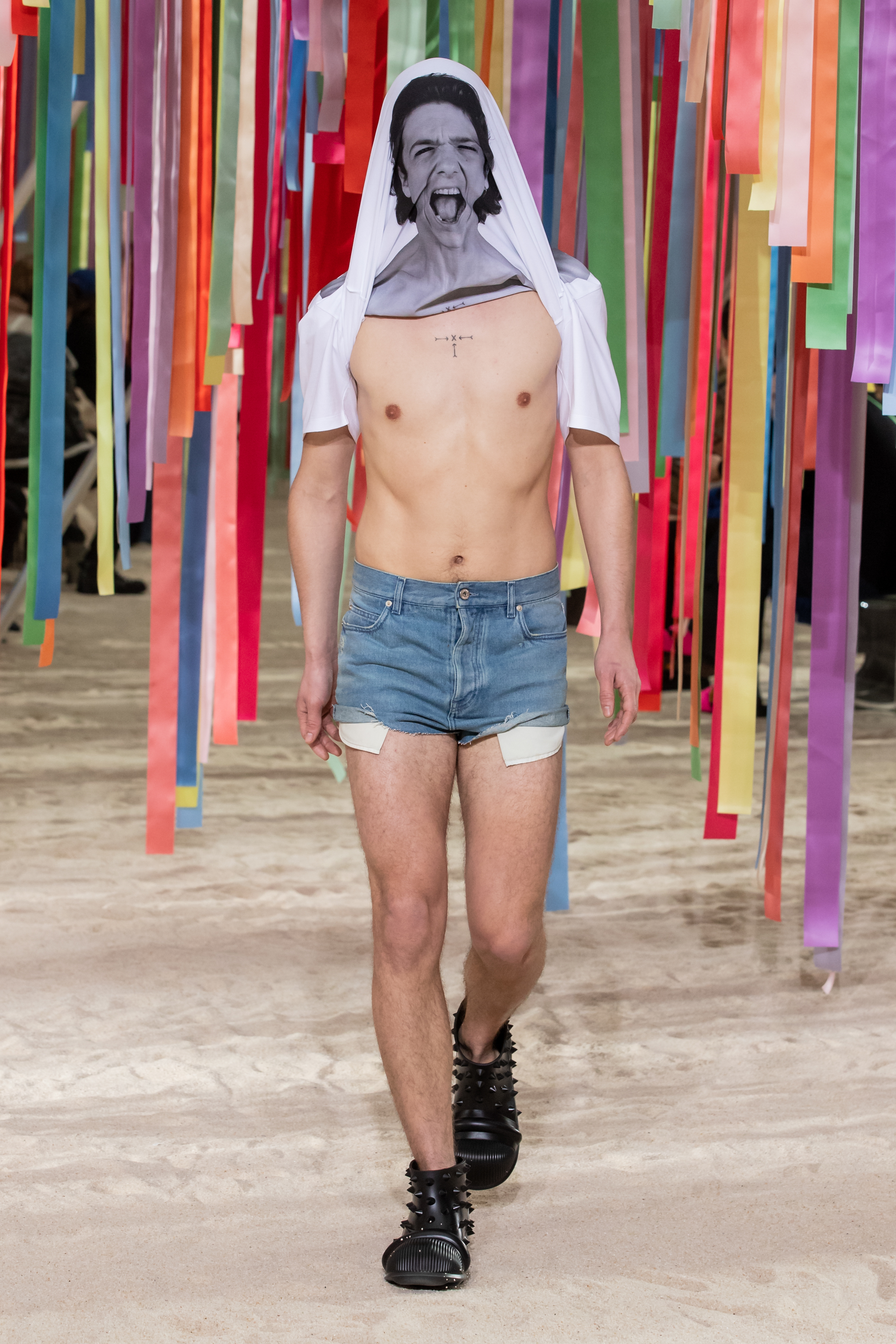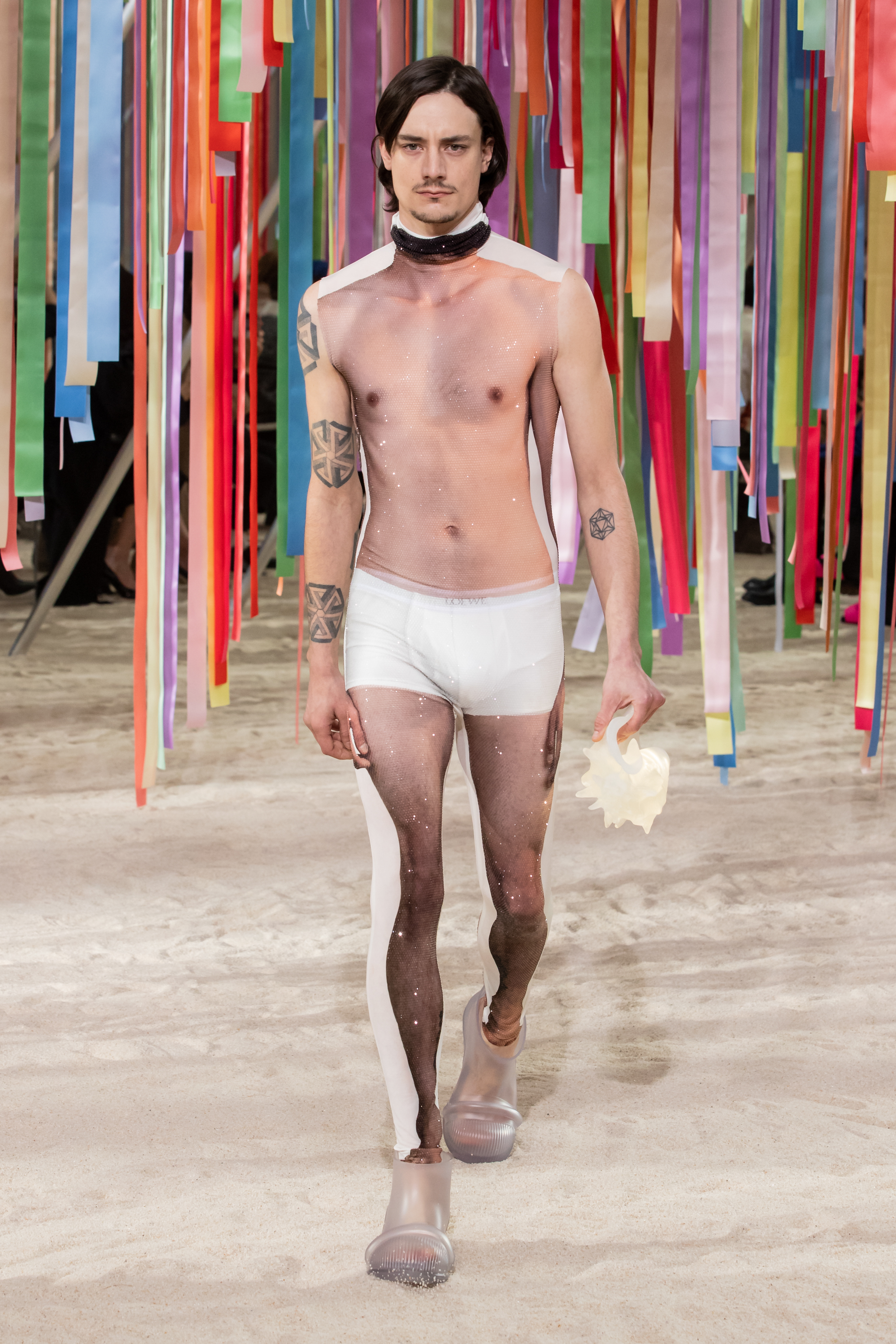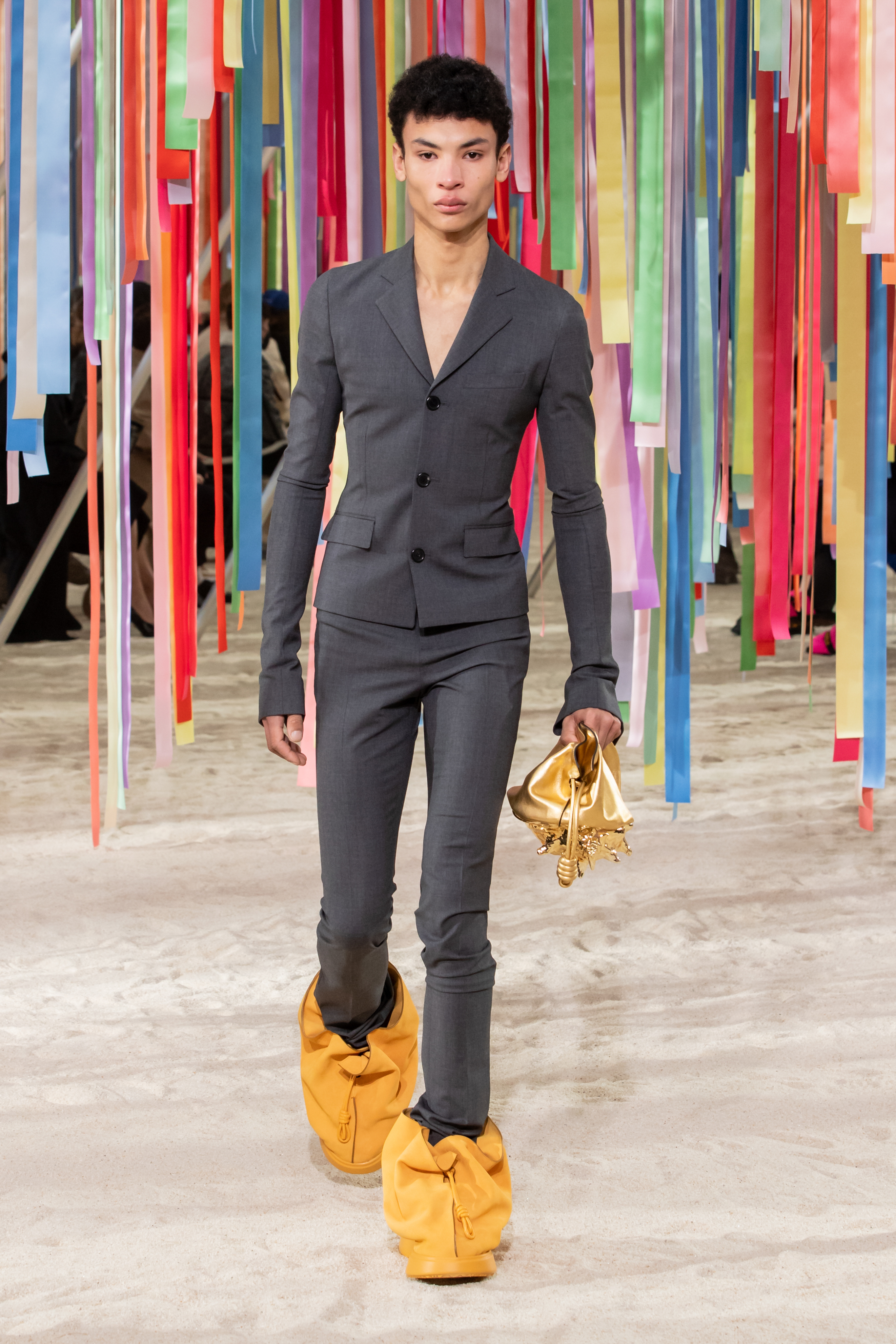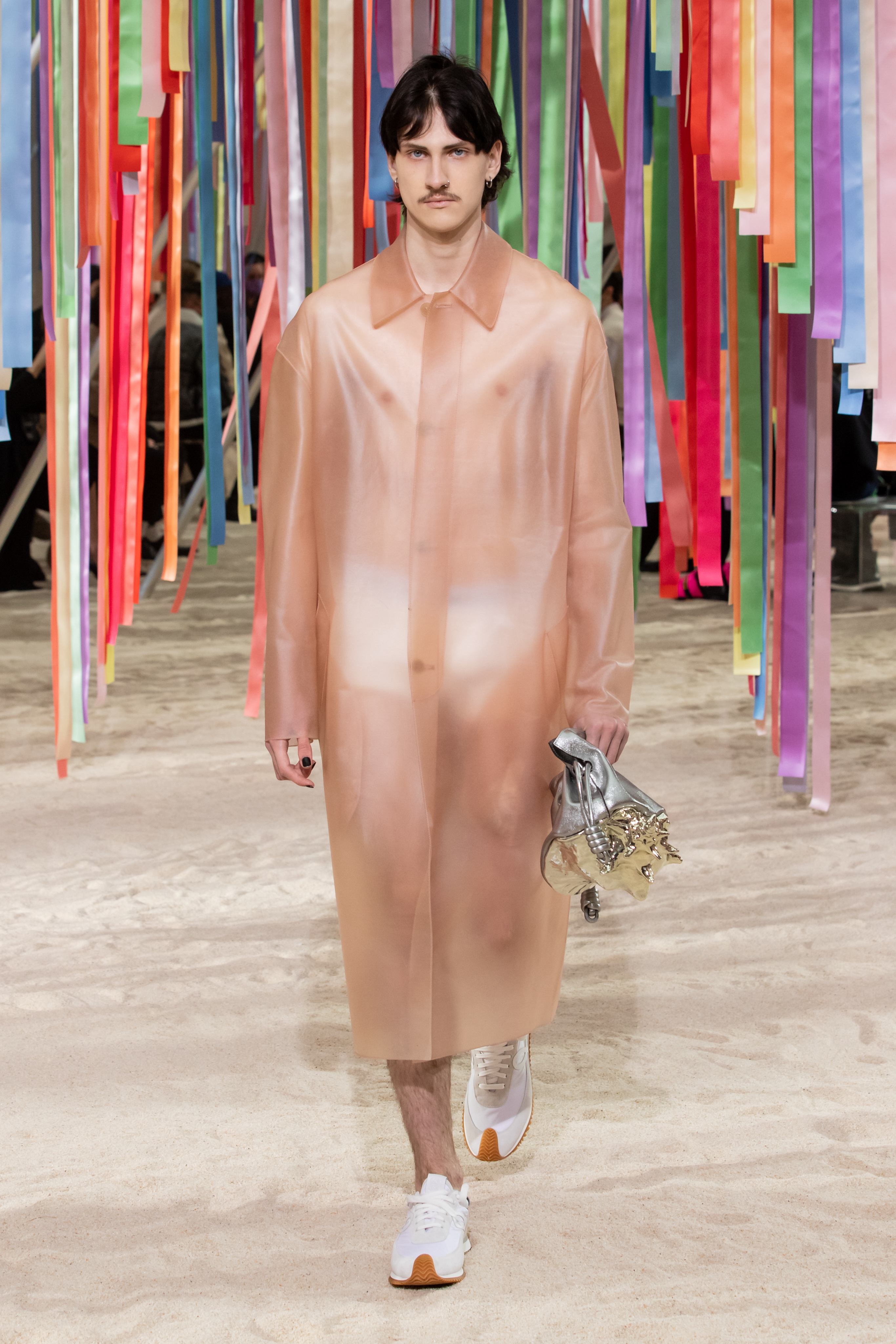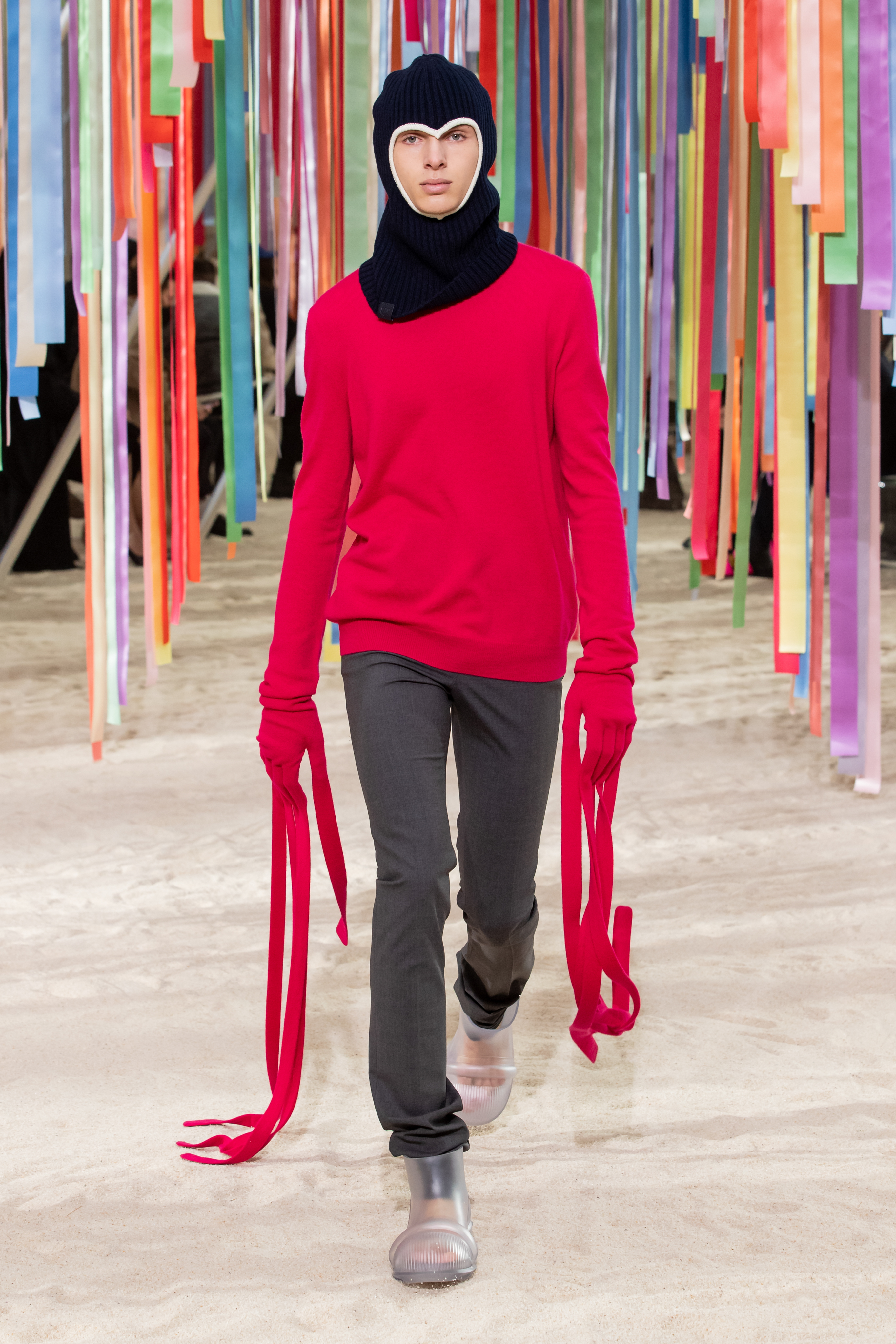 Hermès
For true sybarites, there is nothing more deliciously salivating than an Hermès show. Even before it begins, the civilised air of the space sets the tone for collections that are the blueprint of stealth-wealth. Never vulgar or faddish, simply elegant and exquisitely made. This season, Véronique Nichanian toyed with the idea of a more youthful — dare we say, edgier — spirit of the Hermès man, all beautiful leather jackets, alligator bucket hats and Oasis-style parka coats, albeit with stratospheric levels of craftsmanship and texture (obvs). She also continued her partnership with Cyril Teste, who helped set the stage for Hermès' menswear shows throughout the digital presentations of previous seasons. For the second IRL show, they displayed the Mobilier National's collection of tapestries, showing large-screened sections of them, alongside the originals. How prescient: IRL v URL! That was sort of the paradox at the heart of the collection, too: crispier, harder materials like high-shine croc, patent leather and technical water-repellent canvases were juxtaposed with the tactile warmth of silk chenille, silk-cashmere and shaggy Tuscan shearling. In other words, a tale of two textures that define our everyday lives at the moment. If the collection made anything clear, it is that we needn't choose between both — an artful balance is something to behold, especially in the hands of Hermès. OA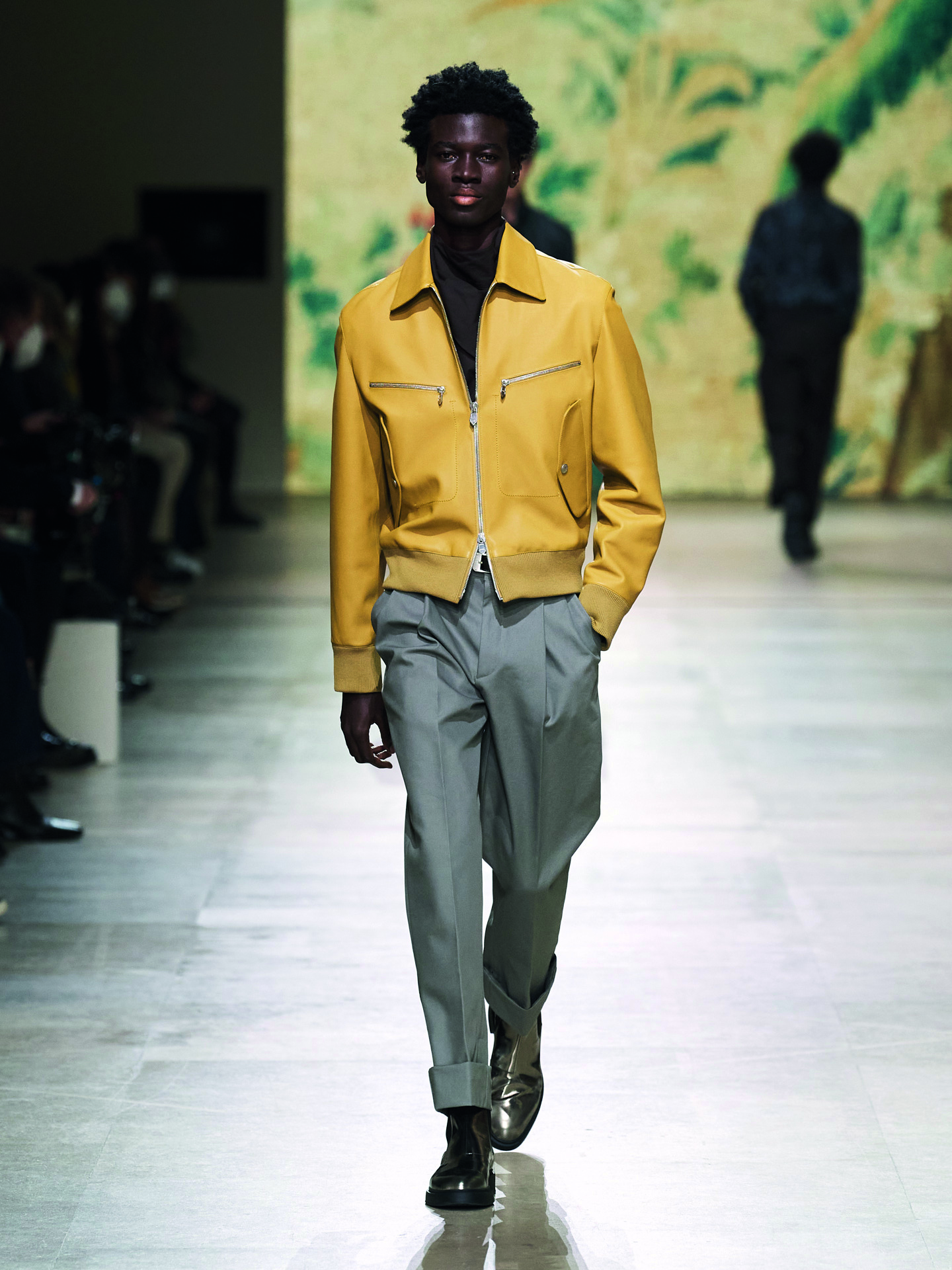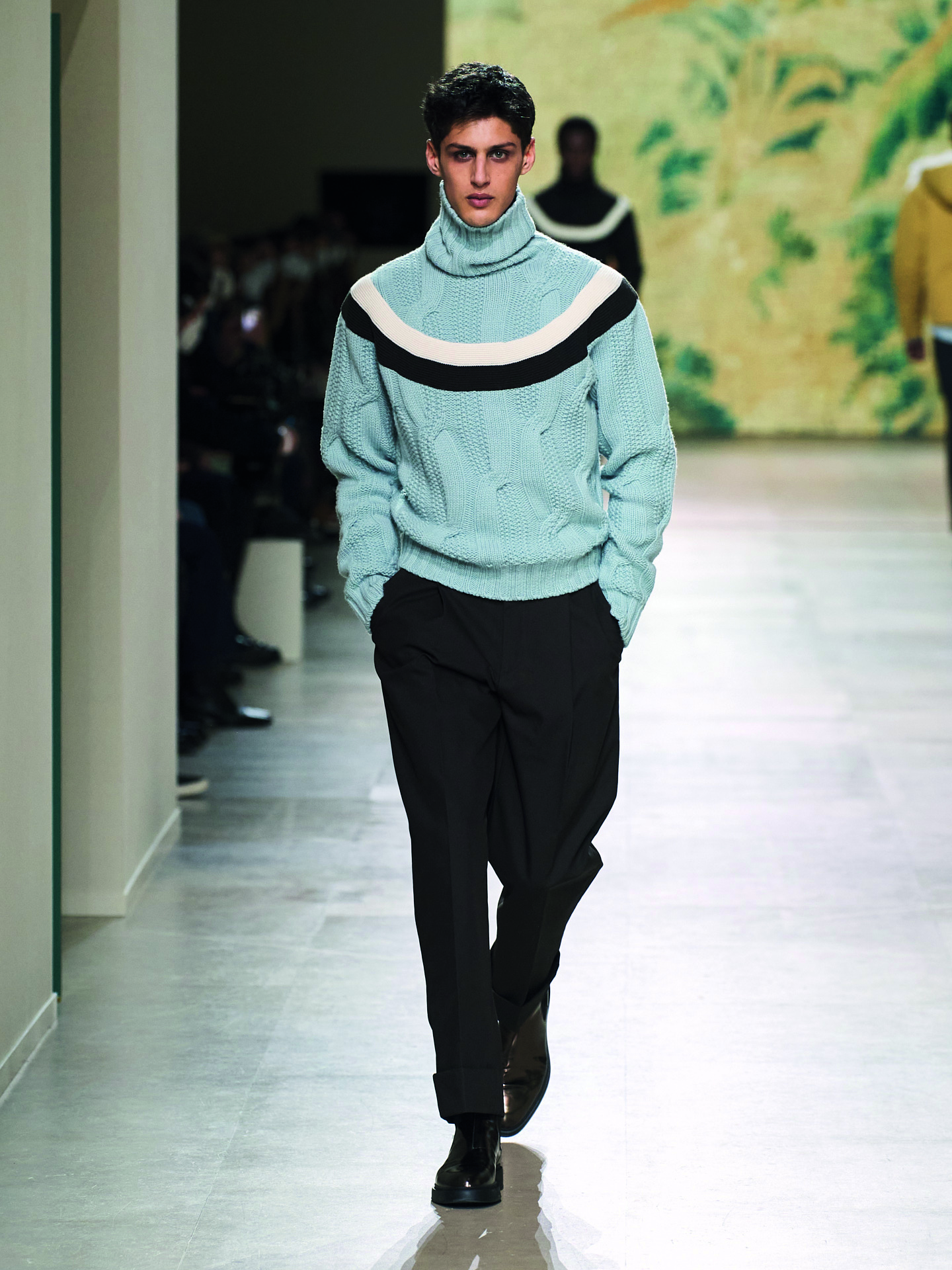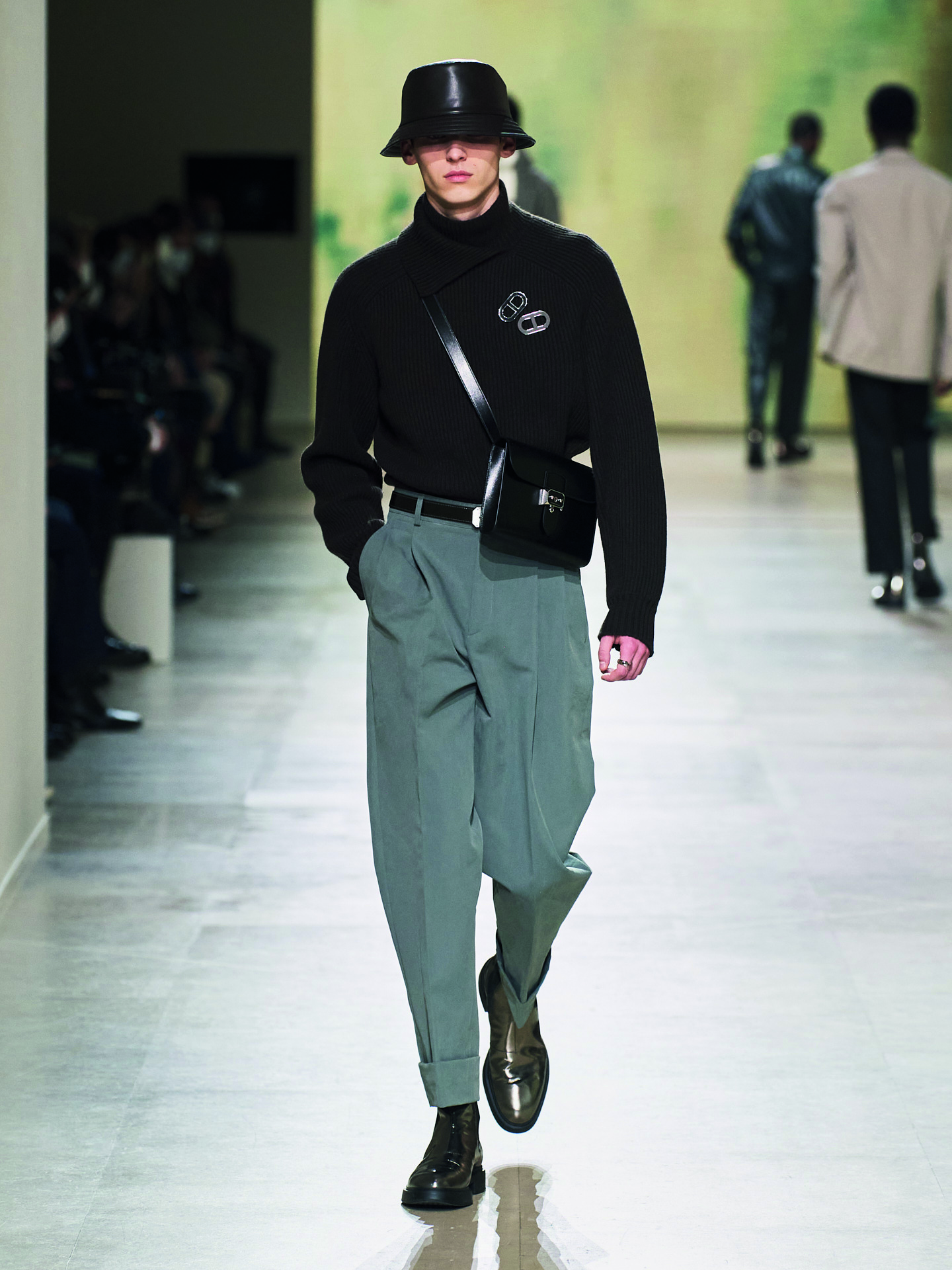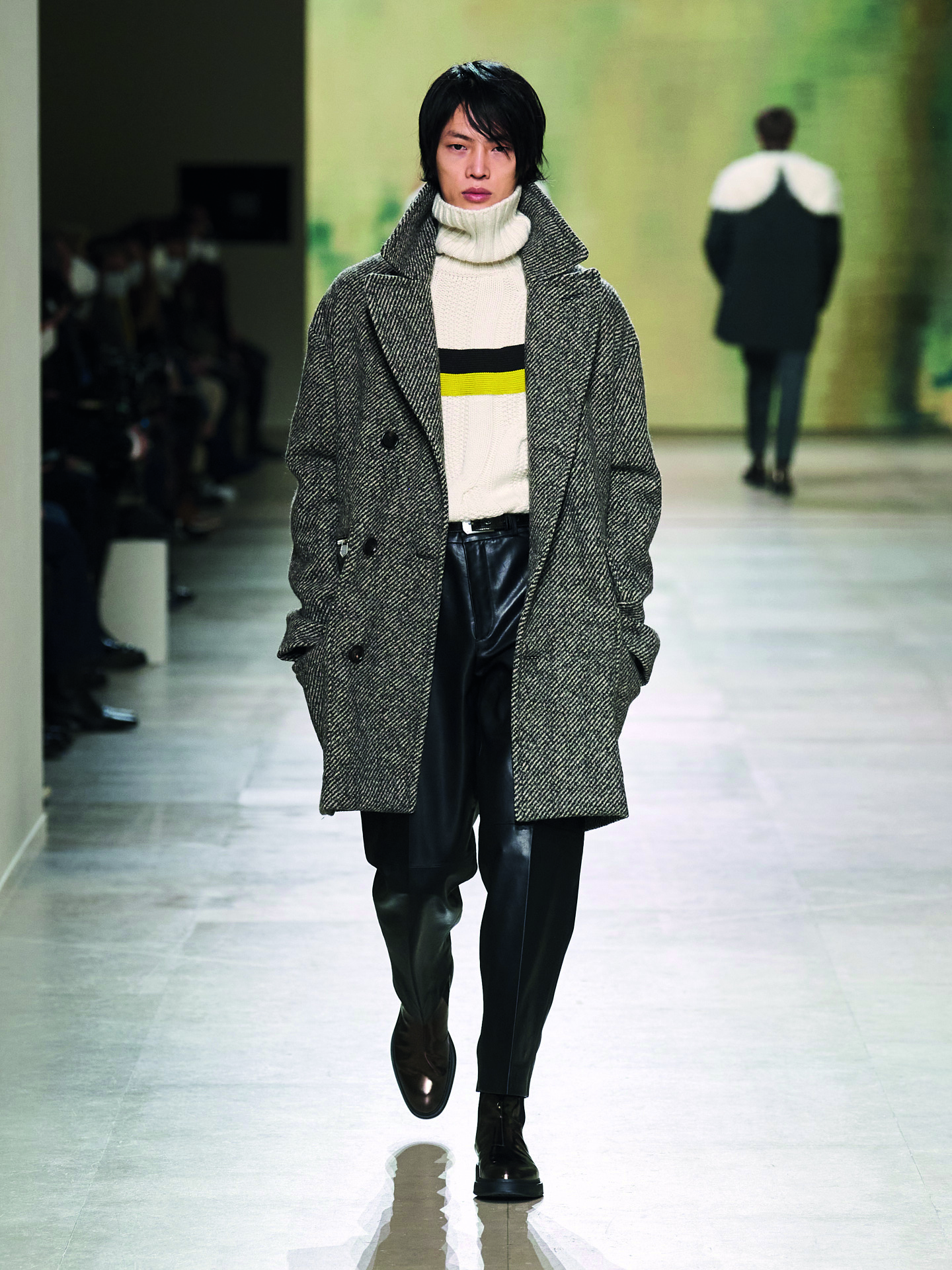 Jil Sander
In times as trying as these, a piece well worth investing in is a good coat – a one-piece suit of armour in wool, leather or suede that shields you from the harshness, and swaddles you as tight as a newborn. If you're after options, then look no further than Jil Sander, whose AW22 menswear collection was filled with immaculately cut outerwear – from wide-lapelled wrap coats in weighty striped tweeds to sharp, oversized blazers in dry Japanese wools and dusky suede macintoshes. They were worn with straight, narrow trousers cut from buttery nightshade calfskin and complemented by hard zigzag intarsia vests and the muffled comfort of shearling panels – texturally rich, deliciously luxe clothes, basically. Indeed, this a collection that was simple in its proposal, and immaculate in its execution. It was all "about us", read the show notes, Lucie and Luke Meier included. "They conceive their work as a means to give individuals the tools and freedom to be what they want to be; according to the way we enjoy, and need, to be perceived and to perceive ourselves." Well, in these clothes, that perception will be pretty damned fine. MS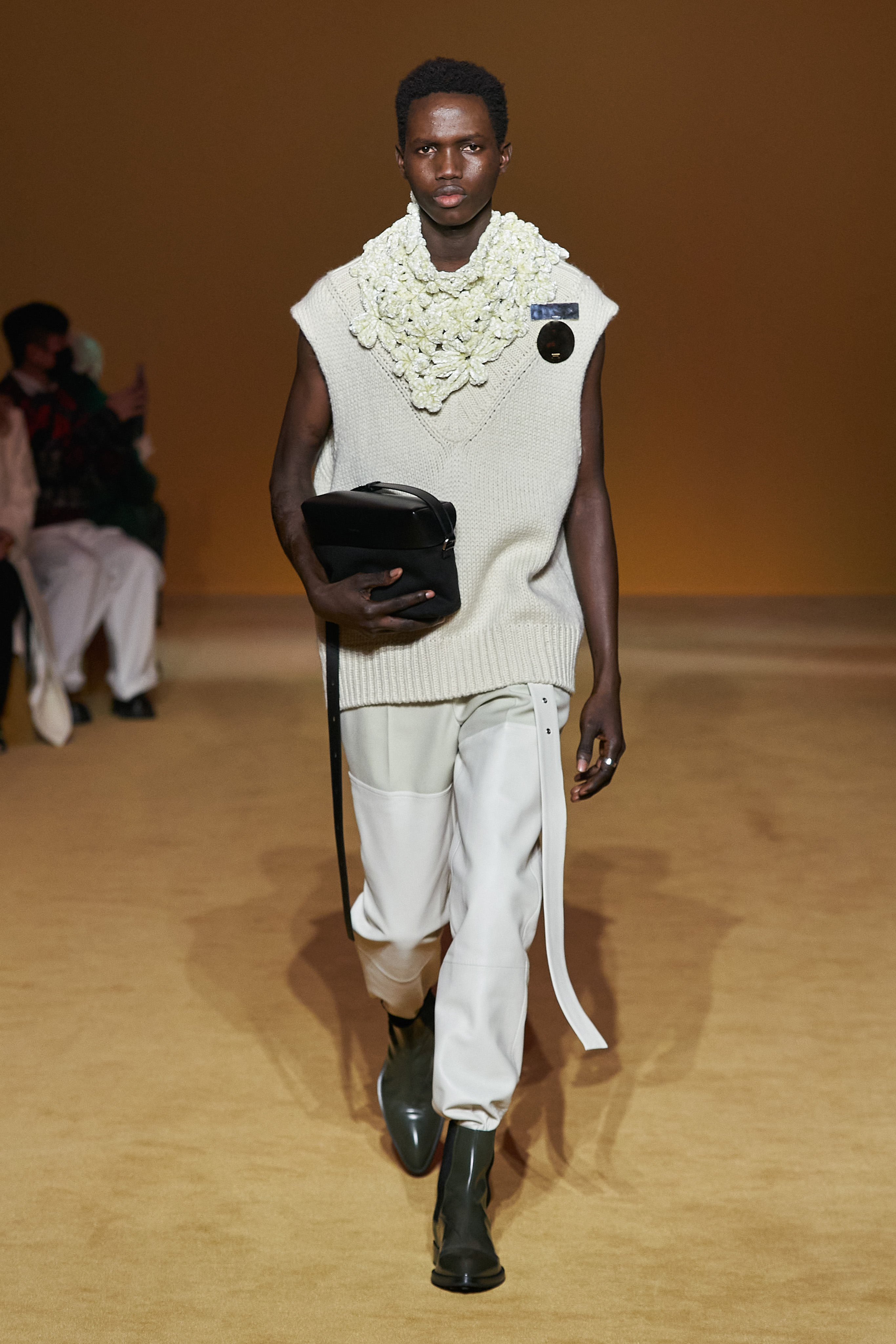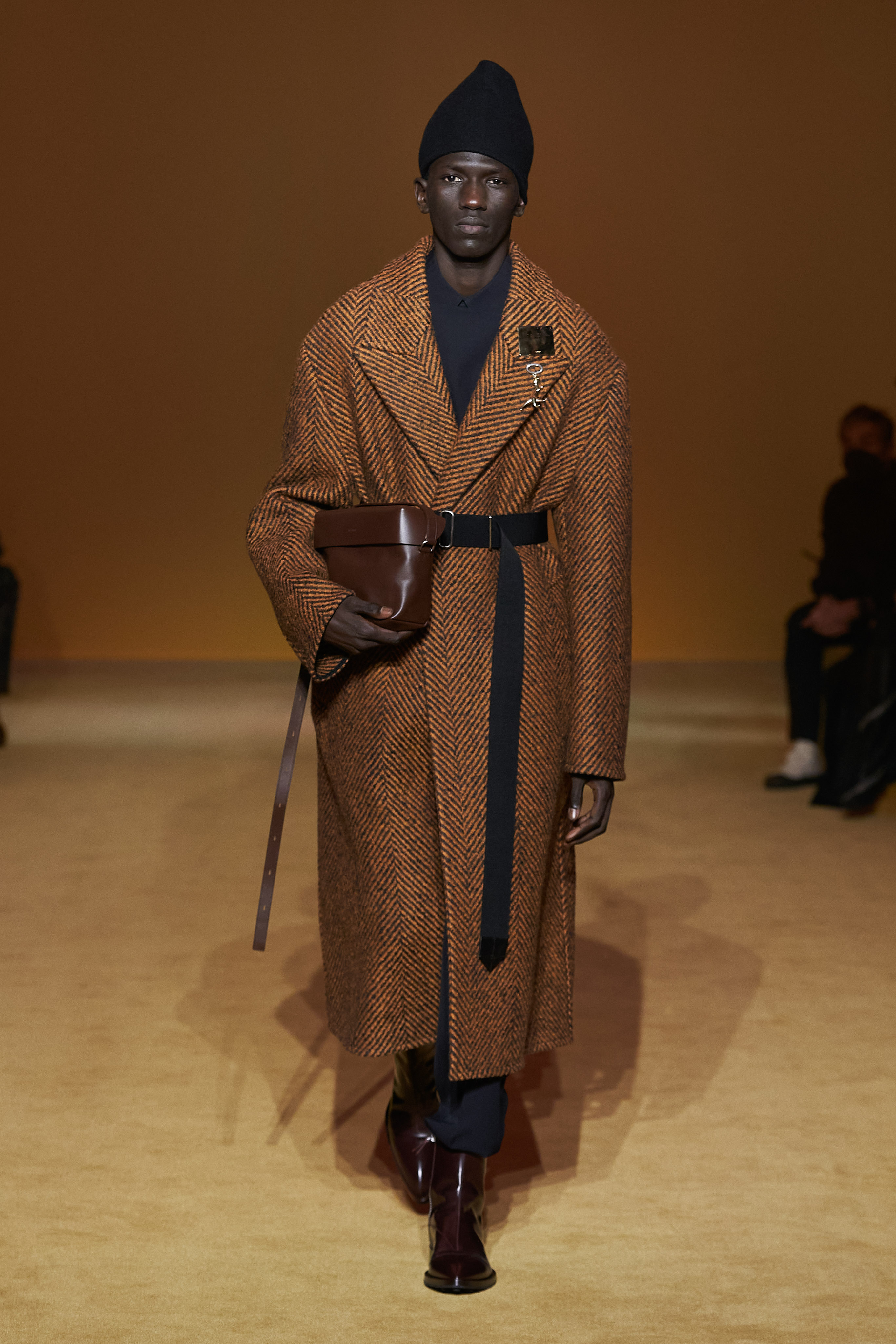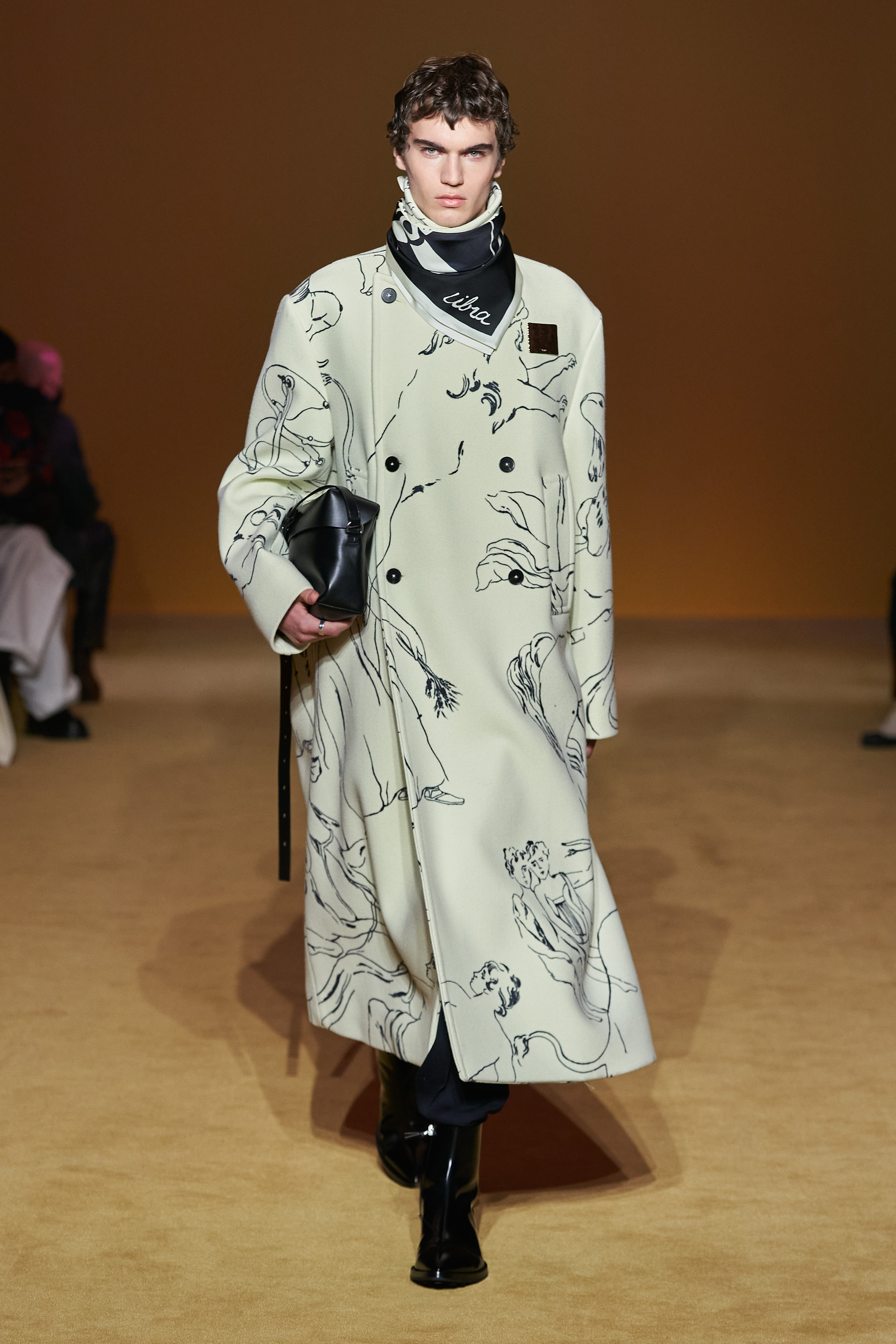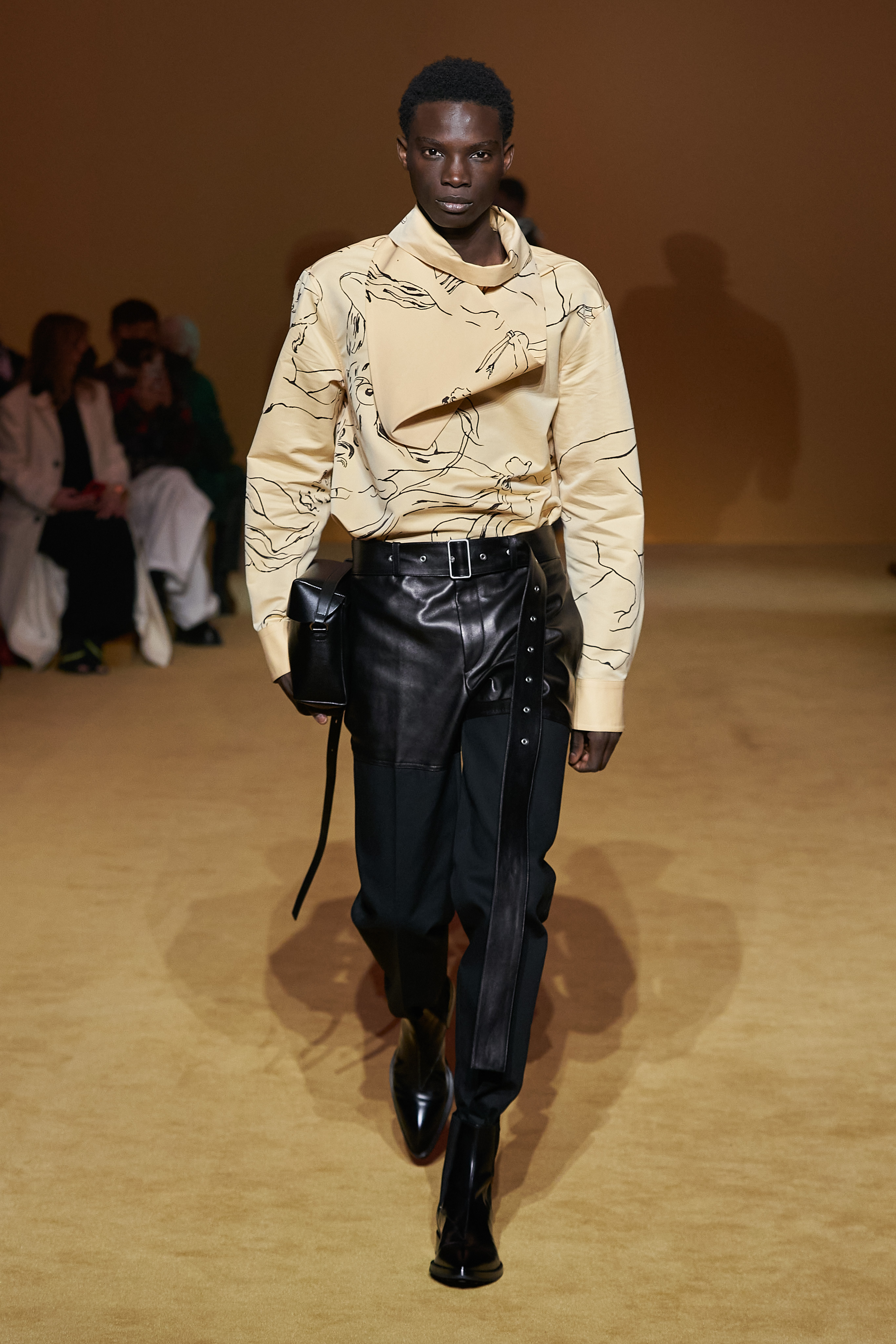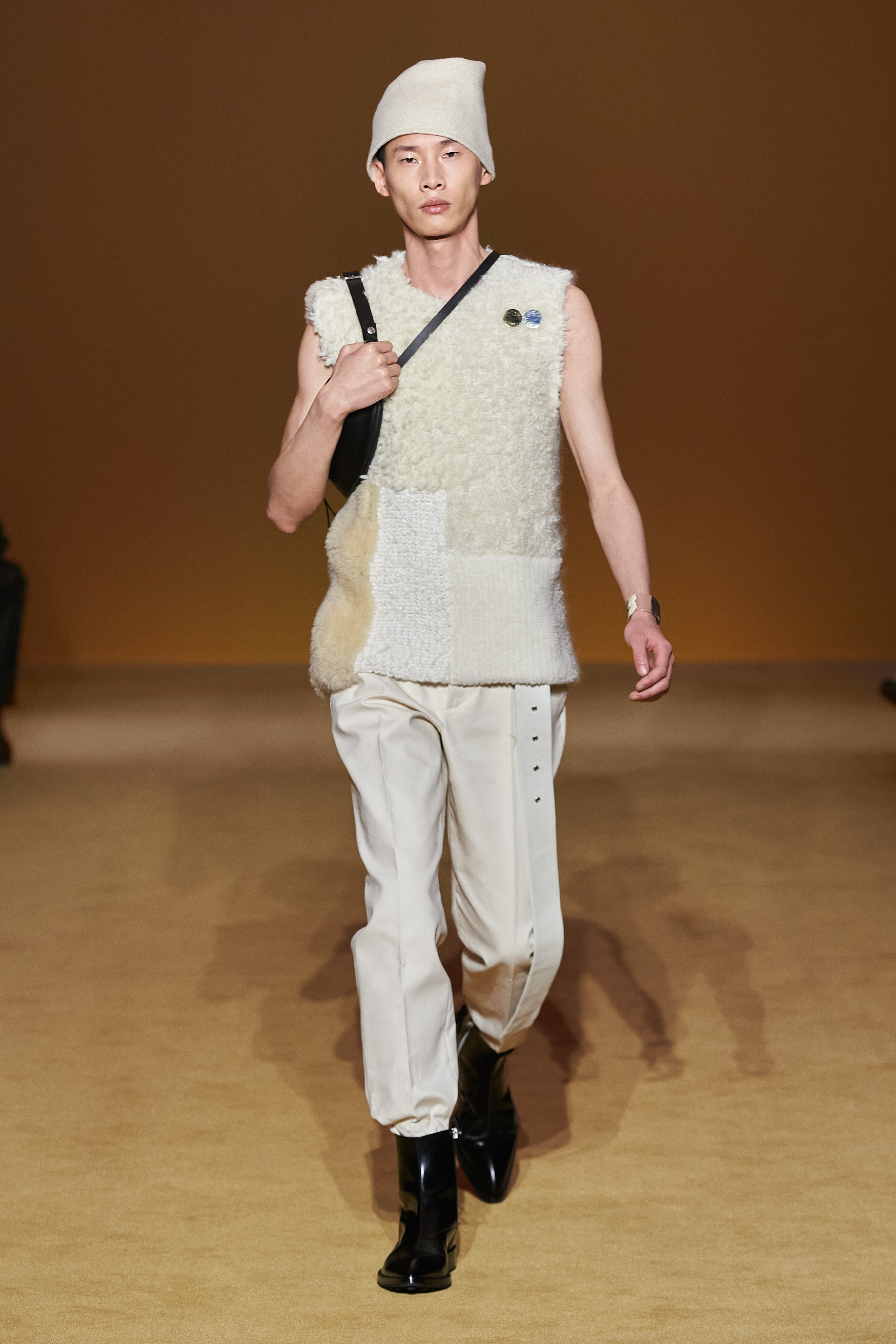 Louis Gabriel Nouchi
The Courrèges team aren't the only ones in Paris pining after the club this season. Just as eager for a good dance, it seems, is Louis Gabriel Nouchi, one of the French capital's menswear names-to-know who staged his first-ever runway show yesterday, Following in the tradition he's set since founding the brand in 2017 – naming each collection after a favourite book of his – Louis took the work of early Modern poet and dandy Charles Baudelaire as his point of departure; in particular, Les Paradis Artificiels, a languid rumination on the joys of opium and hashish, and the hazy spaces in which they're consumed.
While this wasn't necessarily a call to all get high, it certainly conjured the energy of spaces where you'll find plenty of people who are. A sensual, clubby spirit permeated jersey singlets, tripped-out prints on viscose shirting, and laddered knit tank tops. And gossamer tailoring was marbled with transparent swirls, evoking the clinging sweat patches that are the natural consequence of a night's hard dancing. For when things really start to heat up, though, Louis sent a suite of toned, oiled bodies down the runway in tank-top and hip-cut-out brief combos in mustard and taupe jerseys, triggering the sort of thirst that only those who have been at a rave where the free water runs out will know. Still, it wasn't all about baring it all – an inevitable part of any night out is eventually having to head home, a fact catered to by the ample offering of hulking wool overcoats to bundle up in while waiting for your Uber. MS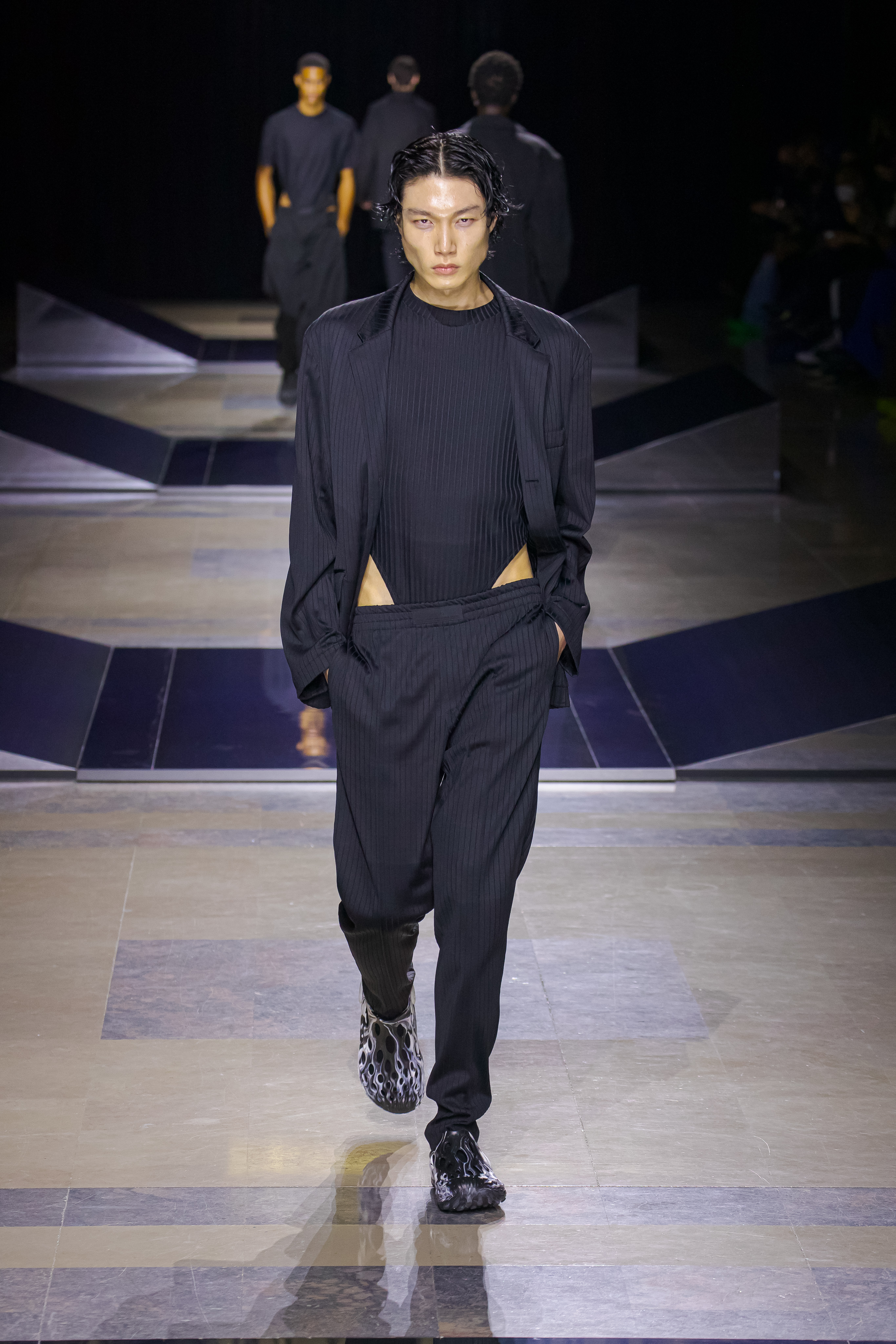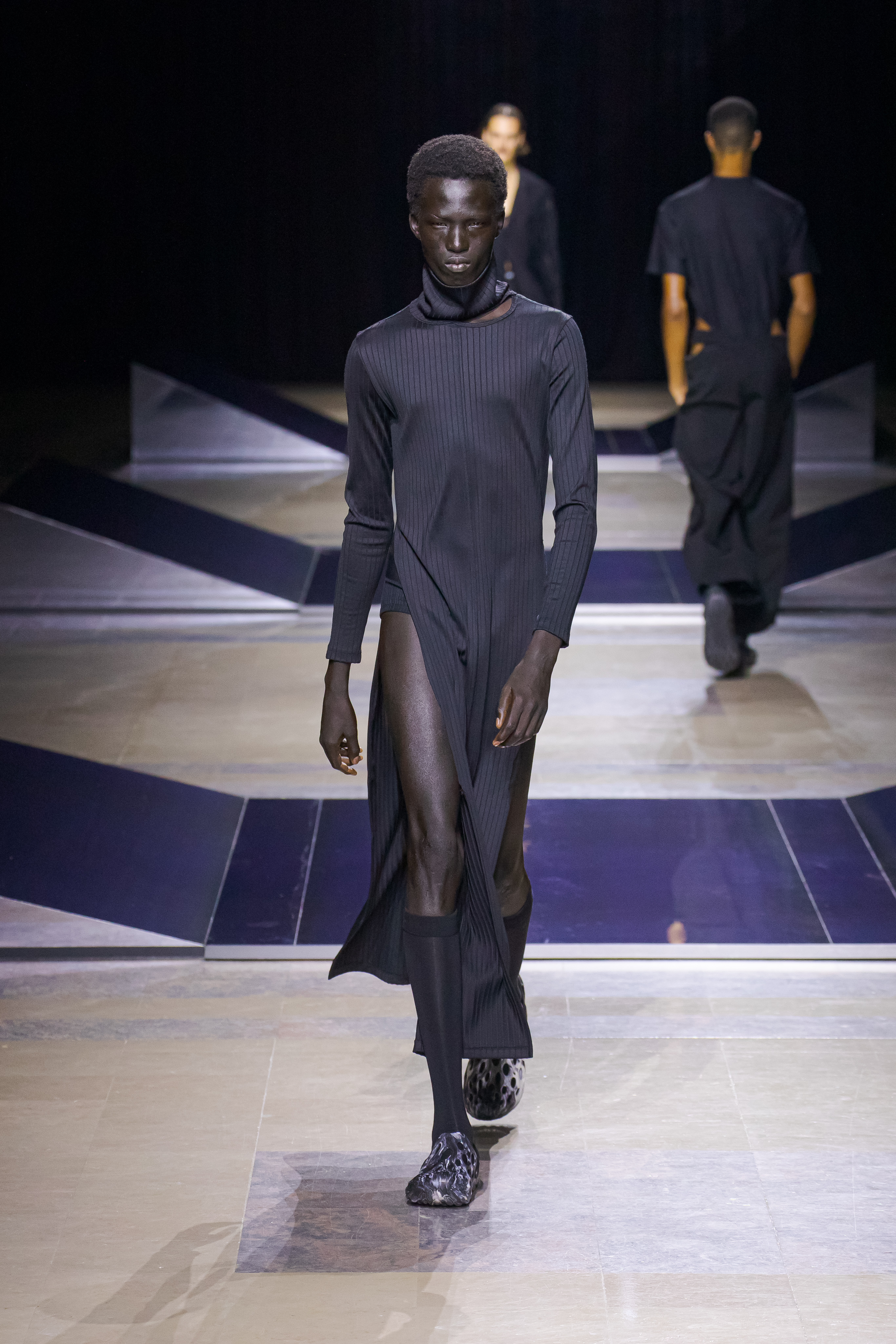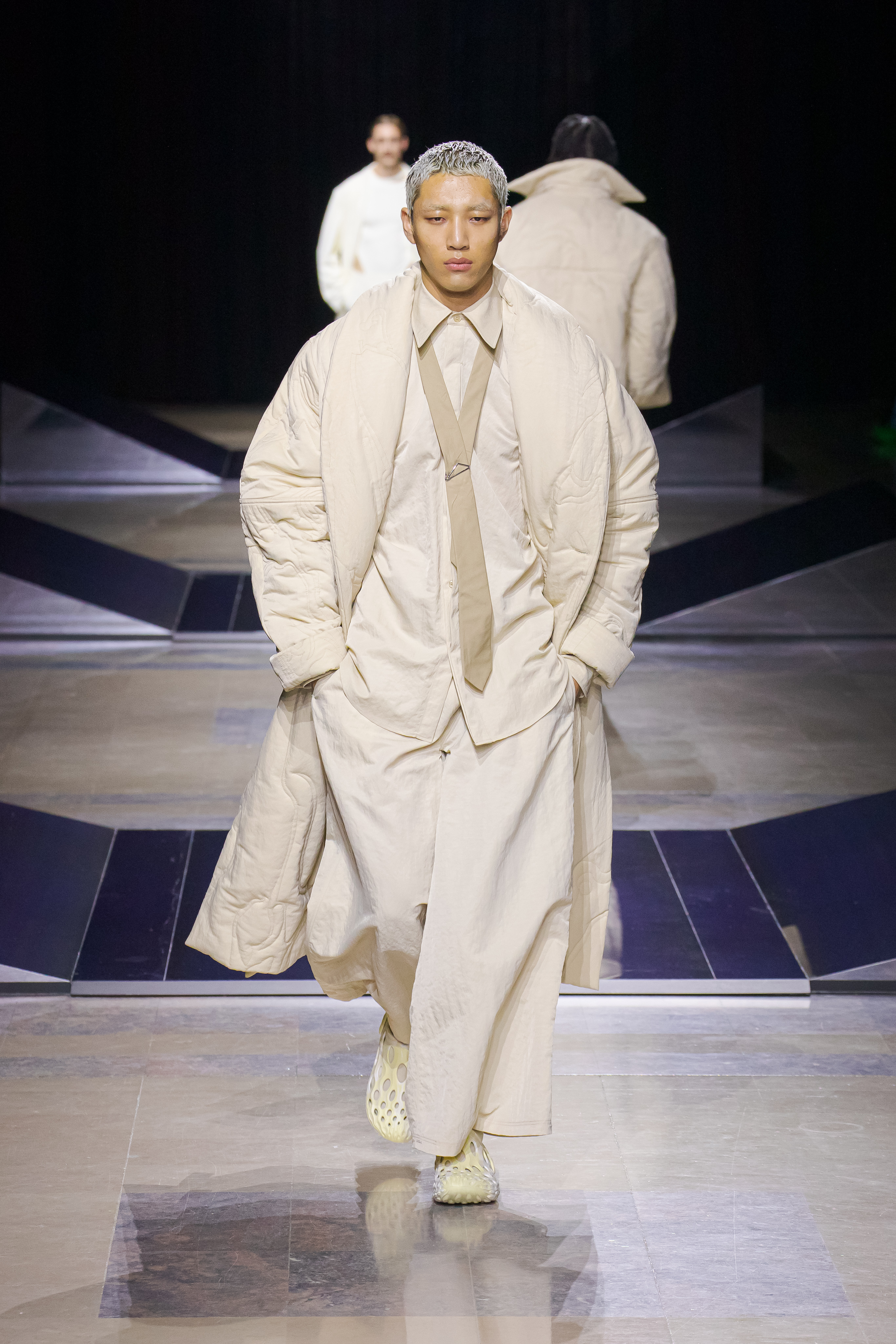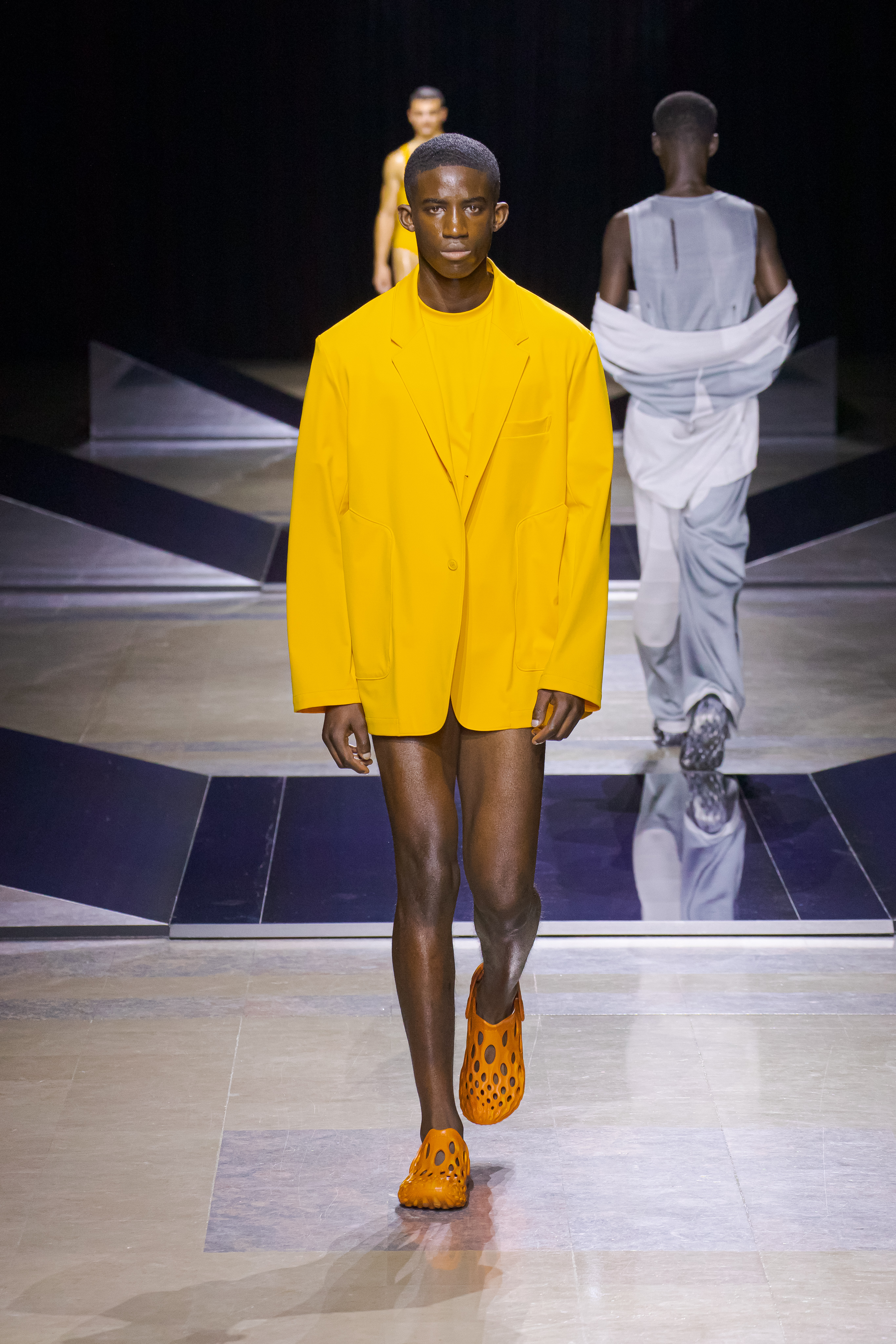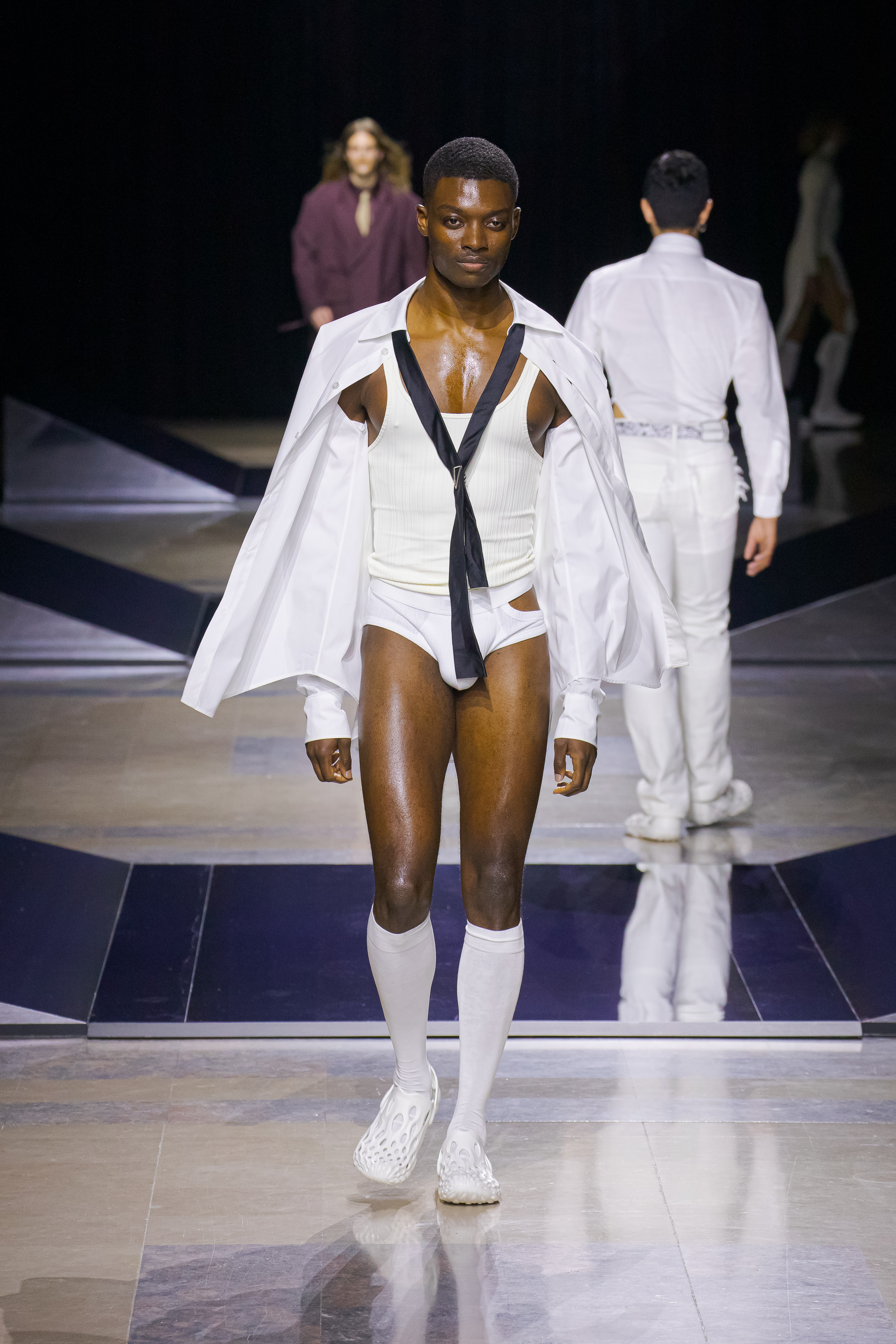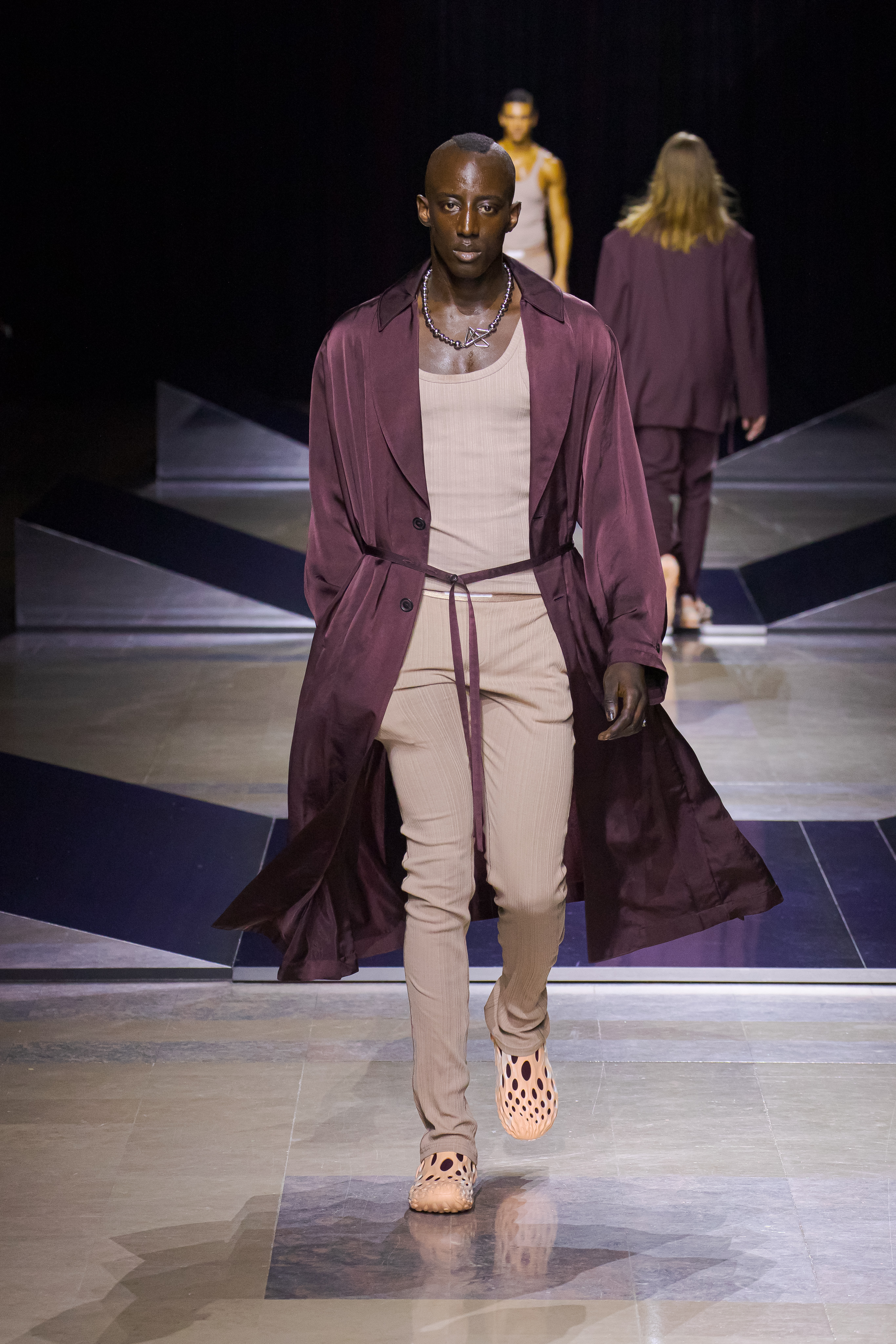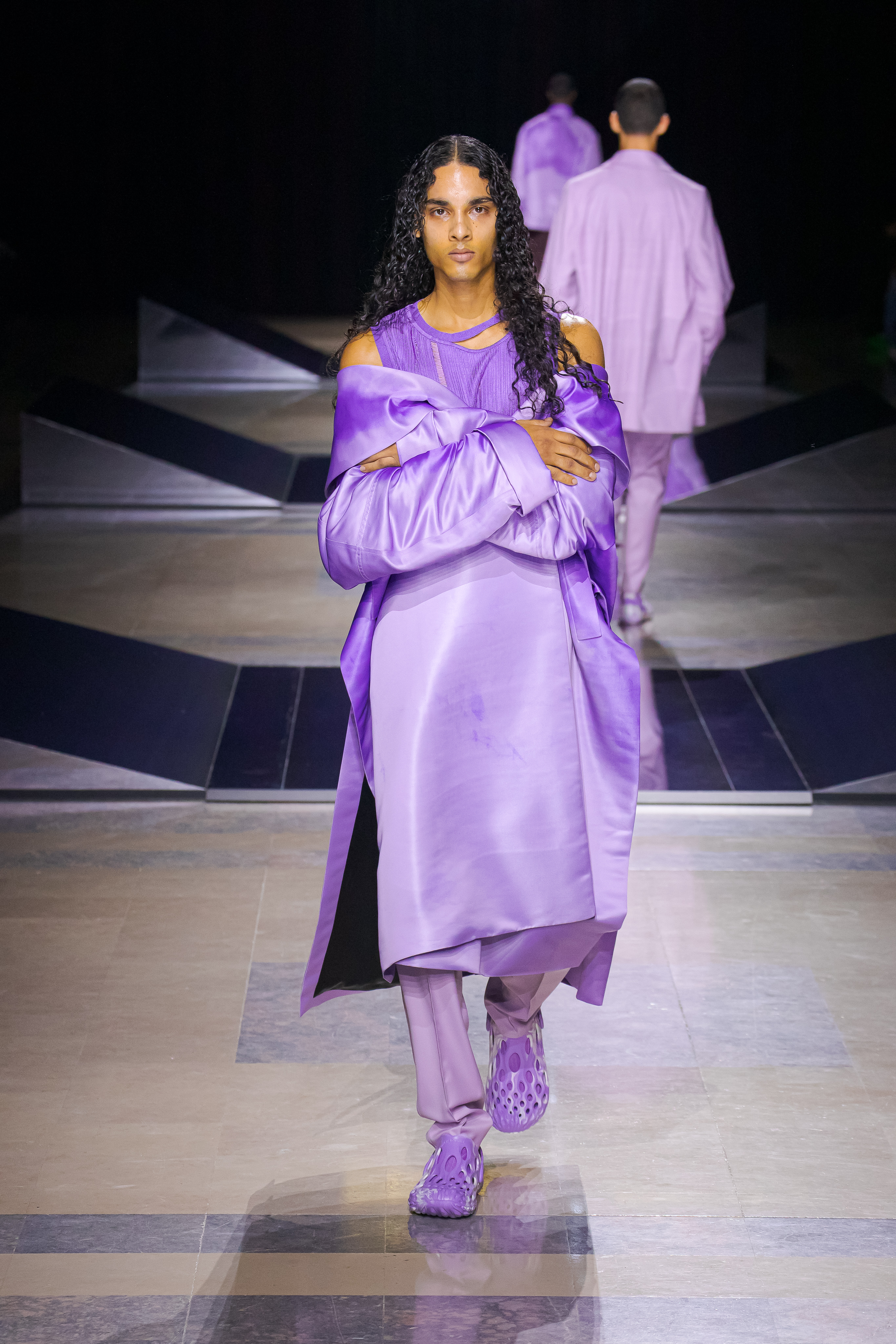 Dries Van Noten
"Raucous beauty. Tender gender. Blurring lines." writes Dries Van Noten in the opening line of the show notes for his latest menswear collection. They're all terms that are very much in fashion – chiming well with a widespread appetite to be liberated the shackles of social conventions. As 'now' as the verbiage is, it's a sentiment that's not only mirrored but loudly amplified by the clothes. Showcased in a surreal film shot in a Parisian hôtel particulier by Casper Sejersen, the 43-look ensemble leans into the spirit of eclecticism we've seen across the show this season, favouring a freewheeling celebration of colour, cut and texture over zeroing in on a particular 'point'.
Prim, inky wool coats with set-in sleeves sit alongside frothy sky blue fleece jackets, and chunky grey cable knits are worn with bubblegum pink cigarette pants. Wide-lapelled white tuxedo jackets were worn with ballooning high-waisted trousers, while the staid cosiness of cream ribbed rollnecks was offset by shimmers of lurex and mottled garden foliage prints. This was indeed a collection that exhibited variety, that's for sure, but where it found its through-line was in the joy that obviously found in creating clothes you need to feel and wear to really appreciate. "It is all about having fun again, " the show notes read, "touching, kissing people, exploring the forbidden, living carefree" – about refusing to live life vicariously, and relishing real experiences once again. MS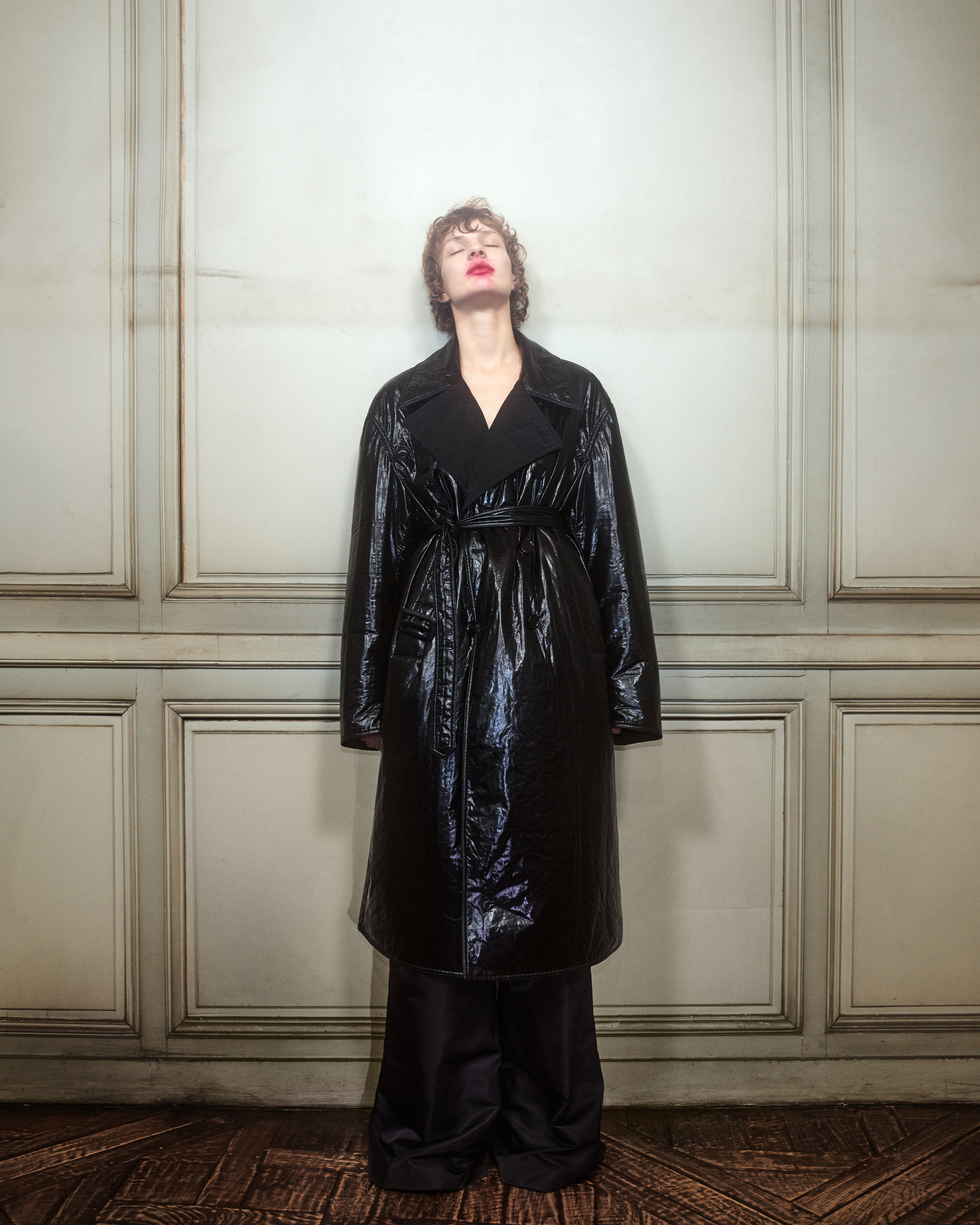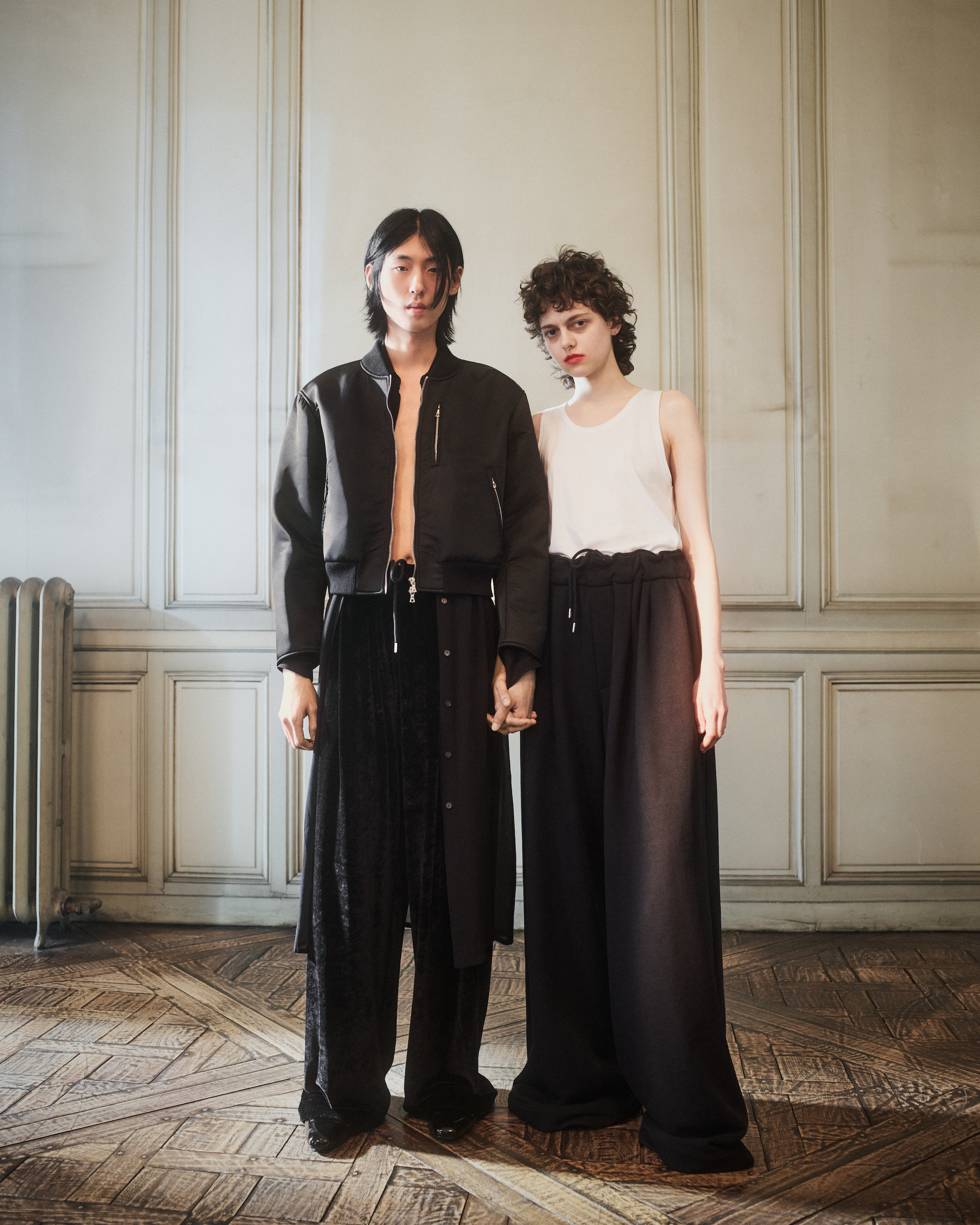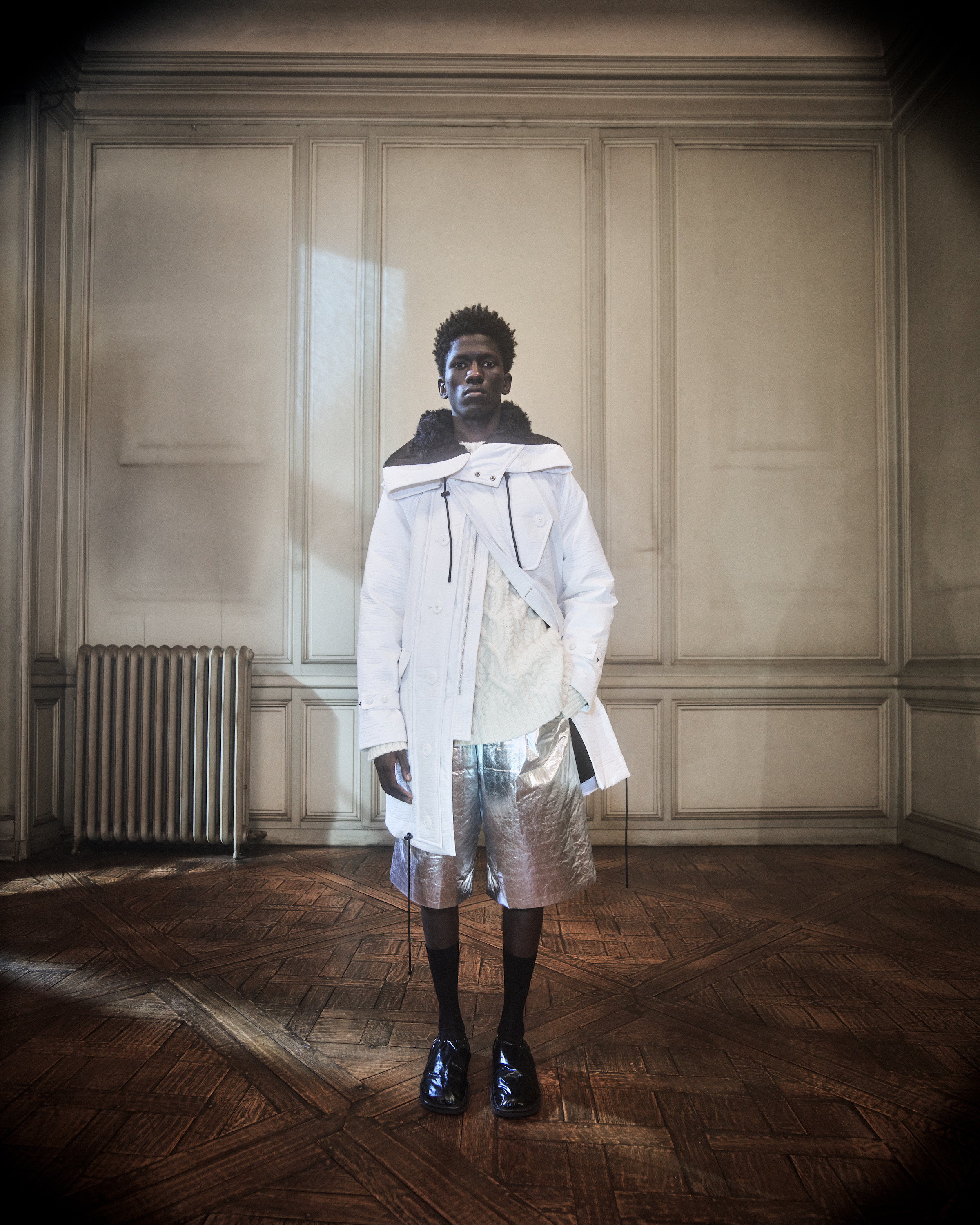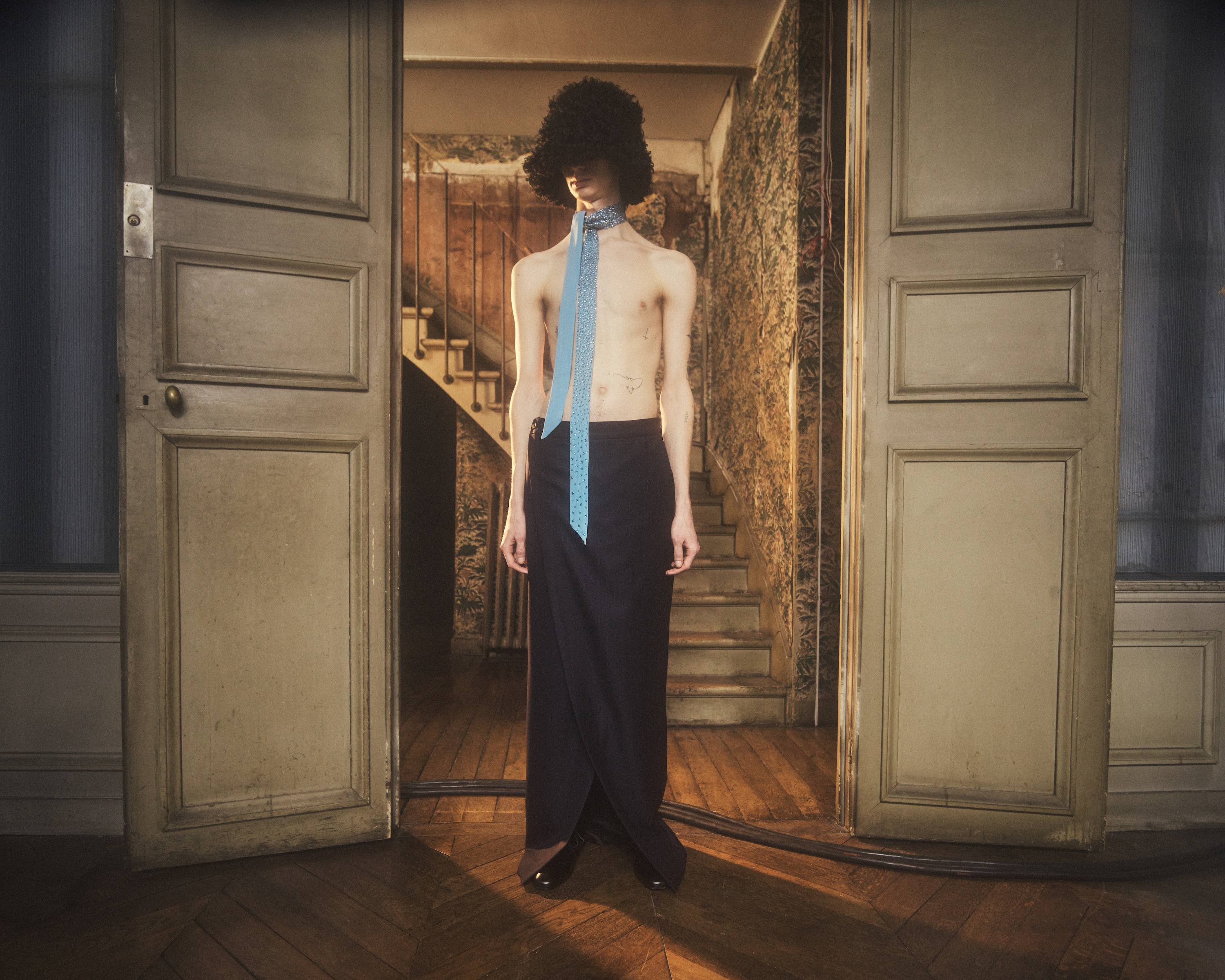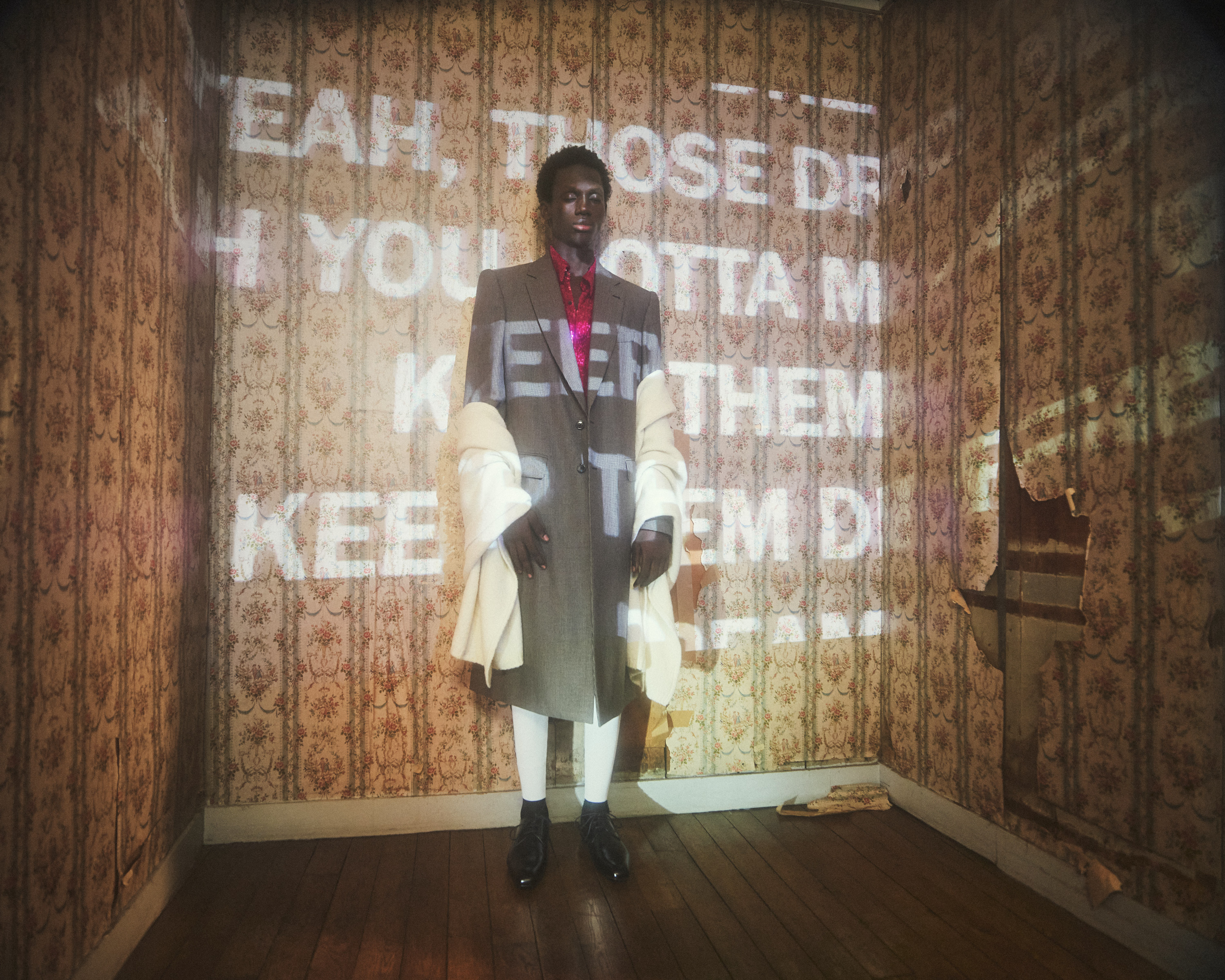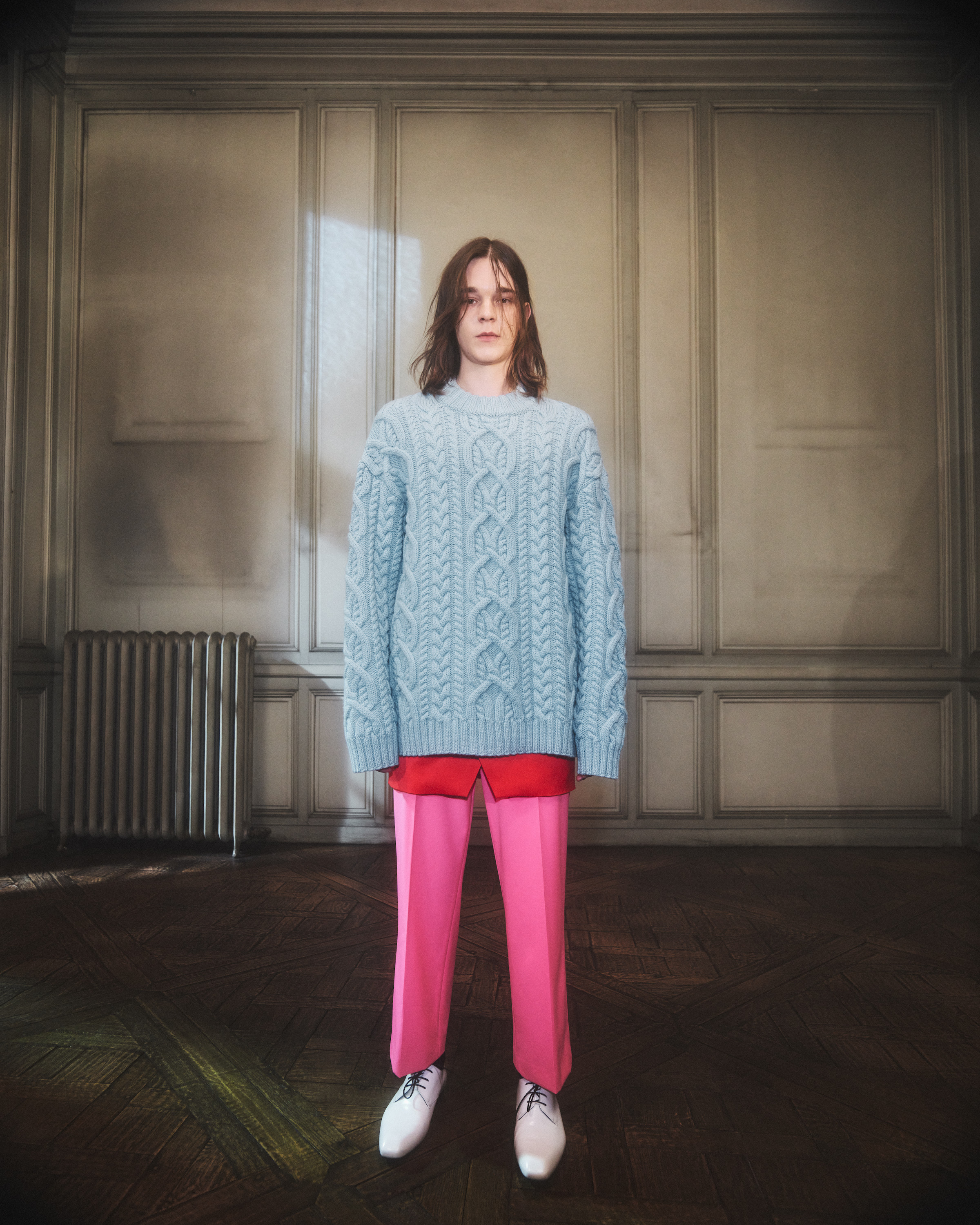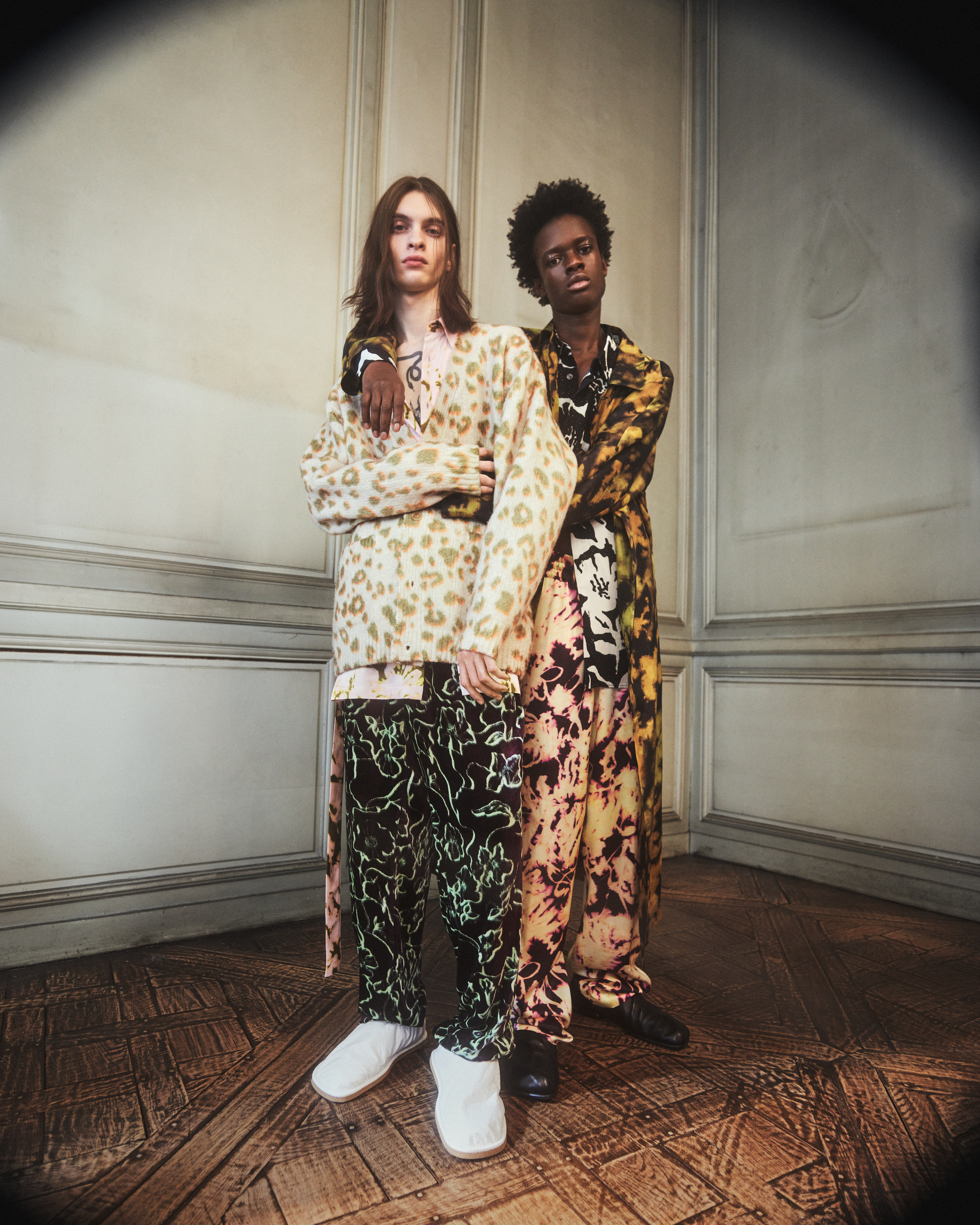 Kiko Kostadinov
Gaming. As you damn well know, it's one of fashion's mots du jour, a bandwagon that all brands are all but flinging themselves onto. It's also the conceptual jumping-off point for Kiko Kostadinov's latest menswear collection, presented via film shot at the Anahuacalli Musuem in Mexico City. In characteristically against-the-grain style, though, what the London-based brand showed yesterday was neither an 'exotic' destination-inspired collection, nor a landgrab for real estate in Zuck's metaverse. Rather, it's an exploration of "a subculture that I could relate to," Kiko told us, recalling the times when he would while away his nights staring at a screen. "I decided to touch on gaming culture, which I never really thought I was part of, but looking back I was definitely addicted for like five years," he laughed, noting how when he first moved to London, "I was so isolated and I didn't really speak the language, so I'd just play these games and chat with people I'd never met – my real friends were in the game, I guess." Rather than the eerie 'together, apart' ethos of much VR discourse, Kiko sought to bring to life the duality between IRL and URL existence for many gamers – "this idea that a guy could work as a banker by day, but also be a huge RPG player with a female archer avatar," he said.

It started – as any good role-player game does – with a protagonist: the City Elf. An embodiment of the often neo-medieval tone and atmosphere of the games he used to play, looks were caught in a balance between vague futurism and a decidedly analogue approach to clothes to clothesmaking. Streams of delicate floral crochet draped around the mandarin collars of puckered poplin shirts, down dapper wool coats, and covered the lapels of rounded tailored jackets, and loose button down separates with pooch-embroidered cuffs were cut from speckled tweeds. This season's knits – spanning wide-gauged earthen-hued cardigans and sorbet-tone hoodies – brought a reassuring sense of the hand into the mix, while patchworked, thick-soled leather climbing shoes gave the looks a sporty/gorp-y accent Slinky, Link-from-Zelda jersey leggings, militaristic epaulettes, tunic-proportion jumpers and jackets in shimmering diamond-graphic jacquards pushed the RPG-core fantasy further, but balancing those out were slouchier, hooded looks designed with our elfen hero's return to the real-life city in mind. They were inspired, Kiko said, by "people dipping out with a little hoodie on to get a Pot Noodle". Well, if you can make that look chic, you've won. Game well played, Kiko! MS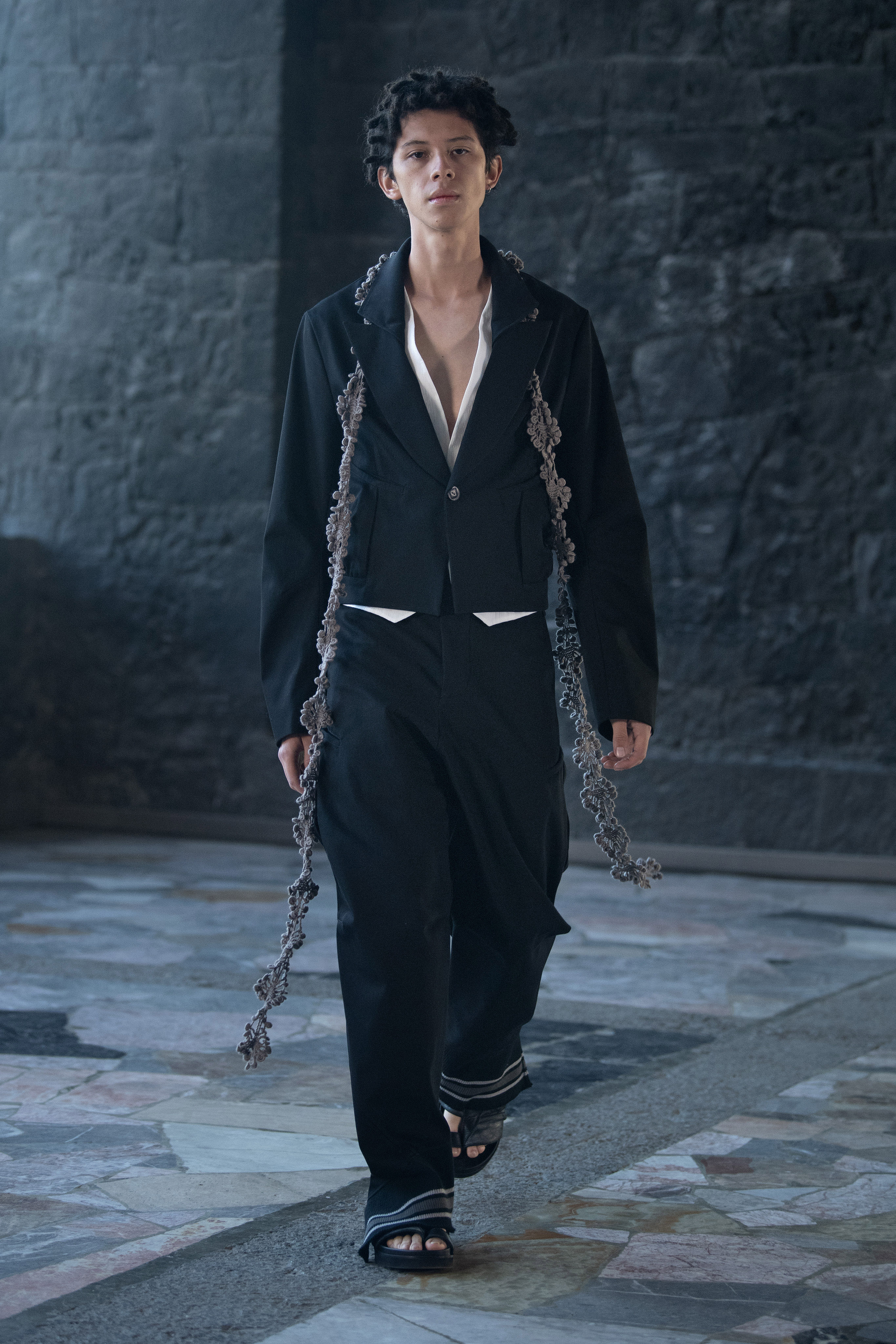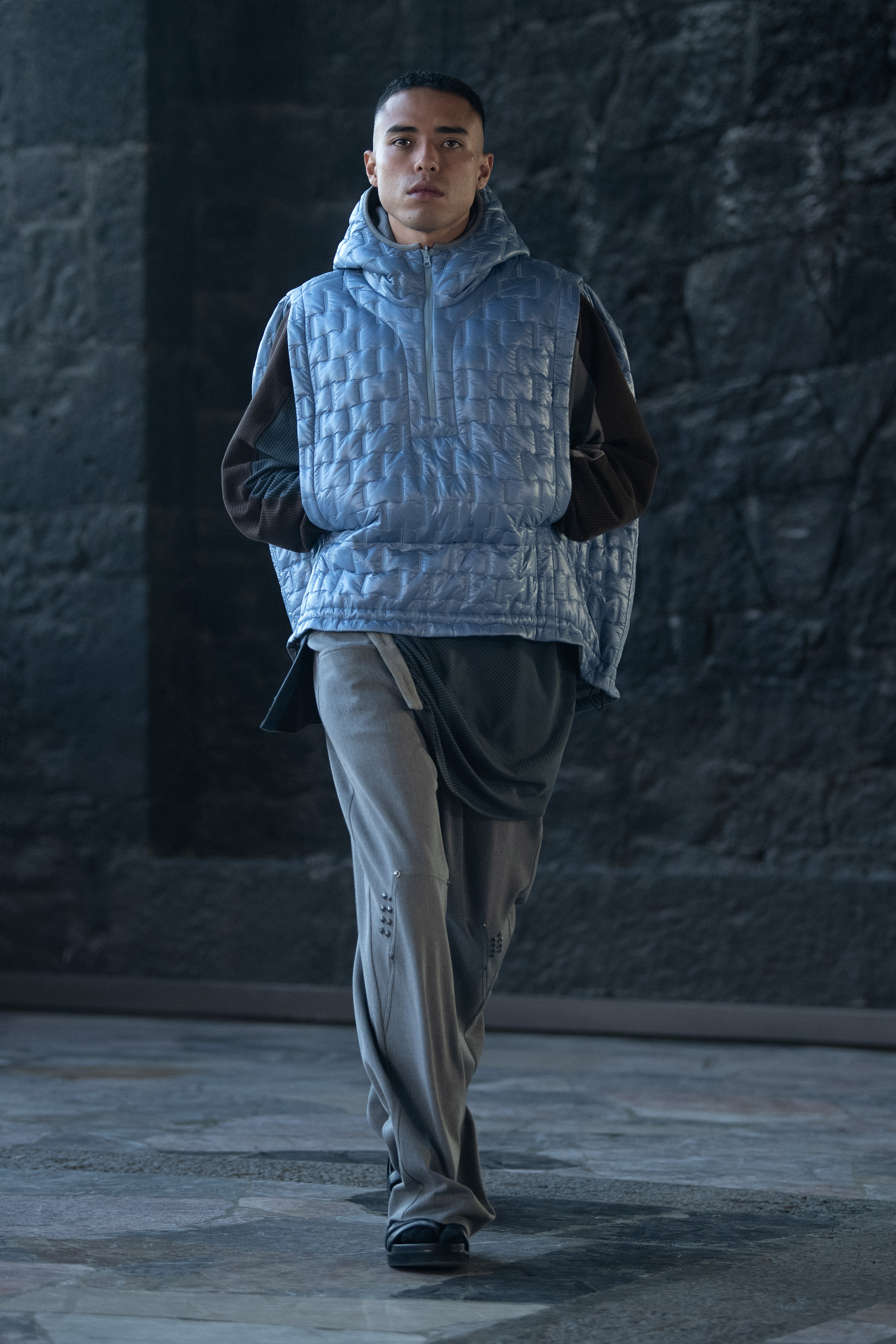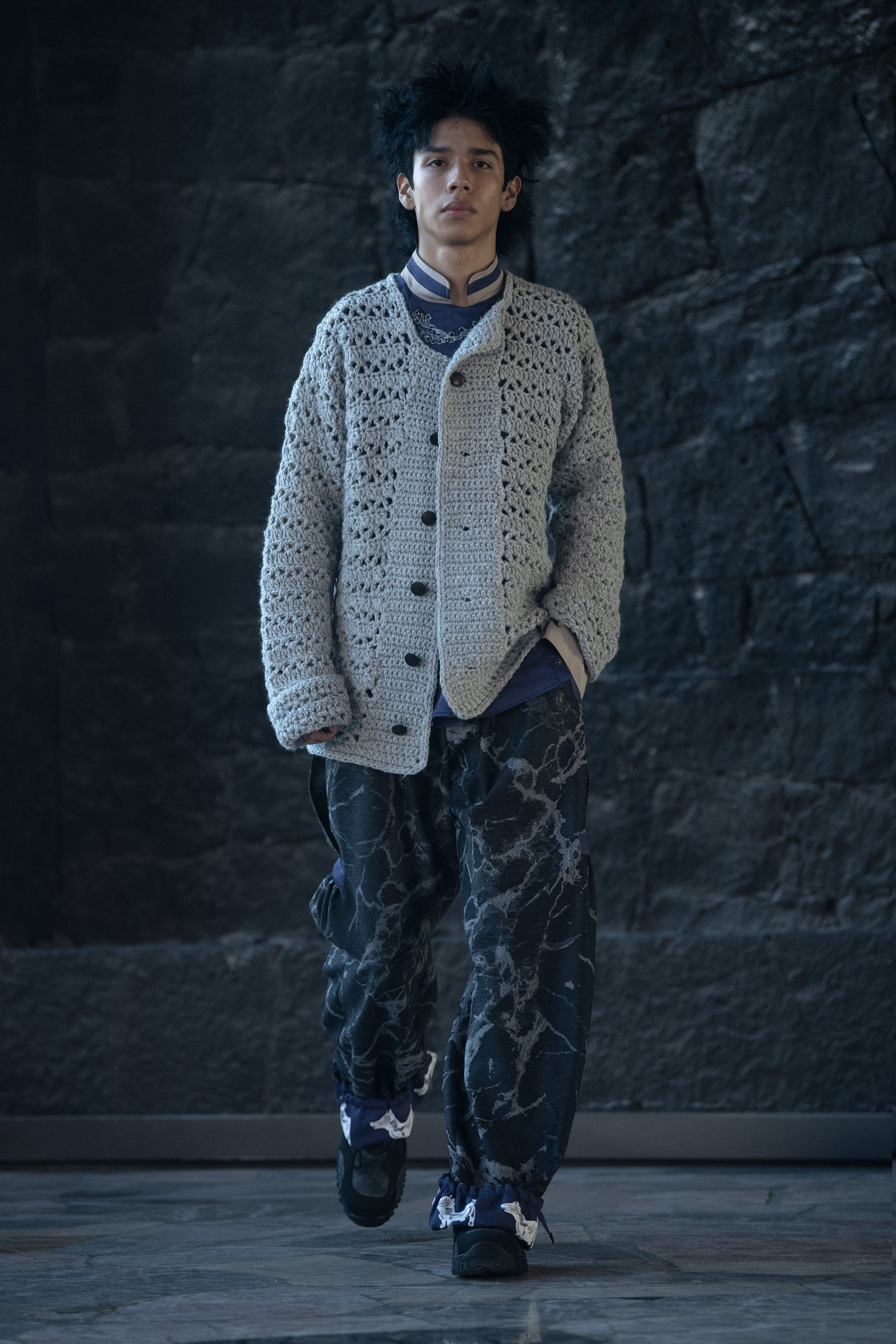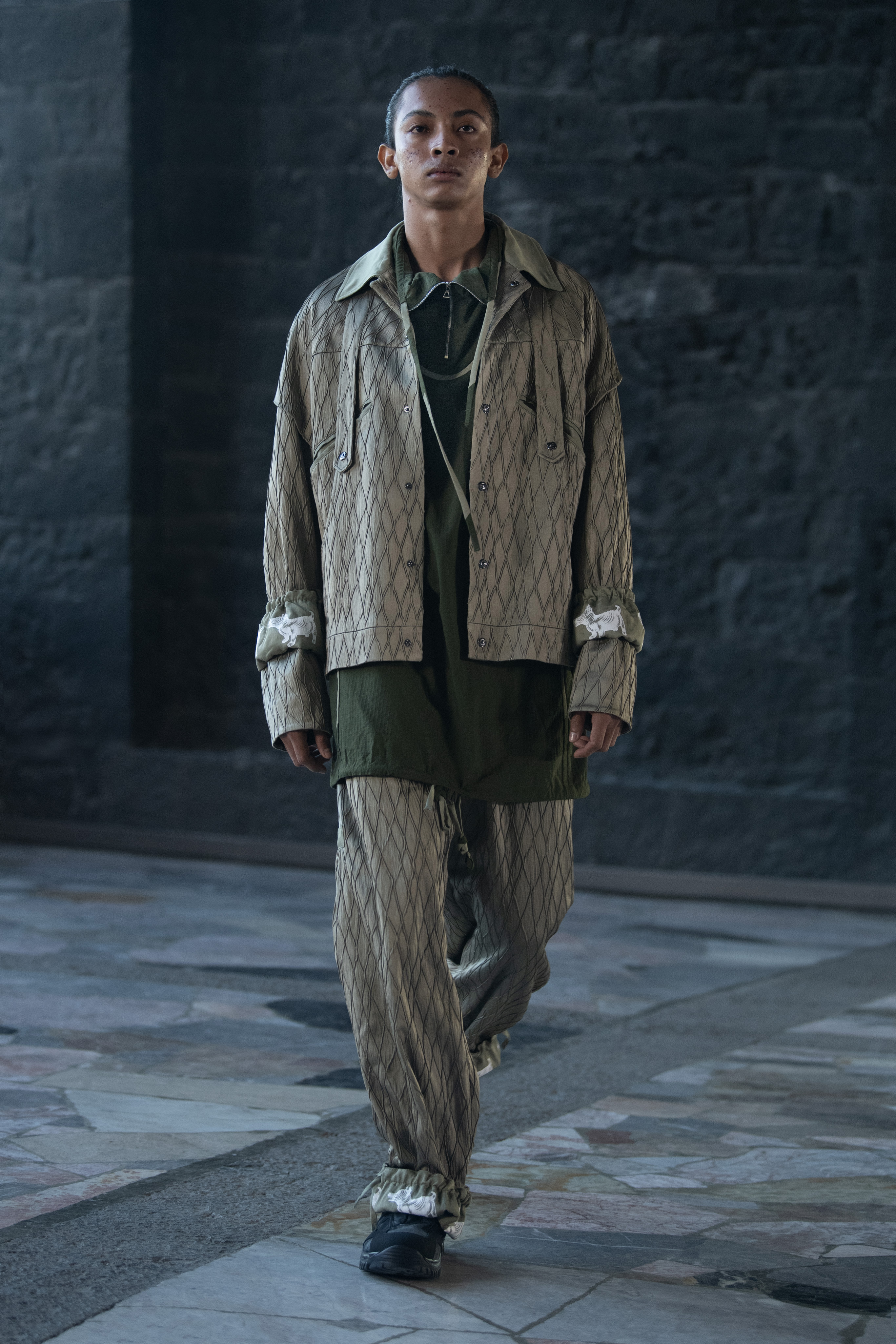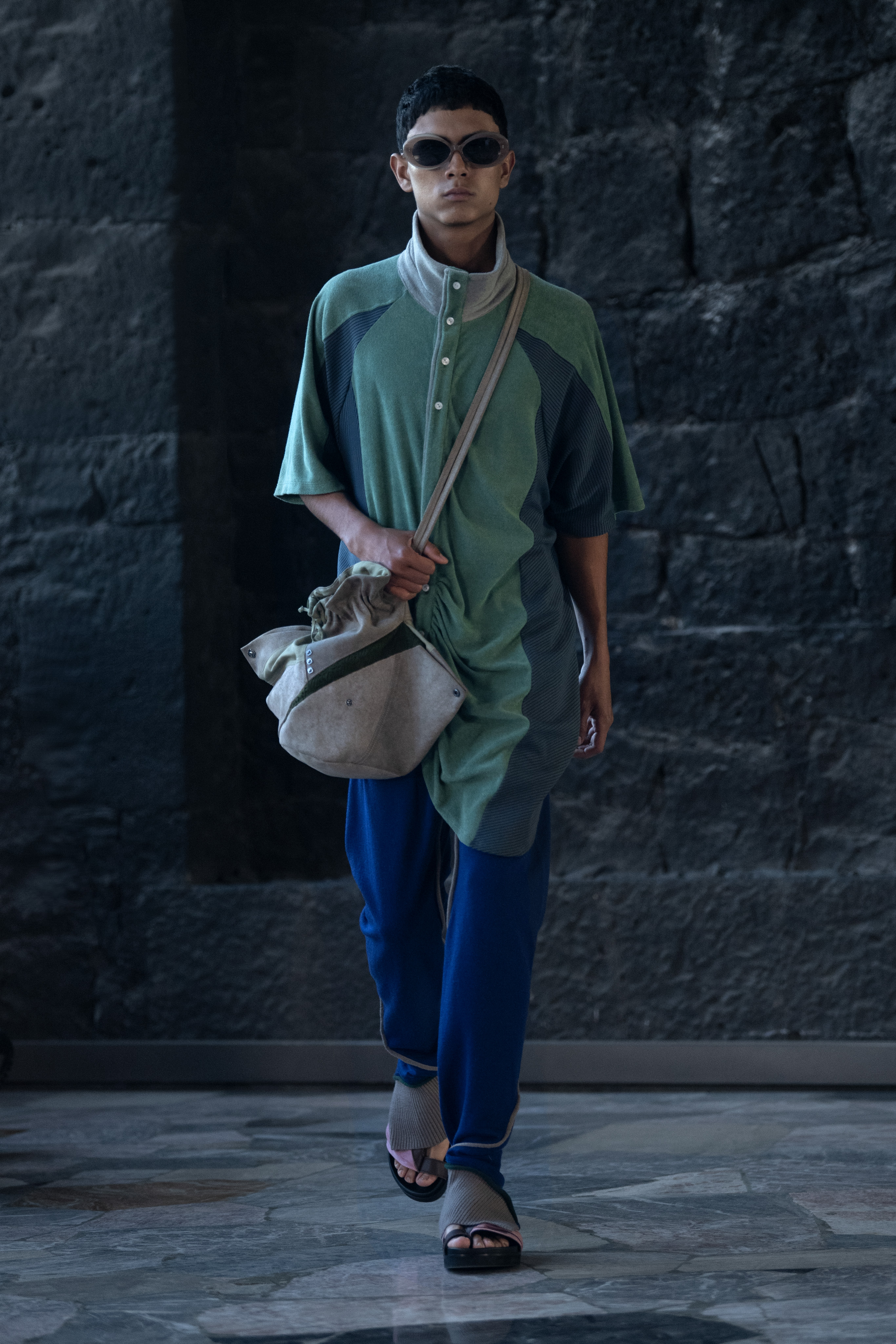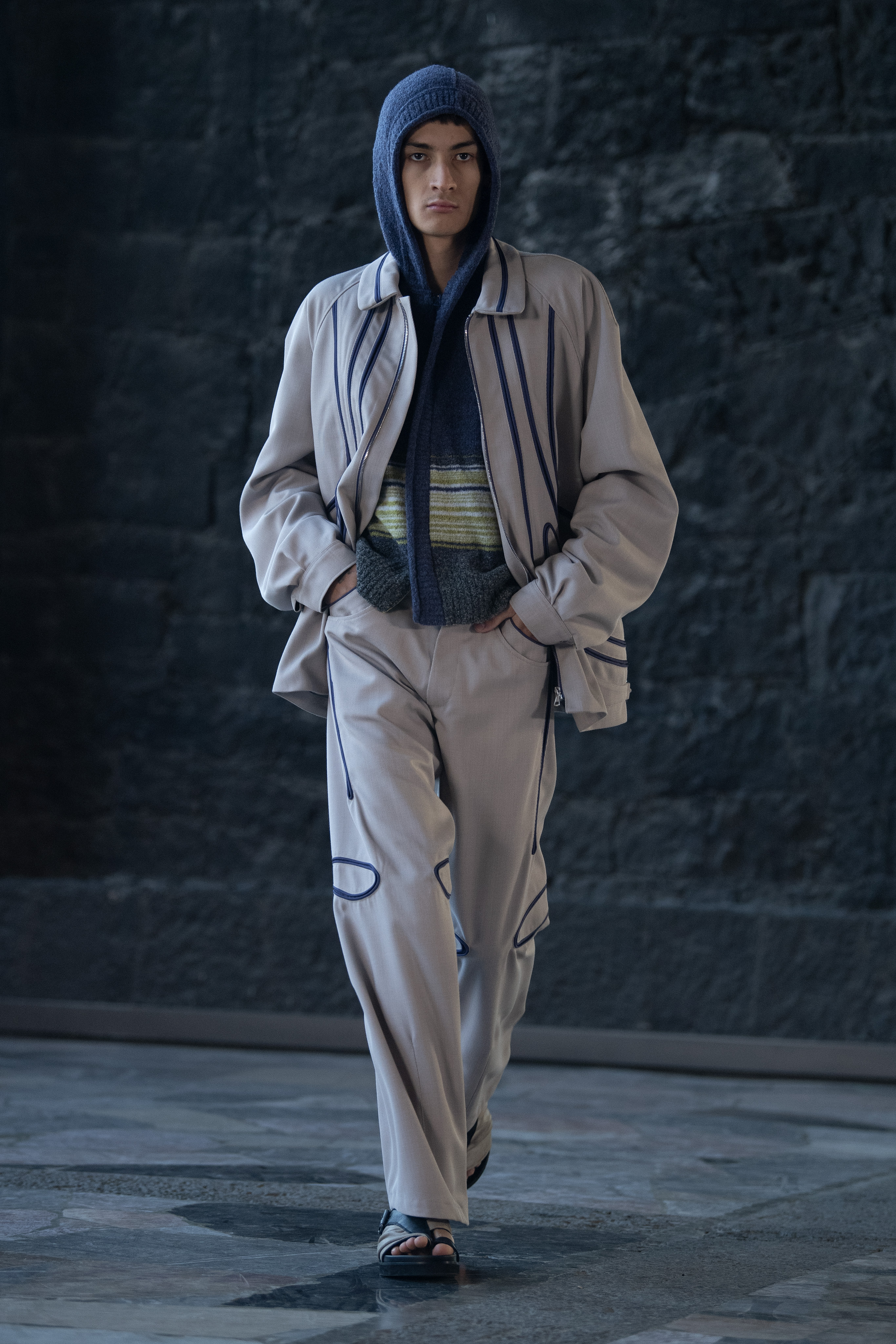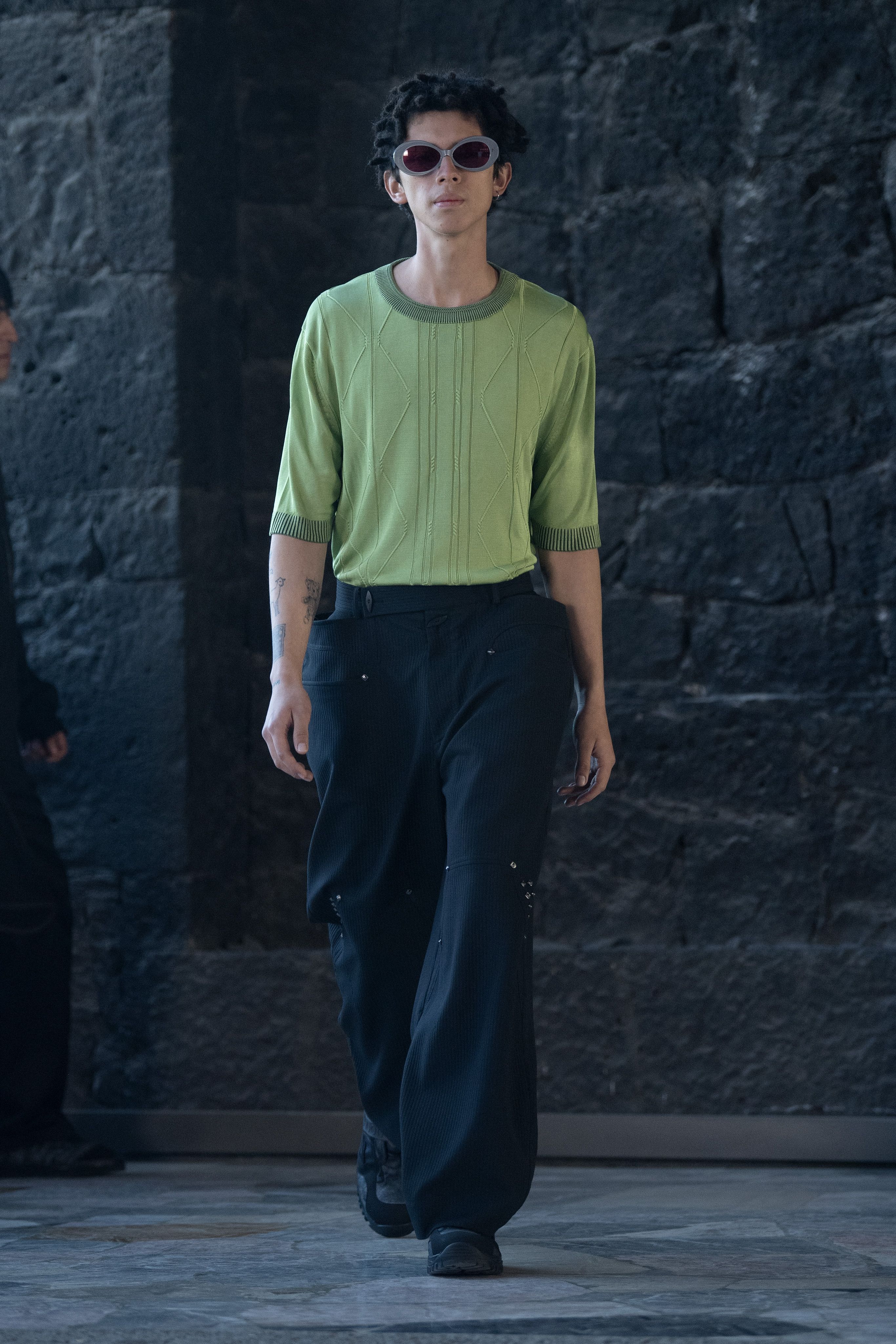 Courrèges
Granted, Omicron may have put a bit of a damper on plans for parties in Paris this season, but that shouldn't stop you from dressing like it's a Saturday night in 2019! That's the spirit that Nicolas Di Felice conjured for his AW22 pre-collection for Courrèges – the original plan, he explains, was to stage a seconded iteration of Courrèges Club, the no-holds-barred rave the house threw in a deliciously grungy subterranean parking lot in the 18th arrondissement back in September. Faced with current circumstances, he instead settled on channelling that energy into the lookbook and film he released yesterday to showcase his latest body of work for the house – his most confidently sensual, yet still eminently wearable to date.
Alongside the familiar silhouettes that he's fixed as tentpoles of his vision – trapezoidal coats, vinyl miniskirts, the viral trucker blouson (c.f. Marc Jacobs' Instagram; Emily in Paris Season 2) – it also sees him broach new, notably racier territory. "I think it's a good mix of what I've been doing for a year now, and me arriving at being able to show my vision a bit more clearly – I've done things that I wouldn't have dared to do in the first season," he laughs. Indeed, the domme-y, wipe-clean vinyl trousers and thigh-high sock-and-shoe 'boots', and the varnished jersey cut-out vests and bralettes would have made for risky looks to lead with just over a year ago, but since taking up the helm of the house, Nicolas has managed to cultivate a feverish appetite for the immaculately finished, decadently hot clothes he wants to create – now, he's seizing the opportunity to cater to it.
You could hardly call his proposal iconoclastic, though. Notable day-friendly additions include sharp sheepskin jackets, and classically Courréges outerwear shapes rendered in wool fur. "The heritage of the house is still there," he eagerly notes, "if you look at the clothes closely, you'll see all the recognisable details," alongside motifs he's resurrected from the archive – rouge heritage, an orangey-red hue that's "the most iconic colour for the house after white", Nicolas quips, and a swallow-shaped bust line seen on a body-con vest top in dusky stretch satin. If you were after an outfit for the next Courrèges club, then look no further – see you on the dancefloor! MS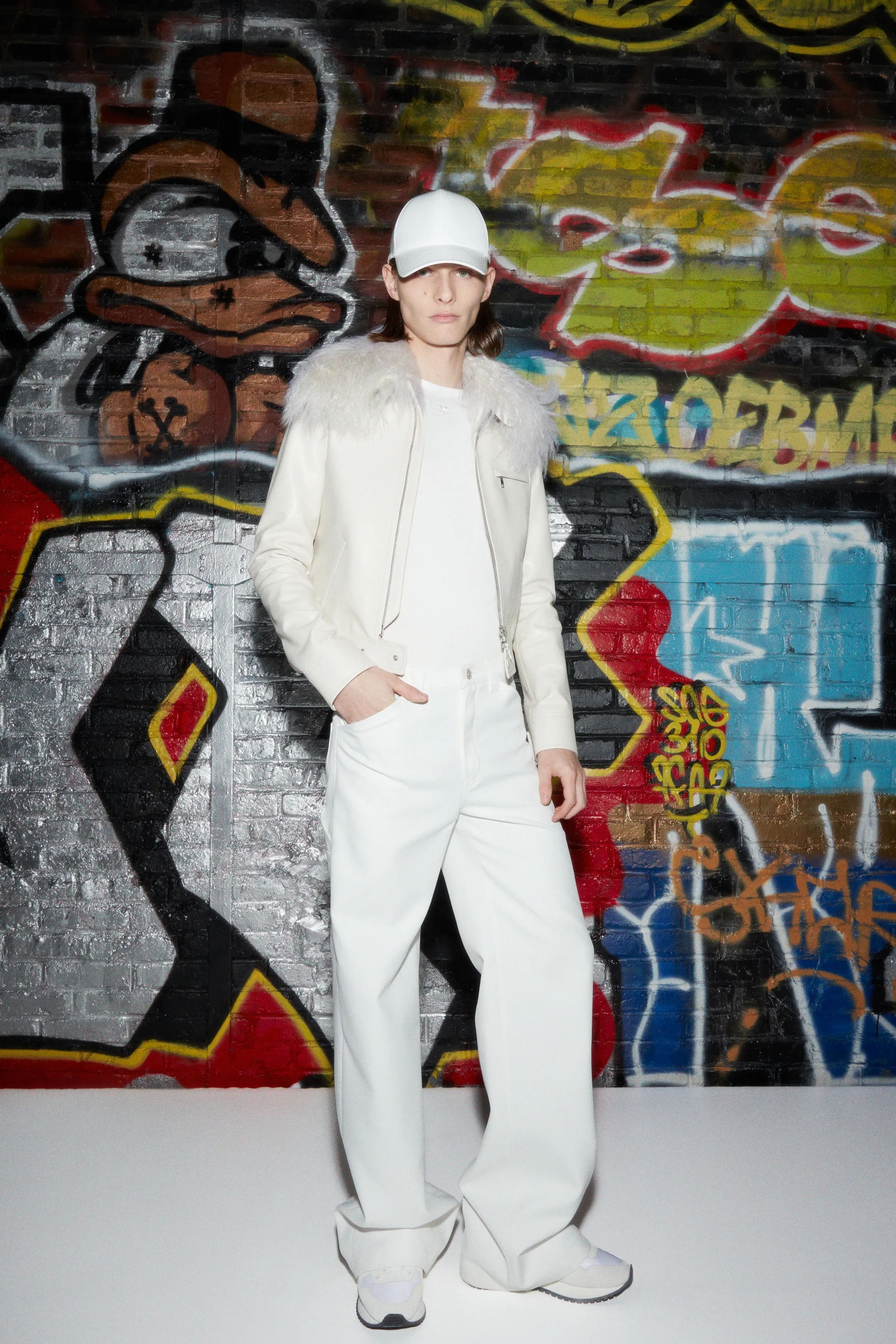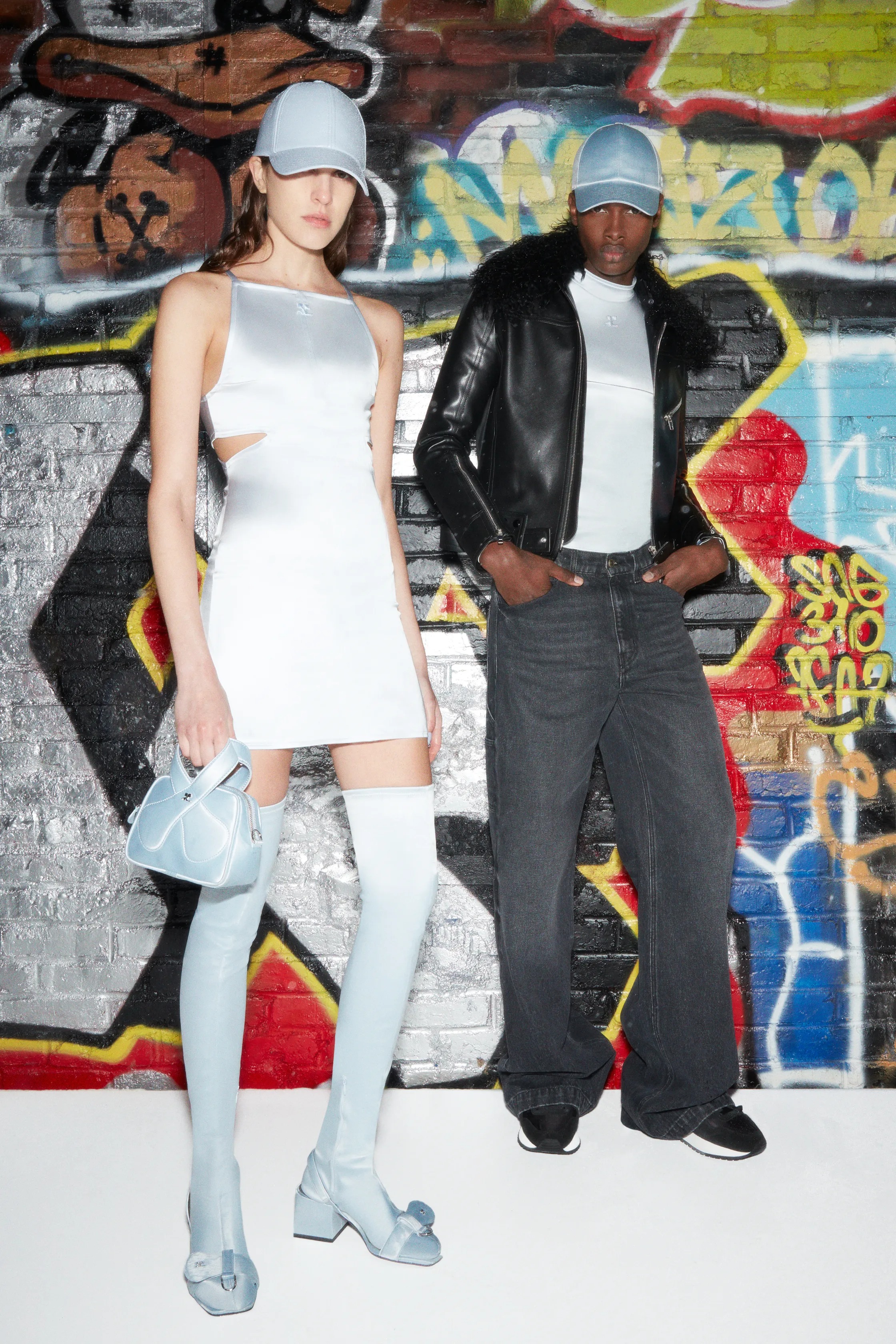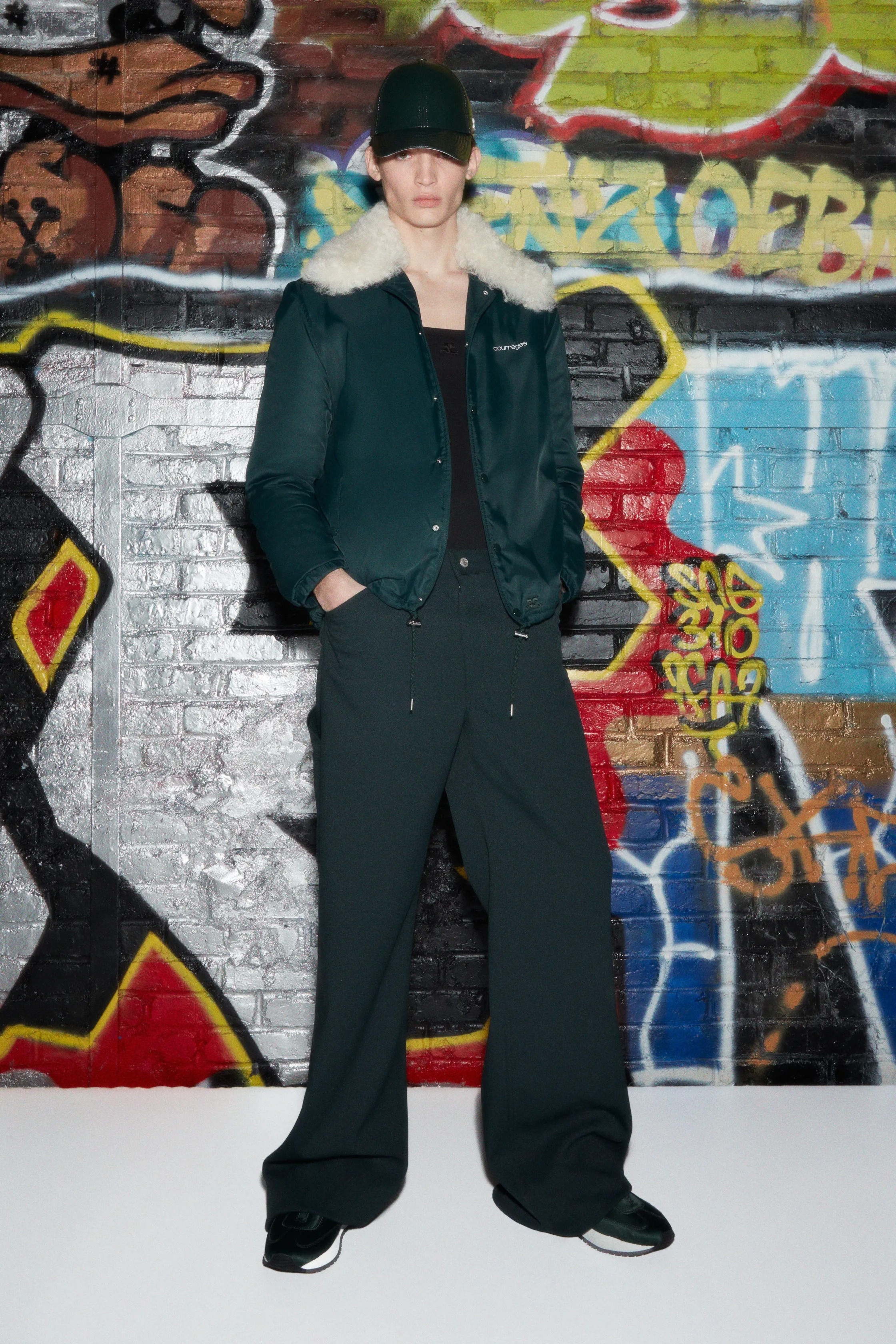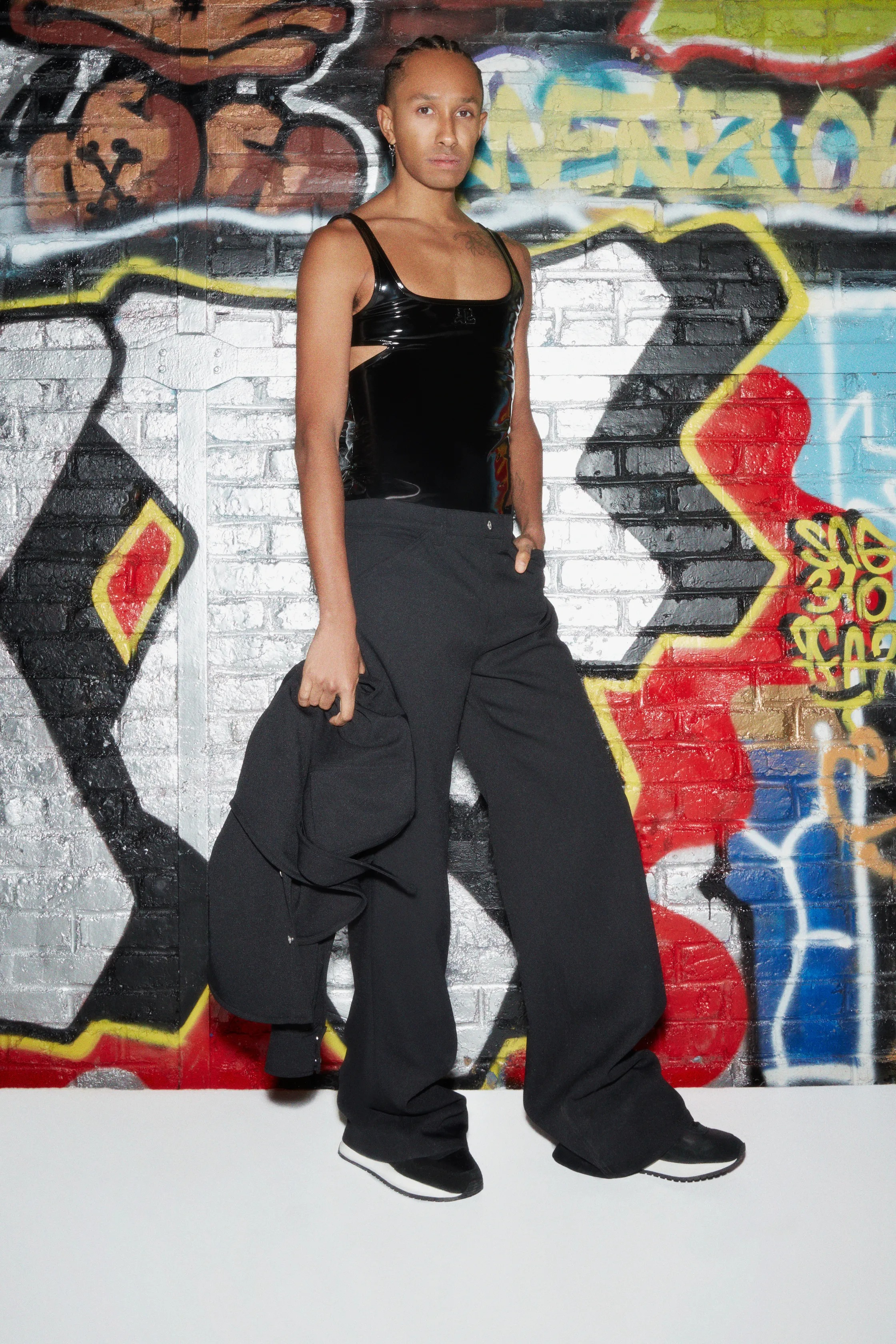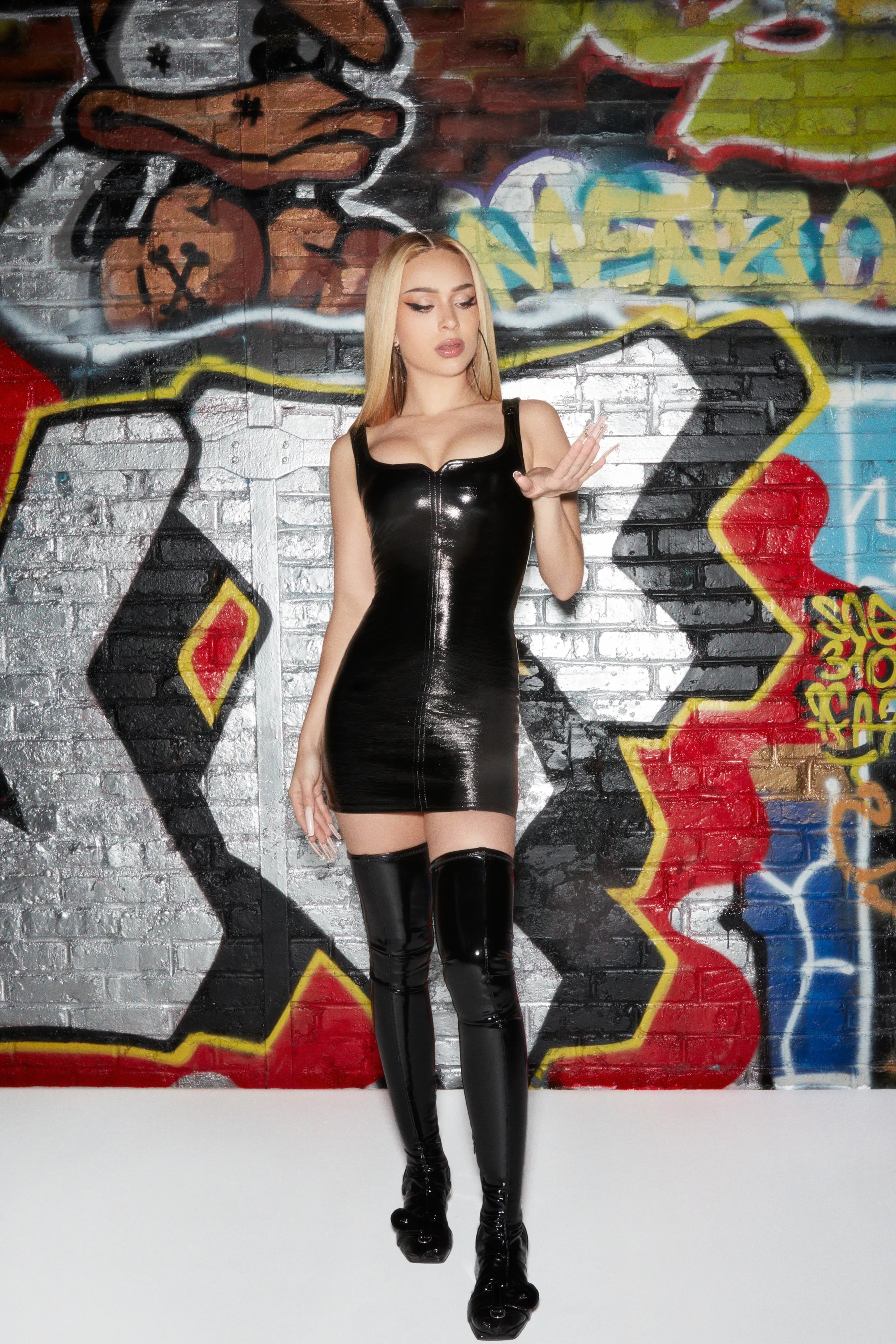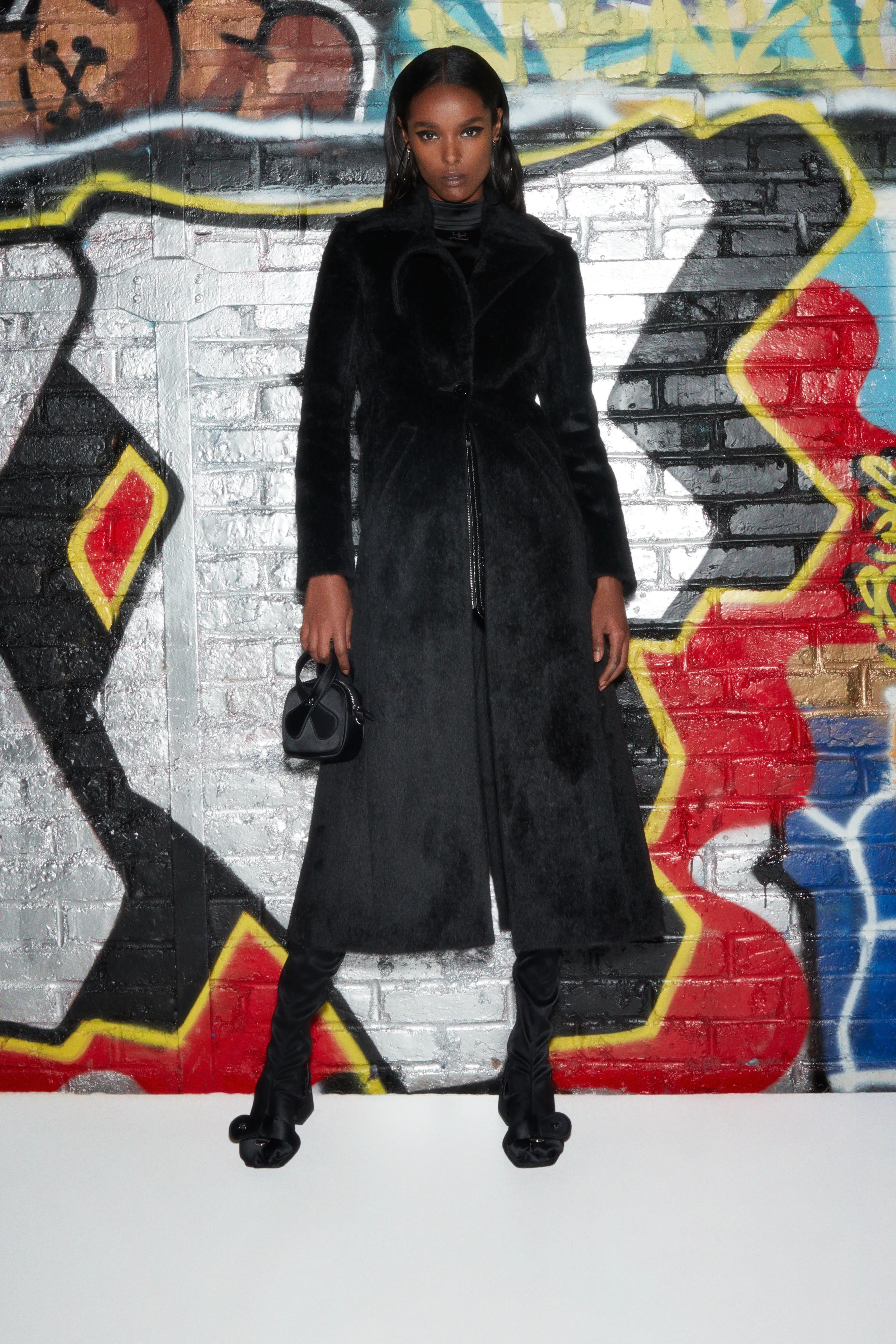 GmbH
For Benjamin Alexander Huseby and Serhat Işık, the duo behind Berlin-based label GmbH, the personal and the political have always been inextricably linked. While that remains the case this season, the pair decided to lean further into the forme than we've ever seen before, presenting "Talisman" – a rich exploration of themes of protection, queerness, couture, spirituality and Islamic culture. Featuring cleverly subversive twists on religious garments, high camp silhouettes, and dazzling calligraphic prints, it was a collection that consciously interrogated assumptions around motifs and modes of dress, while also serving up the sensually charged, impeccably cut clothes that their ever-widening audience is after. Head here for our full review. MS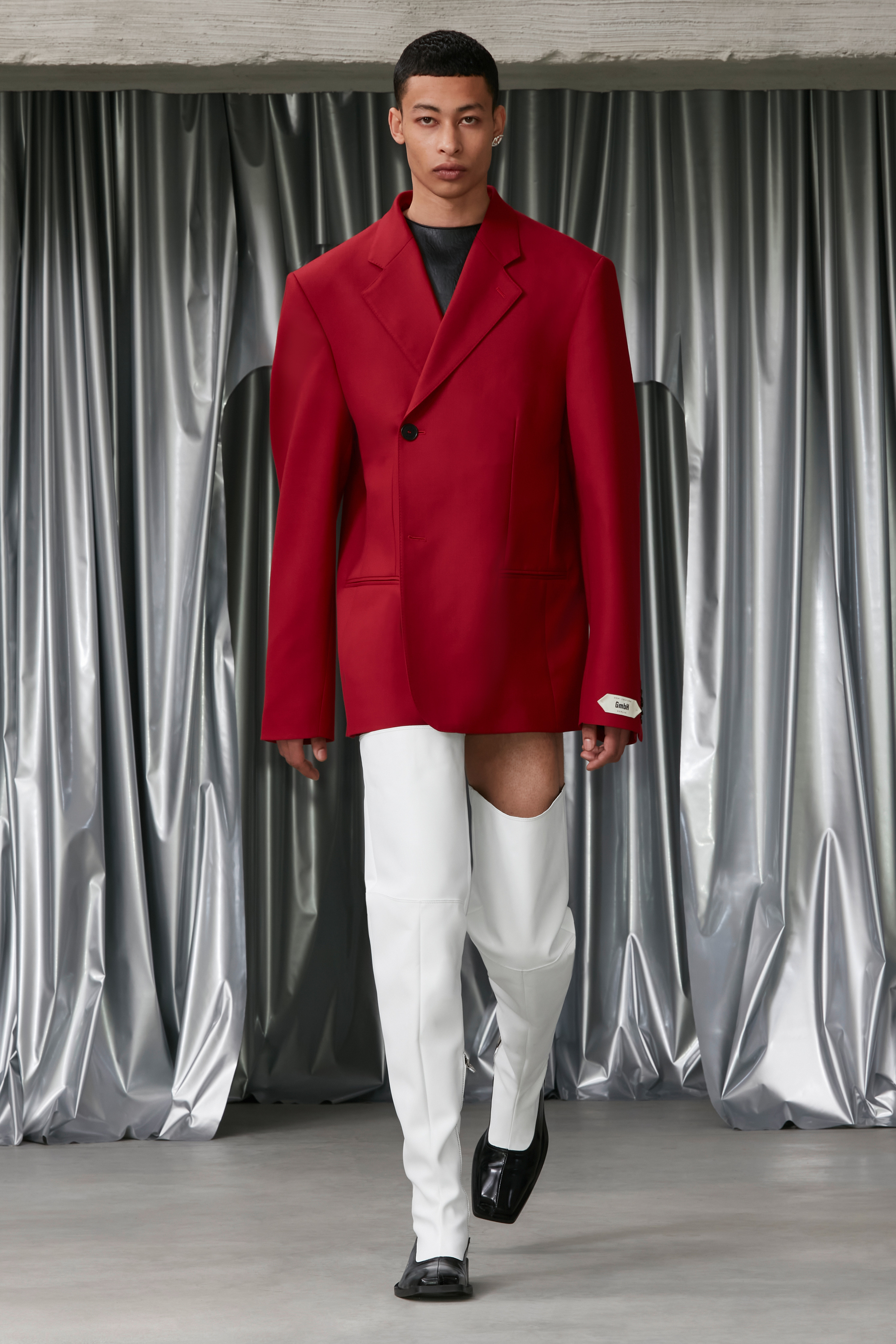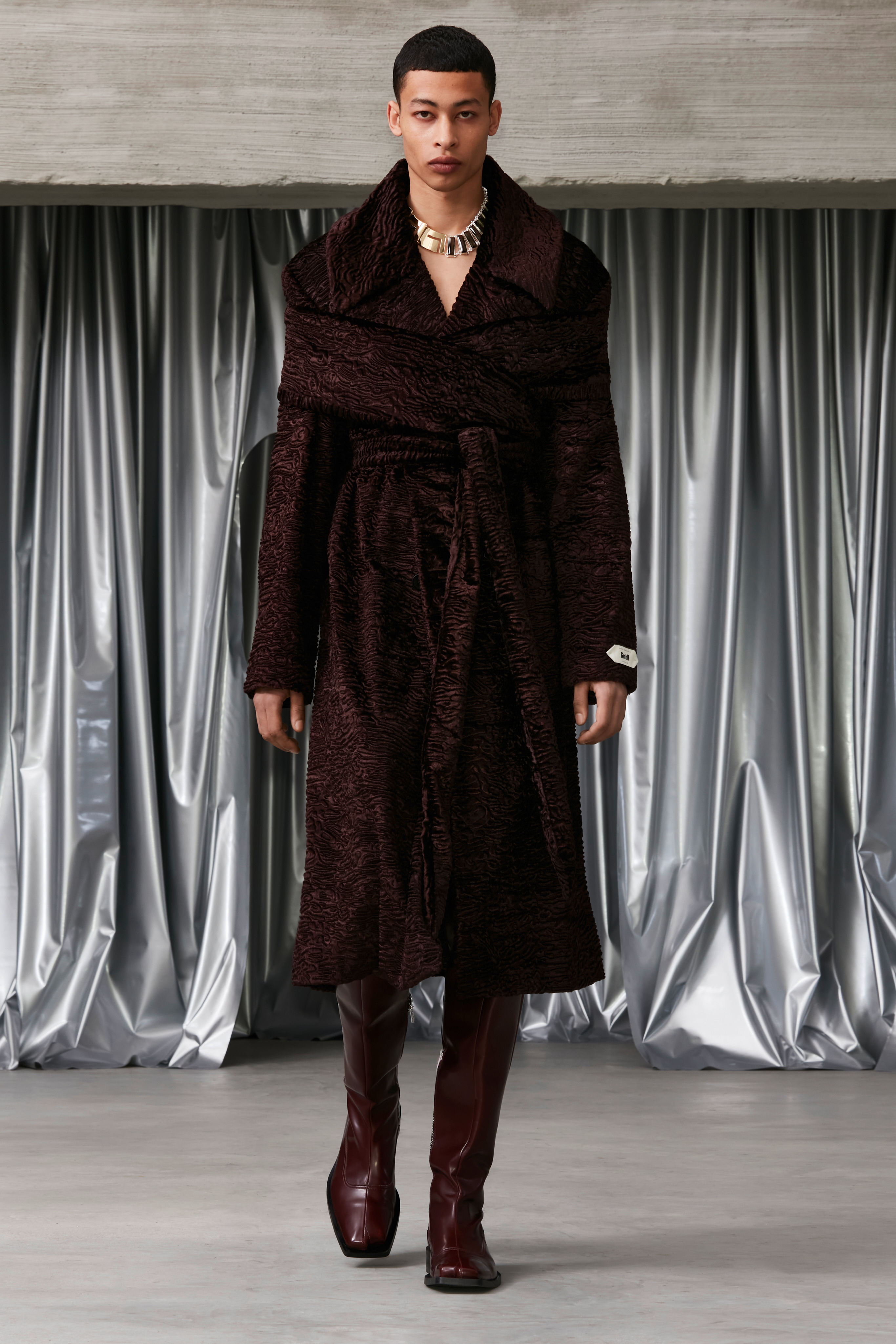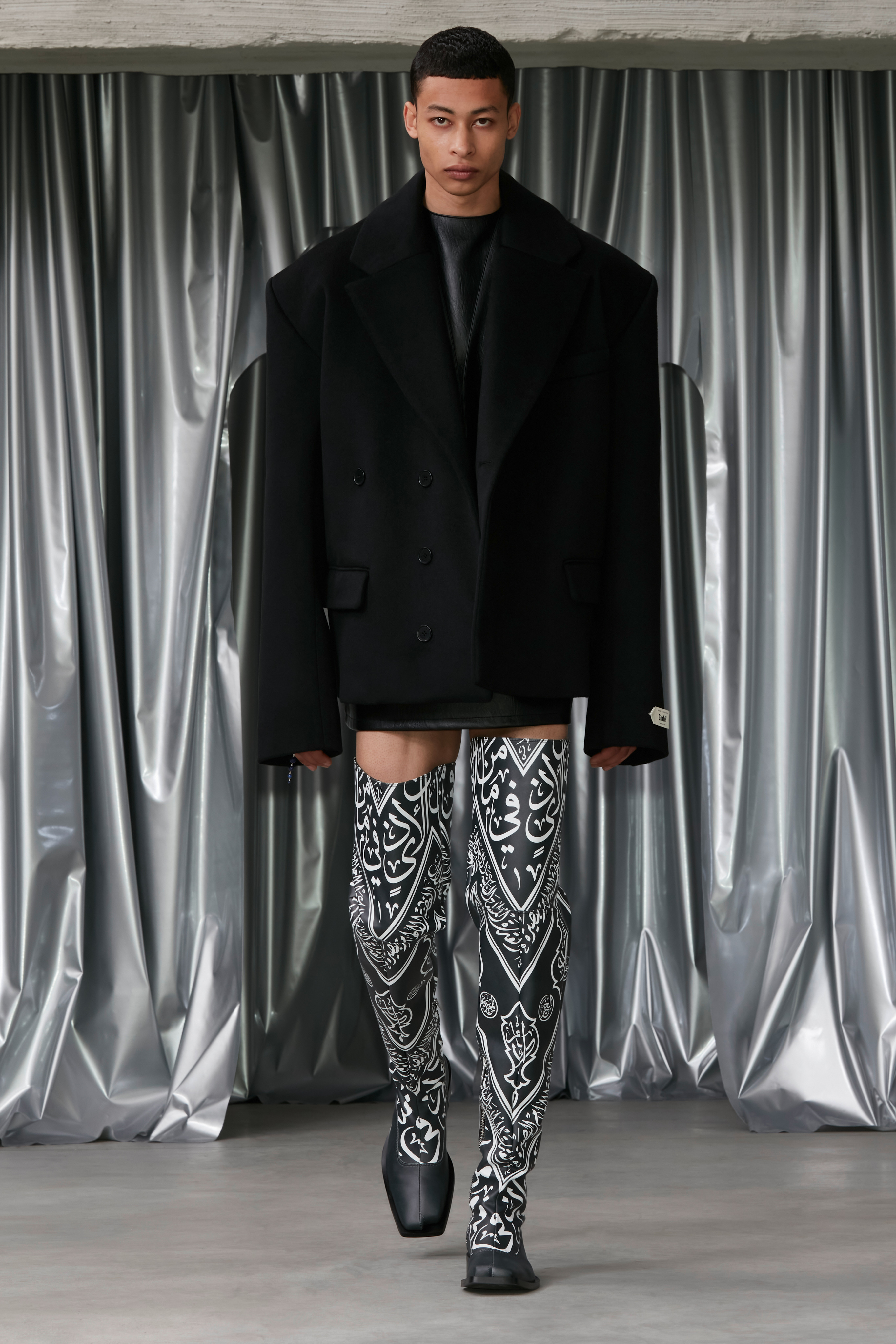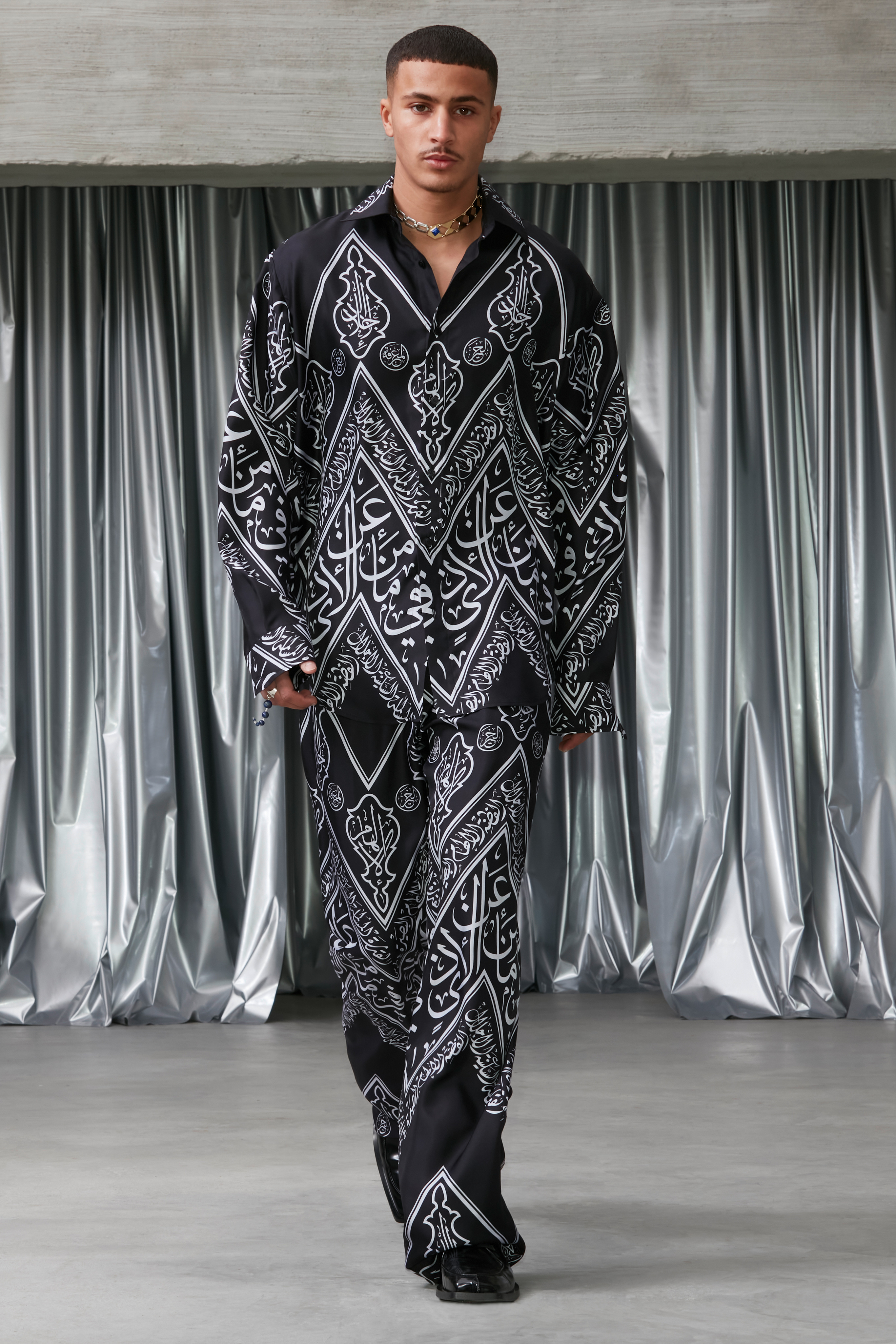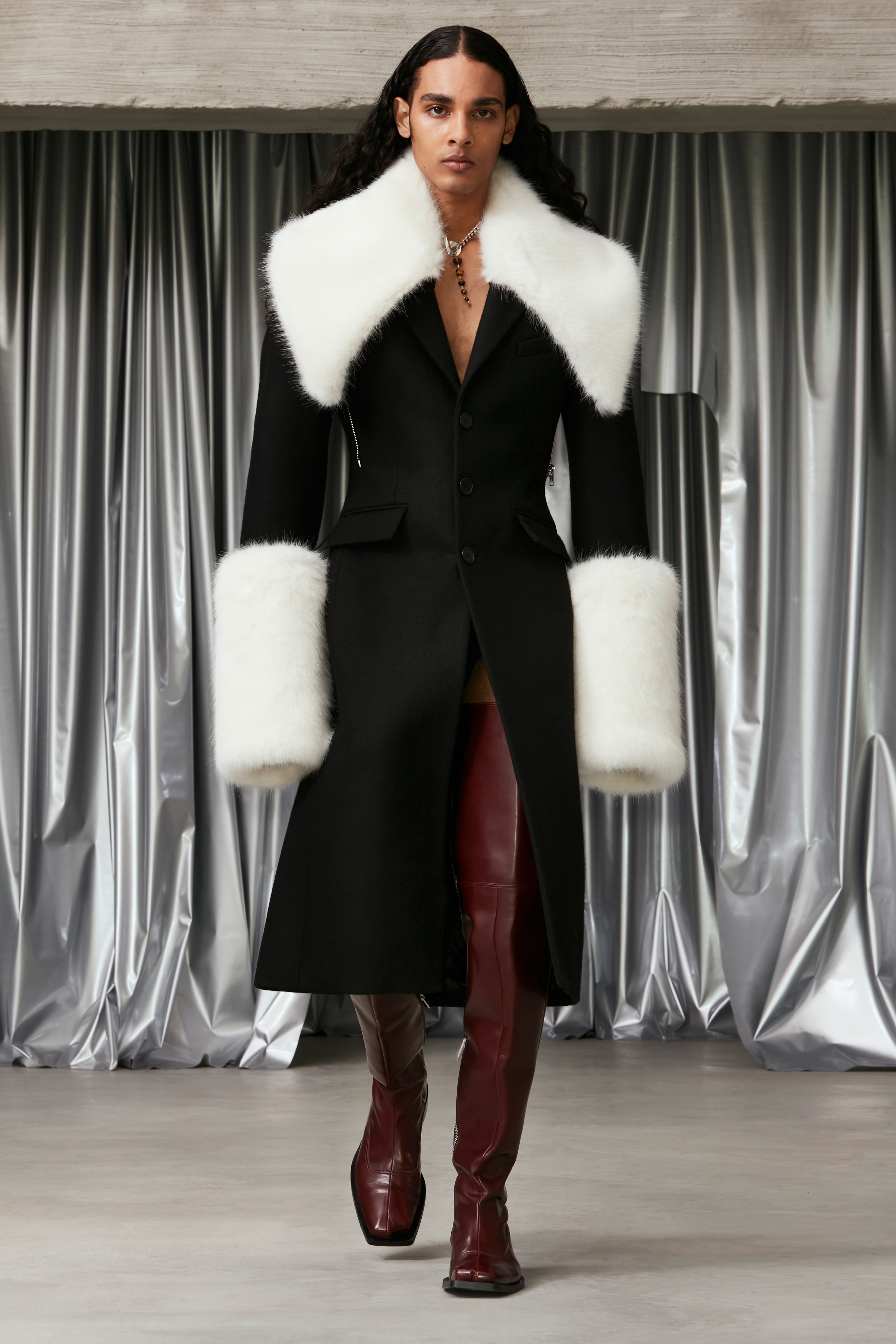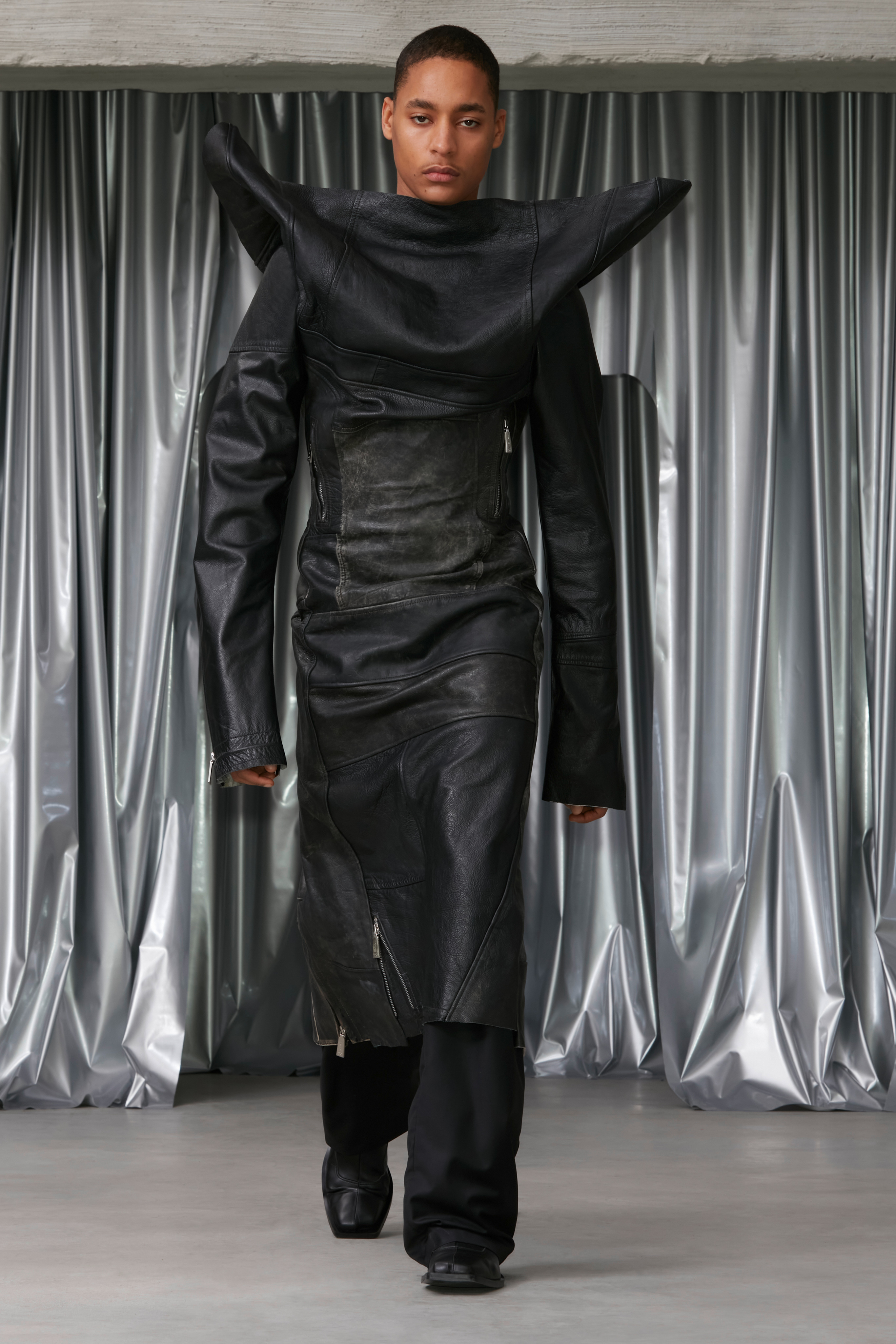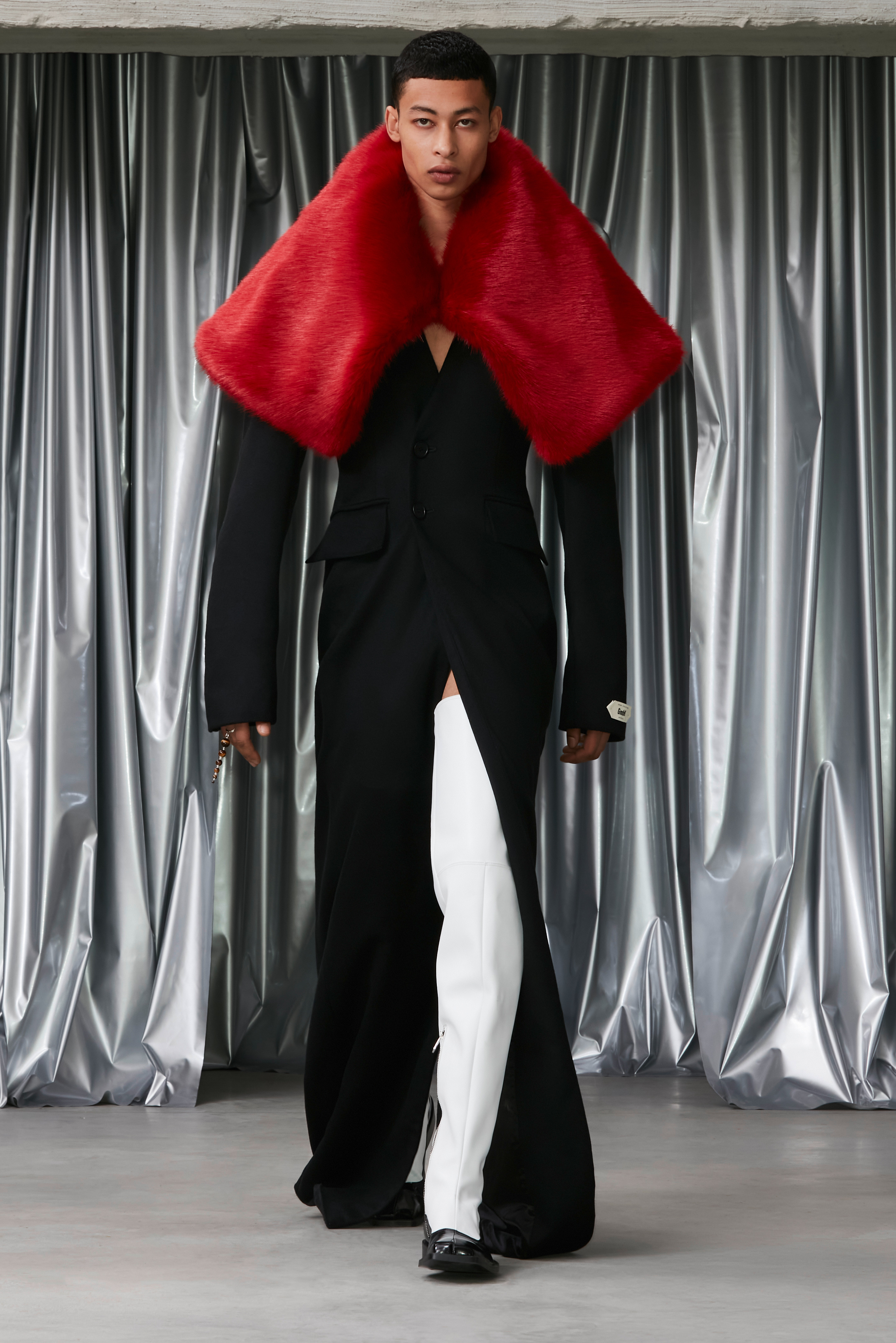 Dior
Ah, Paris! There isn't a city on earth that makes us swoon more. Someone who agrees with us on that is Mr Kim Jones, whose latest menswear collection for Dior was staged on a recreation of the Pont Alexandre III – the real thing, mind you, being just a stone's throw away from the show venue on the Place de la Concorde. More than an ode to the city, though, this set the stage for a tribute to one of the city's most iconic fashion voices of all time – Christian Dior himself. Delving deep into the archive, Kim forewent the artist collab strategy he's been pioneering over the past few years, instead paying homage to the house's namesake founder. Featuring Bar jackets for men, jewel-encrusted Derby shoes, and coats in cannage quilting, this was an exquisite celebration of Dior's best-loved motifs in the Maison's 75th anniversary year. Full review here! MS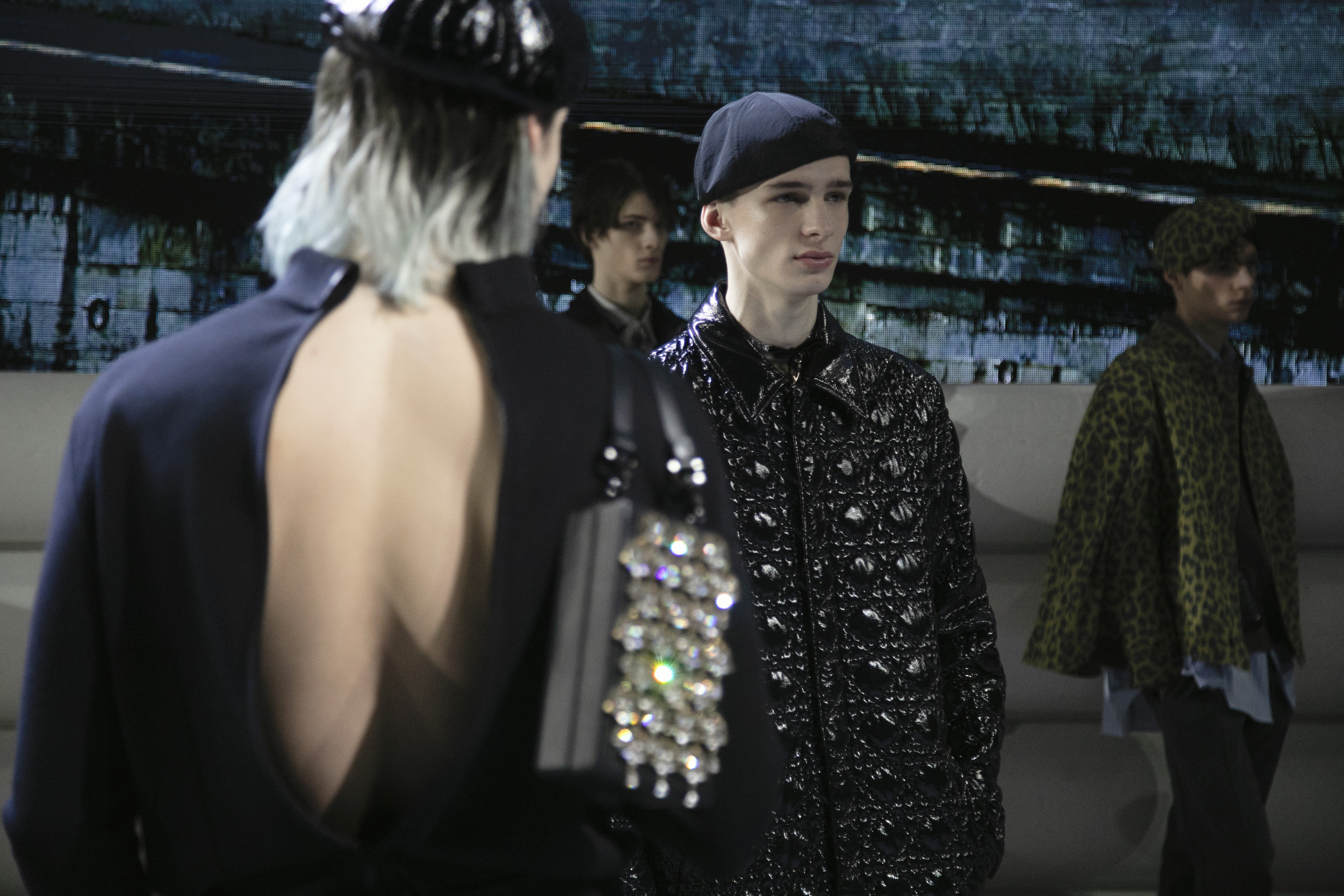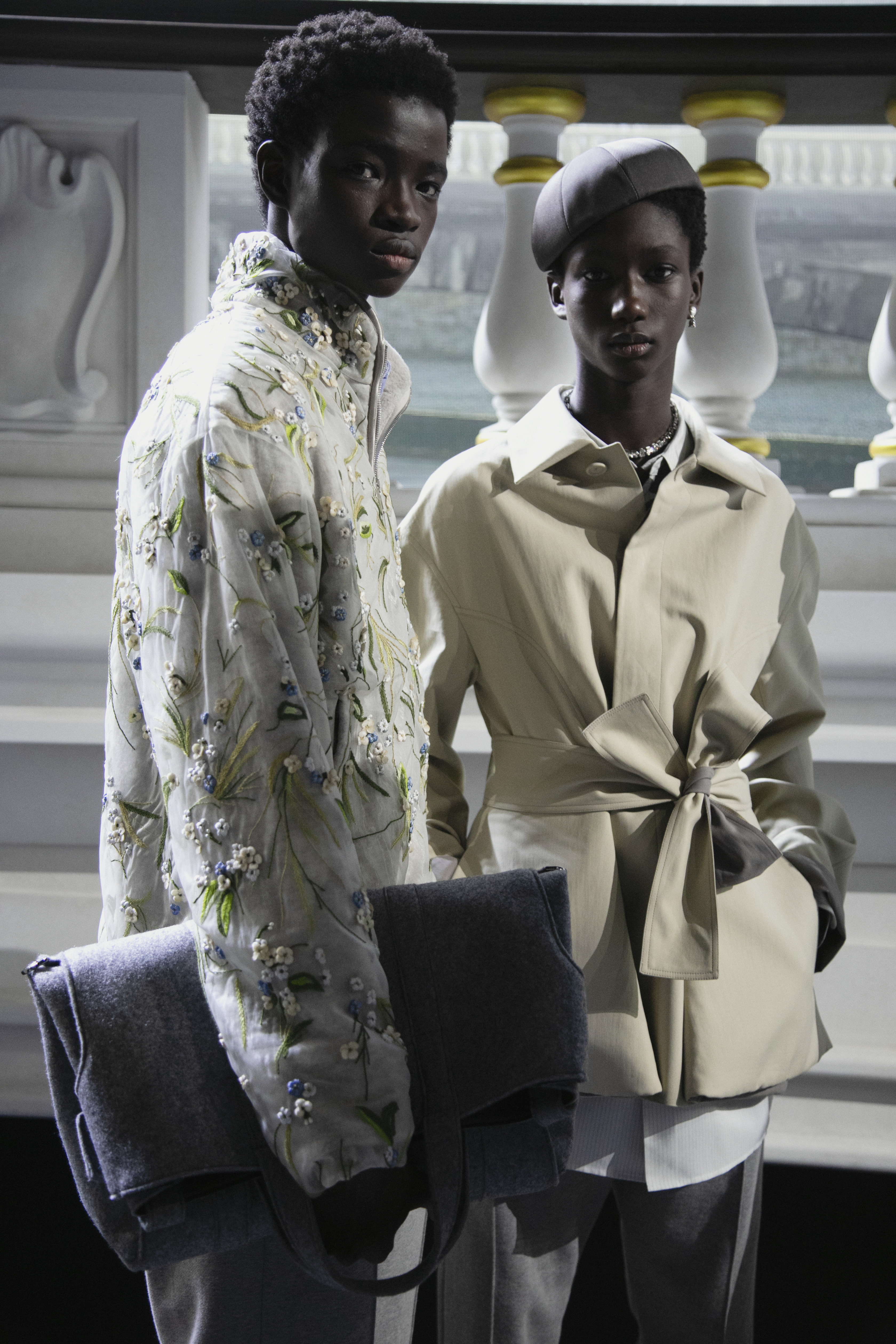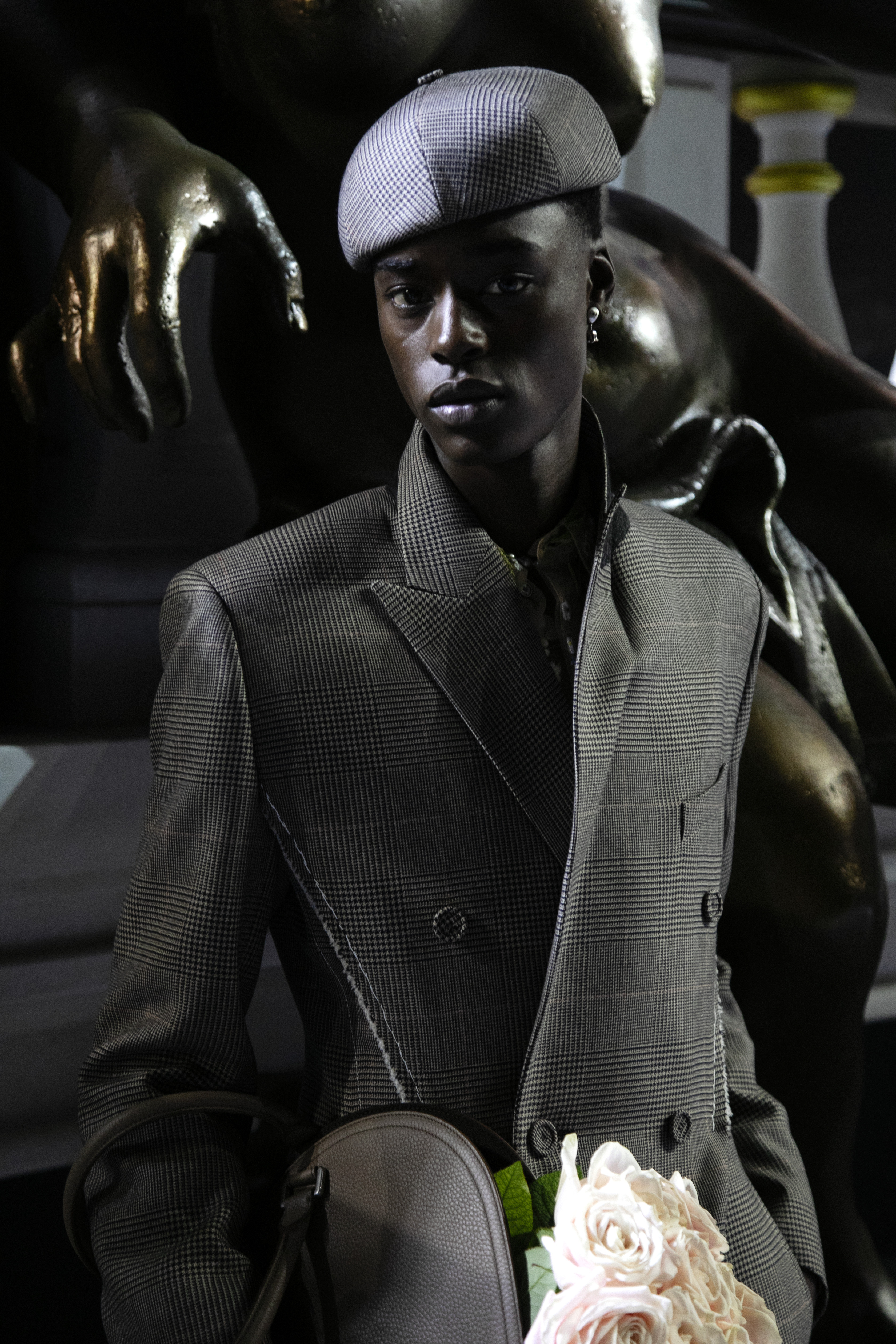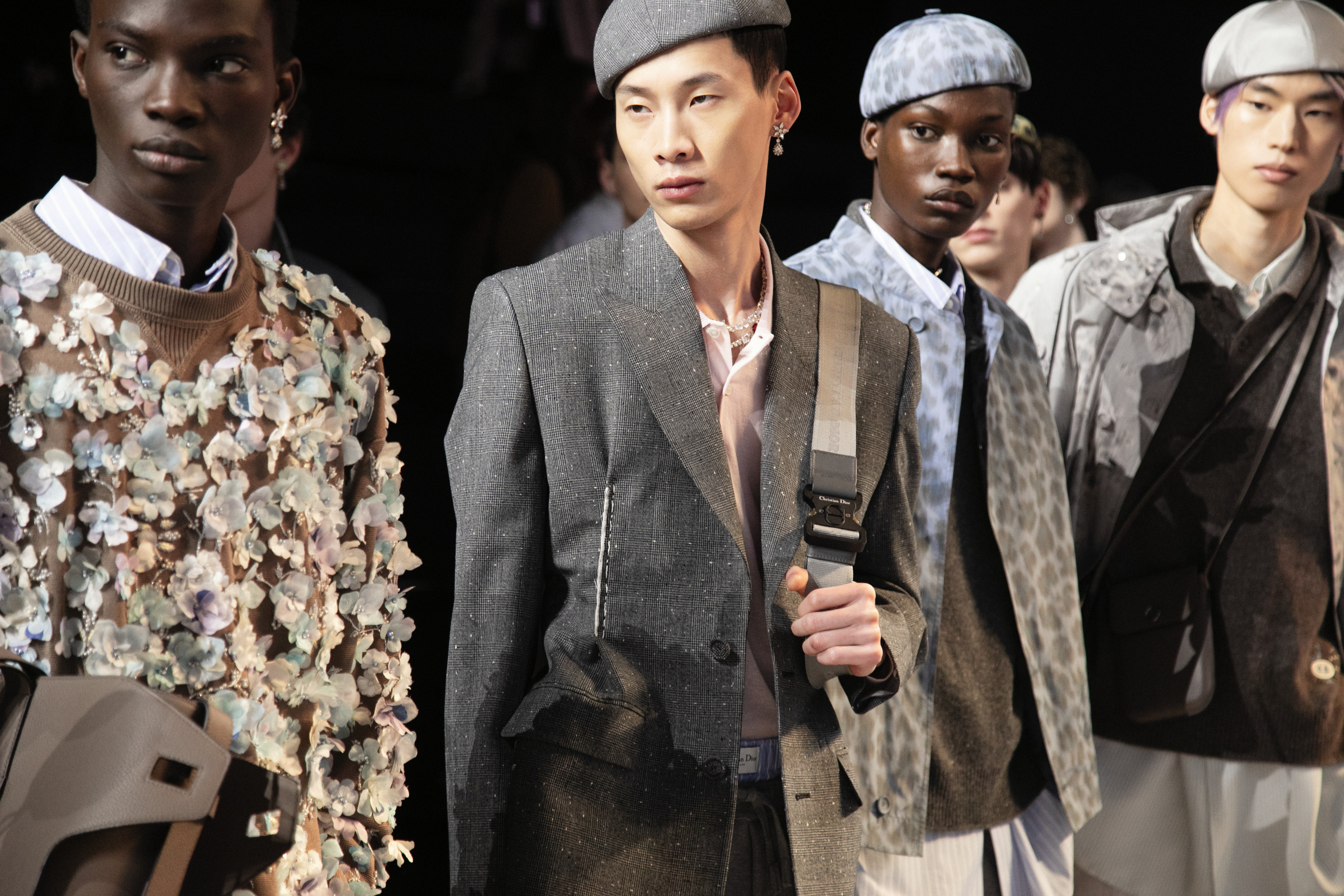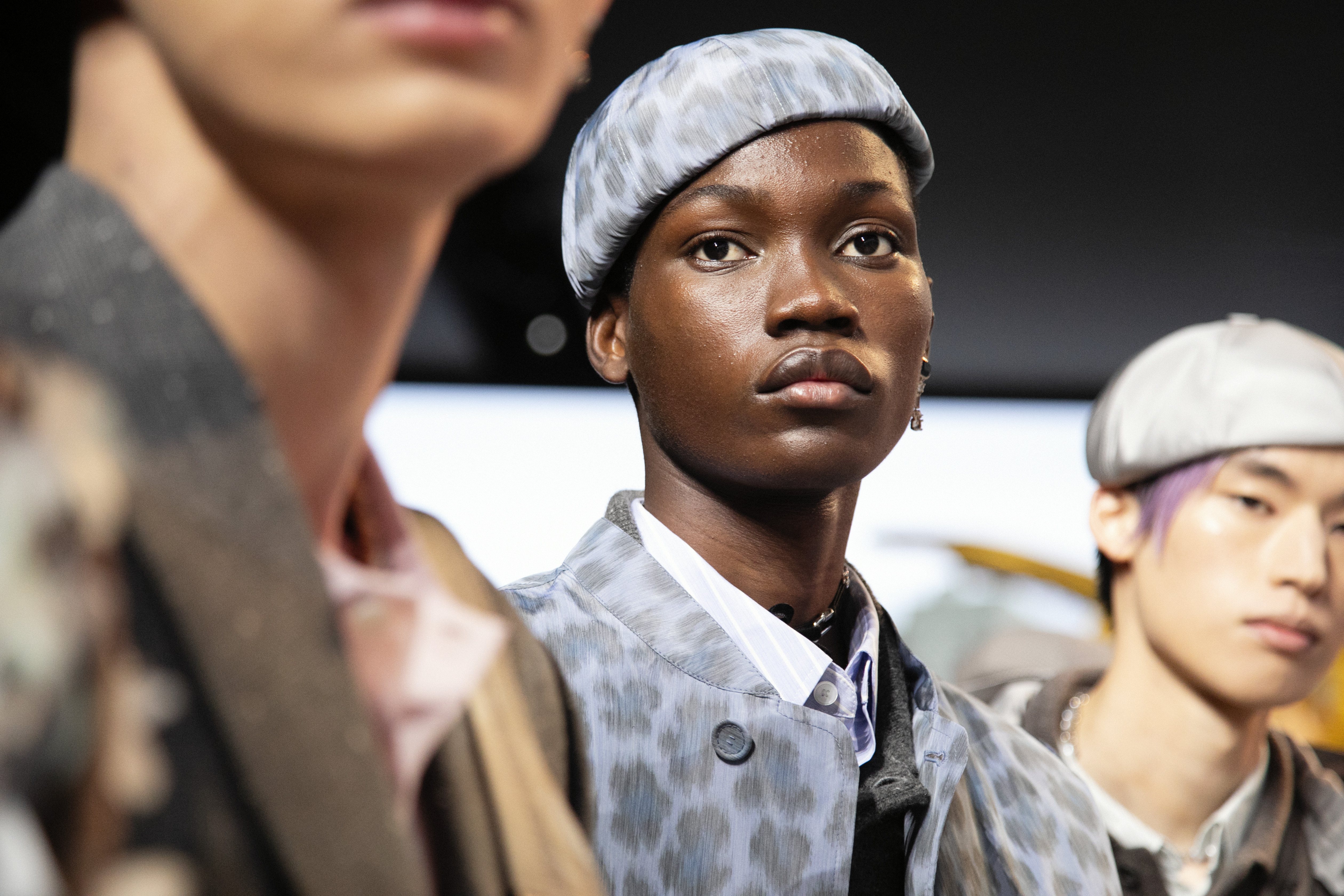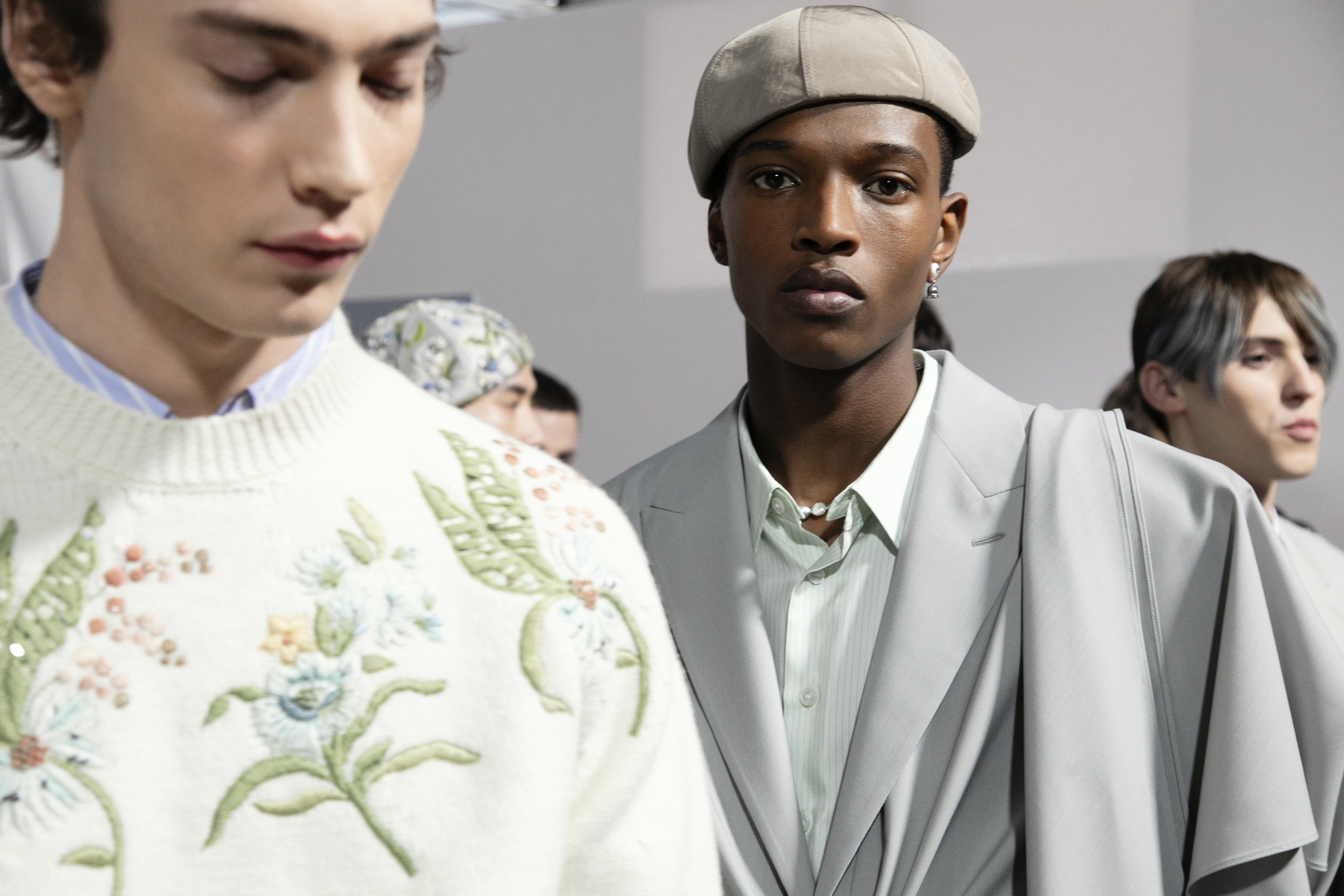 Rick Owens
Hardcore doesn't come harder than Rick Owens. You never know what's going to come down the catwalk at these shows, but you can bet that it's going to be something mind-blowing. This time, it was sex-club bondage, gimp masks (we could have sworn some of them were in cashmere), and protruding silhouettes that transformed the human body into otherworldly alien-y figures. Oh, and helmets with Dan Flavin-like strobe-lit horns. "In this age of immediate gratification and meta-self-invention more than ever before, maybe indulging in my id is ultimately the wisest path," reflected Rick in his open-letter show notes. The languorous sleazy-glam light seekers, he added, reflect that mood. Set against the epilepsy-inducing flashing lights and The Sisters of Mercy's Lights, almost every look in the collection had a great piece of outerwear: sculptural duvet-style padded pieces, deconstructed shearling-trimmed parkas, bulbous hoodies zipped up all the way to conceal the face entirely. Rick said that they still had "exaggerated shoulders that I had started doing as a parody of masculinity but ended up enjoying wearing … an excuse to take up more space around me." In fact, he closed the show himself in a broad-shouldered overcoat, complete with a balaclava. All of the cotton, he also pointed out, were certified-organic cotton, and he listed the family-run mills that work with slow-weaving techniques. Don't call it virtue-signalling, but Rick says that the "balance of virtuousness and cheerful degeneracy" has always been his Holy Grail. It begs the question: why shouldn't sex-club gear be more sustainable?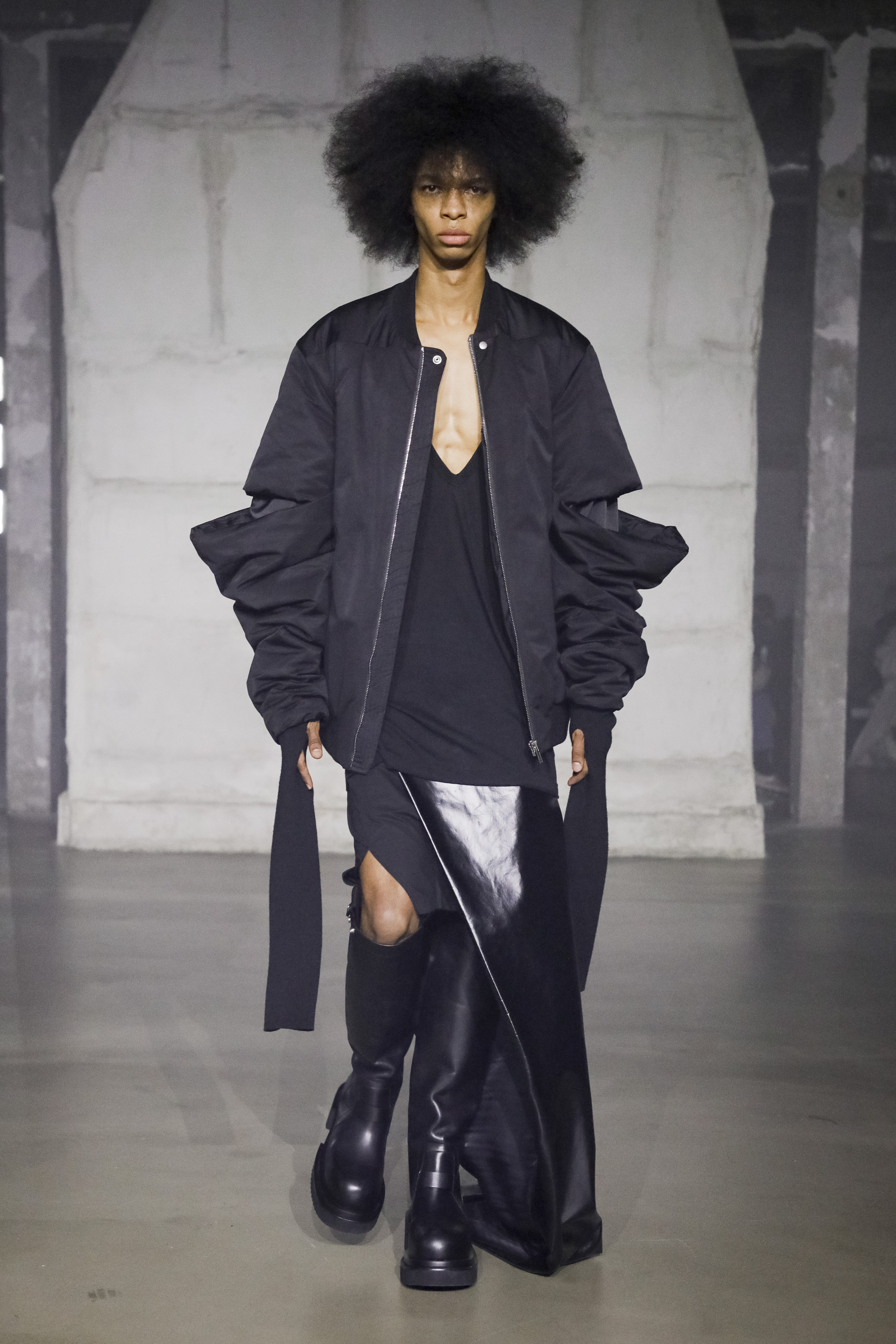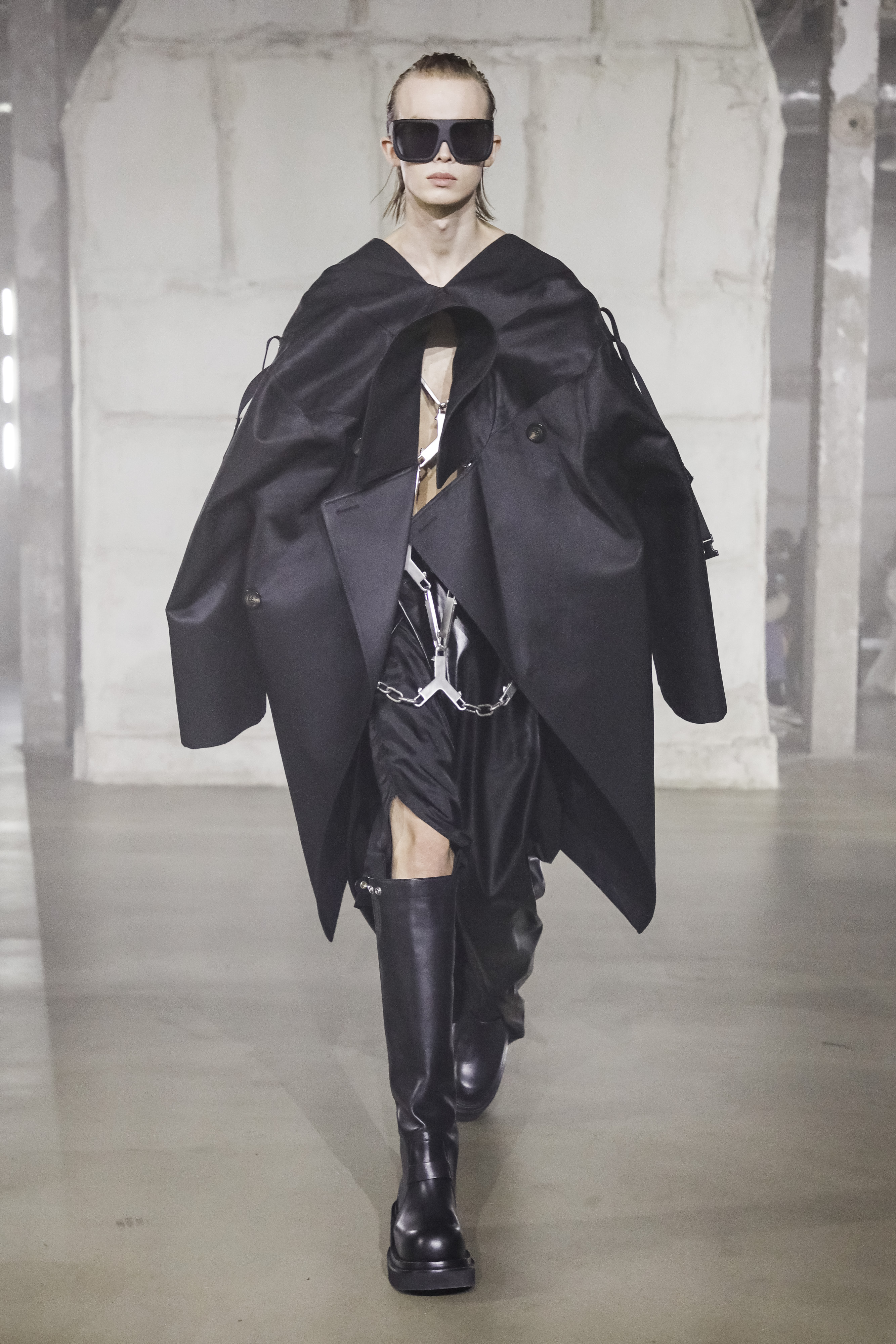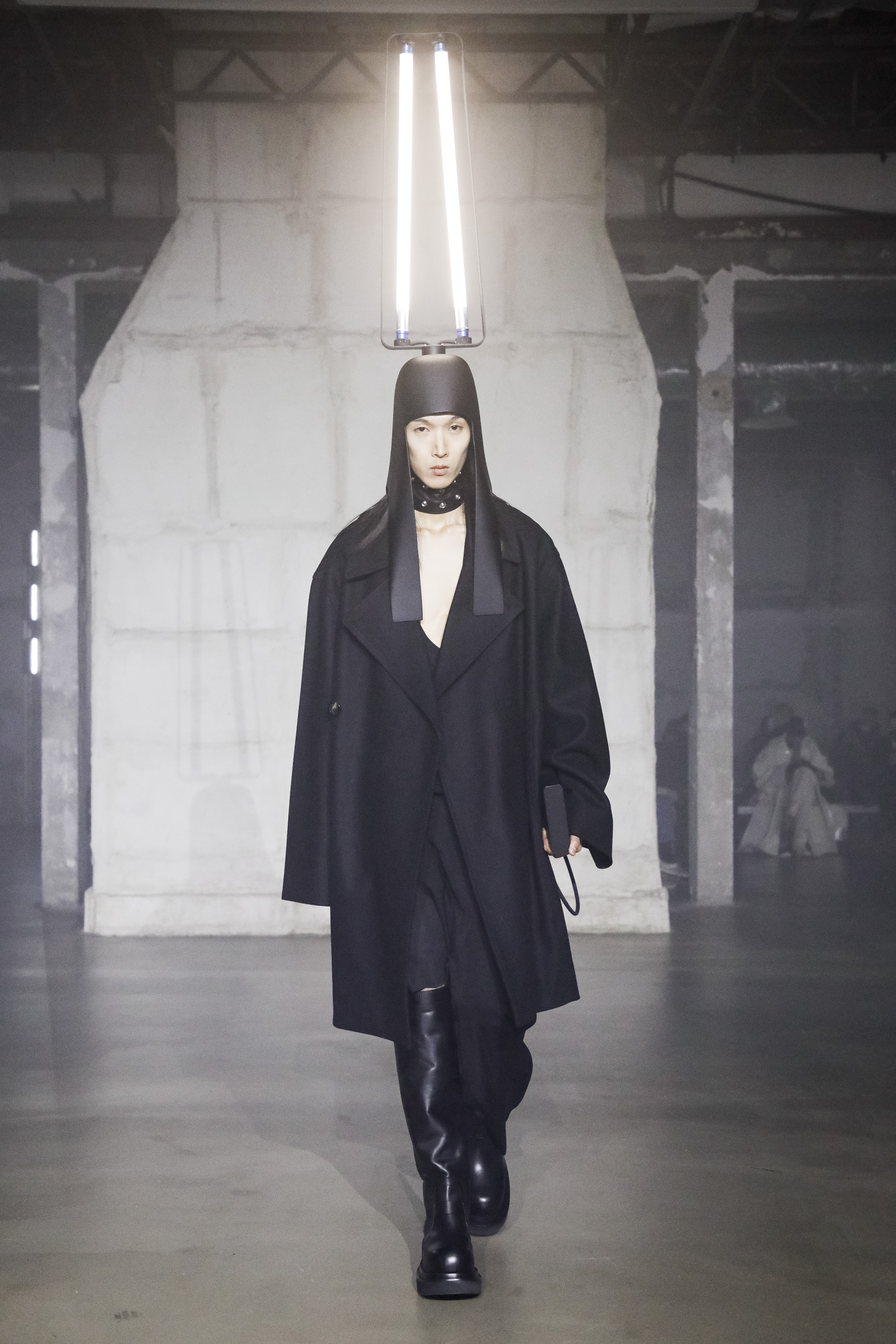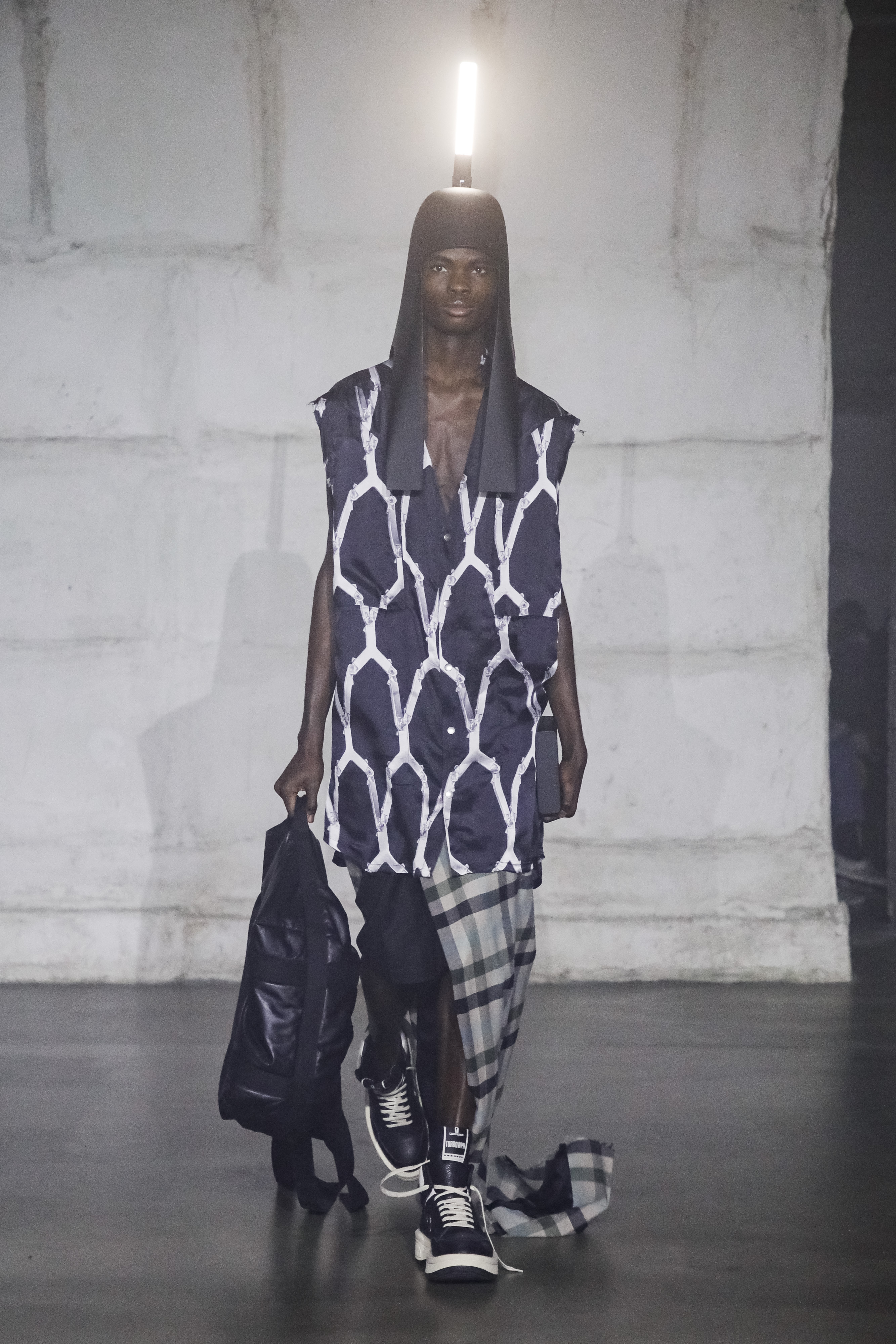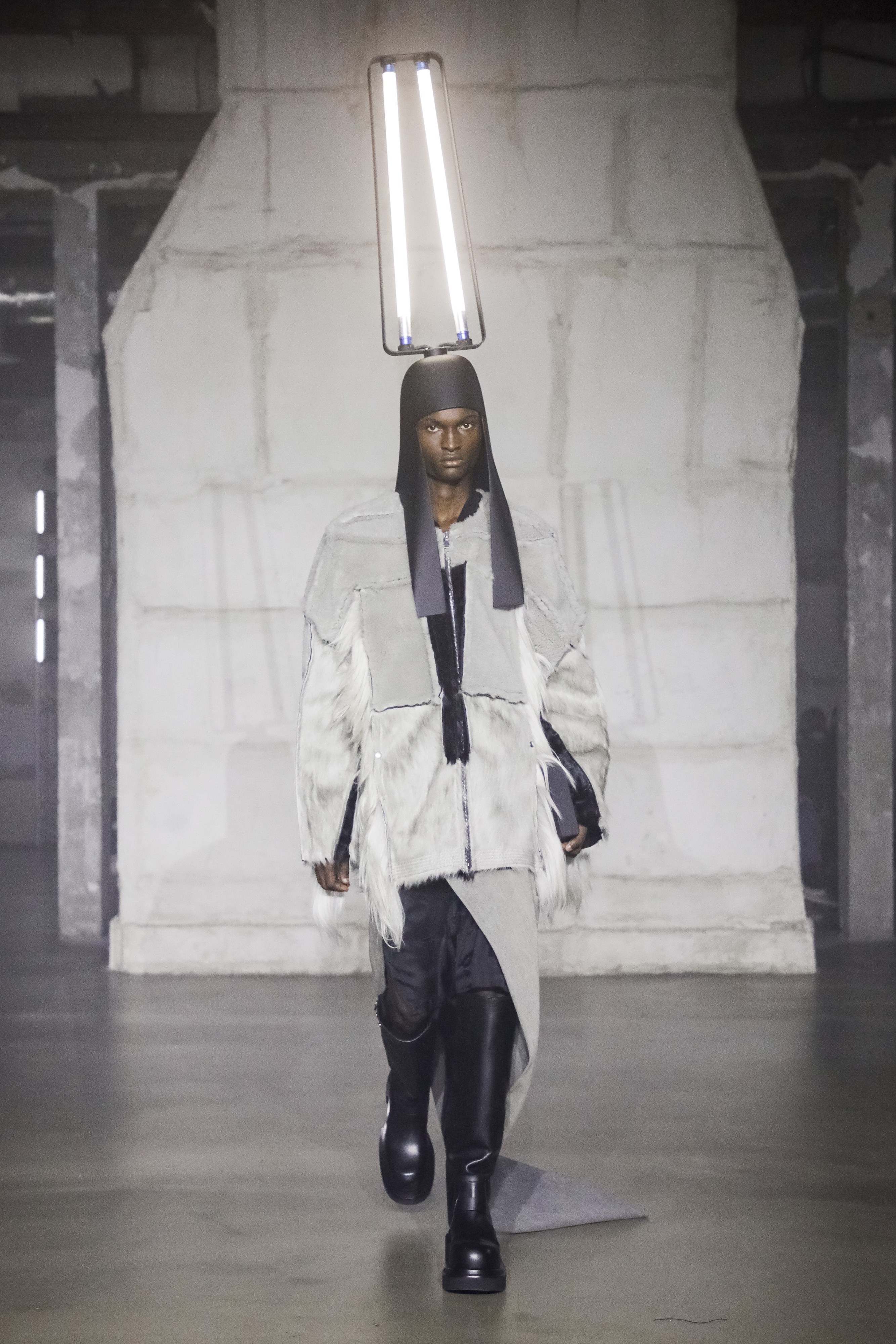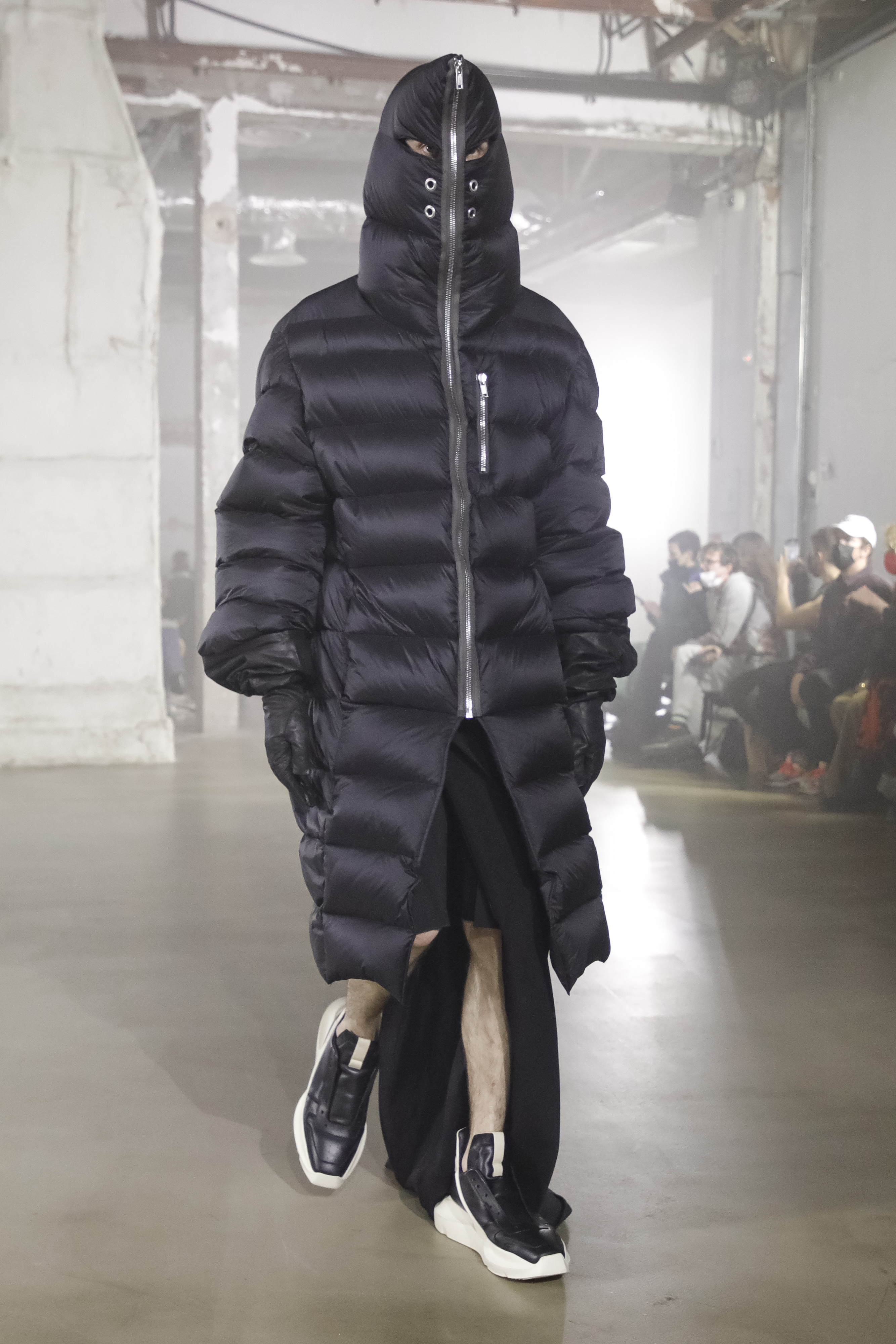 Louis Vuitton
If there's one show that the international fashion community was waiting for this season, this was it. The presentation of Virgil Abloh's final collection for the Parisian house, this was an episode of fashion history played out in real-time. More than just a fashion show, though, it was a concrete manifestation of the late Great's all-encompassing vision – a worthy tribute to the immeasurable ambition and genius that allowed him to transform Louis Vuitton into one of the most significant laboratories of ideas for contemporary pop culture, and a hub for a global creative community. Read Osman Ahmed's extensive report on the show and the power of Virgil's legacy here, as well as tributes from some of the young creatives who knew him best. MS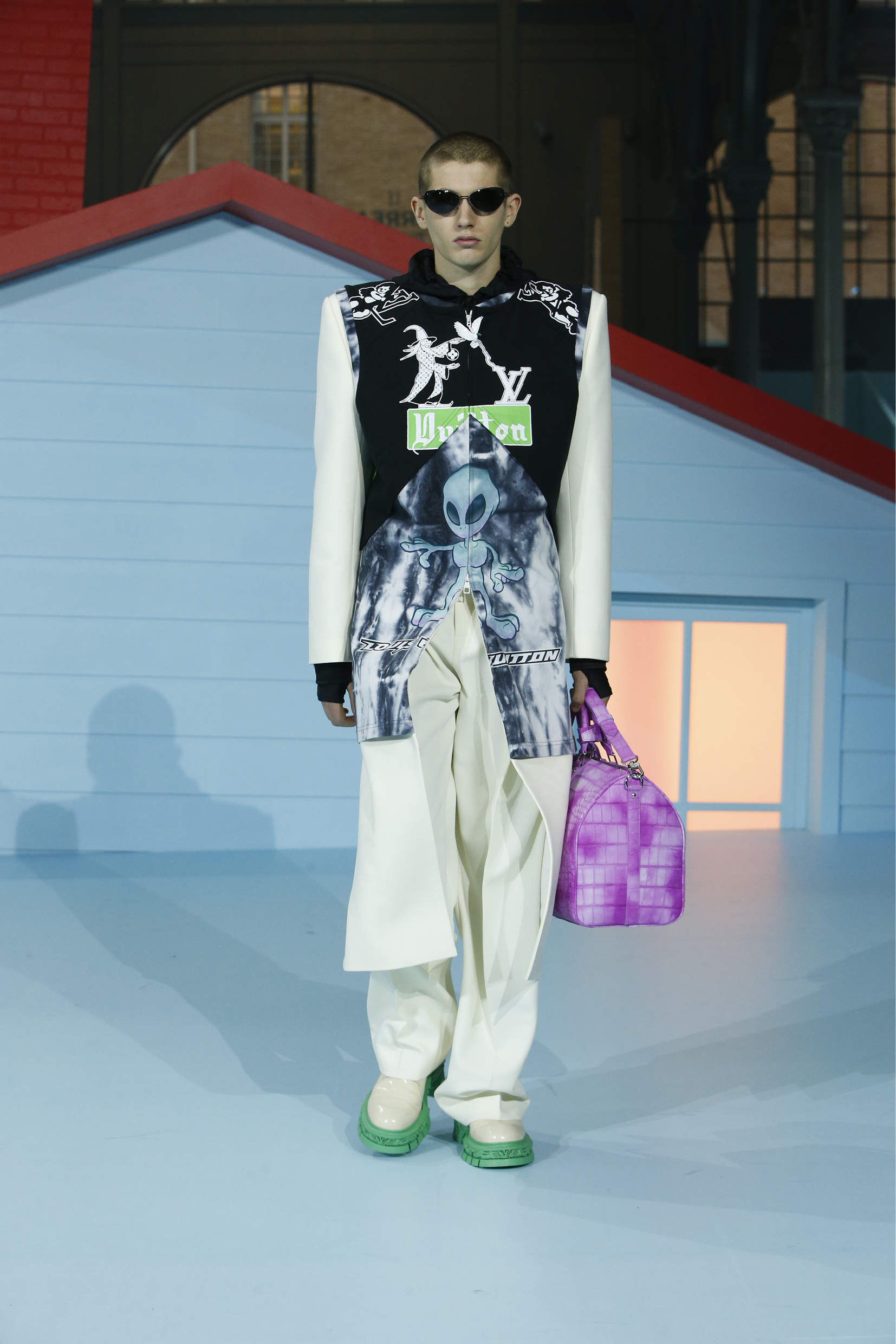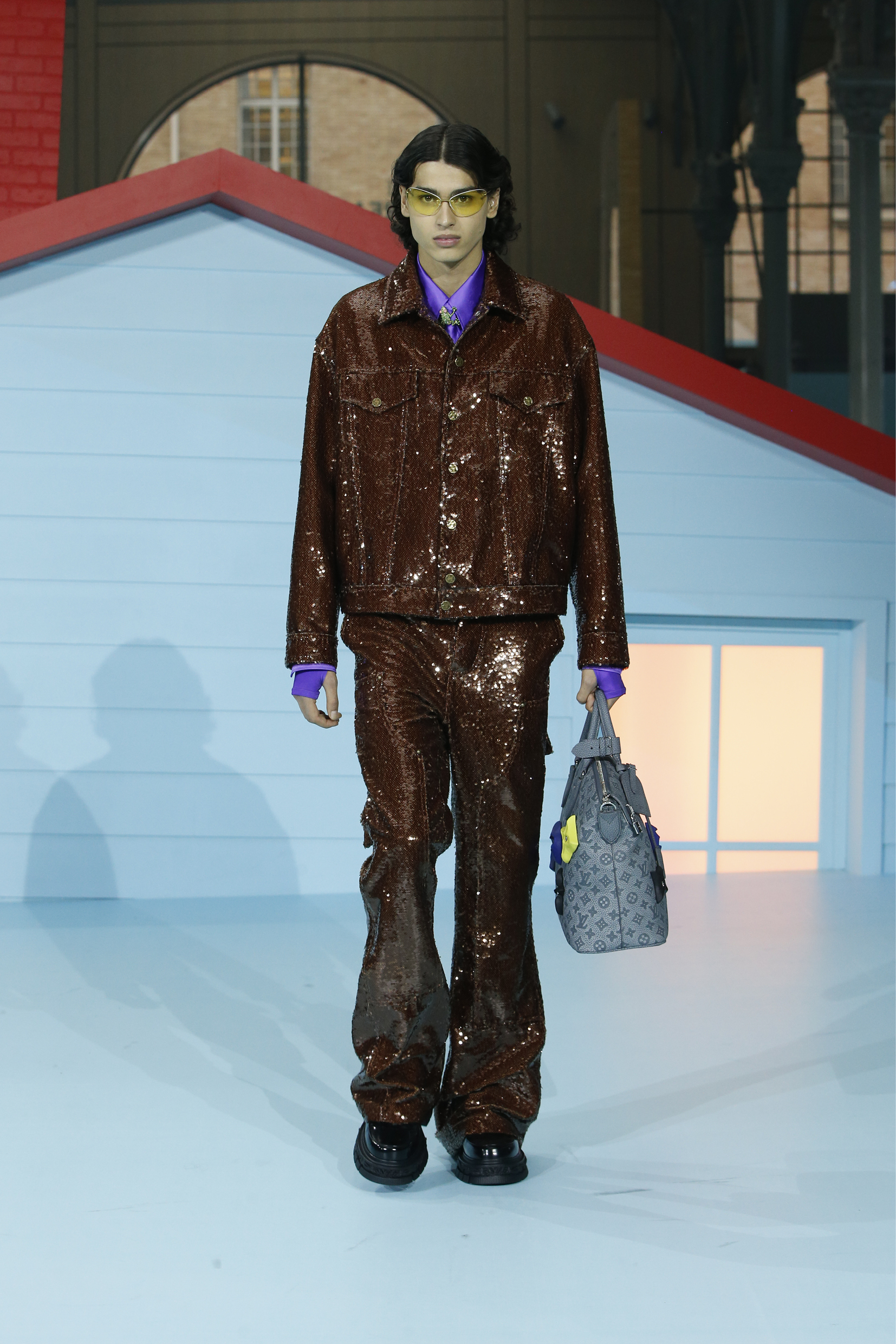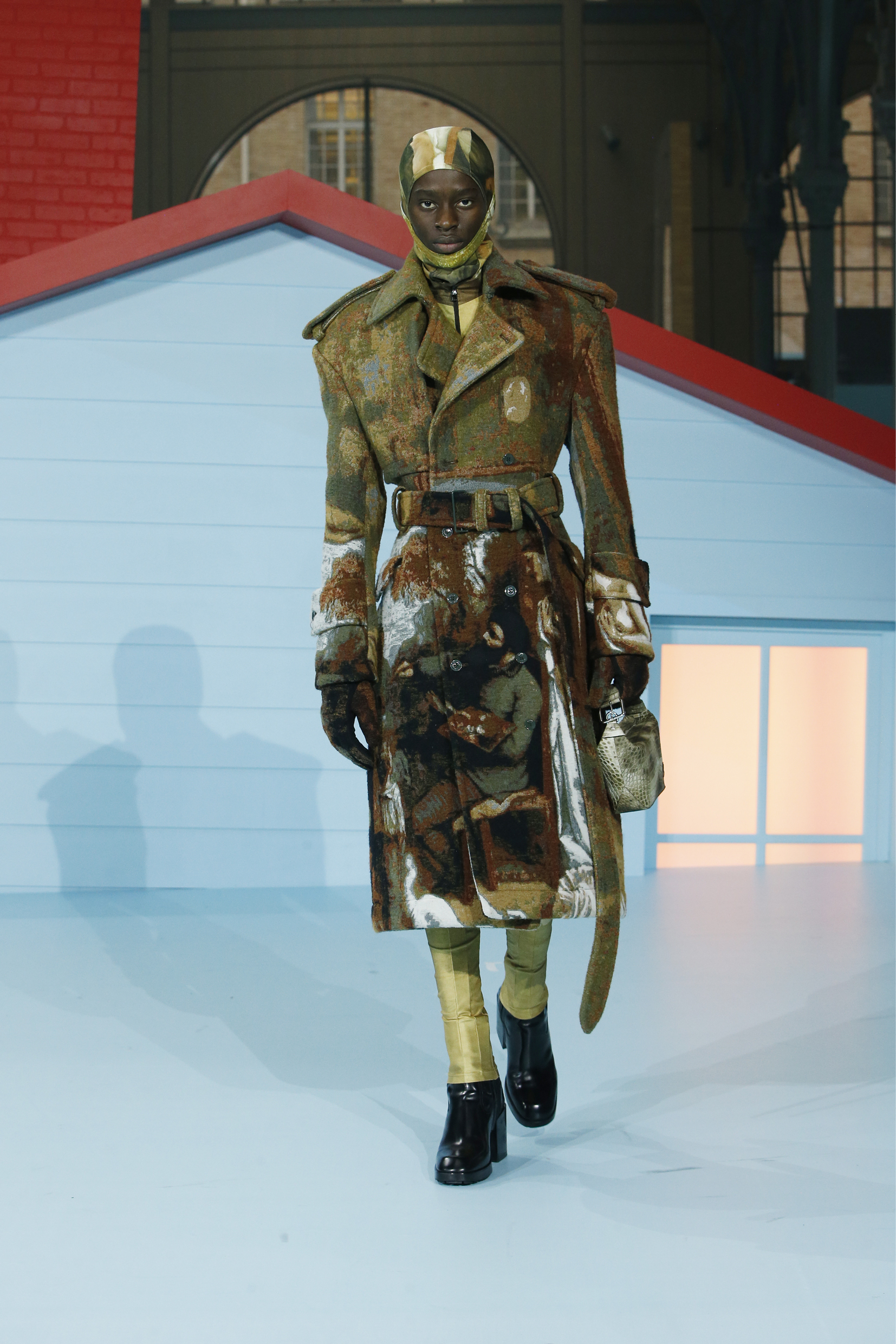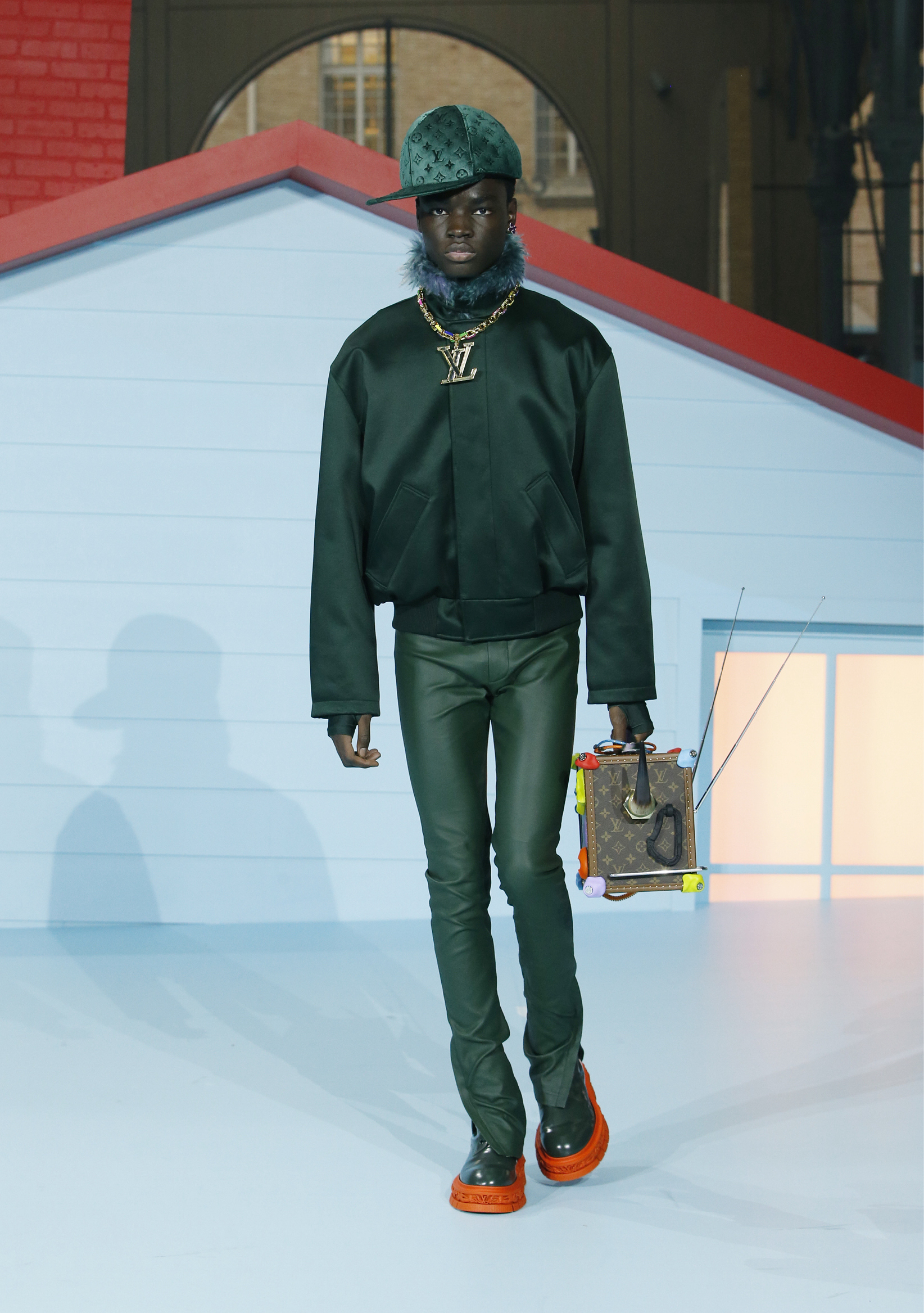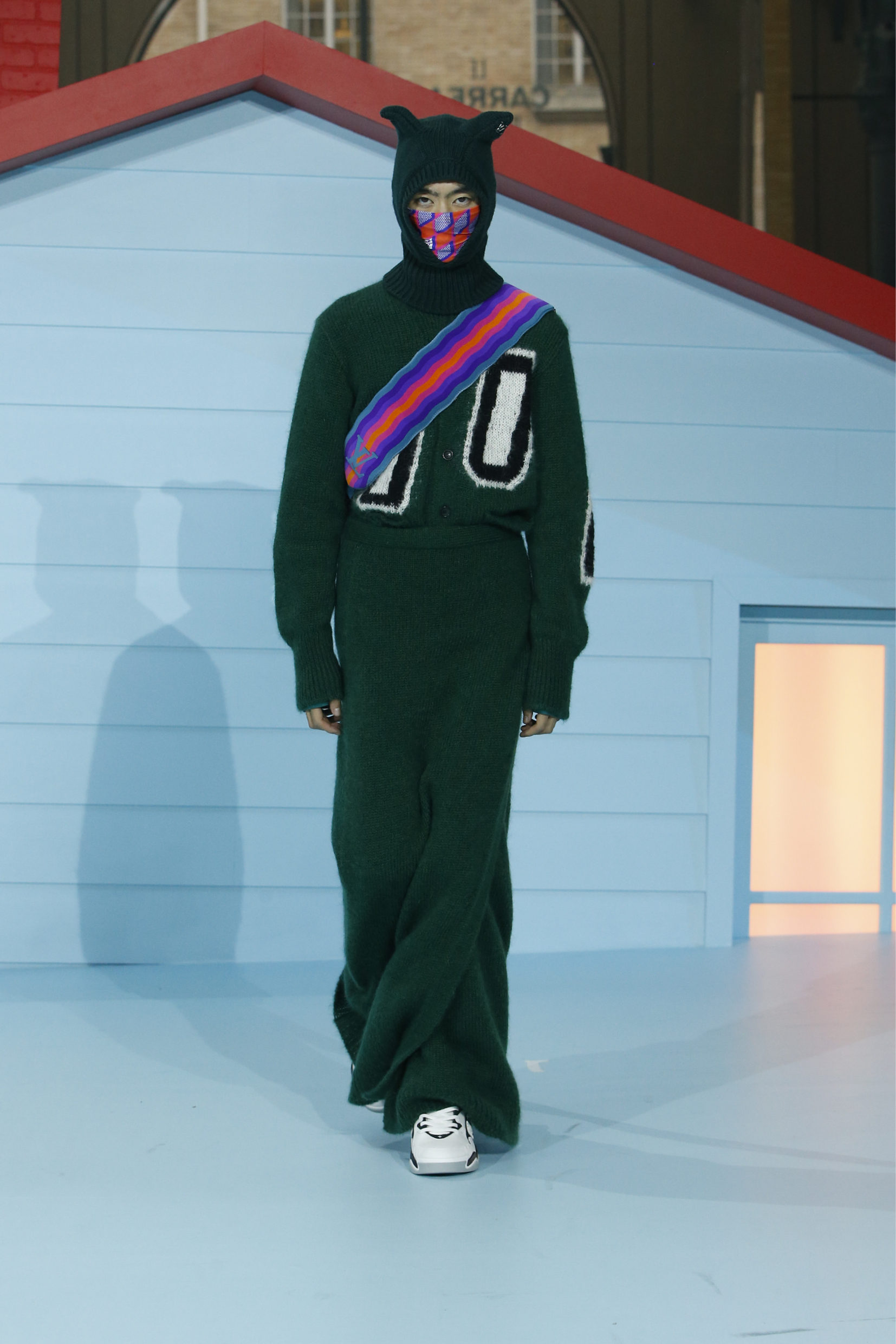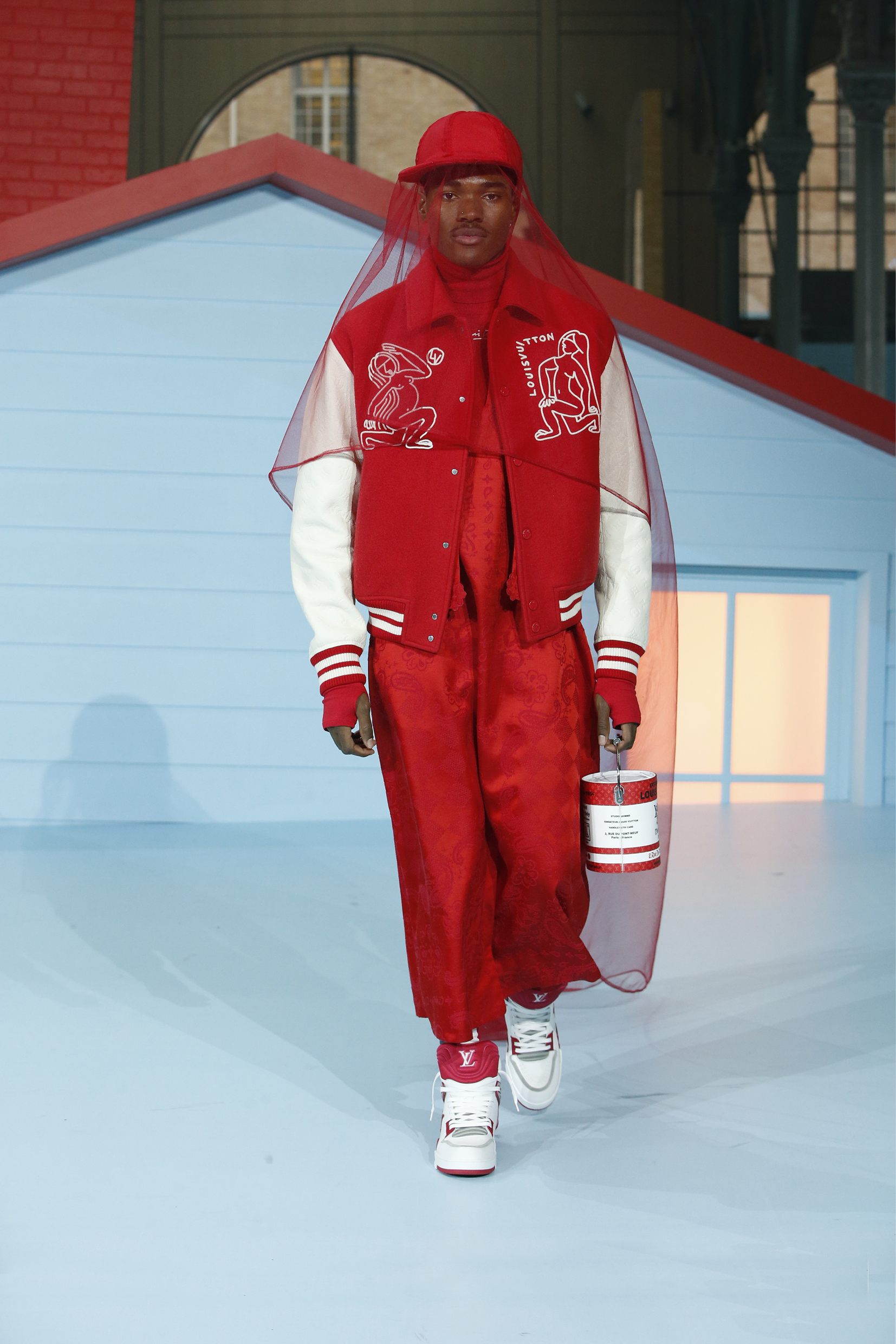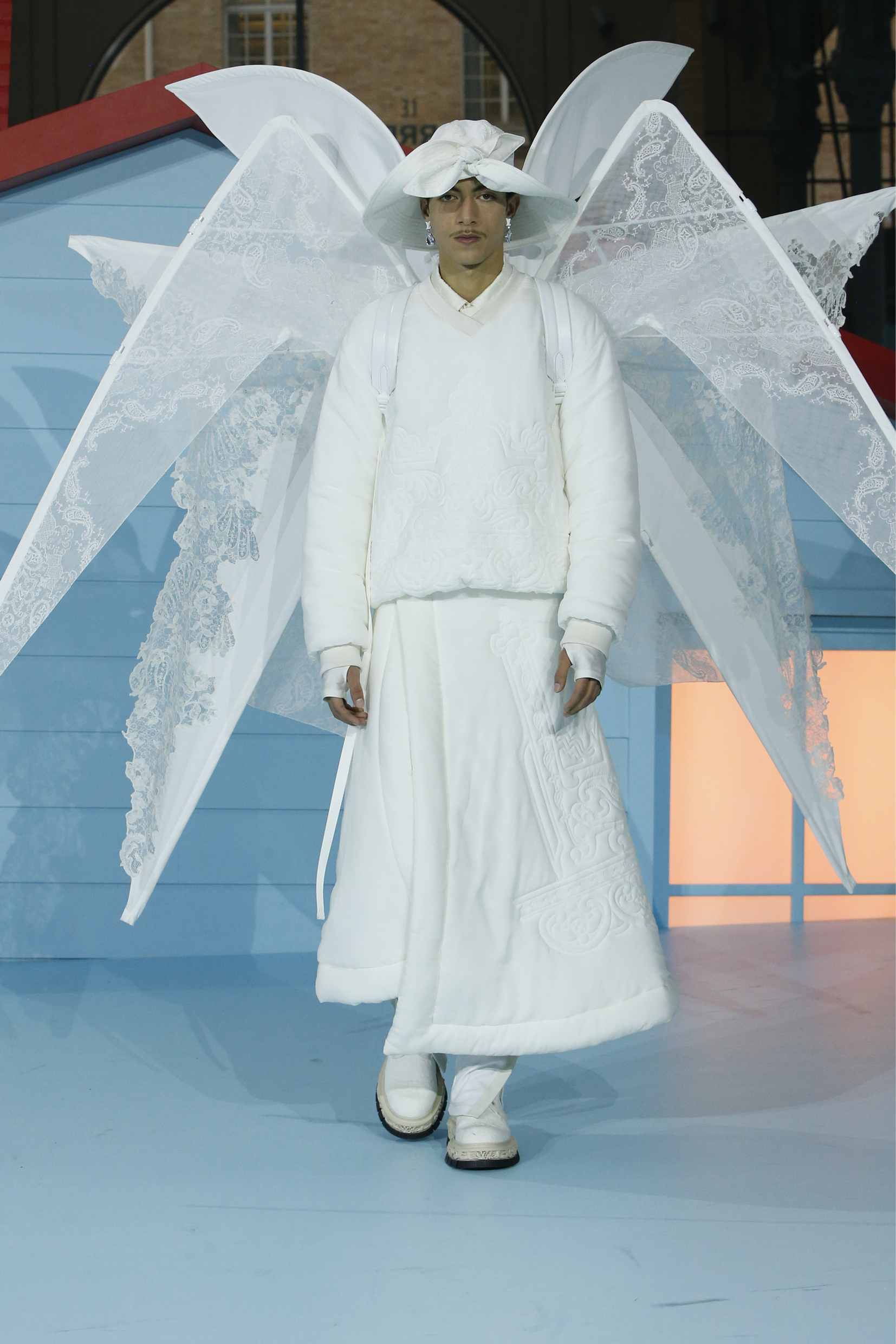 Acne Studios
Joining Rei Kawakubo in shaking off the stasis that has defined life over the past two years in favour of a freewheeling nomadic existence this season was Johnny Johannson, the creative director of Acne Studios. For the Swedish label's latest menswear collection, his mind drifted to BC (Covid, rather than Christ), and the sweet freedom of those times. "Being in isolation has made me realise how much we are used to travelling," he pondered in the show notes. "This led me to think about nomadic communities, like those in the north of Sweden near where I grew up."
The result isn't so much a study of the dress codes of those specific communities, but rather a figurative meditation on "how a language of clothing evolves within communities, mixing and contrasting pieces together." Oversized tailored coats in dark, hearty tweeds were worn over tin foil-effect shirting, and cosy sweats came with disco-y sequinned cummerbunds. Flecked, wide-gauge knits read of humble familiarity and tradition while bricolaged denim flares and a patchworked brocade waistcoat and pair of wide-leg jeans suggested a zesty, almost-hippy-ish spirit. These were the looks that really spoke to the collection's central ethos – it was a collage "moods and feelings," said Johnny, "and a reflection of the way we live now."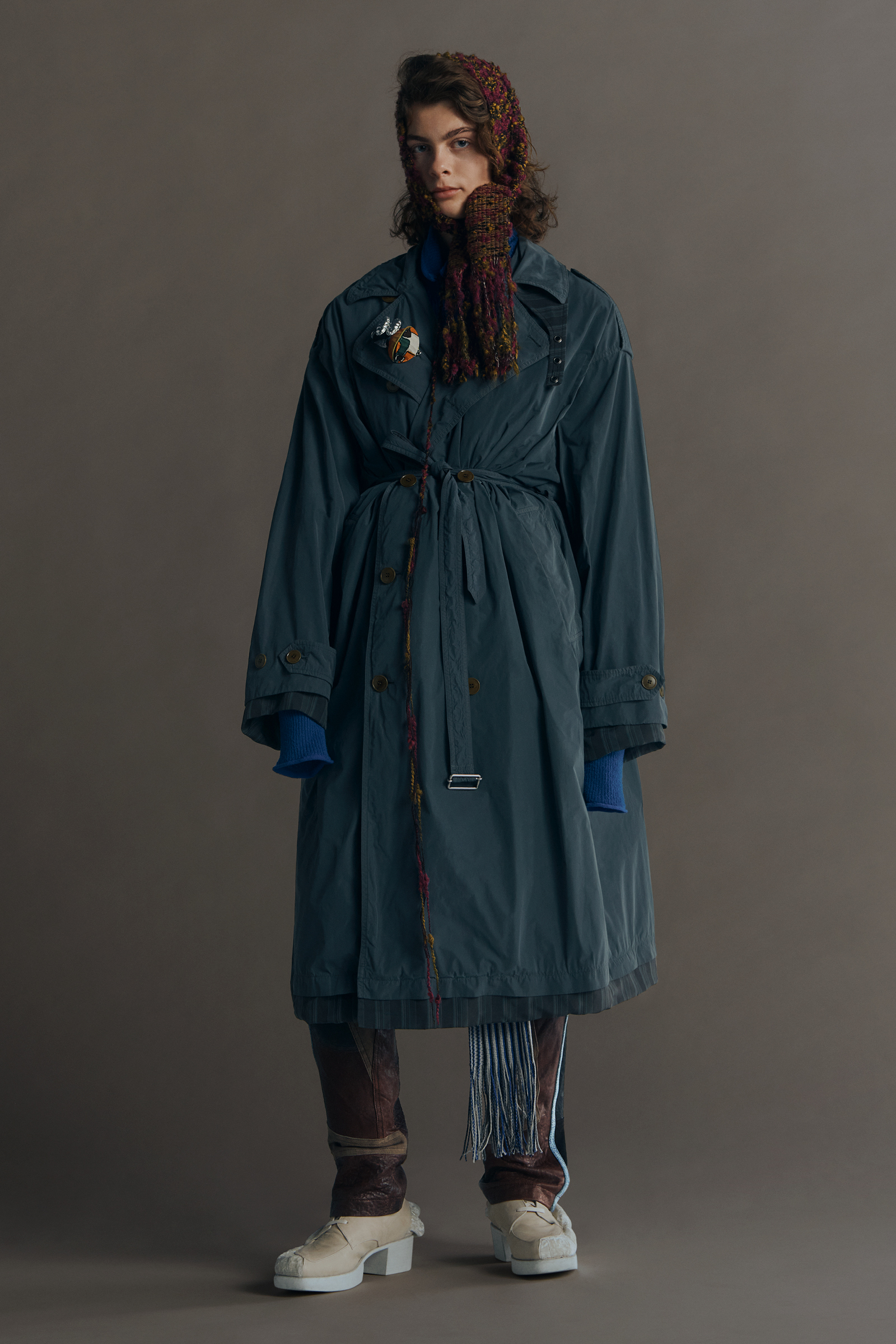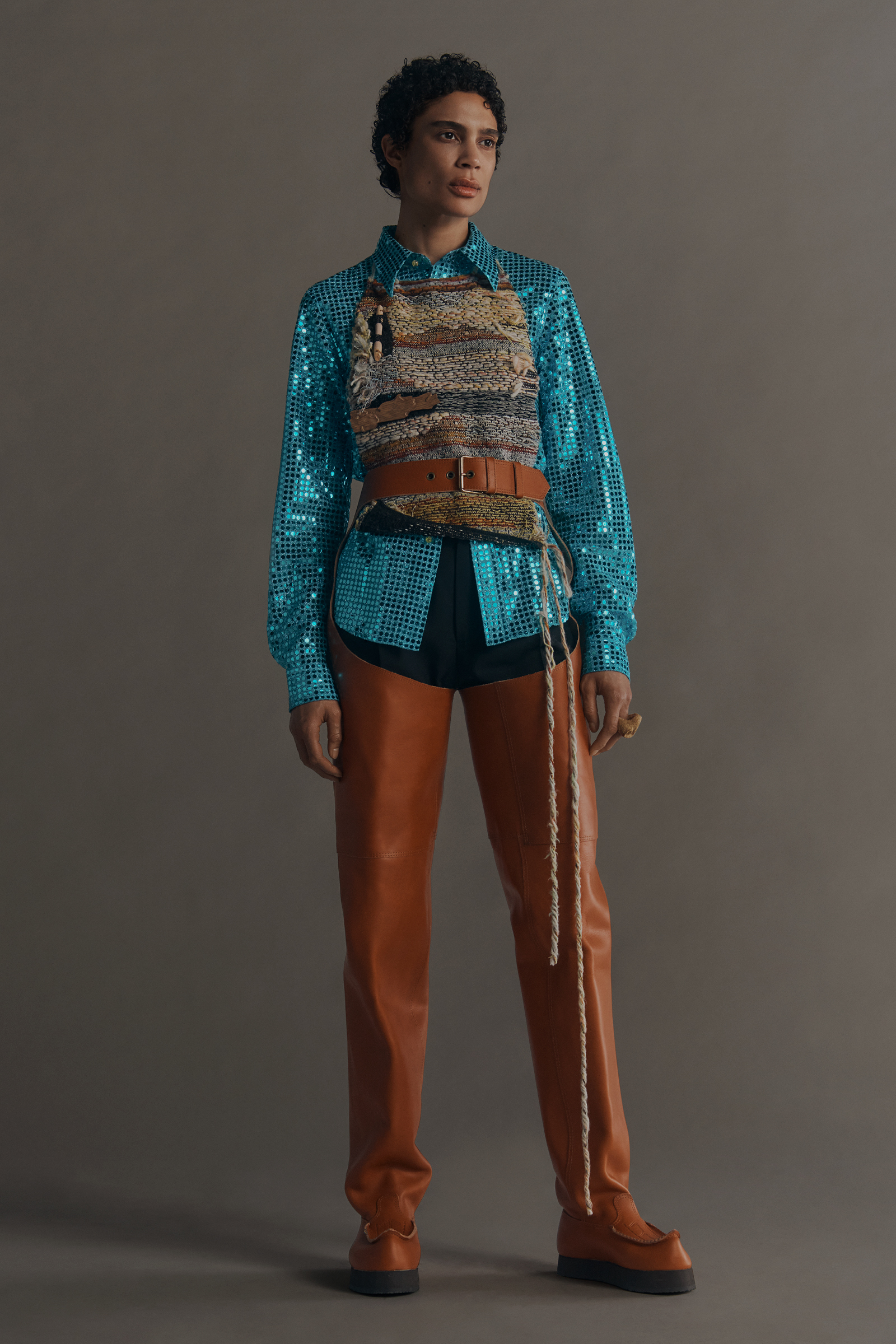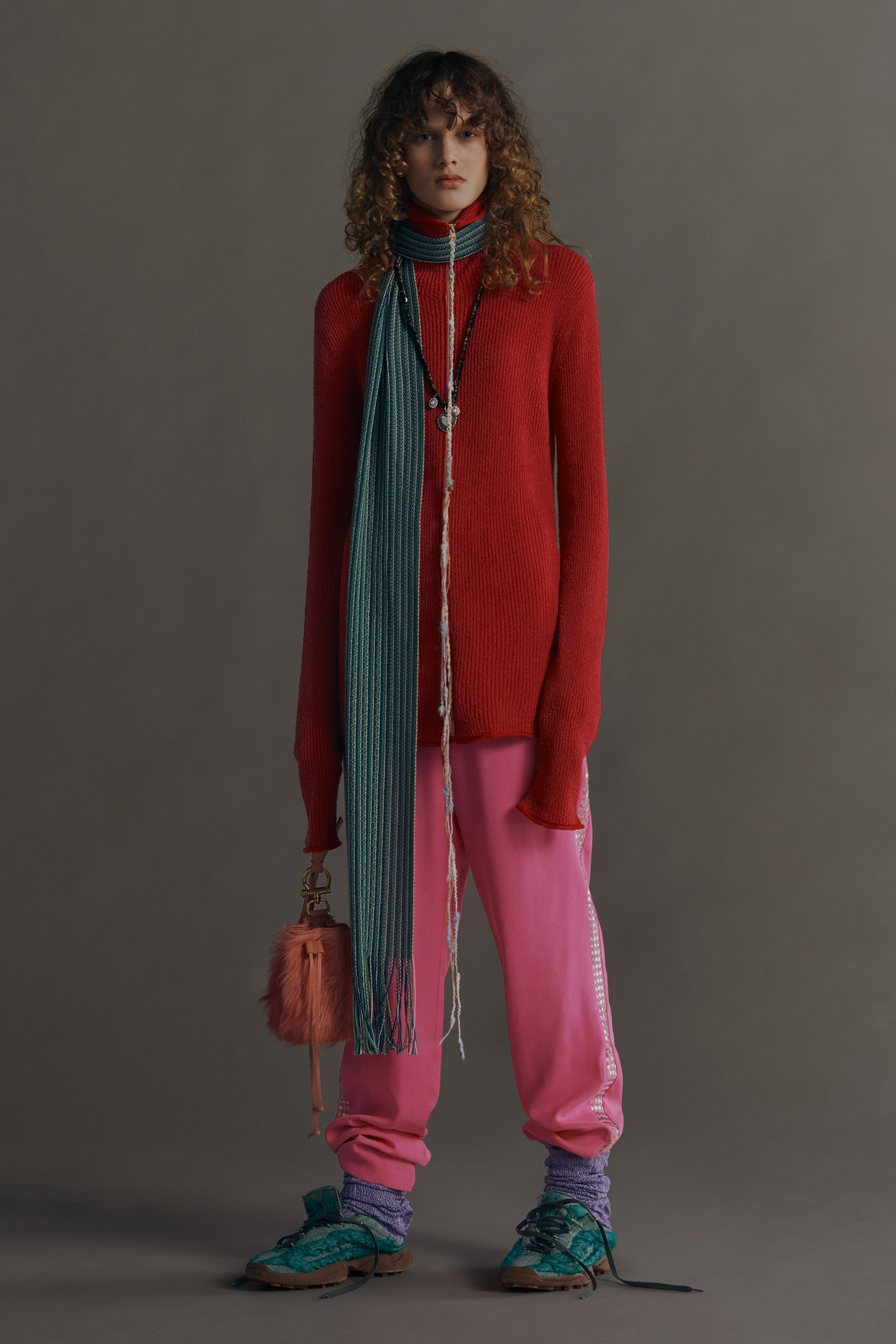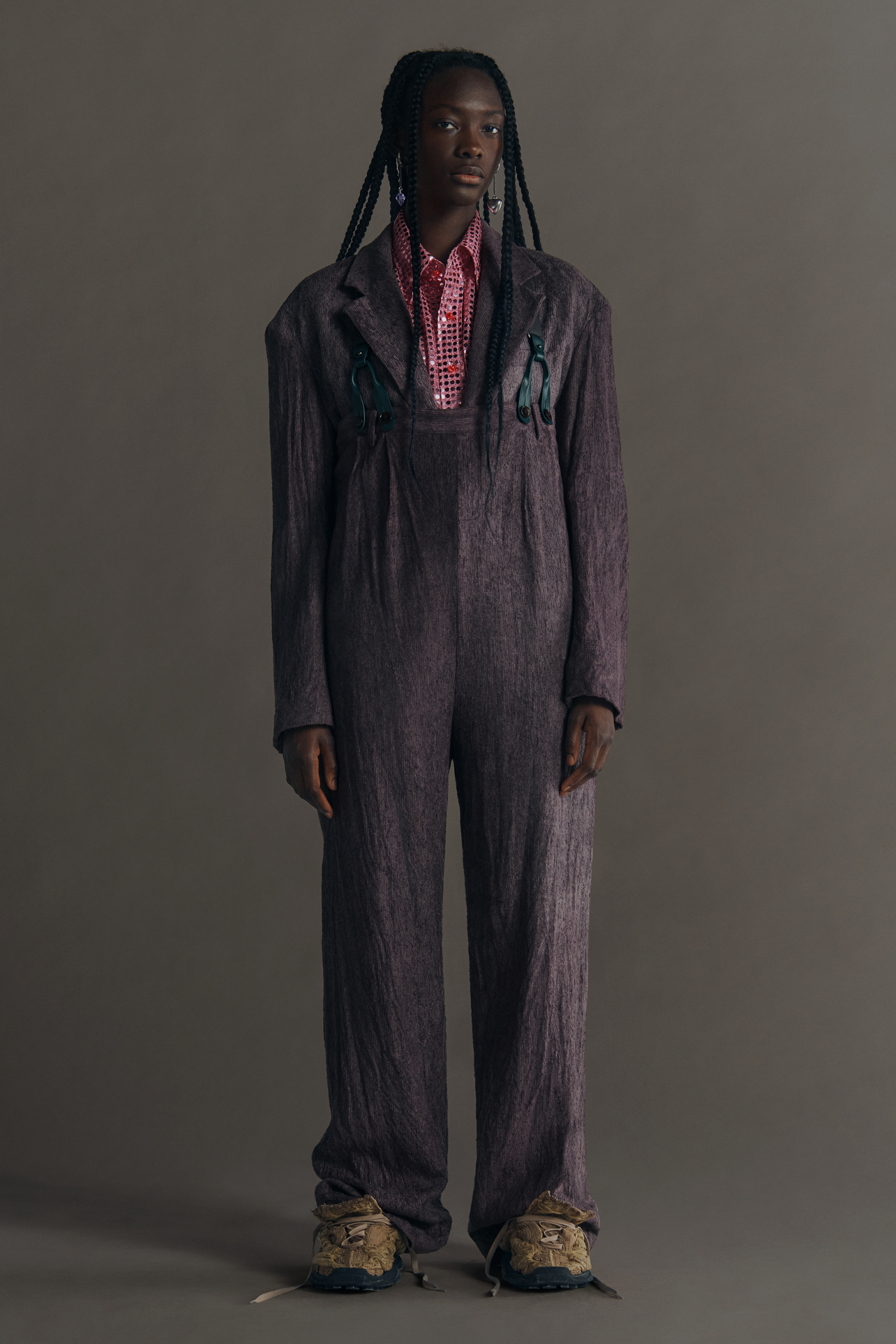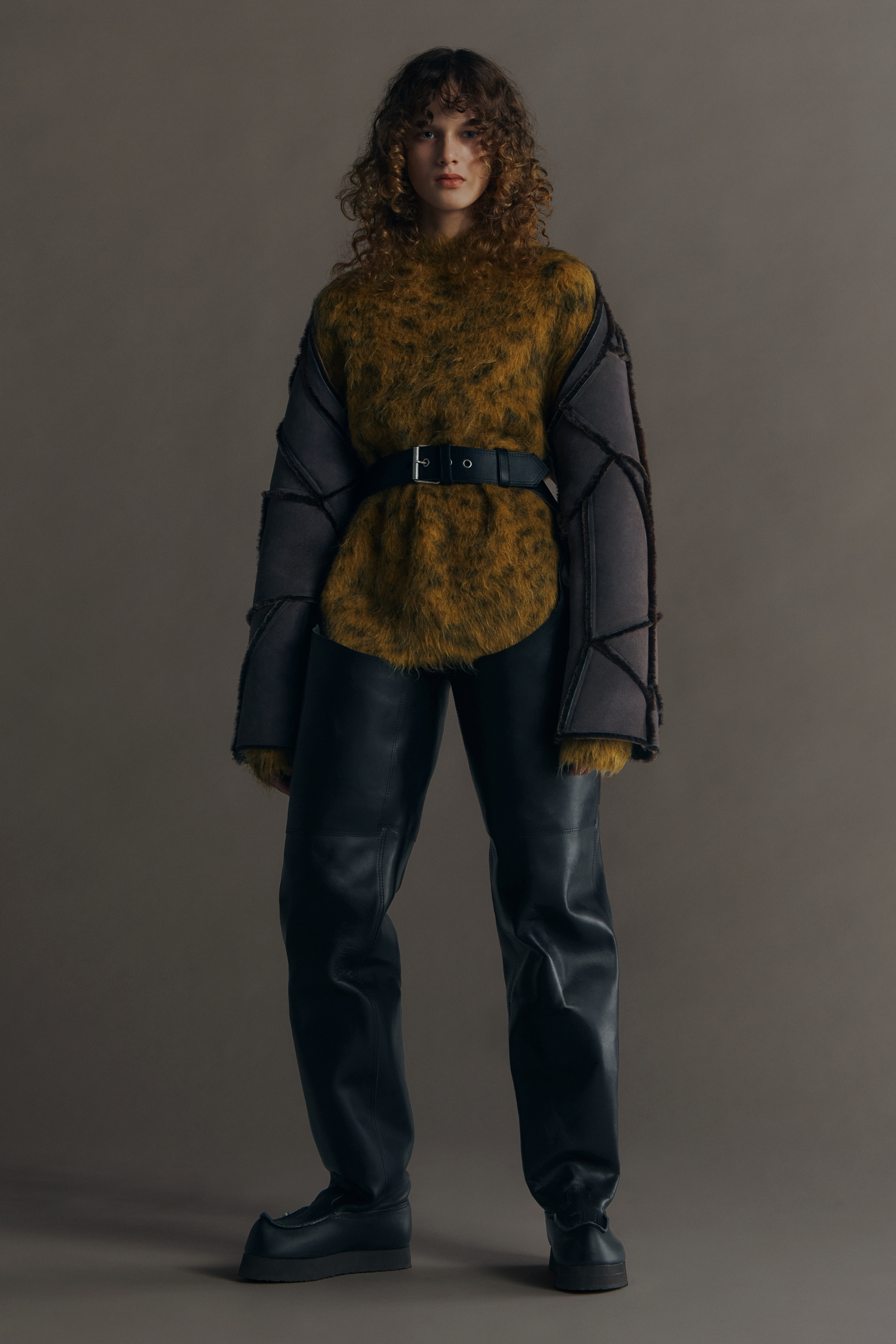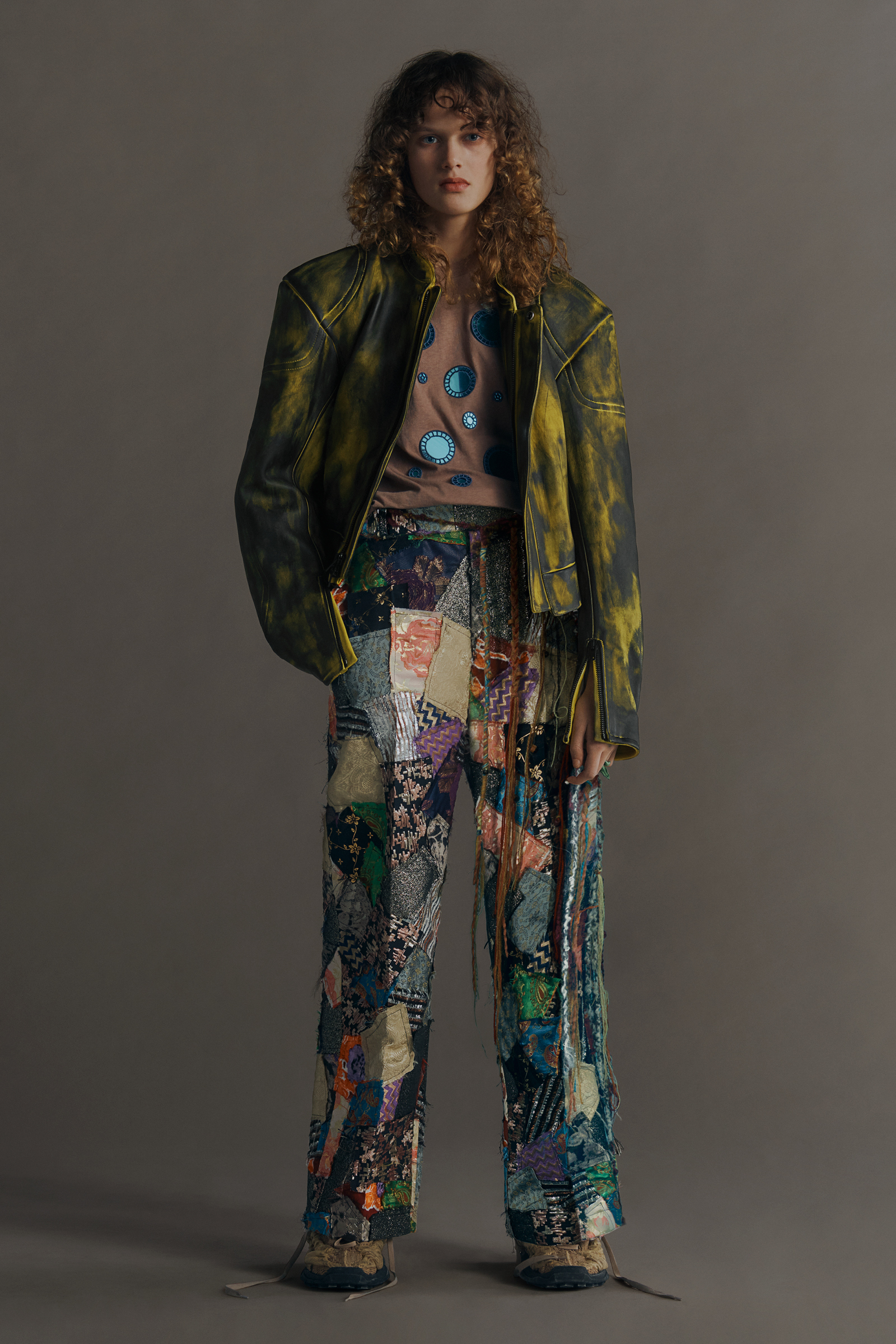 Y/Project
If Y/Project's co-ed show on Wednesday night – its first physical presentation since the onset of the pandemic – proved anything, it's that this is Glenn Martens' world, and we all just live in it. This was the first in a trilogy of shows between now and February set to bring the Belgian designer's deliciously twisted design vision to its widest audience yet, the other two being his takeover of Jean Paul Gaultier's esteemed haute couture ateliers next week and his sophomore collection for Diesel – basically, a personal shopping event for Ye and Julia Fox, if the recent appreciation they've shown for the brand is anything to go by. His latest outing for Y/Project, though, was perhaps his most accomplished to date, riffing on the warp-y codes he's fiercely guarded at the core of his design ethos – garments piped with pliable metal wires and jumper and dresses with plaited necklines, allowing for seemingly infinite variations on ways to wear them. Among the real standouts of the show, however, were those that showed his irreverent approach to silhouette – hulking puffa jumpsuits that obscured the human figure, counterposed by garments bearing sublimation-printed trompe l'oeil nudes – the result of a ready-to-wear collaboration with Jean Paul Gaultier, and a preface to the forthcoming couture show. Head here for our full review!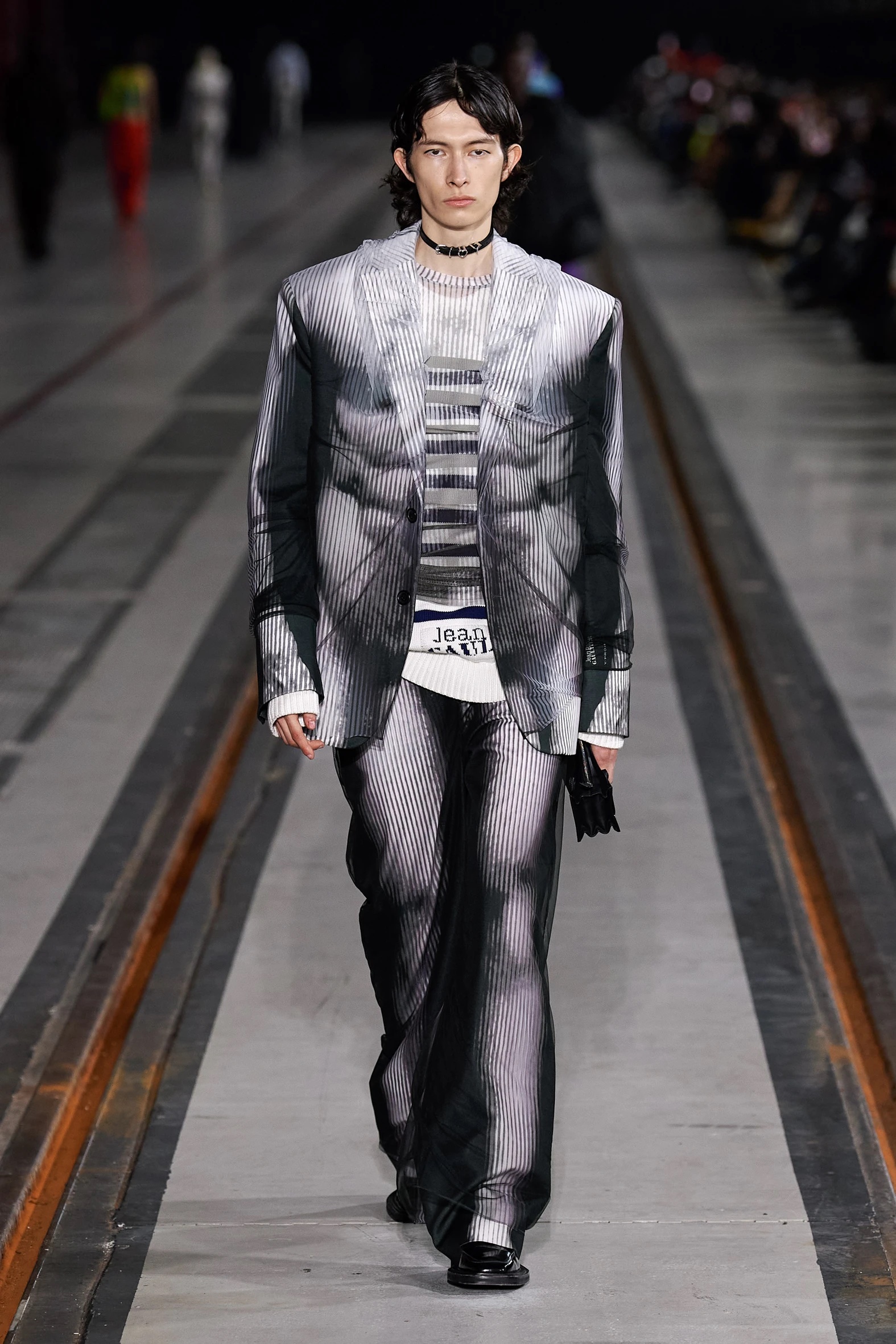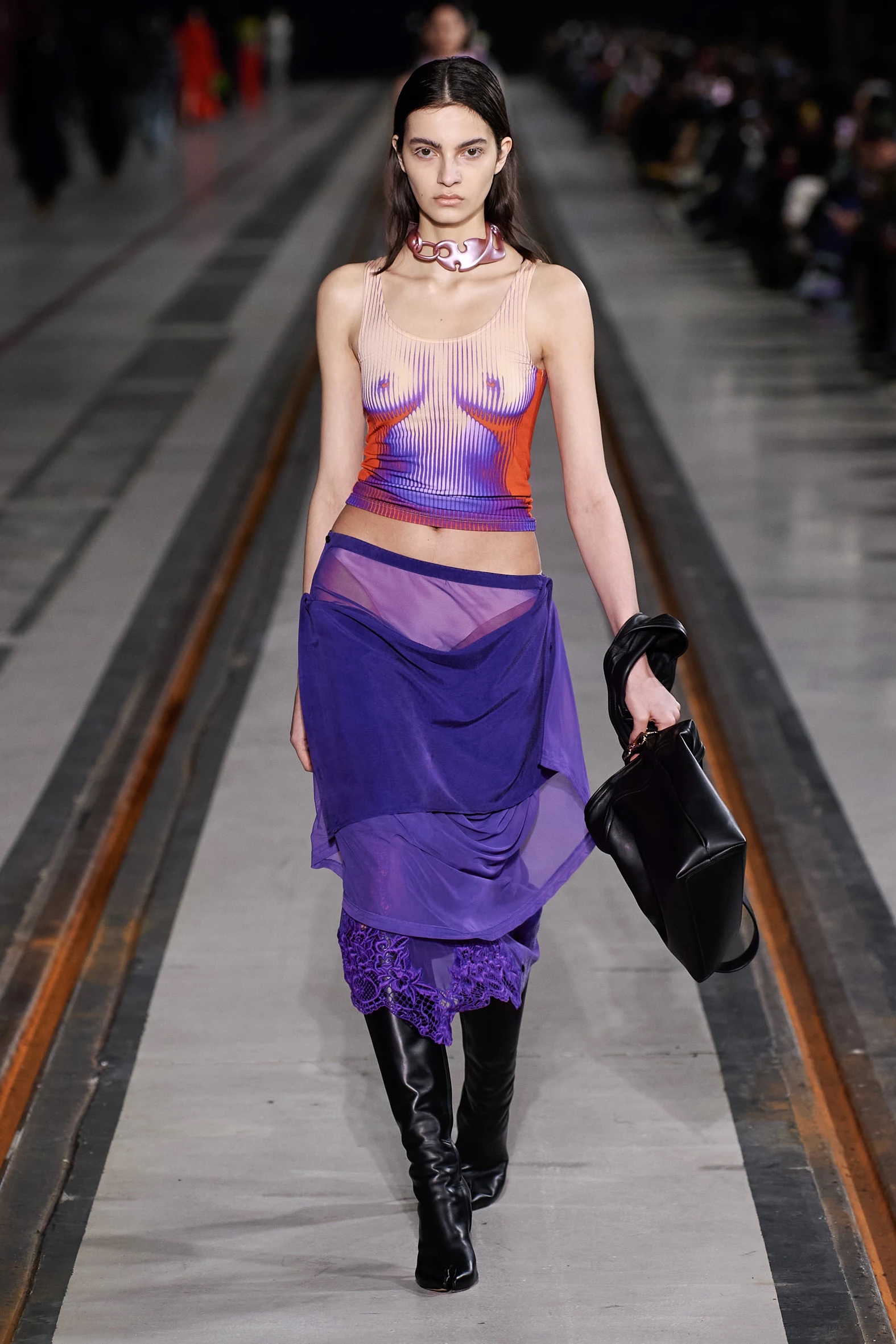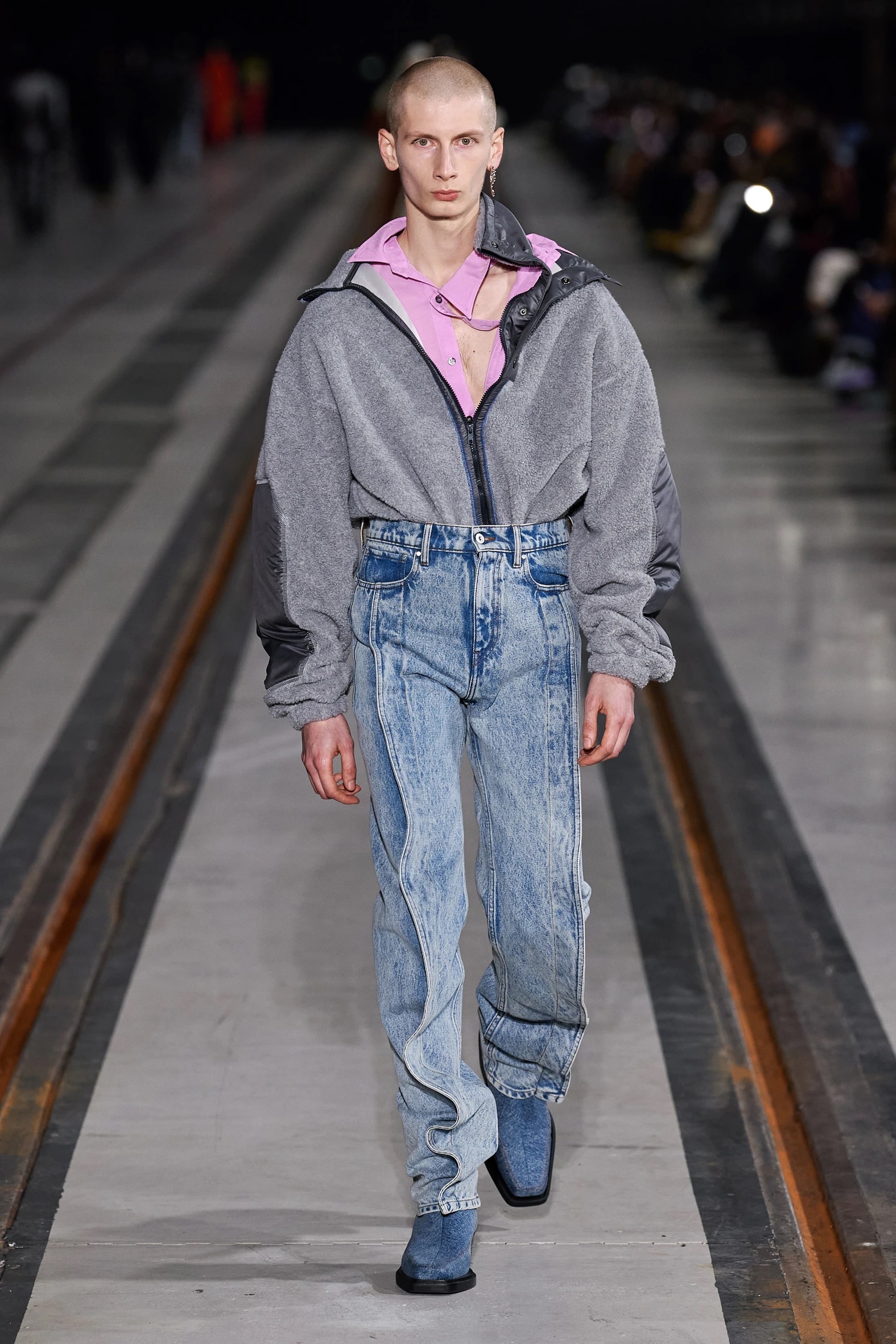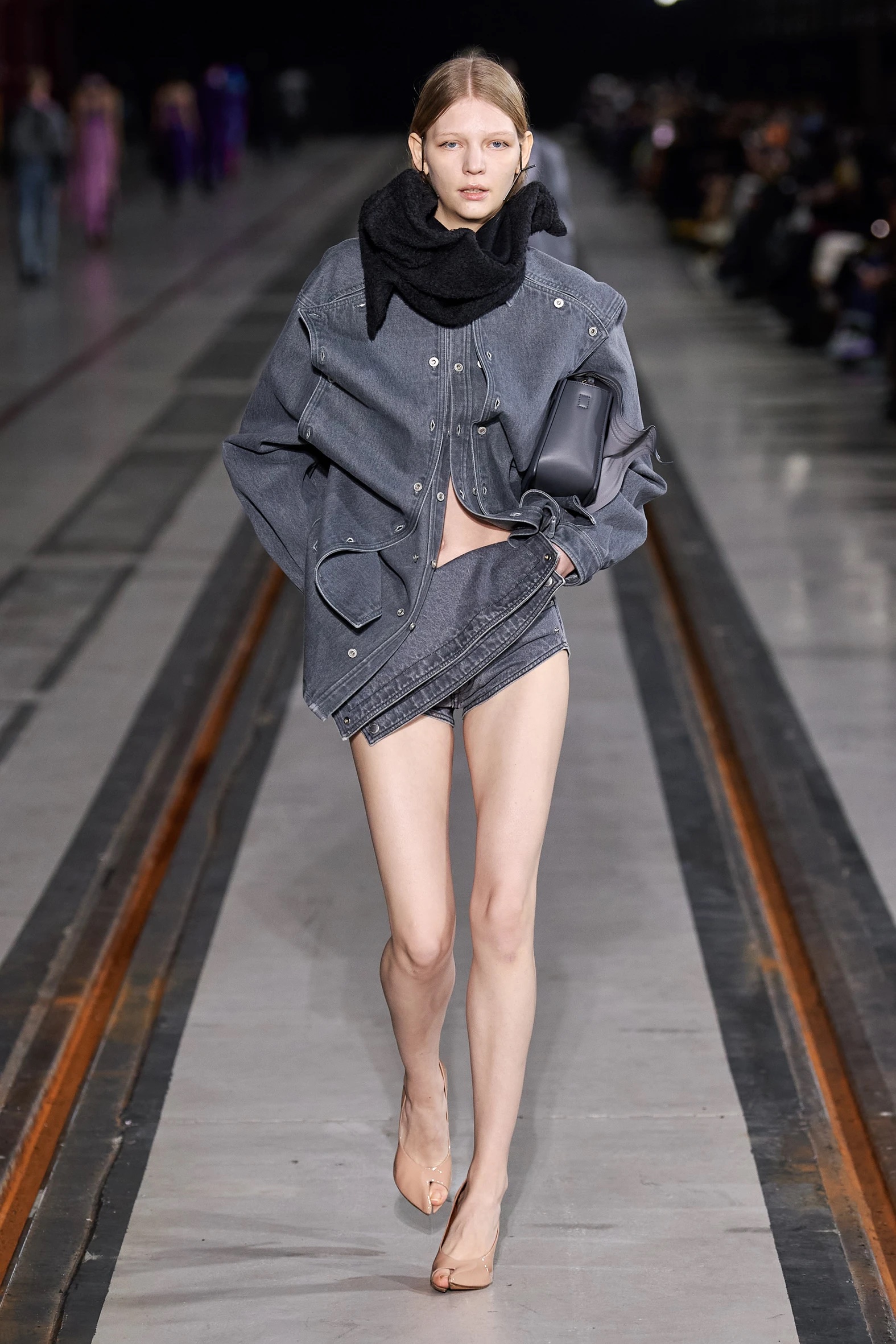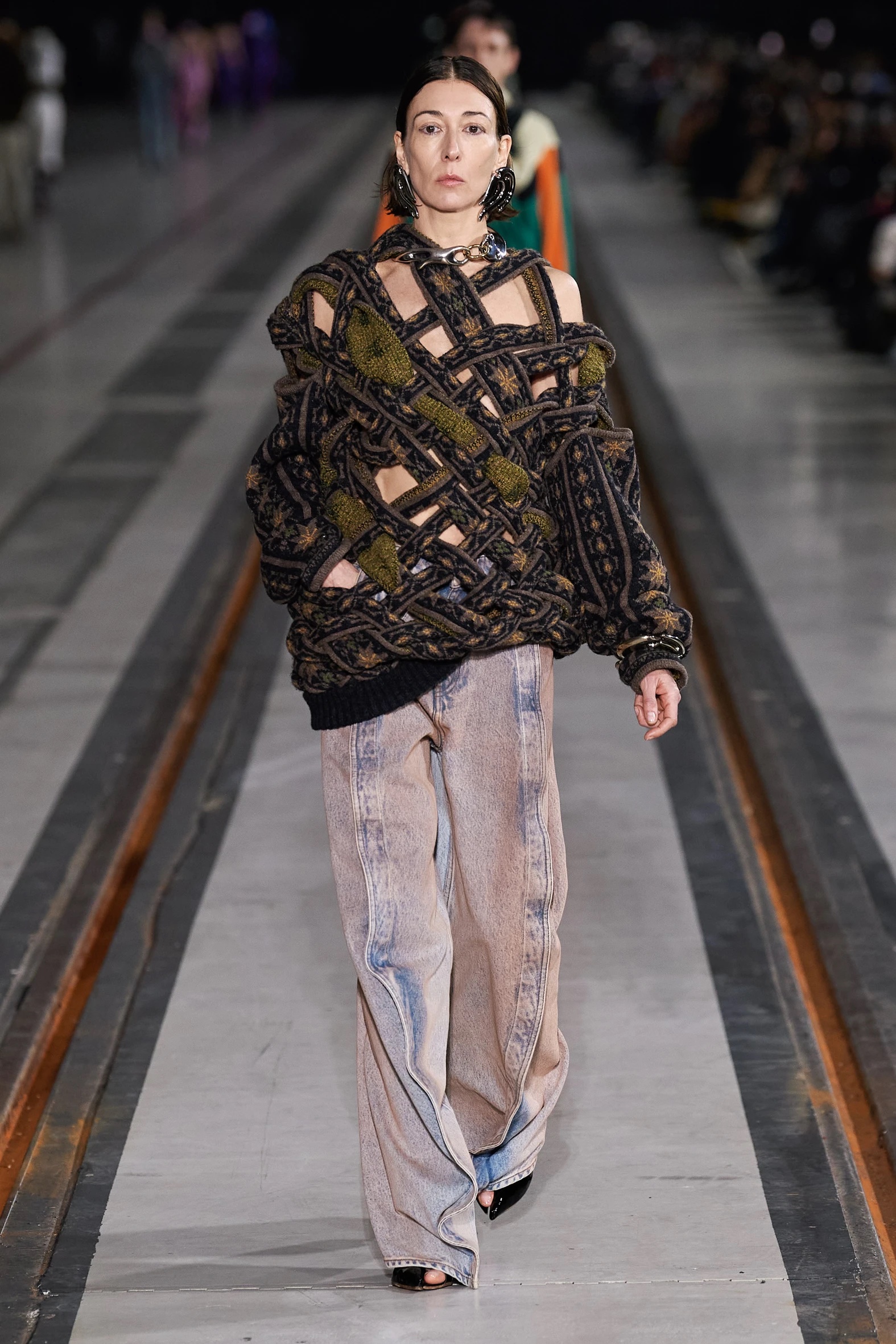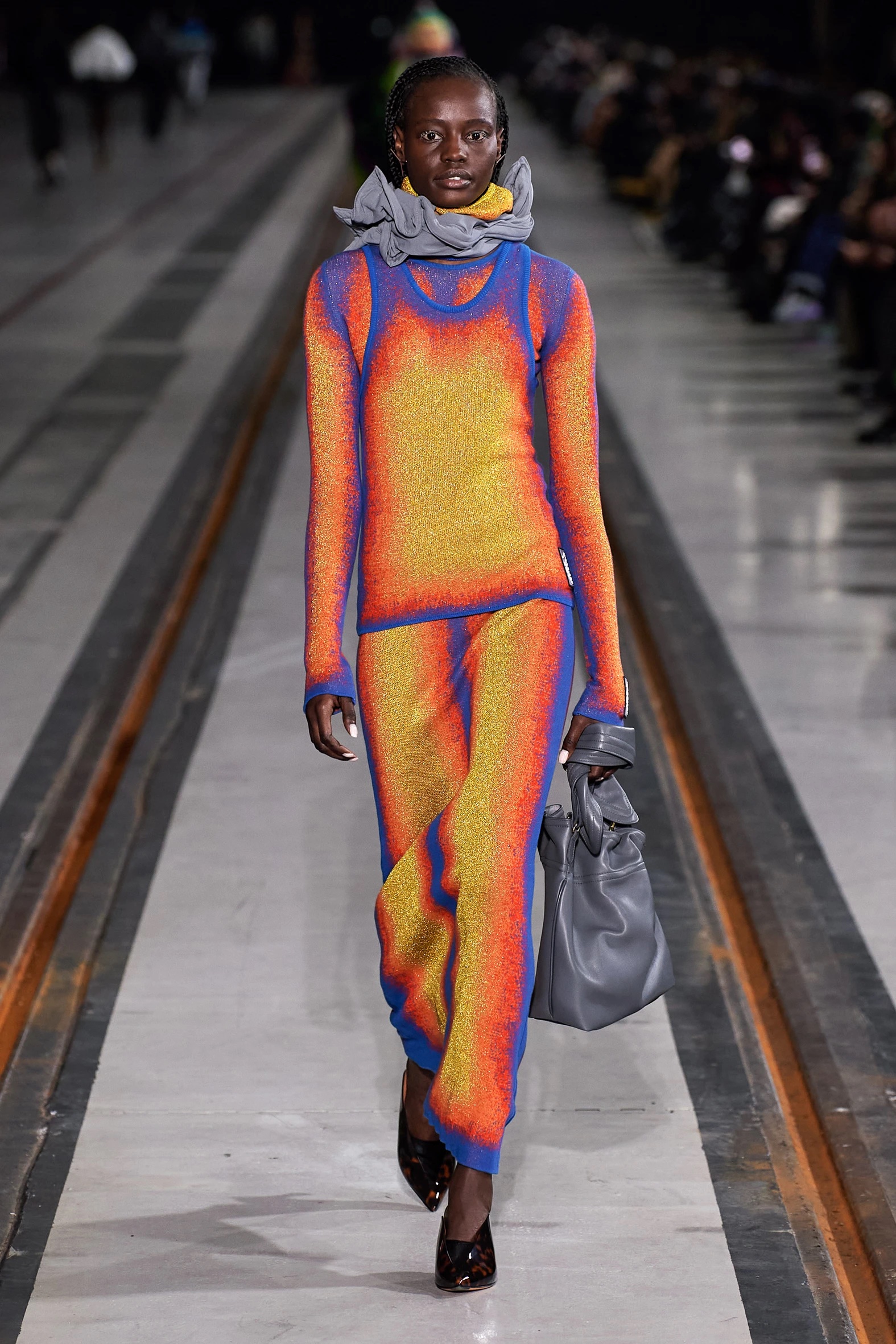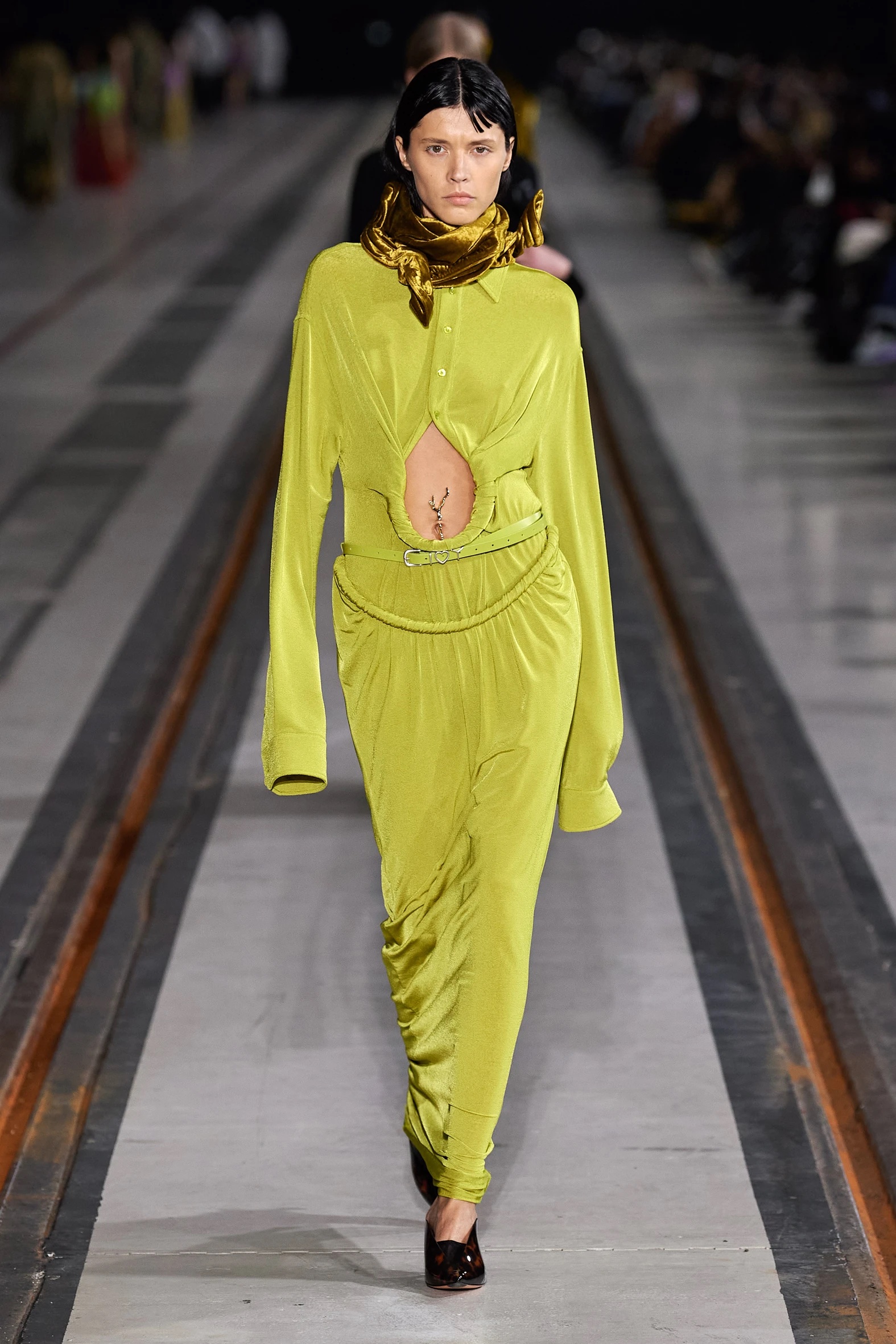 Arnar Mar Jonsson
Travel really does broaden the mind, doesn't it? Two people who couldn't agree more are the two designers behind British-Icelandic label Arnar Mar Jonsson, Luke Stevens and the brand's namesake. It was on their regular trips to Northern Italy, where part of the brand's production is based, that the pair's eyes were drawn to an archetypal character — the insouciant latter-day dandy seen on terraces nationwide, poring over the morning paper with an espresso in hand, that they've since dubbed the 'maestro'. A nod to the rakish, calmly confident style of these dapper older gentlemen, this season sees the label — once better known for what we once dubbed 'poetic gorpcore' — tap into a more textured, casually sartorial energy. It's something that we saw the beginnings of last season, with the introduction of the label's signature outdoors-y in tailoring wools, but this season, that extends to earthy cotton corduroys and motted felted wools. Granted, there's still a bit of gorp on offer here in the form of panelled ripstop jackets and clever fabric treatments — an intentionally abraded uber jacket caught our eye in particular. The overall offer, though, demonstrates an exciting expansion of Arnar Mar Jonsson's remit — a full wardrobe for any gentleman to wear well into his finest years.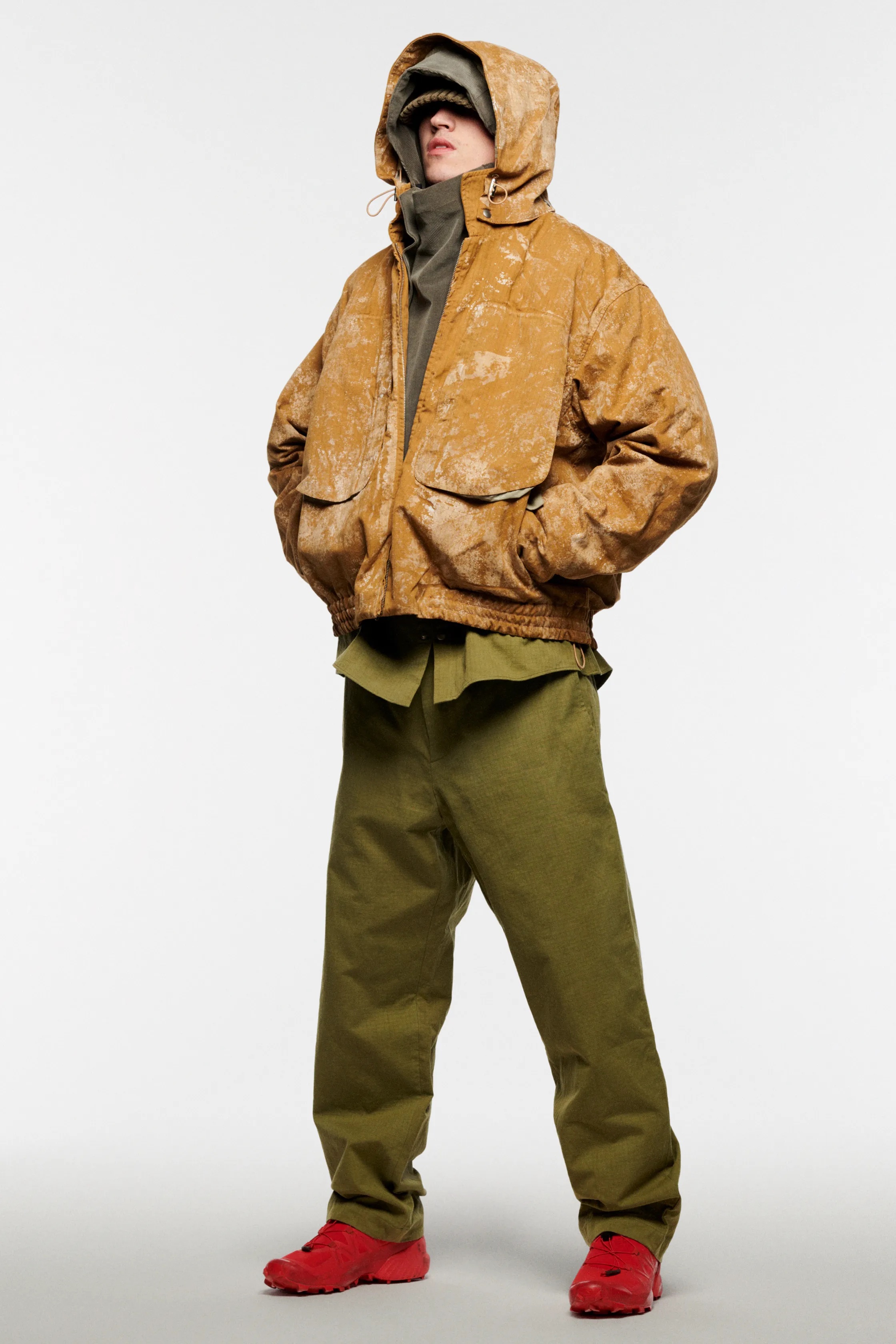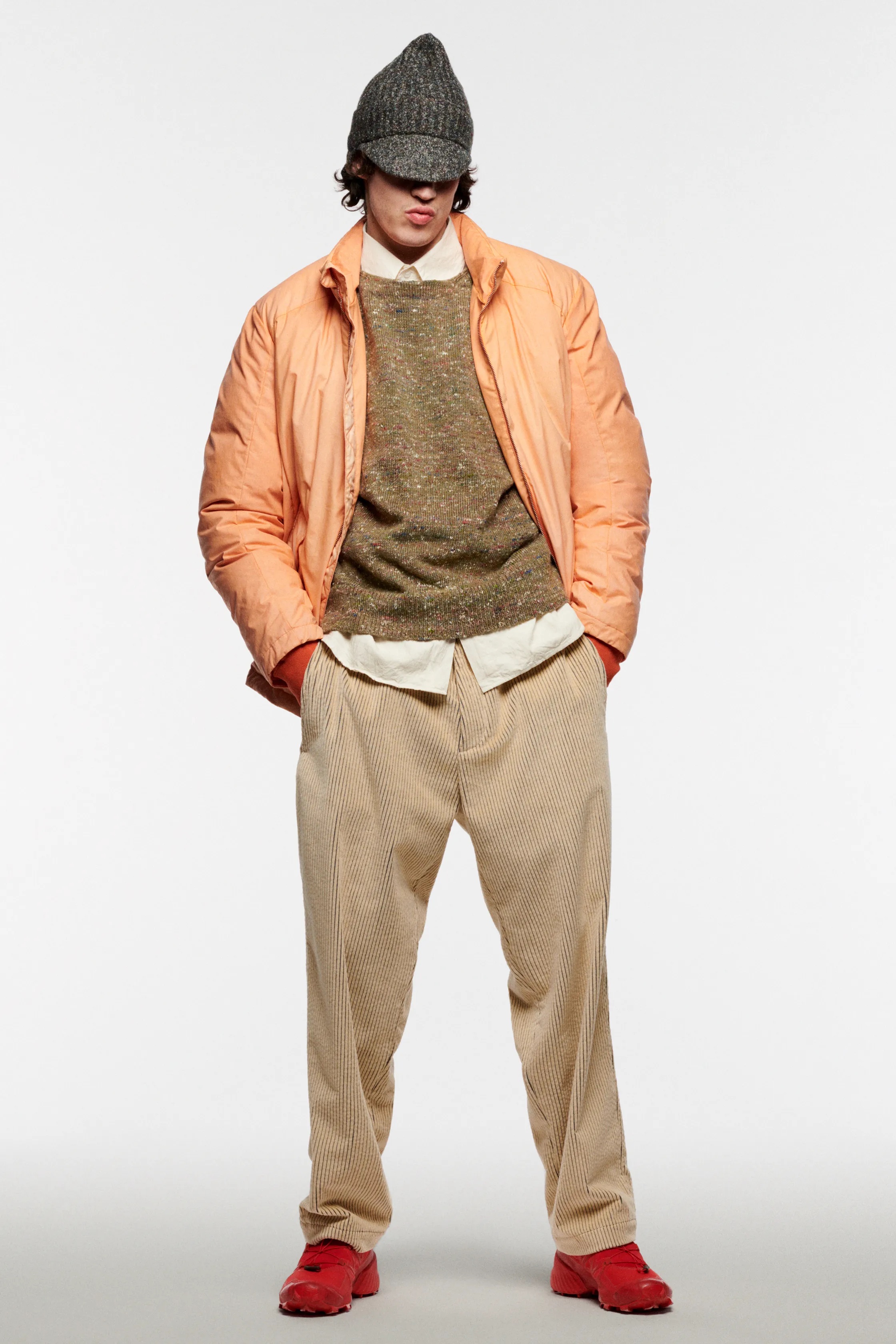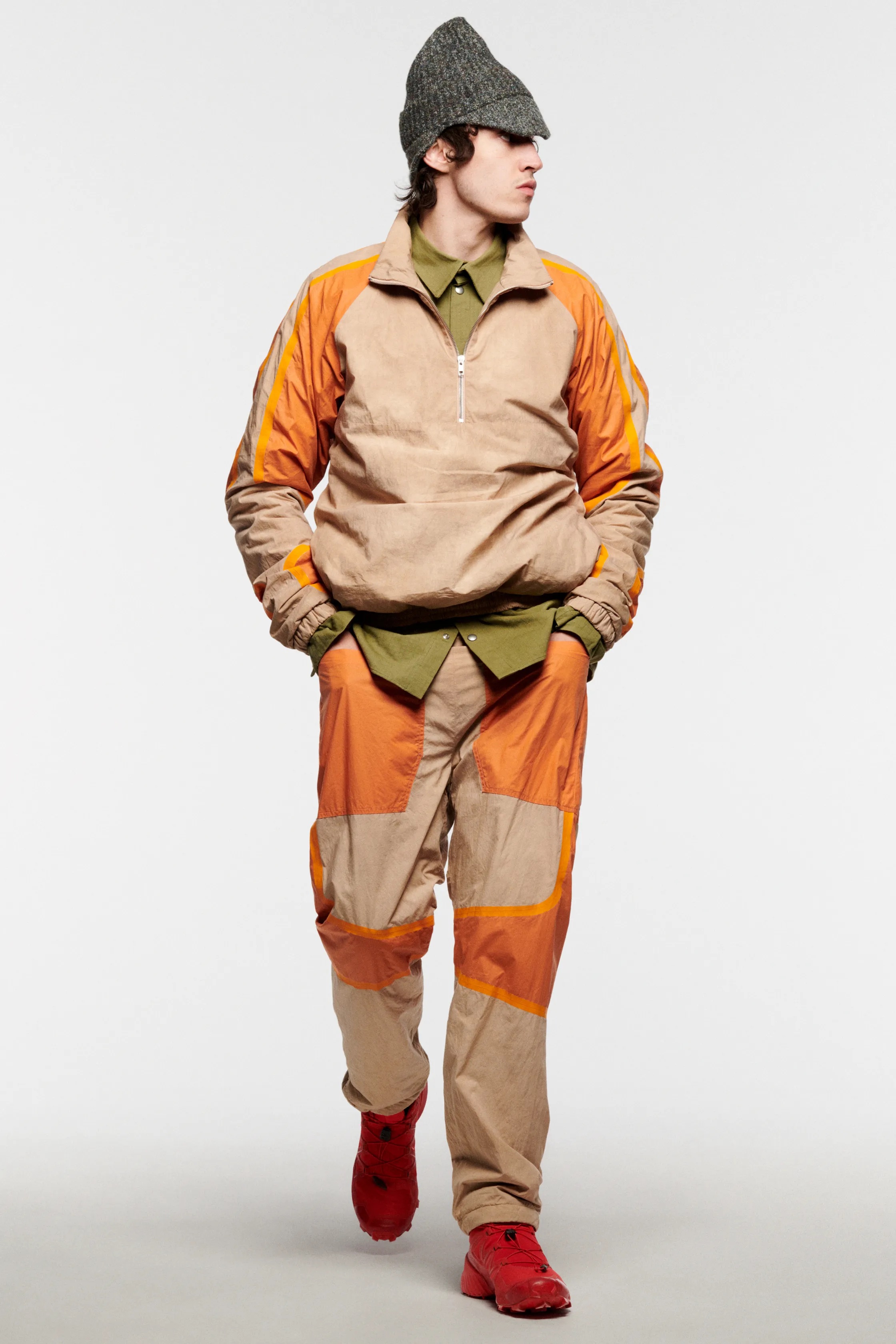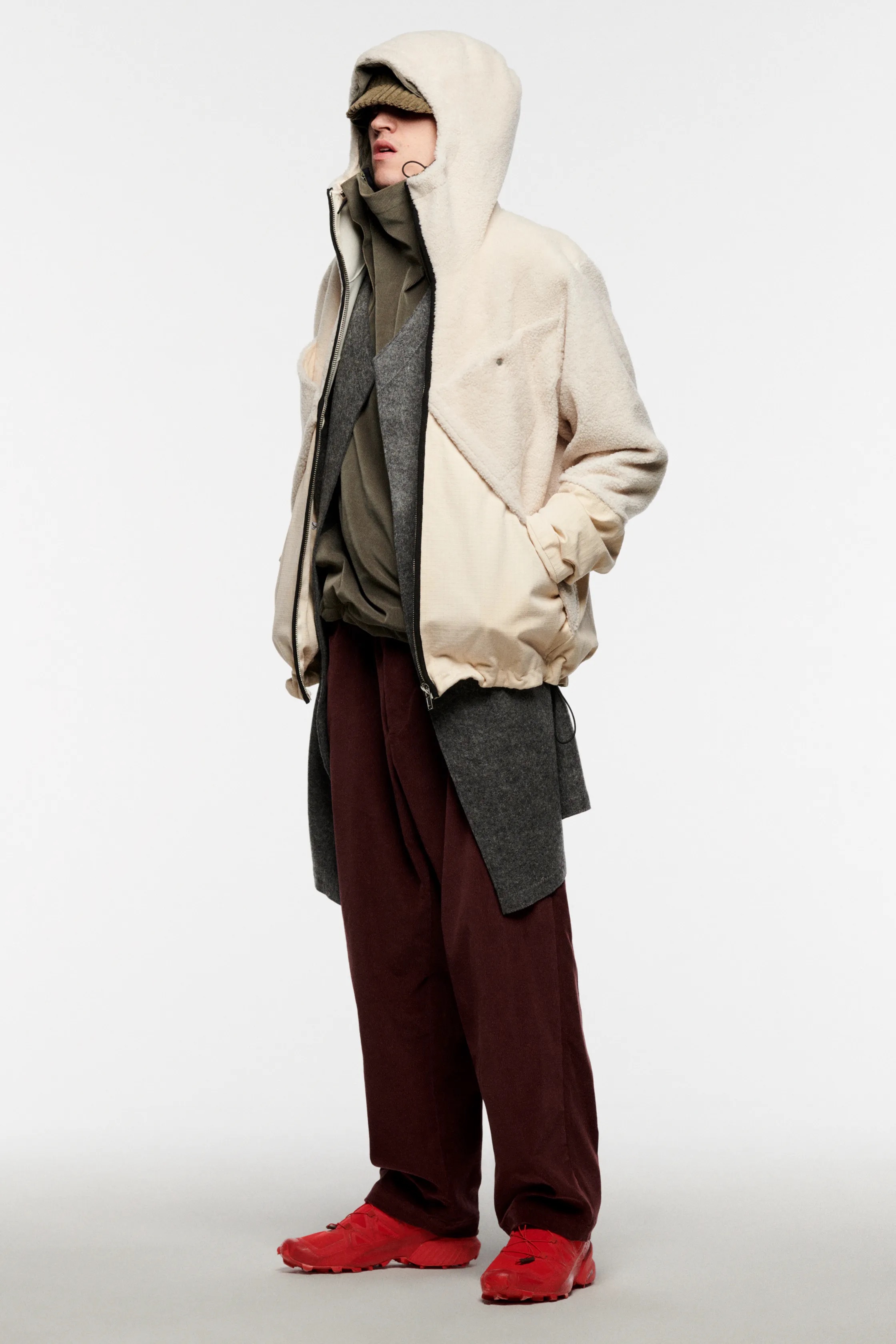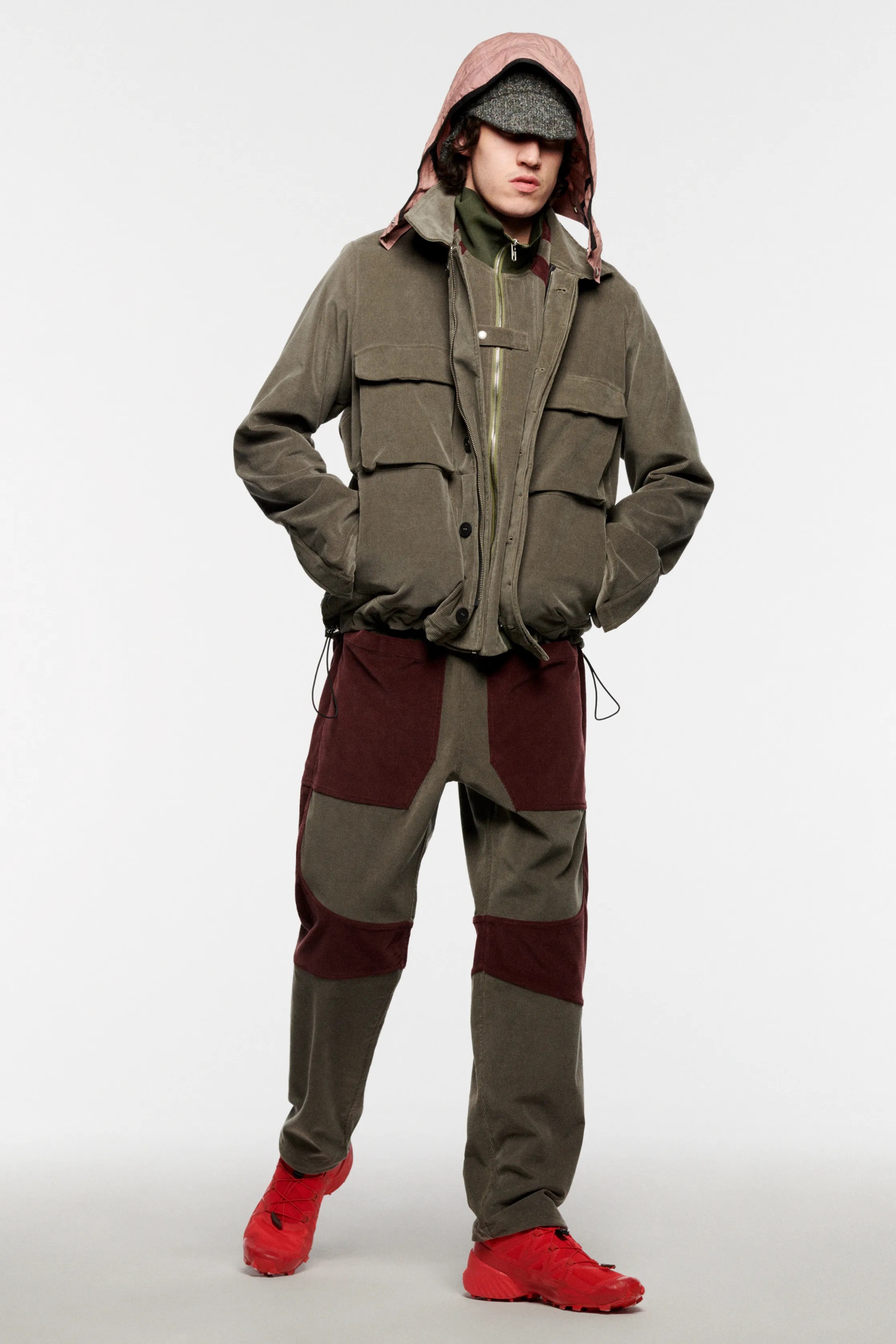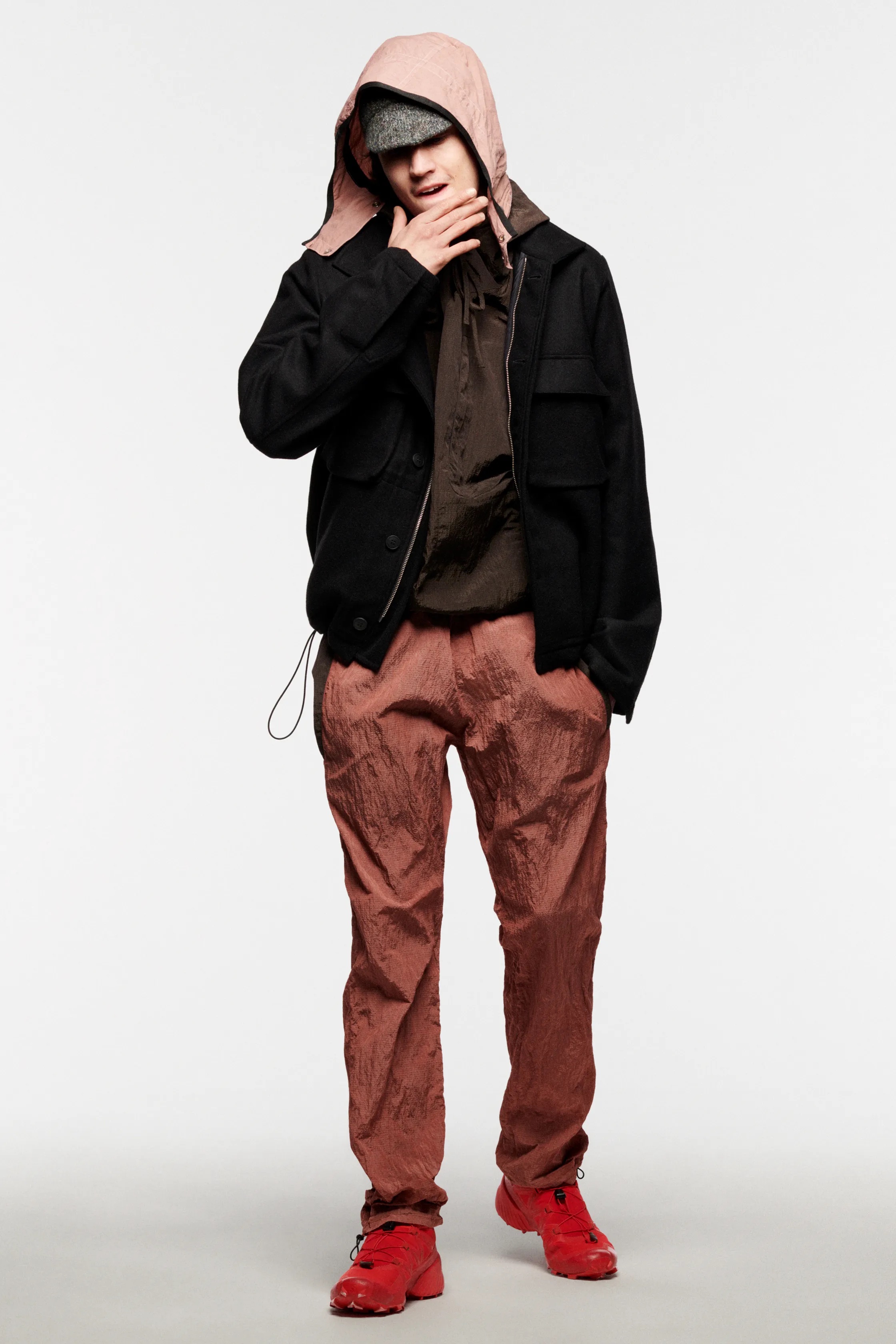 Lemaire
Something tells us that Christophe Lemaire and his namesake label's creative director Sarah Linh saw Dune at the end of last year. Then again, the French designers have always been fond of a sandy, layered look — except this time it was heightened by a desertscape backdrop and a veil of smoke across the concrete floor of the industrial warehouse he chose to show his AW22 collection in. In fact, it was an imaginary landscape by stage director Philippe Quesne — thirty metres of painted canvas, "a memory bathed in the humid, autumnal light of the sun soaking up the sky after the rain." The sun-baked clothes couldn't be more fitting, the premise of them was a kinetic sequence of shedding layers and swelling silhouettes — ideal for temperamental sunny-rainy weather, it should be noted — with models emerging in clusters and wandering the vast space as if they were foraging for mushrooms in that sandy backdrop. It was distinctly outdoorsy, in that everything was exquisitely layered to convey, as the show notes put it: "an urban horde of modern-day hunter-gatherers … who leave in their collective wake the irregular trail of a tribe in which everyone advances at their own pace, but is united in heart".
Dreamy, right? Here were perfectly slouchy pants, co-ordinated ensembles of parkas with trailing lo-fi fastenings, skirts draped with panels of leather, drawstring bags slung across the back or waist, like quiver-knapsacks carrying more layers to protectively armour up or camouflage oneself in darkness. It was a lesson in making classic pieces feel new all over again, like a boxy black leather trench coat with two exaggerated lapels in contrasting crisp-white cotton. Ultimately, all of the clothes were beautiful — after all, Christophe used to work for Hermès, so he knows how to make a timelessly beautiful object — but what the show conveyed was how it could all be worn together, the art of layering and delayering to create a personal point of difference. "It's all about movement, walking, racing forward every now and again," the show notes continued. "The movement of the body in time and space, sweeping along the fabric, the garments, which themselves enliven, release, anticipate and prolong the momentum." OA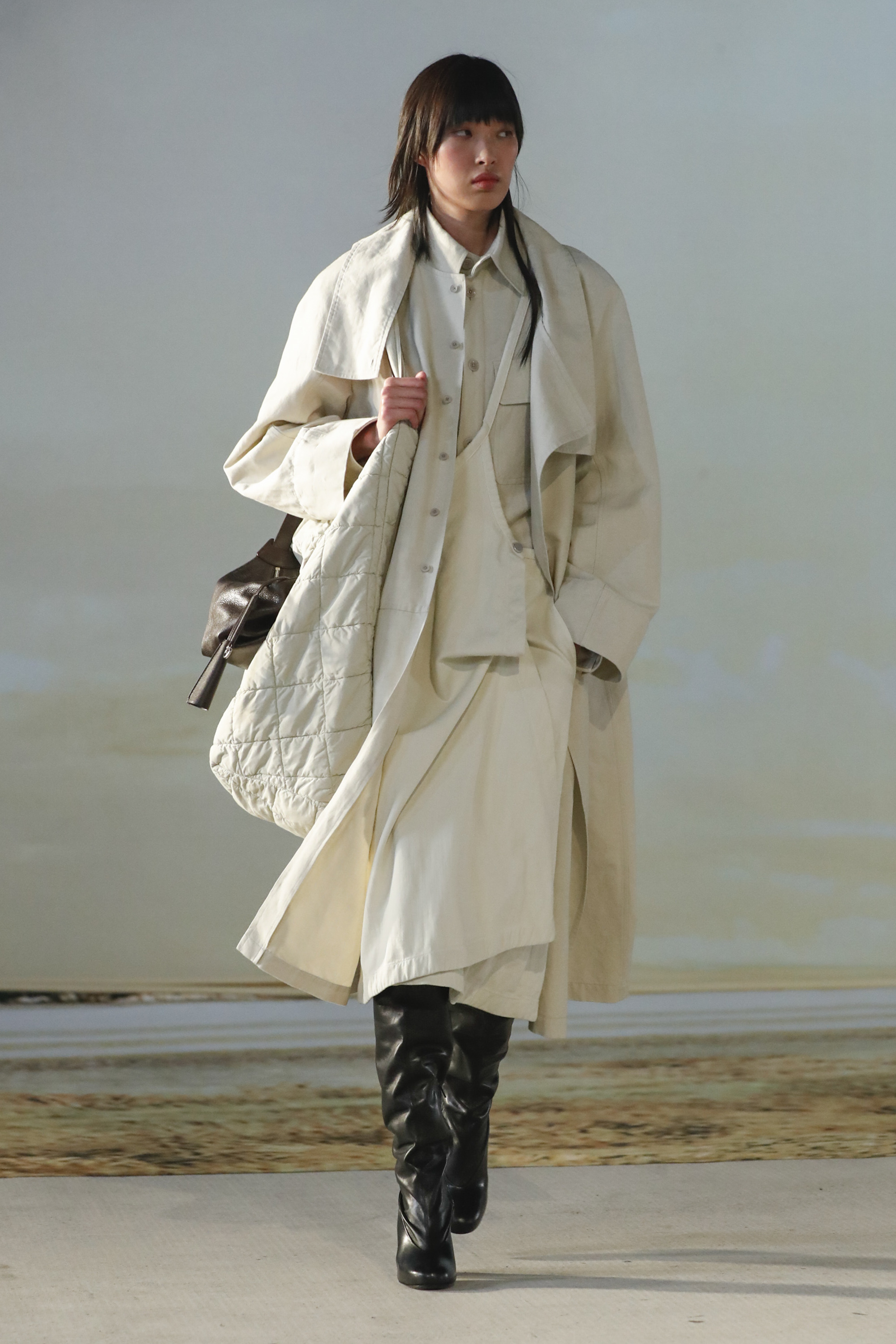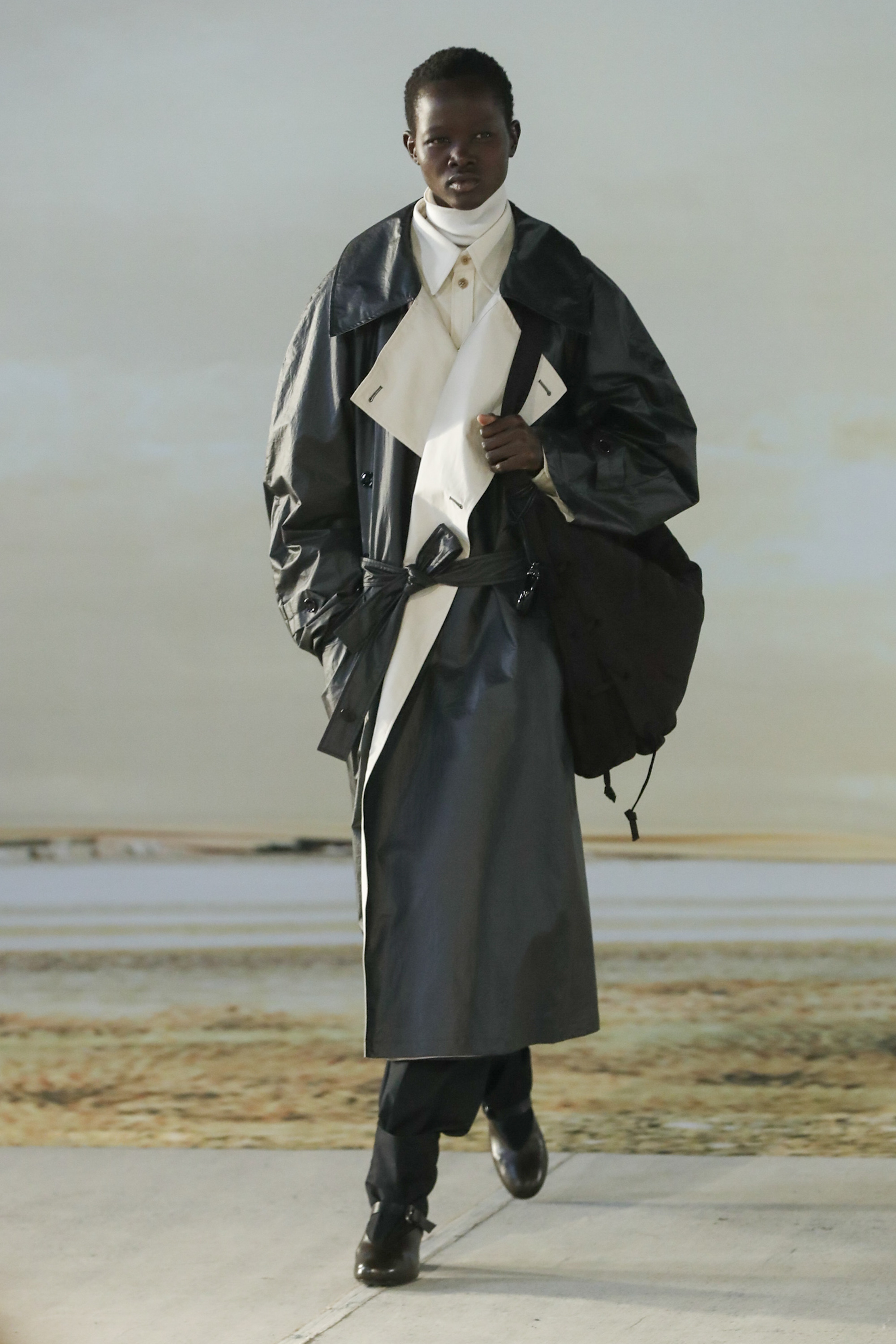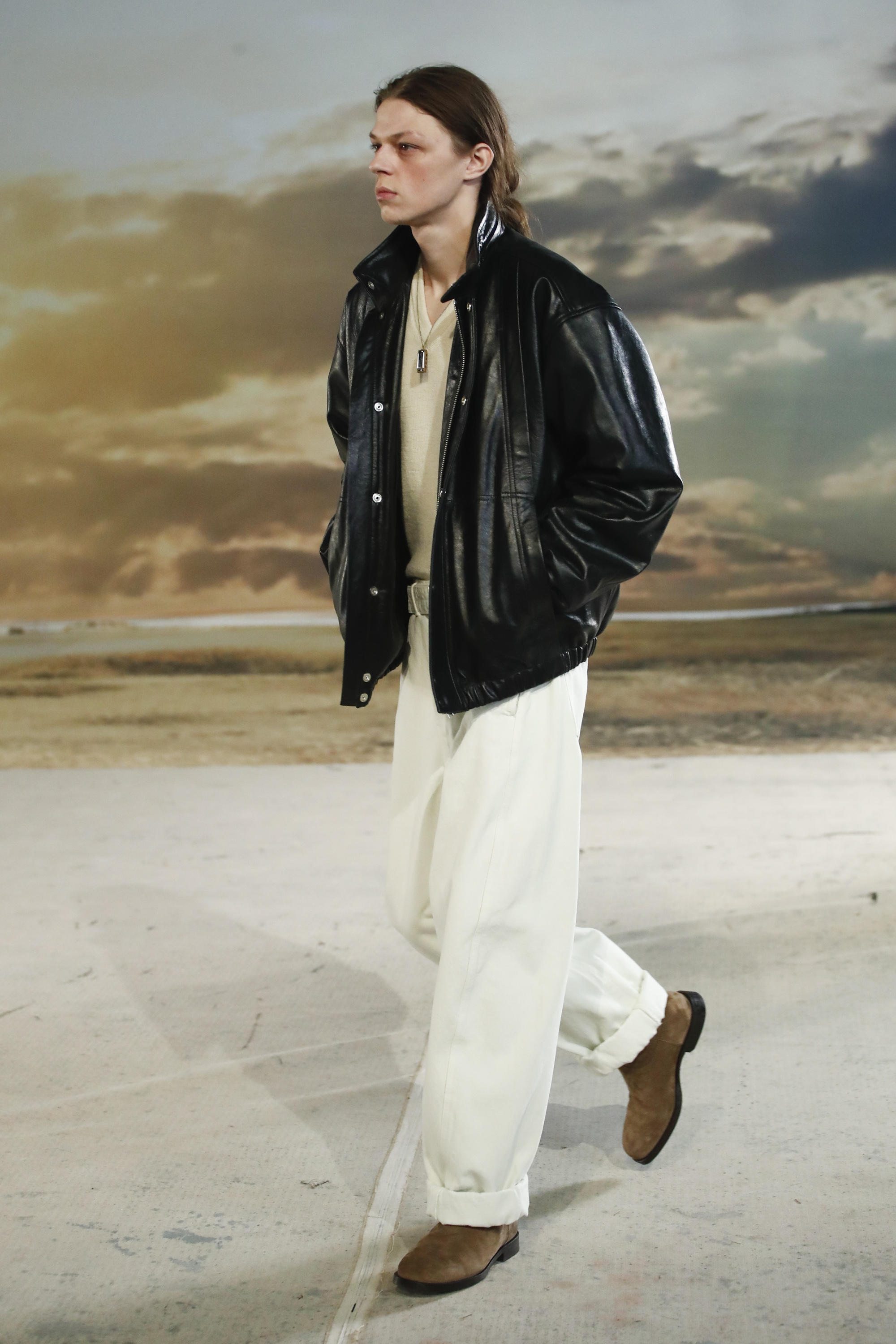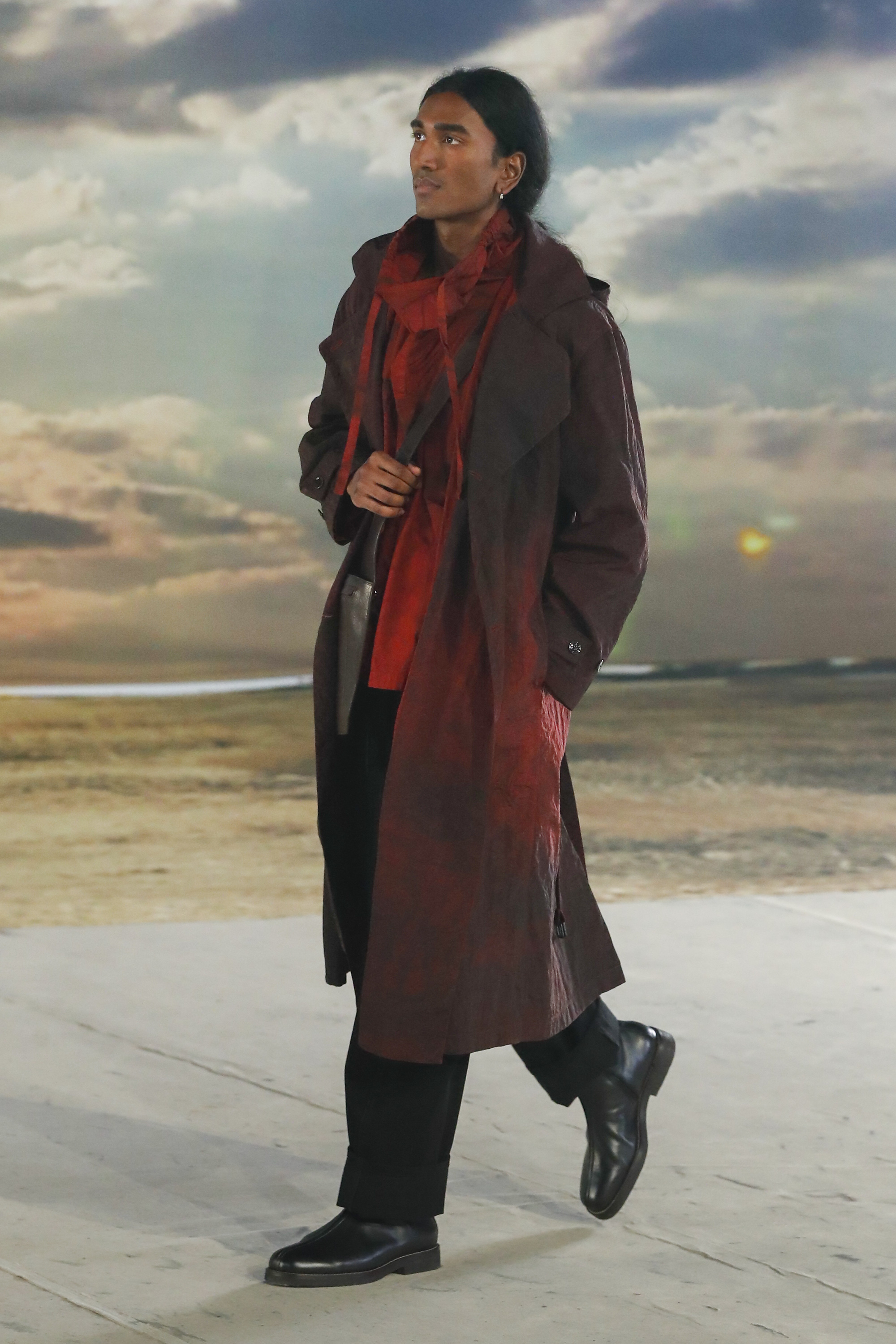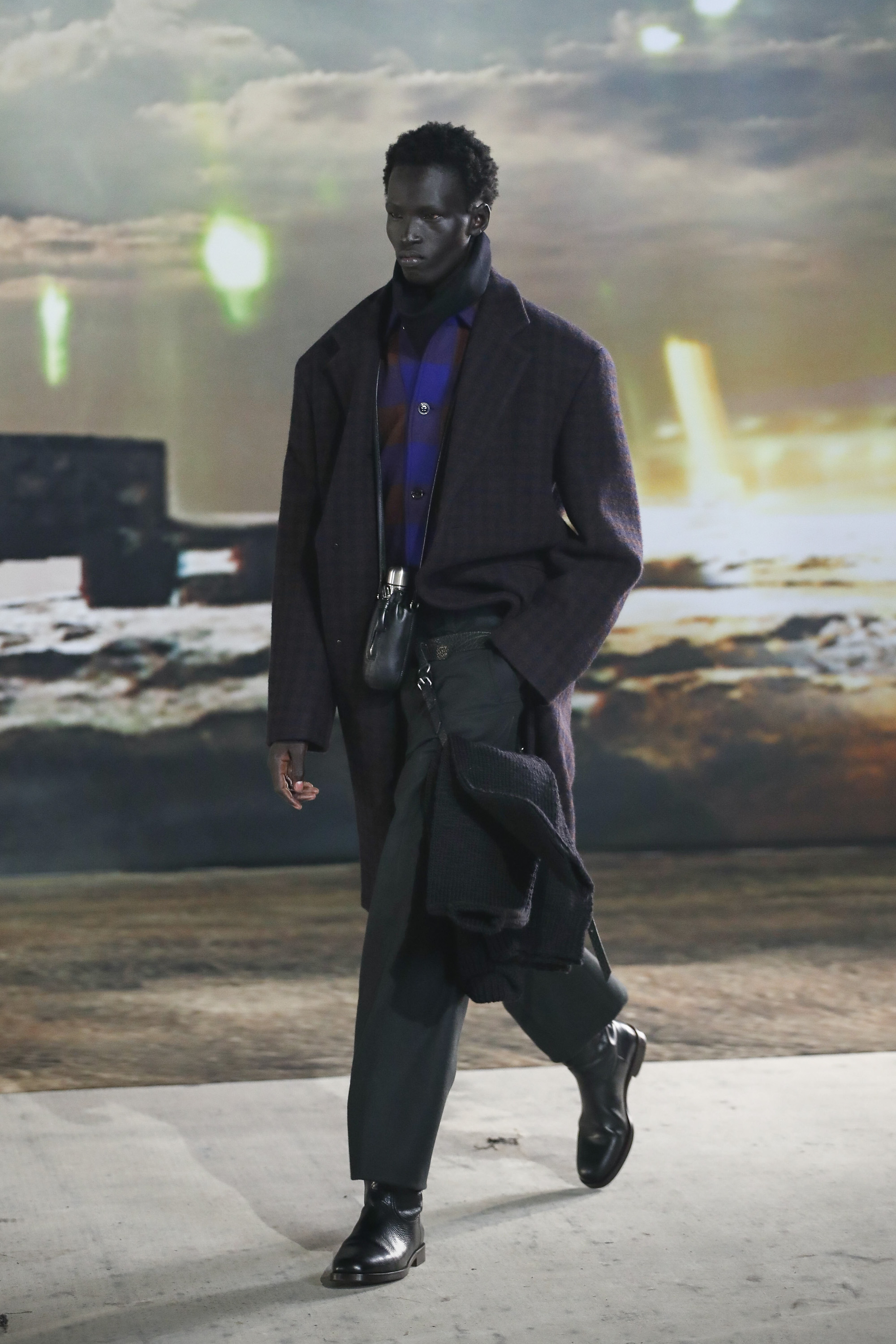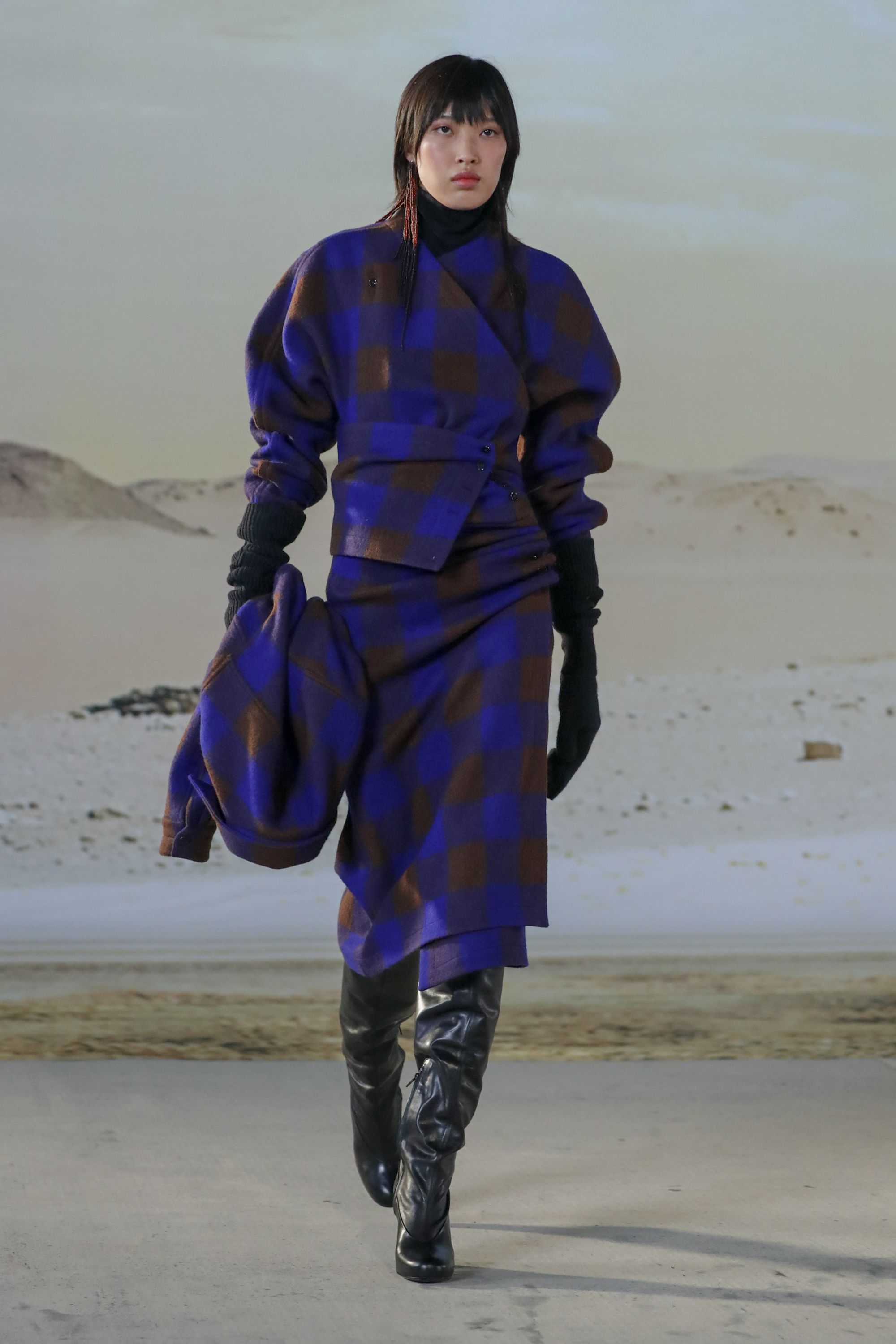 Bianca Saunders
There's nothing like a Paris debutante. This season, London-based designer Bianca Saunders took to the IRL catwalk for the first time to show her award-winning designs (last year, she became the first Black woman to win the Andam award, was shortlisted for the LVMH Prize and the BFC Designer Menswear Fund). In other words, it's been quite the year for Bianca — her label has grown up fast and with it, her designs have also acquired a sense of maturity, not just in the casting (there were generations of men walking the show, including Obongjayar) but also in the breadth and technical depth with which she approaches her label.
Her collection didn't disappoint the anticipation. Though the clothes seem simple at first sight, upon closer inspection seams are twisted and manipulated, writhing around the body as if to insinuate constant movement; conscious of the body — but not necessarily body-conscious. Where Bianca excels is in her pattern-cutting, often seeking experimental solutions to make the wearer seem more confident in their skin, without appearing too complicated or fussy. "I want people to feel attractive and feel good about being seen," she explained after the show. "I want every man to see himself in this collection." So, she introduced knitwear with high-cut, rounded shoulders that flatters the male ligne, as well as developing her rolled-shoulder tailored jackets and trousers that give the impression of being draped from a much larger pair, through folds of fabric and twisted seams.
The show was set to a heavy dancehall beat that nodded to her British-Jamaican upbringing in South London, interspersed with patois voiceovers from her cousin Morris, who read sayings found on souvenirs in Jamaican tourist shops. The checks that Bianca first toyed with in her Royal College of Art graduate collection returned as warped digital prints, echoing the reverberations of the sound system that got the audience bopping at 10AM on a frosty January morning. At last, some Caribbean warmth to get the circulation going in grey ol' Paris. Colour, too: island reds and blues, alongside zingy chartreuse. Consider those bright colours Bianca waving the flag for London — and by extension, its multicultural communities. OA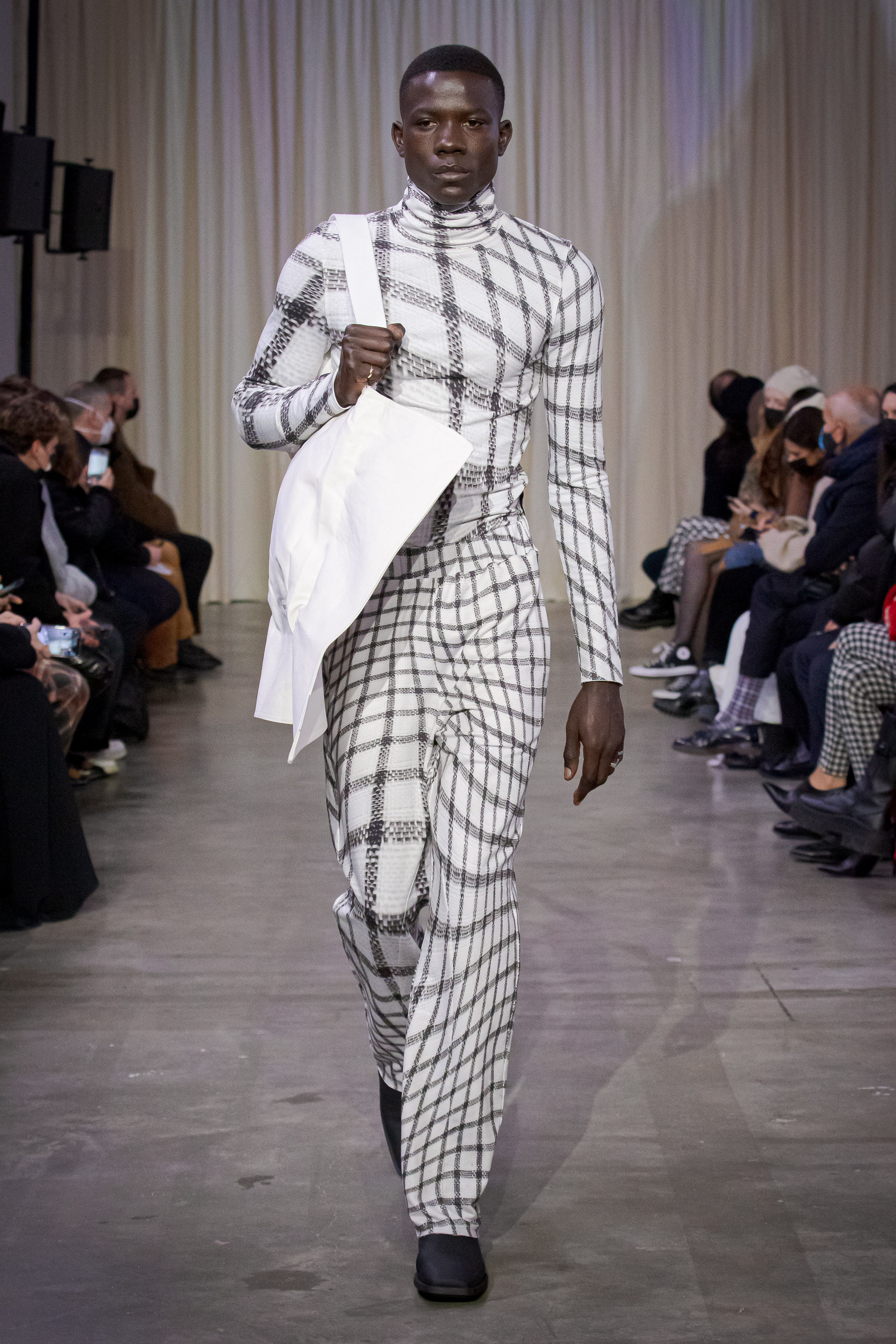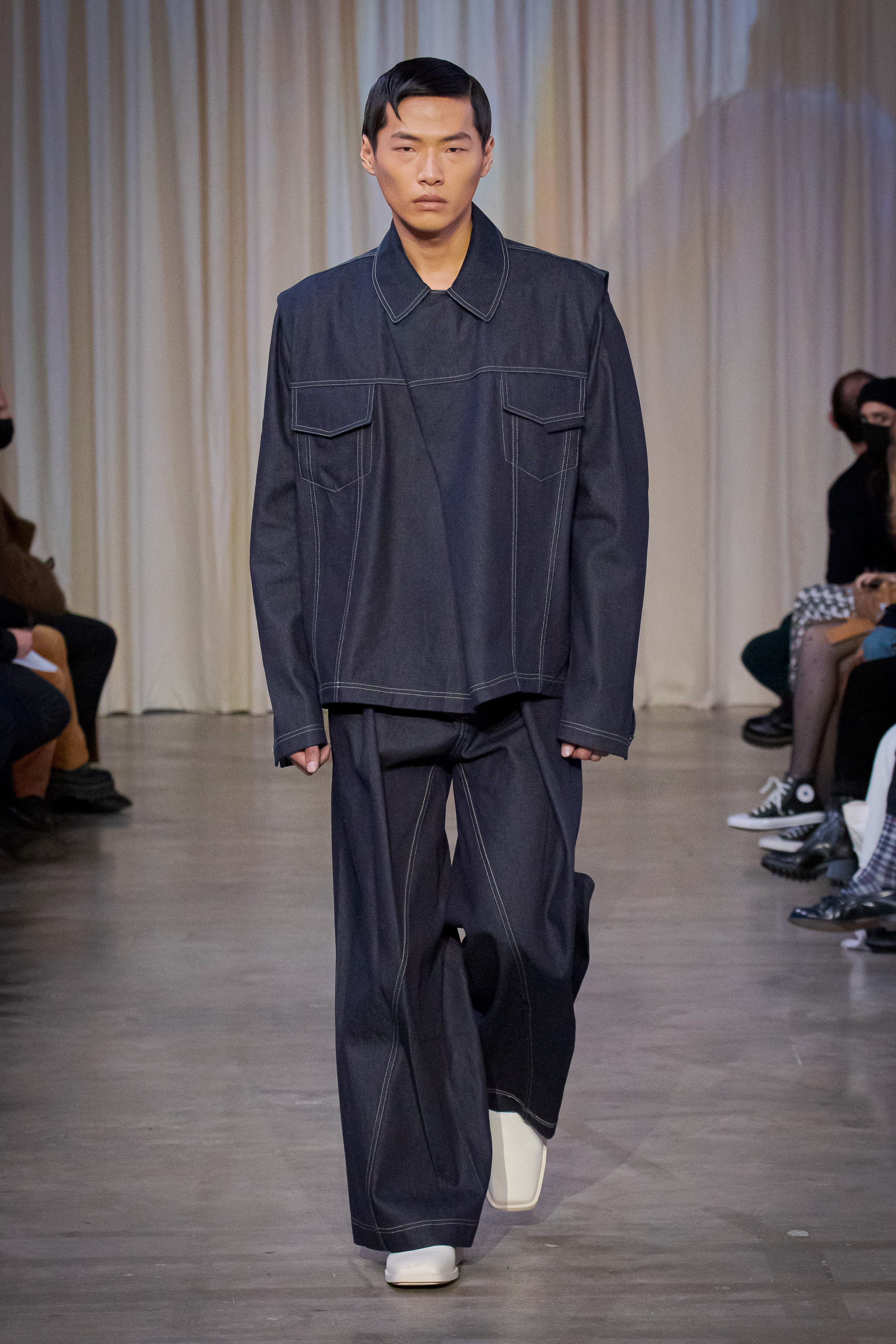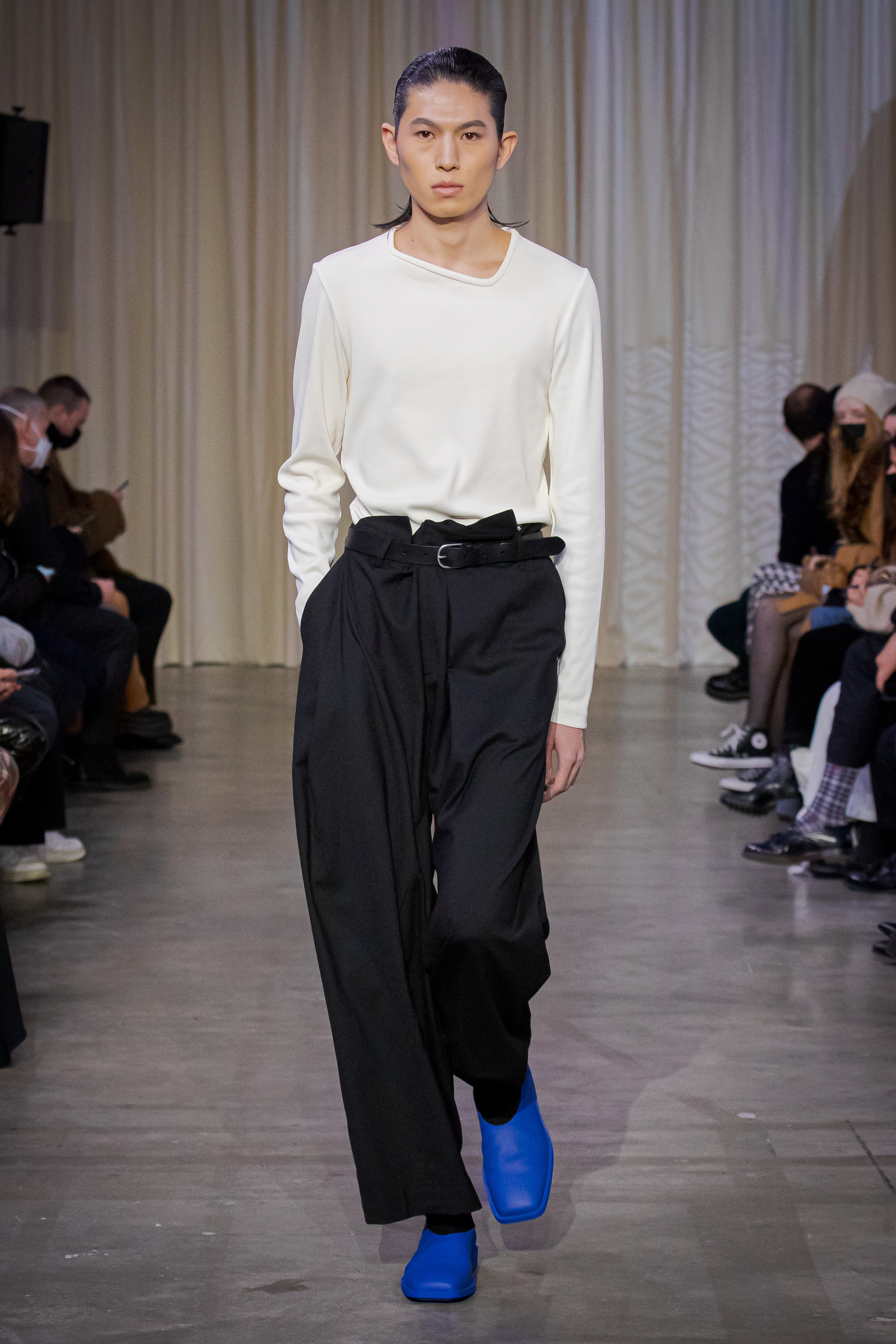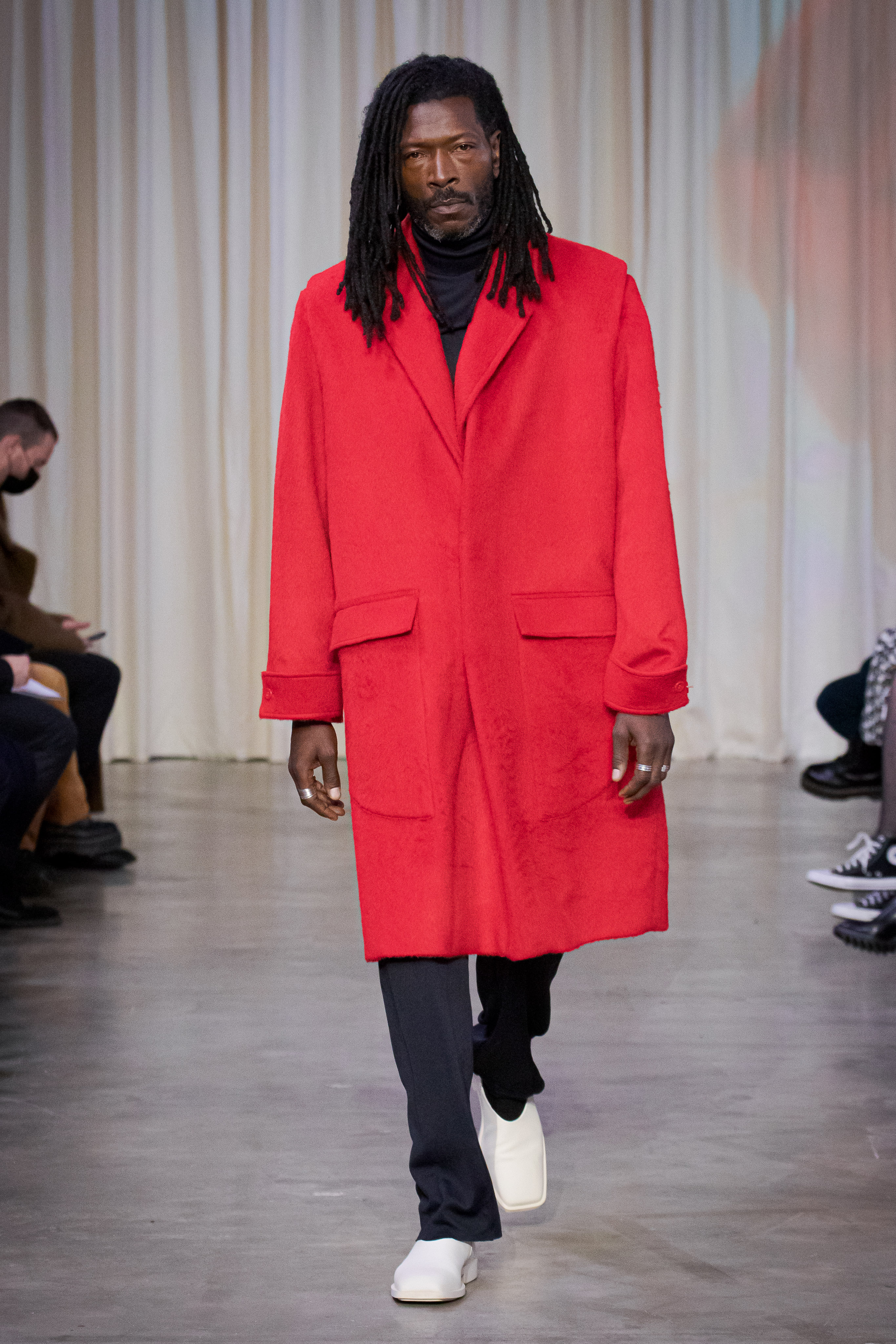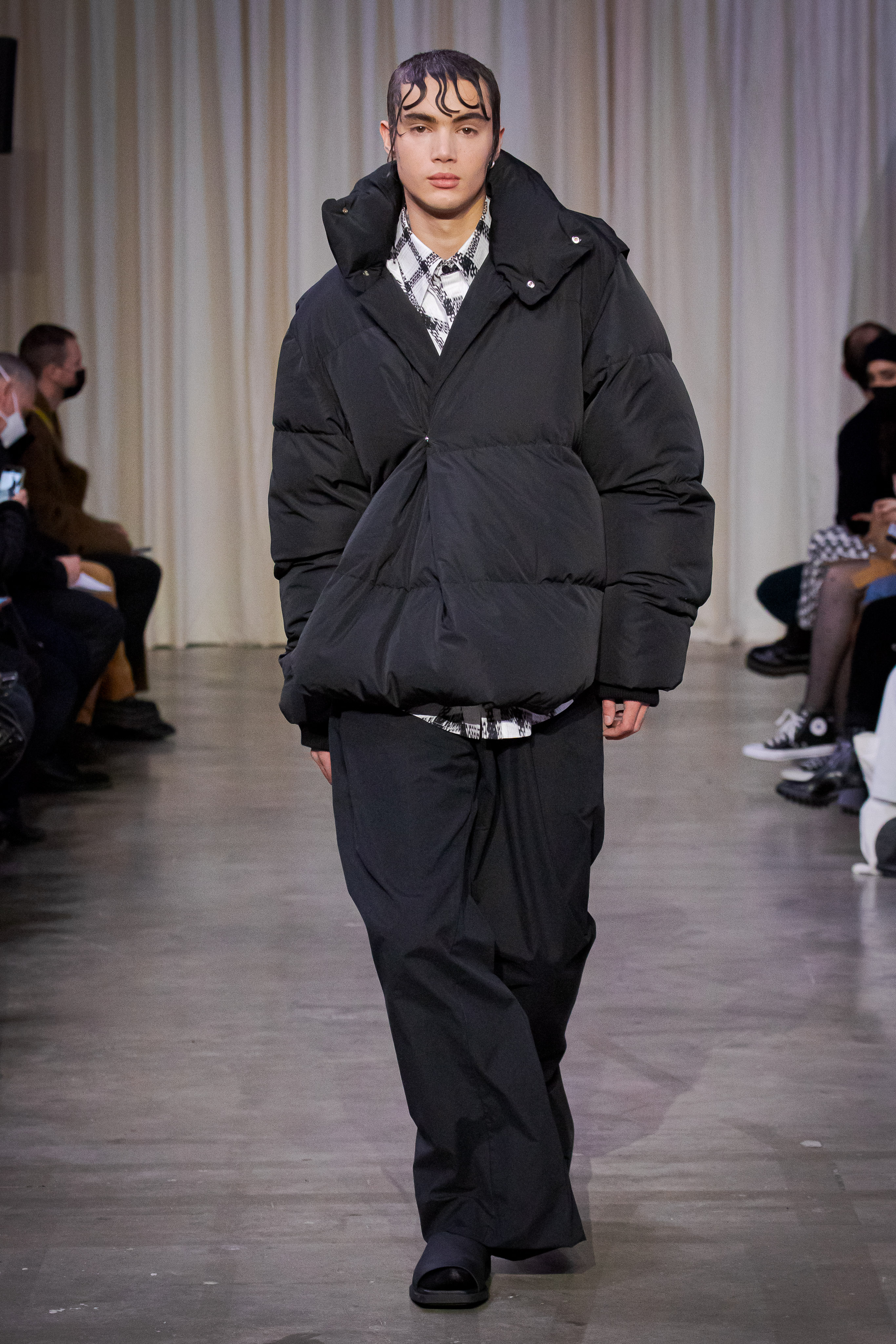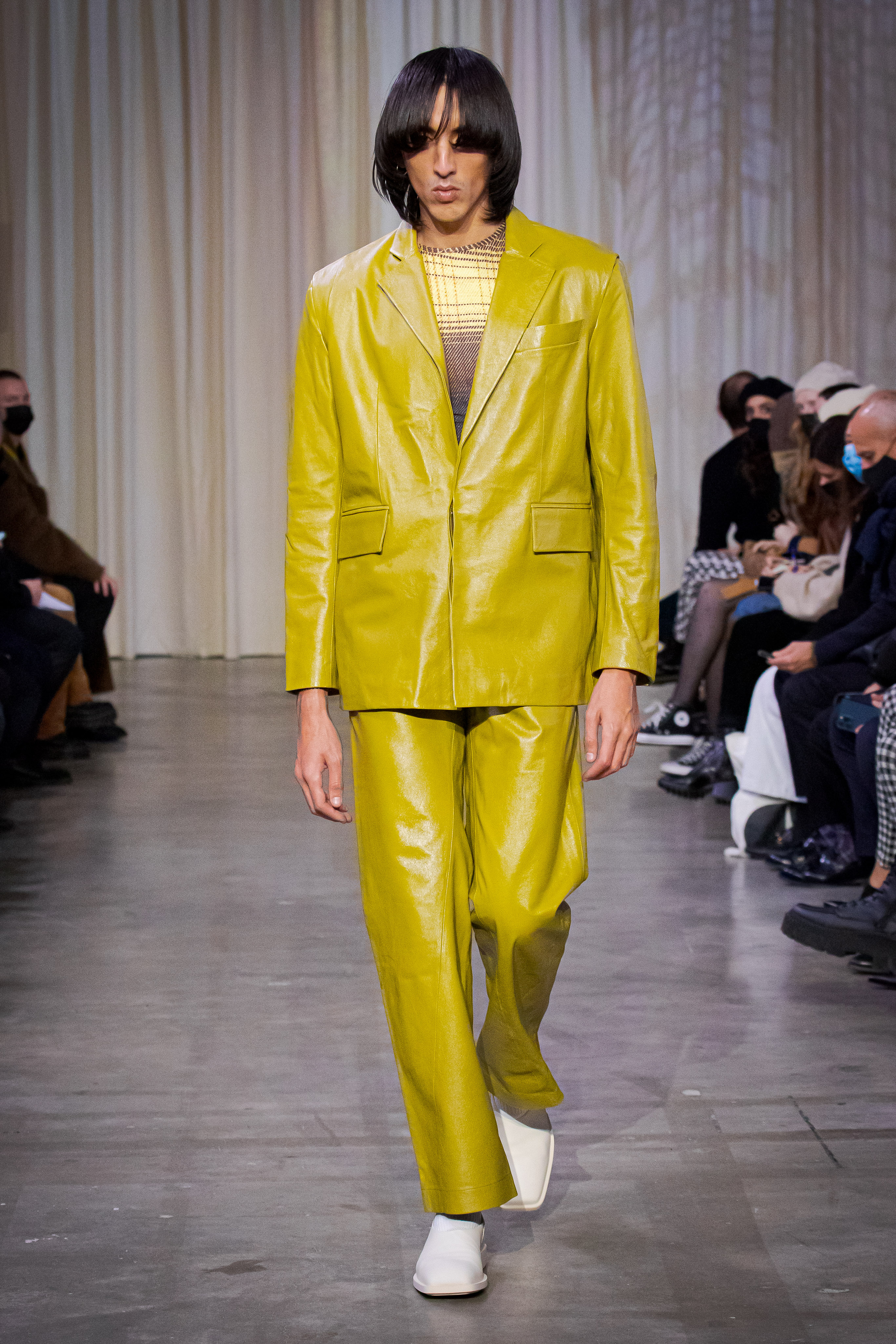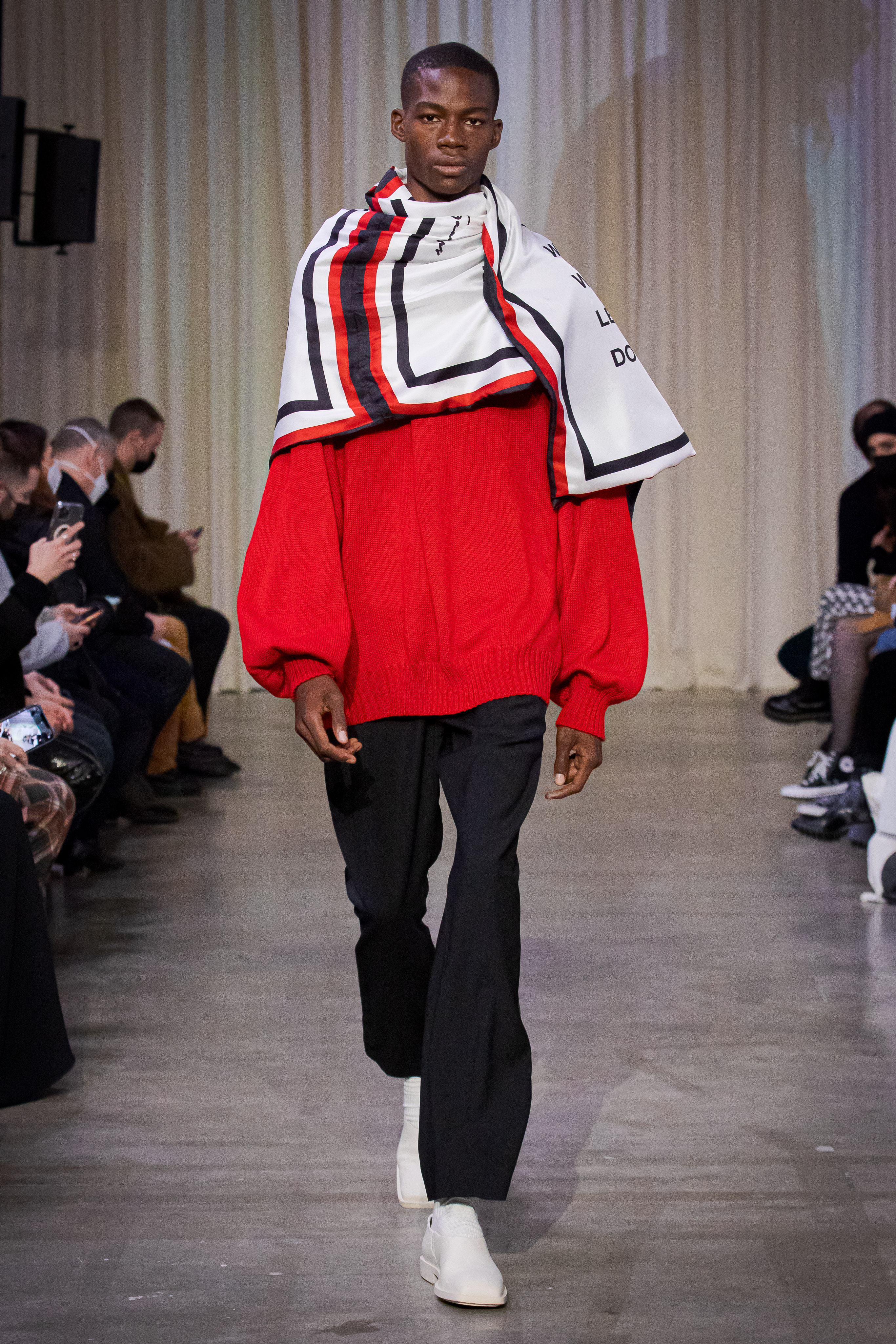 Lukhanyo Mdingi
Making his debut on the Paris schedule is South African designer Lukhanyo Mdingi, one of the three winners of this year's Karl Lagerfeld Award at this year's LVMH Prize. For his first time showing the French capital, he presented Bodyland, a positively soul-lifting collection that paid homage to the West African country of Burkina Faso, where he produces part of his collections today. Rather than an overt or obvious homage, though, this was a celebration of craft abilities of the Burkinabe artisans he works with – relaxed tailoring in vibrant emerald ikat cloth and muted tones gave Lukhanyo's debut a proud sense of poise. Meanwhile, dresses, cropped ponchos and fitted tops in sumptuous knits suggested snuggle-me comfort, as did a side-buttoned midi-dress cut from padded forest-green cotton. If this is what Lukhanyo's offering up for his Paris debut then we're all eyes and ears for whatever's to come. MS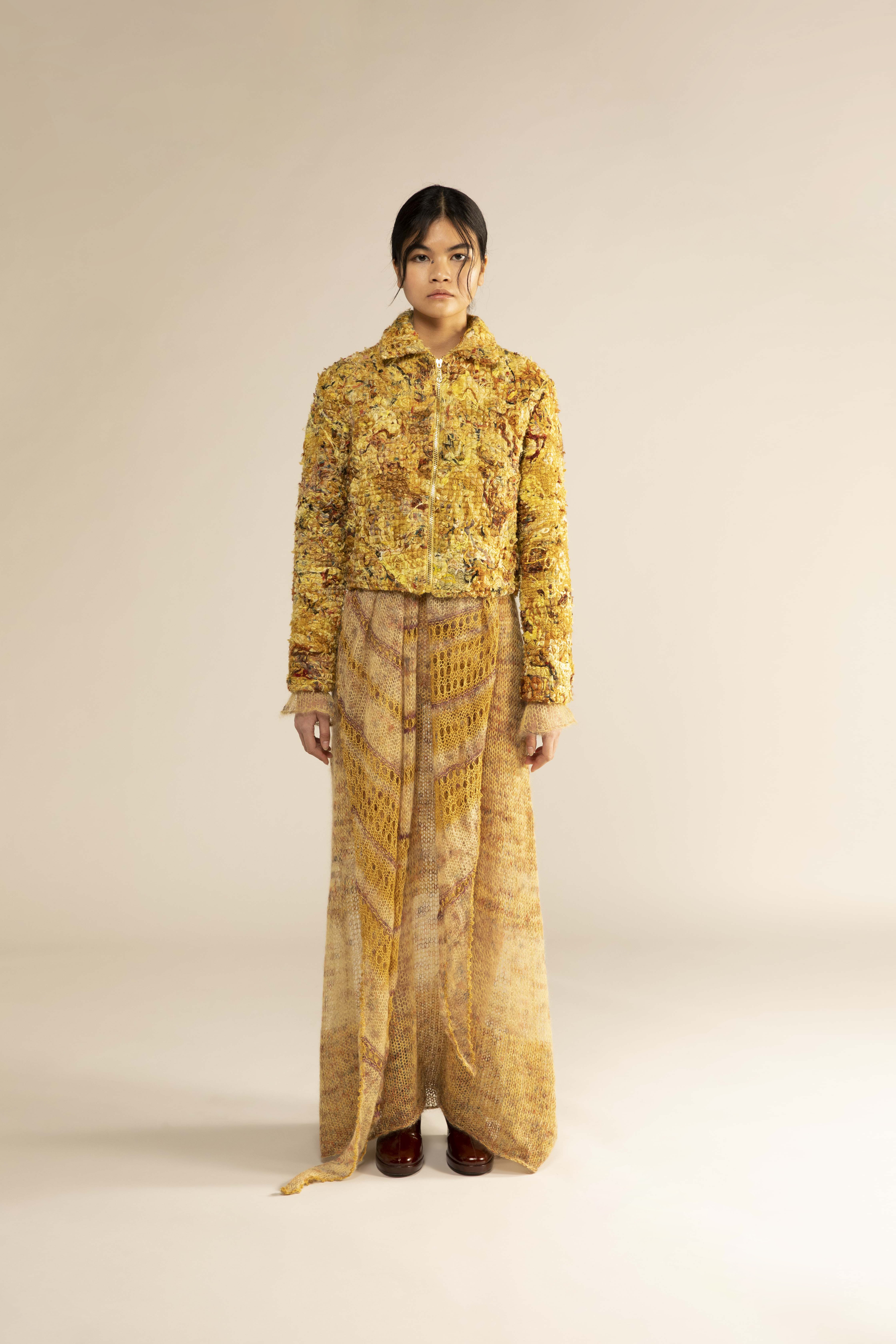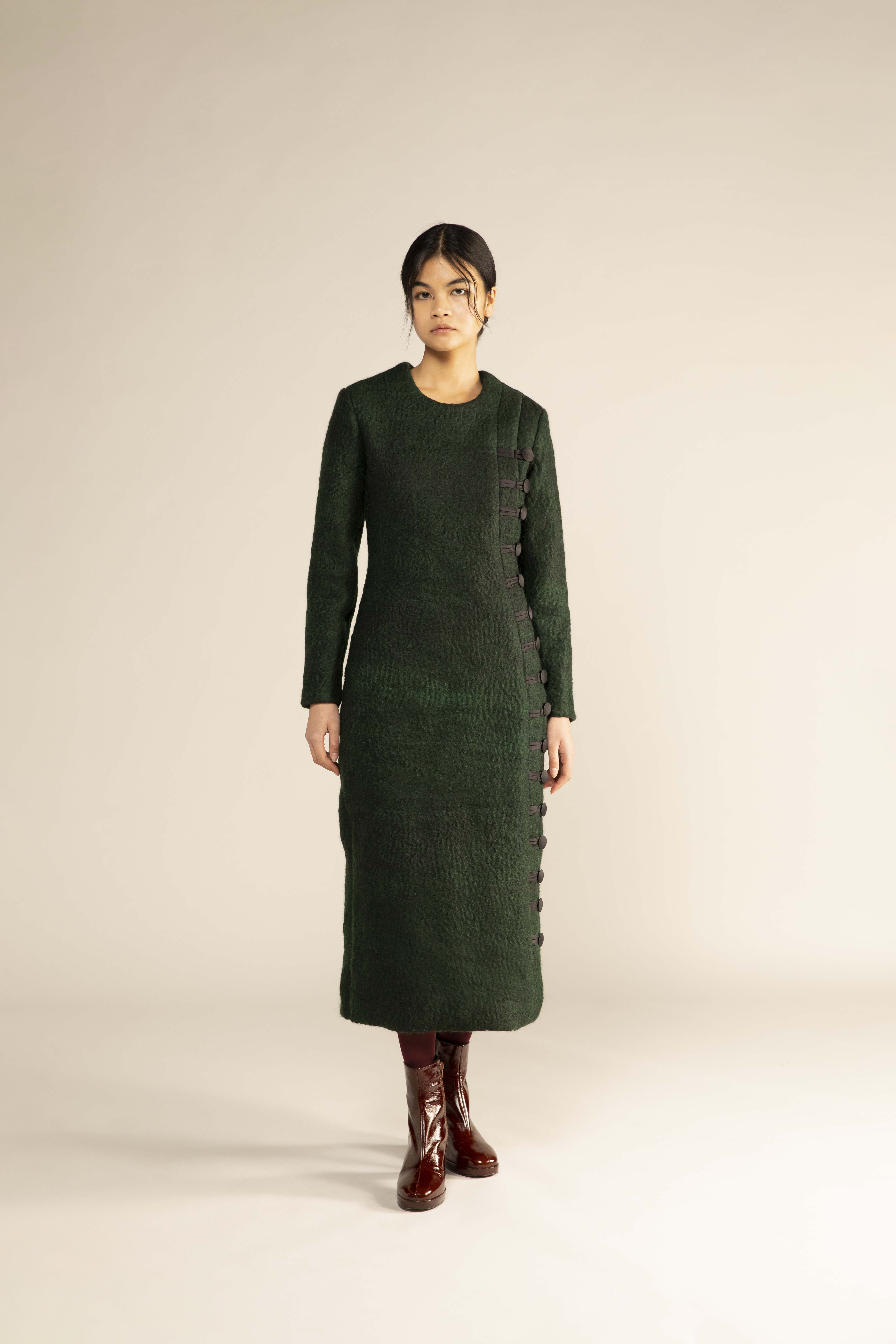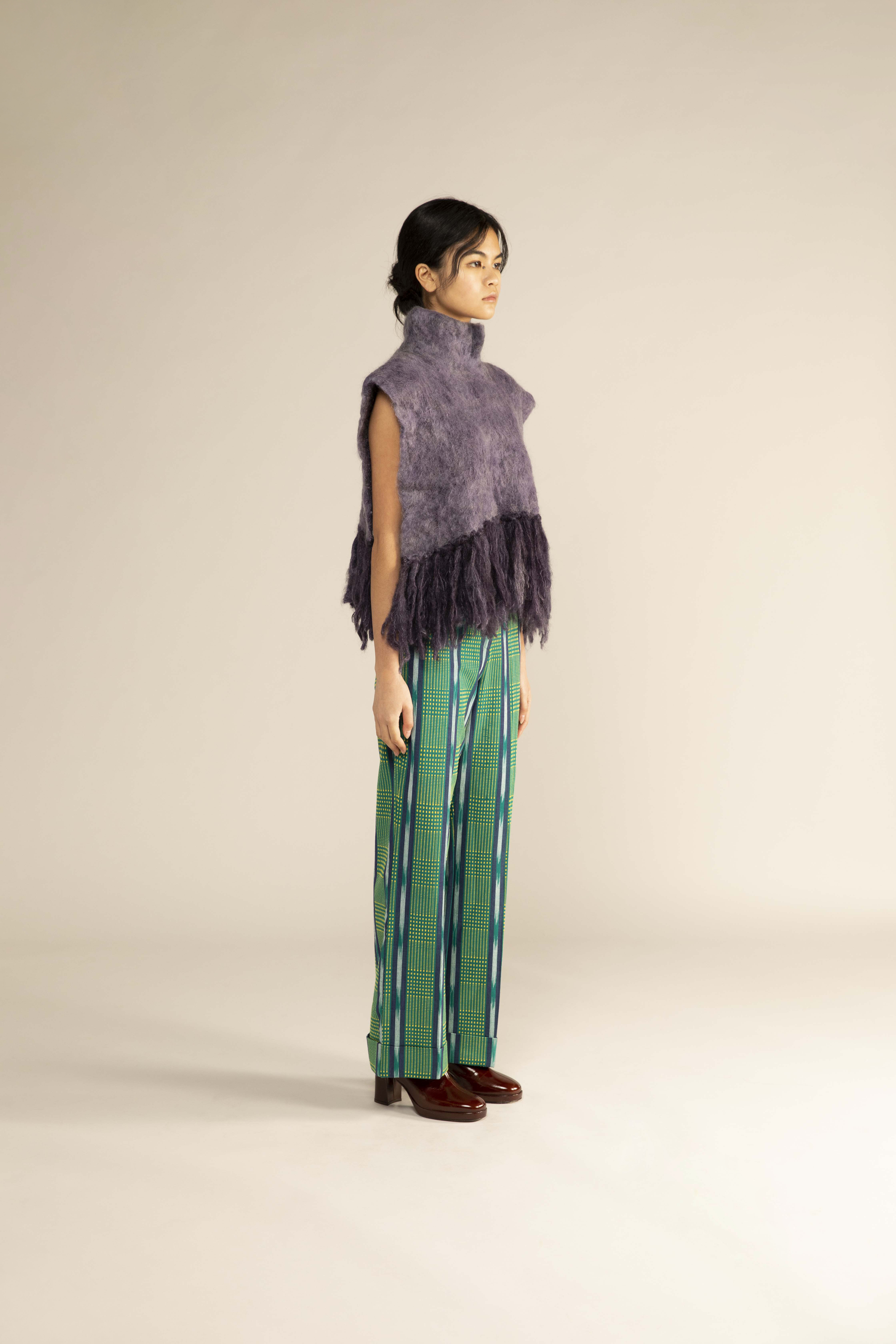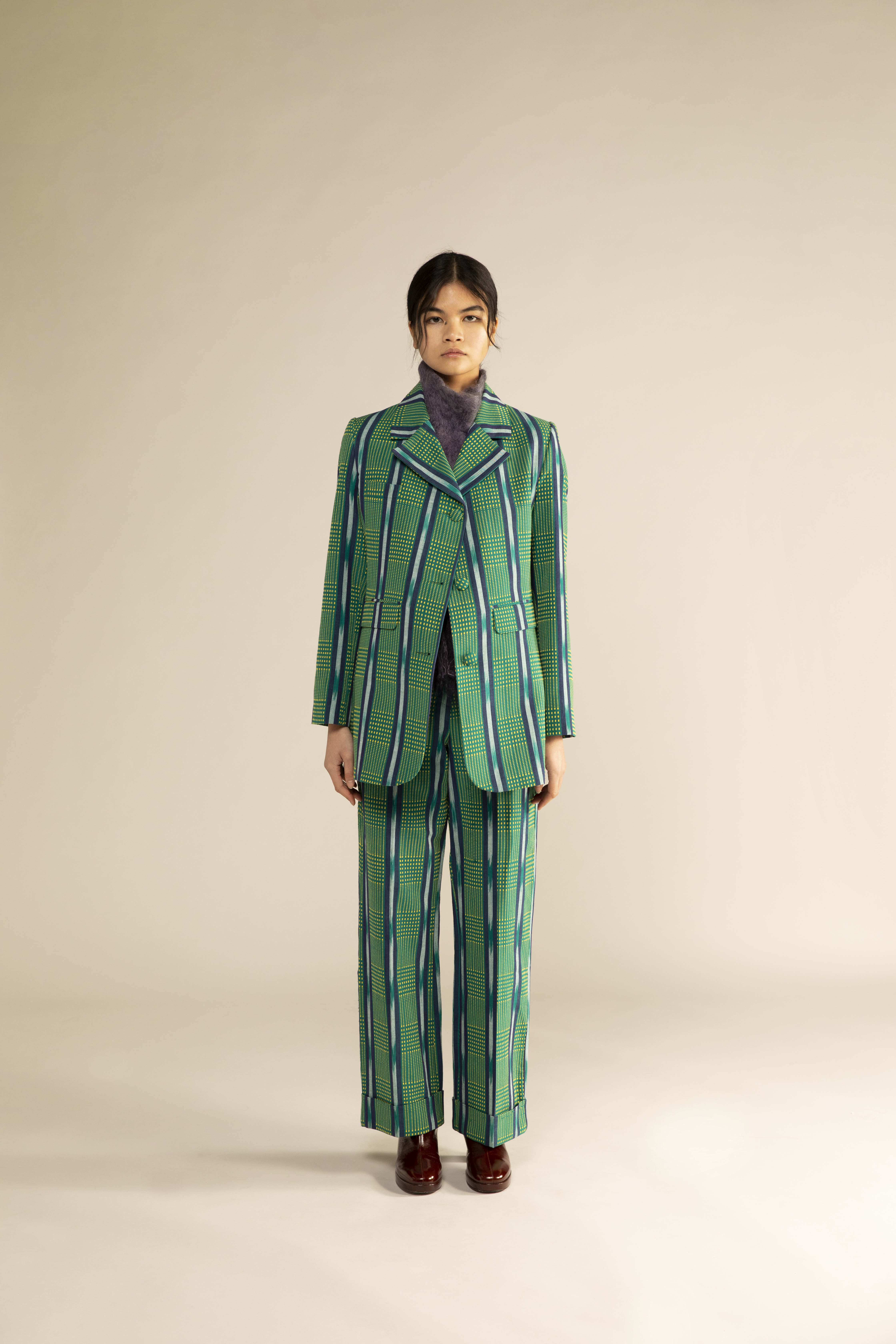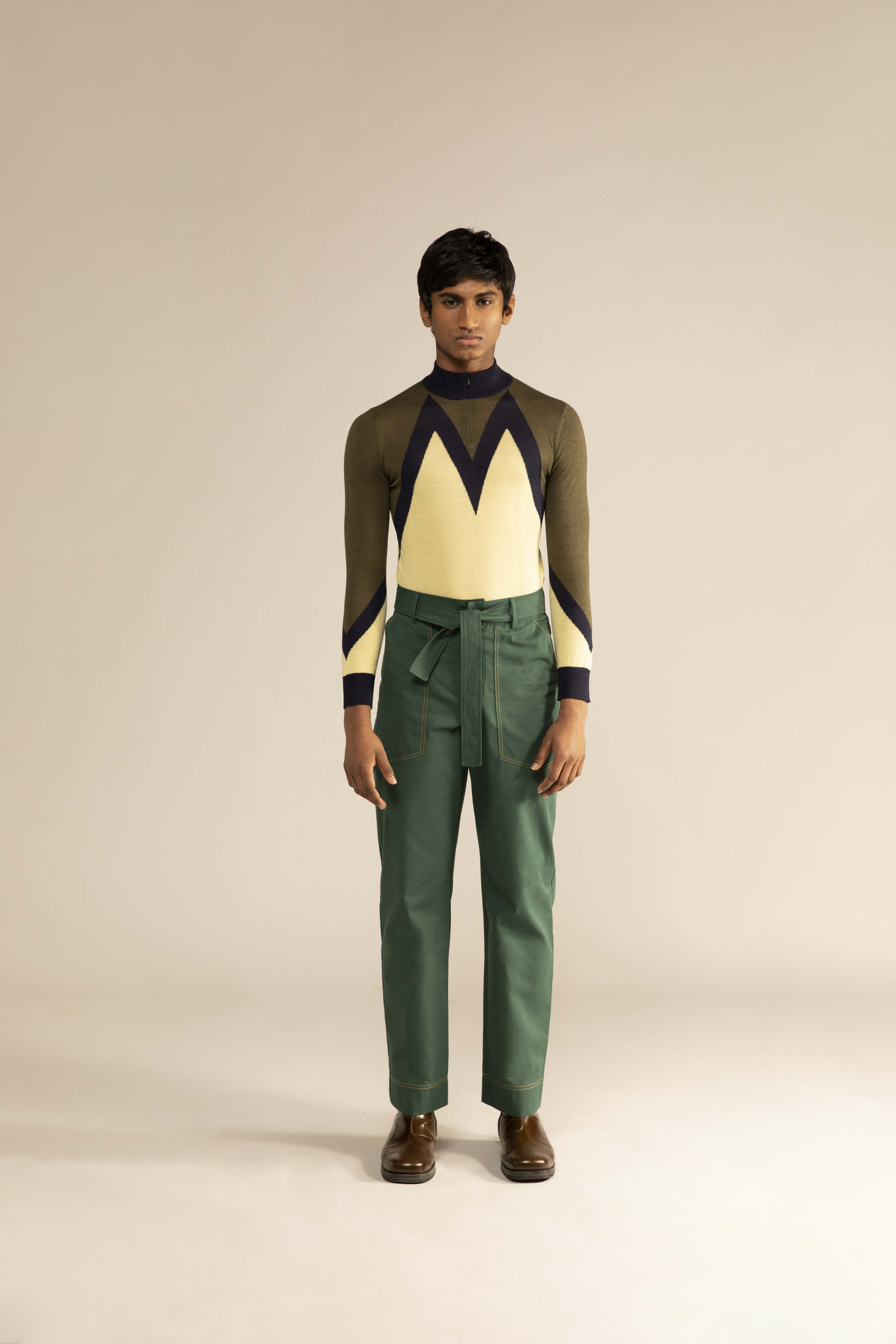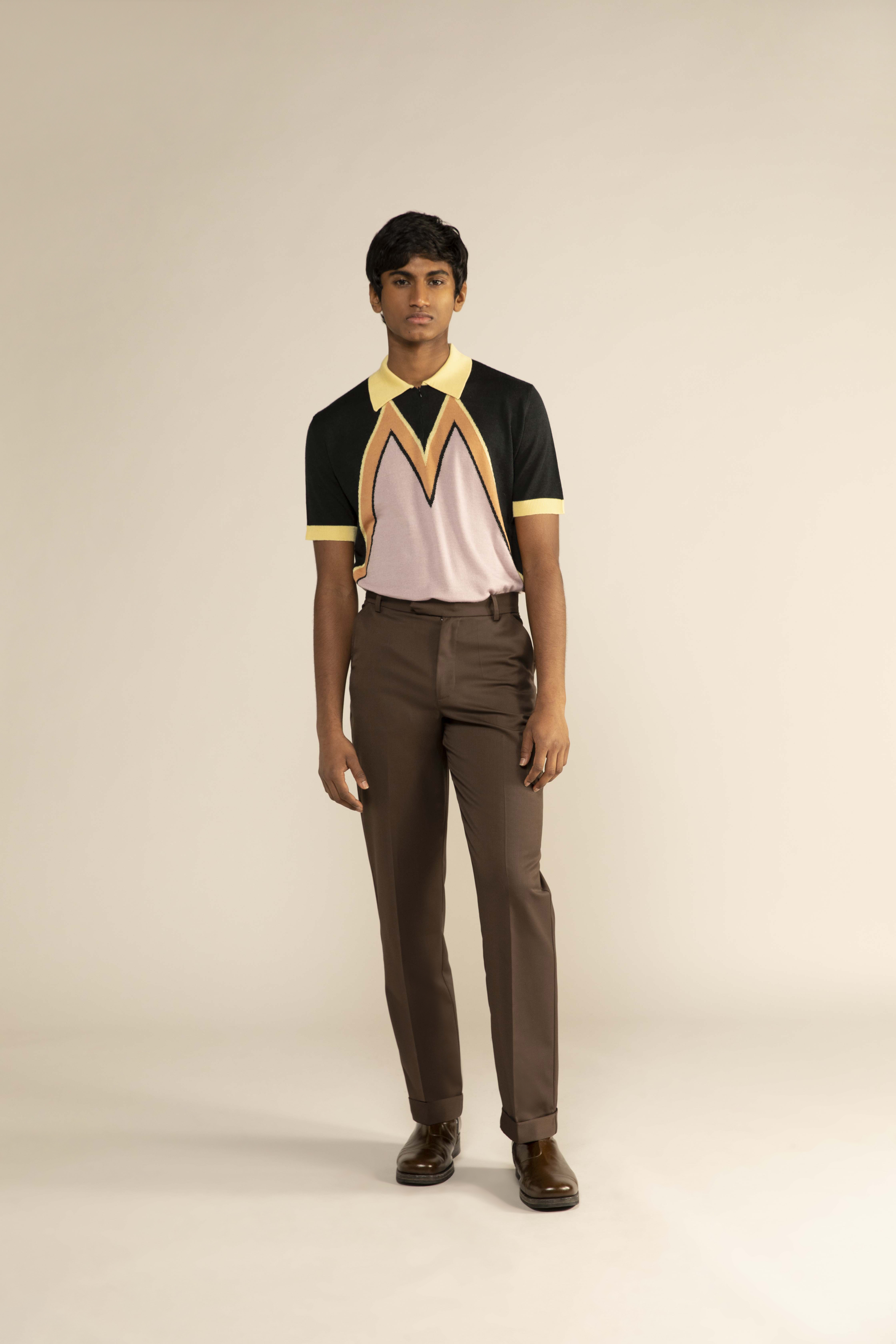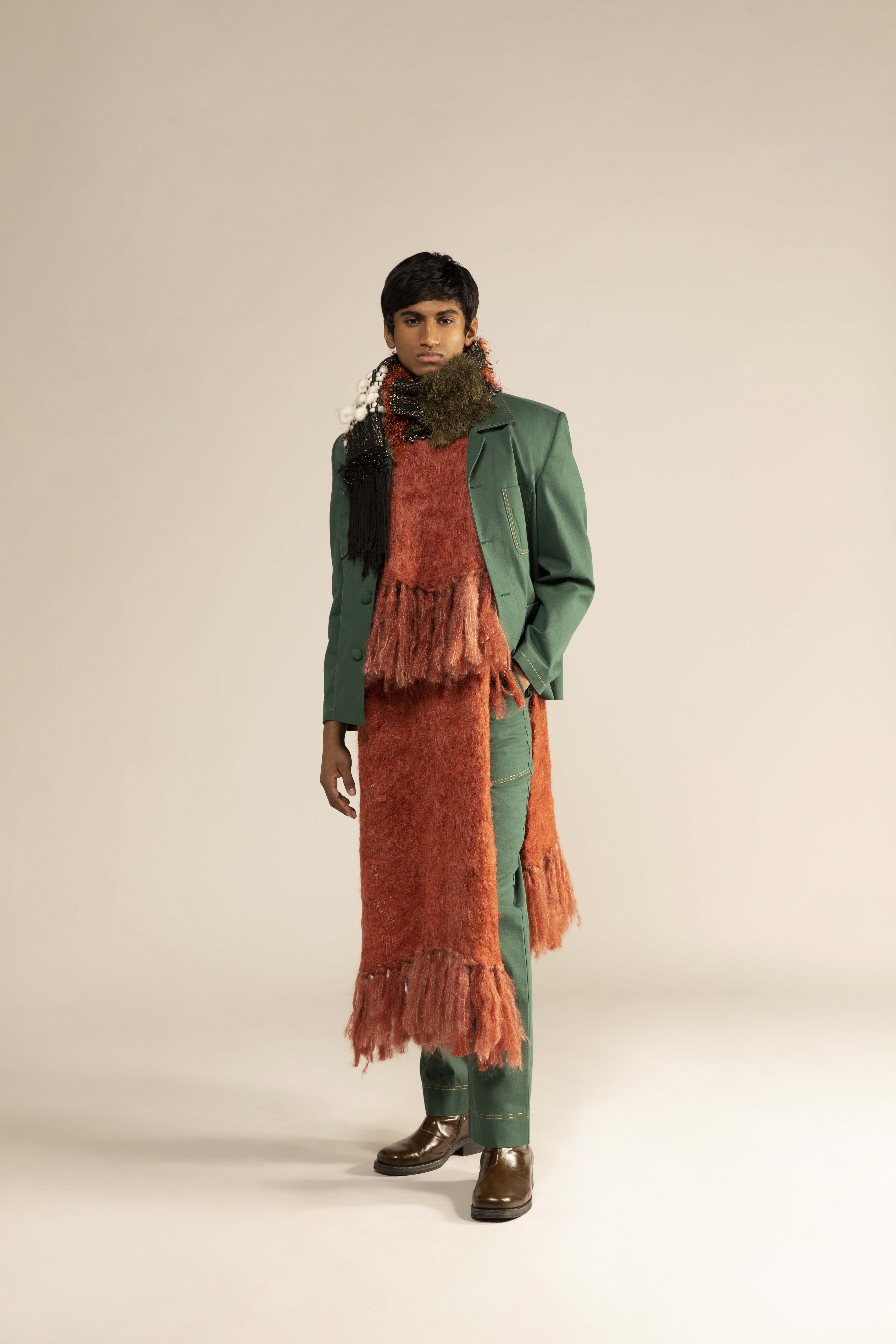 EGONLAB
AW22 also marked the IRL runway debut of one of Paris' most exciting emerging labels, EGONLAB. Fresh from their ANDAM win this summer, Florentin Glémarec and Kevin Nompeix –the pair behind the buzzy label – riffed on their cultish reputation with a co-ed collection title EGONIMATI – "named after a secret society responsible for establishing a universal happiness", a release read. The opening suite of looks set a dark, monastic tone – think heavily drape capes and geometrically sharp tailoring in thick, inky wools, and slinky, second-skin dresses – before broadening out into boxy shirting printed with etchings lifted from tarot cards and bulking quilted looks that suggested armour-like protection in the face of unknown threats. The sense of ceremony that lingered over the show culminated in a hulking pyramidal gown, draped from over 200 metres of fabric, before settling into a series of sexier, more party-ready pieces – a knit dress with a laddered crucifix down the front, or a sequined coat with a pouffe-y collar. The coven chic we've all been craving! MS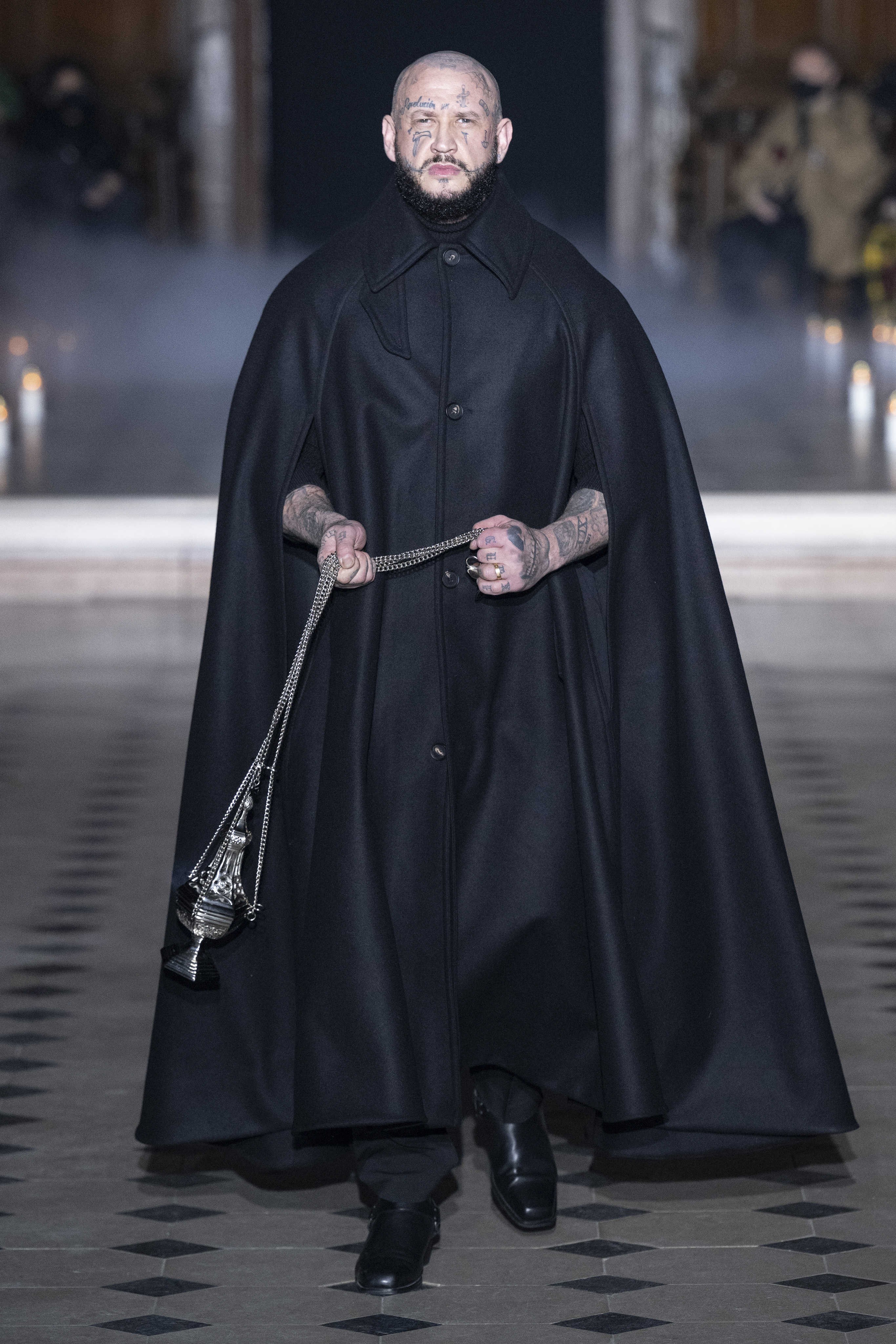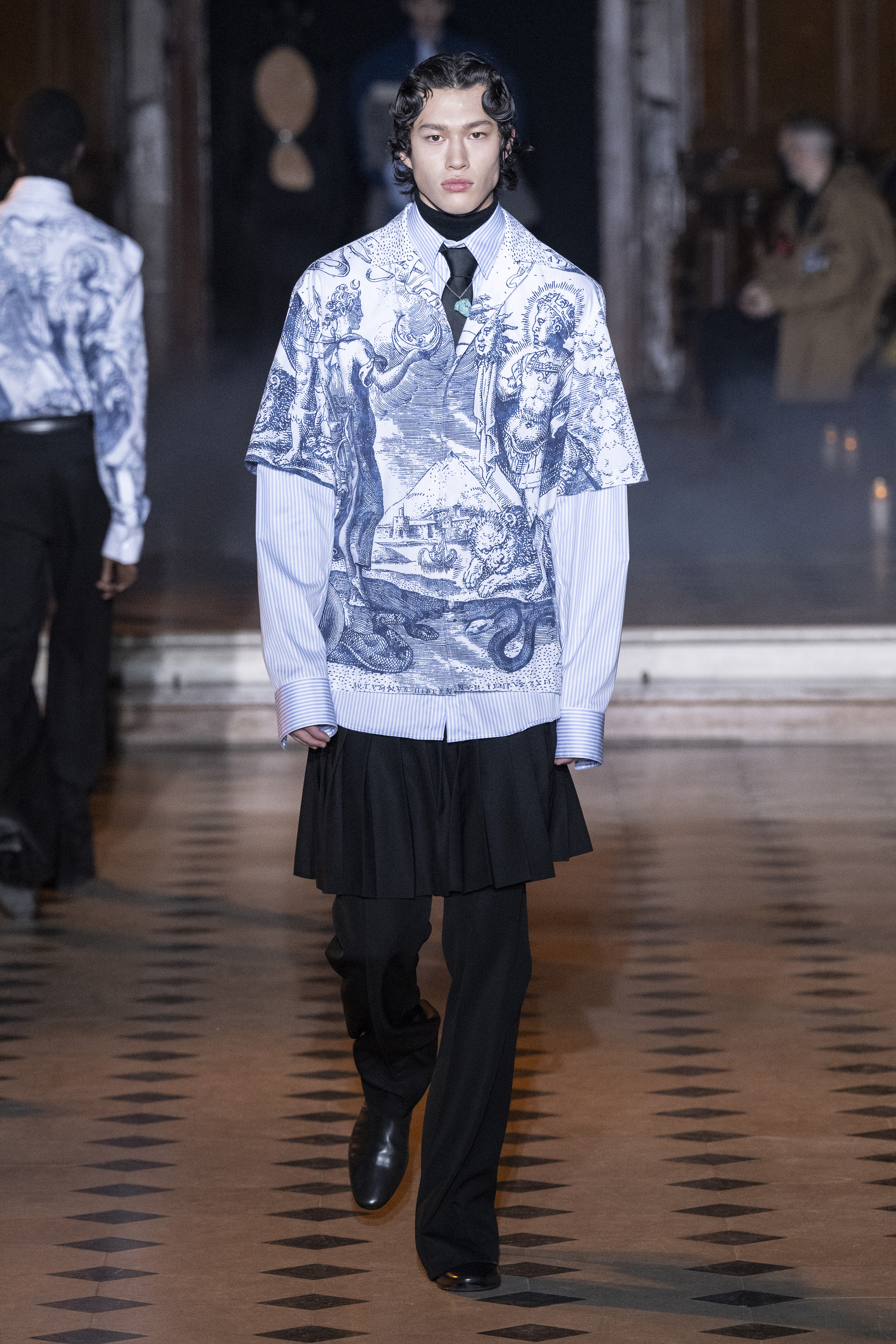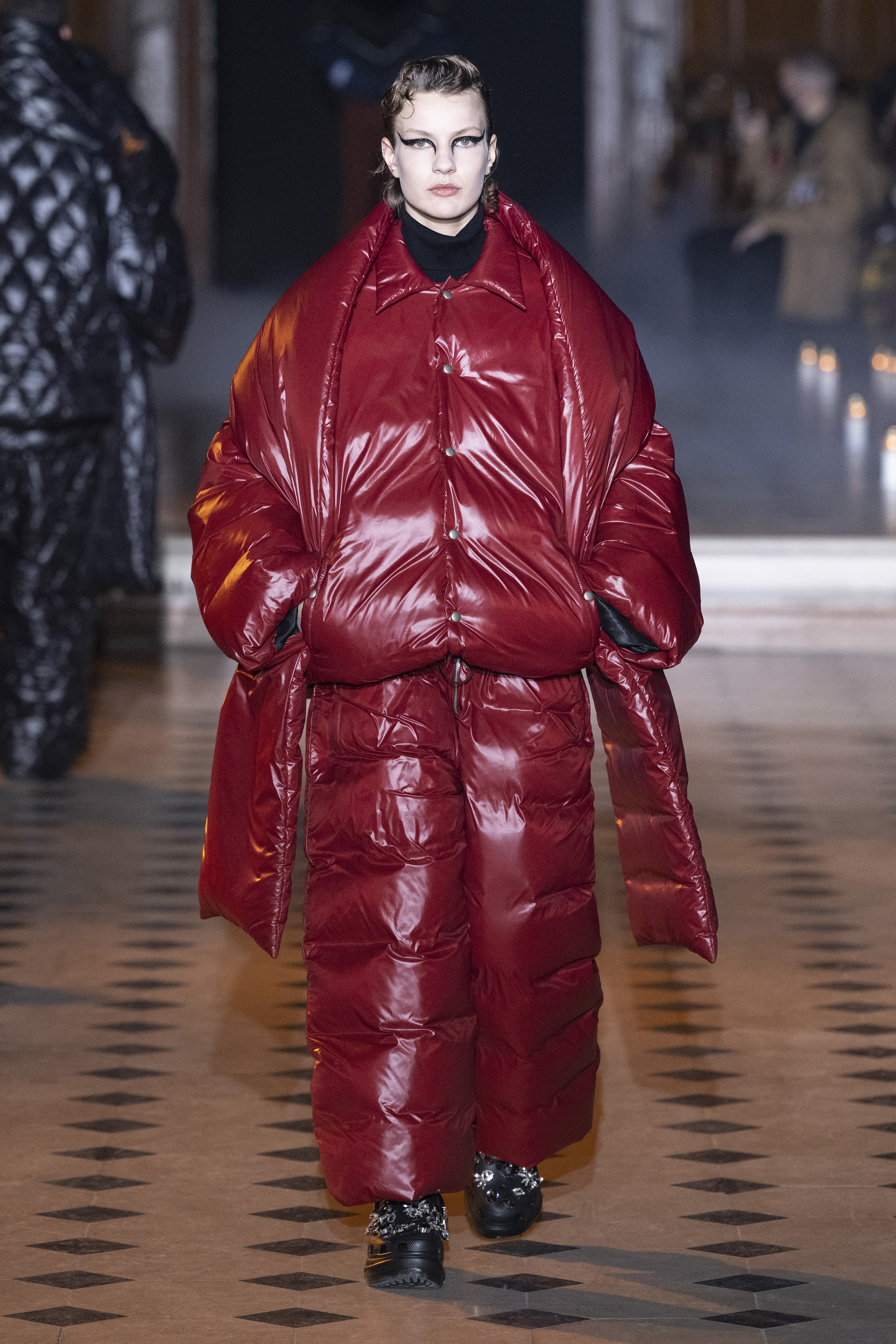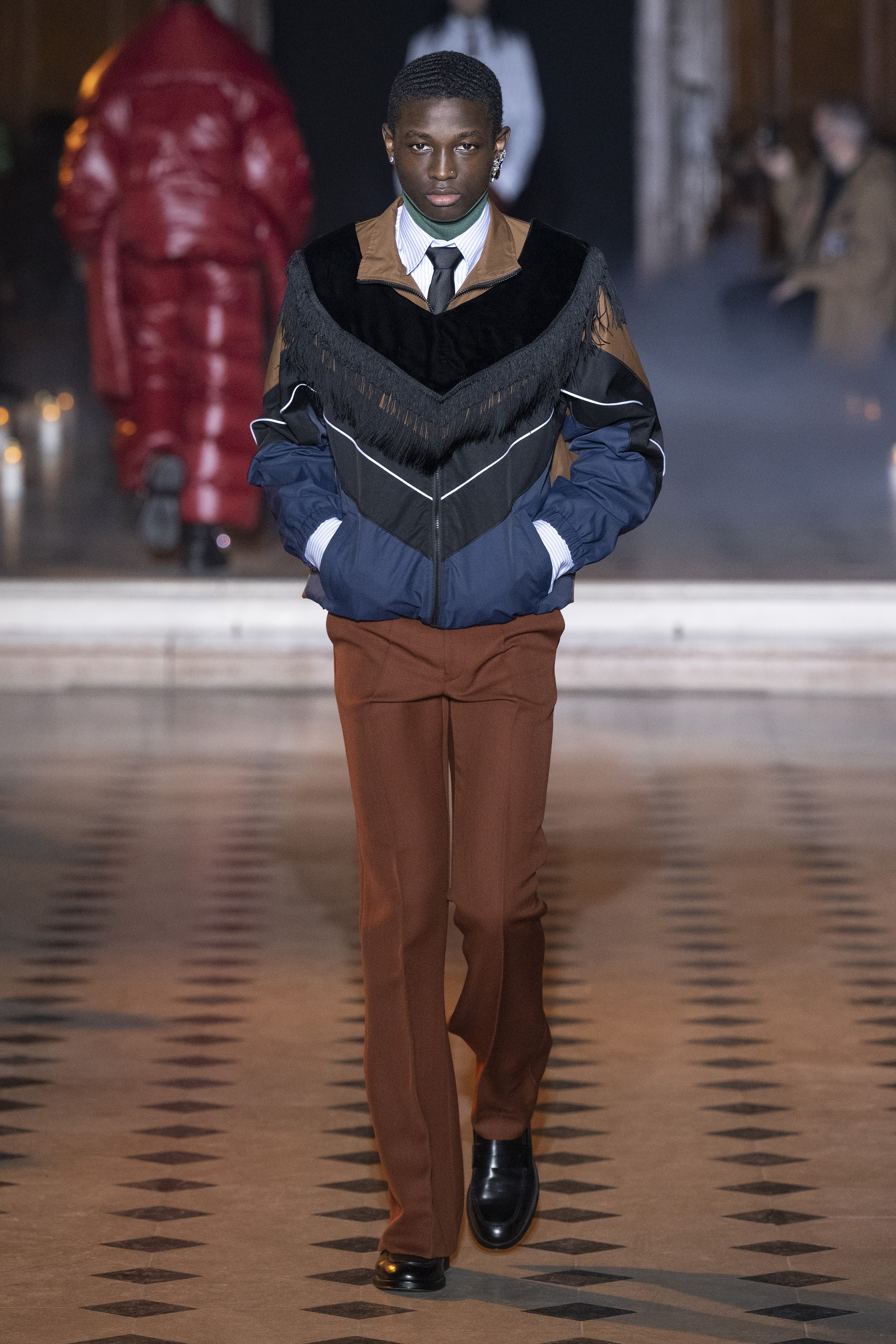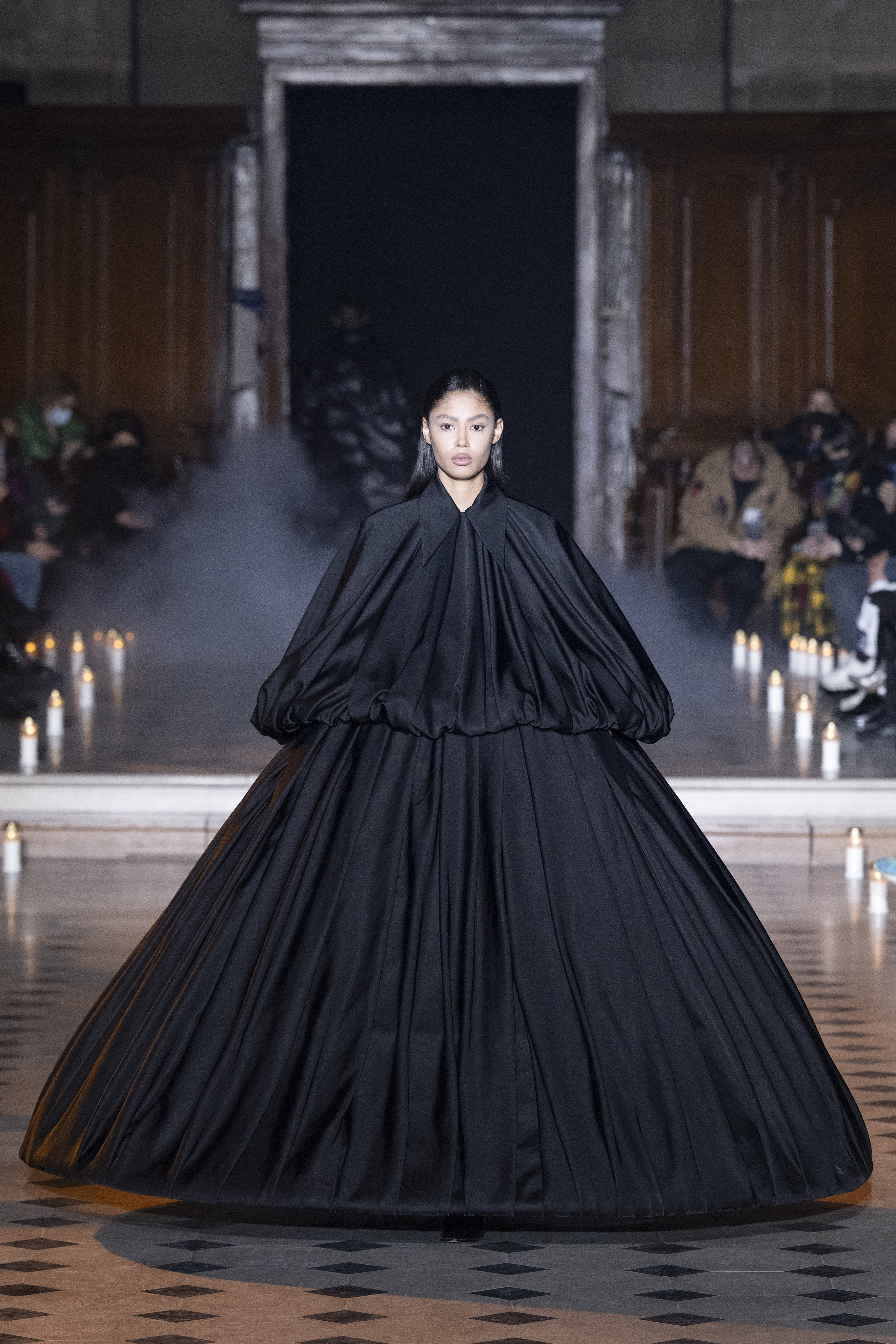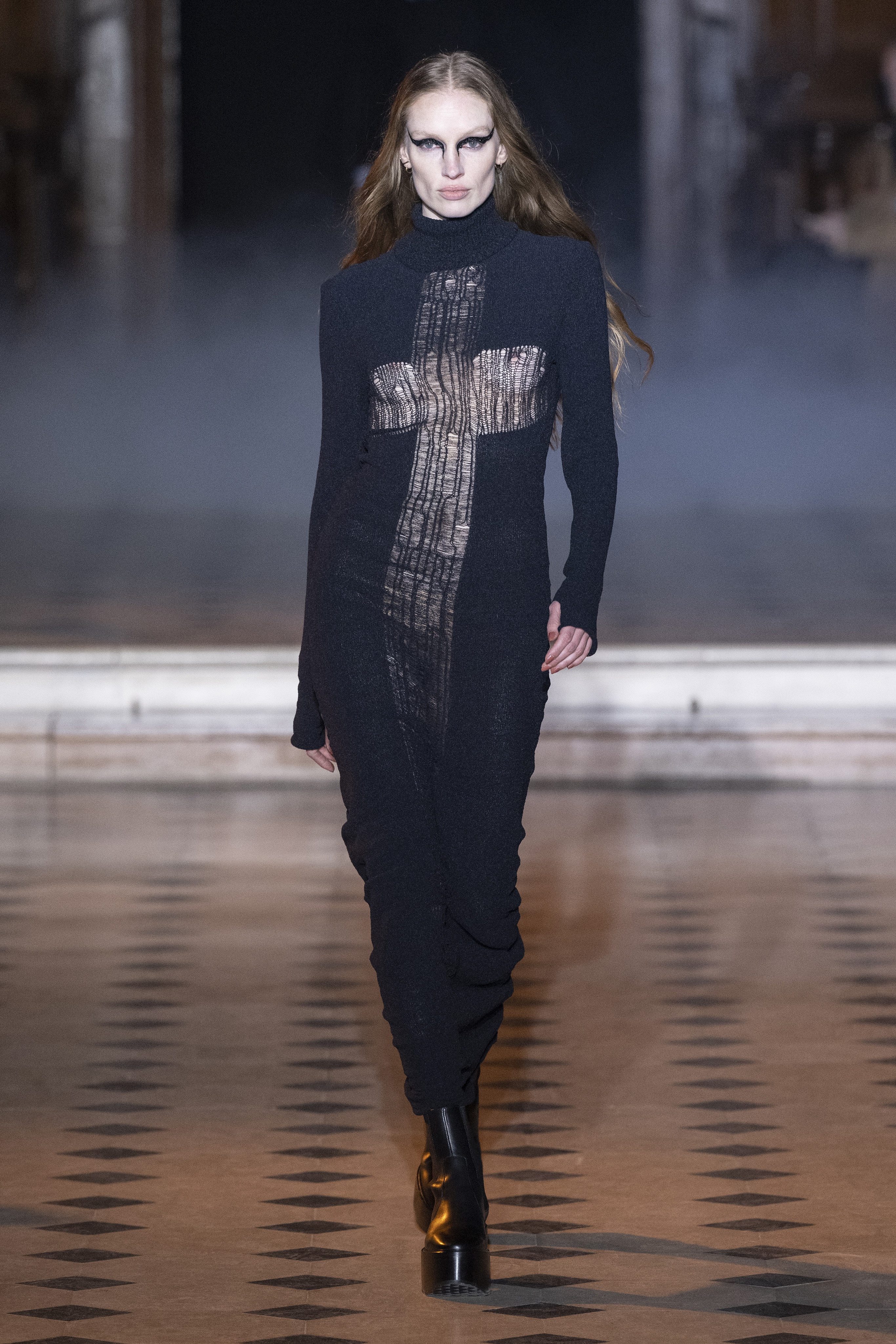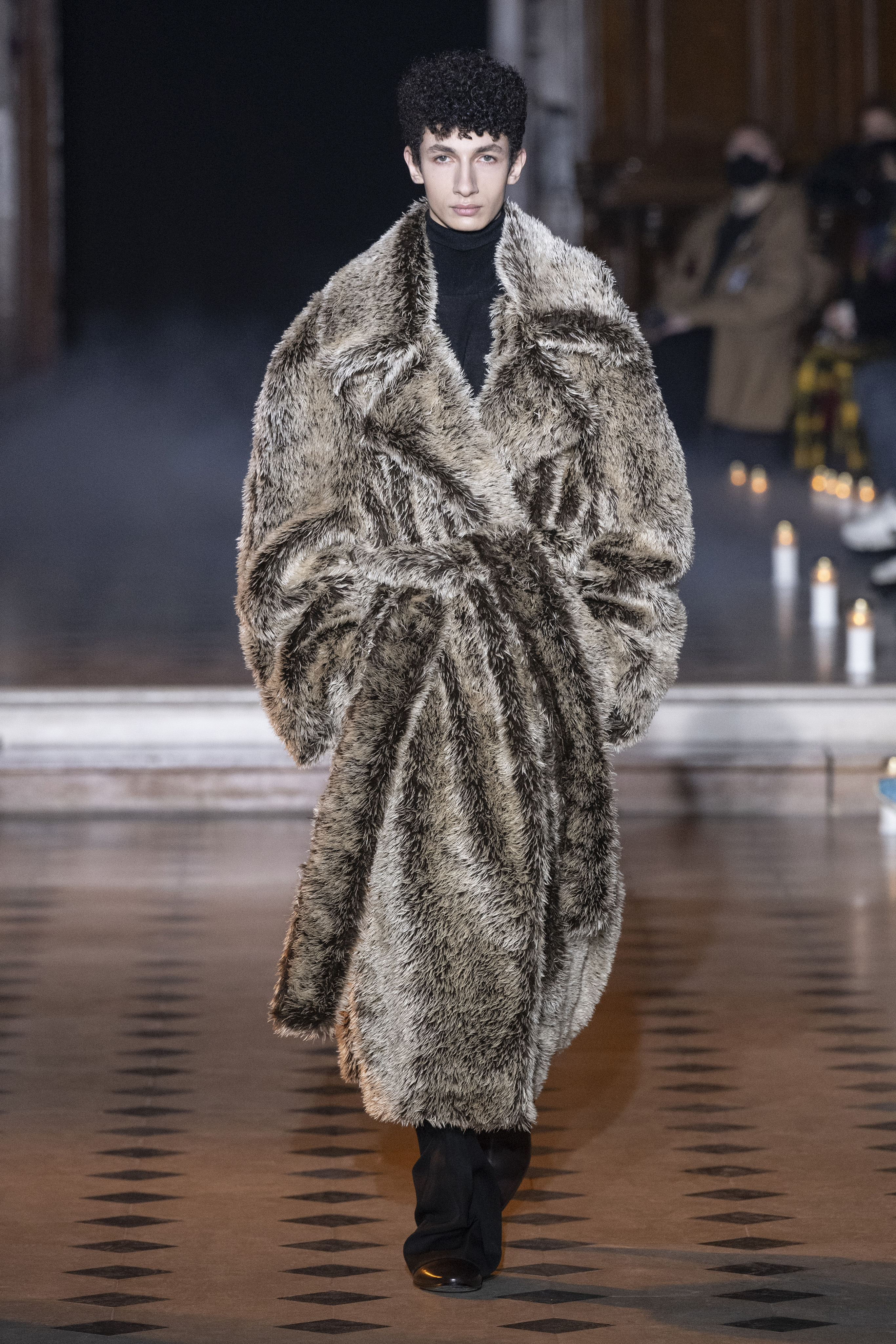 Comme des Garçons Homme Plus
"Nowadays, if you want to know anything, you can get as much information as you want from the internet," pondered Rei Kawakubo in the terse show notes for Comme des Garçons Homme Plus' AW22 collection. It would seem, however, that this season, the Japanese designer was looking for an escape from that sense of information overload. Channelling big cottagecore vibes, she instead "[yearns] after a nomadic life where you can truly live freely by yourself, not flocking together, not belonging anywhere. It is enviable." A big mood. That sense of emancipation made itself felt in the clothes that the brand presented by way of a digital show. Though heavy wool tailoring and poplin shirting gave the collection its backbone, any sense of primness is lifted by rugged cuts that suggest the haphazardness of the hand, as well as by crafty, puckered textured twinsets, liberal primary colour blocking and clashing, acid-hued animal prints. Giant felt shepherd hats leant to the escapist farm-fantasy feel of this season's silhouette, while block-soled Mary Janes – this season's hottest menswear moment, FYI – lent an air sense of naivete and play. Clothes to wear when you just want to escape it all! MS