This 90s film captures the rise of Korea's flower boys
Featuring 'Squid Game' star Lee Jung-jae, 'City of the Rising Sun' depicts Seoul on the edge of a pretty boy revolution.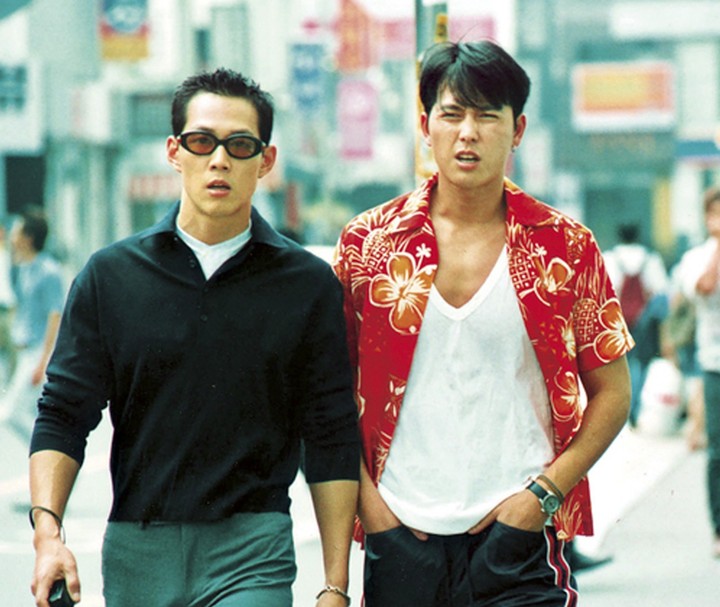 In the 90s, South Korean film director Kim Sung-su captured the mood of a lost generation. His repertoire of gloomy, teen-driven films — described as "scruffy Wong Kar-wai lite" by fanatics and haters alike — have mostly been forgotten today, but one in particular, City of the Rising Sun (1998), spoke to a generation who were growing up in the aftermath of the Asian Financial Crisis. It is also, coincidentally, jam-packed with juicy, irresistible menswear, and made space for the male style phenom of the time: the flower boy.
Starring IRL besties Lee Jung-jae and Jung Woo-sung, the film traces an unlikely friendship between Do Chul (Jung-jae), a wannabe boxer who can't swing a punch to save his life, and Hong-Gi (Woo-sung), a hunky conman with exceptional pizazz. The leads slink around Seoul in fits that would make TikTok's soft boys froth at the mouth.
The ultimate himbo, Hong-Gi has a taste for figure-hugging tank tops, shrunken tees, ravey sunglasses and precision-cut tailoring. You either want to date him, be him or find some other way to get into his wardrobe. Failed fighter Do Chul is less adventurous — save for the eyebrow piercing that decorates many a black eye — navigating the rat race in army surplus gear, cargo pants and fashion flip flops.
Just a year before, Woo-Sung had risen to fame thanks to his portrayal of a schoolboy gangster in Sung-su's previous film Beat (1997). This time, the bad boy had gravitated to more white-collar crimes, spending his swindled cash on hair gel, cigarettes and skimpy little ensembles. But what did this shift from no-fucks-given to flamboyant mean?
In her book, author Sun Jung explains that in the late 1990s, the macho men who had once dominated screens either bloomed into pretty boys or lost popularity to more gentile male leads. The phenomenon, Jung explains, coined the term 'kkonminam' or 'flower boy', a fusion of the words 'kkot' (flower) and 'minam' (a beautiful man). The craze stemmed from a growing obsession with the male characters in Japanese 'shōjo' anime and manga. The androgynous, elfin-type leads are called bishõnen (beautiful boy), and all share similar features: they're tall with slim feminine faces and possess long, sparkling Rapunzel-like locks.
Before 1998, Japanese culture was officially banned in Korea. Once the government phased it back in, the forbidden fruits proved to be more enticing than ever before. And so, these angel-faced boys became the hotties of a new dawn.
They weren't totally unfamiliar, though. For years, teens were secretly getting their fix in areas like Cheonggyecheon and Myeongdong, where Japanese goodies like CDs, shows and comic books were sold off-the-books. The first generation of K-pop bands like H.O.T and Sechs Kies were already trailblazing the bubblegum aesthetic from 1996 onwards, creating Backstreet vs NSYNC* level fan wars by donning eyeshadow, campy outfits and dyed hair. All of these were big no-no's on Korean TV at the time.
Lee Soo-man, the founder of SM entertainment, put together H.O.T after spending years researching youth culture and surveying teenagers. The consensus showed that "young people, disenchanted by the government and its stark, macho, militaristic portrayal of men, desired a gentler type of masculinity", author David Yi writes. Soon, actors such as Lee Joon-gi and Bae Yoon-Jong perfected the formula and sold it back to Japan, where the shows Winter Sonata (2002) and The King and the Clown (2005) helped to spark the first K-wave.
"A few years ago it may have been considered sissy for a guy to be fussy about his clothing and appearance. Real men demanded the world accept them on their own uncouth, unkempt terms." reported TIME magazine in 2006. "In Asia nowadays, the definition of masculinity is undergoing a makeover – and narcissism is in." Consider the metamorphosis complete.
But the influencer and founder of K-beauty brand Cielo, Edward Avila, explains that 'flower boy' is a rarely used phrase today. "The term that's used more often these days is "잘생쁨", a combination of the words "잘생겼어 (handsome)" and "이쁨 (pretty)," Edward says. Whatever the name, the rose still smells just as sweet. Take BTS' Jimin on the cover of Vogue Singapore, Gucci's collaboration with Kai from Exo, or the pretty-boy actors at Miu Miu's Women's Tales event in Seoul last month.
"I don't think men with 'soft' images are limited to Korea, they're now popular all over the world," stylist Yang ah young says. "Korean content has been booming all over the world, and the characters in dramas and movies are loved by many people". And it's not just the stars taking part. "These days, boys want to make a good impression not just for the public but also to the opposite sex, so they'll get their hair permed, shave their faces, put on a bit of light makeup, groom their brows, or develop a personal fashion style," Avila says.
Over the past decade, Korean men have become the world's biggest spenders on skincare and make-up, contributing $7 billion to the beauty industry. A survey by GlobalData found that three-quarters of Korean men regularly partake in beauty treatments and 58% of Gen Z say they use grooming treatments at least once a week, compared to 34% of Korean men overall.
The Korean Ministry of Defence even recently announced that soldiers will be provided with a stipend for haircuts and beauty products. While it might sound like a post-masculinity utopia though, the reality is a little murkier. There are no anti-discrimination laws to protect queer people in Korea, for instance, and mandatory military service is still considered a rite of manhood. There is even a whole genre of K-dramas devoted to action men with perfectly-coiffed hair and glass skin.
The type of skin-baring, genderless silhouettes seen in the SS22 collections probably won't fly on the streets, either. "There are many 'genderless' brands in Korea, but it's important to ask, what type of 'genderless' are we talking about?" says Avila, "Boxy t-shirts and baggy pants are already very popular, but things like tight, see-through mesh shirts, skirts and heels probably won't go mainstream (for men). The trend would probably only be associated with stage outfits, worn by K-pop idols or at Seoul Fashion Week."
Even so, the flower boys have certainly blossomed. We're betting that even Do Chung is partial to a sheet mask these days.