Ed Mendoza makes clothes for the big, beautiful and different
The CSM MA grad and L'Oréal Professional Prize winner talks about what it was like to finally design a collection he could actually wear.
What does it truly mean for something to properly fit? Or more importantly, what does it truly feel like when something properly fits you? "Free," says 19-year-old Oliver, one of the models wearing Ed Mendoza's designs in this shoot. "It's very hard to find clothes that fit my proportions properly, so when I'm wearing something that fits me nicely, that is airy and I can walk in it, I feel free. This is probably the first thing that I've worn that feels like it was made for me."
Oliver is talking about a tie-dyed T-shirt, colourful screen-printed denim shorts, a matching coat and layered belts of varying widths. They are all part of Ed's Central Saint Martins MA graduate collection, presented during London Fashion Week back in February. Ed, who has Peruvian, Grenadan and St Lucian roots, was one of this year's two L'Oréal Professional Prize recipients, winning the award for a collection that served as a deep exploration of textiles, the body and his multicultural identity.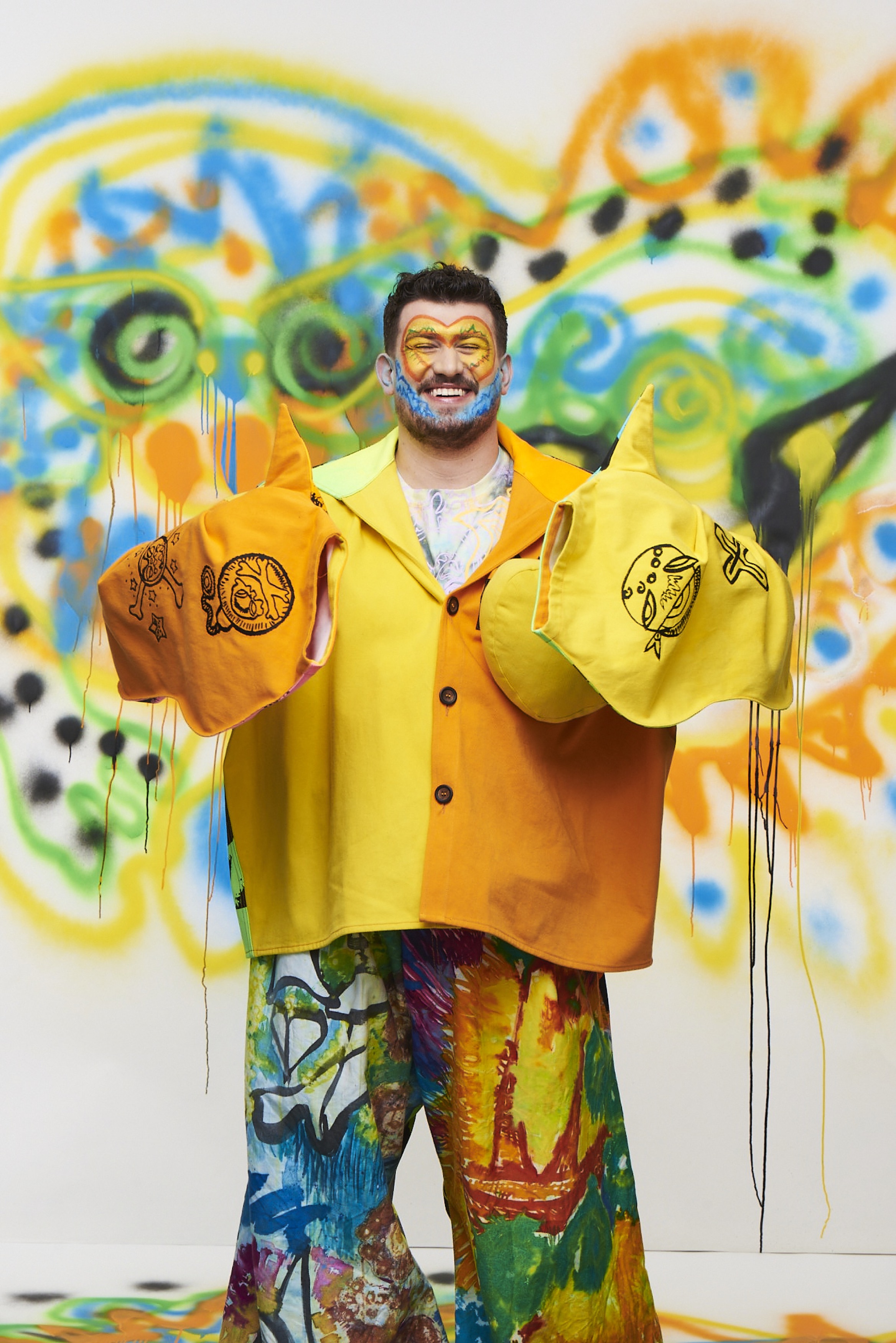 "It was the first time I had ever really made clothes that were my size," Ed says, "I was able to understand what it feels like to wear my designs, to make clothes for plus-size people, sculpt them to their bodies and make them look beautiful, strong, sexy and confident." Ed's bold illustrations and psychedelic prints were transformed into etched denim garments, including a knitted jumper — made in collaboration with knit and crochet specialist Kate Brittain — and embroidered furry trousers. "Being a large garment, you would expect it to be heavier," says Parka, a product design student who modelled one of the looks designed by Ed, "but these garments have many layers of light fabrics with different colours. It boosts your confidence."
Designing garments for plus-size men and non-binary wearers was something Ed had dreamed of doing since studying for his BA. He wanted to create clothing with his proportions from scratch, and not ones which had simply been graded up. "It was a really important subject for me," he says. "I wanted to create a collection that began with thinking about how it made the wearer feel rather than just making cool-looking garments, and to include plus-sized people in the world of high fashion. It was a really important subject for me," he says.
His collection was the first to be shown at Central Saint Martins that catered exclusively to plus-sized people. "I did one show [where the garment] I wore was two sizes too small and nobody cared," says Raul, a plus-size model who walked the show. "The difference with this is Ed is saying you can be big and look very good and be on top of what is trending. It's high fashion catered to big guys. It would be cool to go to Selfridges and see this on the rails and be like, 'Yes, you guys can now wear this, you can shop in this place'."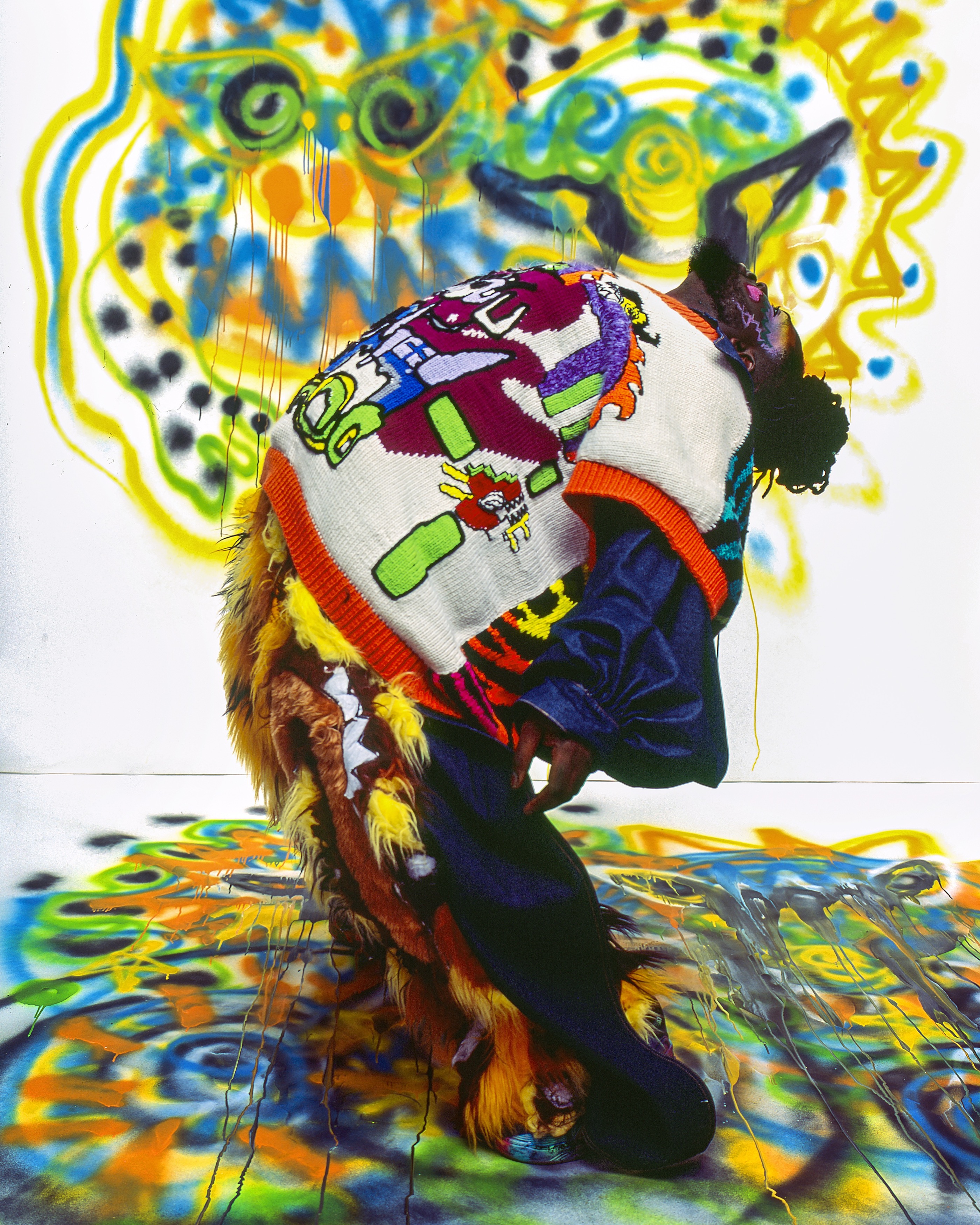 Ed's cultural heritage also served as important source material for the prints and illustrations seen throughout the collection: he aimed to honour his Peruvian and Caribbean roots by reinterpreting elements of each culture into his designs. "These civilisations had so much craft, knowledge, understanding of science, and had created many beautiful wonders and monuments, but they have been shown through colonial lenses," Ed says, "I wanted to break away from the stereotypes."
The birds and warriors carved into the adobe walls of the City of Chan Chan — the world's largest adobe city, on Peru's northern coast — belonging to the Chimú Empire, were etched onto denim. Ancient textiles from the Peruvian Moche civilisation inspired the knitwear, while Moche vessels — often buried with their owners, and containing alcohol or other drinks — inspired a playful purple handbag named Donk, made in collaboration with Andrea Quaglia. Other bags seen in Ed's collection were made in collaboration with Ecuadorian designer Maria Cuji. "I find it amazing to work with other Latinx creatives who understand your cultural references," he says. Chicha posters, which are usually seen plastered on the walls of different Peruvian cities announcing upcoming concerts by local musicians, also inspired the collection's colour palette.
"Looking at fashion when it comes to bigger people, we always have the same plain colours," says Travis, a British creative with Grenadian and Dominican heritage, who wore a knitted vest covered in Ed's illustrations in the show. "Ed's collection is about bright colours and it shows that as bigger people, we want fashionable pieces, and we want to have the options." Harry, who modelled Ed's signature psychedelic animal print and is a fashion designer himself, adds: "It was refreshing because there has been so much diversity in age, race, and religion, but size seems to be the last barrier to be crossed. I've never seen a runway like that before. The garments took up space and they were so bright and unapologetic, it just felt amazing."
From studying textiles in secondary school, to his seven years spent at Central Saint Martins, to now, receiving the L'Oréal Professional Prize, Ed has always aimed to make people smile and move them through fashion. "It meant a lot to be understood by my tutors and school," Ed says. "They helped and reassured me to create this collection, which could touch many young people who need that representation in fashion, who need to feel seen and understood and know that they are perfect just the way they are: big and beautiful and different."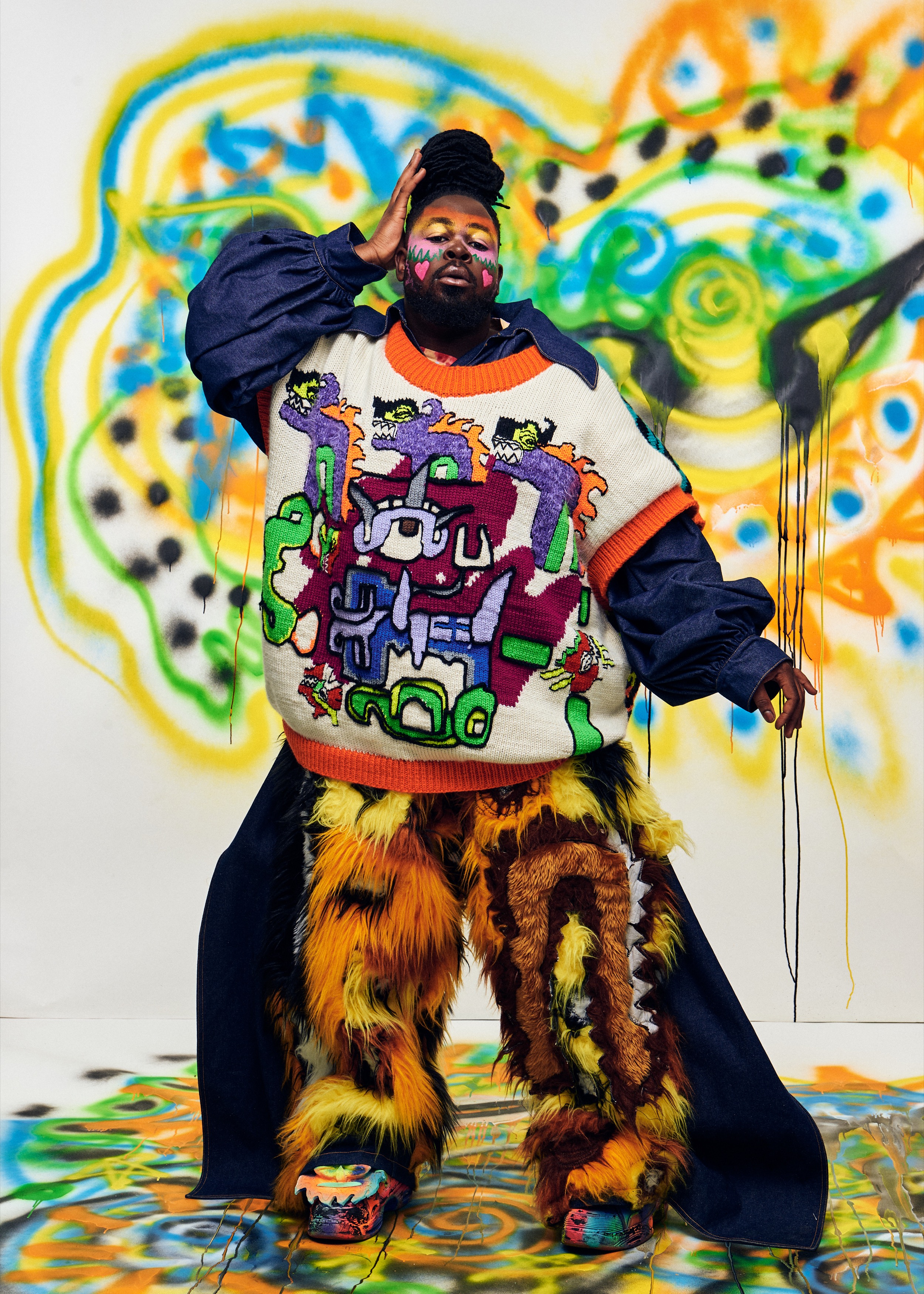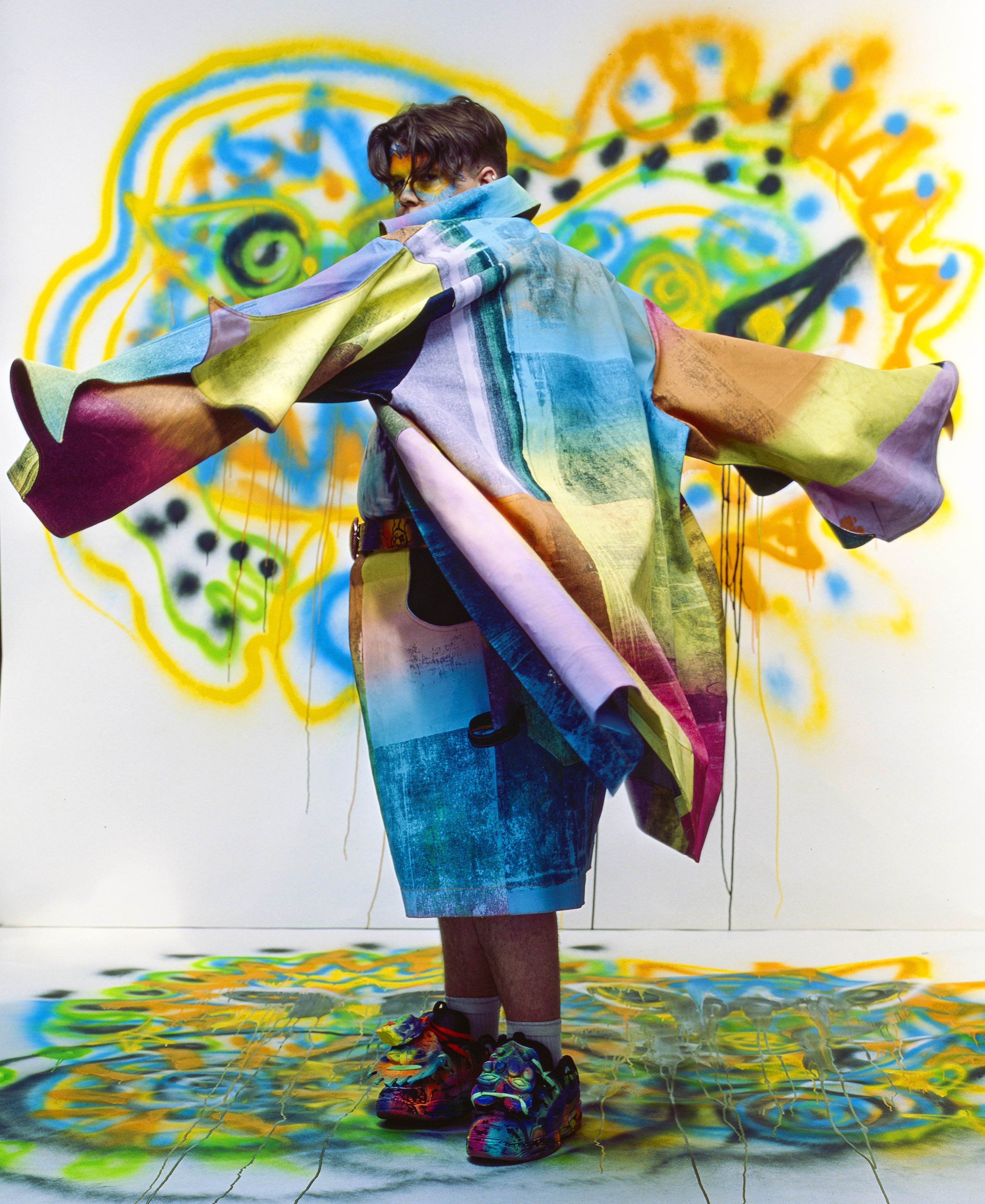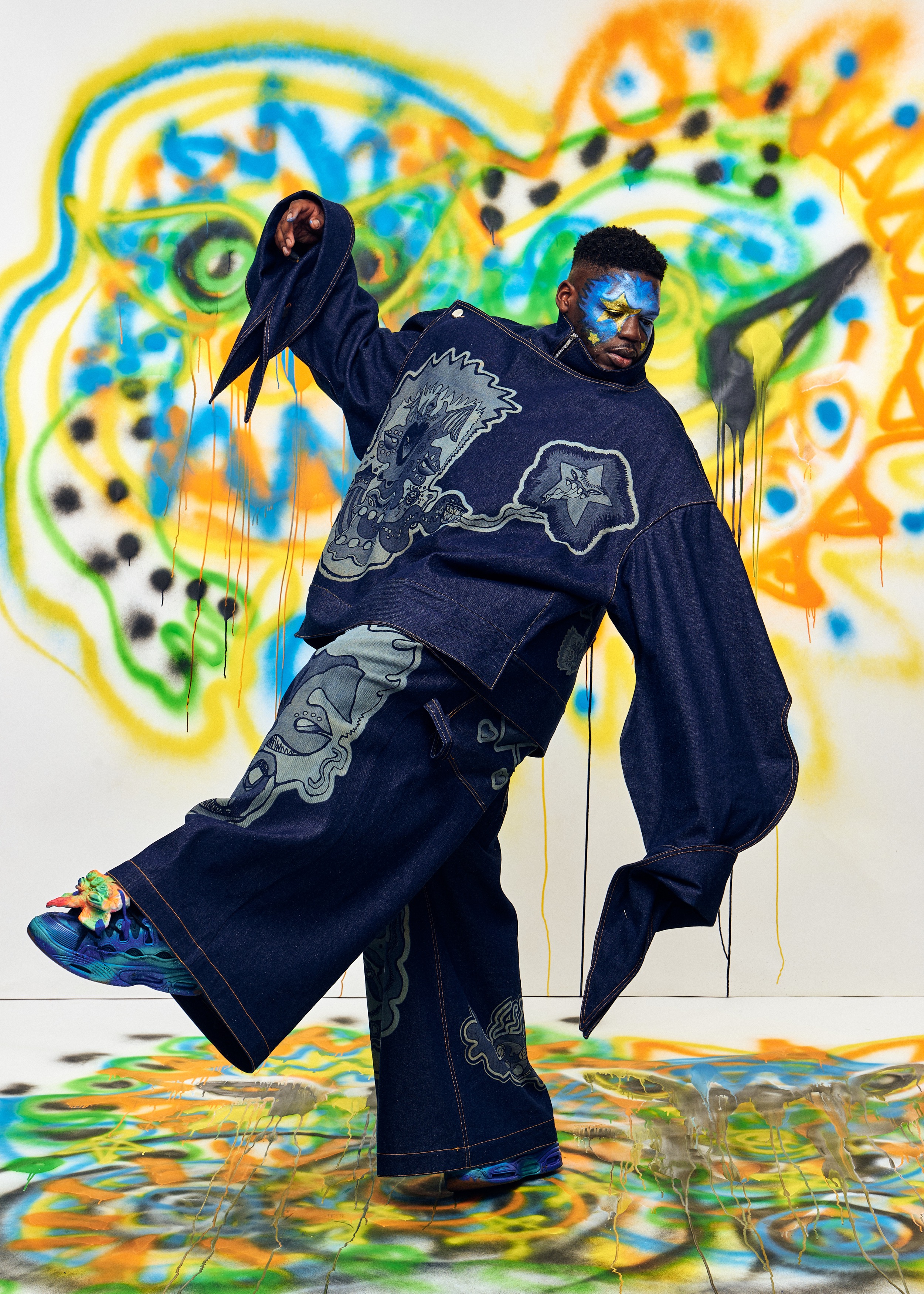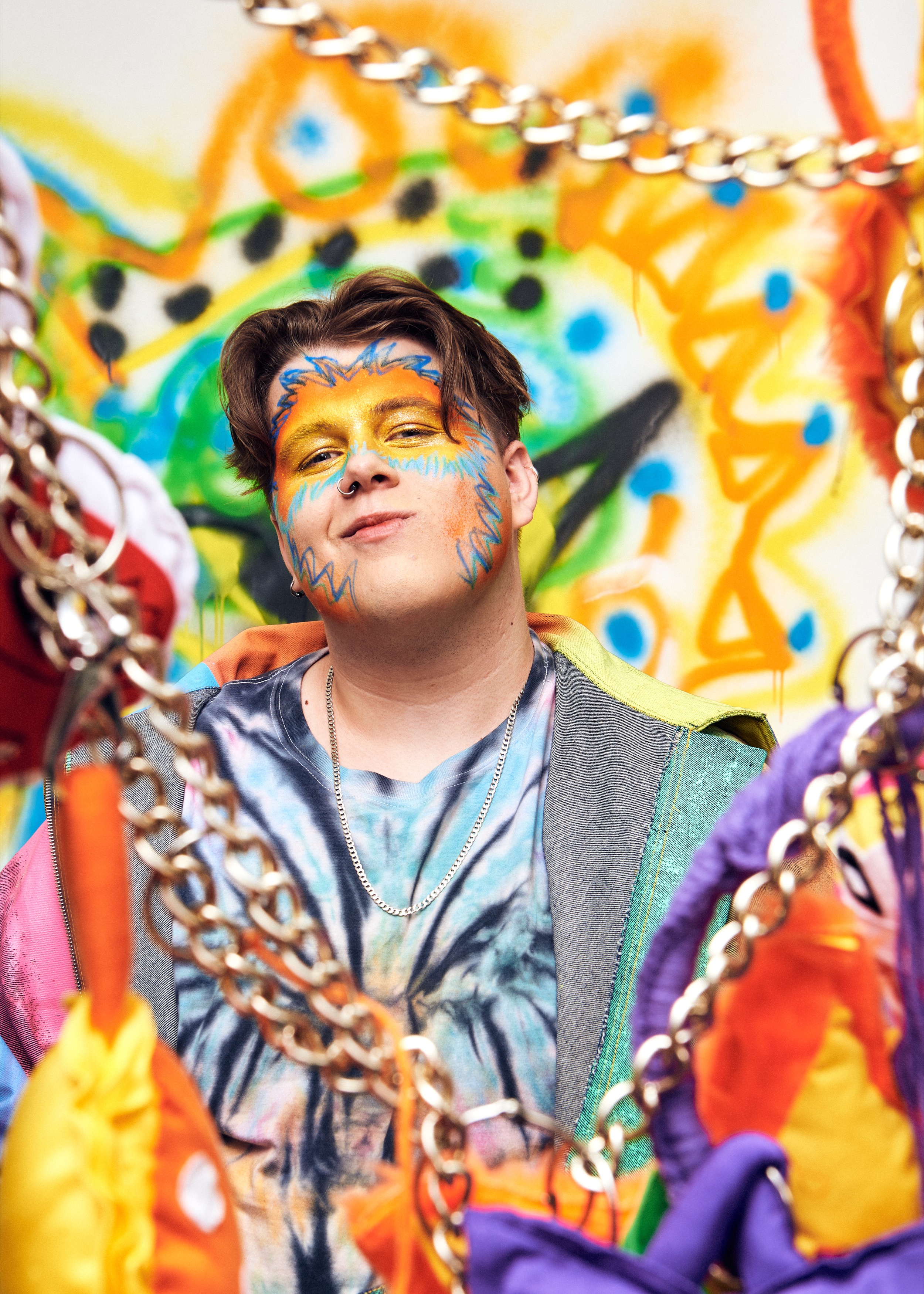 Credits
---
Photography Daniele Roversi
Styling Ed Mendoza
Make-up Sam Walker
Styling assistance Matt Archer
Production Matilda Dawes
Models Raul Samuel, Parka Griffin, Travis Williams, Harry Parker, Ed Mendoza, Ollie Wardley
Tagged: