Fashion East AW22: off kilter elegance and a spiritual awakening
This season's design trio – Jawara Alleyne, Chet Lo and Maximilian – presented their most audacious work yet.
|
21 February 2022, 12:50pm
If you ask any regular London Fashion Week goer which show they are most excited for, chances are they'll be thinking about Fashion East. A veritable stalwart of contemporary fashion, now running for over two decades, Lulu Kennedy's talent incubator and presentational platform has earned a staunch reputation for launching the careers of some of the most revered designers working today. Judging by the work shown by the current crop of talents on her roster last night — Jawara Alleyne, Chet Lo and Maximilian — that winning streak looks set to continue.

Inside a concrete-pillared, cavernous nightclub in Shadwell, these designers showcased their AW22 collections – the second Fashion East outings for the Jawara and Chet, and the fourth and final appearance for Maximilian. With each demonstrating outstanding developments in their distinct design signatures, as well as the conceptual frameworks in which they situate their work, it was one of the most spiriting moments of the week. Here, we run you through everything you need to know about the three designer's latest collections.

Jawara Alleyne
Opening the show with his first-catwalk collection was Jawara Alleyne. Known for his bringing an eclectic, off-kilter elegance to menswear, fusing a punkish DIY spirit with immaculate draping skills, this season saw the designer present his most elevated – and indeed his most credibly wearable – work to date. That didn't entail any sacrifices in of creativity in the interest of commerciality, though.
Jawara's insouciant hand was strongly felt in gossamer shirting safety-pinned together from squares of deadstock white gauze, and worn with upcycled denim jeans that had been spliced and recobbled to yield a flare-like swish. The collection also saw the designer take a confident step into men's tailoring by way of a consciously inverted jacket that seemed to nod to Martin Margiela's earlier garment experimentations, as well as Jawara's first evening-ready gown, an elegant strapless column silhouette with a long slash up the front. Elsewhere, a jersey vest had a concentric circle pattern cut into the torso and held in place with safety pins, allowing the fabric to gently flutter with the model's walk. A scarlet men's windbreaker was abbreviated into a cropped women's tailcoat, styled with a complementarily short wrapped skirt.

These garments spoke to the sense of ease that characterises Jawara's design aesthetic. In an interview with Charlie Porter, published as this season's press release, the designer attributes this to his Caribbean upbringing: "For us, clothes need to be comfortable, regardless of when you're wearing it," he says. "The main thing is to feel you can just slip into it." Shown on a wet, blustery London evening, that's all any of us could have wished for.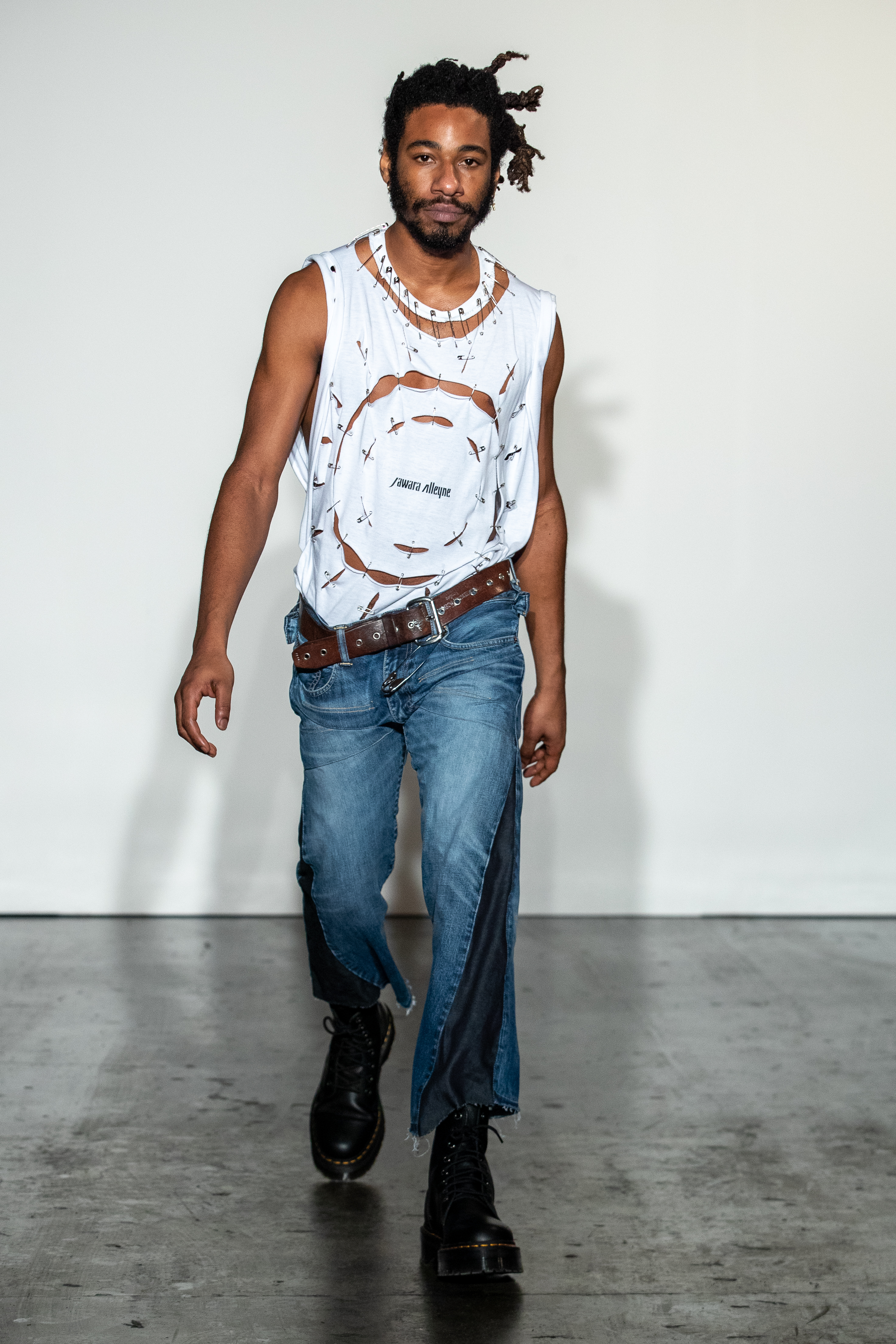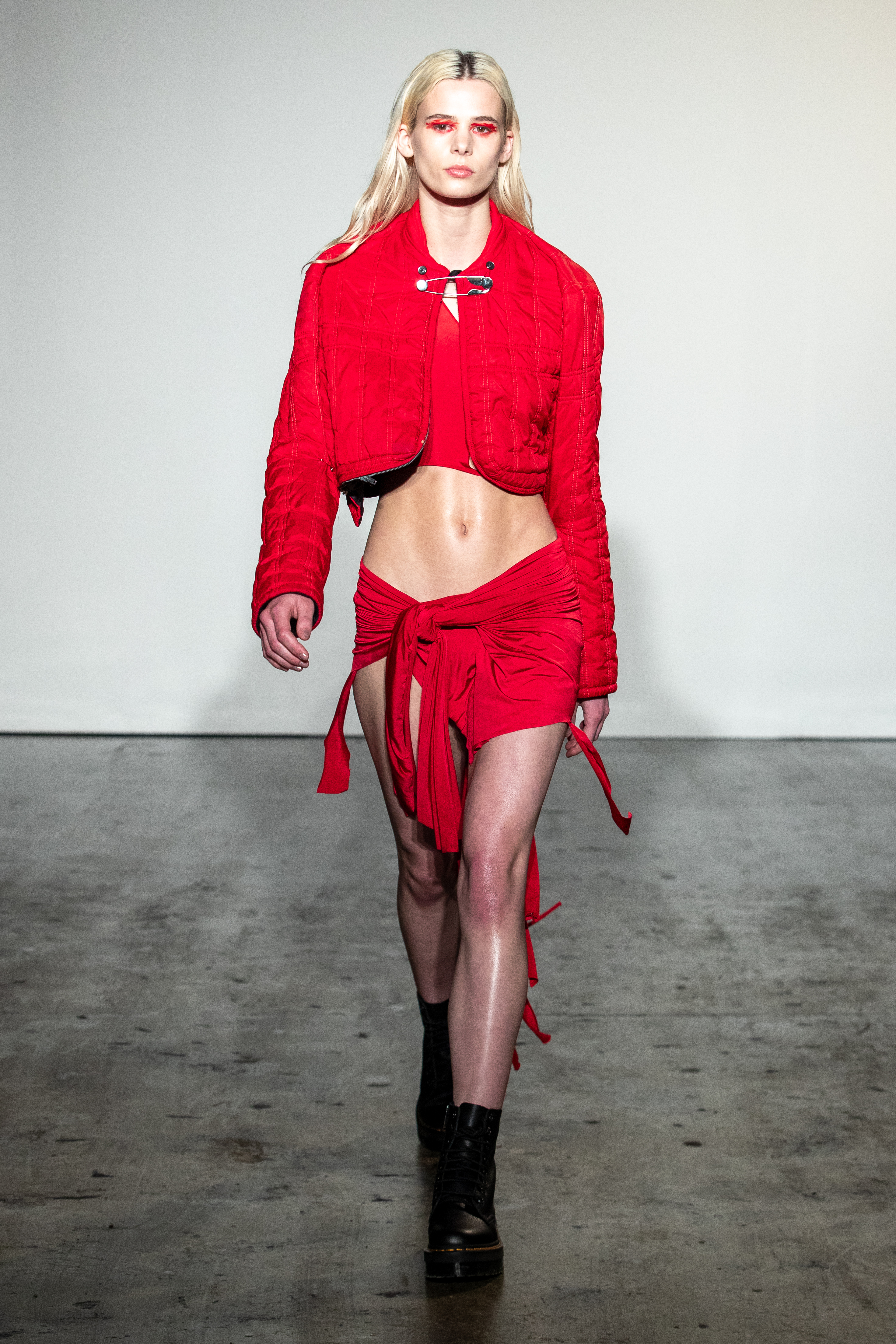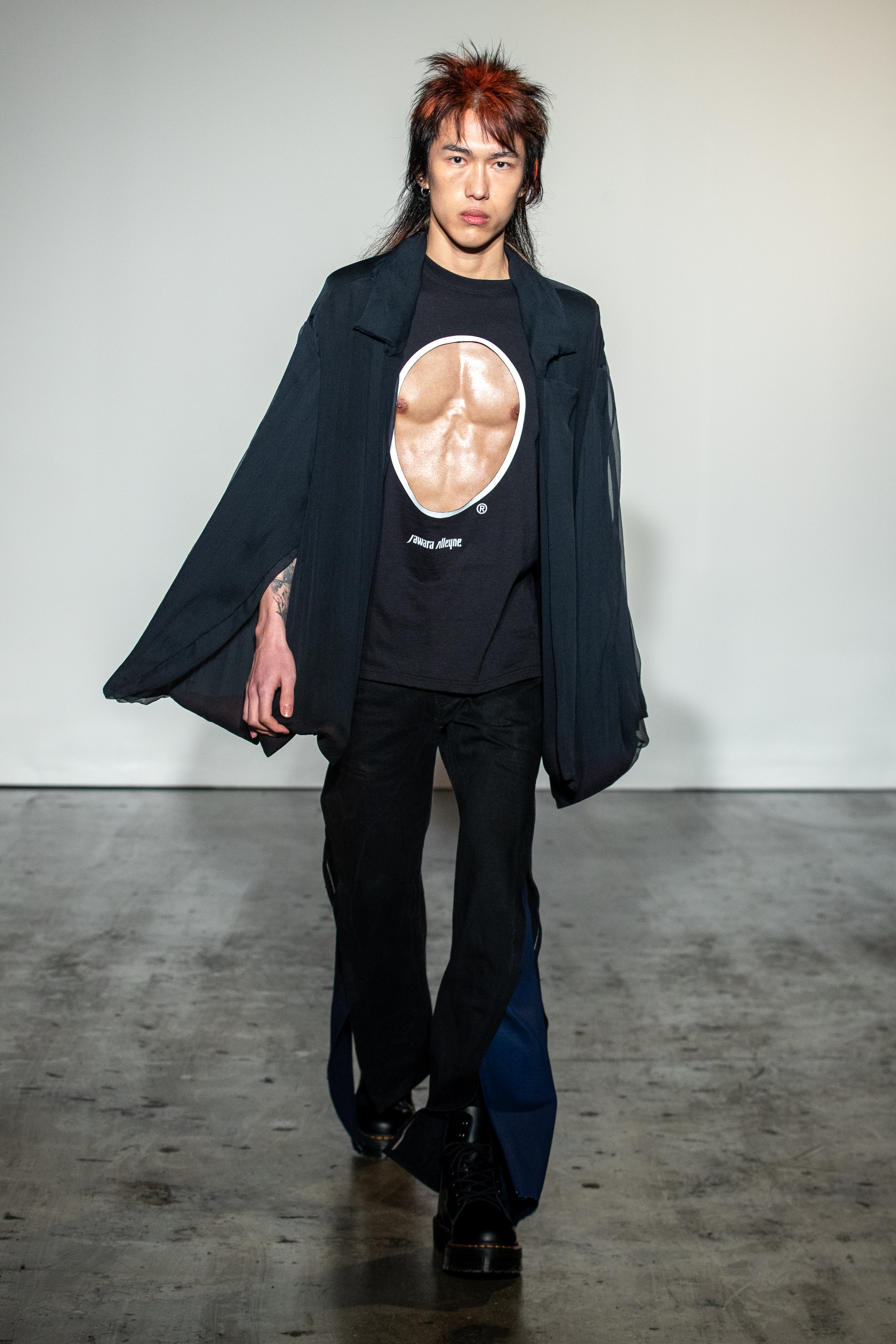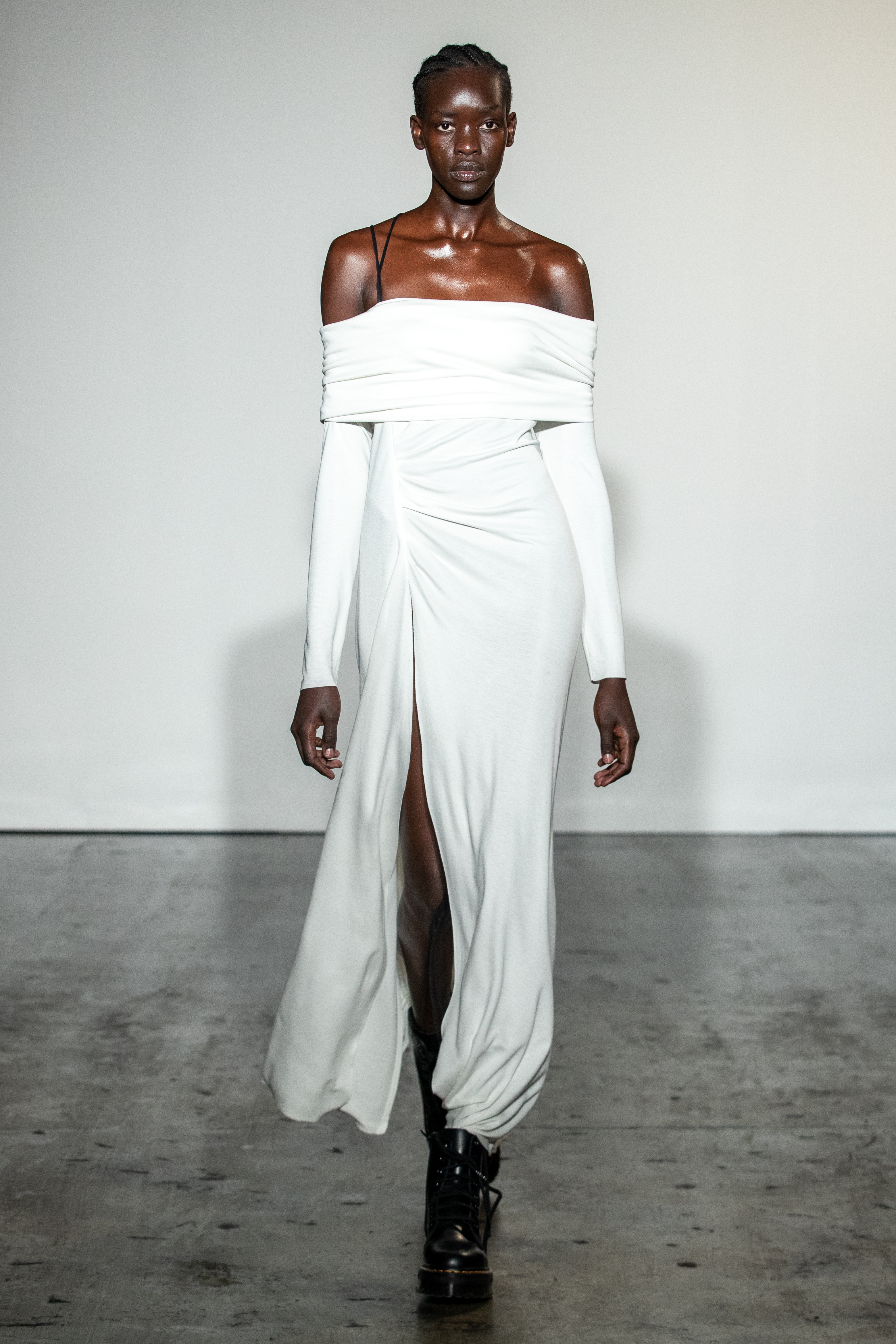 Chet Lo
Granted, Chet Lo's skimpy hedgehog knits don't exactly call harsh winter climes to mind, but rather than see that as a hindrance, however, the young designer relished the chance of a challenge to overcome for AW22. Looking to the sublime beauty of the Arctic, the America-born London-based designer presented The Tundra, a 14-look collection that saw his idiosyncratic technique transposed into a fresh, weather-hardy sartorial context.

Scarves in the spiky monofilament fabric were dramatically padded out, and in one micro-miniskirt, ice blue knit is fused with a shaggy pink faux fur that could've been shorn from a sort-of cyberpunk mammoth. Similarly abbreviated skirts appeared in thermal quilting in baby pink puffer quilting, while a thicker, more opaque version of Chet's signature knit fabric was artfully draped into several garments: an electric blue halter neck evening gown, twisted into a side-button cropped minidress with ribbed compression sleeves, and puckered long-sleeve tops, some featuring sumptuous maribou trims. If any ever tells you that dressing for winter means skimping on sexy, show them this.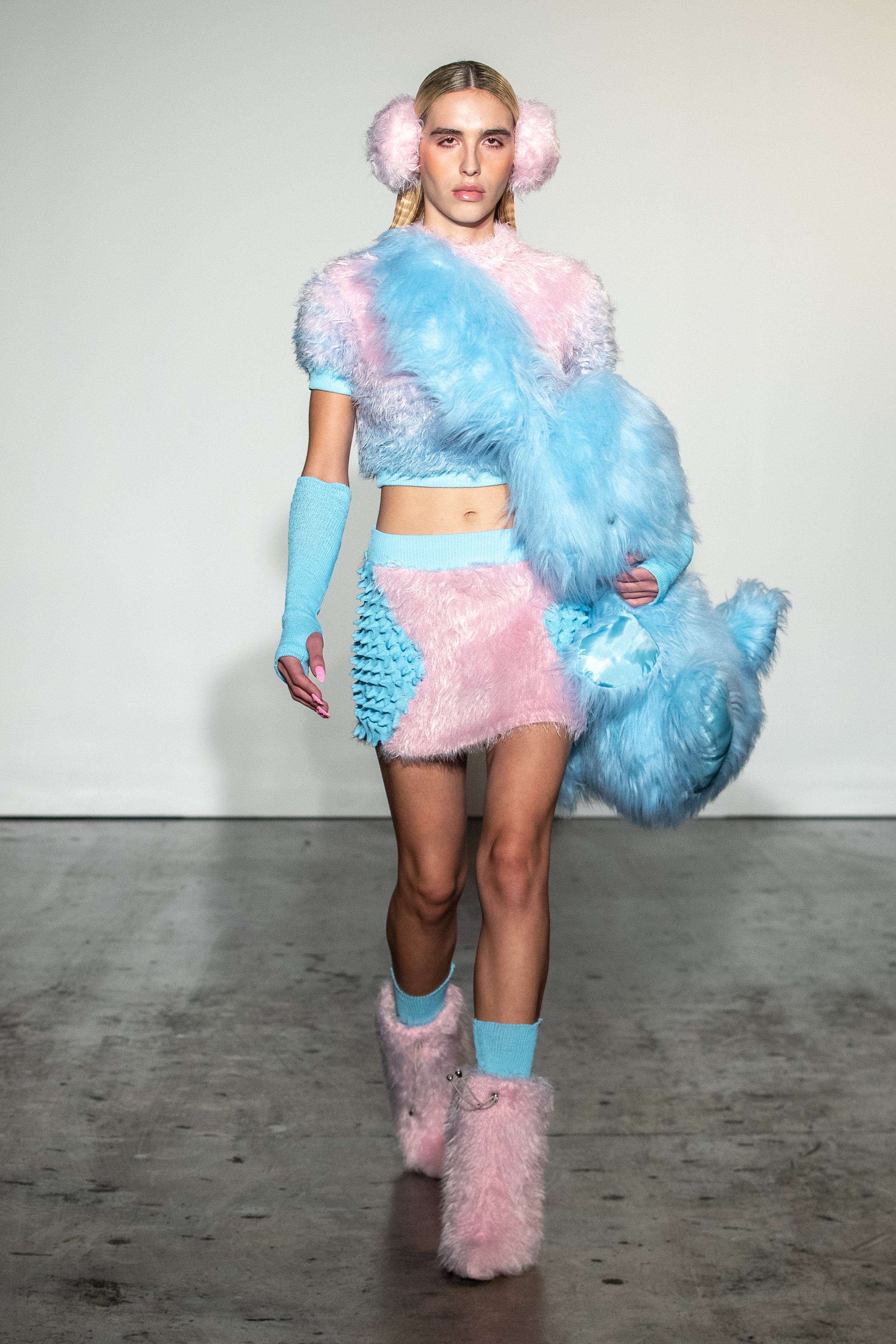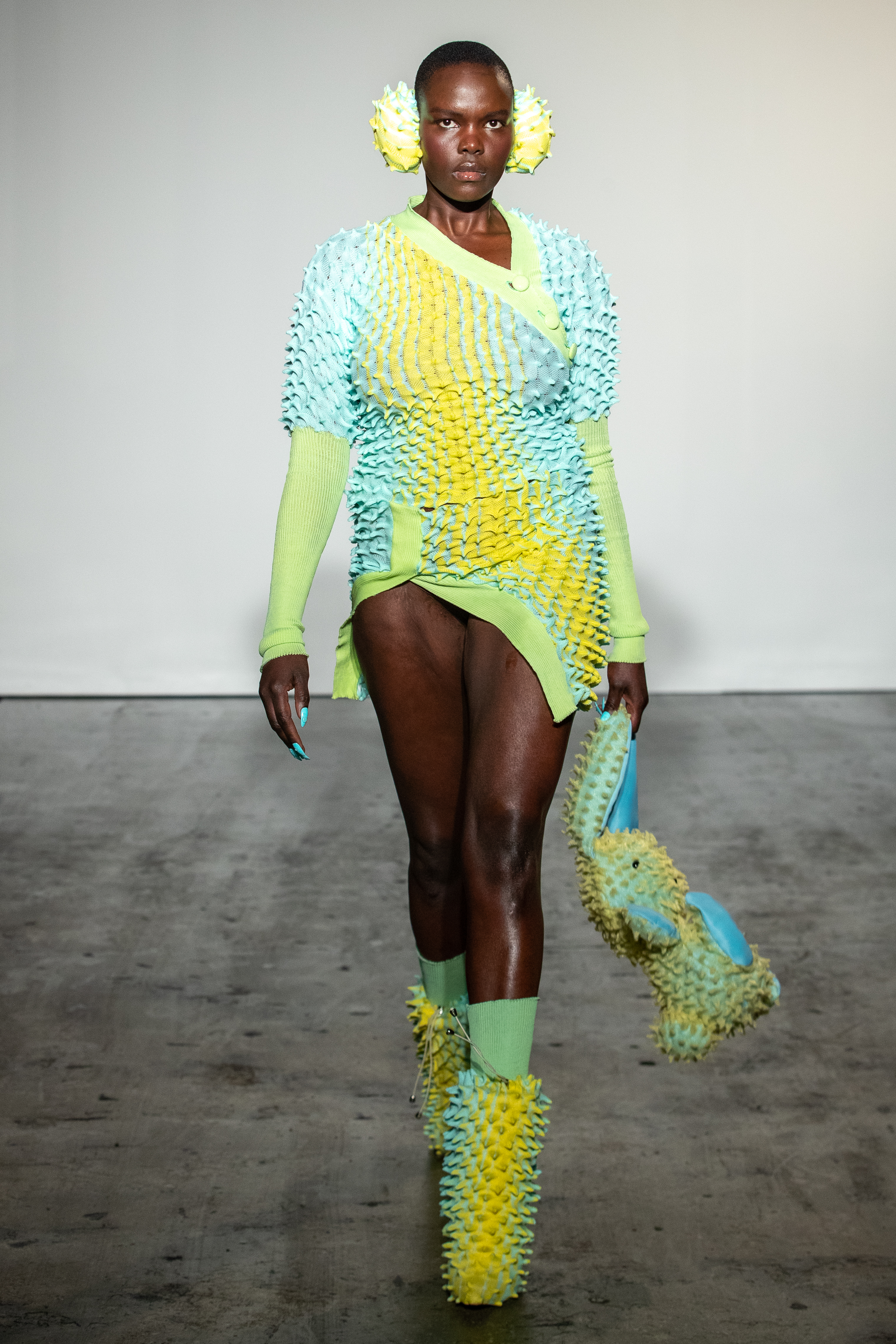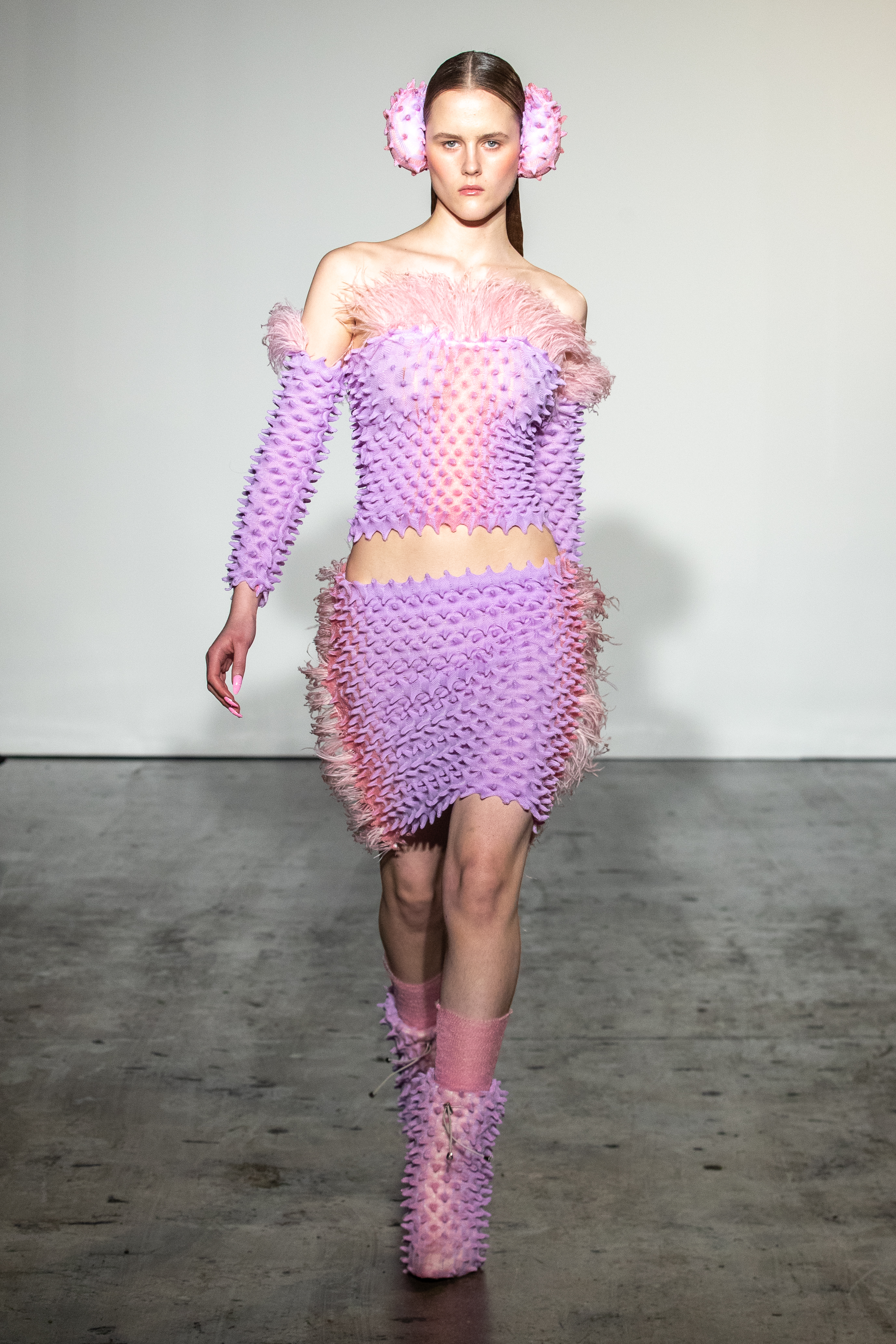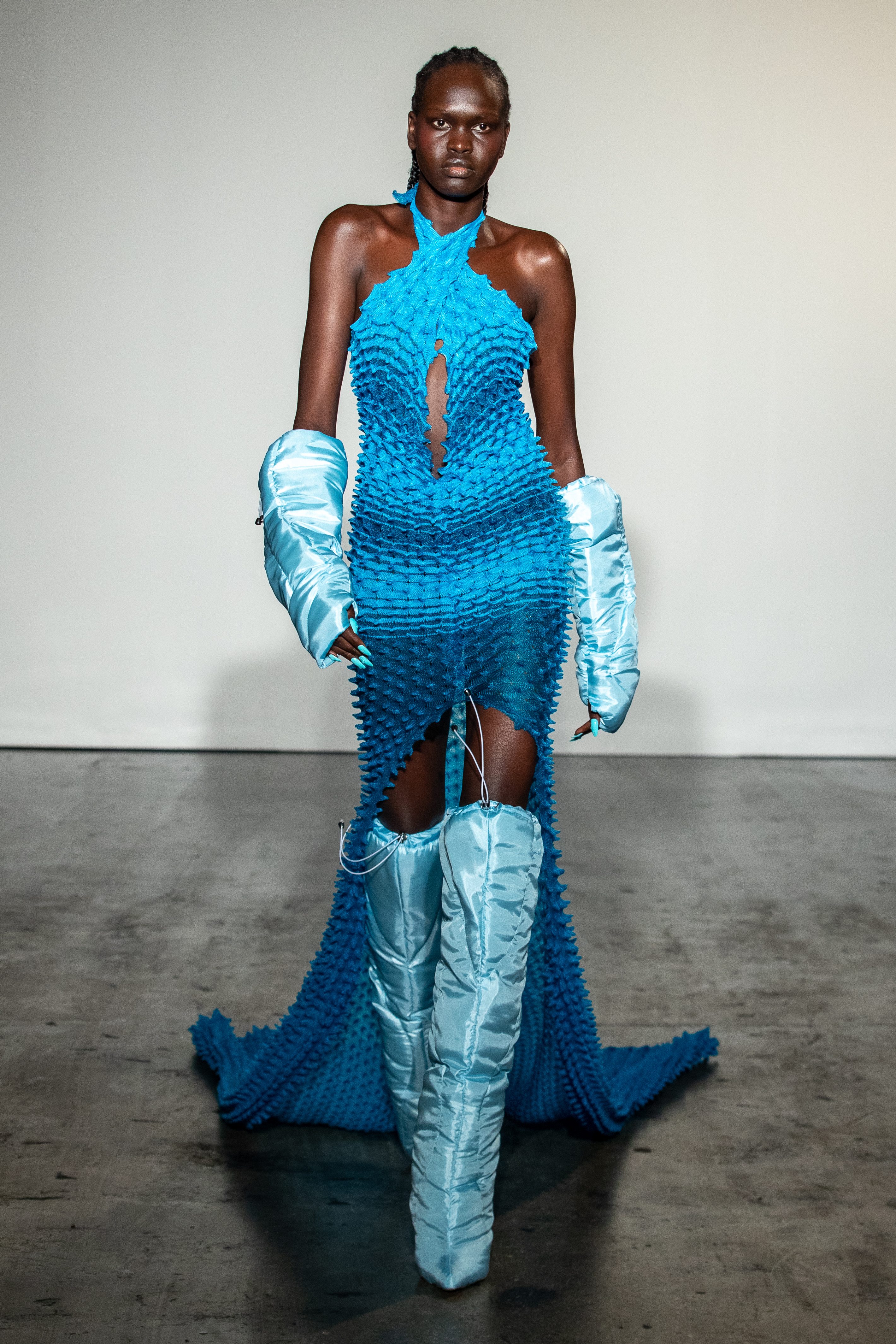 Maximilian
Closing out the show was Maximilian, presenting his final collection as a member of the Fashion East fold. In just four seasons, he's exemplified why the talent incubator is such a globally respected institution, going from showcasing his first collection as a relative unknown in September 2020 to his current status, just year and a half on from then, as one of the hottest tipped young names in the industry – a fact that was formally vindicated just last week, when he was announced as one of the semi-finalists of this year's LVMH Prize.

Drayton, the title of his AW22 collection, showed just why his name's on the lips of so many right now. By far the most expansive collection on show, with a total of 25 looks, Maximilian proved that he's capable of triggering cultural zeitgeists, rather than simply riding the waves of them.
Drawing upon a period of his youth spent in rural Shropshire, Maximilian embarked on an exploration of contemporary Englishness, imbuing his svelte sartorial nous with St-George's-Cross-bearing archetypes. The opening look – a cropped, slope-shouldered wrap jacket with wide quilt-trimmed sleeved and a box pleated miniskirt – was crafted in bone-dry Melton wool, the traditional stuffiness of the fabric dispelled by the sensuality of his cut. A chocolate suede coat with a grommeted belt and shearling trimmed bomber with sprouting seams offered elevated spins on the grungy looks worn by the rough-and-ready biker gang members you'll often see bombing down Shropshire's winding country lanes. Wrap skirt and blazer twinsets echoed the uniforms sported by local Catholic schoolgirls.

Faith, Maximilian said in the show notes, is something that took on particular importance for his family upon moving to the English countryside from Manchester. "My family wanted to have something to follow, which is in line with the importance religion holds for so many Black families," he says. "Ever since slavery, Black communities have looked to God for strength, for a belief that this will all come to an end, for security and guidance." This spiritual tone came through most literally in hand-painted crown-of-thorns prints along the sleeves of a midi dress, but where it felt most evocative was in the collection's celestial closing look: a cowl-hooded gown in floorgrazing lavender silk crepe. This may have been Maximilian's final collection as part of the Fashion East nest, but he's more than ready to fly solo now.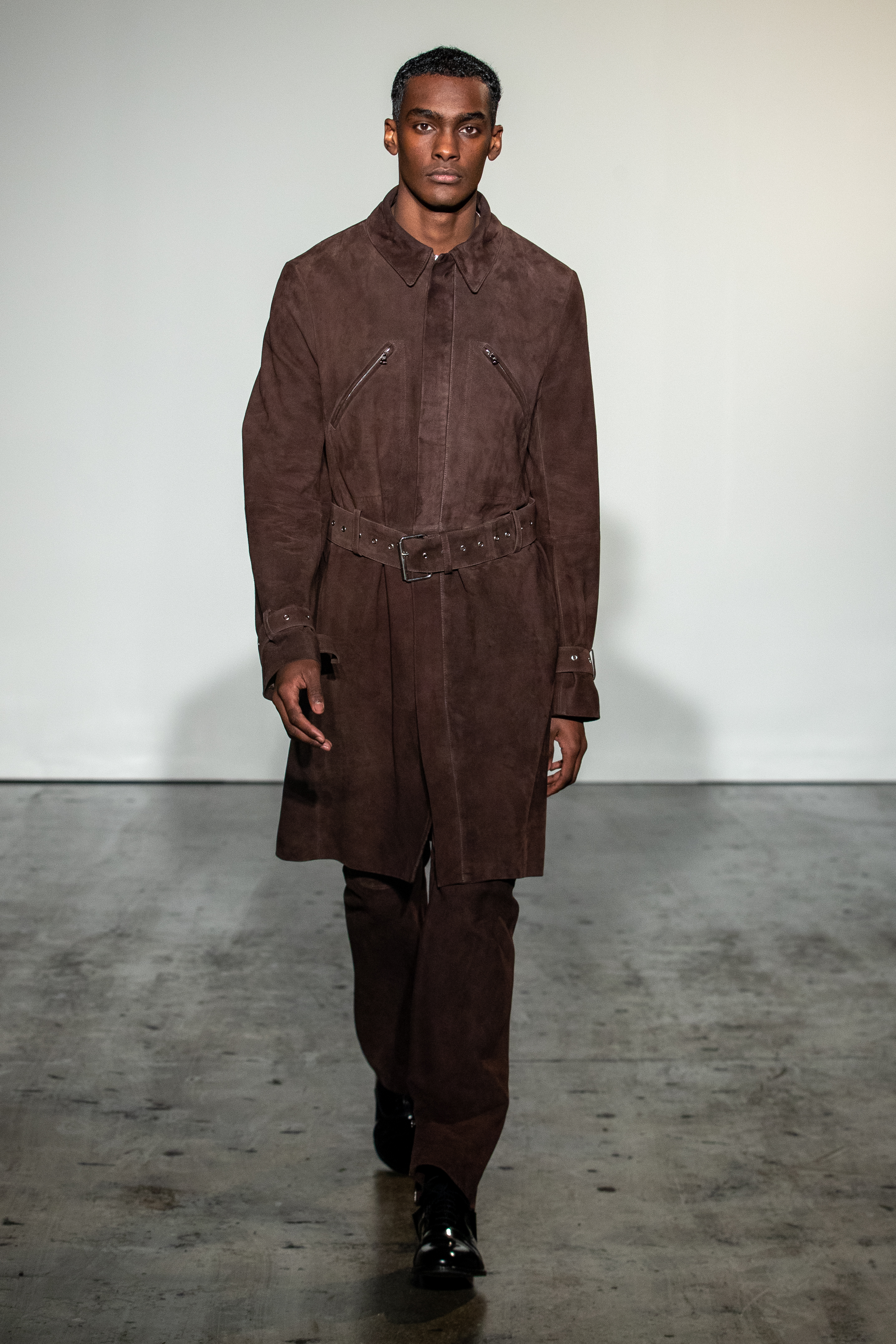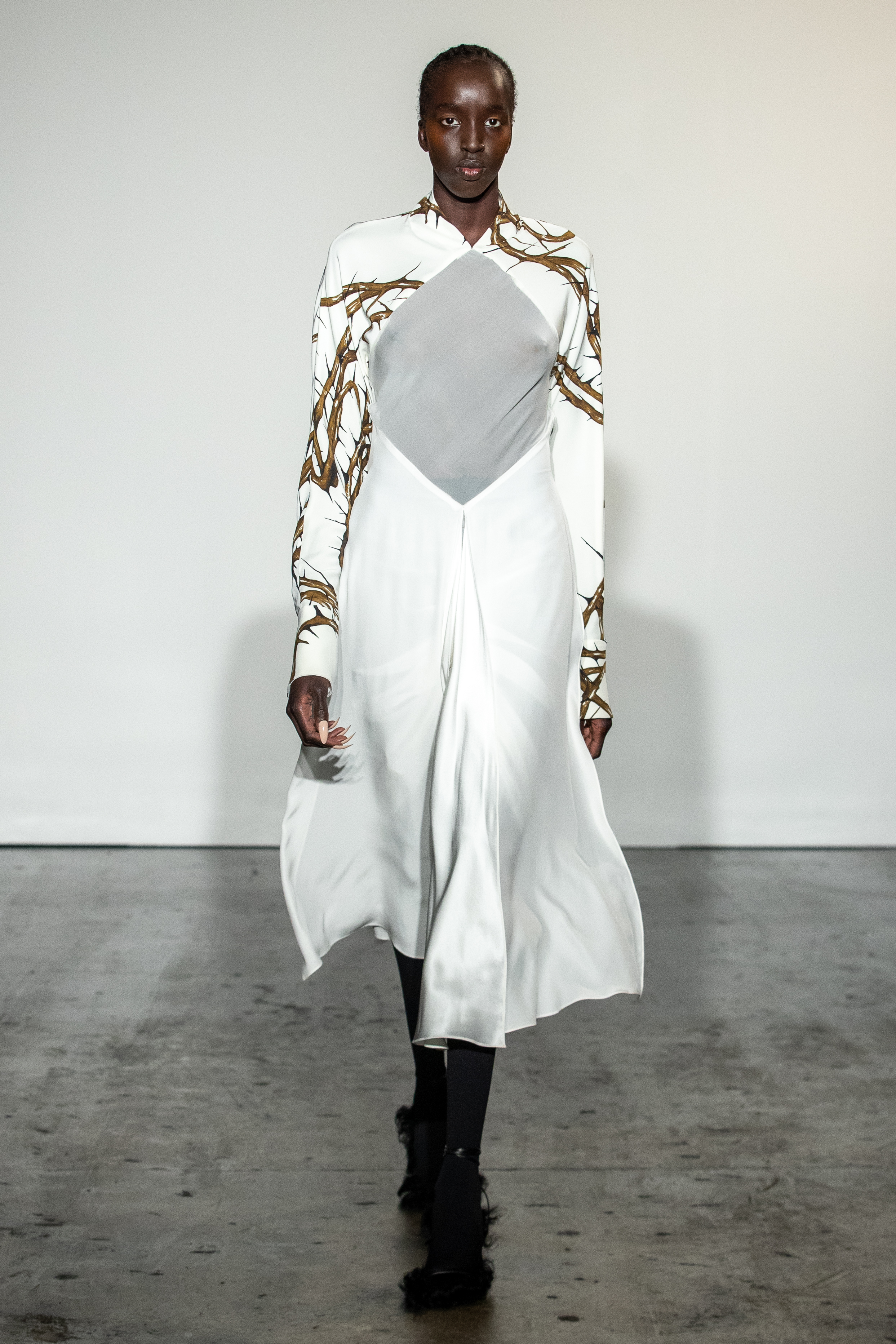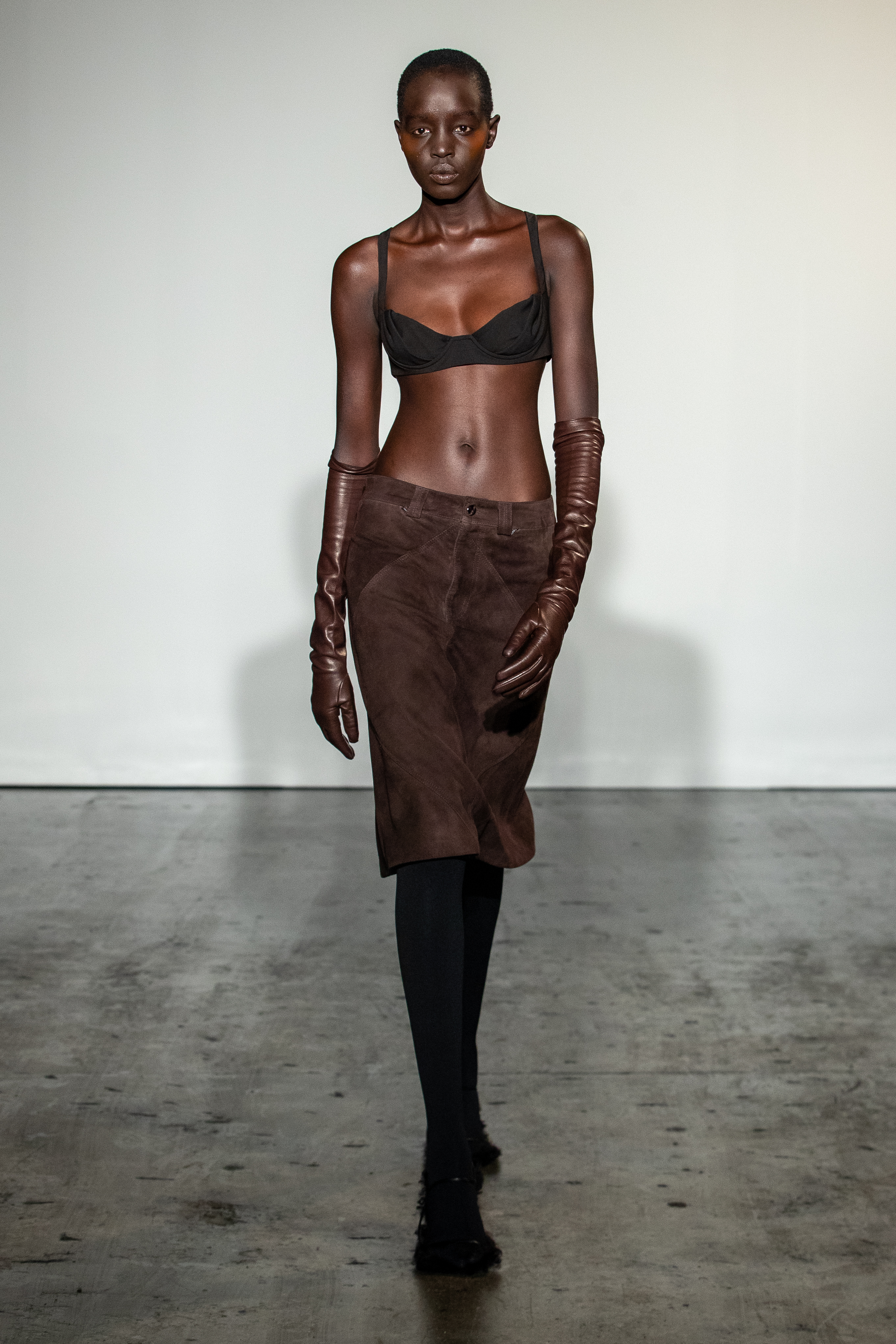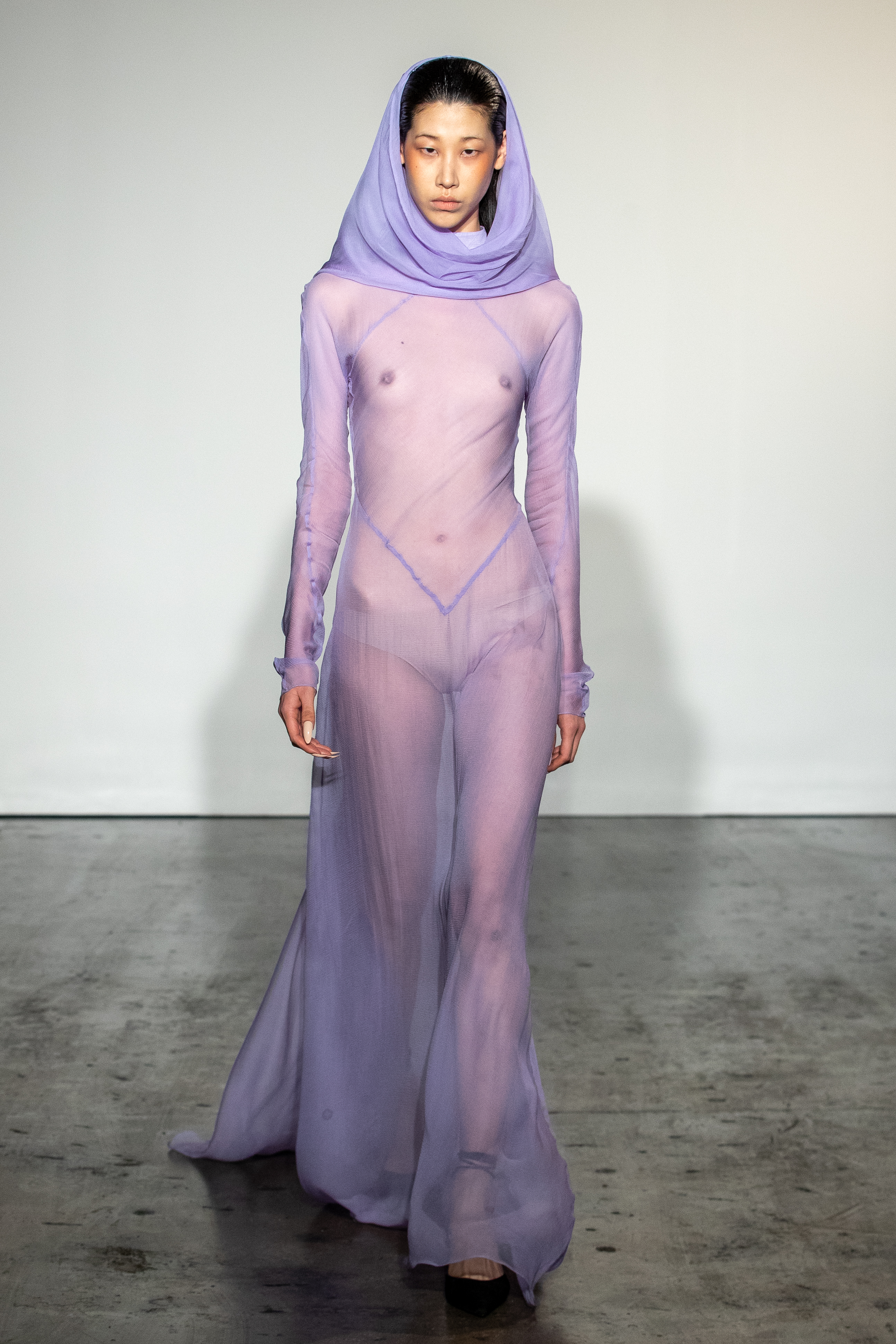 Tagged: