Looks (from left) via Bottega Veneta, Prada and Sacai. Collage by Douglas Greenwood
AW22's fashion must-have is giving butch
Here's how the humble white tank top came to dominate runways from Prada to Bottega Veneta, Acne Studios to Sacai.
Looks (from left) via Bottega Veneta, Prada and Sacai. Collage by Douglas Greenwood
There's something to be said about going back to the basics. While fashion week is often a parade of novelty, the AW22 season saw the rise of an unexpected but elemental main character: the white tank top. There's been a few heroes this season, with runways plagued with yards of denim, endless reiterations of the suit, and a curious fascination for tech mixed with motocross motifs. But, as a standalone piece, the white tank has perhaps taken the centre stage more than most others, opening Bottega Veneta and Sacai, closing Prada, and appearing repeatedly elsewhere in London, Paris and Milan. And while a tank may not sound too exciting or be the item of clothing you expect us to dedicate an entire piece to, there is something fascinating about its presence this season. With its pop culture symbolism, cultural associations, and legacy in the queer community, it proposes an intriguing direction for what's next in fashion.
In an era of womenswear defined by power-suits and minimalism – yes, still – on the one hand, and cutouts and unabashed sexiness on the other, you can't help but wonder why fashion's vision for what women want to wear is based on anachronistic archetypes of womanhood itself. Think of this season's shows and the contrast between brands like The Row or Jil Sander and LaQuan Smith or Glenn Martens' Diesel, there's a primness to the former and a brazen sensuality to the latter, and most other collections fall at either end of this binary. These white tank tops, however, seem to position the collections they appear in somewhere closer to the middle. They provide an effortlessness that tempers the rigour of a show like Prada and brings a cool insouciance to Gabriela Hearst's texture-heavy Chloé. Similarly, at Matthieu Blazy's magnificent debut at Bottega Veneta, the white tank and jeans combo that opened the show stood in as a reset button, setting the tone for a play between calculated chicness and a relaxed sense of ease.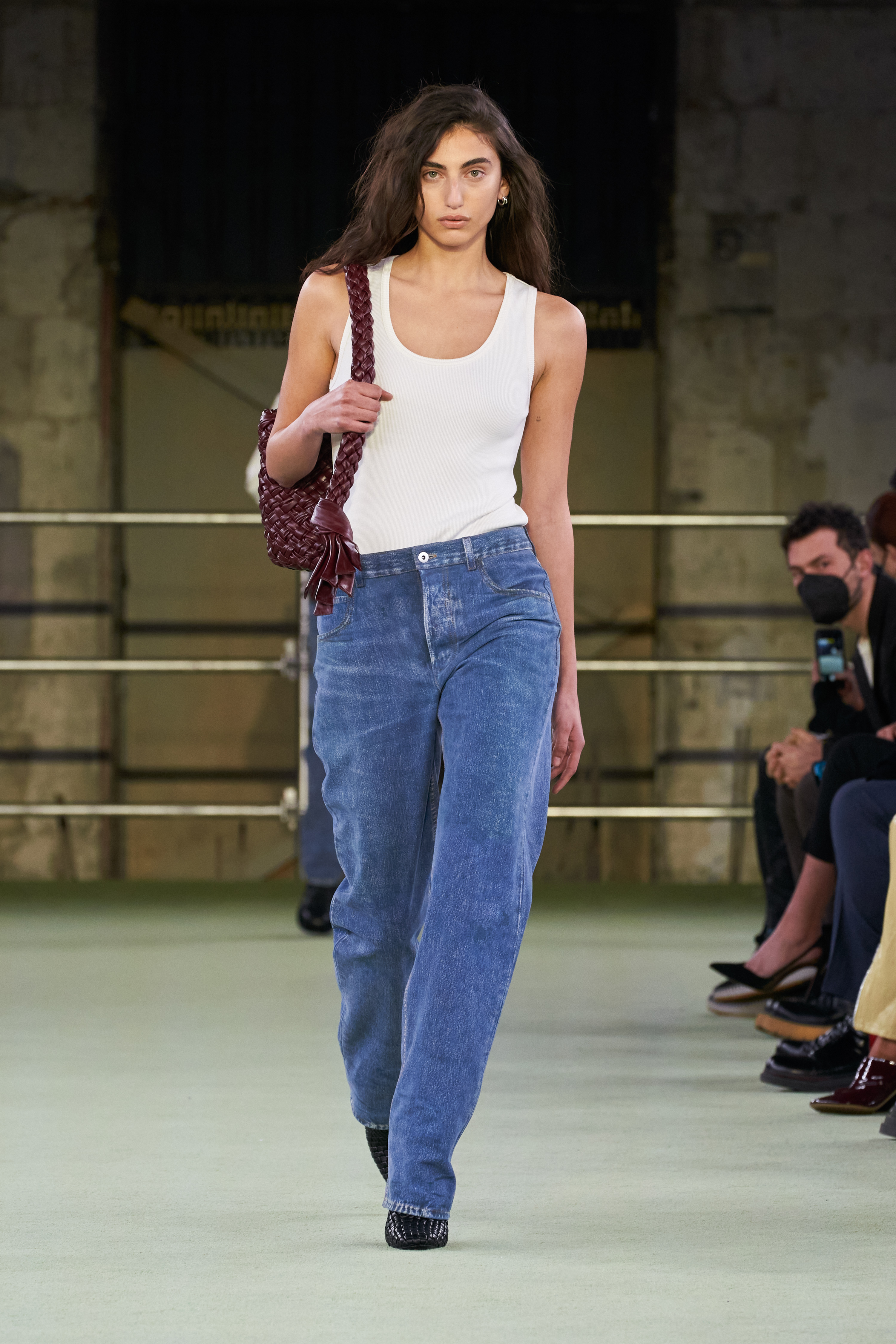 Not everything is what it seems, though. Matthieu's tank and jeans are actually crafted in nubuck leather, a trompe l'oeil (another big thing this season) statement for a very current definition of luxury rooted in perfectly crafted clothes – you might remember that Demna presented a t-shirt for his couture debut at Balenciaga, talk about elevated basics. Chitose Abe's Sacai silk tank and wide trousers were actually a dress. At Acne Studios, it offered the perfect palate-cleansing companion to Jonny Johansson's distressed knitwear and deliciously patchworked denim dresses, while at Conner Ives, paired with a patchworked red skirt, the garment helped bring the designer's sexy, hippy-chic muse to life.
At Prada and Chloé, their true basic white tanks made out of a ribbed knit painted a picture of a self-assured modern woman; they simultaneously suggested pragmatism and – given the tank is often considered underwear – a sensual tone of voyeurism, pieces to be worn by a woman who's practical, sexy and chic. This was perhaps more explicit at Prada, where the running motif of visible boyish underwear beneath sheer skirts and dresses placed the tank as an intentionally exposed undergarment – somewhat on the same spiritual plane as the exposed undies trend we saw in menswear.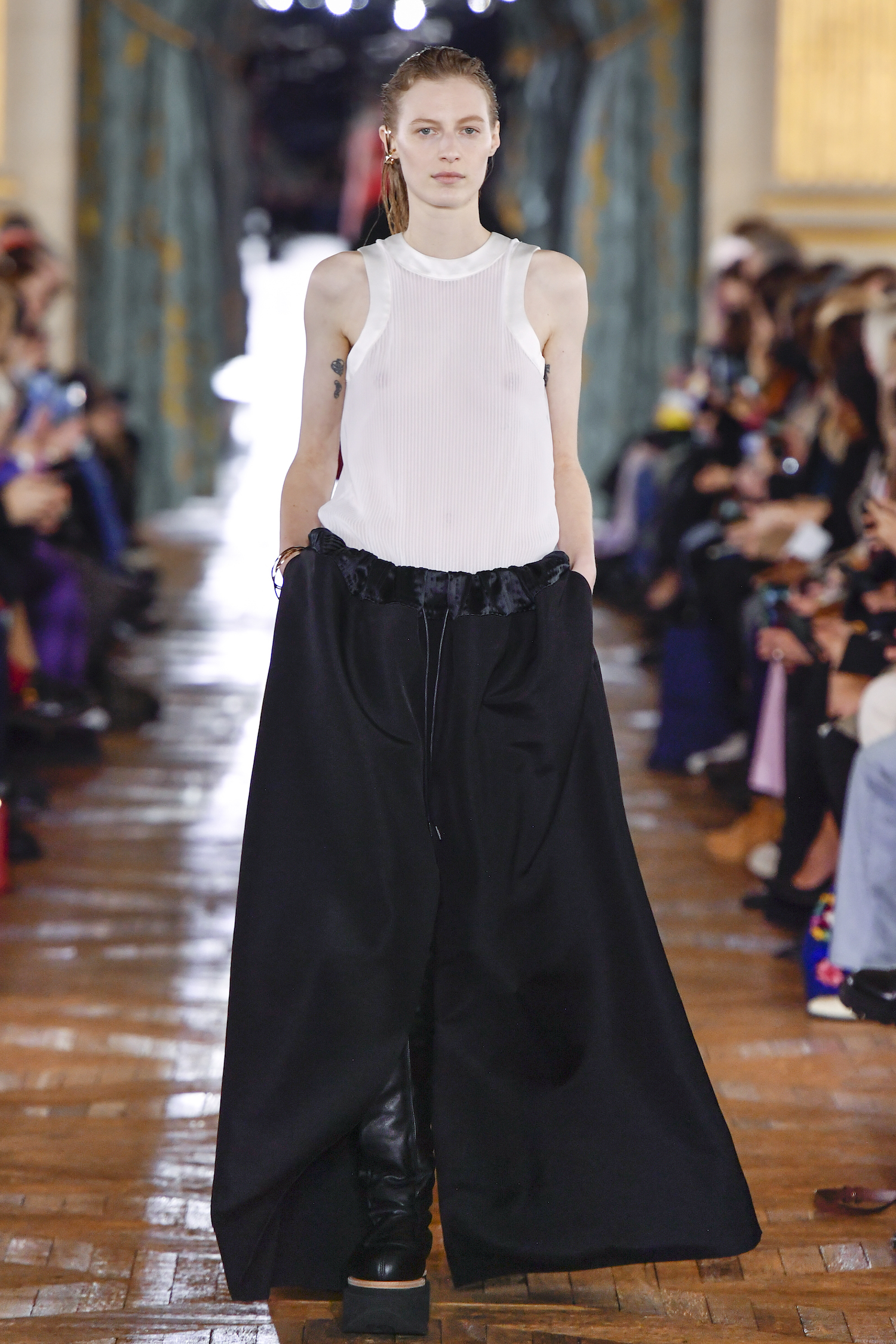 That taken into account, it's worth dwelling on the white tank's interesting history within culture as an infamous undershirt. The garment is colloquially known in America as a 'wife-beater', and while the term is now very politically incorrect, it is rooted in a mix of real-life events and Hollywood clichés. The story goes that, in 1947, a man from Detroit named James Hartford Jr. was arrested for beating his wife to death, shocking America with the brutality of his crime. A photo of Hartford's arrest was reprinted in newspapers across the country; in it, he was wearing a white sleeveless undershirt under the caption "the wife-beater". A few years later, Marlon Brando wore a white tank in A Streetcar Named Desire (1951), a movie that saw him play Stanley Kowalski, a violent and crude working-class man. From then on, Hollywood continued to code the white tank as a symbol for uber-masculine men and/or drunken brutes. Think of Bruce Willis in Die Hard (1988) or Nicolas Cage in Moonstruck (1987). In the context of AW22, it may be a stretch to suggest that the examples at hand are direct references to this history. What we do see here, though, is the elevation of a garment with intrinsic ties to the history of working-class American dress into a high fashion space – and by extension a further example of fashion's current pursuit for the oxymoronic 'democratisation' of luxury – c.f. Balenciaga's couture t-shirt, Bottega's leather tank, or even Hedi Slimane's entire mission objective at Celine.
That is, of course, far from the only cultural narrative to which the white tank has been tied over the years. Let's not forget the prevalence of the garment in Hollywood depictions of a flirty 20-something-year-old woman looking for love. Think of Rachel from Friends, bra-less in her tight white tees and tanks. It's also a garment that's charged with symbolism within the queer community and its subcultures, especially amongst lesbians and gay men. For evidence, visit your local gay bar, where you'll see a parade of gay men flaunt their toned biceps in various iterations of the top –pun intended–, the most masc and/or normie guys in basic ribbed iterations and fashion-sensible queers sporting trendier versions by Dion Lee, Telfar, Phlemuns, or K.ngsley. See, too, how it's coded among queer women, with the tank becoming part of the archetypal uniform for butch and femme lesbians alike, both for its masc connotations and its underwear-like sensuality.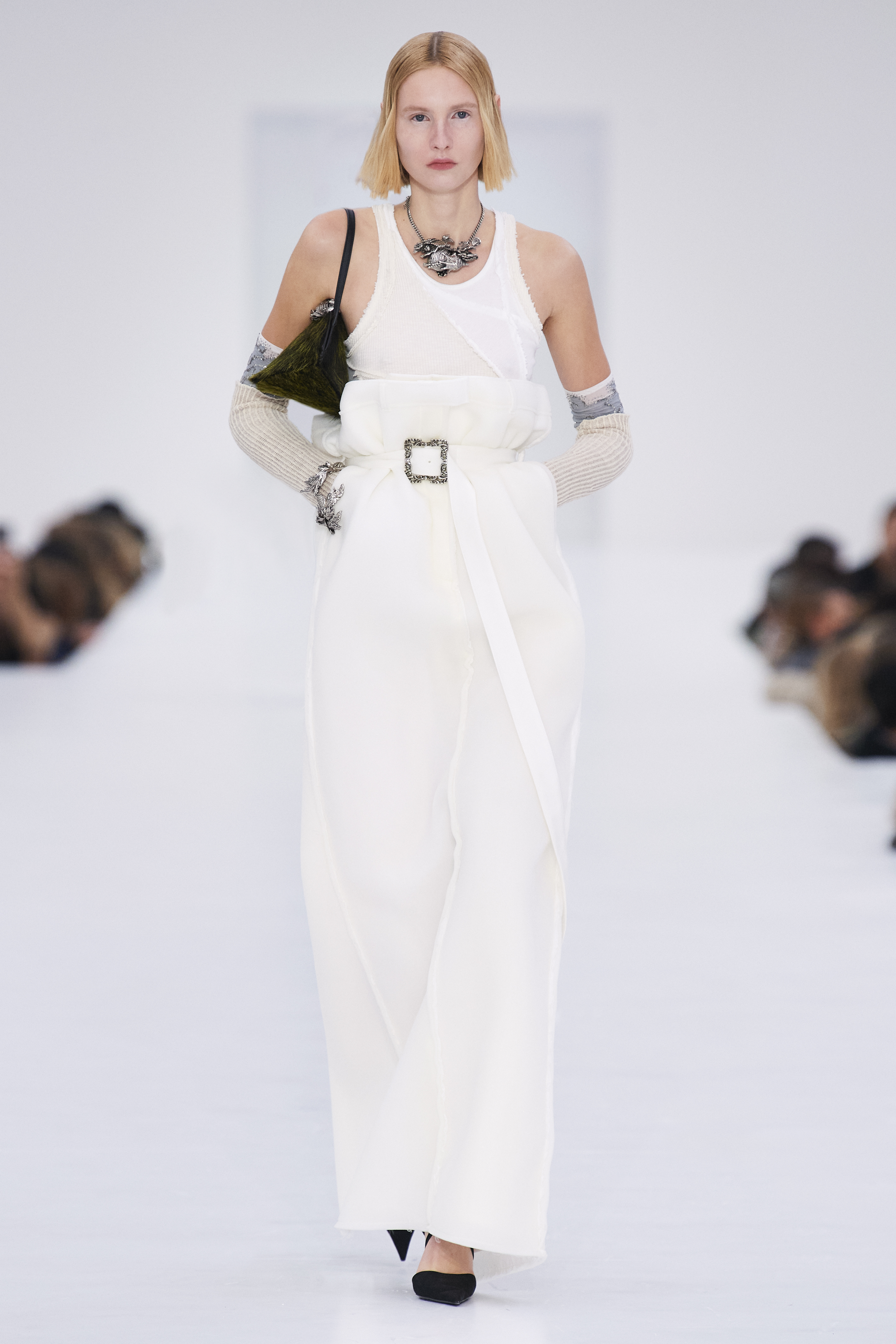 So how does all of that play into what we've seen on the AW22 runways? Well, there's been much talk in recent seasons about the emergence of a queer sensibility within menswear, with its recent flamboyance and recurrent use of traditionally femme pieces like Mary Janes. What we've seen here, though, almost feels like a womenswear counterpoint. Think of the soft butch energy in Chloé's white tank paired with buttery leather trousers and loosely-cut pant-suits styled with combat boots and messy pixie cuts, or the contrast between the butch sex appeal of the Prada tanks against the uber-femme spirit of the embellished skirts and shiny see-through dresses they were styled with. This all gives us a hint into what a queered vision for womenswear may look like. Just like the flamboyant trims and femme silhouettes we've been seeing in menswear play into stereotypes of queer men, these soft butch looks in womenswear play into stereotypes of queer women; a butch lesbian with toned arms, short hair, a cigarette, and a tank top, for example, or the androgynous femme energy best captured by the likes of Kristen Stewart or Christine and the Queens (both of whom, by the way, also love a white tank).
Of course, fashion being the everyday drag that is, it often lifts from on stereotypes and archetypes of real people. Whether you see the white tank as an attempt to democratise luxury or a suggestion of what 'queered womenswear' could look like, what we've seen on the runway echoes the spirit of fluidity that's making itself felt in wider society. As menswear becomes more flamboyant and femme and womenswear leans further into masc and butch aesthetics, their eventual convergence in the middle is inevitable, fuelling hope for a truly degendered approach to high fashion – head out to one of your city's queer bars or parties, and you'll get a sense for what that could look like today.