This art project spotlights the forgotten heroes of the fight against COVID-19
People of the Pandemic celebrates the cleaners, supermarket workers, delivery drivers, postal workers and mums keeping us sane and safe in these incredibly strange and stressful times.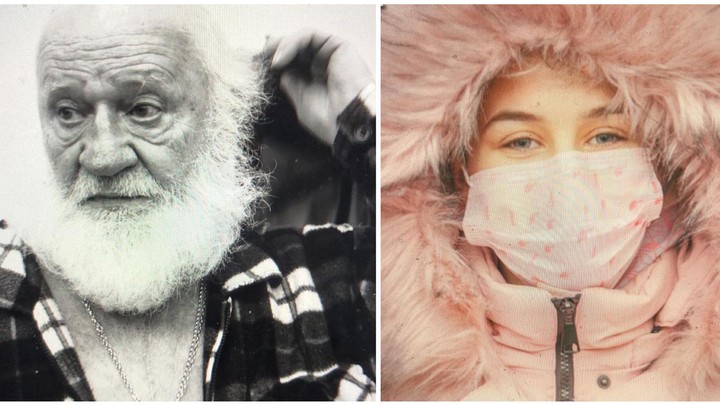 As coronavirus continues to cripple healthcare systems and economies across the world, more and more of us are looking to the inspirational everyday heroes of the crisis, to give them thanks for the work they do. Quarantined households in cities across Europe, and in NYC and Wuhan have cheered healthcare workers from their balconies and applauded them en masse to show their support. But it's important not to overlook the forgotten heroes of the pandemic: the cleaners, supermarket workers and essential employees who are helping to hold society together.
A new photography project -- People of the Pandemic -- aims to champion those everyday heroes. "The idea is to celebrate and amplify the voices of the heroes people may not have thought they would need," explains founder Jasmine O'Hara. "The supermarket workers, Deliveroo drivers, cleaners and postal workers."
Jaz started People of the Pandemic as a series of portraits in collaboration with her boyfriend Joshua Coombes. Both activists in their non-pandemic lives (Jaz runs an online community supporting refugees in camps across the world, while Josh is a hairdresser for people experiencing homelessness), they found themselves at a loss during lockdown, and wanted to create a new project a little closer to their London home. They shot their first portrait in the queue outside their local Aldi, an intimate shot of a worker dealing with crowds of panic buyers.
"The project was inspired by one person in particular, a guy called Jarvis. He was working on the till that we happened to pay at when doing our Aldi shop last week, and he shared some amazing wisdom," explains Jaz. The couple shared Jarvis's message of consideration and helping each other on their Instagram page, where it reached thousands of people.
After that, portraits seemed a natural progression. After starting an Instagram for the project, where other creatives and photographers can submit their own portraits, the team got creative about their shoots. "Things are changing day by day," says Jaz. "This photo series was conceived before the current lockdown was announced, so we're definitely having to think more creatively about how to get our shots. Today we photographed our postman (from a safe distance) and put a call out for people to submit portraits of the heroes around them.
"That's the thing, you don't need to venture outside your front door, these everyday heroes are all around us."
Now, with a lockdown set to continue indefinitely (or for the next few weeks at least), People of The Pandemic hope to use their platform to continue to champion overlooked voices, and to inspire people to stay creative in trying times. "Things look a bit different and strange right now, but there are always ways to channel creativity," says Jaz. "But really, we want the portraits to inspire more recognition and appreciation for the everyday heroes all around us; more acts of kindness towards them and more celebration of their contributions. This project is to amplify their voices and to bring human connection during a time that we're all feeling super isolated."
Tagged: