Every new book you need to read in 2020
We've got your reading list sorted with all of this year's great releases – from books to get you thinking to books to freak you out, and even books that'll make you fall in love with poetry.
|
14 January 2020, 10:00am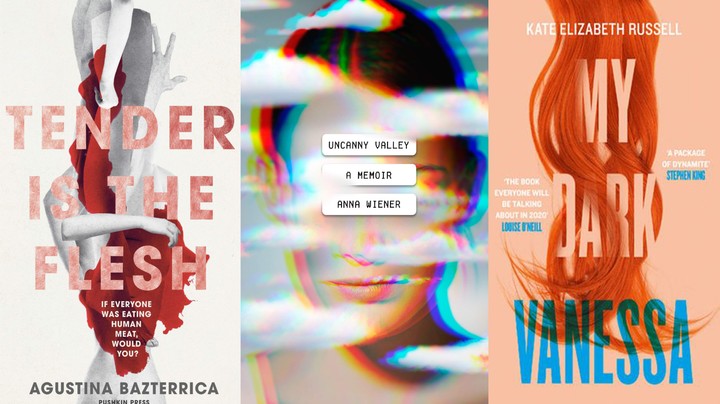 It's January, officially the worst month of the year. Everyone's got a cold, you wake up to darkness and it feels like the world is about to teeter into political catastrophe. To help you through the gloomy early nights, we've had a look ahead at what 2020 has in store for new books. So fire up your Goodreads' reading challenge, dig out that Christmas book voucher and head down to your local independent bookstore (or ethical online bookseller).
Books to get you thinking
Topics of Conversation by Miranda Popkey (Serpent's Tail)
It's hard to believe that this is Miranda Popkey's debut novel. Covering everything from sexuality to memory to relationships, Topics of Conversation tells the story of a woman's life through a series of conversations over two decades. Unapologetically ambitious, this slim novel is a brilliant deconstruction of what makes us who we are.
Uncanny Valley: A Memoir by Anna Weiner (Harper Collins)
At 25, Anna Weiner decided to quit her publishing job and head to a start-up in Silicon Valley. Uncanny Valley is the story of her year in, well, that uncanny valley of tech bros, dodgy ethics and casual sexism. It's an electrifying account of the people who really run the world.
In the Dreamhouse by Carmen Maria Machado (Serpent's Tail)
Already lauded as one of 2020's must-reads, In the Dreamhouse is the story of a relationship gone wrong. While telling her own story of an abusive relationship, Carmen Maria Machado also dissects how we represent these kinds of stories in culture, from Disney villains to fairytales. It's a remarkable feat.
Books to freak you out
Weather by Jenny Offill (Granta)
In Weather, Jenny Offill distills all our contemporary fears into one brilliant, funny and terrifying novel. Convinced that Doomsday is coming, protagonist Lizzie begins to overthink and obsess over preparing for the end. The apocalypse has never been this enjoyable.
My Dark Vanessa by Kate Elizabeth Russell (4th Estate)
When Vanessa was 15, she had sex with her English teacher. Now, aged 32, she hears that her former teacher has been accused of abuse by another student and has to rethink her past with this man. My Dark Vanessa is a complex and captivating dissection of abuse, power and sexuality.
Tender is the Flesh by Agustina Bazterrica, translated by Sarah Moses (Pushkin)
In the near future, animals become infected with a virus and humans are forced to look for new flesh in the form of legal cannibalism. Things become complicated when Marcos, who processes human meat, is confronted with the humanity of his produce. This is a hideous, bold and unforgettable vision of the future. Just make sure you've eaten before picking it up.
Exercises in Control by Annabel Banks (Influx)
Annabel Banks' first short story collection is a provocative look at what happens when a need for control takes over. Dangerous dates, secret rooms and nasty games feature in these stories about obsessive people. These are compelling, weird and funny slices of fiction served by a daring new writer.
Books to make you fall in love with poetry
RENDANG by Will Harris (Granta)
A rising star of the British poetry scene, Will Harris explores identity, race and the language we use to articulate our experiences of being in the world. RENDANG is Harris' first full-length collection and is a heartfelt reflection of how it feels to fall between different cultures, languages and places.
Homie by Danez Smith (Chatto & Windus)
Not so much a poetry collection but an anthem, Homie is extraordinary in its joy when there's not much going around. These are very much poems for now as Smith explores how it feels to not just survive, but thrive, in a world overrun with hatred.
Passport to Here and There by Grace Nichols (Bloodaxe Books)
Unquestionably one of our most important living poets, Grace Nichols returns with her ninth collection of poems about a childhood in Guyana and move to Britain. With wit and warmth, Nichols delves into the what is lost and gained by being between places.
Books to lose yourself in
Winter in Sokcho by Elisa Shua Dusapin (Daunt)
In a town on the border between North and South Korea, a young woman works at the reception of a guesthouse. In the dull dead of winter, things are livened up when a French cartoonist arrives seeking inspiration. A spellbinding debut novel, Winter in Sokcho is about intimacy and alienation in a remarkable setting.
Pine by Francine Toon (Doubleday)
Nothing says perfect winter read like a gothic novel set in the Scottish Highlands. Lauren and her father live alone surrounded by forest until their isolation is disrupted by a distressed lost woman. Secrets begin to spill out in Lauren's eerie neighbourhood. Pine is a thrill of a book.
Where the Wild Ladies Are by Matsuda Aoko, translated by Polly Barton (Tilted Axis)
A feminist retelling of traditional Japanese ghost stories, Where the Wild Ladies Are explores recent cultural shifts in Japan and the role women have historically been assigned. As female ghosts begin to appear but not at all like the horrifying legends, Matsuda Aoko asks how a woman becomes a monster.
A Tall History of Sugar by Curdella Forbes (Canongate)
An epic love story that begins in 1950s colonial Jamaica, A Tall History of Sugar is a moving and mythical retelling of Jamaica's history. Infusing legacy with fairy tales, Curdella Forbes weaves a rich tale of love in trying times. Definitely a book you'll want to savour.
Books to make you hopeful
Summer by Ali Smith (Hamish Hamilton)
Ali Smith's Seasonal quartet has been one of the silver linings from the last few years of political unrest and uncertainty. Written right up to publication, Summer is the last in her series to document our recent history. The book's subject is still being formed by the world unfolding around us, but one thing's for sure: Summer will be full of Smith's characteristic empathy, wit and kindness.
The Future We Choose: Surviving the Climate Crisis by Christiana Figueres and Tom Rivett-Carnac (Bonnier Books)
The climate crisis is the biggest threat facing humanity so it's understandable if you're feeling a bit hopeless about the whole thing. The Future We Choose is a balm to the world's weary pessimism, with its authors choosing to focus on active solutions and reminding us that we get to choose our future. This book might just save us all.
Lyra McKee, Lost Found Remembered (Faber)
We lost one of journalism's brightest stars when Lyra McKee was killed during rioting in Derry last year. This anthology collects some of her best work, from the fight for LGBTQ+ rights in Northern Ireland to the nation's mental health crisis. Her spirit lives on through her empathetic and brilliant words.