Happy99 creates futuristic clothing for a post-consumer world
Dress like your favorite video game character in the latest physical drop from the almost entirely virtual clothing brand.
Photos by Elizabeth Wirija.
In late 2018, designers Nathalie Nguyen and Dominic Lopez posted a picture of a shoe design on Instagram under the brand "Happy99". Soon after, a number of stylists reached out to them, looking to snag the shoes for different celebrities. The shoes themselves, however, were entirely virtual, not available for physical purchase and instead intended to be consumed by the simple act of being enjoyed online.
Just over a year later, what started as a "passion project between two long-distance artists and designers" is making headway in the relatively new world of virtual clothing. Today, the designer duo are releasing their second round of physical garments, a range of knitwear, but these pieces are not intended to be consumed in the regular fast fashion manner. Instead, combining a mostly virtual collection with some complementary physical pieces, they are looking to start a conversation about what it means to "consume" something.
Both Nathalie and Dominic have always been fascinated by technology. Dominic has a background in music production, having helped on Yeezus, and creating video games. Nathalie's interest leaned more towards the side of 3D animation and visual effects, working as a freelance illustrator in San Francisco before moving to New York to work at a tech start-up, which led to her entering the world of virtual influencer design.
The couple started working together creatively on shoe concepts, intended to be physical, before shifting their focus. They realized that molds are extremely expensive to make and that new products are inherently bad for the environment, so they decided to experiment with creating their designs in 3D. When doing research in the virtual clothing space, they found that a lot of the designs were shown on hyper-sexualized 3D models of women.
"The silhouettes were readily available things that you could slap your logo on," Dominic says. "Most of them were a cop out and weren't designed using the actual likeness of people." Both Nathalie and Dominic wanted Happy99 to be different than the already emerging virtual brands that provided a photoshop service at a low cost for Instagram-ready pictures.
While sustainability was at the front of their mind when creating Happy99, they describe themselves as avid consumers. "We both like toys and we like games. We like to own things and physically hold them," explains Nathalie. "I think a big problem is that kids are taught materialism at such a young age. People like what we are making so much that they're angry at us for not producing something that they can purchase."
They both recall receiving a number of angry emails and direct messages from fans wanting to purchase the shoes. "While our work opens up the conversation, we are skeptical about how most people consume things," says Nathalie.
Yet Dominic has hope that the consumer model may be shifting, through his experience in the gaming world. He references Fortnite character skins and streaming services as examples of products that people are interested in purchasing that aren't "physical". The pair agree that a future social media platform that provides a virtual space to "experience another world" could make more people interested in virtual fashion, similar to the way Instagram offers free filters.
They view their latest physical release as billboards for what they're doing and as a way for people to buy into the identity of the brand. The mini winter-wear capsule references lucky motifs and "adds additional skill points to the wearer", accompanied by new virtual shoes and matching colourways and a new virtual dog companion for the protagonist (which hasn't been named yet but currently has a plot in the works). Taking a narrative approach, Nathalie and Dominic are challenging the fast-fashion model by asking people to invest in their brand identity and what it represents.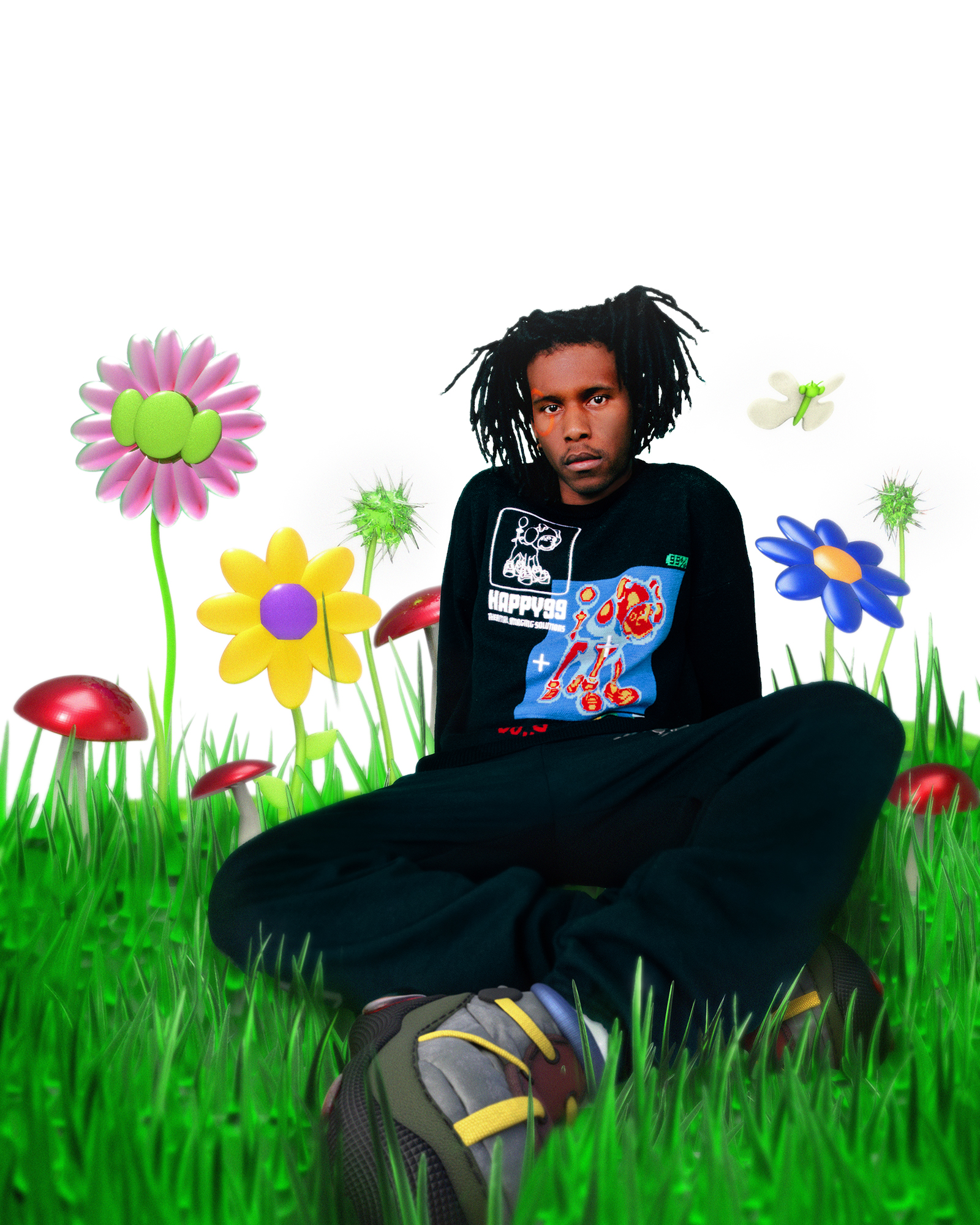 "In terms of brand identity, I think that narrative storytelling is the most sustainable option. We want to create a universe instead of just products and, at the end of the day, that makes all of our shoes 'real'," Nathalie explains. "Are they physical, consumable products? No. But in the same way that people like a picture, engage with it, comment on it, and share it with their friends, they have consumed the product."
That's not to say that the long-awaited shoes won't ever become physical. Nathalie and Dominic have plans to make the shoes but "want to figure out a way to make things in the least harmful way possible." "Making anything is pretty detrimental to the way things are right now," Dominic says. They also plan to host another presentation event, with a "mix and match" of physical and 3D items.
Navigating mostly uncharted waters, Happy99 explores our relationship with fashion by interweaving digital elements with products you can wear in the hopes that narratives can build a stronger connection with fans and customers. Since the early stages of the brand's development, that seems to be working. Nathalie and Dominic share how Happy99 has attracted fans from a range of "odd people from all walks of life", including Angus Cloud from Euphoria. "People come up to us and say, 'we love what you're doing'," Nathalie laughs. "And we don't even know what we're doing."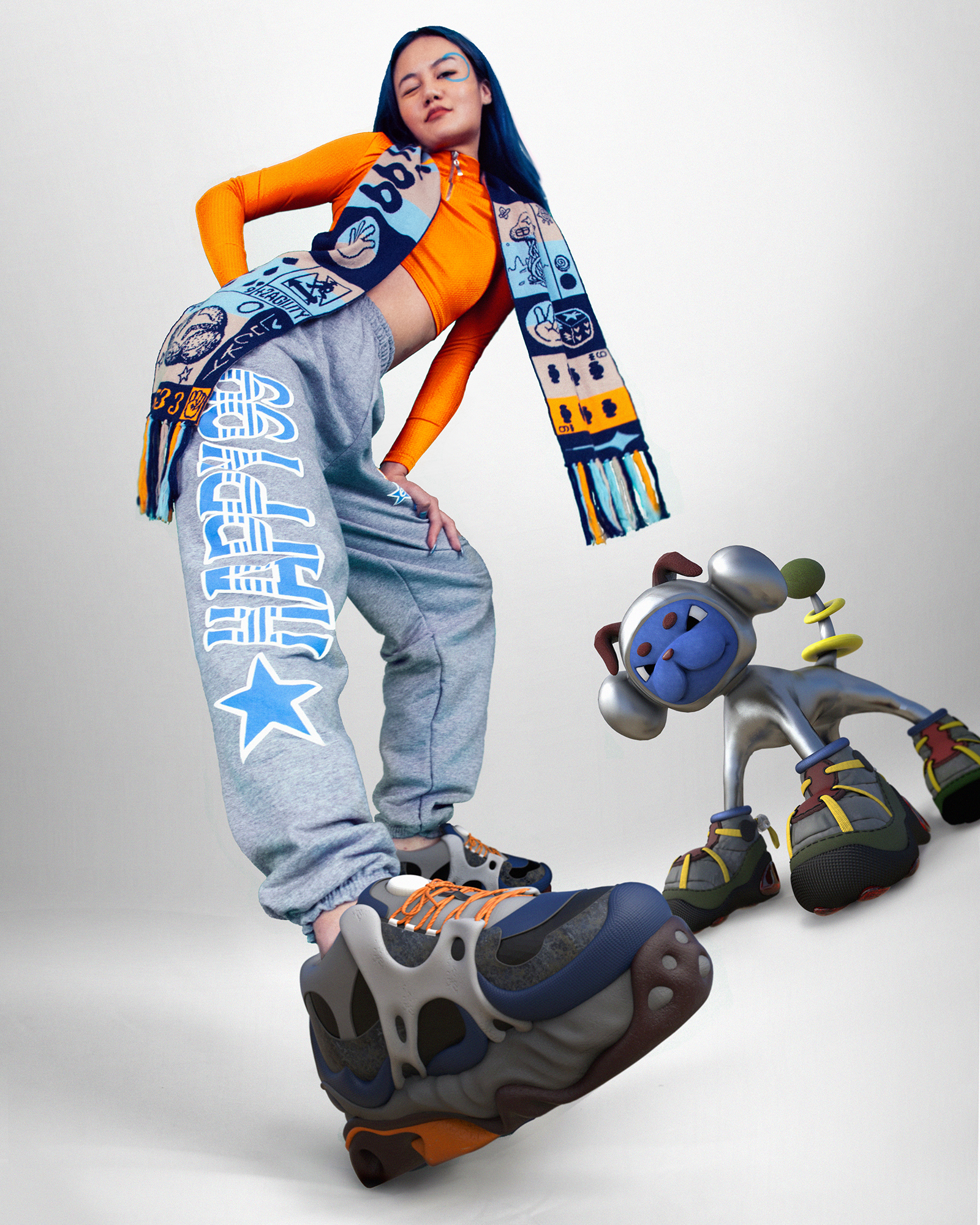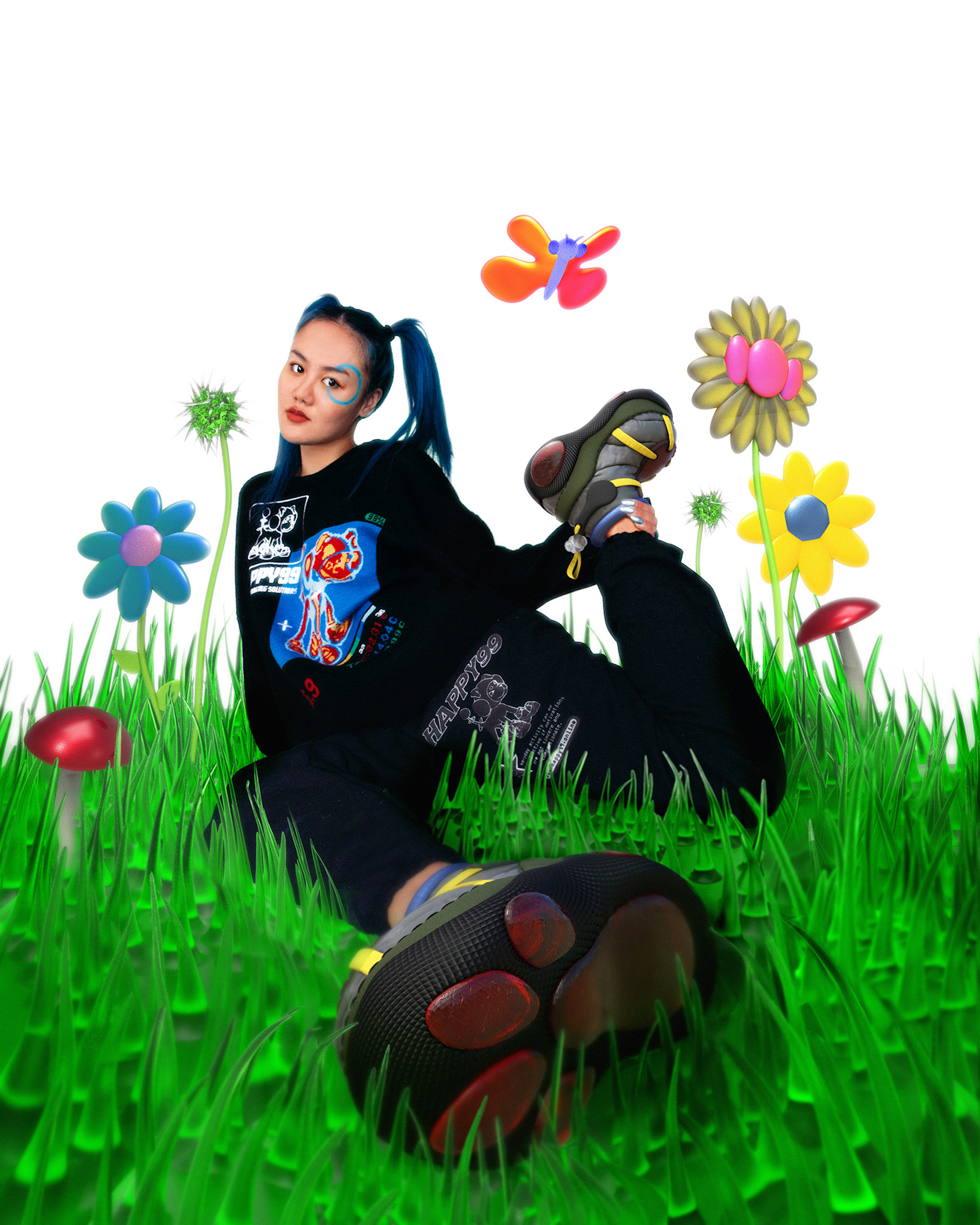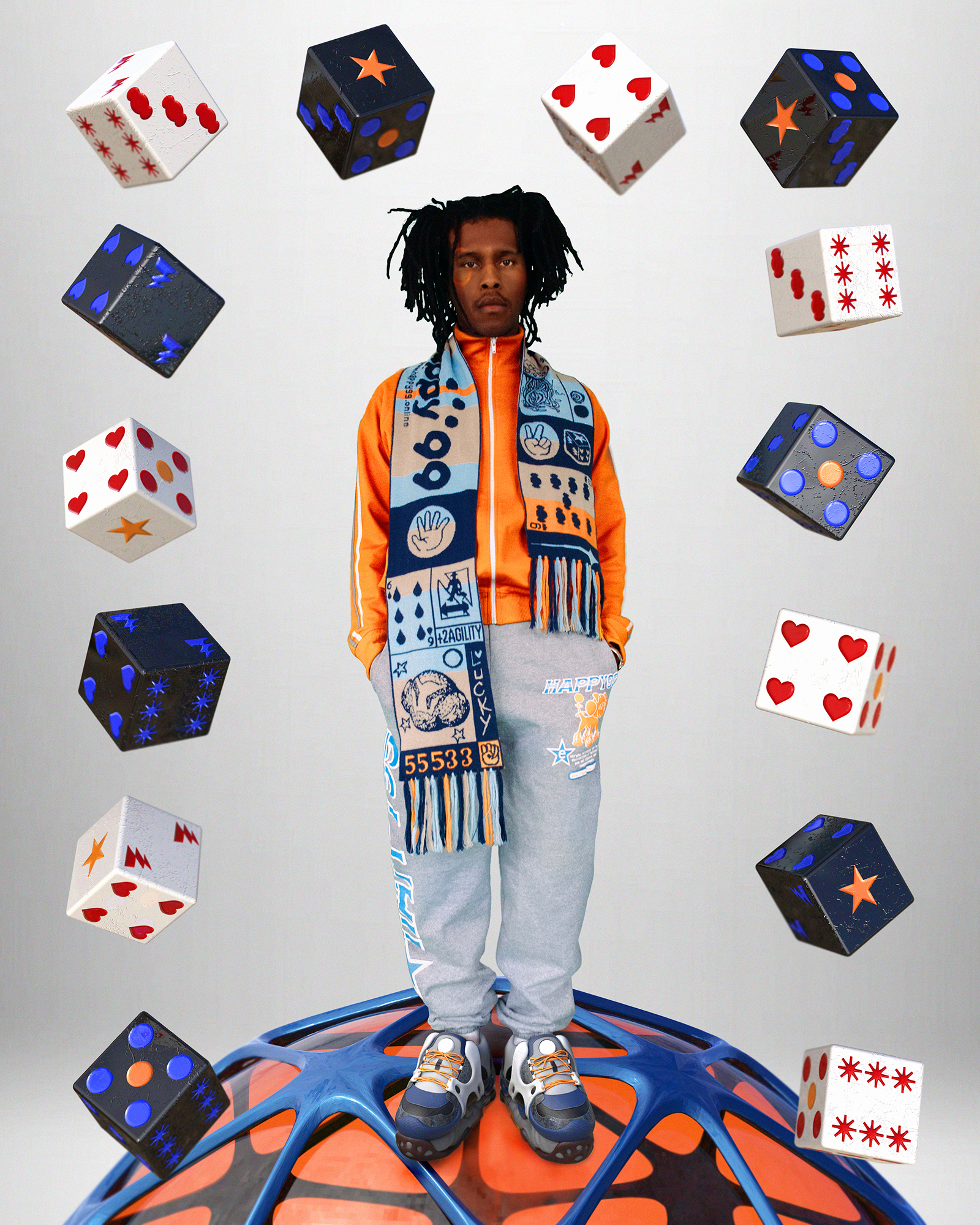 Credits
Photographer: Elizabeth Wirija
Models: John Yuyi and Chris Cadaver
Creative Direction & 3D Post-Production: Happy99