Louis Vuitton's Pre-Fall 20 campaign is a nostalgic horror show
This is the closest we're going to get to a Louis Vuitton x American Horror Story collab, isn't it?
With the upcoming release of season 3 of The Chilling Adventures of Sabrina, we thought we were prepared for Halloween in January. But last night, Louis Vuitton's Creative Director Nicholas Ghesquière sprung upon us a spooky, nostalgic vision of 80s horror in the fashion house's pre-Fall collection. It's enough to keep us up at night.
The campaign is a gallery of pulp fiction book covers and horror film posters, modelled by some of our favourite scream queens. Billie Lourd and Cody Fern are paired together in one scene, sharing the handle of an LV bag and wearing preppy clothes in the bright, bubblegum colours typical of the era. Emma Roberts is The Dragon Slayer, posing in the arms of said beast, its clawed hand hovering over the scarf belt of her hot pink dress. Then there's Angelica Ross, modelling a tartan skirt, moon boots and a sports jacket in a derelict bathroom (are those Silence of the Lambs moths on the walls?); and Chloe Grace Moretz serving aristocratic American Gothic as she stands in a rose field with crows circling overhead.
The concept came to life after William Peter Blatty, the author of The Exorcist, gave Vuitton the rights to print his book's cover image onto a t-shirt. Worn in the campaign by Kelsey Asbille and Léa Seydoux, the tee is styled on the latter with a sequinned cocktail dress that shimmers like a spider's web in the rain, as she stands under the title Arachno Mania.
Across the collection sportswear is teamed with tailoring, lacy puff sleeves with leather chokers, and 50s silhouettes with 80s references; all filtered through the retro, B-movie lens of photographer Collier Schorr.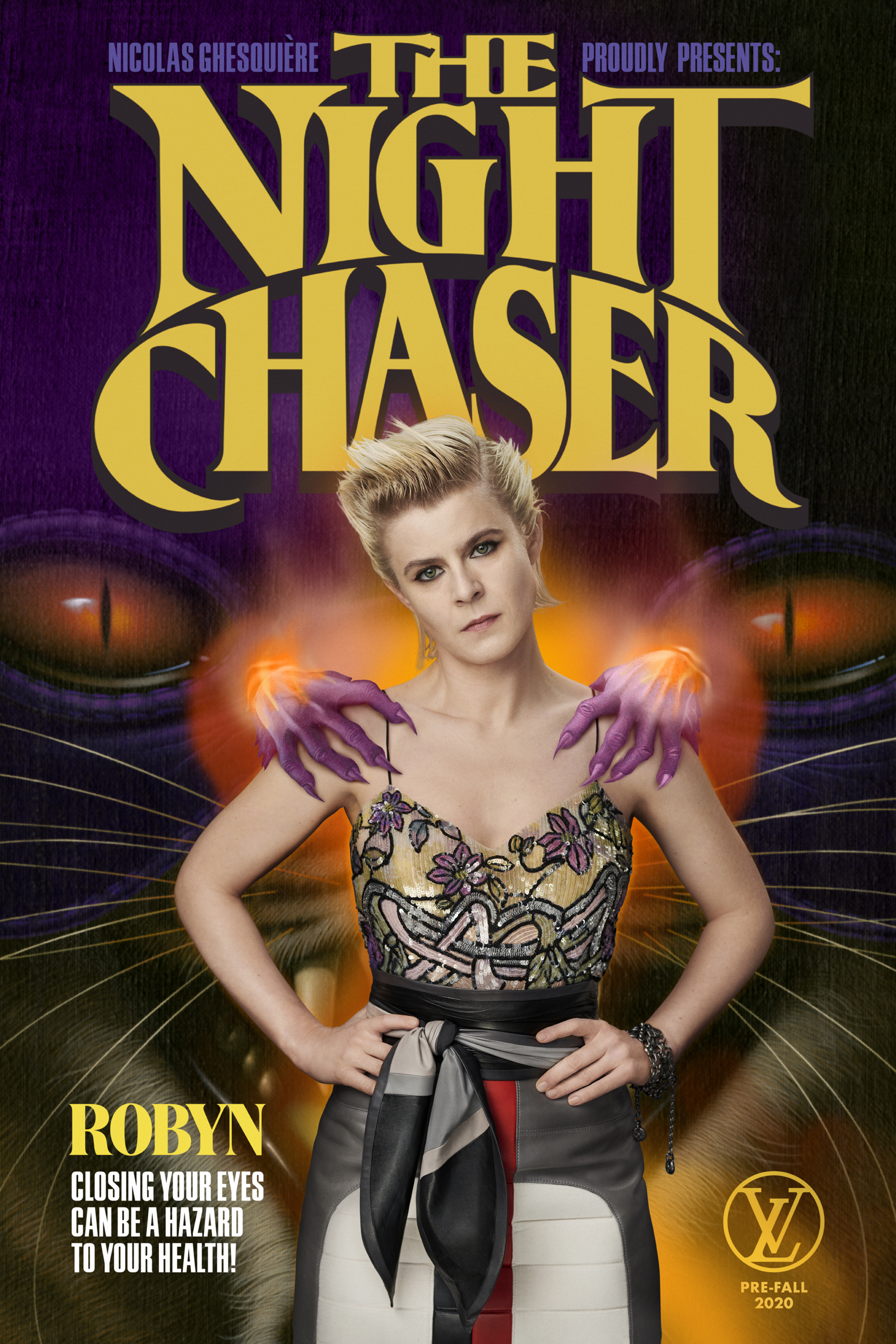 Other campaign stars include Jaden Smith, Sophie Turner and Deepika Padukone -- the first Bollywood actress to ever appear in a global Louis Vuitton campaign. And then there's Robyn! Yep, everyone's favourite disco-pop queen was directly involved in the curation of her look, which was apparently inspired by a dream she once had of meeting a talking tiger. For real. She wears a leather biker skirt and a sequinned top, accessorised with purple monster claws menacingly draped over her shoulders.
"Fashion is a novel and the Pre-Fall 2020 collection embarks on a narrative journey where the garments tell their own tales," said Vuitton in a statement. If a picture speaks a thousand words, scrolling through the LV campaign as it appeared on Instagram is the equivalent of flicking through the pages of an thrilling novel -- each look a unique and detailed new chapter in Louis Vuitton's beautiful nightmare. We're hooked!