Megan Rapinoe is the face of Loewe's AW20 campaign
In a rare twist, the Steven Meisel-shot images of the footballer have been previewed ahead of the brand's forthcoming menswear show on Saturday.
|
16 January 2020, 12:30pm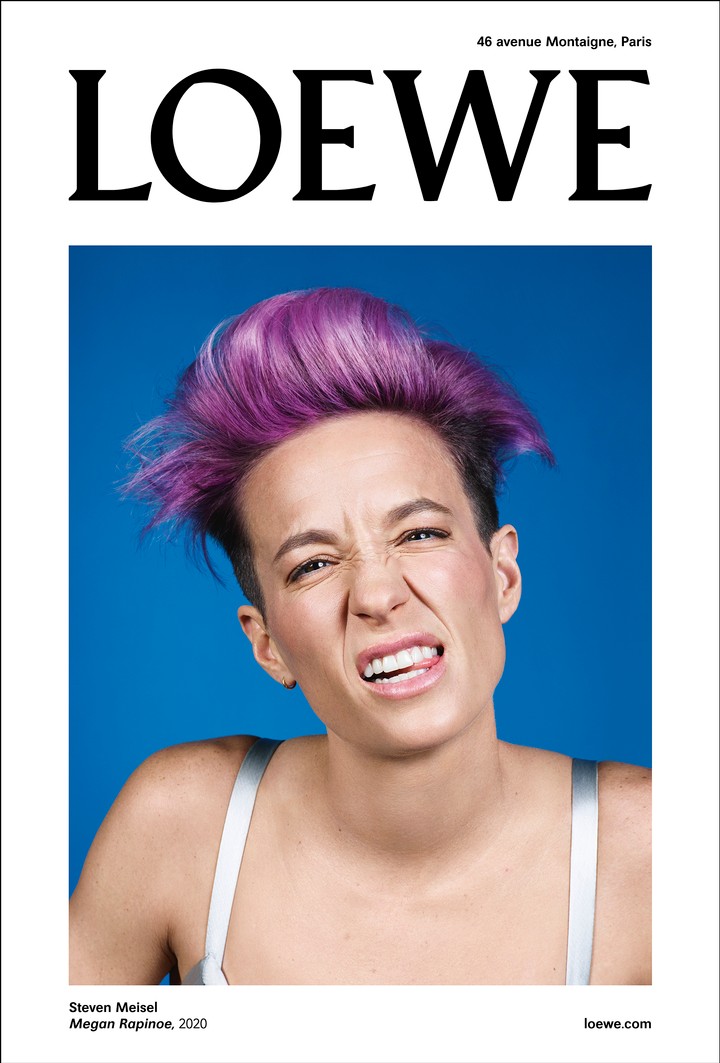 Photography Steven Meisel
Show -> campaign -> shop -> you. That's the typical journey that a collection takes from the runway to your wardrobe. But in an era in which no norms are sacred, even fashion's more traditional players know that shaking up the rules is a surefire way to win.

Or Loewe does, at least. In a series of billboards across Paris, the Madrid-based house has previewed images from its Steven Meisel-shot AW20 menswear campaign ahead of its show on the PFWM schedule this Saturday (18 January). The spirit of subversion also extends to the casting of the campaign's star, footballer and activist Megan Rapinoe.
The casting was first revealed on Instagram, via a post by Loewe's Creative Director Jonathan Anderson. The image sees Megan's "trademark pink hair [...] highlighted by the solidity of the cobalt blue background. Her eyes are grinning, the tongue peeks a boo between the teeth, mimicking the soccer player's signature expression when she wins," the brand explains.
In an accompanying series of films directed by Benn Northover, entitled For Real, the esteemed athlete calls upon her audience to "use your voice. Speak from your heart. Be honest. Find the truth -- and it's uncomfortable sometimes, but -- find it, live it, be it!"
It's a poignant message, given her history of campaigning against racial and gender discrimination. "I am so thrilled about this partnership with LOEWE and Jonathan Anderson," she says. "To me, the goal of a collaboration should not be to stand next to one another, but rather become something else, together."
If this is just the preview, then Saturday can't come sooner. If one thing is for sure, it's that we all deserve this.
Tagged: