Fenty reinterpreted by 4 rising fashion talents
Meet the four University of Westminster students hoping to win a coveted placement working alongside Rihanna and the Fenty team in Paris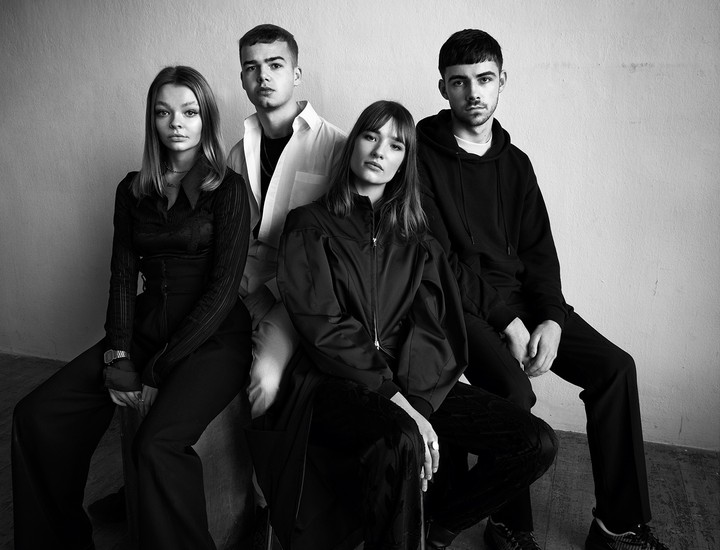 This story originally appeared in i-D's 'Rihannazine' Special Edition, no. 01, 2020, co-created and curated by Rihanna. Order your copy here.
Back in September, when Fenty design director Alexandre Roux stood before 51 University of Westminster students, not a single one knew where he'd come from. "I toyed with them a bit," he chuckles. "I tried to make them guess who we were. 'Are you part of a big group?' they'd ask, and I'd say 'Yes!' 'Are you Louis Vuitton?' 'No!' Then, one of them burst out with 'Rihanna?!'"
A week before Alexandre's arrival, the school's BA Fashion Design second year students had been given an enigmatic assignment by Robert Leach, the course's senior lecturer. "They had to find a garment and an accessory that they responded to," he explains. "They knew they'd be working on a branded project, but we wanted their research to be personal, to explain who they are as designers and what they care about, before telling them who it was with. A week later, Alexandre came and gave the full brief, introducing Fenty and the garment that they would then interpret in line with their research."
"It was the corset dress, an iconic piece from the first release last May," Alexandre says. "Rihanna and I thought it would be the perfect piece for the project. They had six weeks to explore it in any way that they could possibly imagine." They did, however, have to keep Fenty's original muse in mind: though unaware at the time, they would be presenting their final looks to Rihanna herself in their first-ever runway show.
It's no secret that Rihanna is among fashion's most enthusiastic champions of student talent, and, through Fenty X Puma and Fenty, she's created tangible lifelines. "I don't know where I would be today without Rihanna," says Philip Ellis, who worked for Fenty X Puma in 2017 after the singer and fashion entrepreneur saw his Central Saint Martins' graduate collection. "She doesn't just scout talent, she invests in young people and she pays them."
Through her collaboration with the University of Westminster, Rihanna's furthering her commitment to fresh talent: of the class of 51, four finalists were chosen. One will spend their upcoming placement year working alongside the Fenty team in Paris. We met these four fashion stars of the future are reinterpreting the Fenty world of today.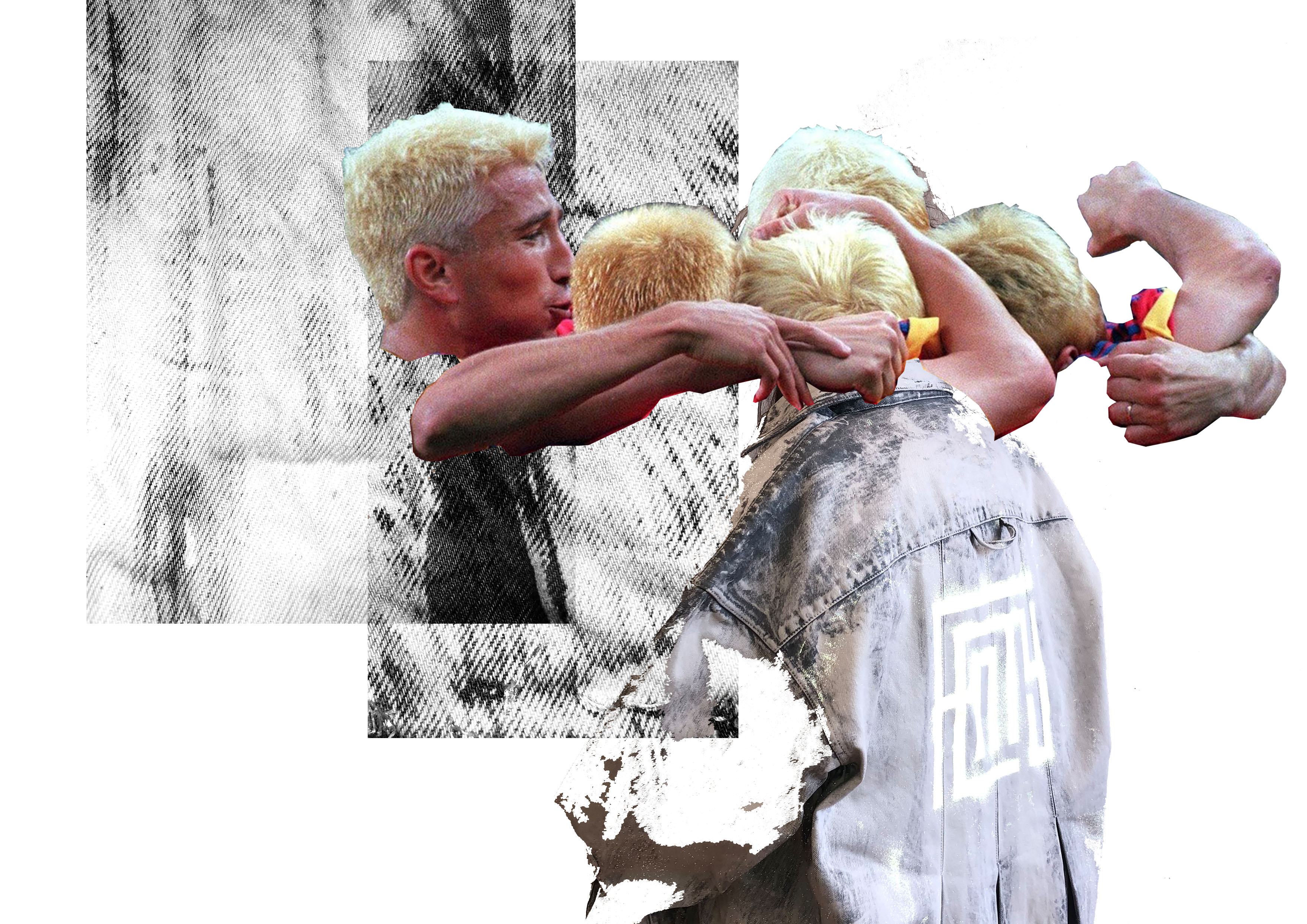 Jordan Ellison – Menswear
What were your main inspirations for the project?
My focus was football – and I had no idea that Rihanna was such a football fan! I started by looking at a stonewashed denim training top from the 90s, as well as a safari hat.
How did you build the rest of your look from there?
It was clear that the dress had been made with menswear elements in mind – the stitching, in particular, was a giveaway. I wanted to make certain aspects more masculine, like by altering the back pleating, but still wanted to maintain some of the piece's femininity. For example, the dress had cut-outs on the side, so I translated that to slits on the side of the coat.
To bring Fenty and the sports influences of my research together, I transferred the Fenty box logo to the back of the jacket in a reflective spray. It was only visible when you took a picture of it with flash, so I took a snap during the show and gave my phone to Rihanna, which she seemed to enjoy!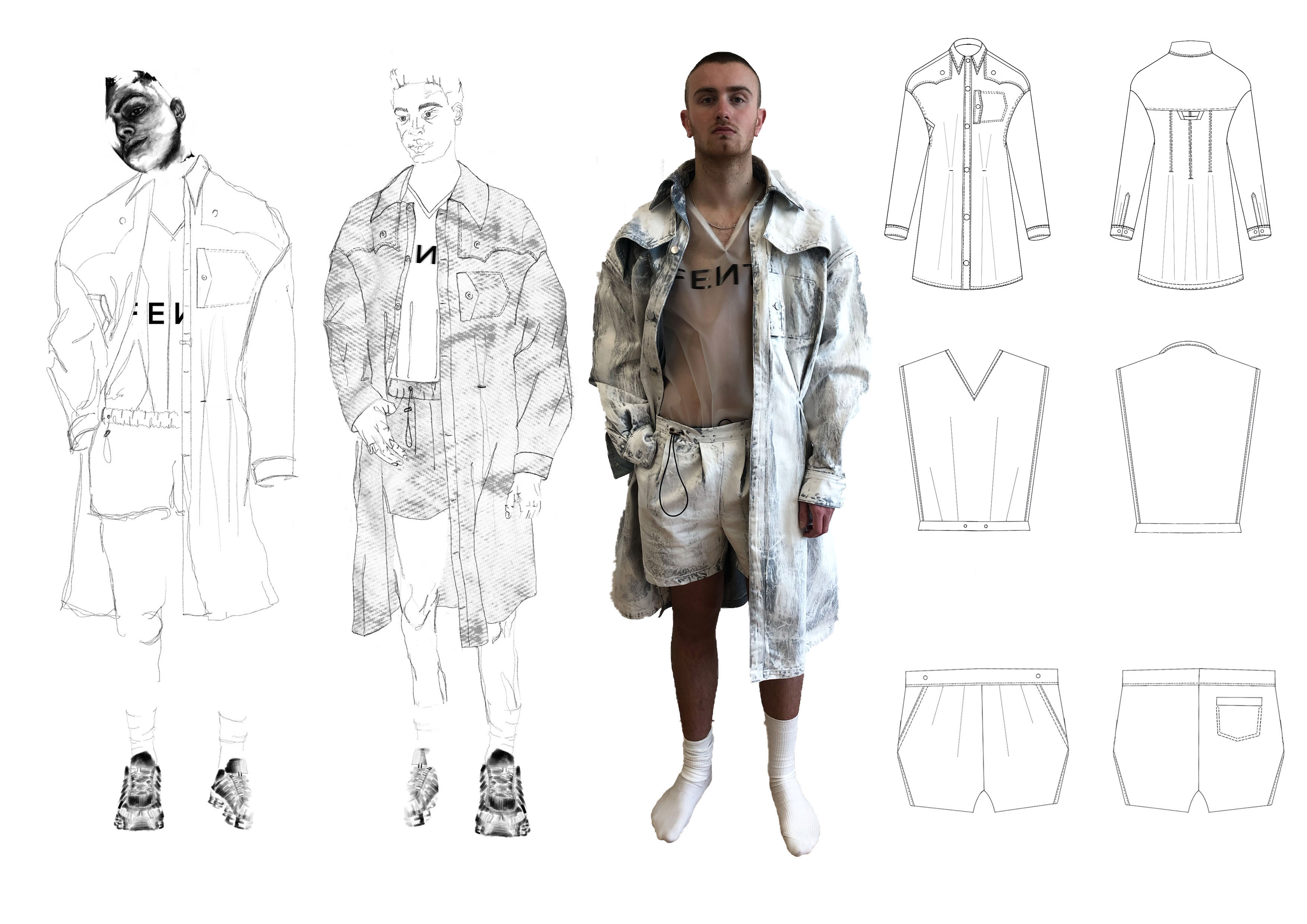 How was your experience of meeting Rihanna?
Incredible! The atmosphere at the show was electric. She really seemed to appreciate our efforts, and thanked us all for our time. It was amazing to see her take such a personal interest in how we each approached the project and how young people perceive the brand.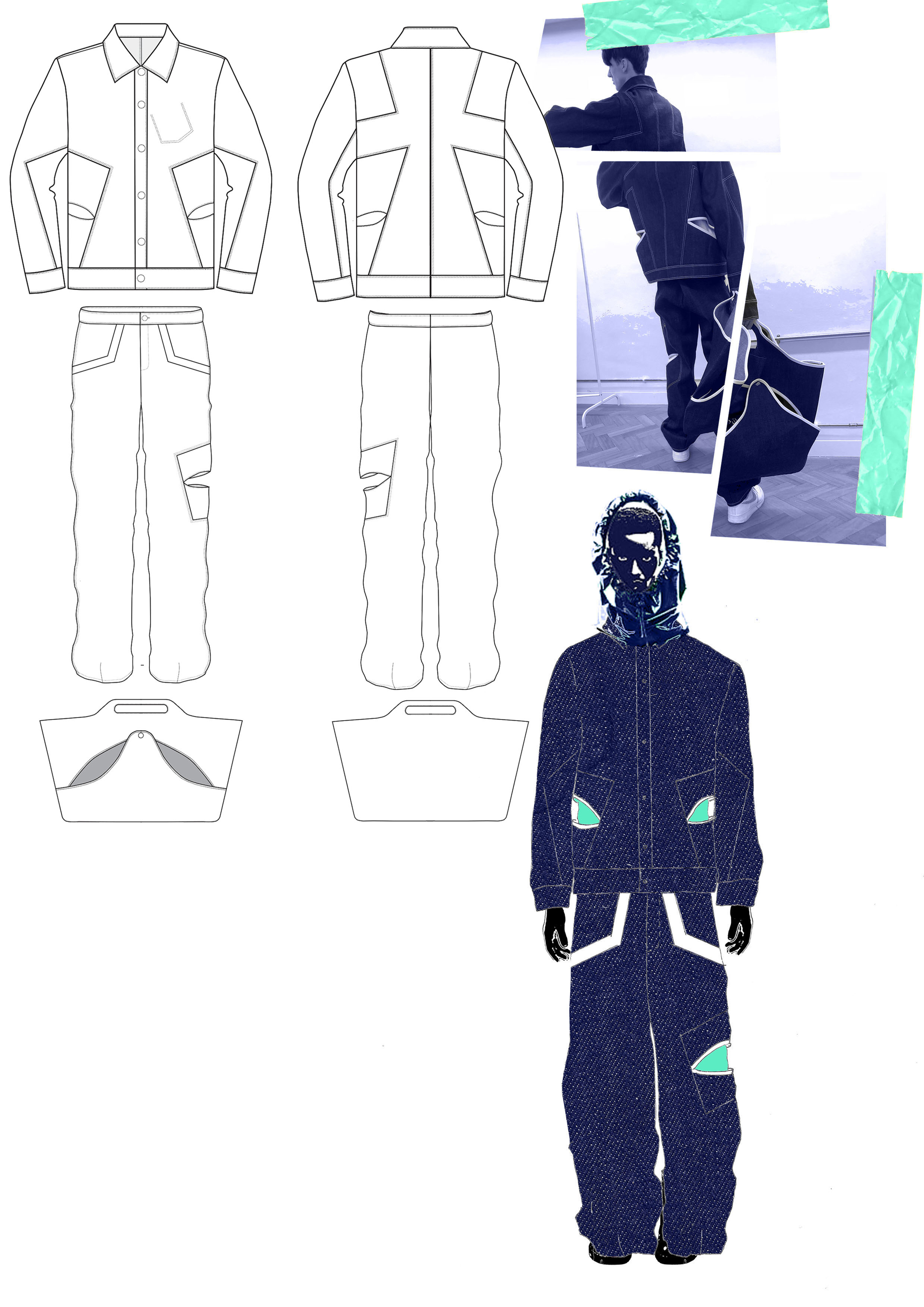 Jake McGoldrick – Menswear
How did you feel about the project in the beginning?
As Fenty's currently predominantly a womenswear brand, trying to translate the corset dress was quite a challenge. At first, I didn't see myself excelling, but as it developed, the Fenty team seemed to take a particular interest in what the menswear students were doing.
How would you summarise your personal aesthetic? And how does it relate to Fenty?
I take a very wearable approach to menswear and really love subtle, intelligent pattern cutting. There was some crossover with the corset dress where that's concerned. When thinking about what I could take from the dress, it was mostly about the shape and certain details, and about conveying my idea of what Fenty menswear could look like.
What were your main references?
I came across a series of images shot at Jamaica's last remaining horse-racing track, and was really drawn to what was happening in the background. I tried to imagine how someone who was there would dress, and then introduced the corset dress. I really wanted to convey my idea of what Fenty menswear could look like, so it was a case of marrying the shape and certain features of the dress with details I'd developed through my research.
At the very end of my process, I also made a bag inspired by the visual of someone carrying a horse's saddle. I wanted there to be real coherence between the three pieces I made, so once the jacket was designed, the trousers and the bag became complementary pieces.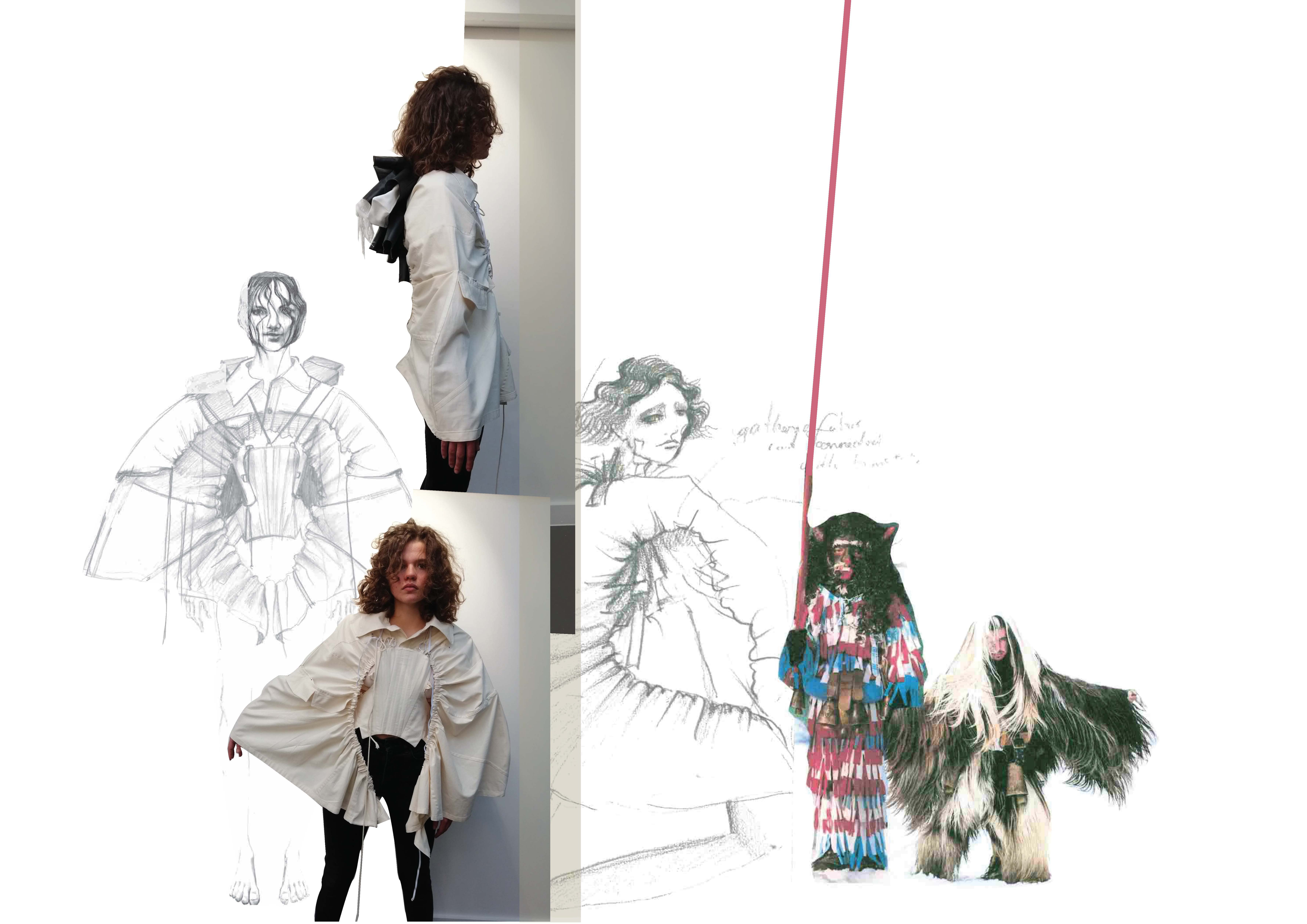 Patricja Regesaite – Womenswear
Before working on this project, what came to mind on hearing 'Fenty'?
That it's really focussed on community-building and sharing: it's not just about one person. It's clear that Rihanna's passionate about reaching out and collaborating with young designers, as we saw recently with Asai.
How did you approach the project?
I wanted to explore the contrast of femininity and brutality, taking the former from Fenty and the latter from my own research on pagan clothing. In Lithuania, where I'm from, there's a celebration where we dress up as monsters to chase the demons away. I discovered that a similar concept exists in Bulgaria; they wear 'kukeri', costumes with metal bells at the waist that jingle really harshly when they dance. That became the basis of the accessories I made.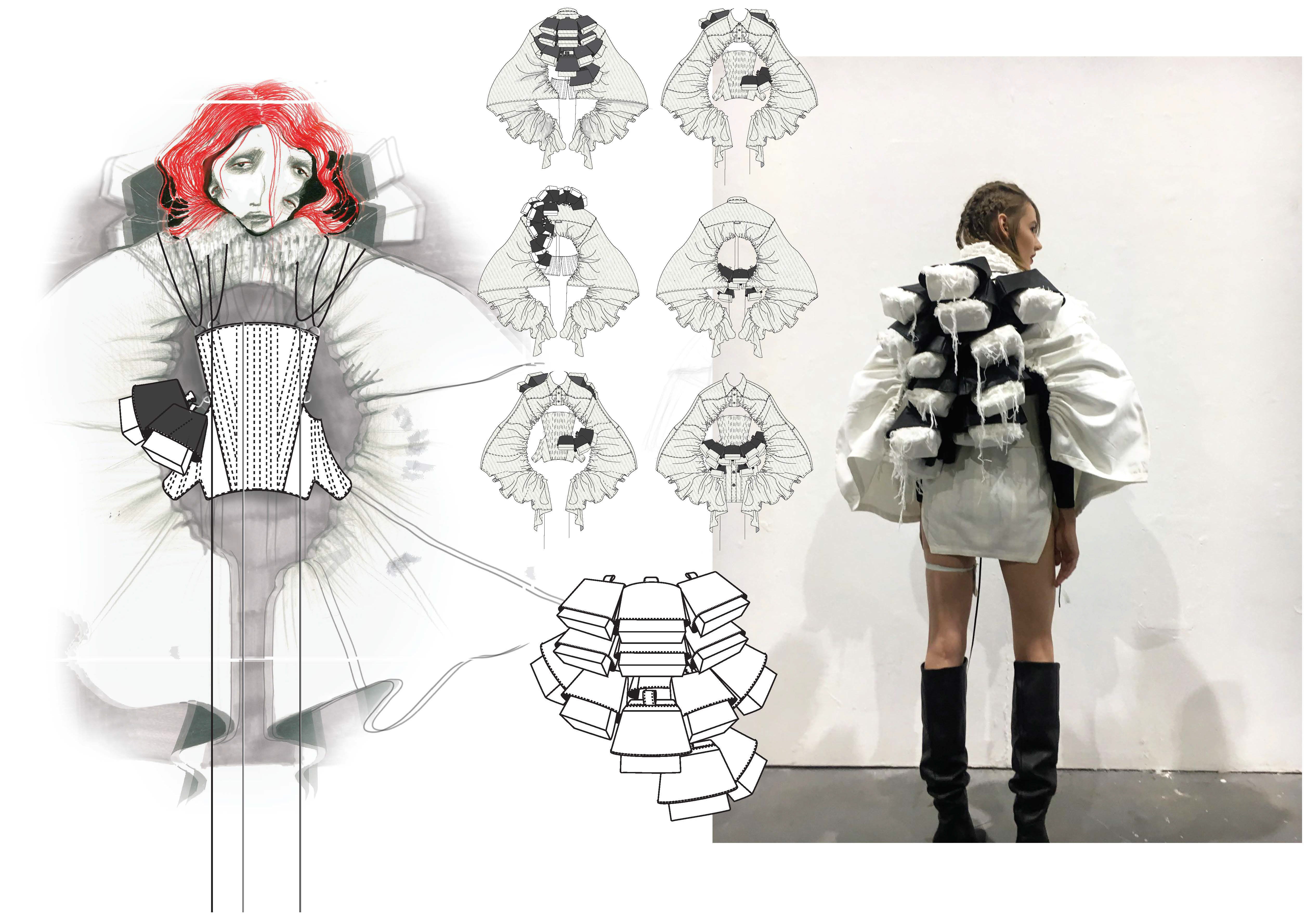 How did you then introduce the corset dress?
Before we even knew that we'd be working with Fenty, I knew that I wanted to work with corsetry! That doesn't mean that bringing the two together was easy, though… The yoke of the dress was my starting point, and then I built from there, making little bell-shaped bags that individually attached to strings on a corset.
It sounds like you were given real freedom of interpretation!
Yes! The Fenty team really listened to what we had to say, which created a really comfortable environment to work in. In our crits, we were able to ask the designers questions without fear, and they gave us plenty of ideas and suggestions on how to progress in return.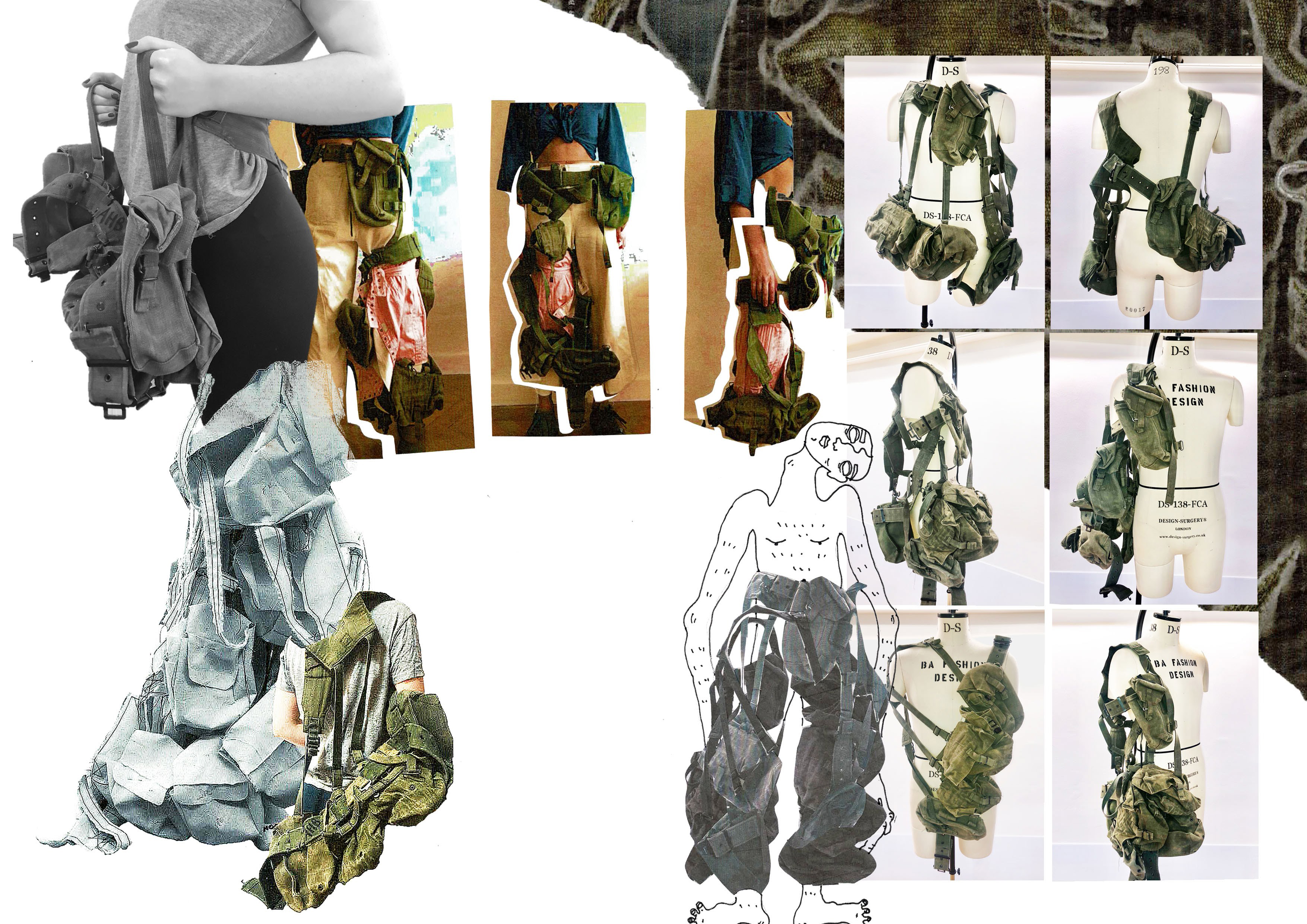 Ellesha Harris – Menswear
How would you define your personal aesthetic?
'Feminine menswear' would be one way of putting it. Though I'm a menswear designer, I always consider myself within my designs, so they don't necessarily fit neatly into the category.
What were your main inspirations for the project?
A lot of womenswear designers are inspired by menswear, but I wanted to do the reverse. I looked at stereotypes of how men should behave, and sought to challenge them, choosing a military harness and medical corset as my two pieces.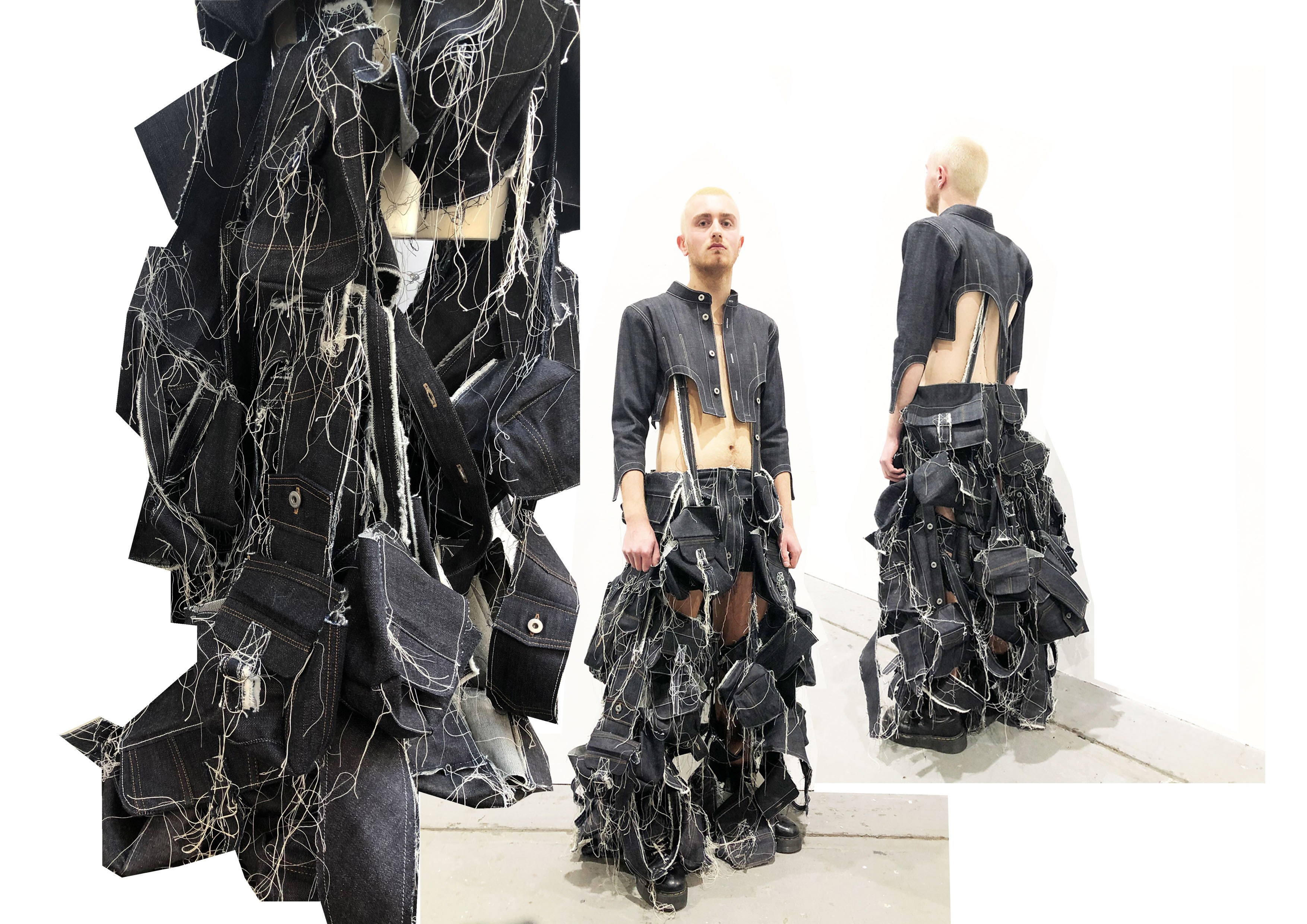 You must have been happy to hear you'd be working with the corset dress?
It was a total coincidence, but it was perfect! I didn't want to use boning to create the structure in my piece, so the inverted pleats that Fenty use matched up well with the top I created. I wanted it to be very fitted, and for there to be a sense of juxtaposition between it and the trousers I made.
What have you taken away from the experience?
To consider the commercial viability of my work. It's really important to think of how showpieces can become something more wearable. And also, the experience of presenting my work to Rihanna taught me the importance of presenting yourself and your work in a professional manner, while still remaining you are. As a young female designer, it's so inspiring to see a brand backed by such an incredibly powerful woman. Being able to share my work with her was such an honour.