7 of Patti Smith's most iconic outfits
The Godmother of Punk set the tone, and the look, for decades of rule-breaking women in music.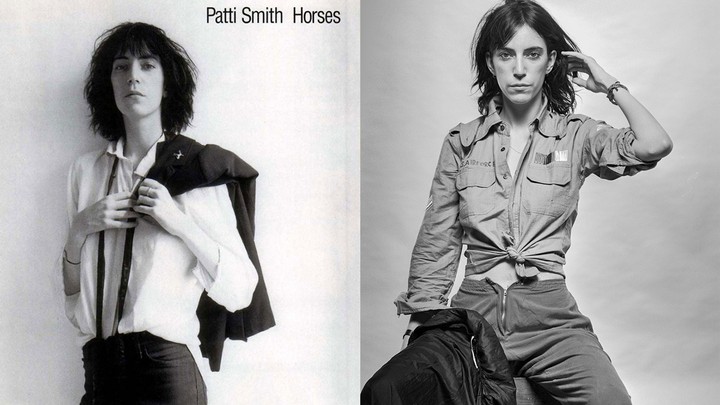 When Patti Smith released Horses in 1975, it shattered perceptions of how women in music should look and dress. Her close friend and collaborator, photographer Robert Mapplethorpe, shot the now iconic sleeve image one afternoon in an apartment on Fifth Avenue. The record inside pushed the boundaries of rock'n'roll poetry like never before, becoming one of the defining albums of New York punk.
Patti moved to New York in 1967, aged 20, as documented in her National Book Award-winning memoir Just Kids. "I wore my dungarees, black turtleneck and old grey raincoat," she writes. "No one expected me. Everything awaited me." Patti spent the best part of the next decade hungry and broke, trying to make it as an artist in the city. It wasn't until she started doing poetry readings, accompanied by an electric guitar, that she considered breaking into music. Her style was informed by poets and rock icons. In 1970, she cut her hair to look like Rolling Stones guitarist Keith Richards and she looked to French writers Charles Baudelaire and Jean Genet for style inspiration. Her core look today, consisting of white shirts, black ties and greatcoats, has hardly changed since the 70s – only now her coat is less likely to be thrifted and more likely to be by Comme des Garçons.
Like her fame, Patti's style icon status is reluctant, but the singer, poet and artist has inspired fashion designers from Ann Demeulemeester to Charles Jeffrey. Her work, which includes 11 studio albums, four memoirs and countless poetry books, has also influenced Kim Gordon, Florence Welch and Courtney Love. Here, we pay tribute to the influence, in style and art, of punk's poet laureate.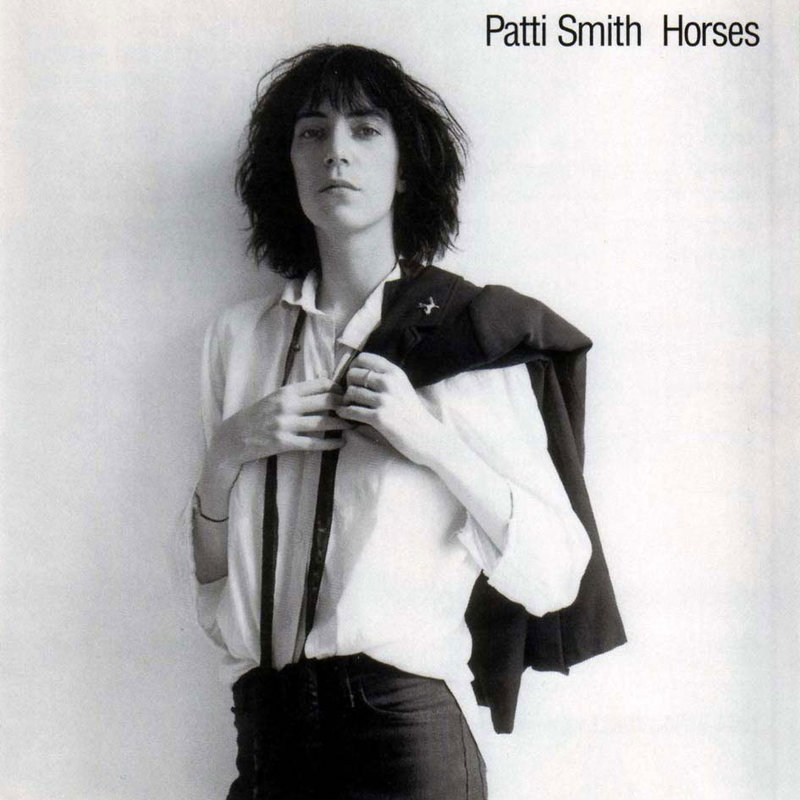 Horses album cover, 1975
Patti Smith's debut is considered one of the greatest album covers of all time. The striking image was shot by her friend and collaborator, the photographer Robert Mapplethorpe. Patti styled herself, wanting to embody male icons Frank Sinatra and French writer Jean Genet. It was an unwritten rule in the 70s that female singers were supposed to look pretty and feminine. Instead, she wore a thrifted man's white shirt with no makeup and unruly hair. Patti's record company hated the image. They wanted to change her hair into a bouffant and airbrush out the hair on her upper lip, but she refused. Luckily, the singer had signed a deal that gave her complete artistic control of her albums. Otherwise it might not have become the iconic, effortlessly stylish album cover we know today.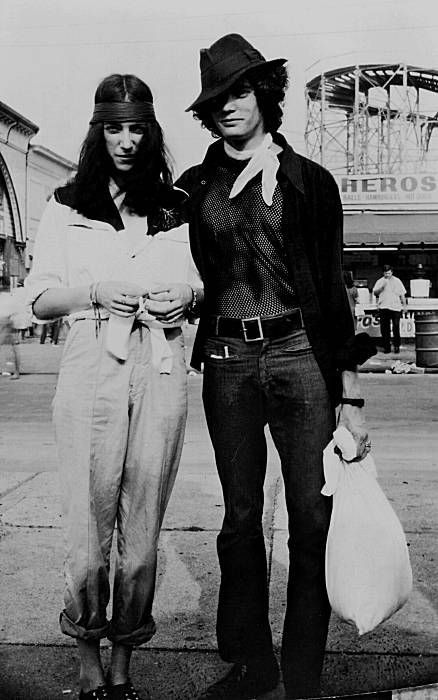 With Robert Mapplethorpe in Coney Island, September 1969
Patti Smith and Robert Mapplethorpe's friendship is immortalised in countless black and white photos from the early years they spent together as struggling artists in New York City, as well as Patti's cult memoir Just Kids. The pair are snapped here in Coney Island, looking like wayward hippies spat out at the tail end of the 60s, in rolled up trousers and a tie front white shirt. Robert wears a string vest, neck scarf and bootcut jeans. When their apartment was burgled in 1971, the outfit Patti is wearing in this photo was stolen along with one of Robert's cameras.
Amsterdam, 1976
For a photoshoot in Amsterdam in 1976 Patti Smith sports a US Air Force shirt, lending the photos a touch of irony given the singer's strong anti-military, anti-nationalist views. Her early years in New York were set against the backdrop of the war in Vietnam. She used to sit before Picasso's Guernica in the Met "spending long hours considering the fallen horse and the eye of the bulb shining over the sad spoils of war." In 2004, the singer was so incensed by the Iraq war that she released anti-war record Trampin'. She would speak out against George Bush at her live shows and join anti-war demonstrations wherever she could, in America and Europe.
In Lynn Goldsmith's apartment, New York, 1978
Shot by photographer Lynn Goldsmith in trademark all black, this is one of the few images where Patti Smith's style matches the punk label given to her music. Recalling the first time she photographed Patti, Lynn says "she came to my apartment with her band. A friend of mine had left about fifteen bottles of Dom Perignon in my kitchen for safekeeping. We drank most of it, made some pictures, and talked about spiritual enlightenment."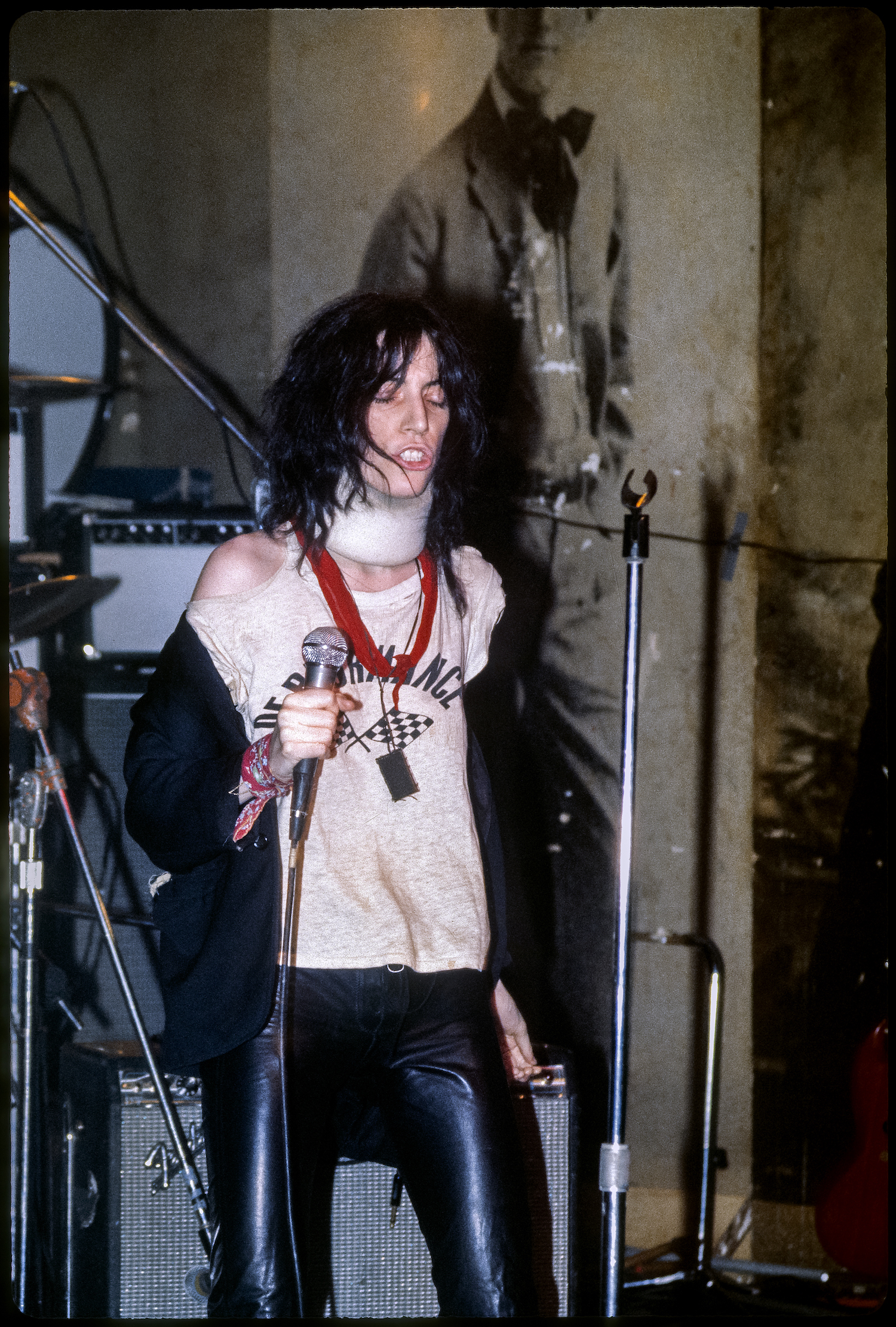 Performing at CBGB in New York, 1977
In January 1977, while on tour for her second album Radio Ethiopia, Patti Smith danced off a high stage and fell 15 feet into a concrete orchestra pit, breaking her neck. Not to be deterred, she kept performing during her recovery, wearing a neckbrace -- including here, at iconic New York punk venue CBGB, where she paired it with leather pants, obviously. While Patti was initially bedbound, she wrote a collection of poems titled 'Babel.' The title poem's closing lines are "tic/toc tic/toc tic/toc / fuck the clock!"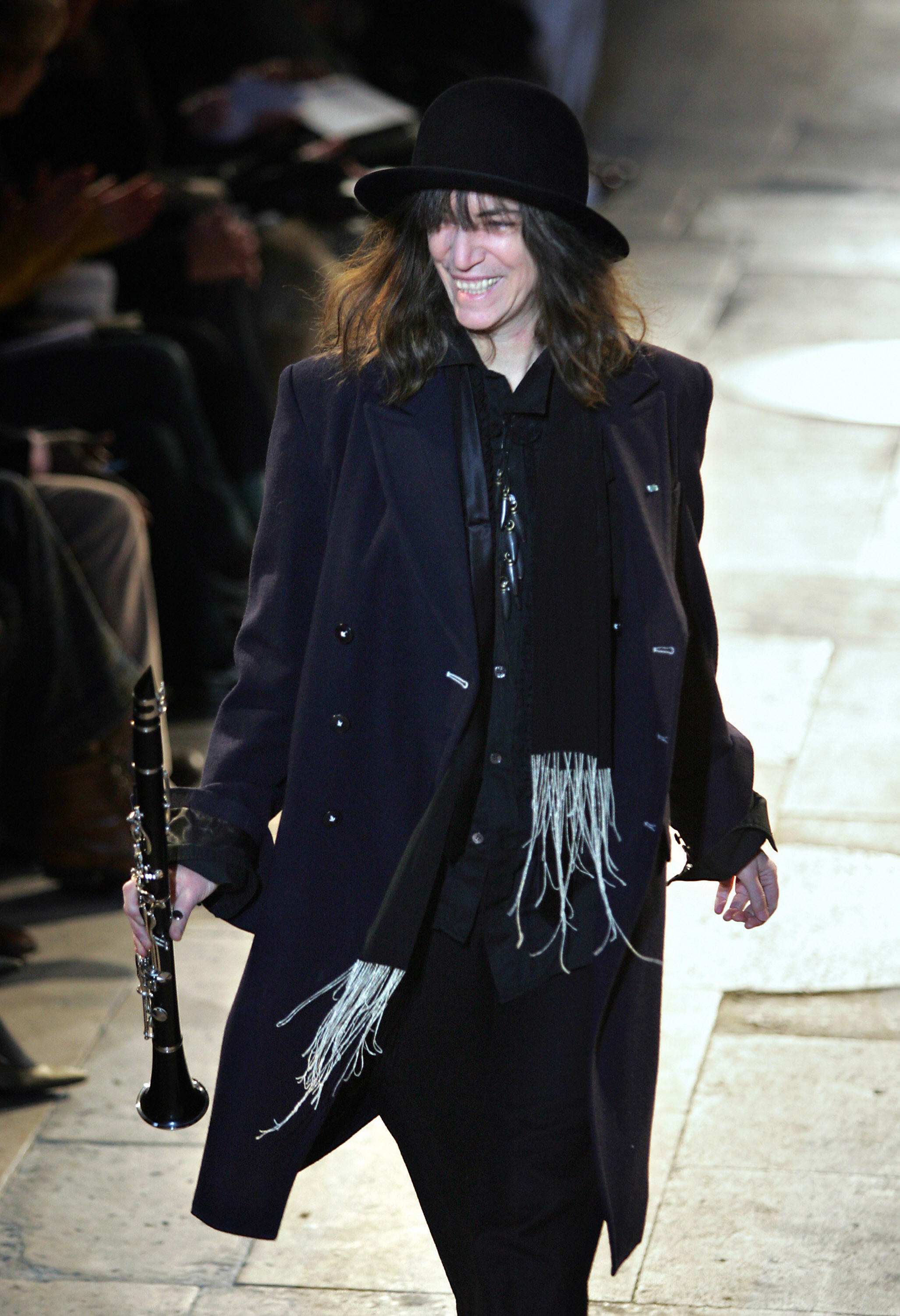 Walking Ann Demeulemeester, AW06
In the 1980s, Patti Smith left New York for suburban Detroit to raise her children away from the spotlight. One day she received a gift of three white shirts in the post. That was the start of her friendship with Antwerp Six designer Ann Demeulemeester, who she now describes as her "sister." Patti has been wearing Ann's brand ever since those three white shirts and in 2006 she even made a runway appearance, dressed in her signature all black outfit, accessorised with a bowler hat and a clarinet.
Pirelli Calendar, 2016
In 2016, Patti Smith was shot by Annie Leibovitz for the Pirelli Calendar alongside Yoko Ono, Serena Williams and Tavi Gevinson. Patti's style has hardly altered throughout her decade-spanning career and it has found even more consistency now that she's in her 70s. Her now white hair looks striking against her colour palette of blacks, whites and greys. Her love of literary allusions still hold a strong influence and she often integrates waistcoats and bowler hats into her outfits. Here she wears her usual uniform – white shirt, waistcoat and black combat boots.