What fashion's bourgeois obsession really means
Though it might look like nostalgia for a chic granny's wardrobe, the return of a traditional womenswear aesthetic is in fact a far more complex phenomenon.
Much has been written over the past few seasons on fashion's turn away from slouchy streetwear silhouettes to something a little more formal, a little grander -- including by us. In many respects, the rising of a bourgeois phoenix from the ashes of haute-casualwear should come as little surprise. Fashion has historically been an industry predicated on offering products of the finest quality and bespoke cut to the privileged able to afford such luxuries.

Over the last half-century or so, however, large-scale logistical, social and economic shifts have changed how we relate to fashion, effectively liberating it from its former status as the exclusive preserve of a particular social group or class. That's not to say that it's lost its sheen of exclusivity, but rather that, since the advent of prêt-a-porter in the mid-60s, spurred on by designers like Yves Saint Laurent with his Rive Gauche store, and businessmen like Didier Grumbach, access has become available to anyone with the means to purchase it, rather than to those with personal relationships with couture ateliers.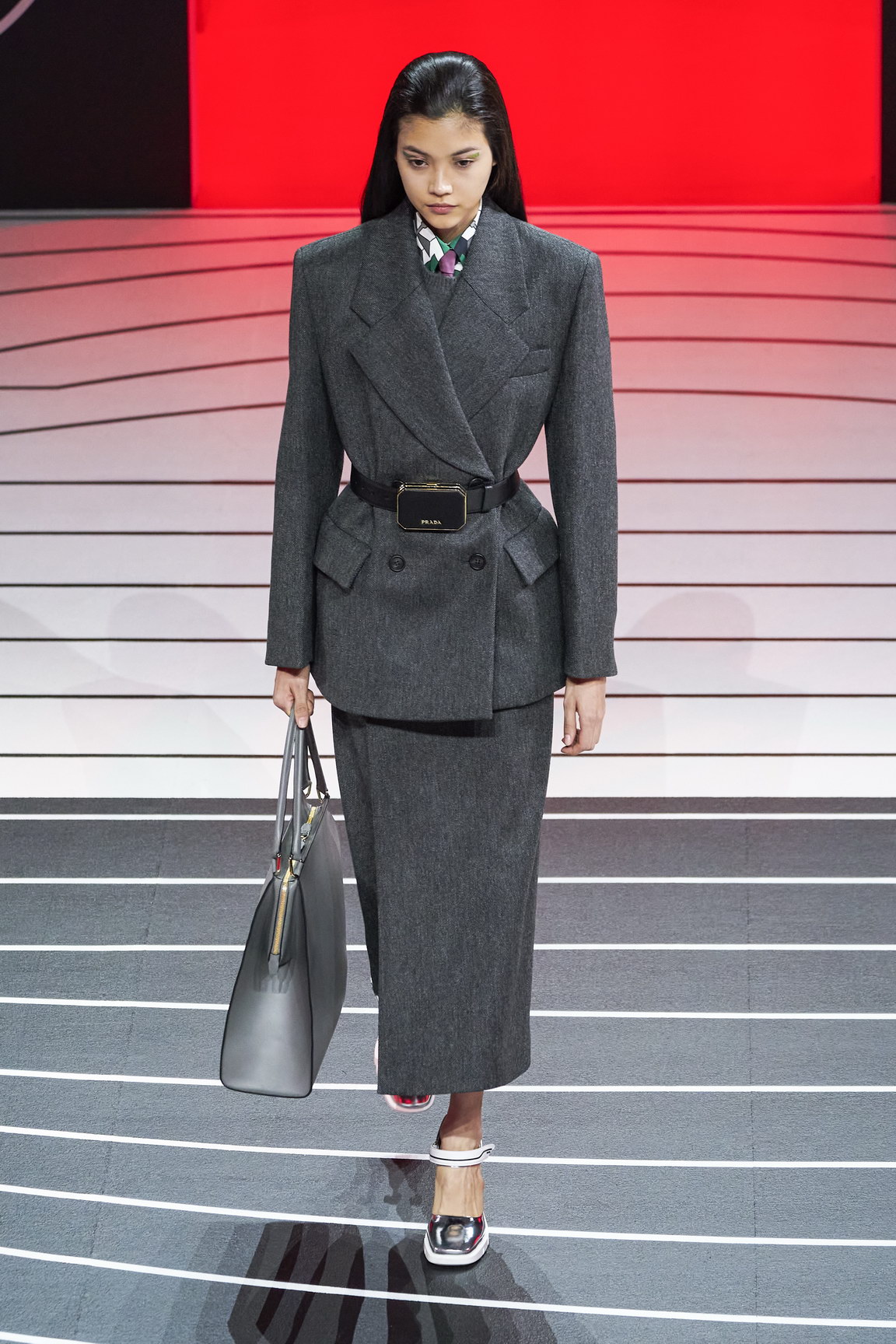 The industry's commercial opening-up has brought aesthetic diversification over the years. As brands' customer bases expanded, so did the need to produce work that felt relevant to those that lay beyond their traditional remit. As a result, the horizons of what qualifies for luxury ready-to-wear have never been wider, from provocative sexiness through sober intellectualism to everyday t-shirts and jeans. That's by no means just down to large houses -- as the field has broadened and niche markets have emerged, independent designers have led the charge to interrogate the meaning of luxury, repurposing it to reflect the experiences and cater to the desires of communities overlooked by the fashion mainstream.
As has been well documented, numerous houses have then problematically lifted aesthetics from their original, often socially marginal, contexts for the sake of creating and capitalising on trends -- the industry's momentary fling with bootlegging as a case in point. That's why, against this ceaseless mining of 'untapped' references, the return of fashion's proudest houses to pastures many thought long left behind stands out. At times when stuffy, class-addled codes might seem less relevant than ever, the industry, at first glance at least, appears to have embraced them anew.
It's a trend attested to across both genders: in menswear, for example, we saw Virgil Abloh's effective denunciation of streetwear, the proverbial temple in which he once served as high priest, and pivot to tailored silhouettes in his collections for Louis Vuitton. But it's in womenswear where, at first glance, it looks like a refined bonne maman aesthetic has truly taken hold. The shift has its roots in SS20, where noticeably restrained palettes and cuts for summer collections were seen across the board. For AW20, however, a crescendo of timeless chic was reached, with runways in Paris and Milan uncannily replicating recognisably bourgeois ideas of dressing.
At Prada, for example, the zany graphics of previous collections were subdued, and familiar floral motifs, where present, were carefully arranged rather than allowed to freely flourish -- either in painstaking beaded embroideries, or symmetrical prints. But it was less the delicate, artisanal flair of such details that suggested clothes you might find in a particularly well-turned-out grandmother's closet than it was the collection's dominant silhouette. Sharp-shouldered grey wool suiting and boxy jackets in padded leather and faux fur -- cinched, naturally -- gave off an air of vintage Milanese severity. At times, it read like a caricature of masculinised power dressing. At the same time, it didn't feel wilfully nostalgic. Instead, it felt more like a repurposing of heirloom motifs and forms. Things that might have read as chintzy, or redolent of bohemian frivolity -- trails of flowing silk fringe and beading; jewelled epaulettes; elaborate macramé knot closures on chocolate shearling coats -- seamlessly became part of what felt like a wardrobe for a new nobility.
It was a similar story at Fendi, where a vision of quietly empowered top-tier womanhood prevailed. Here, though, it was arguably a little more rounded, showing the Fendi woman in all her lights from the 'boardroom to bedroom'. We were offered a complete biography of a Roman donna borghese. The softly sensual intellect of her debutante days -- see: a dusty rose quilted velvet dress with a frilled satin collar; a chunky knit salmon sweater paired with an almost-intimidatingly pleated olive leather skirt. Elegant day-dresses with pompish set-in sleeves suggested quiet confidence, while pieces in leopard spot paisleys suggested a latent sultriness. That became something a little closer to BDSM domme by night, with sprays of black lace, and biker suits with corset boning and stiff panelled coats in flawless black calfskin leaving little to the imagination.
In both cases, though, while the material choices, silhouettes and references may have often recalled traditional aesthetic ideals of women of high social standing, the bourgeois retrospection on show was more nuanced than a simple act of nostalgia. For starters, the women wearing the clothes presented a far more representative -- though perhaps no less idealised -- vision of who they were for. At Prada, house muse Anok Yai closed the show. And at Fendi, Ugbad Abdi, Paloma Elsesser and Jill Kortleve all walked. Baby steps, admittedly, but ones worth mentioning nonetheless, especially in Milan. By putting girls in clothes tied to bygone social contexts in which faces like theirs were underrepresented, the collections of both houses felt like an attempt to reinvent the meaning of the clothes. It was less a daughter trying on pieces in her mother's wardrobe in the hopes of one day becoming her, and more her trying to see how they can make sense in the world she lives in today.
This spirit was communicated most succinctly at Maison Margiela, where Galliano paid homage to the house's tradition of remaking iconic vintage pieces under the 'REPLICA' moniker. Reinvented as 'RECLICA', a neologism marrying the house's established métier and the 'art' of recycling, pieces were hybridised from garments magpie-picked from charity shops, refashioned as expectedly askew takes on gentry staples. Coat collars and button plackets were draped over the shoulders of floaty chiffon dresses. There were heavy felt coats, artfully patchworked so as to achieve a half-wool, half-silk lining outer. Nods to tweed skirts and pussy bows, too, kept things recognisably tied to a certain old world, but the ragpicker-meets-couturier approach clearly spoke to the bricolage strategy so many of us today take to dressing, creating our own portable postmodern collages with clothes whose codes were once thought inviolable.
Those seemingly unchallengeable rules that have governed how clothes are made and who they are made for have long been bound to ideas of social standing. And the wearing of certain garments has long offered a way to visually assimilate into the class categories they represent. That's not to say that wearing a pleated leather skirt will turn you into a diplomat's daughter, but it's tempting to think that what we're currently witnessing in fashion speaks of a yearning for the inherited security that the bourgeoisie signifies. That, though, seems a little too simplistic. It's not about retreating to a time where sartorial self-assuredness and poise were the preserve of a privileged few. Instead, what we're seeing now feels more like a subtle act of emancipation -- an assessment of how garments become entangled in social expectation, and an attempt to untie them from histories that have long weighed them down.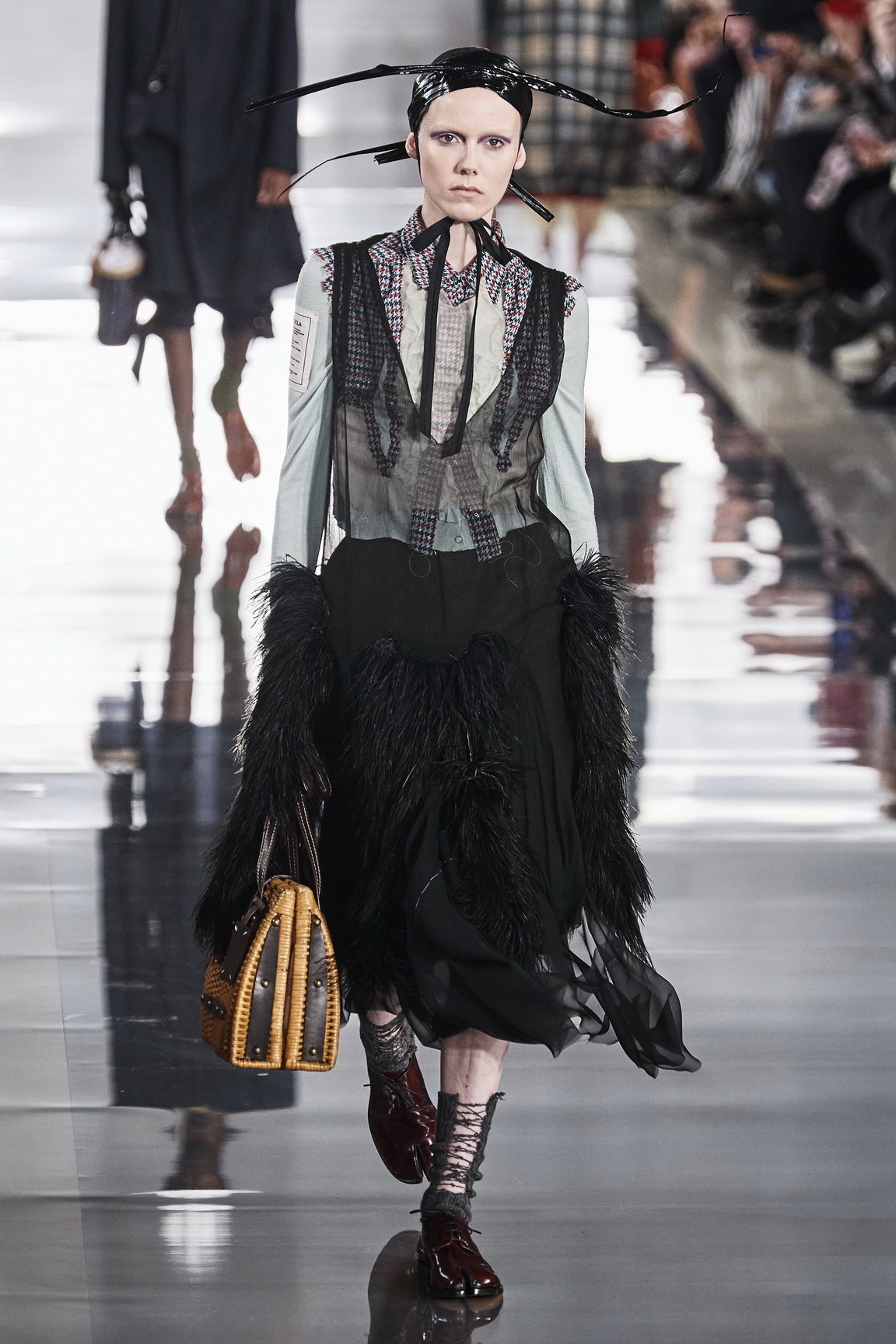 Credits
---
Photography Mitchell Sams