Photo courtesy of Maarten de Boer/ Netflix.
Elle Fanning: "Now that I'm older, I've realised that my voice actually matters"
The 21-year-old actress talks young love, mental health and producing her first film 'All The Bright Places' for Netflix.
|
28 February 2020, 4:50pm
Photo courtesy of Maarten de Boer/ Netflix.
Violet Markey and Theodore Finch met standing on the ledge of a bridge in their tiny Indiana town, suspended hundreds of feet above the ground. Violet's older sister Eleanor had died in a car crash some years earlier in the same exact spot. Struggling to continue living life after her sister's death, Violet looked down from the edge breathing heavily, as she contemplated ending her grief with one swift step. That is until Finch found her there, and saved her life.
This opening scene from All The Bright Places is not your typical rom-com meet-cute, but then again, the movie doesn't exactly offer up all of the cheesy, saccharine romance you'd expect of the genre either. Only a glimpse of it. The film, starring Elle Fanning and Justice Smith, is a messy, romantic drama based on the bestselling young adult novel of the same name by Jennifer Niven. It tells the story of Violet and Finch, who are both struggling with the emotional and physical scars of their past, and explores the complexities of mental illness and suicide. Violet and Finch quickly find comfort in each other's company, but the darkness persists. All The Bright Places is as tumultuous as your teenage years, documenting a series of firsts: love, loss and heartbreak.
When Elle first read the novel at the age of 16, she was experiencing a first love of her own, and Jennifer's story, which is semi-autobiographical, felt incredibly relatable. While the author hoped the novel would be adapted to the big screen from the start, and even dreamed that Elle would play Violet, it would take nearly five years to come to fruition. Meanwhile, Elle starred in indie hits like 20th Century Women (2016) alongside Greta Gerwig, Sofia Coppola's The Beguiled (2017), and the musical movie Teen Spirit (2018); in addition to playing princess Aurora in the blockbuster Maleficent series. This might seem like much to do in too little time, but Elle has been hard at work since she was two years old, often playing younger versions of her sister Dakota, and the 21-year-old actress has 47 films to show for it. All The Bright Places, however, marks another first for Elle and a dream of her own coming true: it's the first film she's ever produced.
"You get to use another side of your creative brain and make the puzzle fit," she says. "I hope that it's something that I can keep building in the future. Now that I'm older, I've realised that I have a voice in this and that my voice actually matters."
Ahead of the premiere of All The Bright Places on Netflix, which hits the streaming service today, i-D spoke with Elle about the importance of telling real-life stories about mental illness and her hopes of directing her own feature someday. We can't wait to see it.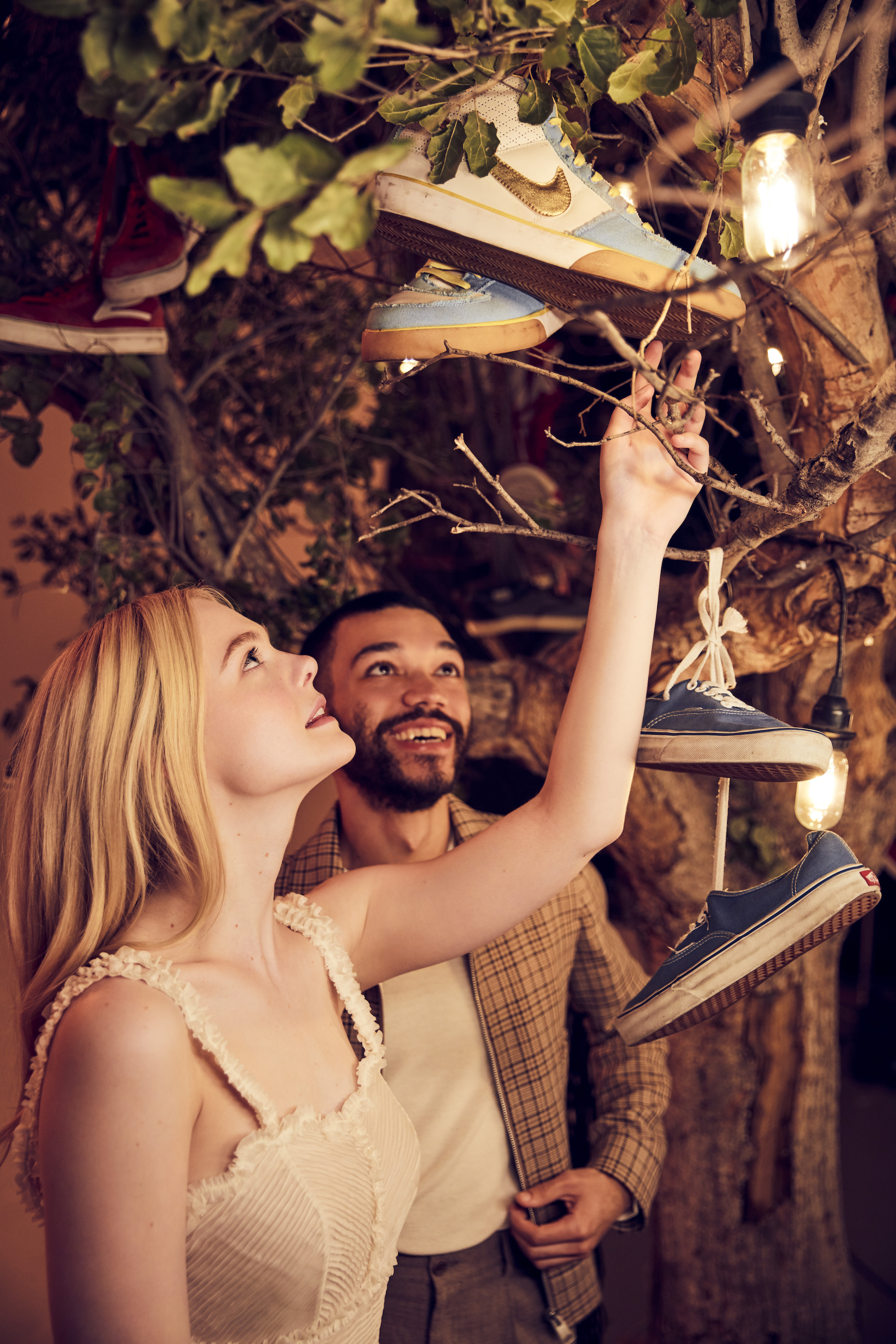 When did you come across All The Bright Places and what was your first impression of it?
I was in high school at the time when I read the book and going through similar emotions of growing up and the struggles of that -- just being an adolescent and figuring out your world. Those emotions are so heightened at that precious time in your life. I had my first love, which was tumultuous, so I could relate a lot.
Jennifer [Niven] had this dream of the book becoming a movie from the moment she wrote it. The story is very special because it's not completely fiction. A lot of it is true to her story. But I just thought it was so beautiful the way that Jennifer captured that time, the way she spoke about mental health and a person's grieving process. And how you can find love, compassion, and an ally -- it can really be in the most unlikely of people. It can be in anyone. You don't have to go through it alone. I just think that Violet and Finch's story is a really beautiful one and something that should be shared.
In the film, Finch's character plays a huge role in helping Violet get through tough times. I'm curious as to whether you have someone in your life that's played a similar role for you?
I have many, many people like that. I'm very fortunate. Being on film sets you meet so many people. When you're working so closely together, of course you form these bonds. I have an amazing family and really fantastic friends from school. I was homeschooled, but in fourth grade I was like, "I have no friends Mom". Then she put me in school and I have two best friends that are like the closest to me. You have to find your tribe and find your people. Nicole Kidman, we've worked together a couple times now, that was something that she [told] me -- that it's so important in this life, when you're moving a lot and you are going places. Sometimes it's hard to really solidify where you are because you're just kind of a traveller, you know? It's important to have those people who know you and will tell you the truth.
There are so many small moments in this film that feel really powerful. I'm wondering if there's a particular scene that really struck you?
The rollercoaster scene stands out to me because it was just such a burst of happiness. You really get to see Violet have fun and it's the first time she's genuinely happy since her sister died. That kind of outburst of laughter and adrenaline. They recreated that rollercoaster because it's real and the man who was there, he made it in his backyard. That day was so exciting for us and we got to ride the rollercoaster a billion times. Even though there are very emotional, very tragic moments in the film that are sad, there is still so much lightness. And that's the point of the film. In dark times, there are bright places. That was a bright time.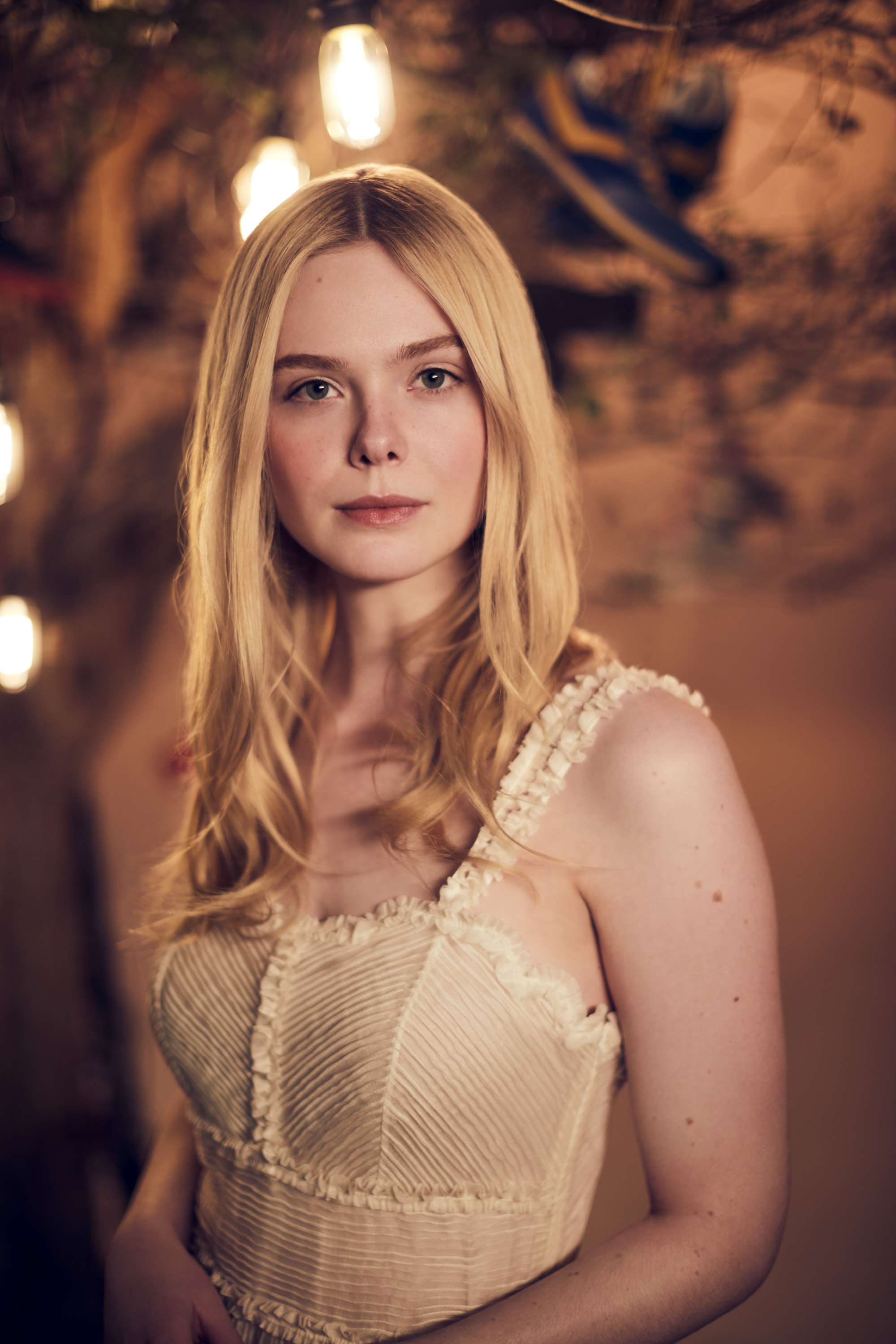 It's important to show these bright moments, but obviously showing both sides is important to the story and to discussing mental health in general.
That is life. Showing the realities of life is so important, and not sugarcoating the realities of life too. Mental health is something so taboo and [some people] want to treat it like it's weird or uncommon. Just like we have physical health, our mental health needs to be treated the same. We can't shy away. This film contributes to the conversation that is starting, but there needs to be more. I think back to my time in school and no one ever talked about it. It's such a vulnerable time for kids and the stress and anxiety that people have… I have a lot of anxiety and it's just important to show people that they're not alone. It's okay to be feeling these ways. You can get help and there are people out there that understand you.
This is also the first film that you've produced. What do you like about stepping into the role of a producer?
It's something that's always been a dream of mine. Acting since a young age, you see all of the different parts that make a movie work. I was always so curious about that. It just fascinated me. So, finally getting to step behind the scenes and start from the bottom of something and seeing the finished product... As an actor, of course, that's a really proud moment, but when you've been with something for so long and really built something from the ground up with people, with other producers, and with their input, it's such a rewarding feeling. You get to use another side of your creative brain and make the puzzle fit. I just finished producing a show as well. I hope that it's something that I can keep building in the future. Now that I'm older, I've realised that I have a voice in this and that my voice actually matters.
Of course. And there are so many different ways you can be a part of telling a story -- not just acting or even producing. Is directing something that you foresee in the future?
Oh gosh, I would love to. I think about it all the time! I do. I don't know what that story would be, just being a director on a film set and how they have to know all of the answers. But I've learned from some of the best directors that you actually don't have to have all of the answers. You have so many people that you can lean on. But I hope to, one day.
You've worked with so many talented directors. Who do you look to for inspiration and who do you dream of working with that you haven't yet?
I'd love to work with the Safdie Brothers. I loved Uncut Gems. It was one of my favourite movies this year. I've worked with so many amazing directors. Sofia Coppola and Sally Potter, those are people that I really feel like I can reach out to. I did start so young, so each movie has really shaped who I am -- what I've learned from them. I was just 11 when I did Somewhere with Sofia. Your brain is like a sponge at that point, so these people have really moulded my life.
What's next for you?
I just finished a show called The Great, that's coming out in May. I got to produce that with the writer of The Favourite. I play Catherine the Great. We just finished it two days ago, so that was very exciting. And I'm about to do a movie with my sister. We've never worked together before. We're playing sisters. It's called The Nightingale.