dev hynes and charlotte gainsbourg wear a lifetime of wedding outfits in new video
Gainsbourg's gorgeous self-directed video for "Deadly Valentine" stars Blood Orange as her lifelong lover.
|
21 September 2017, 3:37pm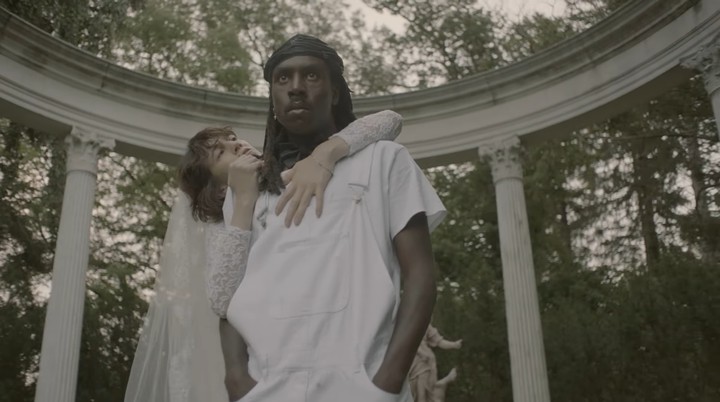 Dev Hynes can't stop collaborating. As he works on the followup to his 2016 opus Freetown Sound, he's moonlighting as VeilHymn with Bryndon Cook, penning tracks with the legendary Blondie, and making videos with everyone from Amandla Stenberg to Snoop Dogg. It's almost easier to list musical talents who don't have a collab with Dev under their belt — and if you had Charlotte Gainsbourg on that list, you can now scratch her off.
The iconic Brit-French singer recently phoned up Dev to ask him to play her lover in a self-directed visual for "Deadly Valentine," a danceable dream-pop cut off her upcoming SebastiAn-produced album, Rest. The end result is a beautiful encapsulation of a couple's journey from childhood to old age that will make even the most cynical marriage-averse millennial want to spend the rest of the day making Pinterest wedding boards.
Dev and Charlotte play a couple in the middle years of their romance, sandwiched between their older and younger selves, as their dance their way to an old church. The video's styling is exceptional, consisting of all-white outfits that morph from kid clothes to adult overalls and a full lace bodysuit to a traditional dress (Charlotte) and ivory Canadian tuxedo (Dev). Rest will feature a slew of other exciting collaborations from artists including Paul McCartney, Daft Punk's Guy-Manuel de Homem-Christo, and Connan Mockasin, the beloved New Zealand-born psych-pop weirdo who Dev made tunes with in Marfa two years ago.