the soundtrack to your weekend ft. kelela, jay-z and cub sport
Kelela takes LMK back to the future with a sci-fi sorta 90s vid and Aussie band Cub Sport celebrate queer love with their beautiful visuals for O Lord. Plus, there's killer new music from Wolf Alice, IGLOOGHOST, Higher Bros, Yung Lean and Liam Gallagher.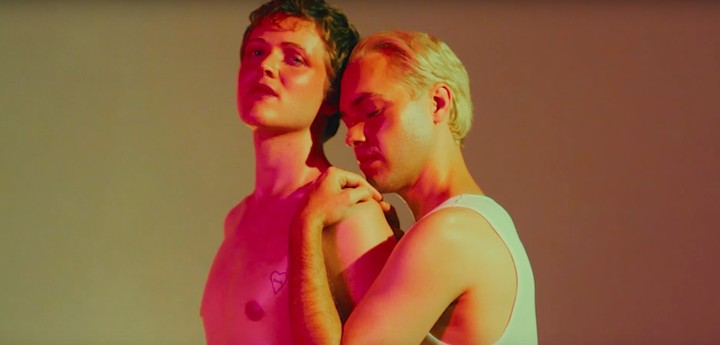 Cub Sport, O Lord
Jay-Z, Moonlight
Recreating beloved but very white TV institution Friends with an all-black cast, Jay-Z makes a very good point about representation in the industry. Ross (played here by Jerrod Carmichael) begins to realise what he's a part of and walks out with Rachel (Issa Rae) to the not so sweet sound of La La Land being falsely awarded Moonlight's Oscar. Oscars so white. Hollywood so white. Jay-Z so good at music videos.
Alice Glass, Without Love

Guess who's back. It's ex-Crystal Castles frontwoman Alice Glass and she's wearing latex on a bed of thorns and trying to escape from some sort of editorial car crash. A couple of years ago, she promised i-D that her solo project would sound like "a kitten eating its hoarding owners after they die". She kept her promise and it rules. Meow
Cub Sport, O Lord

This is the first music video Australia's 80s-infused Cub Sports have made since band members Tim and Sam announced they were a couple last year. "The video challenges everything I grew up believing about masculinity, beauty and homosexuality," Tim shared on Facebook. An intimate celebration of total personal freedom, the visuals capture the "fragile confusing happiness of finally getting the very thing you've always wanted most, accompanied by feelings of then having everything to lose". It's a beauty
Wolf Alice, Don't Delete the Kisses
Relationships are tough, man, so it's good to see a music video that reflects the irl highs and lows, love, hate and endless journey across London/through life. Where are we going? Where does this line even end? When should we stop trying to get somewhere else and just be content with what we have right now? Why is this sending us spiralling into such an existential crisis?
Kelela, LMK
Yes, Kelela! All my 90s ladies sing as you slink down a corridor in asymmetric cut bodycon dresses before breaking into a dance routine as the camera takes it all in. Your. Angles! LMK is the lead single from Kelela's forthcoming album Take Me Apart, and this video is giving us life.
Iglooghost, Bug Thief

Iglooghost, the 20-year-old UK producer, just announced his debut album,
Neo Wax Bloom
, due on Flying Lotus' Brainfeeder label next month. This is the fun first track,
Bug Thief,
guaranteed to make you want to game hard and fast. His last EP
Chinese Nü Year
documented the time-travelling adventures of a gelatinous worm-shaped creature called Xiangjiao, so, your guess is as good as ours on this one.
Higher Brothers, Wudidong

Wudidong means bottomless hole. As in, our favourite Chinese rap crew have free cash refills, their inspiration just keeps on coming from a bottomless hole of awesome, etc. It's not really in the spirit of things, but sometimes we just wish a wudidong would swallow us up, wbu
Chip, Scene
No longer a young Chipmunk, Chip is bringing together old school grime kings Wiley, JME, D Double E and Jammer all in the name of his new album League Of My Own 2. Grime is alive and well, with a beating heart deep down in the birthplace of Lord Of The Mics, Jammer's basement.
Drain Gang, D&G
Swedish Yung Lean affiliates Drain Gang just put out an EP called D&G that we're very much into. Entirely produced by Whitearmor and released on YEAR0001, there are tracks from bladee, Thaiboy Digital and ECCO2K, with two bonus features from Yung Lean.
Liam Gallagher, For What It's Worth
Not gonna lie, we barely listened to this, we're just obsessed with the fact that Liam thought A$AP Rocky was called WhatsApp Ricky and we wanted another excuse to talk about it. "My kids fucking love grime music. Stormzy, Skepta — he seems pretty mad. I like him. They also like that bloke, WhatsApp Ricky. You know, the American geezer, stylish, funny gold teeth..." A$AP Rocky? Someone helpfully suggested. "Oh yeah, that's the fella. WhatsApp Ricky. That's a better fucking name anyway." Happy weekend!