a lesson on beauty with aleece wilson
The flame-haired, freckled-flecked model AKA @oddfreckles was one of the most memorable new faces from last year, so we found out what she puts on it.
|
08 January 2018, 12:34pm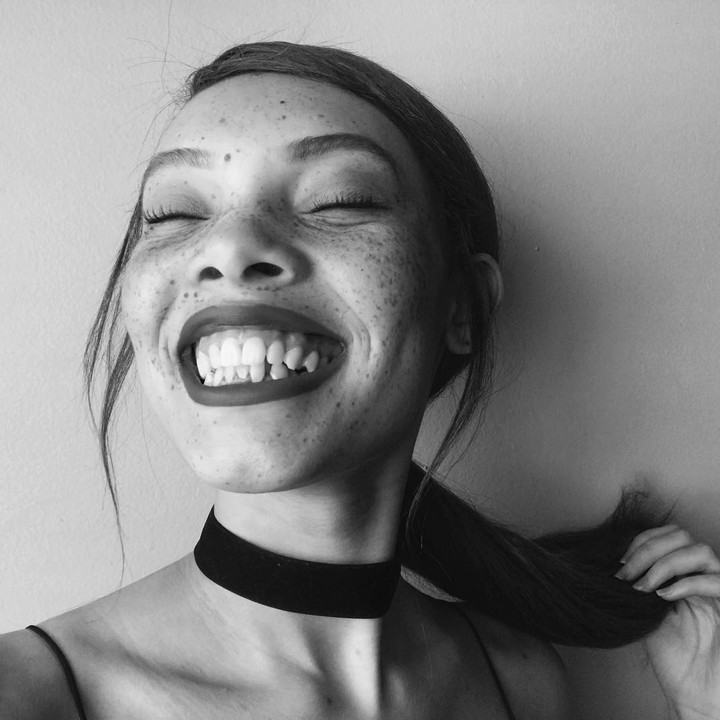 Image via Instagram
In 2013, wannabe model Aleece Wilson hopped on a bus from her hometown in Windsor, Ontario to Toronto with only $20 to her name and was signed to Elite on the spot. In 2017 she made her NYFW debut at Alexander Wang. Power walks at Fenty x Puma, Erdem in London and Margiela in Paris swiftly followed, cementing her position as one of the freshest new faces of the year. No word yet on what 2018 holds, probably because we're only one week in, but the fact she saw it in wearing cat ears bodes very well.
We caught up with the 23-year-old to chat make-up fails, modelling and how she looks after that beautifully freckled face.
"My earliest beauty memory is stealing my mother's lipstick and using it for blush. My mum always wore a red lipstick or a brown one and I thought it was the best thing ever. I would always play around with make-up as a kid, but I didn't start wearing it properly until I was a teenager. It made me feel confident, beautiful and adventurous. I would always draw different designs on my face, using all these make-up products in ways that they weren't necessarily made for, and using really bold colours.
Growing up, I never felt beautiful, because I was bullied as a kid. My look was very unique; I was literally the only one who looked different. As I got older I got a little more confident and I learned how to love myself. The bullying soon slowed down.
When I was younger, I was really into punk and rock, so I would always wear really dark eyeliner and dark eyeshadow. It allowed me to feel like a rockstar or a punk. Over the years, my tastes have changed; I no longer want to be a punk, so I've slowed down with the darker colours, but I do still experiment with make-up to channel different looks and attitudes.
"Growing up, I never felt beautiful, because I was bullied as a kid. My look was very unique; I was literally the only one who looked different."
In my spare time I do a lot of jester and clown make-up, although I can't really explain why. I just like it. I think my my biggest make-up fail was when I used to glue on false lashes, they would be falling off but I would still wear them for the whole day.
I signed to Elite Models in 2013. I travelled to Toronto with just $20 in my pocket, for a walk-in and I got signed on the spot. Modelling has taught me to love my natural beauty and the importance of feeling comfortable in the skin you're in.
I feel most beautiful when I've just come out the shower and my skin is all soft and clear. Of course, I still have my moments of insecurity, normally when I gain weight and because I'm self-conscious about my teeth.
If I could give anyone advice on how to embrace their natural beauty, I'd say: stand in front of the mirror, find everything you love about yourself, everything unique, write it down and practice celebrating it.
Ultimately to me beauty means being confident and being in love with yourself and your look, with or without make-up."