how injectables lost their stigma
It seems like altering yourself through cosmetic procedures isn't that big a deal anymore.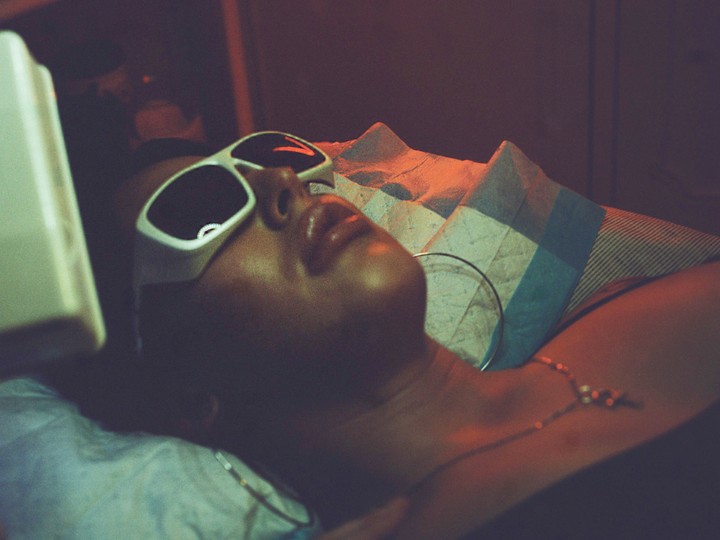 Photography by Old Bar. Special thanks to James Vivian Dermal Therapies for the location.
I've always had an open relationship with cosmetic surgery and thought about treatments to correct features of my body I find particularly panic-inducing. A detail on my face, that I'm ashamed about for some reason, has driven me to entertain elective surgery. A fear of wrinkles before my mid-40s has had me investigate botox at the age of 24. I'll admit I'm haunted by the generic, hyper-smooth faces and android children of celebrities and former models I see staring back at me from screens, magazines and billboards. But I'm not alone in my interest in these kinds of 'light adjustments', in fact they seem entirely normal, almost casual, these days. In Australia young people are spending over $1billion on non-surgical procedures every year and they're becoming increasingly willing to own it. At an age where appearance is everything, the lure of a quick fix is overwhelmingly tempting. And thanks to a multitude of procedures that range in prices and recovery times a quick fix is getting quicker and cheaper.
Dr Naomi is a popular surgeon at Sydney's Manse Clinic who acknowledges that the recent years have seen a surge in younger clients, with around 40 percent now under 25. She sees this as being the result of awareness and relative affordability. With some treatments priced as low as $300, Dr. Naomi agrees that people come to her for a variety of reasons. From young beauty achievers dabbling in different procedures to others trying to fix a particular problem and those into more mainstream procedures like lip and cheek fillers and botox, she's seen it all.
I ask her about patients wanting to look like celebrities, and the impact of celebrity culture on her industry. She explains, "It's much less about big name celebrities than you would expect. Mostly people will bring in before-and-after images from a cosmetic injectable Instagram account, or an image of a girl I've never heard of with a few hundred thousand followers." There's also an addictive quality to having procedures. "The retention rate is huge. The majority of patients who have one treatment will want to have treatments forever." And even though Kylie Jenner might have surprised followers by returning her lips to their original state for now, Dr. Naomi believes the procedures are here to stay. "People who are plastic positive used to be the 'freaks', but now it's the plastic negatives who are seen as body shamers"
Bella is a 19-year-old Melbourne-based student who spoke to me about her motivations for having her lips filled twice in the last year and suggested that taking photos of herself played a role. "I had really thin lips and I was always overly pouty in my photos to make it look like I had bigger lips. But you could tell, you could see my teeth because I was sticking my lips out so much." Her friend Saraia, also 19, has had her lips filled three times since she turned 18. "I thought my face would look better with bigger lips, just to balance everything out and make my face more symmetrical. The first time I got them done I wasn't satisfied and wanted to go bigger. I think it's just more of a norm at the moment, like it's very common and not really a thing."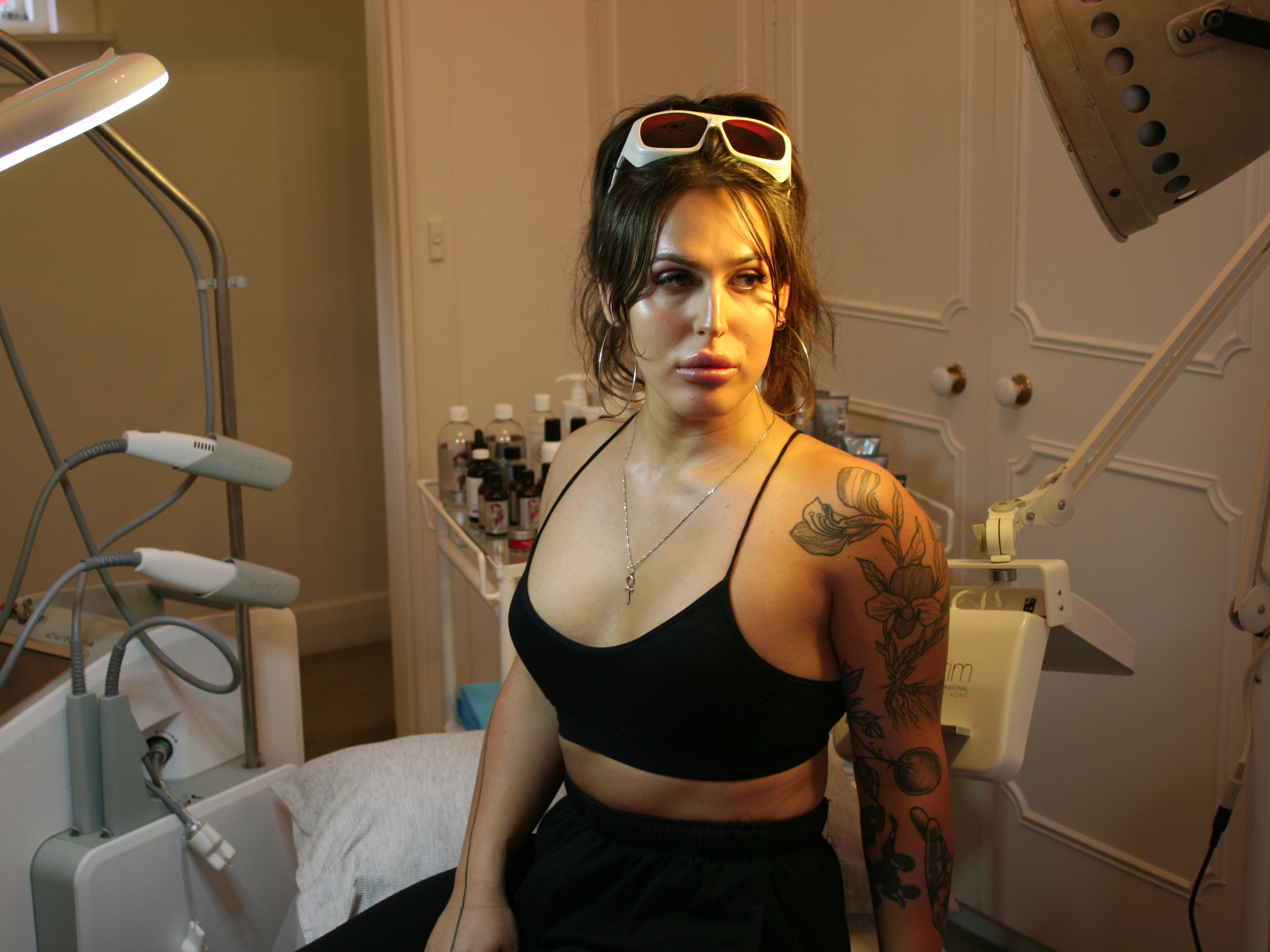 The motivation for 23-year-old Dakota Den-Bakker is a little different. Her journey with fillers began as a consumerist venture, but has evolved to become an integral part of her journey towards having control over her gender. "Back when I first started I just wanted a certain look, like how I would want a new jacket. Now, I guess, to do with my transness, it has changed. I look at my face and I'm always saying to people I have a really big head. I think that if other features are bigger, they'll take up more space and my face won't look so square and rugged. I've got other things like my lips to take up room." By using fillers to treat her gender dysphoria, Dakota has landed on a cheaper and less invasive treatment, an alternative to surgeries that cost tens of thousands of dollars. She added, "In facial feminisation surgery (FFS) a common thing is to make your chin smaller but if you can work on getting your bottom lip fuller, your chin has less presence on your overall face and you've kind of killed two birds with one stone. I'm exploring this with a trans mindset now, not just to achieve a look."
Dakota wonders if her experience would be different without the fillers, which effectively mask her transness. "Like would I get more horrible trans sympathy? Maybe you can't win but I'd rather fillers be the topic of conversation than my being trans." Changing yourself so as to not be immediately read as trans comes from a place of safety, security (especially financial), and stability. While Dakota's reason for getting fillers might have less to do with simple elective consumerism than others, at the heart of it all remains a sense of media-generated body dysphoria.
Dr Naomi acknowledges that the key thing driving this movement is the media and that it's potentially misguided. "Everything we see online is so fake. Models, celebrities and actresses will have hundreds of photos taken in perfect lighting, then the best shot is chosen and hours are spent editing it. All Insta-famous girls are super guilty of this as well. Follow @celebface to see the level of fakery that we are looking at. It's depressing. Selfies cause face distortion. People are using them to base their plan for appearance changes on, which is crazy."
On the other hand, Dr Brown of CitySkin in Armadale believes he's starting to see something of a rejection of looking overly treated. He tells me, "I think that thanks to some negative media there's a trend towards having less treatments or looking overly treated." His thoughts are reflected by Kurt Coleman, a Gold Coast socialite well known for dabbling in cosmetic procedures. "I used to get fillers and botox when I was 18 but then I regretted it because I didn't recognise myself anymore. I didn't do it to deal with an insecurity, it was just fun at the time. I stopped a few years ago and wouldn't recommend it to anyone, especially if they're young."
If Kylie Jenner was able to start a lip revolution with an engineered, selfie-friendly pout, could the tide turn just as quickly? It's hard to say whether young people taking up cosmetic procedures will continue to rise. But as they become more affordable and openly talked about we're likely to see increased interest at least. Perhaps we're moving towards a culture where getting injectable fillers is as casual as dying your hair. Get them in, try it out, let them go. You can always get them back later in the year if you change your mind. Like Saraia told us earlier, it's "not really a thing."