Photography Georges Antoni
celia flower jones looks and sounds like the future of modelling
"If I can't be me, then I can't do it."
Photography Georges Antoni
Celia Flower Jones is intensely striking. Tall and athletic, her shaved head and bleached eyebrows have become unorthodox hallmarks. Celia was discovered six years ago, while working in a Sydney pub and soon after began working in New York, Milan, Paris and London. During the early phase of her career Celia did what was expected of her: maintaining long, blonde locks and wearing sensible black clothing to castings. This 'blank-canvas' approach worked for a while but, despite her international success, Celia ultimately moved back to Sydney and took a short hiatus from modelling. Eventually she resumed, this time exploring her own style while plotting the future of the music she's making with her boyfriend.
Booked to walk in a number of MBFWA shows this week, we caught up with Celia to discuss her journey so far as well as the liberating nature of doing just what you want.
We met you at MBFWA a few years ago when you were walking for Di$count Univer$e and have loved following your trajectory since. Are you typically booked for jobs based on your comp card or Instagram profile, rather than having to attend standard castings?
Well it has been interesting because I am a bit of a veteran. Since I began working at 18, I've seen quite a shift in the industry, where I can now shave my head and get tattoos and I'm likely to book jobs I enjoy more anyway. I have been booking some MBFWA shows without going to castings, which has worked out because I've been so sick with the flu.
Oh no, that sucks. I hope you're feeling better. In terms of your career, you've done it in reverse — you began modelling overseas first.
A guy who was having dinner at the pub I was working at happened to have opened LA and New York Models. He was actually an Aussie living in Hollywood, so he set me up with an agency in New York and it snowballed from there.
You were 18 then, right? That seems like a good age to begin.
It was. I was never really in it to be the next top supermodel, I was really in it for the ride. Half my focus has always been on something else, something creative, mainly music.
Tell us about your musical plans?
My partner and I have just started a rap electro group called Clamman Moontown. He's been in the industry for many years and is teaching me a lot. I come from a musical background too; my dad is in three bands, I play guitar and piano. I sing and rap. We have written some songs and started recording about four of them so far. We are trying to make it a real extravagant, entertainment spectacle with a full sound and costumes, choreography, rapping, banter and skits. I'm super excited about it, but I also meet so many great people on photo shoots so modelling and music work well together.
Sounds amazing. What kind of modelling jobs do you tend to be booked for?
Well, people know me for my bald head and extravagant punk clothes — I have a very specific look and if someone needs that, I quickly pop up. I was in this great Prada video recently that was inspired by the 70s film The Warriors. It was very punk and very industrial and shot in a big warehouse in Alexandria that pretty much just looked like my house. You know, I just fit in. So for those kinds of things I am very easily cast. There's definitely been a shift in the industry and a lot of the girls I'm meeting, even in Sydney, they are fucking amazing. There're some future pirate punks vibes definitely.
How great is that!
Yeah, it is really refreshing. It definitely works for me because if I can't be me, then I can't do it. If I have to hole my opinions and emotions up inside just for the benefit of someone else, it just doesn't work. I am happy that I can be myself. I like to be accepted like anyone else and it is nice to see that the industry is changing to allow this.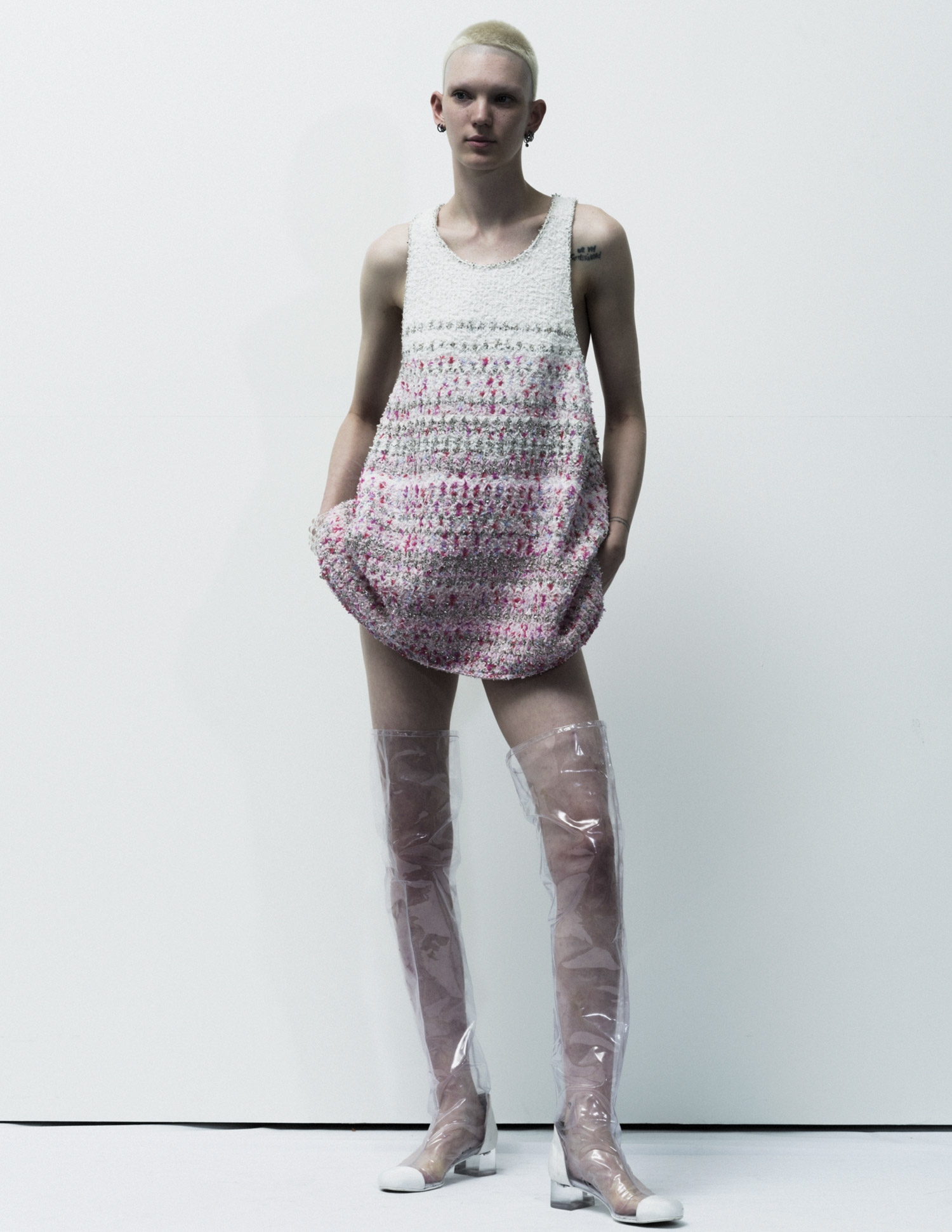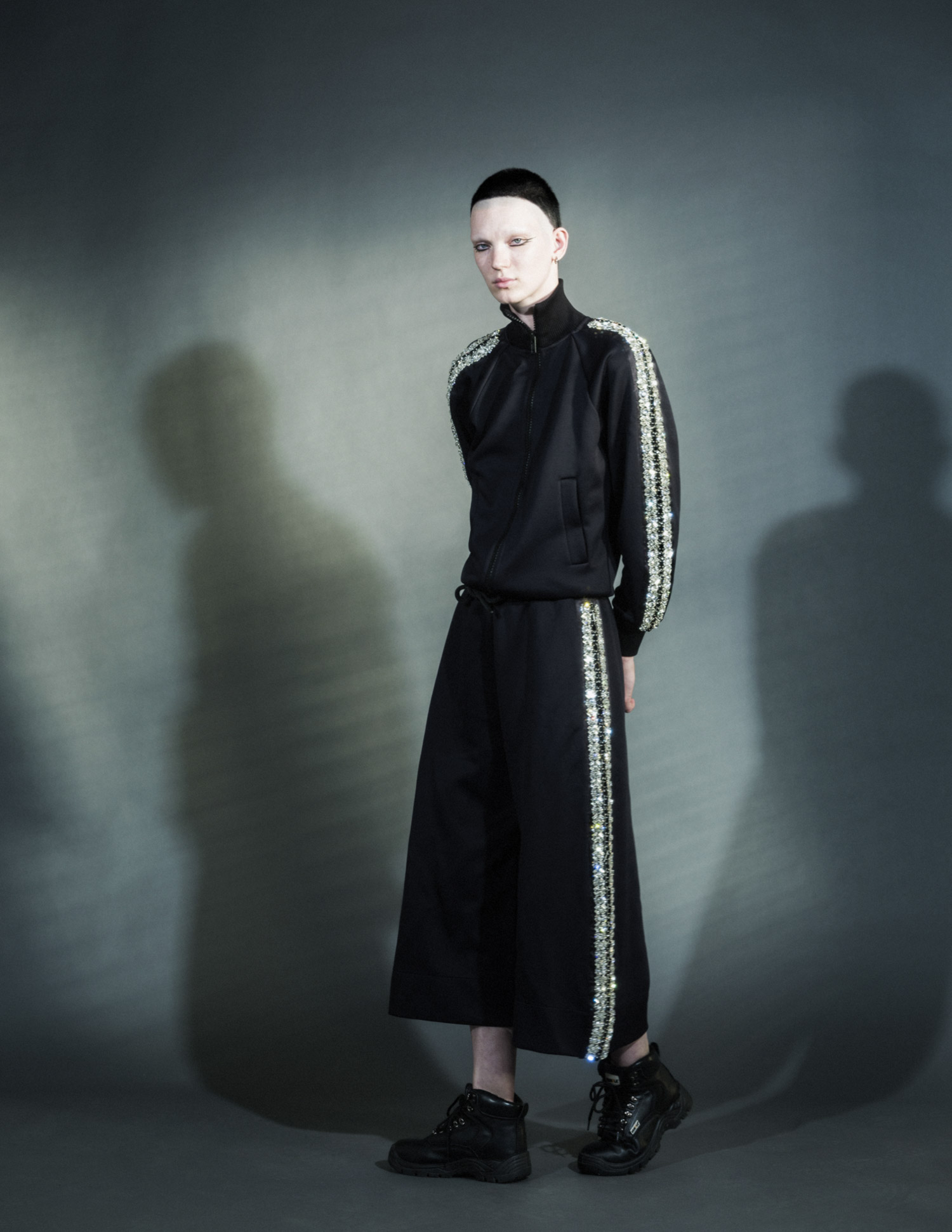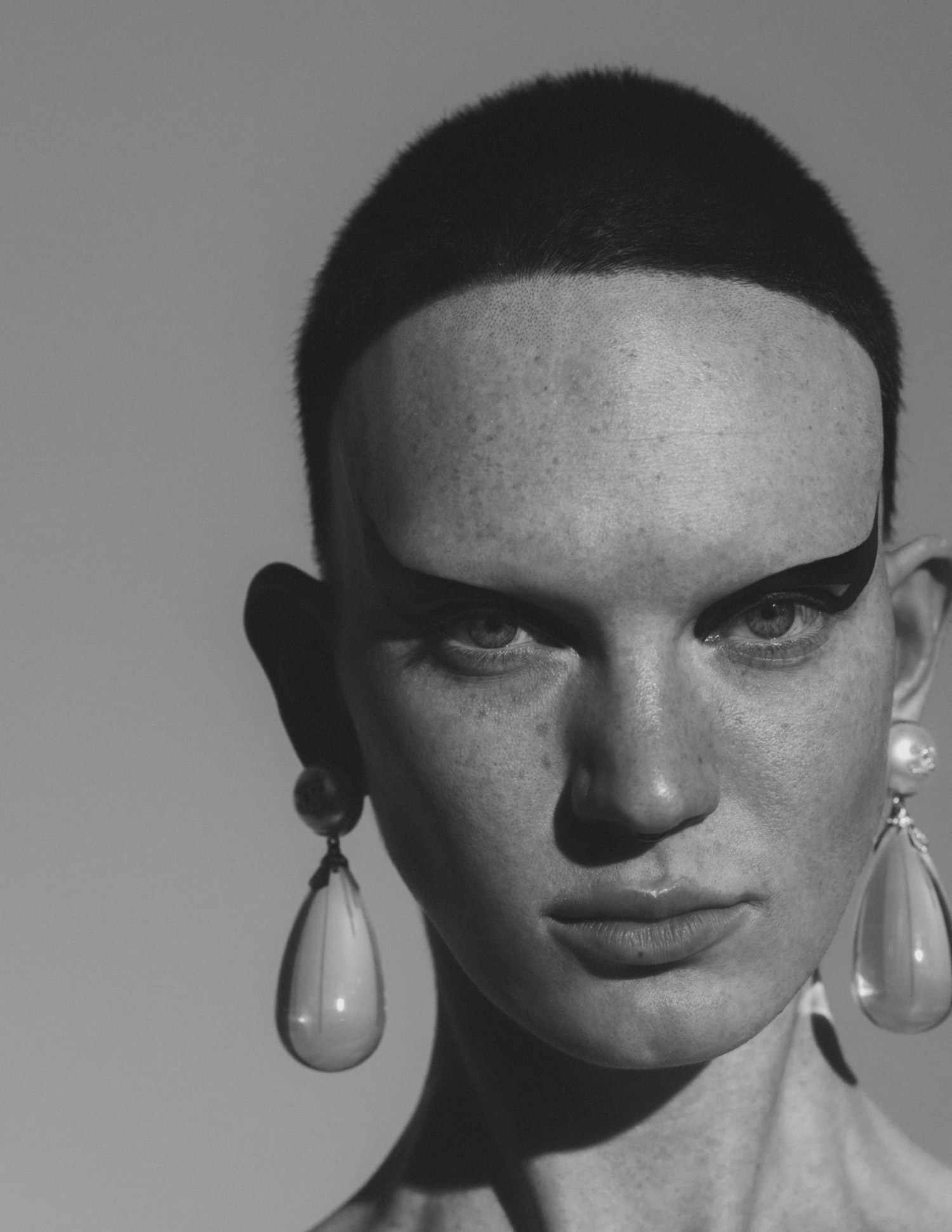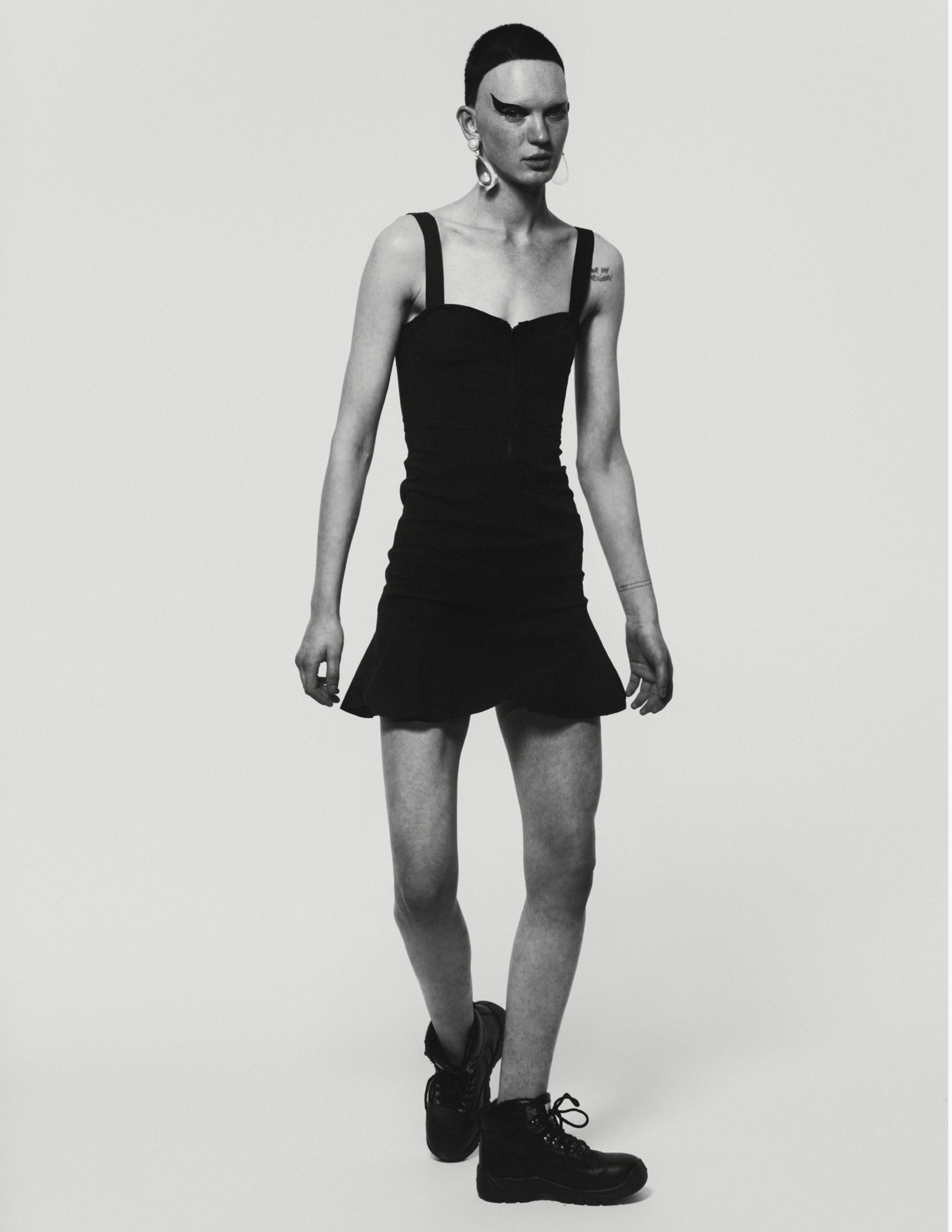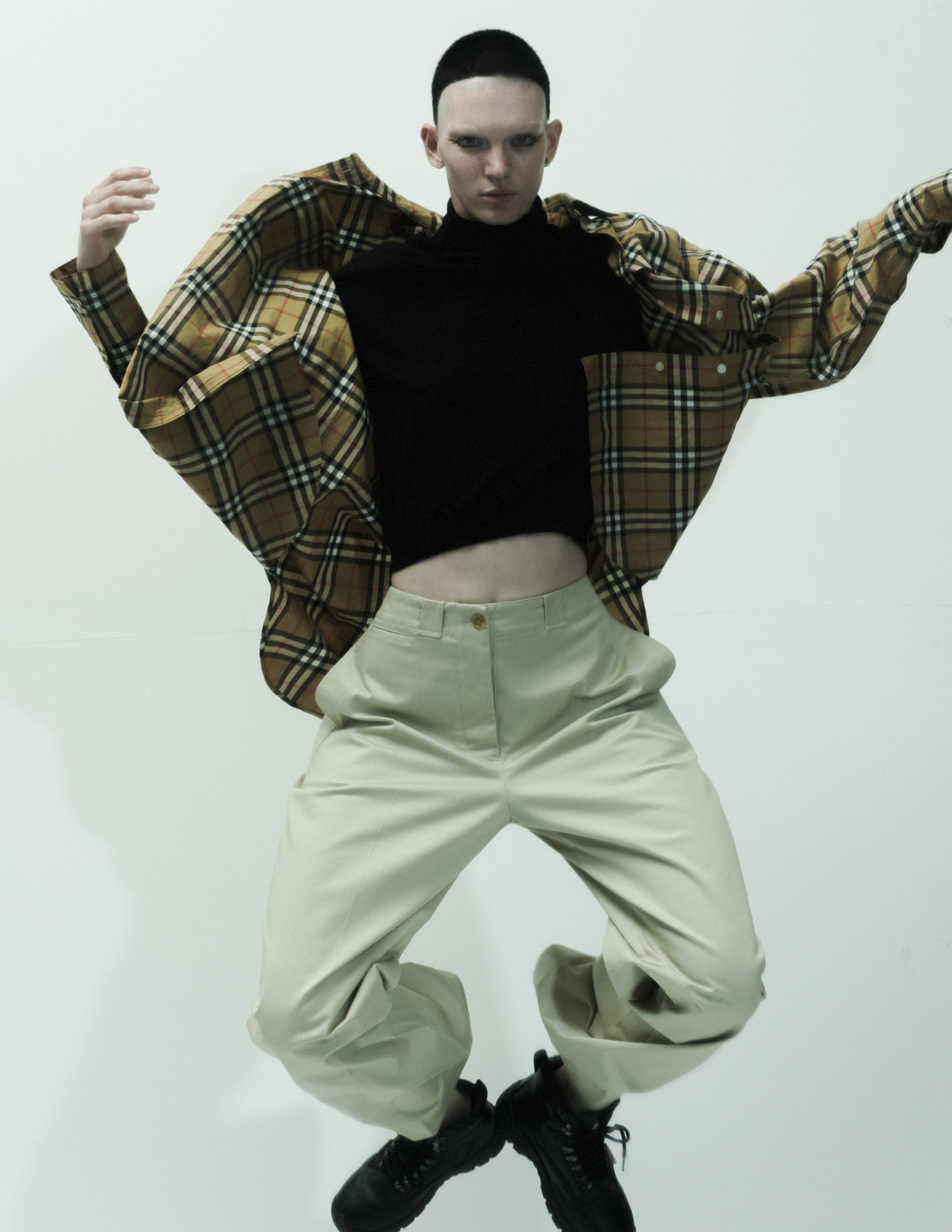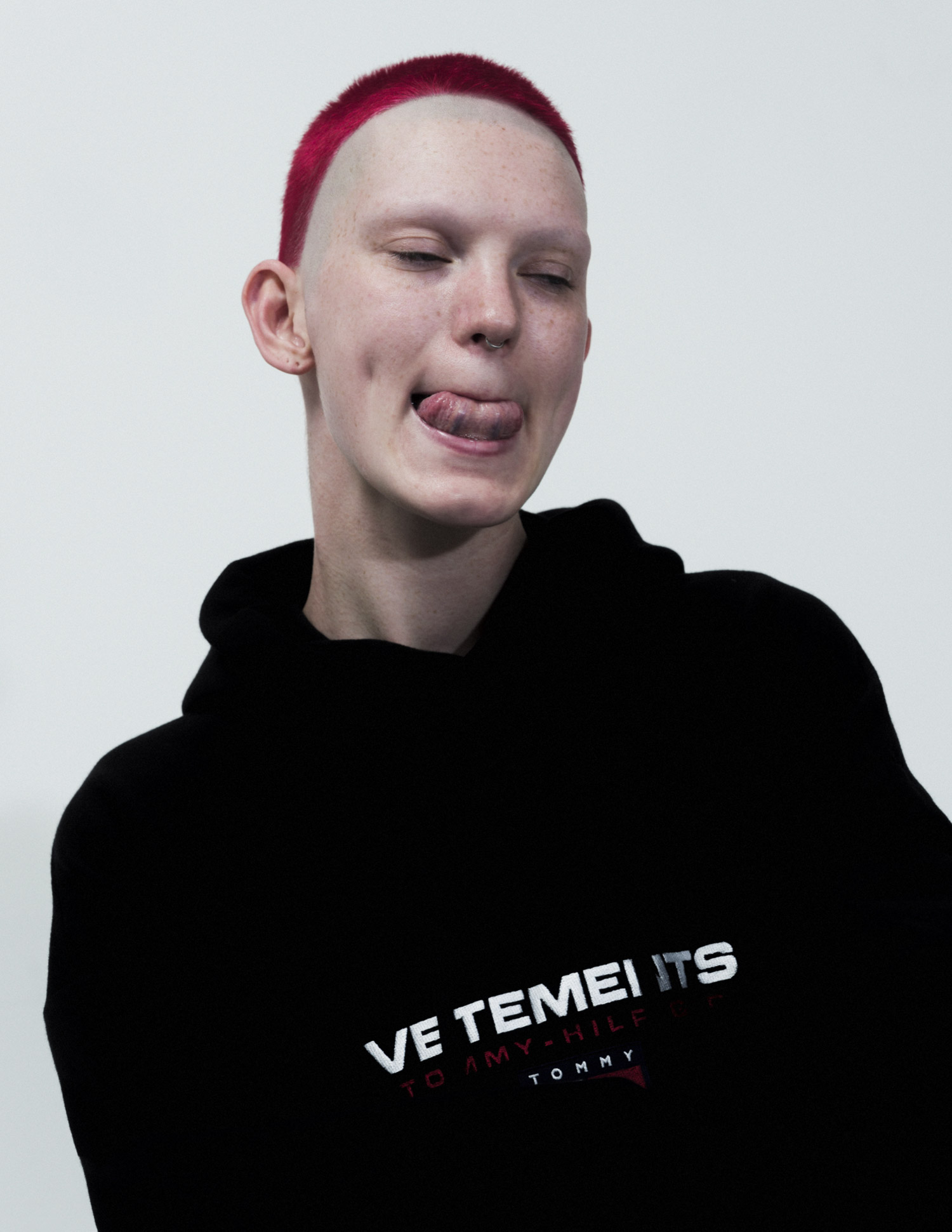 Credits
---
Photographer Georges Antoni
Photography assistants Mitch O'Neill, Ben Butcher and Jon Calvert
Stylist Charlotte Agnew
Stylist assistants: Vicki Liang and Eve Gibney
Hair: Pete Lennon
Make up Gillian Campbell
Model Celia Flower Jones @debutmanagement