five major brands come together to make fashion more sustainable
Stella McCartney, Burberry, Nike, H&M and GAP have all signed up to the Make Fashion Circular initiative.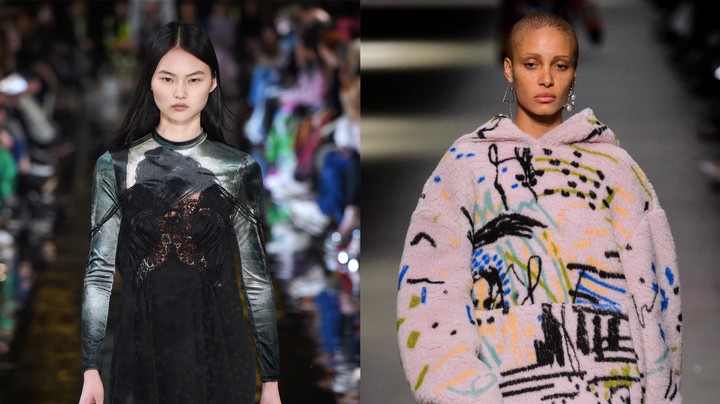 Left: Stella McCartney. Right: Burberry. Photography Mitchell Sams
Sustainability, as you probably know, is a huge problem for the fashion industry, and one that needs addressing urgently. With each week comes a slew of new, depressing statistics around how much detriment fashion production is causing the earth and how much wastage it creates. Fashion creates more greenhouse pollution than the airline industry (around 1.2 billion tons of greenhouse emissions every year). The production of just one T-shirt creates roughly the same carbon footprint as driving a car for ten miles and uses 2,700 litres of water. The amount of plastic micro-fibres released from washed clothing each year is roughly equivalent to more than 50 billion plastic bottles. Roughly half of fast fashion produced items are disposed of within a year.
Adding to this, a recent study found less than one percent of clothing is recycled. In an effort to change this, four brands -- Burberry, Nike, H&M and GAP -- joined Stella McCartney in signing The Ellen MacArthur Foundation's Make Fashion Circular scheme, it was announced at the Copenhagen Fashion Summit yesterday. The initiative has set out three key aims for each company to unite behind: "Business models that keep clothes in use. Materials that are renewable and safe. Solutions that turn used clothes into new clothes."
Stella McCartney, who last year was the first to sign up to the initiative, has long been vocal about the problem of sustainability. Her autumn/winter 18 collection was a testament to how circular, environmentally-conscious fashion can be just as compelling. Speaking at LCF in late 2016, the designer echoed the sentiments of the newly formed Make Fashion Circular scheme "Fashion is literally getting away with murder and it needs to be answerable. There needs to be more systems set in place. More people need to go through more rigorous testing. And as a customer you can do that."
Sign up to our newsletter and get the best of i-D straight to your inbox.
This article originally appeared on i-D UK.