how to make it as a backstage fashion photographer with robert fairer
As he publishes his latest instalment of backstage photography, this time from the shows of NYC fashion stalwart Marc Jacobs, we discuss a career behind the curtain with Robert Fairer.
|
28 September 2018, 9:59pm
Back in the 90s "Marc Jacobs was the show in NY, and very tricky to get in to," British photographer Robert Fairer explains. Though Marc remains a crucial show each and every season, 25 years ago New York Fashion Week wasn't the eight-day long commercial behemoth it has become.
Much less official, backstage photography wasn't really a thing when Robert was starting out, and the shows on schedule were closely guarded by industry friends and insiders. But, luckily for him, the trends of the moment were on his side and a little English charm got him a long way. "The British girls -- Kirsten Owen, Jodie Kidd, Kirsty Hume -- were part of the post-grunge movement, so it helped me being from London."
Over the next two decades, Robert became not only a familiar face backstage to the teams and models, but an integral part of the overall presentations. Furtively moving from show to show, city to city, season to season, his archive of imagery is an expansive odyssey of the changing trends, styles and formats of fashion week. Today, when social media has fundamentally changed our relationship with the backstage area of a show and revealed the mystery, Robert's expansive archive of backstage images offers us a window into a different era.
"The internet has changed everything in terms of out putting visual content," he explains. "But the work we have done has given us a second career, allowing me to publish the fashion archive in print." Having released his imagery of Alexander McQueen and John Galliano's shows already, now Robert has immortalised his work for Marc Jacobs in print. The book, which opens in 1994 and closes in 2012, charts Marc's shifting aesthetic, from grunge to glamour and back again, and takes in the likes of Kate Moss, Devon Aoki, Kirsten Owen and Natalia Vodianova, laughing, hanging out off-duty (sometimes with a cigarette in hand!). As the book is released, we meet the photographer to discuss his career. "Backstage is the where the magic happens," as we often say.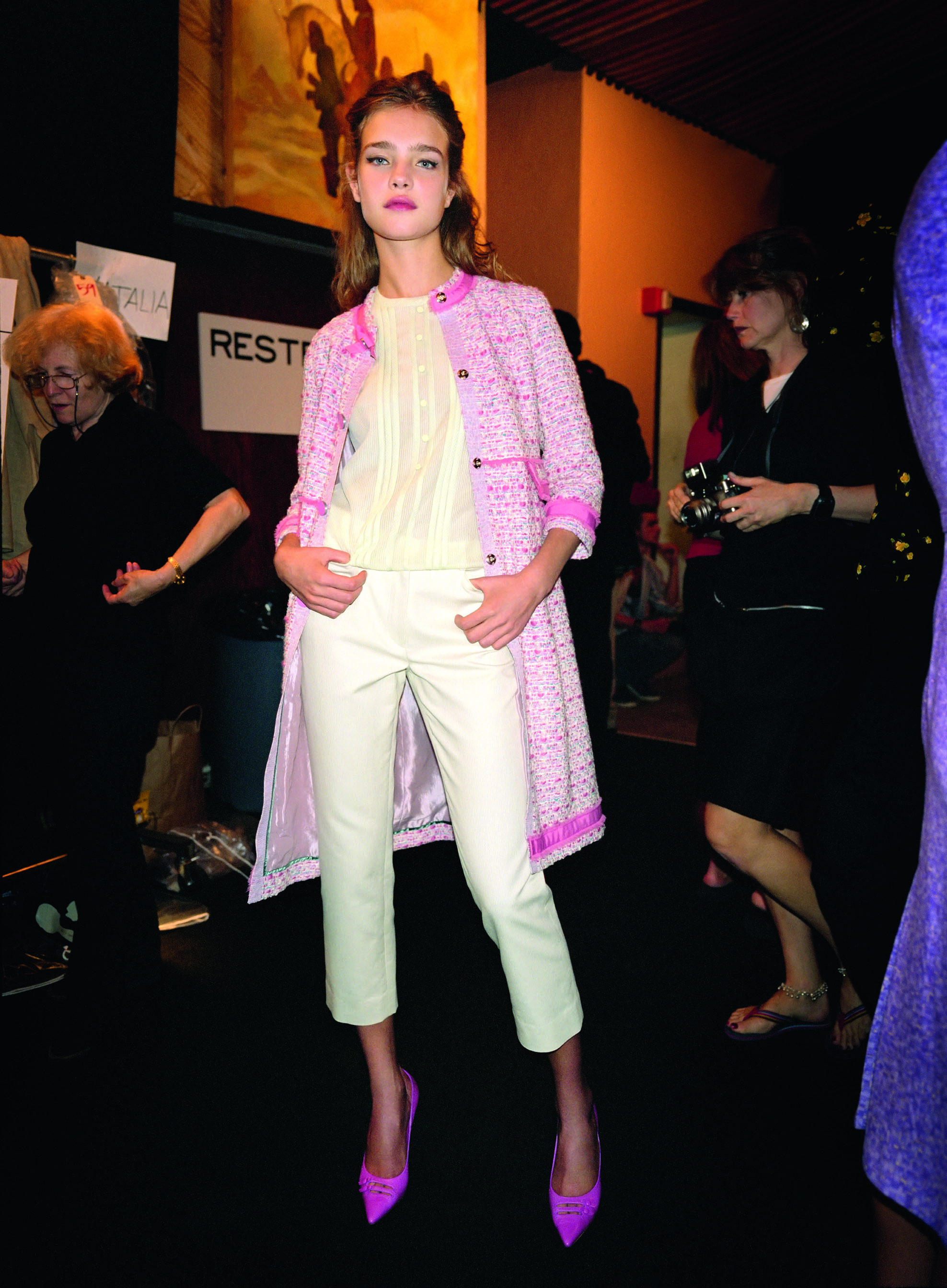 Tell us about the first runway show you ever photographed…
It was Paris in the mid-80s at Issey Miyake. I was a guest -- my wife worked in fashion -- and as soon as the show began I walked down to the runway edge and started taking photos.
My first shows could also be anywhere around London and Paris and New York, but were often large and one-off locations -- more representative of the designer budget. Or lack of it. With this in mind, it was like having my own photo shoot, as I was able to develop my fashion eye and learn fast from the top models who were happy to be photographed and kill some of the waiting time before the show.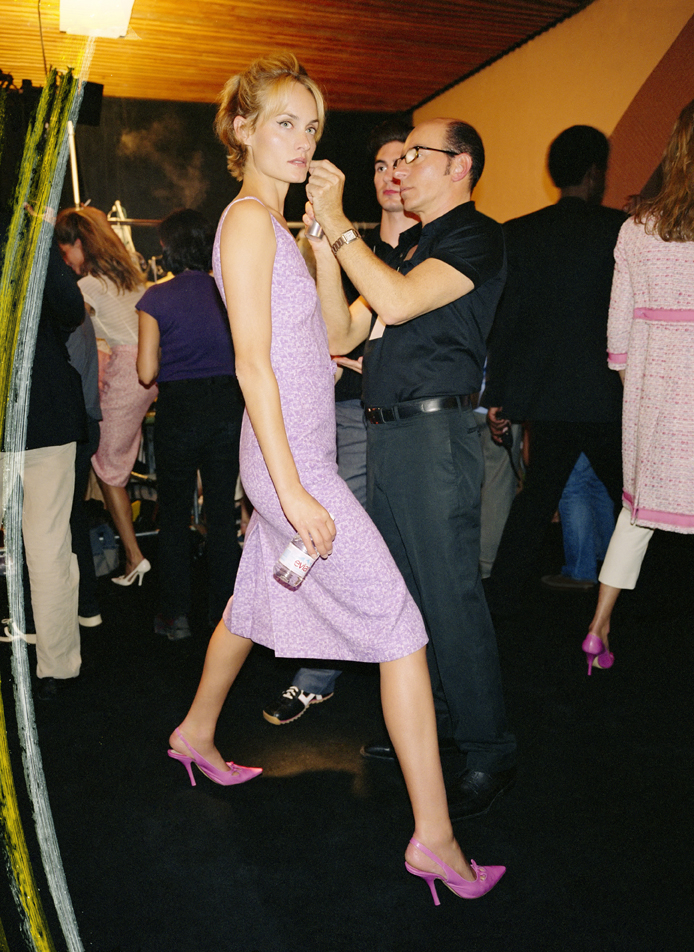 When and where did you start your professional career in photography?
London, at graduate fashion week in 1992, shooting final degree shows for Alexander McQueen et al, then London Fashion Week, Milan and Paris. New York was always last on the calendar and quite a small affair.
Paris was where you needed to be to make it as it had the bulk of the major shows and I could stay at my friends place and survive on after-show party food. During fashion month my wife and agent, Vanessa, would book appointments for me to go and see Issy Blow at Vogue, and Terry Jones and Fiona Dallanegra at i-D. I'd go with transparencies in a suitcase with a portable light box. I would get orders for a short story or beauty piece as most magazines had not seen beauty and fashion BTS well lit before from the European shows… this material didn't really exist until then.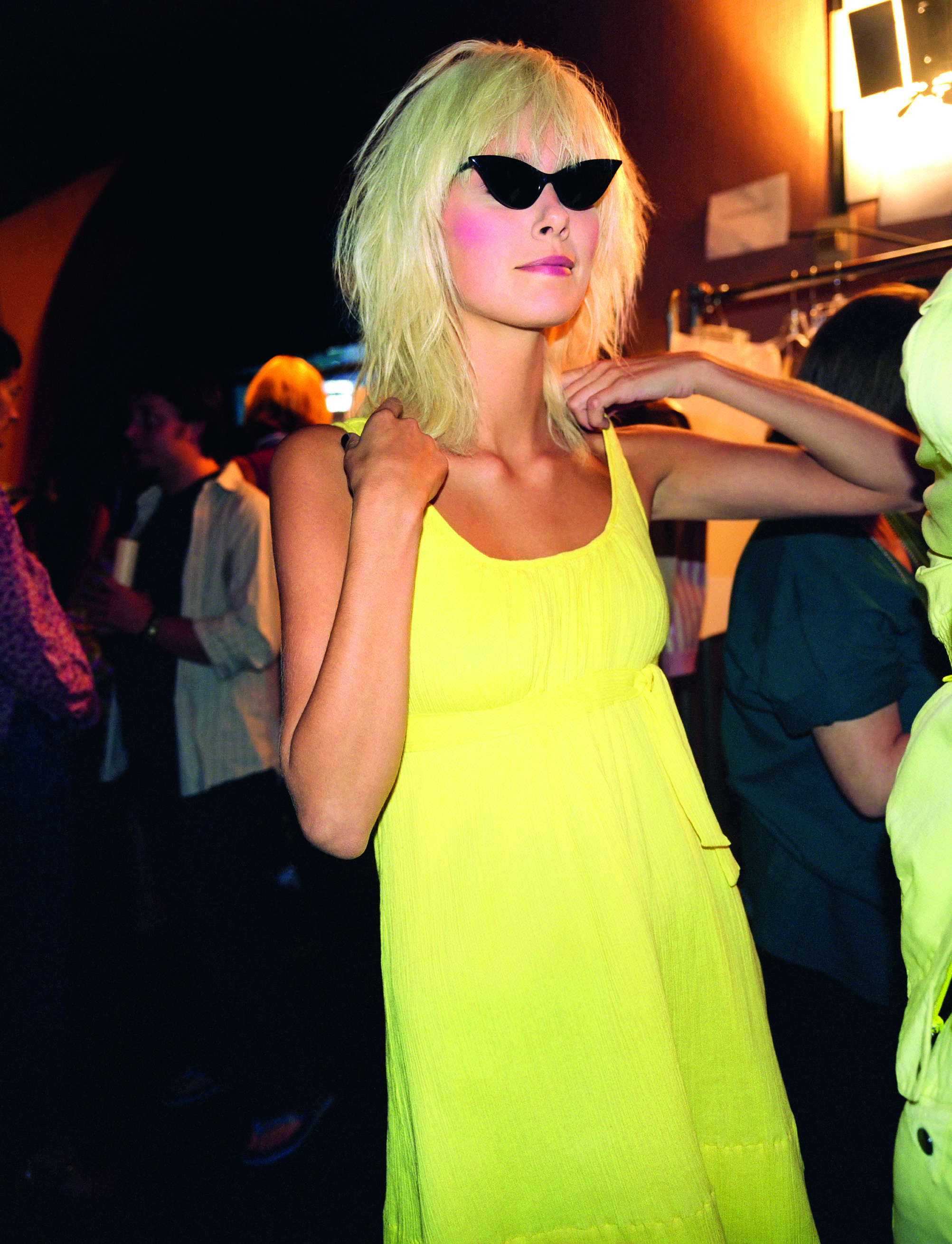 Why does photographing backstage appeal to you as a photographer?
I worked out backstage was more interesting than the runway because there were no other photographers and you got to actually see the clothes and shoes close up and understand what they were made from and what they felt like, and then record how the girls enjoyed wearing them.
What's the craziest thing you've seen happen backstage before a Marc Jacobs show?
I love it when the big boys come backstage and I have a chance to jostle with them. You'd have Juergen Teller lying on his back and shooting from the floor.
How would you describe the atmosphere backstage to someone who has never been backstage at a show before?
In the 90s it was casual and more interactive. Initially it was a small group of people turning up downtown and putting a cool show together -- there was a chance to hang out and relax, chat with the girls as their make-up was being done and enjoy being in New York. You also felt you were witnessing something unique as a non-New Yorker. Plenty of the supermodels worked in return for shoes and coats and dresses. There were usually a few visits from Marc's friends like Chloe Sevigny, Kim Gordon, Winona Ryder.
It must be said that Marc Jacobs at the Armory was always NEW YORK BIG. No other backstage gets close to the scale of that… except maybe Chanel or the 2004 Lee McQueen Black retrospective show in London at Earls Court, with 100 foot ceilings above you!
How do you remain calm and get the shot you need among the backstage madness?
When I started there was less madness, it was a quieter and a calmer affair. It helps being known and understanding very quickly where the action lies for you and your magazine. After years shooting at these houses, you work out very quickly what you want to do and how to get it.
What makes a great backstage picture?
First off, the right fashion show. Only go to the designers that really interest you, then it's all down to the fabulous models and their energy. Great girls show you what to do and how to capture the line of the dress, their vibe, the mood of the collection within the setting… so don't be afraid to use any background. Just experiment. These backstage spaces are often incredible and perfect studio locations, so then it's down to you to throw that light and your own energy into the work.
Which fashion photographer has most inspired you in your career and why?
Helmut Newton. He has an edge and his work never dates. Strangely also Peter Lindbergh, another German, they both allow the subjects to be themselves… in completely opposite ways. It's black and white literally. I also love Juergen Teller imagery even though it's not monochrome, it almost is with its directness. So I suppose I like the truth.
How has the industry changed since you started?
In every single way possible. No more develop film with chemicals and processing delays, less reliance on lighting due to Photoshop, and you no longer need a magazine to showcase your work just for starters. The internet has changed everything in terms of out putting visual content.
What are you most proud of in your career so far?
The work we have done behind the scenes, because it has now given us a second career allowing me to publish the fashion archive and work on our own books. Alexander McQueen Unseen, John Galliano Unseen, Marc Jacobs Unseen and many more to come.
Credits
---
Photography Robert Fairer
Marc Jacobs Unseen by Thames & Hudson is out now.
This article originally appeared on i-D UK.